INSIDE: Best things to buy at the Summerland Farm Shop Grocer & Gift Shop in Alstonville NSW.
The best farm gate shop in Byron Shire is at SUMMERLAND FARM.
It's right at the entrance to the beautiful Summerland House Farm, and it's free to enter and look around.
(But our tip is to stay and play. There's lots of things to do at Summerland Farm with kids. Read our guide here)
You'll find ALL kinds of local produce, including eggs and honey, and bottled sauces at reasonable prices, unlike elsewhere.
And macadamia nut products of course!
This IS a working macadamia farm and avocado farm.
Plus, we'll answer the question: Where can I buy edible flowers in Australia?
Take a look below for all the details.
Disclosure: This article contains affiliate links. If you make a purchase after clicking on one of these links, we may receive a small commission at NO extra cost to you.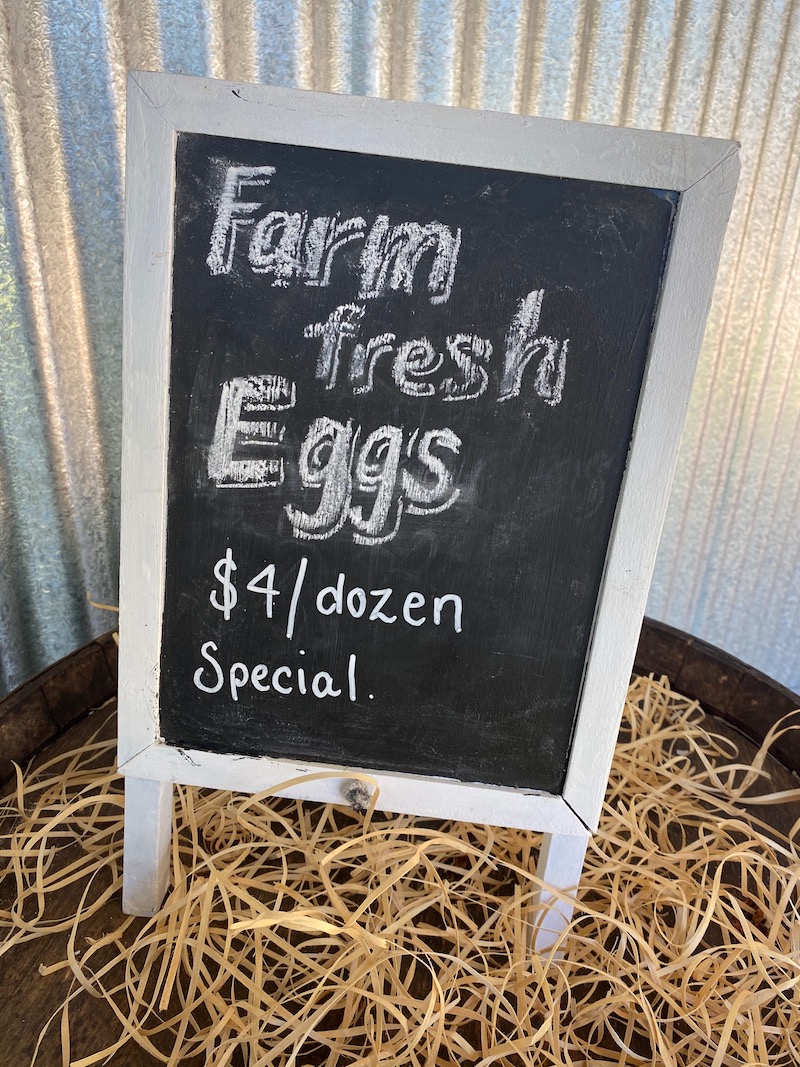 Guide to the Delicious Summerland Farm Food To Buy!
First up, grab a basket.
You'll fill it.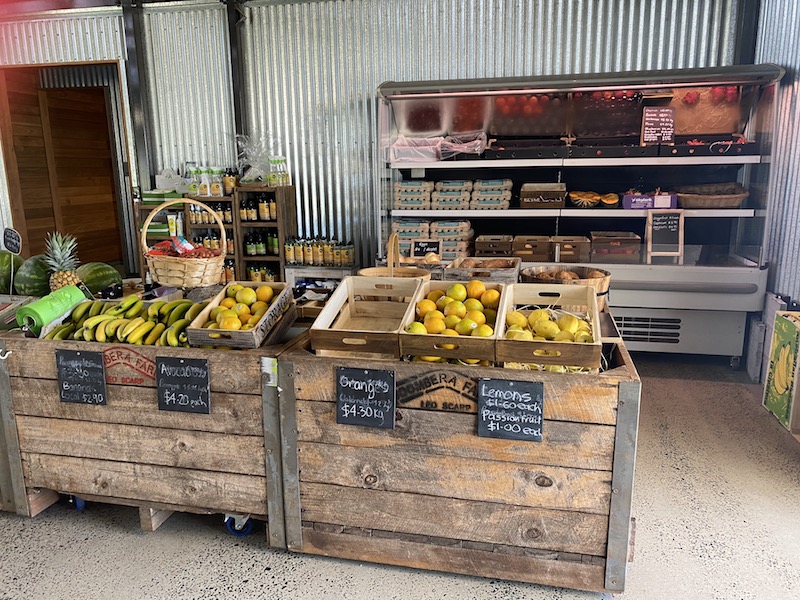 Best Summerland House Farm produce
There's fresh produce straight from this working avocado and macadamia farm including avocados, and eggs.
And honey, lemons, oranges, and dragonfruit from nearby farms.
Plus a range of their own Summerland House Farm branded food products including:
coffee
jams
relishes, and
macadamia treats.
Summerland House Aruma (formerly Summerland House with No Steps) employs people with disability, and they are the ones that help create these delicious food offerings.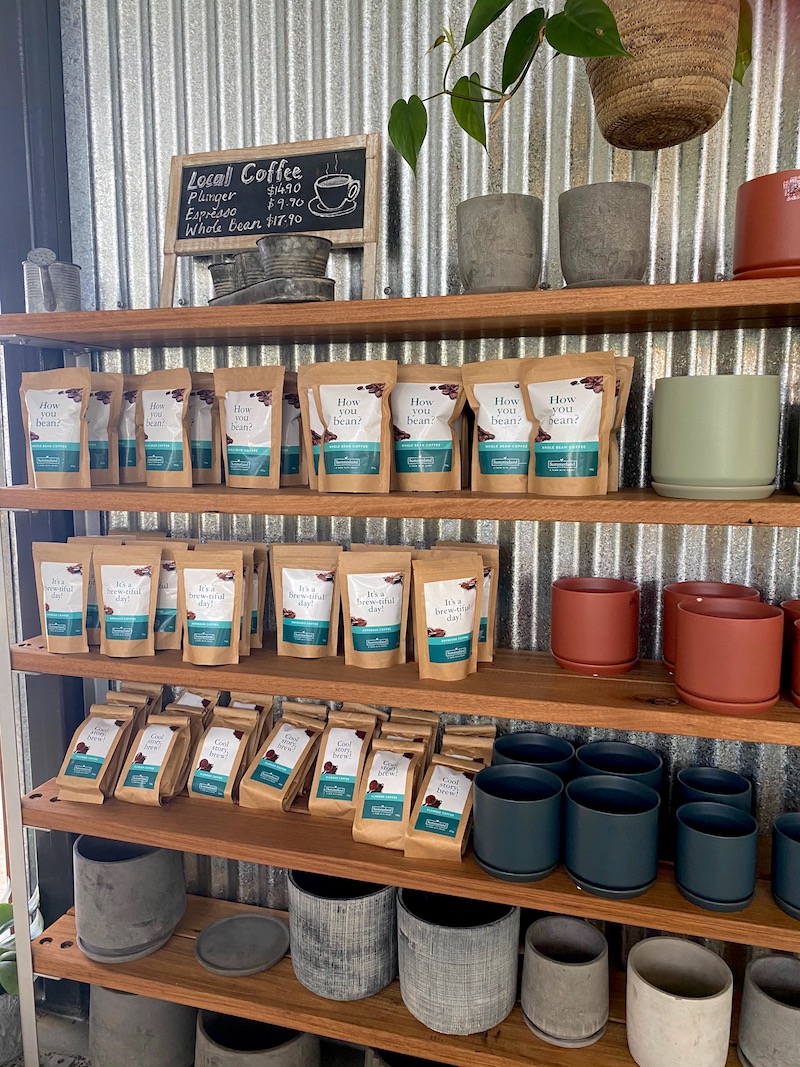 No.1: Summerland Farm Coffee
Their own products have hilarious clever slogans on the labels!
Take a look at a few below.
It's a brew-tiful day Espresso Coffee
How you bean? Whole Bean Coffee
Plunger Coffee
No.2: Summerland Farm Jams & Relishes
When life gives you … Lemon butter
Fruit chutney
Banana jam
Nectarine and plum jam
You're the zest! Orange marmalade
Rhubarb and apple jam
Tomato relish
Keen as Sweet mustard pickles
Berry delicious Strawberry jam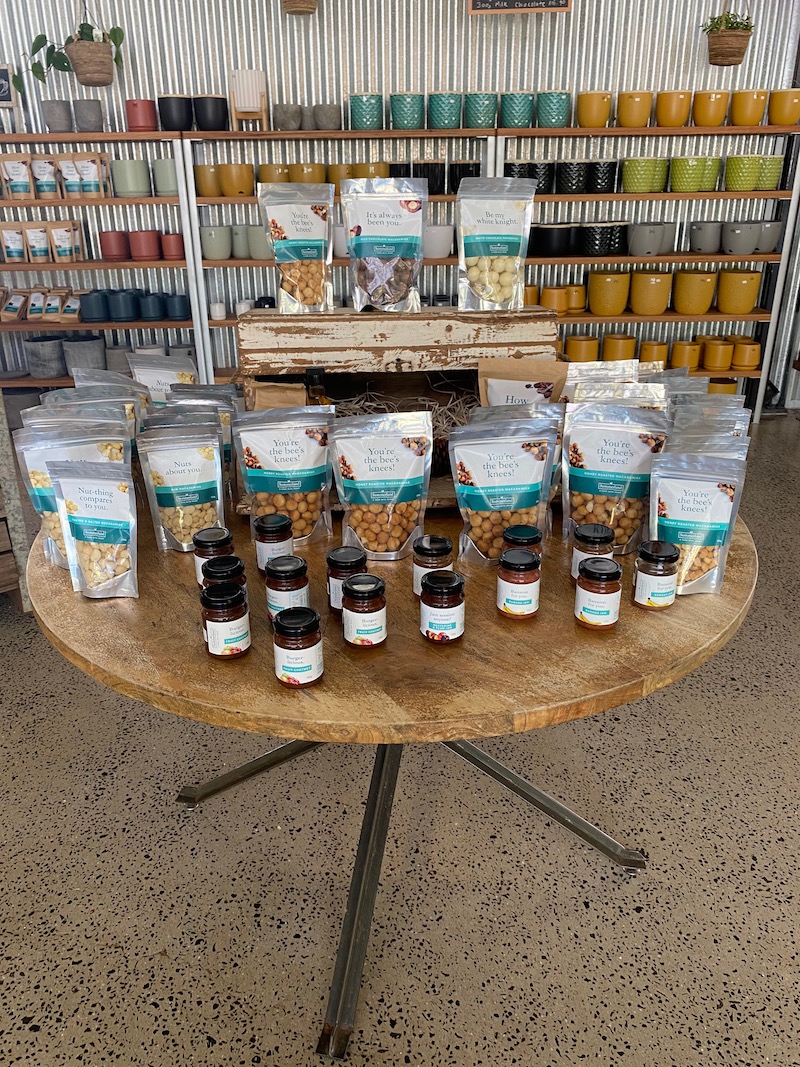 No.3: Summerland Farm Macadamias
Tall, dark & handsome Dark Chocolate macadamias
White chocolate macadamias
It's always been you Milk Chocolate macadamias
You're the bee's knees Honey roasted macadamias
Macadamia oil
Roasted & salted, or raw & natural macadamia nuts
Nuts in the shell bags
Macadamia and spice dukkha
These are now going on our big round up of the best Australian food gifts for family, friends & homesick expats!
No.4: Summerland Farm hampers
If you like the sound of their farm products, and can't choose, buy a hamper!
Hampers include Summerland House Farm food products AND a sample of some of the local producers food too.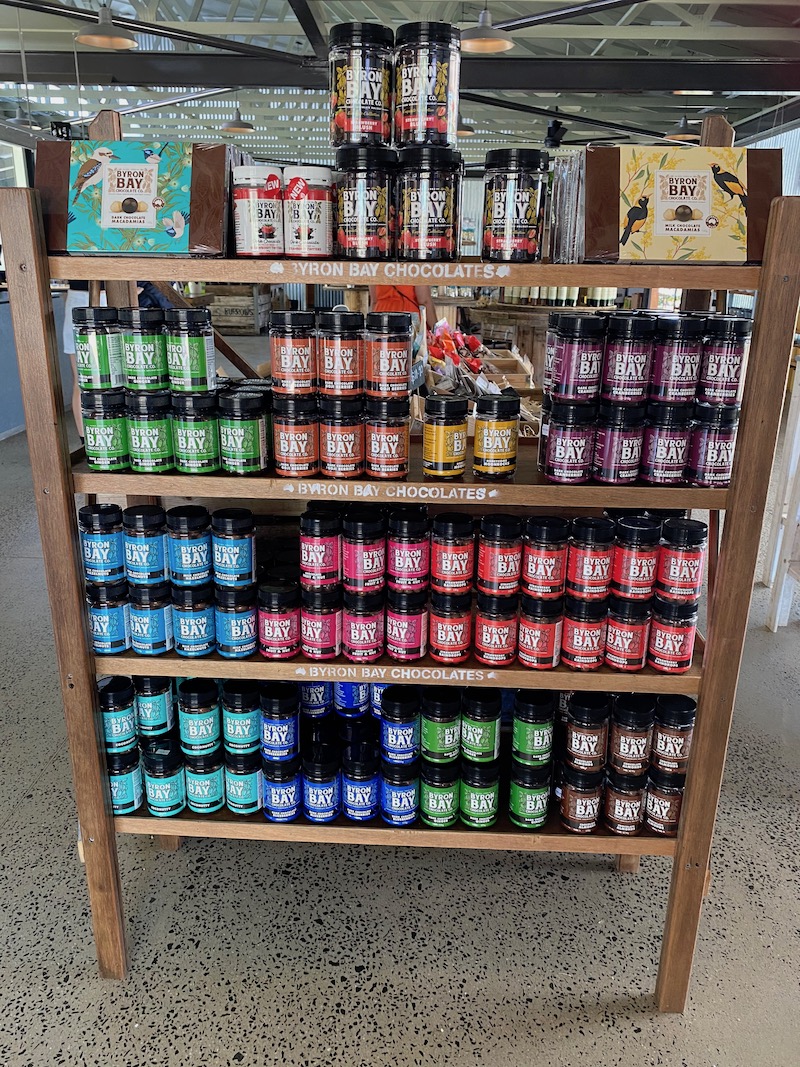 Shop MORE Local Farm Gate Produce at Summerland House Farm
No.1: Byron Bay Chocolates
Do not leave the farm without at least one jar from the Byron Bay Chocolate Co signature range.
Pick your flavour:
Chocolate macadamias
Dark chocolate blueberries
Strawberry raindrops
Milk chocolate hazelnuts
Dark chocolate cranberries
Dark chocolate goji berries
Chocolate fruit and nut
Dark chocolate ginger
Chocolate coffee beans
Honeycomb moonrocks
Chocolate almonds
Coconutty
The Byron Bay Chocolate Co. was founded in 1985 by David O'Connor and his wife Carole, and it's still a family business.
They manufacture these treats in their small factory in Byron Bay on Ewingsdale Road, near the Arts and Industrial area.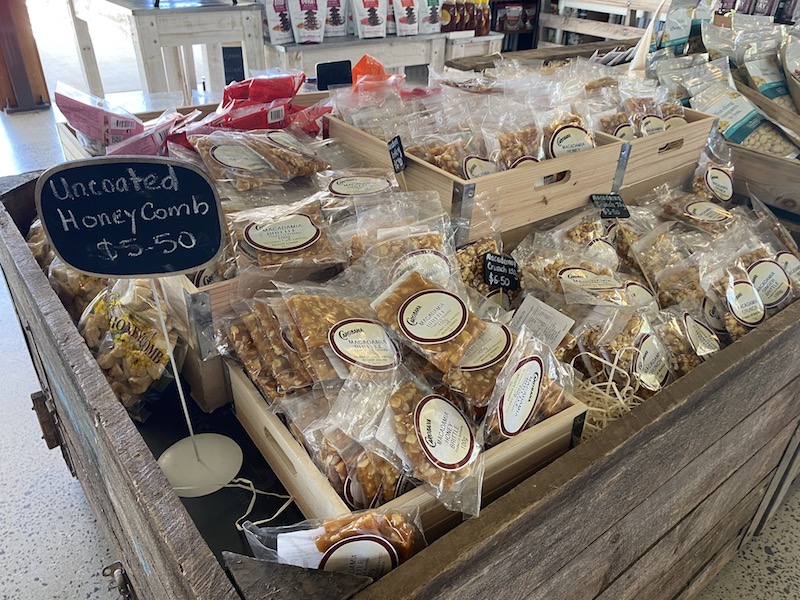 No.2: Honey nut treats
Grab a bag or two of these sweet treats by Carobana, made in Coffs Harbour!
Uncoated honeycomb – $5.50
Carobana Macadamia honey brittle – $6.90 (100 grams)
Macadamia crunch – $6.50 (150gram or $3.50 for 75 grams)
Macadamia ginger brittle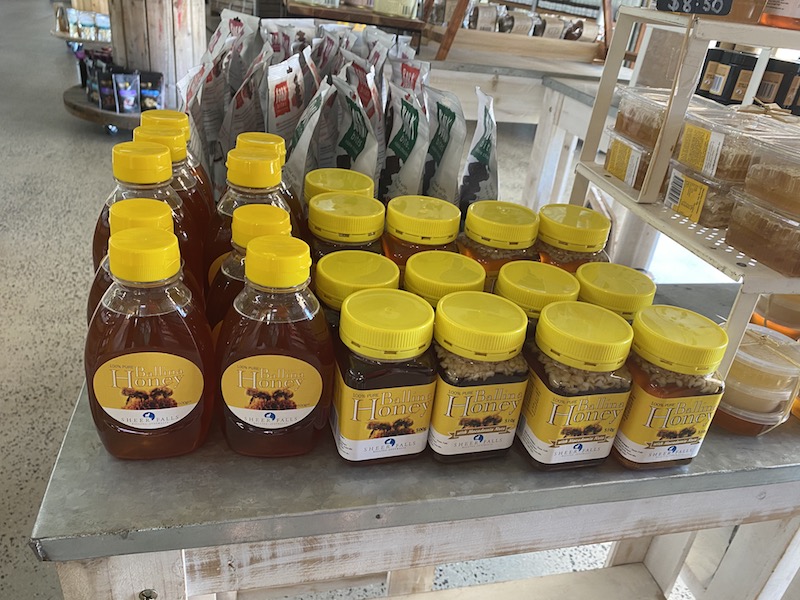 No.3: Ballina Honey
Ballina Honey comes from their honey farm in Pimlico, just south of Ballina.
They create artisan style, small batch raw pure honey.
You can also buy:
pure food grade beeswax blocks
DIY beeswax wrap kits, and
rich beeswax candles that smell like a day on the farm, and coloured like marigolds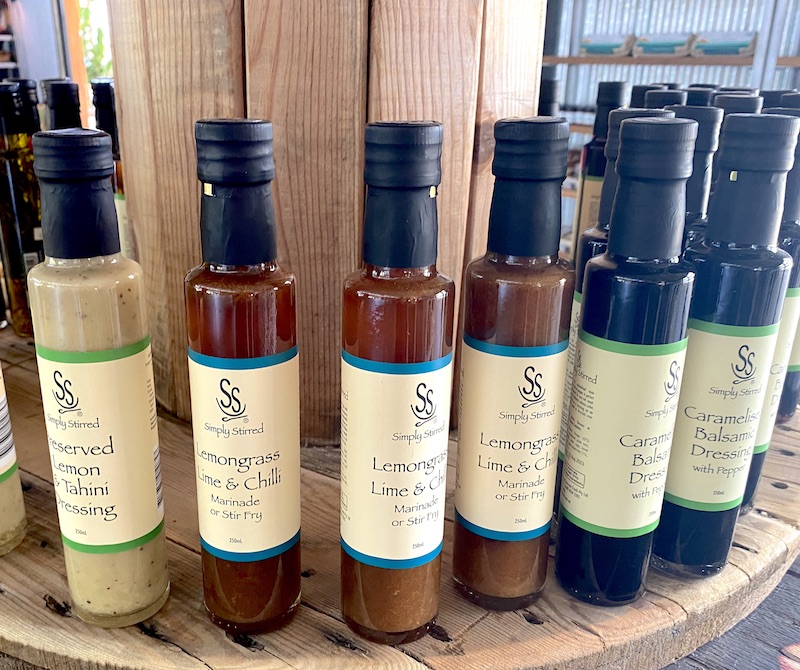 No.4: Simply Stirred sauces & marinades
Take a bottle or two of these award winning dressings, mayonnaise, marinades and relishes home!
Our faves?
Lemongrass, lime and chilli marinade or stir fry
Caramelised balsamic dressing with pepper
Preserved lemon & tahini dressing
These products are made in the Hunter Valley, so are not quite local, but are still divine.
No.5: Barefoot Farm Byron Bay Hinterland
Pick up a packet of dark chocolate, white chocolate, or milk chocolate covered pecans.
Or maple roasted ones!
Or texan BBQ pecans!
$15.90 a pack but you'll be going back for seconds.
They also sell Spiced Pecan DUKKAH to add a little pizzazz to your platters.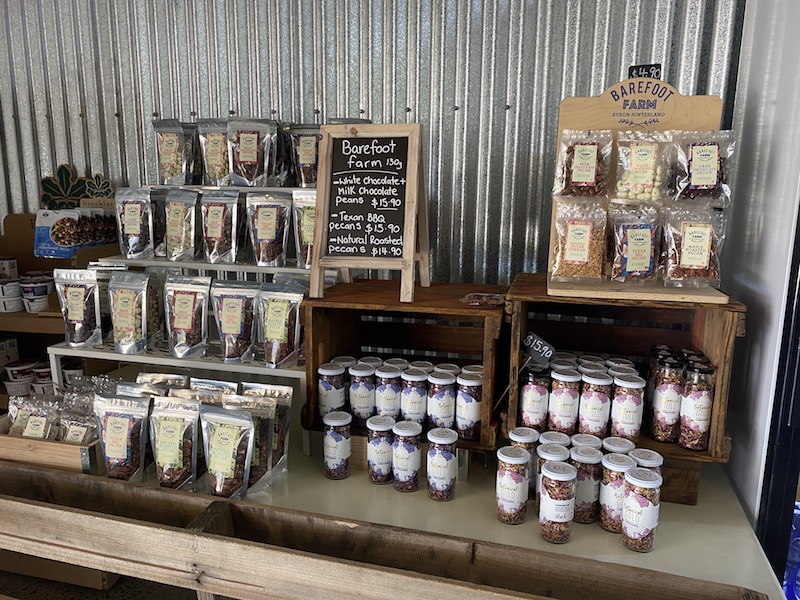 FAQ: Where to buy edible flowers for cakes?
If you are wondering where to buy edible flowers for salads, and you want to know where to buy edible flowers in Byron Bay, THIS is the spot!
Barefoot Farm create a range of Botanical Gold edible flowers in blush (pinks) and indigo (blues)
These dried edible flowers are dusted with 24ct GOLD!
How much do edible flowers cost?
The Barefoot Farm edible flowers in the shop cost $15.90 .
That's about 25% cheaper than in their online shop.
What do Edible flowers taste like?
Not a whole lot.
But taste is not why we use them.
Adding edible flowers to your baked creations or drinks is an instant colourful boost to your daily happiness!
Hot tip: Read these guides for more details on buying edible blooms in Australia.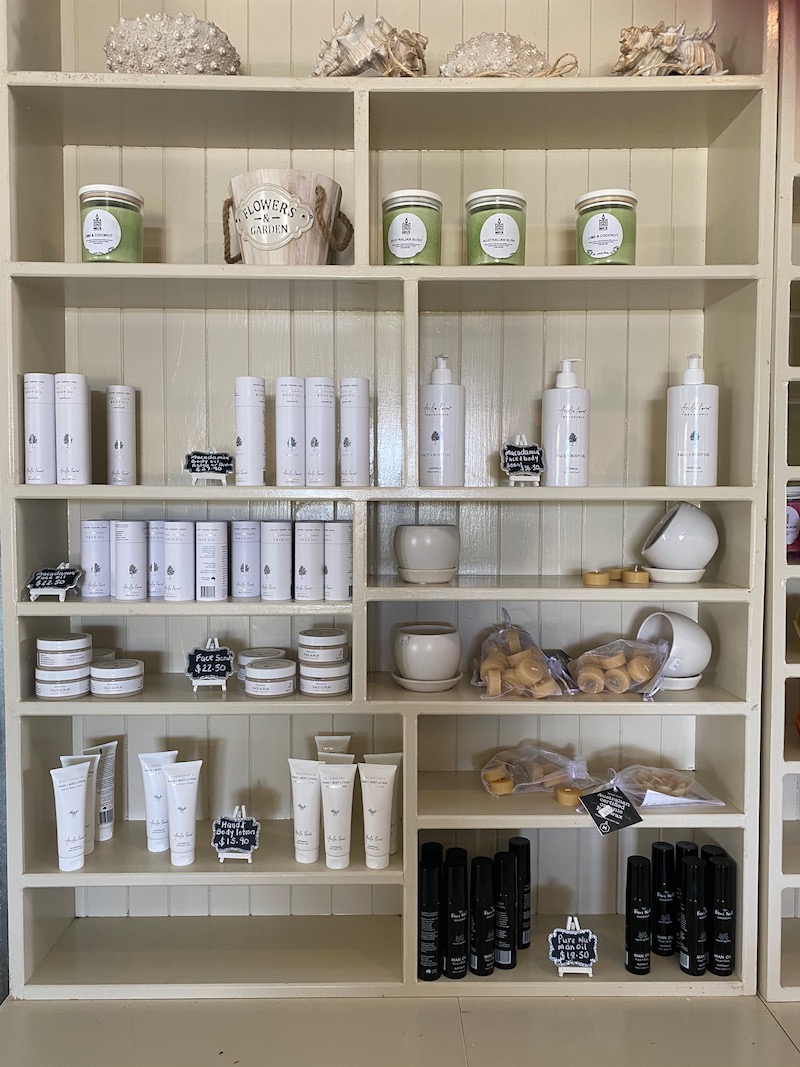 Summerland House Farm Gifts
No.1: Avilla Farm body & beauty products
You'll also find a range of heartfelt locally-made gifts in the grocer.
Look for the:
Avilla Farm Macadamia face oil
Avilla Farm body oil
Avilla Farm face scrub
Avilla Farm face and body oil, and
Avilla Farm hand and body lotion.
Starting from $15.90, these are a gorgeous souvenir of your Byron Bay vacation.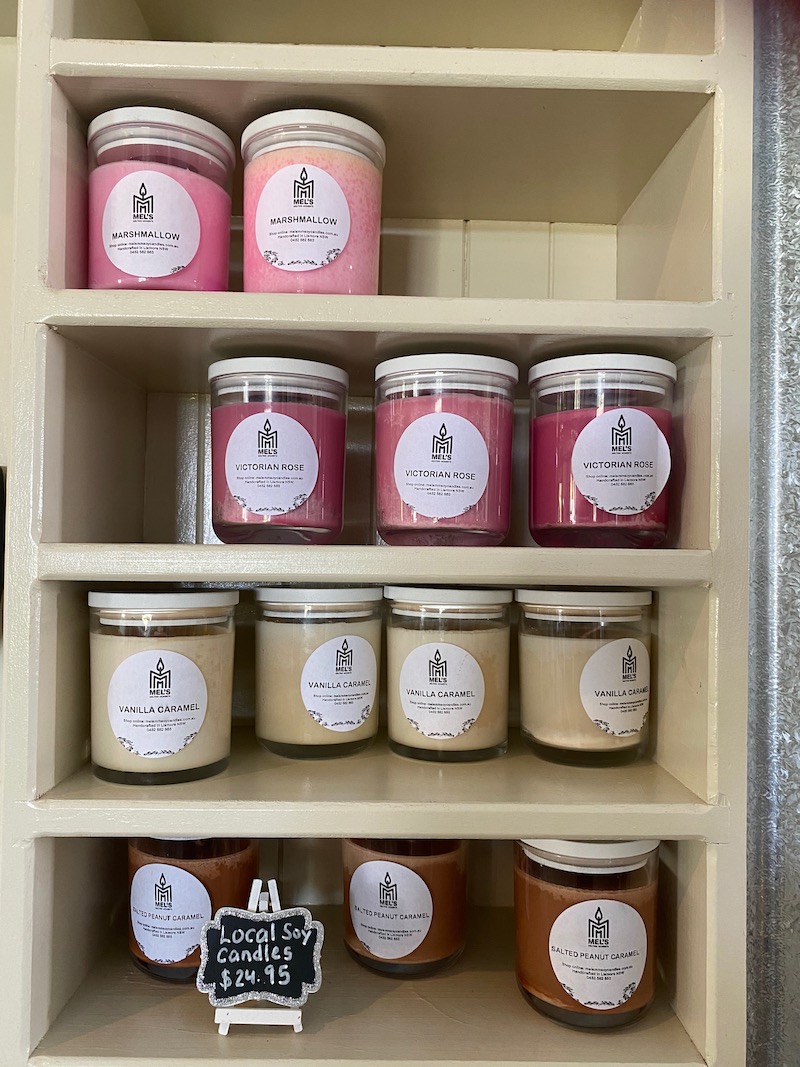 No.2: Mel's Melting Moments Soy Candles
Pick up a delicious smelling soy candle or two from local candle maker, Mel's of Goonellabah.
Look out for the one called "Australian Bush"
Or lime and coconut.
Or marshmellow.
Or SALTED PEANUT CARAMEL!
$24.95 each.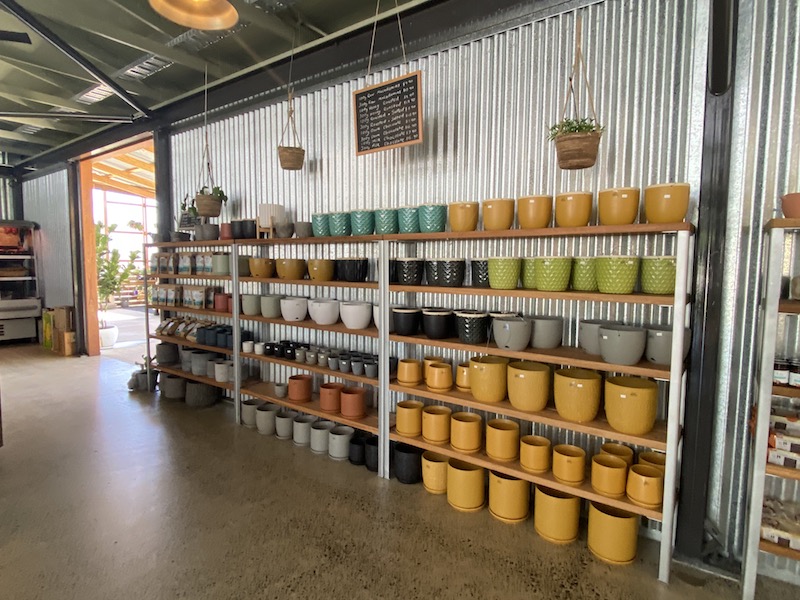 No.3: Ceramic Plant Pots
Check out the plant pots too.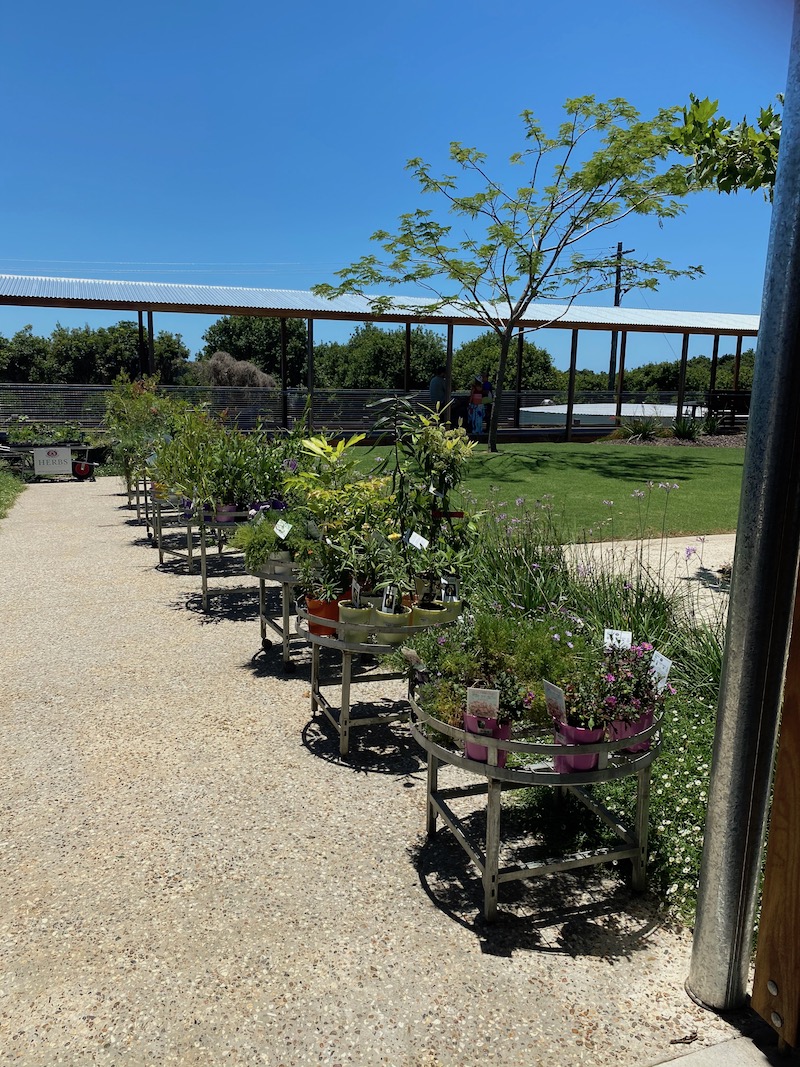 No.4: Summerland House Farm Nursery
Out the back of the Grocer, there's the Potting Shed.
Pick up a potted plant, Byron Bay herbs, succulents, and more.
A plant in one of the ceramic plant pots from inside is a top choice.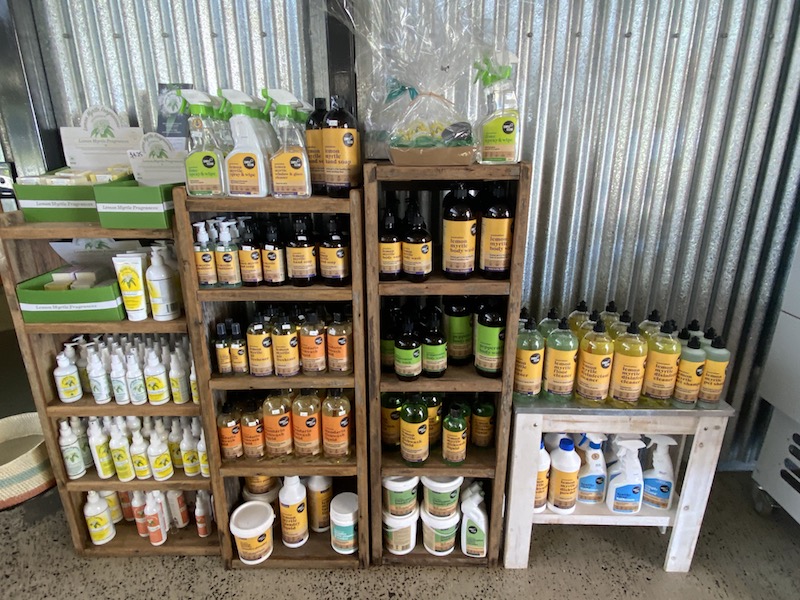 Where to buy Simply Clean products in Byron Bay?
Not into plants?
But love the smell of Lemon Myrtle?
Take home one (or more) of the Simply Clean cleaning products.
Their toxin free cleaning products include:
Lemon Myrtle dishwash liquid
Lemon Myrtle disinfectant cleaner
Lemon Myrtle spray & wipe
Lemon Myrtle air freshener (we are never without this!)
Lemon Myrtle window and glass cleaner
Australian Lime spray & wipe
Australian mandarin dishwash liquid
There's also a range of Eucalyptus products – a unique Australian souvenir for the person who has everything!
Eucalyptus laundry powder
Australian Eucalyptus toilet cleaner
Buy them in regular size, or bulk!
There's also gift packs, and Lemon Myrtle soap too.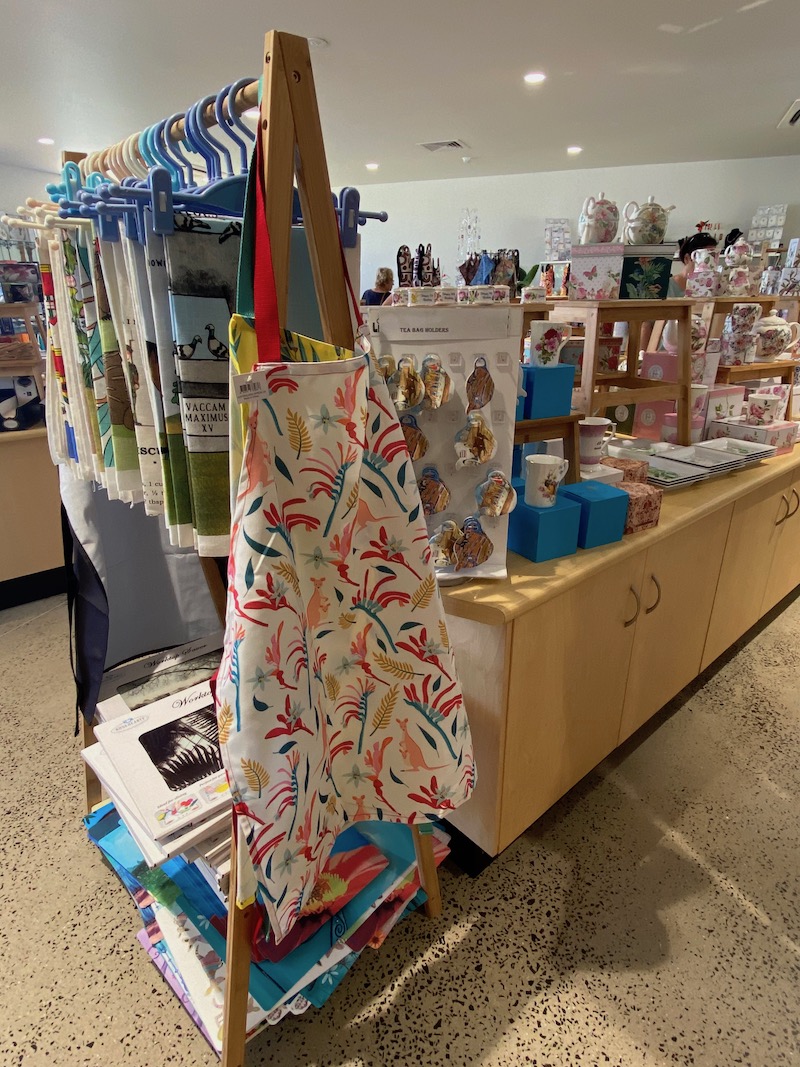 Cawleys Cottage Gift shop
Find plenty of the best Australian souvenirs and gifts in the gift shop next to the fresh produce.
Walk through the glass door and shop in air conditioned comfort.
Pick up:
Aboriginal design water bottles & water bottle holders
Australian animal coasters, magnets, & calendars
Australian flower teacups, mugs, and aprons
Leather handbags & shoulder bags
Scarves, jewellery and accessories
The shop is run by volunteers and has been fundraising since 1985.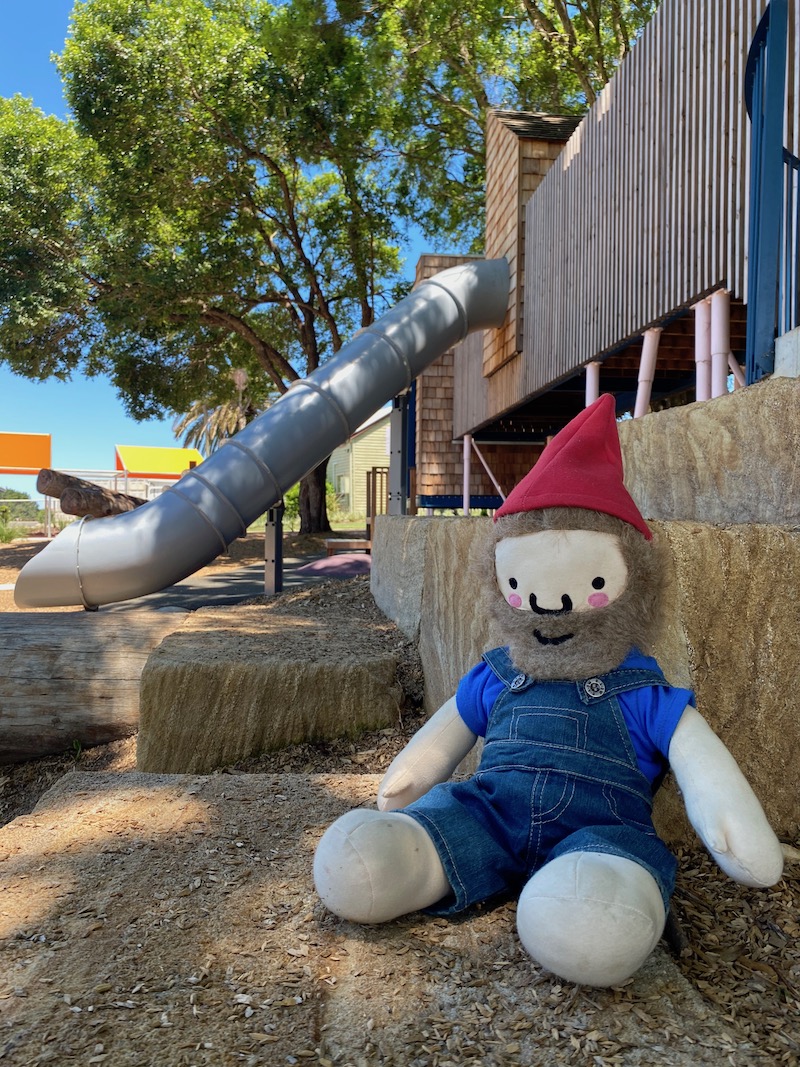 THE INSIDE SCOOP: Best Things to do at Summerland House Farm with kids!
Correct at time of publication on Roam the Gnome. Please check with venue for updates. We apologise in advance if there have been any changes we are unaware of. All prices in AUD dollars, unless otherwise stated
Address: 263 Wardell Road, Alstonville in the Byron Hinterland on the north coast of New South Wales.
About Summerland
Did you know there's an ADVENTURE PLAYGROUND at Summerland House Farm?
AND, a water park for kids!
Read our guide to take a look at the best things to do at Summerland House Farm for kids.
Includes details of:
Summerland House Farm entry fees
Summerland House farm opening hours
opportunities to meet their farm animals
what to buy from the Summerland House Farm menu, and more!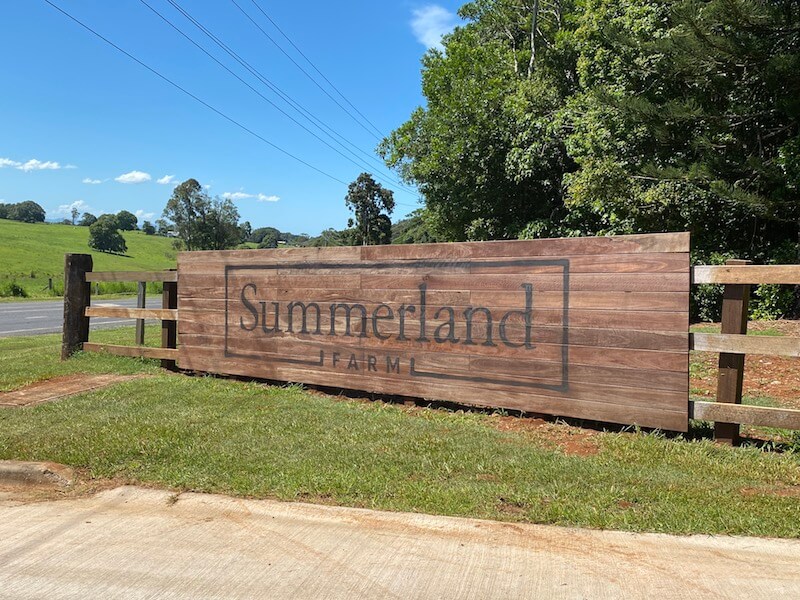 How to get to Summerland House Farm Alstonville
By Car: You really need a car to get to Summerland House Farm, as it's in the country.
Get directions from google maps here.
How far is Summerland House Farm from Byron Bay?
Around a 40 minute drive from Byron Bay to Summerland House Farm.
How far is Summerland House Farm from Ballina?
An easy 20km drive, about 25 mins.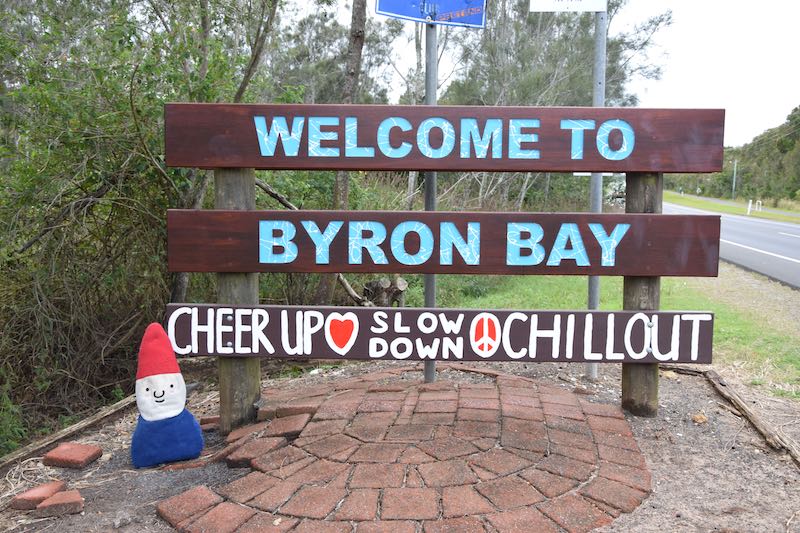 Looking for more things to do in Byron Bay with kids?
Click the blue links below for more things to do in Byron Shire with kids.