INSIDE: Roam the Gnome's Guide to Swimming at Weston Park Yarralumla.
When the weather's hot, and the air is dry, and you need to escape the pressure cooker of a Canberra summer time, head straight to Weston Park Yarralumla for a refreshing dip in the waters of Weston Park.
The best thing is there's a designated area for small kids inside a swimming enclosure to the right.
Clever planning Canberra!
Take a look.
Disclosure: This article contains affiliate links. If you make a purchase after clicking on one of these links, we may receive a small commission at NO extra cost to you.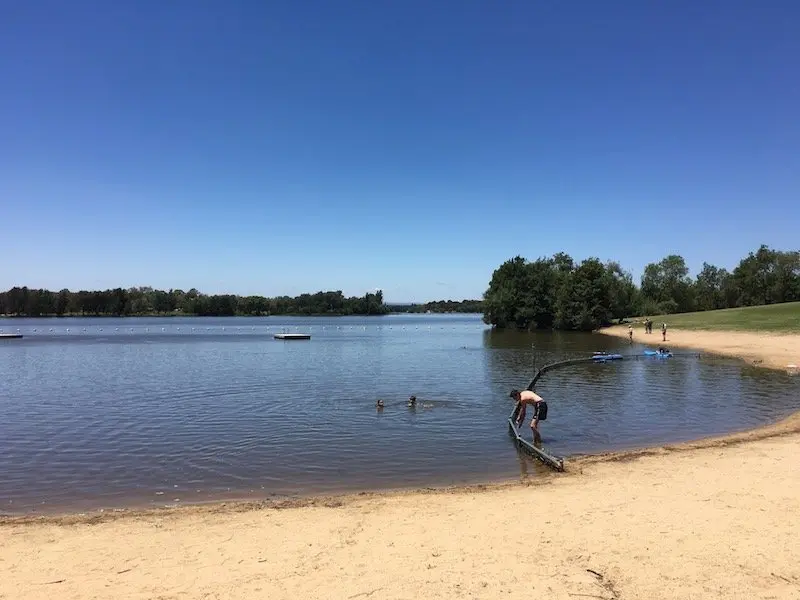 Swimming Enclosure for Kids at Western Park Yarralumla ACT
Weston Park is shaded by large gums and is a scene straight out of Waltzing Matilda.
You can just imagine yourself as a billy-toting bushranger setting up camp in this typically Australian bush setting.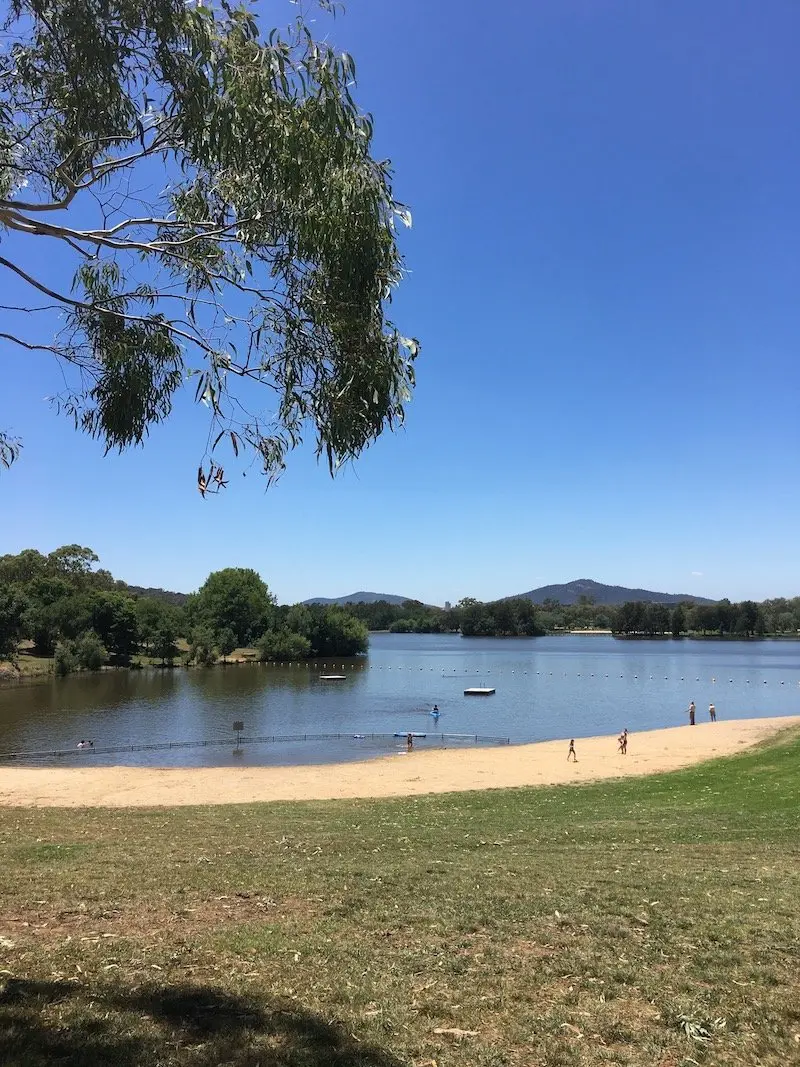 Fresh Air & Nature
While you can't quite do that these days, (the Canberra police would move you swiftly onwards), it's a top spot for a day out, especially if you take a walk around the grounds.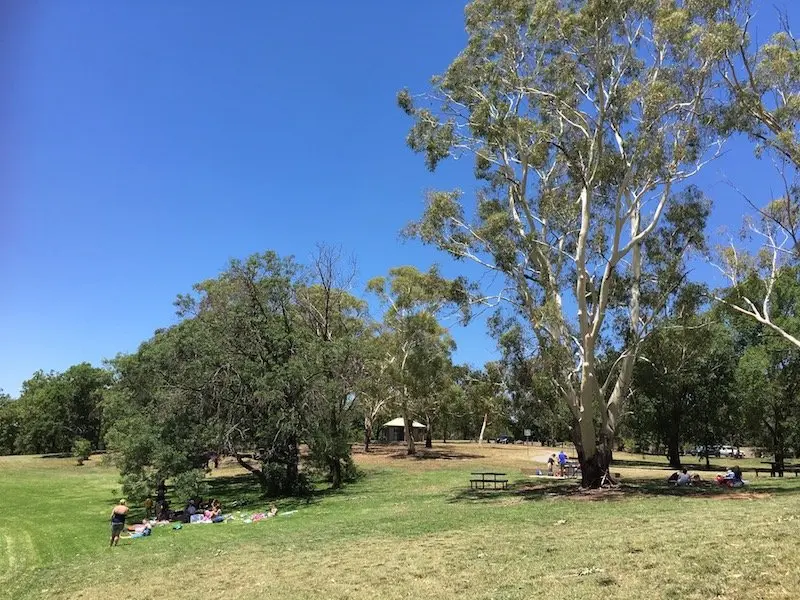 Best Picnic Spots in Canberra
Weston Park Yarralumla is one of the best picnic spots in Canberra, and perfect for a day out for families and young kids.
There's picnic tables randomly set up under trees, as well as shade huts with picnic tables.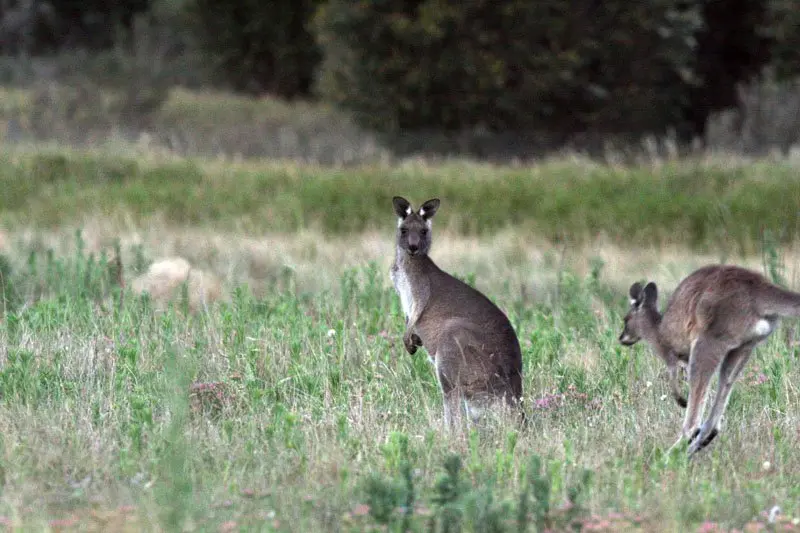 Image credit: Eva Rinaldi via Flickr CC BY-SA 2.0
See Kangaroos in Canberra
Bonus tip: If you want to find where to see Kangaroos in Canberra, Yarralumla park is the place to go.
There's a mob of kangaroos that calls this park home.
It's common practice for locals bring their Australian and overseas guests here to see them.
You are almost guaranteed a sighting.
The best bet to see kangaroos in the wild in Canberra here is to head to the Royal Canberra Golf course, or take a slow drive around Weston Park.
Kangaroos can often be seen resting under the trees.
Remember that kangaroos are wild animals, so keep your distance, especially if you have small children in tow.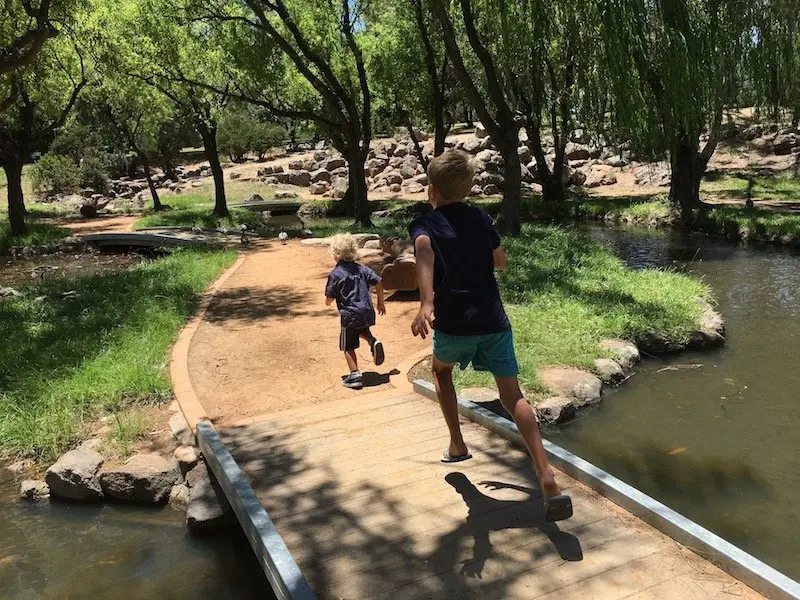 Weston Park Nature Play in Canberra
There's another area of Weston Park that is a top spot for a little imaginative nature play amongst the big boulders and manmade rock waterfall.
Yarralumla Park Nature Play area can be found beside the weeping willows.
Yarralumla Play Station & Weston Park Playground
Not too far away, you'll also find the Yarralumla Adventure Playground at Weston Park.
This Yarralumla playground is also called the Yarralumla water park as there's a cool water feature for kids to dip their toes in.
(Read all about it in the link above)
Across the road from here, find: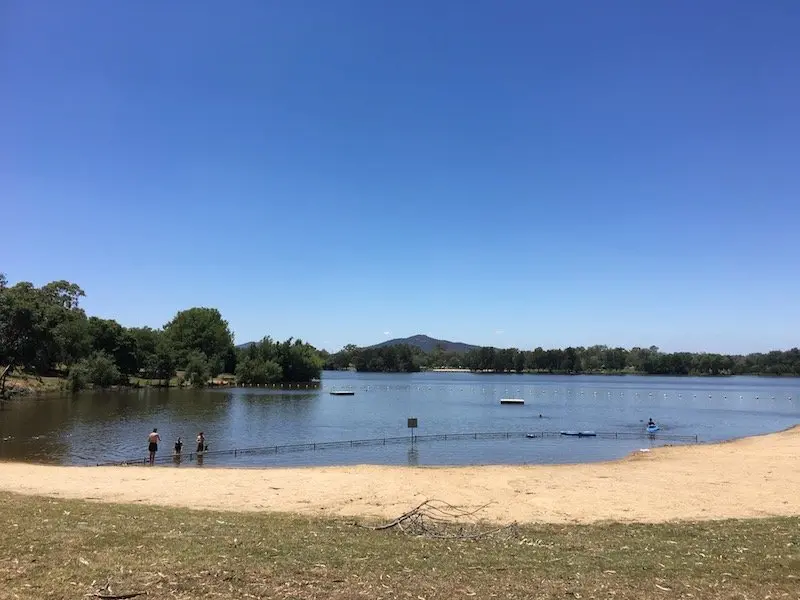 THE INSIDE SCOOP – Weston Park Canberra
Correct at time of publication on Roam the Gnome. Please check with venue for updates. We apologise in advance if there have been any changes we are unaware of. All prices in AUD dollars, unless otherwise stated
Address: Weston Park, Weston Park Rd, Yarralumla ACT 2600
Telephone: 132281 (Canberra Connect)
Website: Click here
Weston Park Canberra Opening Hours
Gates allow access between 7am and 10pm during daylight saving,
Gates allow access between 7am until 8pm during other months
Entry Fees: Free
How to get to Weston Park in Canberra
By Bus:
The Bus No. 315 and Bus No. 1 stop at Weston Park Yarralumla Canberra.
The Moovit App can guide you there.
By Car (or Taxi/Uber):
6.6km via Commonwealth Ave/A23 and Alexandrina Drive (9 minutes from the CBD), or
10km via Commonwealth Ave (11 minutes from the CBD)
Car Parking at Weston Park Canberra
Free on-street parking around the park grounds.
Weston Park Map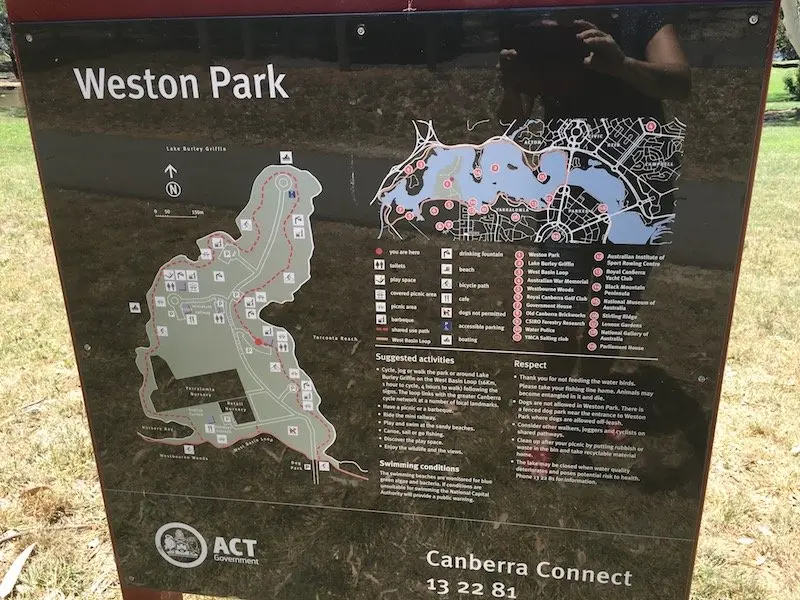 Facilities at Weston Park Yarralumla
Nearest takeaway coffee: 400 metres walk to Weston Park Railway Stop Cafe
Toilets: Yes
Disability access: Yes
Closest playground: Yarralumla Adventure Playground, 300 metres walk away (click the story link above)
Shade: Yes, tree cover
Enclosed: No. Small shallow swimming area enclosed from rest of lake.
Ground cover: Grass
Food options: BYO picnic (see closest takeaway cafe above)
Picnic tables: Yes
Electric BBQs: Yes
Water Bubblers/fountains: Yes
Scooters and Bikes: Yes, there's a bike path cycle track running throughout the park
Dogs: No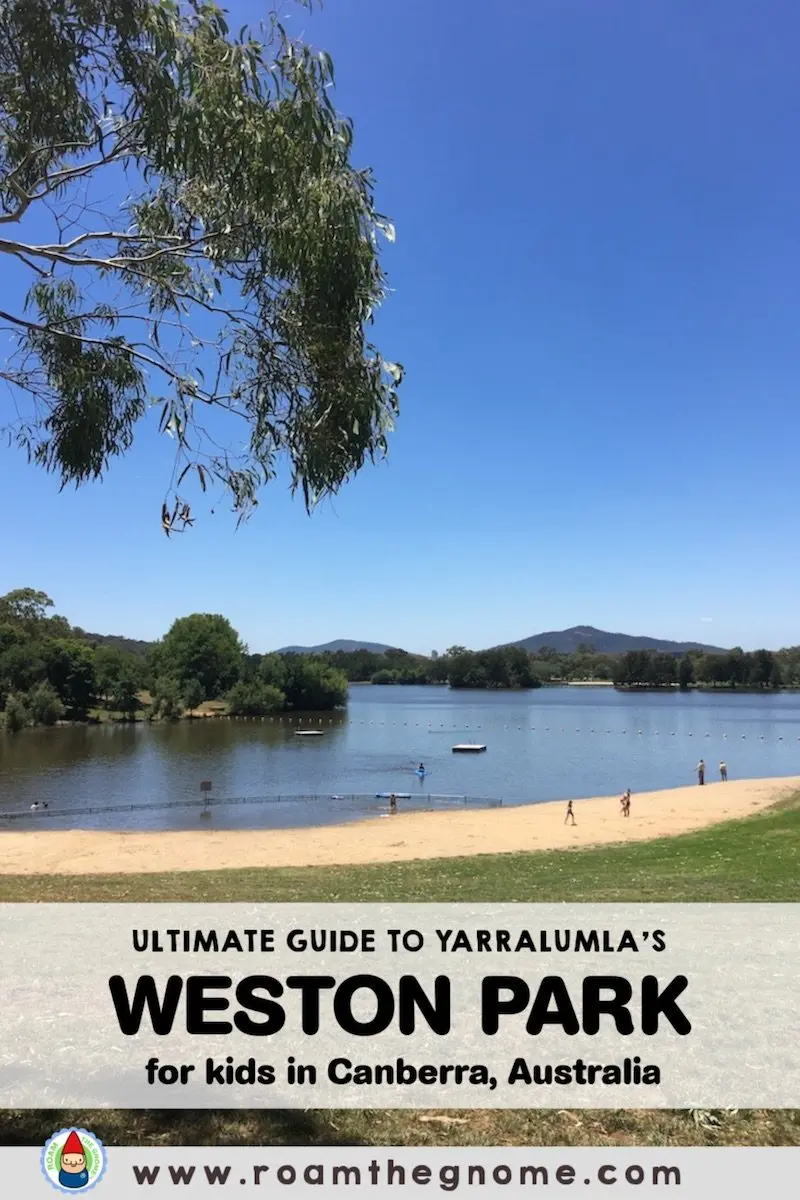 Toadstool Rating- Yarralumla Park Canberra Gardens and Parks.
This swimming hole in Weston Park in Canberra gets two toadstools and a thumbs up. It's not the most beautiful of swimming enclosures, but on a hot day in Canberra, swimming here more than suffices.
But you should definitely visit Weston Park in Yarralumla with kids as there are SO many free activities to do here.

Looking for MORE SUPER DOOPER FUN places to visit in Canberra with kids?
Click the links in blue below for more Canberra attractions.