INSIDE: Roam the Gnome's Guide to the best Canberra Mini Golf course at Weston Park Yarralumla.
THIS Canberra Mini Golf course is Putt Putt Mini Golf with a difference.
Imagine this:
Putting your ball around sailboats sweeping around a to-scale version of Lake Burley Griffen
Guiding your ball back and forth between a random assembly of bicycle wheels poking up from the earth
Scooting your ball up the hill towards a miniature version of Telstra Tower
Or shooting your ball down the straight towards the flags atop Parliamentary House at Parliamentary Triangle, and then down Anzac Parade towards the War Memorial
You can do all this, and MORE, at Weston Park Mini Golf. (Also called Yarralumla Mini Golf, or Weston Park Golf.)
Take a look inside below.
Disclosure: This article contains affiliate links. If you make a purchase after clicking on one of these links, we may receive a small commission at NO extra cost to you.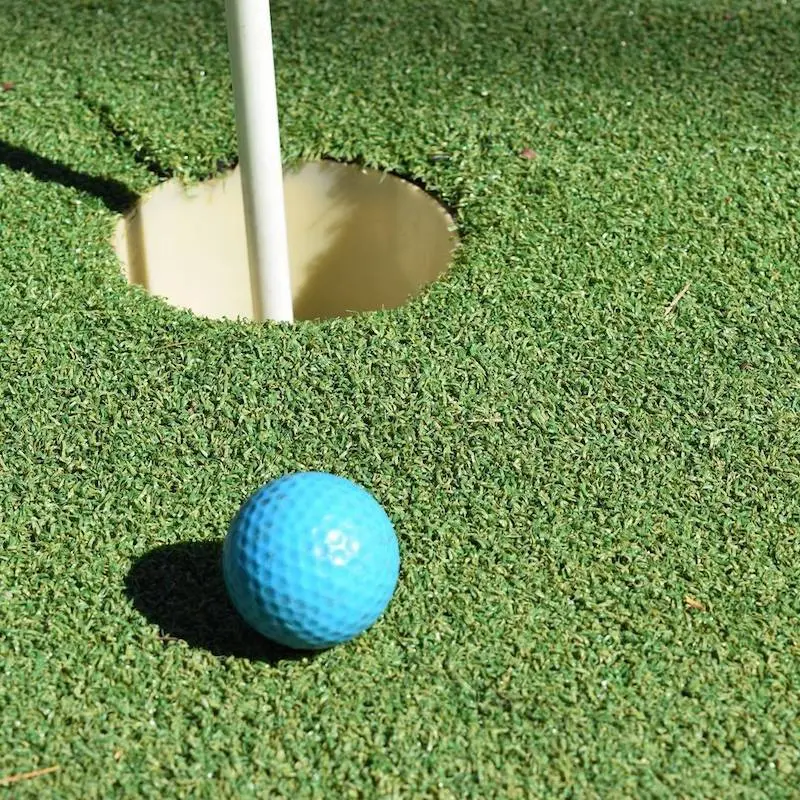 Image credit: Yarralumla Play Station
Weston Park Mini Golf Canberra has two courses
Lake Walter Miniature Golf at the Yarralumla Play Station rates as one of the best mini golf courses we've ever seen, and is well known as the best mini golf Canberra has for kids and families.
We love that the Lake Walter Links course feature light-hearted versions of iconic Canberra sights – that alone makes this mini golf in Canberra worth a visit.
It's fun to putt your ball around small-scale replicas of all the tourist attractions you've been visiting.
Most kids find this to be a hoot!
---
Related: The Ultimate List of Things to do in CANBERRA with kids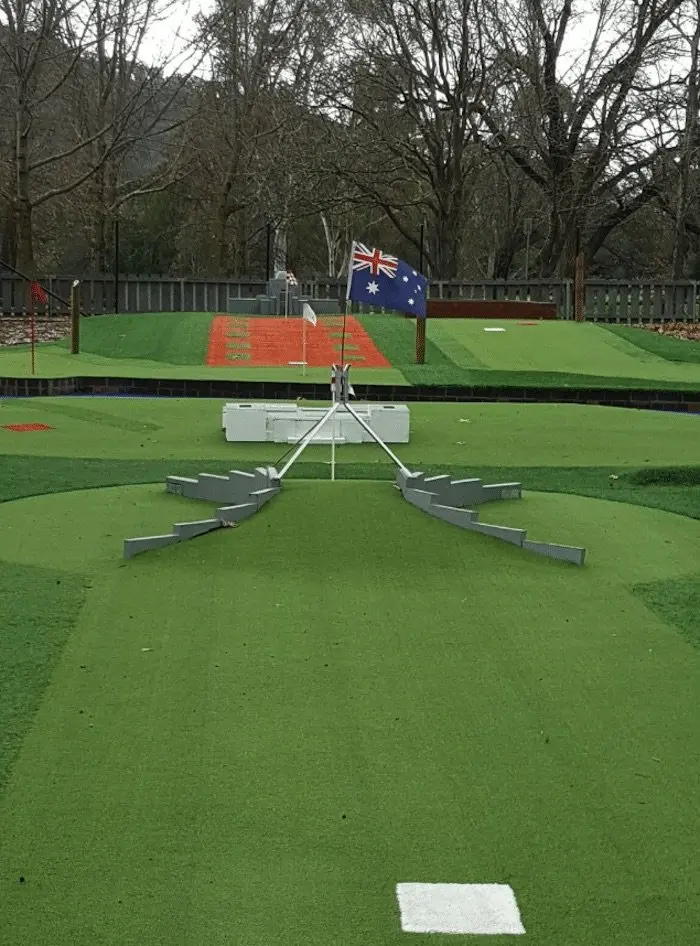 Image credit: vincem123 Tripadvisor
Best Canberra Mini Golf Courses!
Course #1 – Lake Walter Links
The first course is a small-scale version of a stylish golf course.
Like a proper course, this golf landscape features
varied elevations
differing kinds of turf to challenge skills
multiple tee off positions.
The best bit?
This Lake Walter links course has a to-scale representation of:
the Parliamentary Triangle
Parliament House
Lake Burley Griffen, and
both the Commonwealth & Kings Avenue Bridges!
Older kids and adults like the challenges of this course.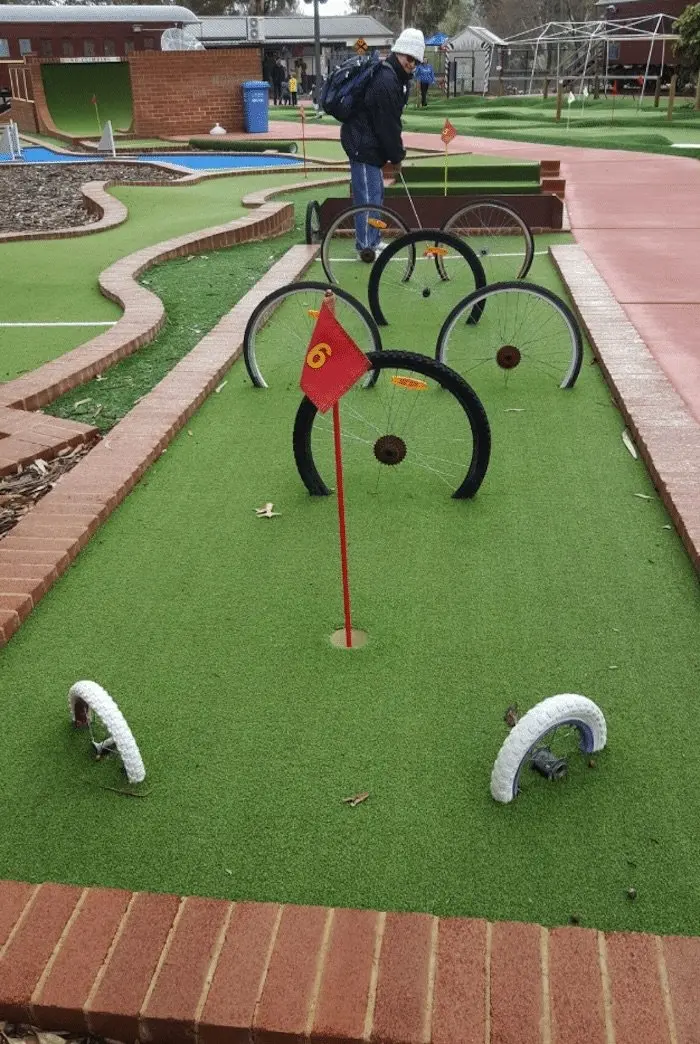 Image credit: vincem123 Tripadvisor
Course #2 – Lake Walter Putt Putt Course
The second course is the more traditional-style putt putt golf where you putt your ball around annoying and challenging obstacles.
In this course, the obstacles are original and unusual.
You will find yourself putting:
around bicycle wheels
putting balls up a skateboard ramp, and
along sprinting tracks.
You never know what's around the corner!
That's what makes it such a super fun and unique experience for all the family!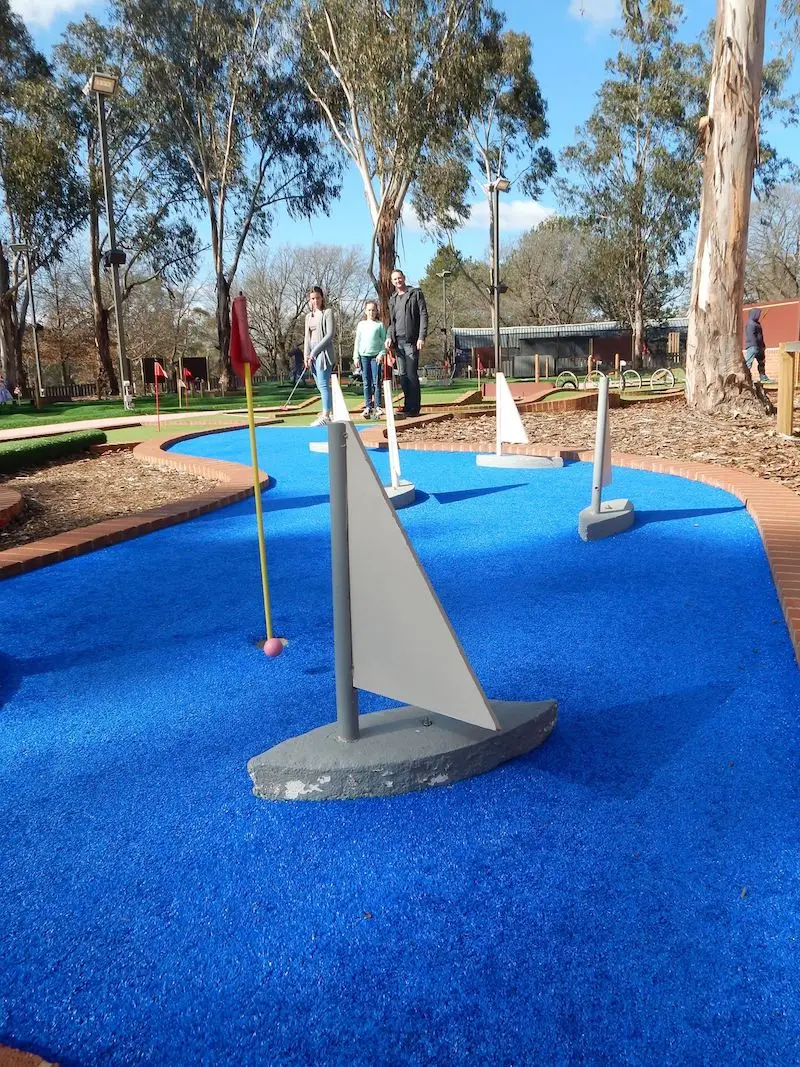 Image credit: Yarralumla Play Station
What's included at Yarralumla Mini Golf Canberra?
Yarralumla Play Station supplies everything you need for mini golf including:
colour coded balls
putters
scorecards, and
pencils.
All you need to bring is a sense of wonder, and an appetite for fun.
Where is Weston Park Mini Golf located?
Weston Park Golf is located at Yarralumla Play Station in Weston Park Yarralumla.
(Sneak a peek at the other things you can do at Yarralumla Play Station here.)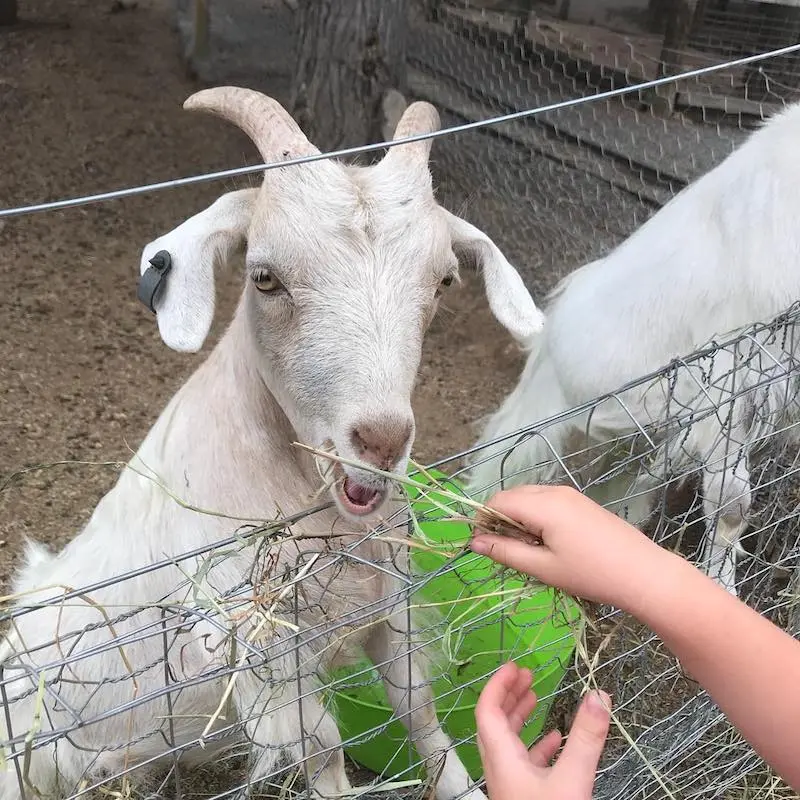 Image credit: Yarralumla Play Station
MORE things to do at Yarralumla Play Station
No.1 Visit Farm Friends & Ride the Weston Park train
Do a loop on the Weston Park railway train, all the way to see the Farm Friends.
Say hi to the alpacas, the sheep, the goats & the chickens before you return.
Enjoy a bite to eat at Railway Station Stop Cafe in the main building before you go.
No.2: Weston Park Adventure Playground
Enjoy water play at this unique Canberra playground across the road from the Canberra mini golf course.
No.3: Yarralumla Park Nature Play area
Stop by the Weeping Willows for laid back time playing outdoors in this spectacular park environment.
No.4: Swim at the Lake
Visit the Weston Park swimming enclosure and take a dip on a hot day.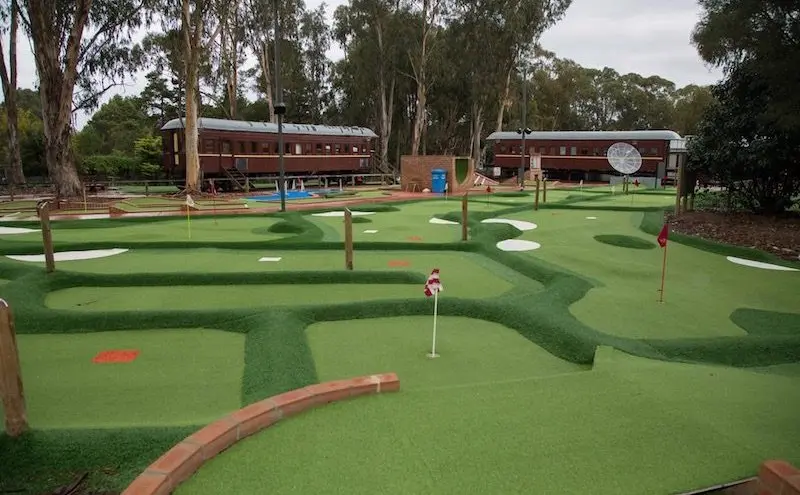 Image credit: Yarralumla Play Station
THE INSIDE SCOOP: Mini Golf Canberra
Correct at time of publication on Roam the Gnome. Please check with venue for updates. We apologise in advance if there have been any changes we are unaware of. All prices in AUD dollars, unless otherwise stated
Address: Canberra Mini Golf is at Yarralumla Play Station, 9 Pescott Lane, Yarralumla ACT 2600
Telephone: Phone: (02) 6282 2714
Email: [email protected]
Website: Click here
Opening Hours at Yarralumla Play Station for Mini Golf
Monday to Friday – 8:30am to 4:30pm
Saturday and Sunday – 8:00am to 5:30pm
Closed Christmas Day and Boxing Day
Entry Fees – Yarralumla Miniature Golf Putt Putt Canberra
Children (under 15 years) – $10 (18 holes) or $15 (36 holes)
Adults – $14 (18 holes) or $20 (36 holes)
Family Pass ( 1 A & 3 C, or 2 A & 2 C) – $40 (18 holes) or $60 (36 holes)
Extra child on Family Pass – $5 (18 holes) or $8 (36 holes)
How to get to Weston Park Mini Golf
By Bus: The Bus No. 315 and Bus No. 1 stop at Weston Park Yarralumla Canberra. The Moovit App can guide you there.
By Car (or Taxi/Uber): 7 km via Commonwealth Ave/A23 and Alexandrina Drive (10 minutes from the CBD), or 10km via Commonwealth Ave (14 minutes from the CBD)
Weston Park Parking
Free parking in the park.
Map of Yarralumla Mini Golf Putt Putt
Facilities at Weston Park Putt Putt Golf
Find these facilities at this Putt Putt golf Canberra location:
Nearest takeaway coffee: Head straight to the counter at Weston Park Railway Stop Cafe for your daily brew.
Toilets: Yes
Disability access: Yes
Closest playground: Yarralumla Adventure Playground (link above), 50 metres walk away
Shade: Yes, tree cover
Enclosed: Yes
Ground cover: Grass, bricks
Food options: Cafe on site.
Picnic tables: Yes
Water Bubblers/fountains: Yes, next to Adventure playground nearby
Scooters and Bikes: Yes, there's a bike path cycle track running throughout the park. There's room to lock your bikes up while you play.
Dogs: No
Toadstool Rating – Weston Park Golf Review
4 toadstools!
A fun morning outing for families in Canberra.


MORE MINI GOLF COURSES IN CANBERRA
Find more mini golf courses here:

Image credit: Power Kart Raceway
No.1: Jungle Indoor Mini Golf at Power Kart Raceway
Jungle Golf Canberra is the first indoor glow in the dark mini golf course in the ACT.
This glow in the dark mini golf is illuminated by special UV lighting. Kids from 2, right through to adults, LOVE it!
Jungle Mini Golf Canberra is now open at Power Kart Raceway, 125 Canberra Ave, Griffith ACT.
Call 02 6239 5599 for details.


No.2: Mini Golf King at the Canberra Outlet Centre Fyshwick
Check out the American style themed indoor mini golf centre located at 337 Canberra Ave, Fyshwick at the Canberra Outlet Centre. The air conditioned 18 hole course has multiple themes throughout including:
Lost Jungle
Pharaoh's Tomb, and
the Dragon's Lair
No bookings required.
Just turn up.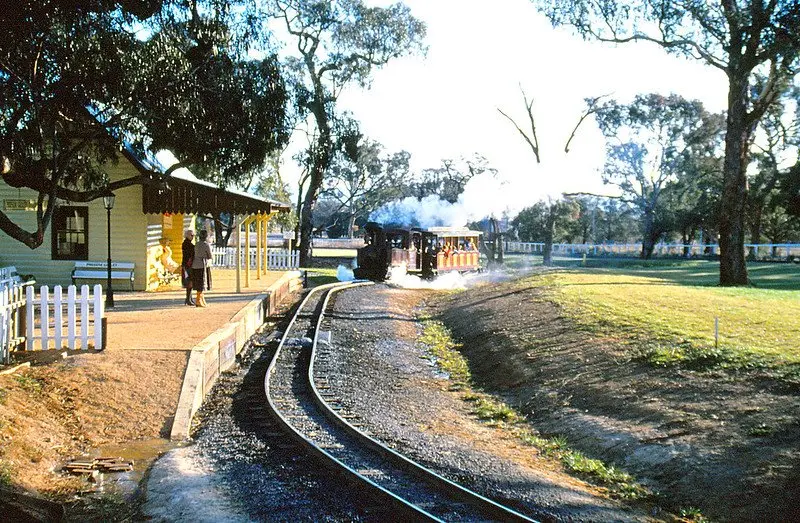 Image credit: Brian Ireland via Flickr CC BY-SA 2.0
No.3: Cockington Green Gardens
Unfortunately, despite rumours, there's no mini golf at Cockington Green gardens, but there IS a Miniature Steam Train Ride that runs on a 12″ gauge track.
In any case, this is one fabulous tourist attraction for kids in Canberra on a school holiday trip to the Australian Capital Territory. .
Looking for MORE SUPER DOOPER FUN places to visit in Canberra with kids?
Click the links in blue below for more Canberra attractions.