INSIDE: Roam the Gnome's Guide to Weston Park Adventure Playground at Yarralumla Canberra.
Bring a change of clothes for the kids when you visit the Weston Park Adventure Playground in Canberra.
It's an unusual set up and layout for a playground, one we've not seen anywhere before.
I'm not sure who designed it or what they had in mind, but the kids love it.
Especially the rocky water course they can walk along, and through.
This feature at Yarralumla Water Park guarantees they don't stay dry for long.
Take a look at this, and more, below.
Disclosure: This article contains affiliate links. If you make a purchase after clicking on one of these links, we may receive a small commission at NO extra cost to you
A Sneak Peek at Weston Park Adventure Playground Canberra
The Adventure Playground in Weston Park is one of the best public playgrounds in Canberra with plenty to keep the kids happy.
The Weston Park playground features:
a separate zone with swings, and a giant spiderweb climbing frame
a sand digger in its' own sand pit
---
RELATED: The ultimate list of things to do in Canberra with kids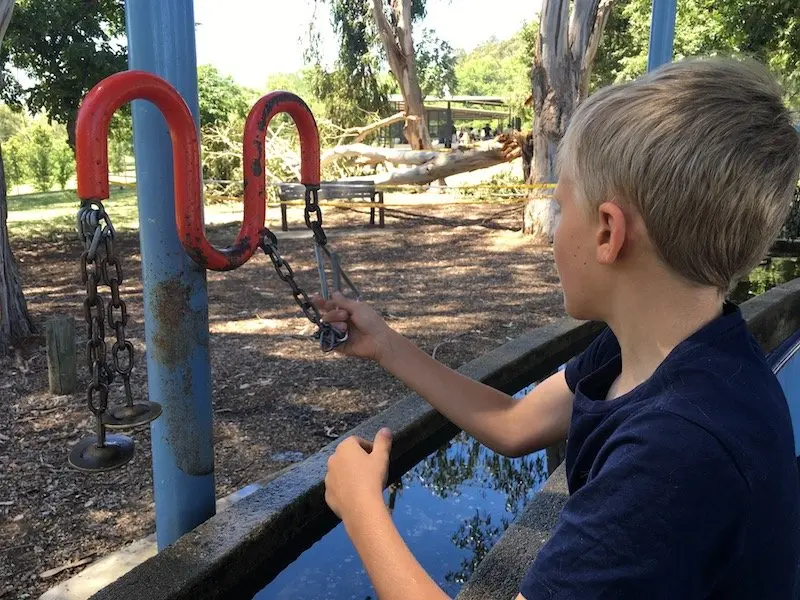 Water Play at Weston Park playground
The water play area at the playground is a little left of centre.
It's shaped in a semi-circle, with one higher trough about 30cm in width filled with flowing water.
Musical Play
There's a couple of tactile elements here, including a set of musical 'instruments' hanging above this trough.
Whether or not they are supposed to, lots of kids climb up and walk along this narrow trough, even though the gap for their feet is so narrow between the concrete walls that they can only go foot by foot.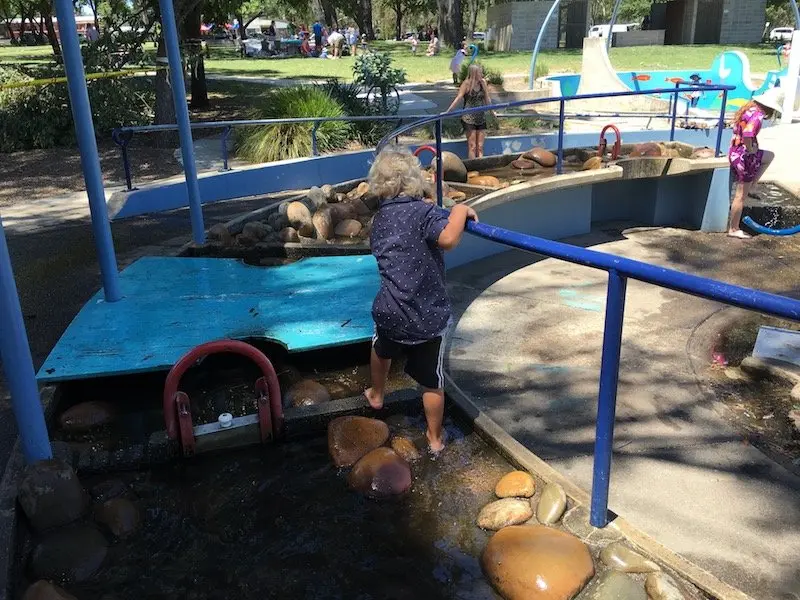 Tactile water course
Down below, there's a ramp that leads up to a second water course area. This area is segmented into sections, and is filled with smooth river stones for the children to navigate.
There's a standing platform half way along.
Right at the end is a low concrete square filled with water – I can only assume this is a foot washing zone.
On ground level, there's a nature-style wading pool filled with more river stones.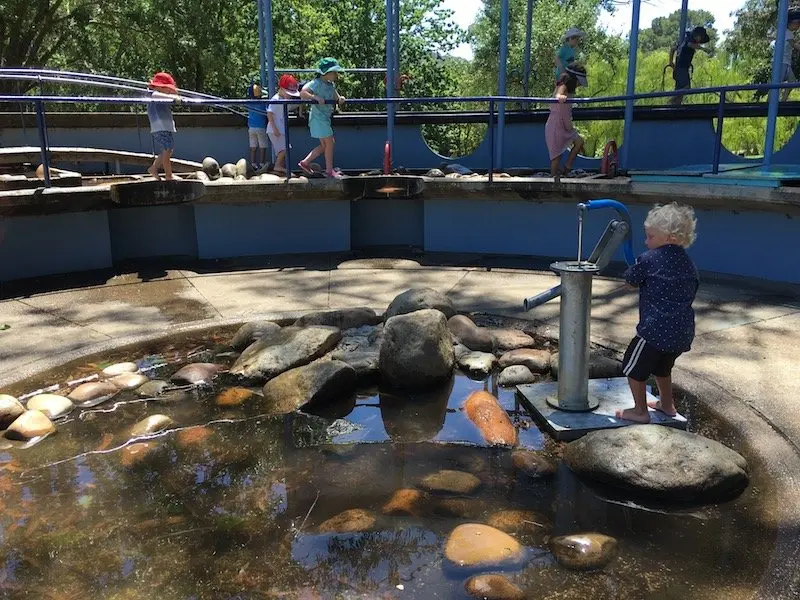 Water pump
The best thing about it is the hands-on water pump for kids.
The line up for a turn can get crazy busy.
---
RELATED: Visit the fabulous nature play area at Yarralumla Park for kids too.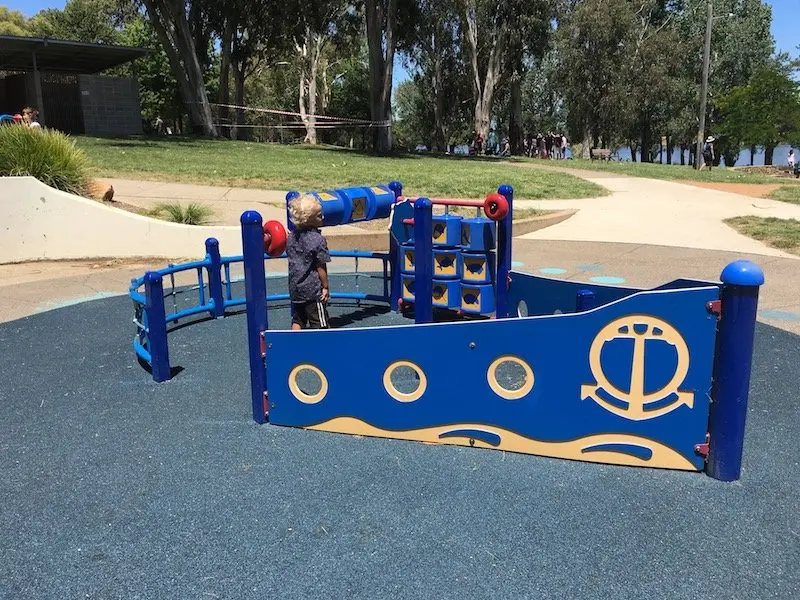 MORE playground equipment at Weston Park Yarralumla playground
Ship Playground
Younger kids love the toddler sized 'boat' themed play area, with hands-on games, and knobs to twist and turn.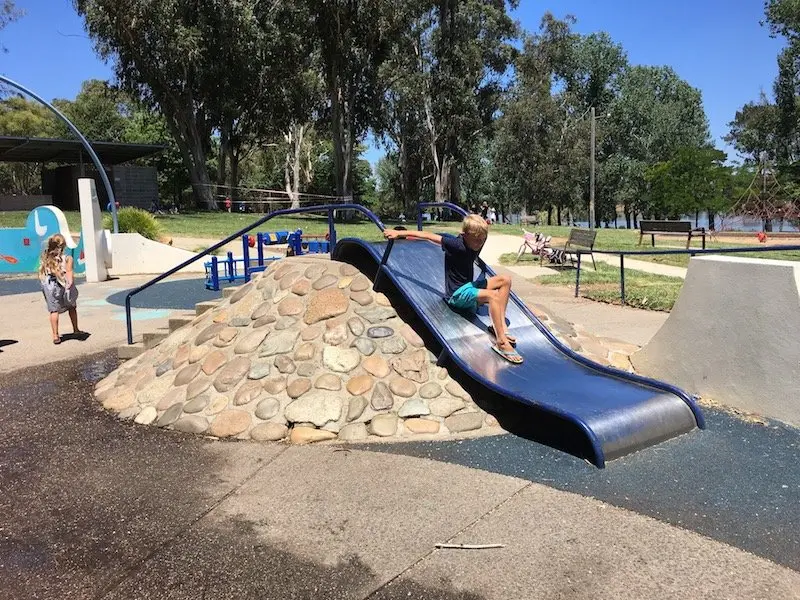 Stone Pyramid Slide
This is a cool feature, a rocky mountain with a slide.
Kids can walk up the stairs to ride, or clamber over the smooth rocks to the top.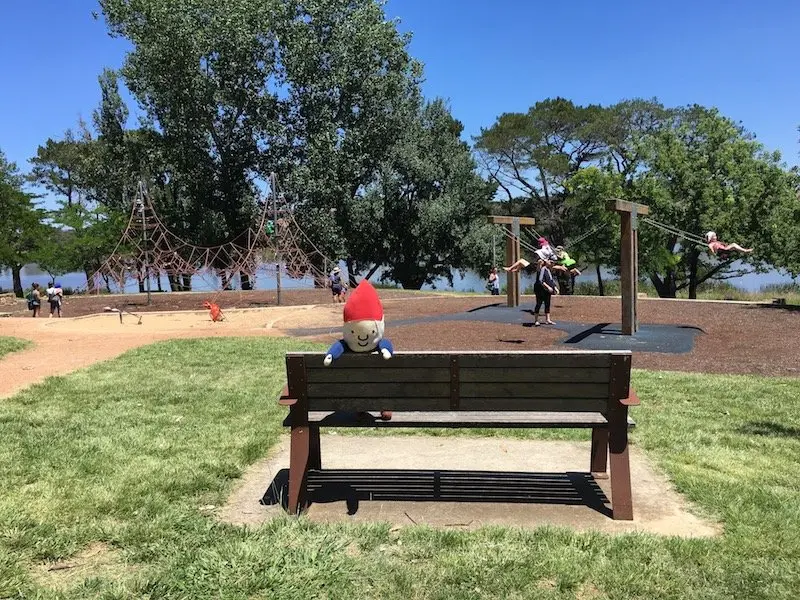 Swings
There's two sets of two swings, four in total.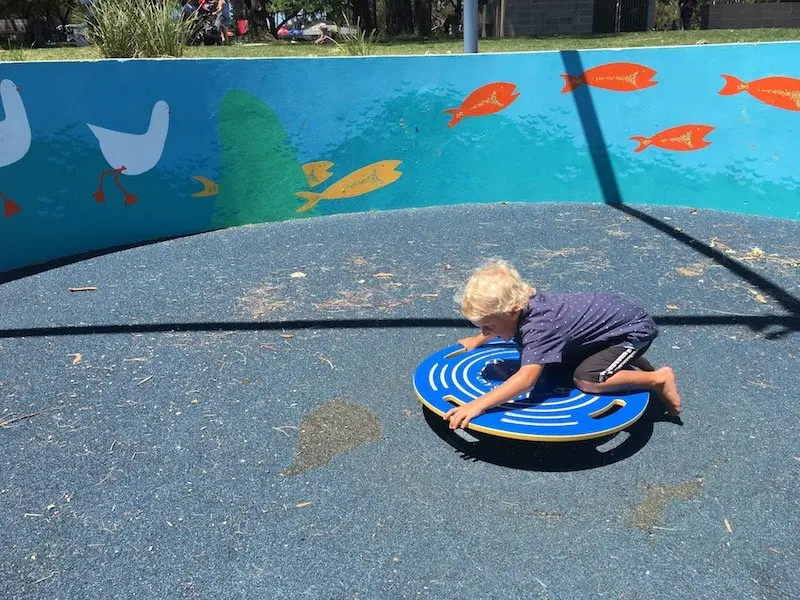 Balance Toy
This balancing platform is a ingenious idea to help children develop their motor skills and vestibular systems, that help with balance and equilibrium.
Warning!
It's harder than it looks.
Check out the cool murals too.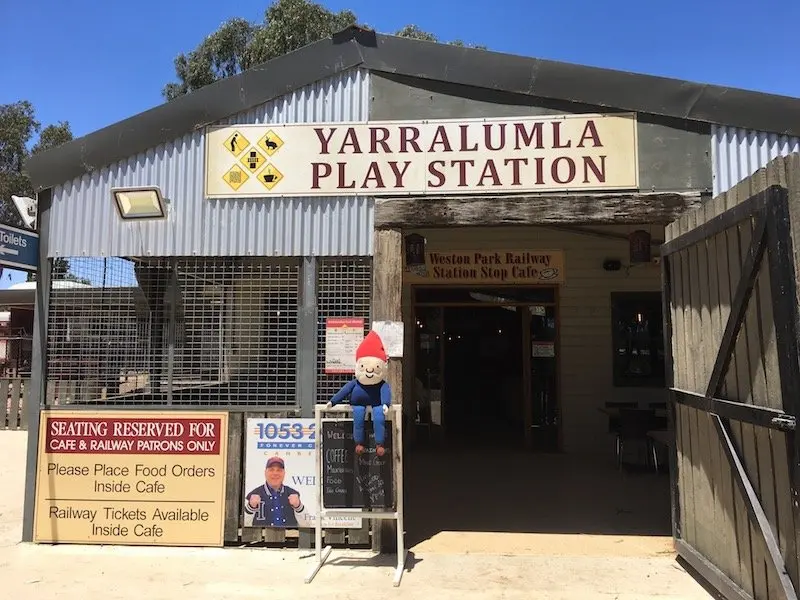 Yarralumla Play Station – Weston Park Railway and Farm Friends
Hot tip: If you have time, visit the Yarralumla Play Station adventure park across the road to ride the Weston Park Miniature Train Railway or visit the petting zoo.
There's one of the best kid-friendly cafes in Canberra on site, open to all visitors from home and overseas.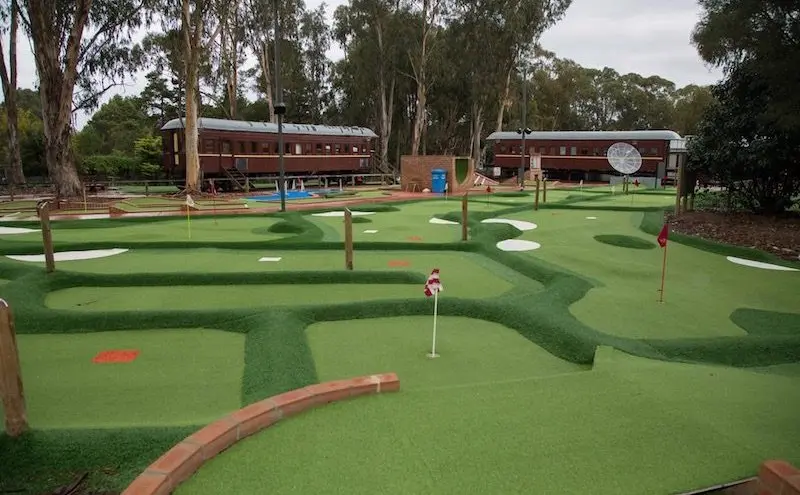 Image credit: Yarralumla Play Station
Best Canberra Mini Golf courses
Weston Park mini golf course is attached to Yarralumla play station too.
These two mini golf courses in Canberra are designed with fun for family time in mind.
One of them has iconic Canberra sights including Lake Burley Griffin, the view of Parliament House flags,
The other has creative putting lanes, where you might:
putt your ball between a jigsaw puzzle of bike tyres, or
up a skateboard ramp!
Local Canberra kids adore this place.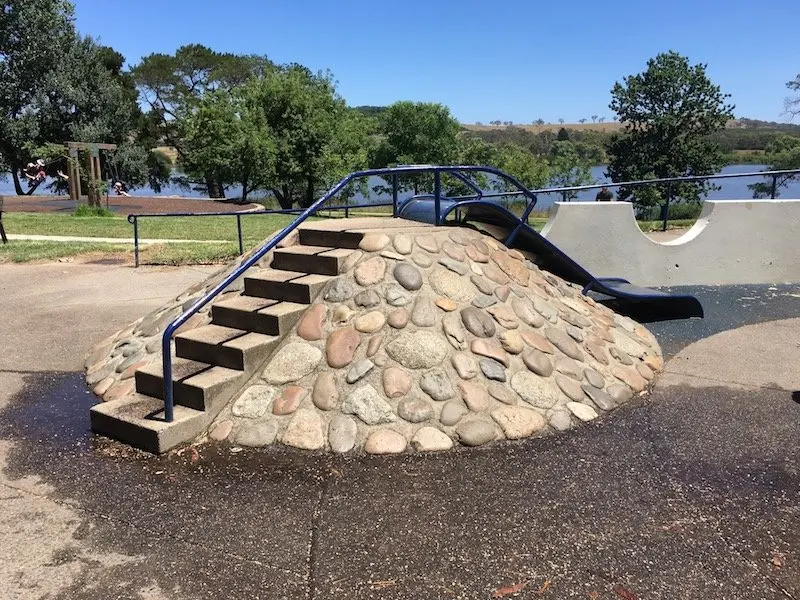 THE INSIDE SCOOP: Weston Park Water Play Park
Correct at time of publication on Roam the Gnome. Please check with venue for updates. We apologise in advance if there have been any changes we are unaware of. All prices in AUD dollars, unless otherwise stated
Address: Weston Park Adventure Playground Canberra is in Weston Park on Weston Park Rd, opposite Yarralumla Play Station in Yarralumla ACT 2600
Telephone: 132281 (Canberra Connect)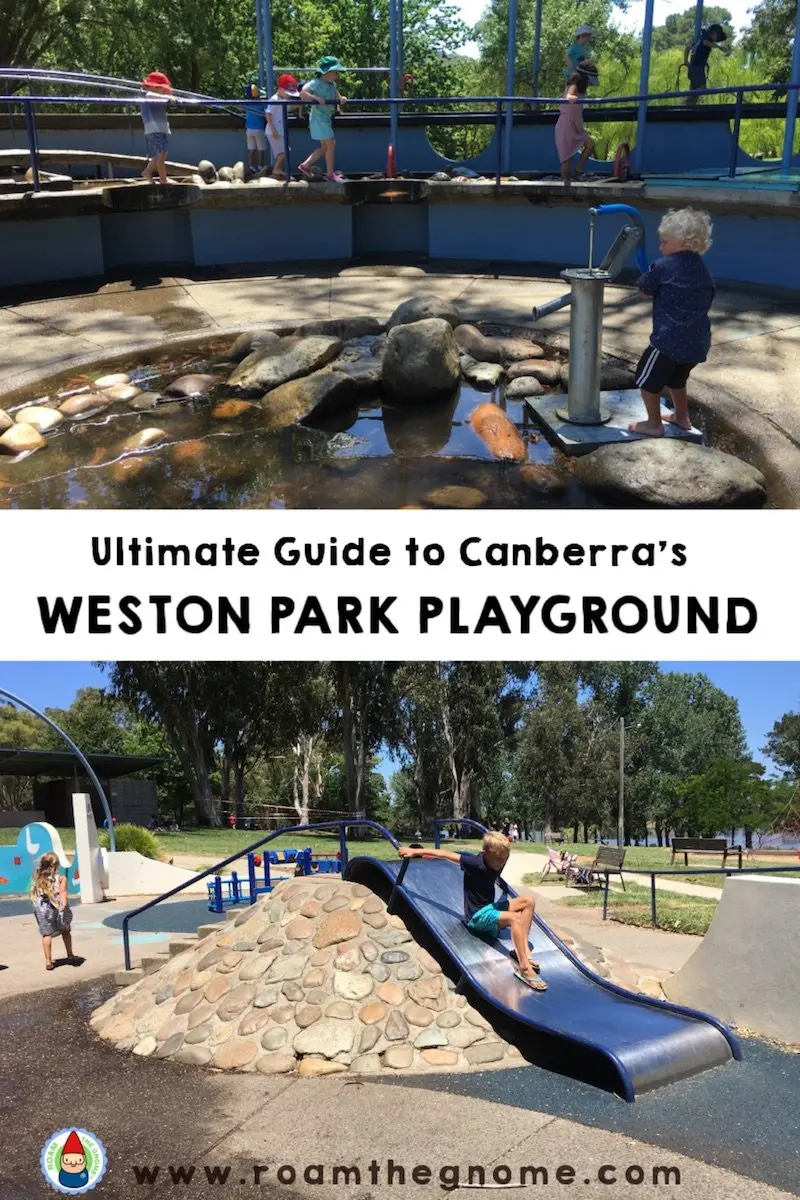 Opening Hours at Yarralumla Park
Gates allow access:
between 7am and 10pm during daylight saving
from 7am until 8pm during other months
Entry Fees: Free
How to get to Yarralumla Park Playground
By Bus:
The Bus No. 315 and Bus No. 1 stop at Weston Park Canberra.
The Moovit App is a great resource to get you here
By Car or Taxi/Uber: take a look at the Weston Park map above.
7km drive via Commonwealth Ave/A23 and Alexandrina Drive (10 minutes from the CBD), or
a 10km drive via Commonwealth Ave (14 minutes from the CBD)
Parking: Free parking on the streets or designated parking zones in the park
Map of Yarralumla Playground (Burley Griffin Playing Ground)
Facilities at Weston Park Canberra
Nearest takeaway coffee: 50 metres walk to Weston Park Railway Stop Cafe
Toilets: Yes
Disability access: Yes
Shade: Yes, tree cover provides some shade.
Enclosed: No. Be safe around water – keep a close eye on children under 5 especially.
Ground cover: Grass, concrete
Food options: BYO picnic (see closest takeaway cafe above)
Picnic tables: Yes. Undercover tables available.
Electric BBQs: Yes
Water Bubblers/fountains: Yes
Scooters and Bikes: Yes, there's a bike path cycle track running throughout the park
Dogs: No
Swimming: If it's a hot day in Canberra, stop by the Weston Park swimming enclosure. It's not far to walk (or drive) from here.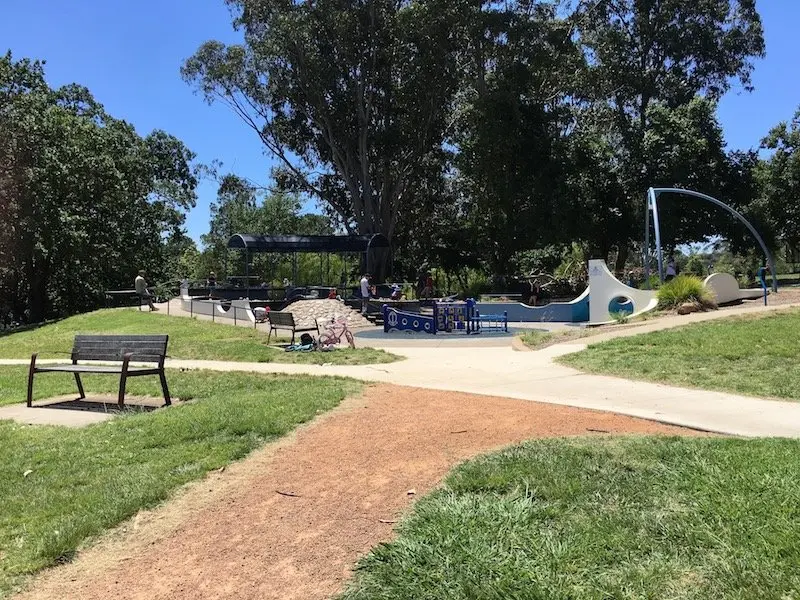 Toadstool Rating- Weston Adventure Playground Canberra
It's lovely to be surrounded by natural Australian bush at this fun Canberra playground for kids.
It's not the best playground in Canberra, but combined with all the Yarralumla park attractions, it's worth a visit.


Looking for more of the best playgrounds in Canberra with kids?
Click the links in blue below for more Canberra playgrounds for kids.