INSIDE: The National Museum of Australia is the Canberra museum to visit for Australian history.
The National Museum in Canberra city doesn't look very kid-friendly from the outside.
Once we'd finally found a place to park the car, (the place was packed) and rounded up grumpy children from the back seat, I was beginning to wonder if a playground would have been a better option.
KSpace saved the day on our visit to the National Museum of Canberra with a hands-on digital game with ROBOTS!
Disclosure: This article contains affiliate links. If you make a purchase after clicking on one of these links, we may receive a small commission at NO extra cost to you.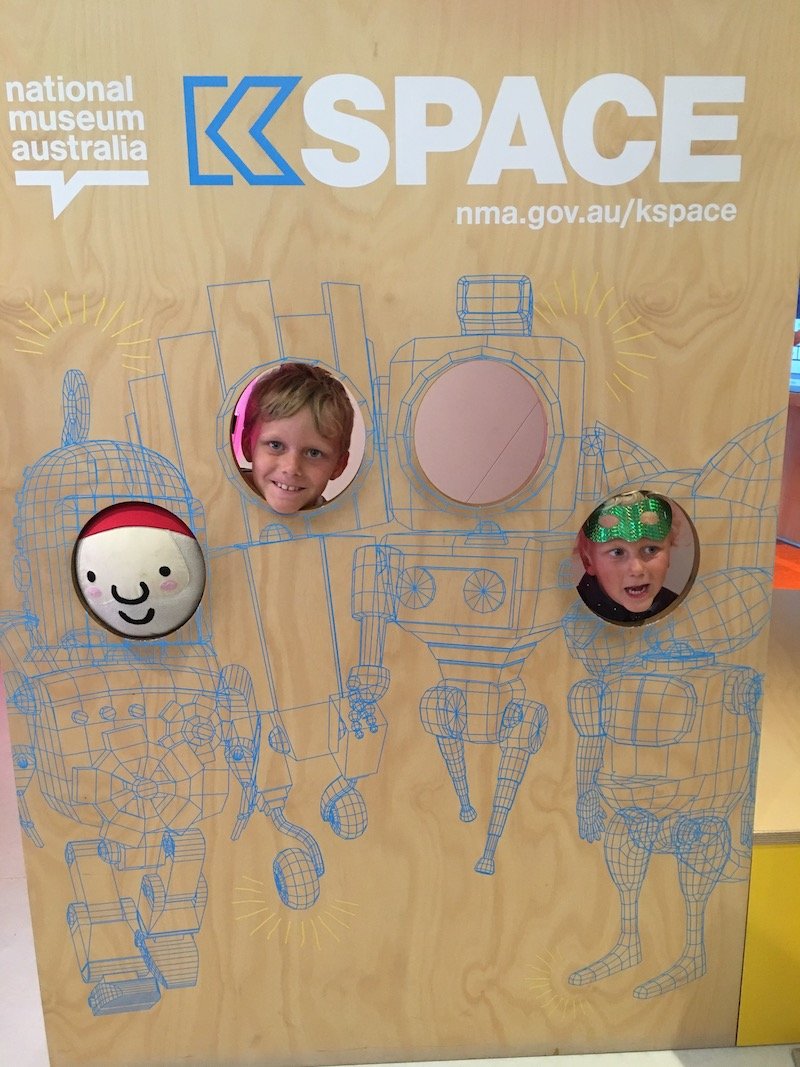 Kspace at the National Museum Canberra
It's true there's not much to DO at the National Museum Canberra with kids, although there's plenty to look at.
But kids 5 -12 years old have a gallery on the lower ground floor dedicated to them.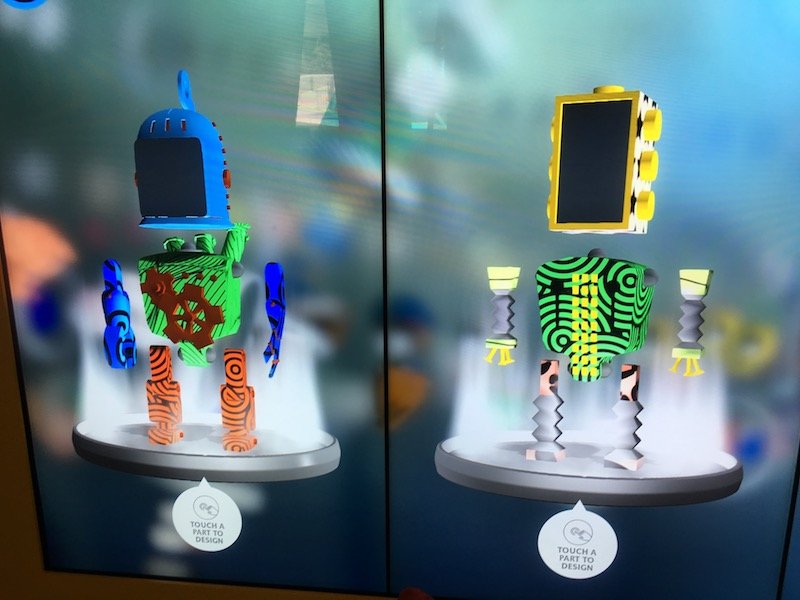 Kspace is the National Museum of Australia's interactive adventure game for kids.
Designed for children aged 5 to 12, the Kspace game is a bit of kooky fun for children and adults alike.
You definitely need to be computer savvy.
Even then, I had a hard time keeping up!
The game was way over the head of my 5 year old, but he had a good go, and was happy to push buttons and see a robot on screen.
Keep an eye on the young ones
Jack did leap ahead at one point, obviously having had enough and ready to move on.
I watched him disappear through a fold of thick black curtains, as I desperately tried to keep a hand in MY game.
(I did, for a moment, wonder if I'd ever see him again!)
But all was well.
Thankfully, the black curtains were a tactic to keep us separated from the group in front, and were not a portal into some other dimension.
We were in and out of Kspace in less than 30 minutes.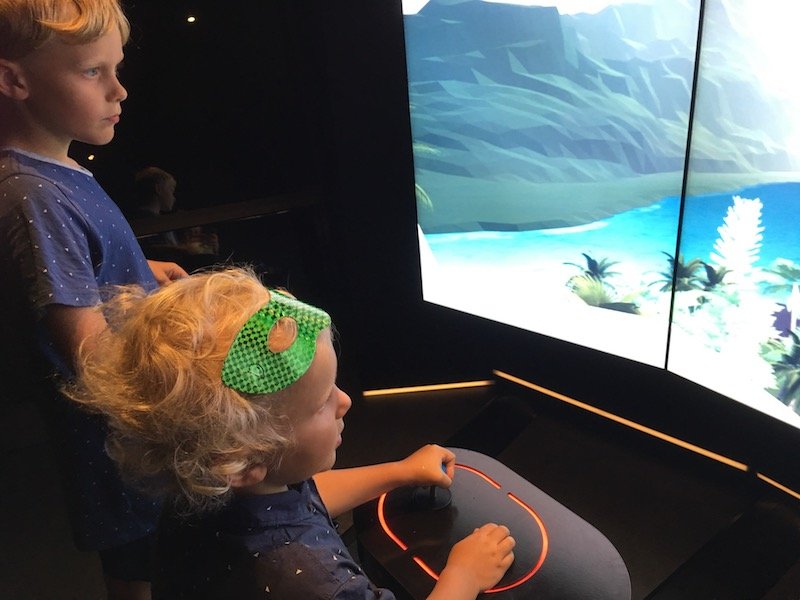 Three stages of Kspace at the Australian Museum in Canberra
Kspace is a three-stage experience and up to 12 visitors can take part in each stage.
Stage 1:
Visitors start their adventure in the Design Station where they use touchscreens to create a time-travelling robot.
Stage 2:
Visitors enter a Time Pod where they are blasted back to a mystery location, such as the Victorian goldfields of 1854 or Sydney in the 1930s when the Harbour Bridge was being built.
Stage 3:
Visitors then use their robots to explore the location and collect points before teaming up with others as one big robot to complete a mission unique to that time and place.
At the end of the adventure, visitors move to the Cool-down area to reflect on the experience, learn more about the location visited, and send home a postcard.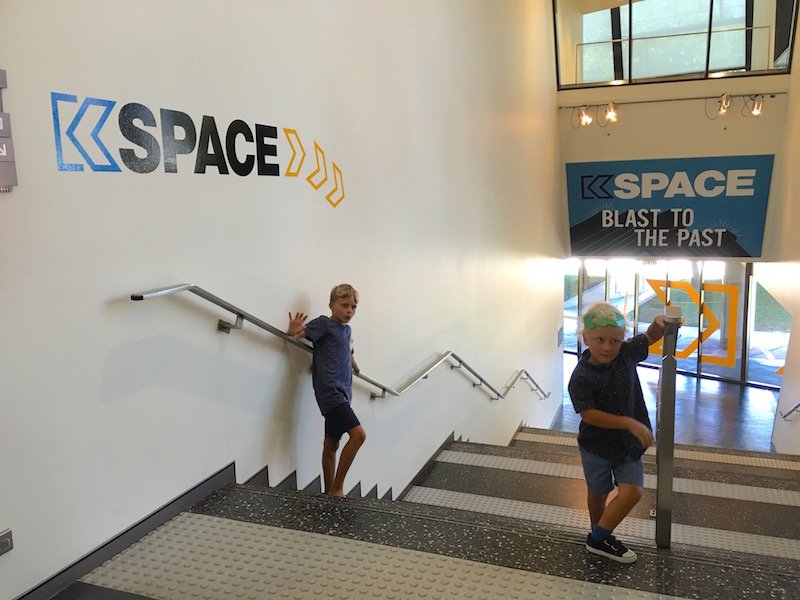 How to play Kspace at the Canberra Museum
You play Kspace in a team of four, and there are three teams playing together at the same time.
(12 people each with their own game consoles).
But you can play with less people if you have to.
Other people can also jump on your team and join in.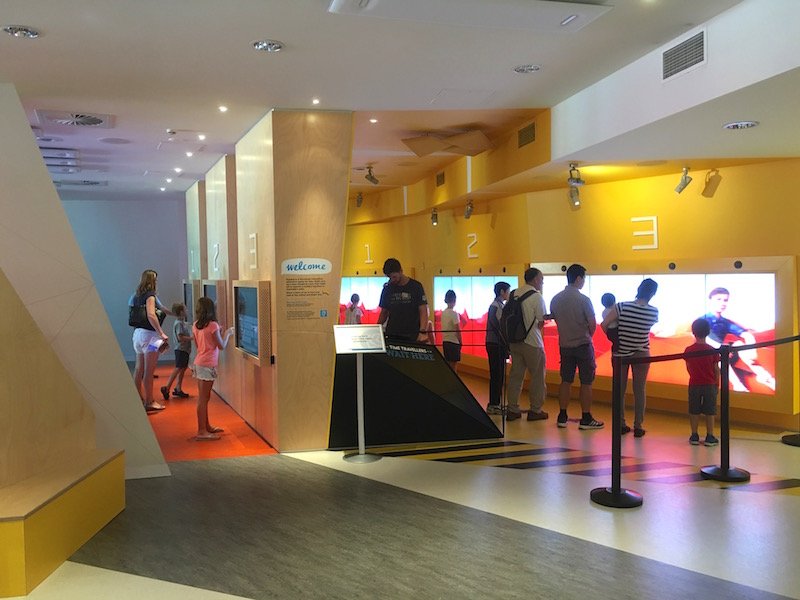 The Kspace App
The National Museum of Australia has created an App to help keep the kids engaged as you work your way around the rest of the exhibits.
The Kspace Augmented Reality (AR) Trail encourages kids to explore the museum looking out for characters they've met in the Kspace game.
The AR markers which launch the characters are located near to the exhibits that are related to the historical periods explored in Kspace.
Enquire at the help desk for download details.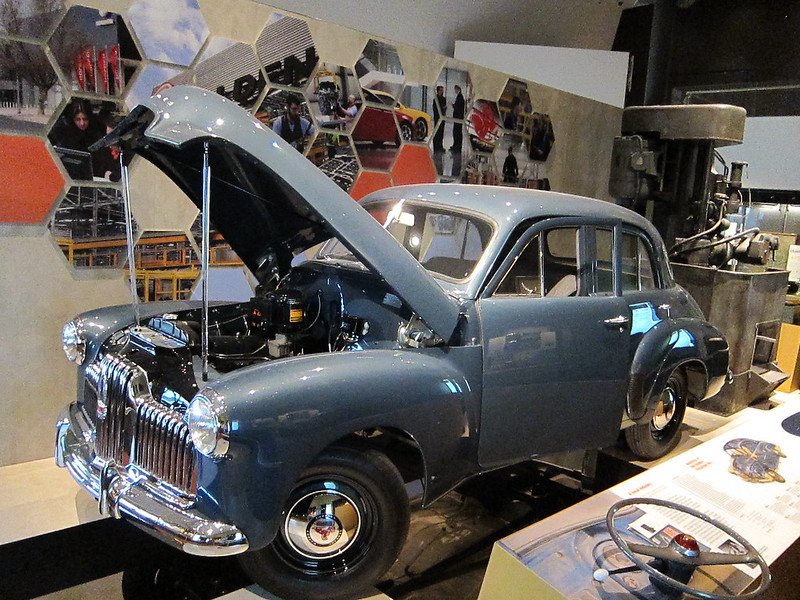 Image credit: Mike via Flickr CC by SA 2.0
National Museum Canberra Exhibitions
The National Museum of Australia explores the land, nation and people of Australia.
Their focus is on:
Indigenous histories and cultures
European settlement, and
Human interaction with the environment.
Canberra Museum exhibitions include:
The Old New Land Gallery
The Old New Land gallery examines Australia's diverse and unique species and environments by exploring how people have responded and adapted to the land over time.
Landmarks Gallery
The Landmarks gallery is located on two levels and features over 1500 objects.
It explores Australian history since European settlement, through stories of Australian places from across the continent
The First Australians Gallery
The First Australians gallery is located on two levels and traces the experiences of Aboriginal and Torres Strait Islander peoples, their spirituality, diversity, identity and survival.
The Paddle Steamer Enterprise
The Paddle Steamer Enterprise is one of the world's oldest working paddle steamers.
Today, following careful restoration and conservation, it is the largest working exhibit at the Museum.
With kids in tow, it's difficult to spend too much time looking throughly at the exhibitions, but there's a few vehicles and large scale models to catch their attention for a while.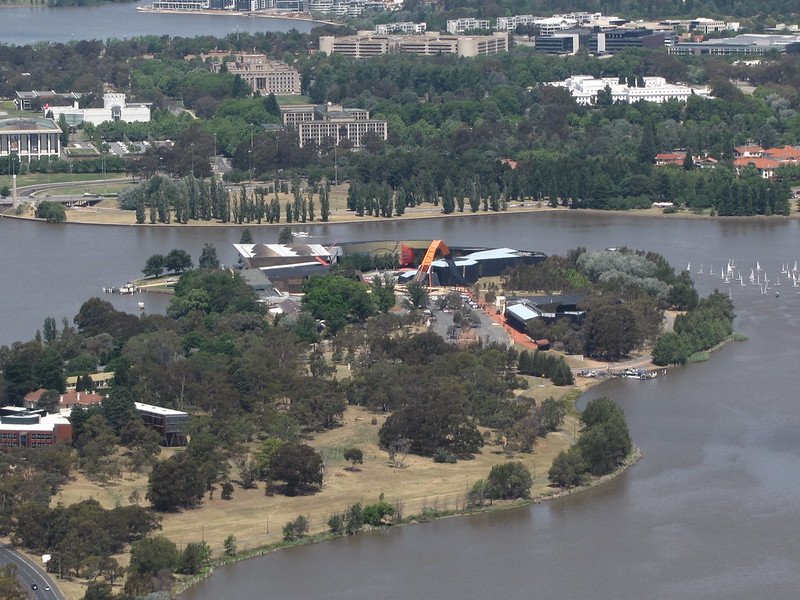 Image credit: Eileen Mak via Flickr CC by 2.0
National Museum of Canberra cafe
The Museum Cafe is open from 9am to 4.45pm for breakfast, lunch or coffee with friends and family.
The cafe has spectacular views over Lake Burley Griffin.
Sit indoors, on the deck or take the weight off your feet in one of the comfortable lounge chairs.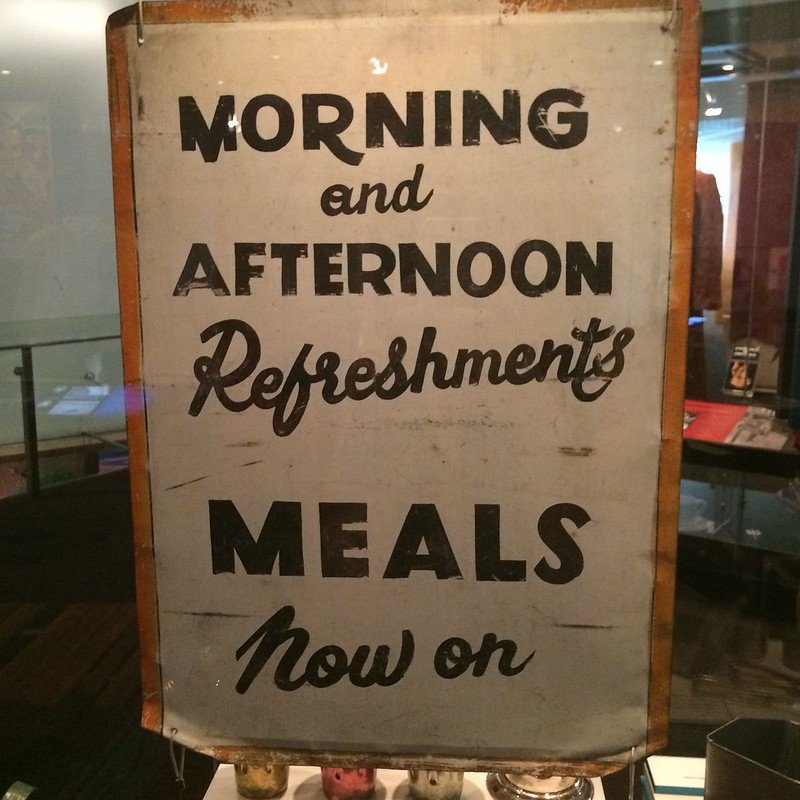 Image credit: Lydia Fizz via Flickr CC by 2.0
National Museum of Canberra shop
The Museum Shop is open weekdays from 10am to 5pm and weekends from 9am to 5pm.
The Museum Shop features:
beautiful homewares
glassware
handmade jewellery
Indigenous products
Australian made toys
books
bath and body products
candles
giftware,
and much more.
EFTPOS and all credit cards accepted.
---
RELATED: The Ultimate Guide to the BEST AUSTRALIAN SOUVENIRS for everyone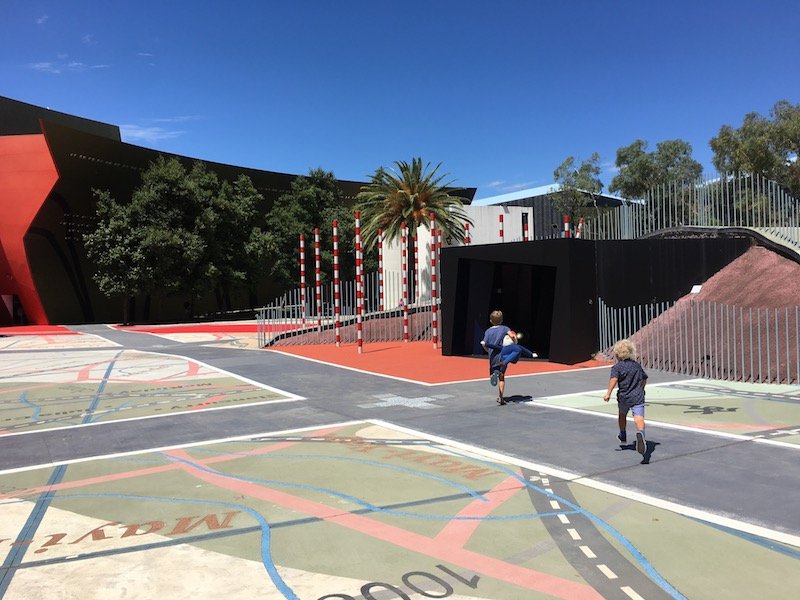 National Museum of Australia Grounds – The Garden of Australian Dreams
The outside area at this Canberra museum was a godsend for boys who need to run every now and then.
We were the only ones there.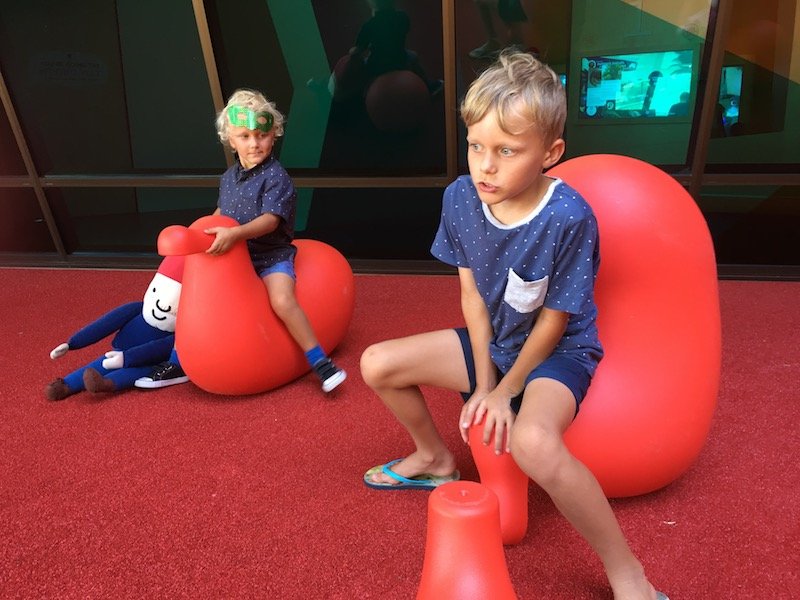 Other Things for Kids to Do at the National Museum Canberra
Rocker Chairs
We found a relax zone for families with these rocker chairs.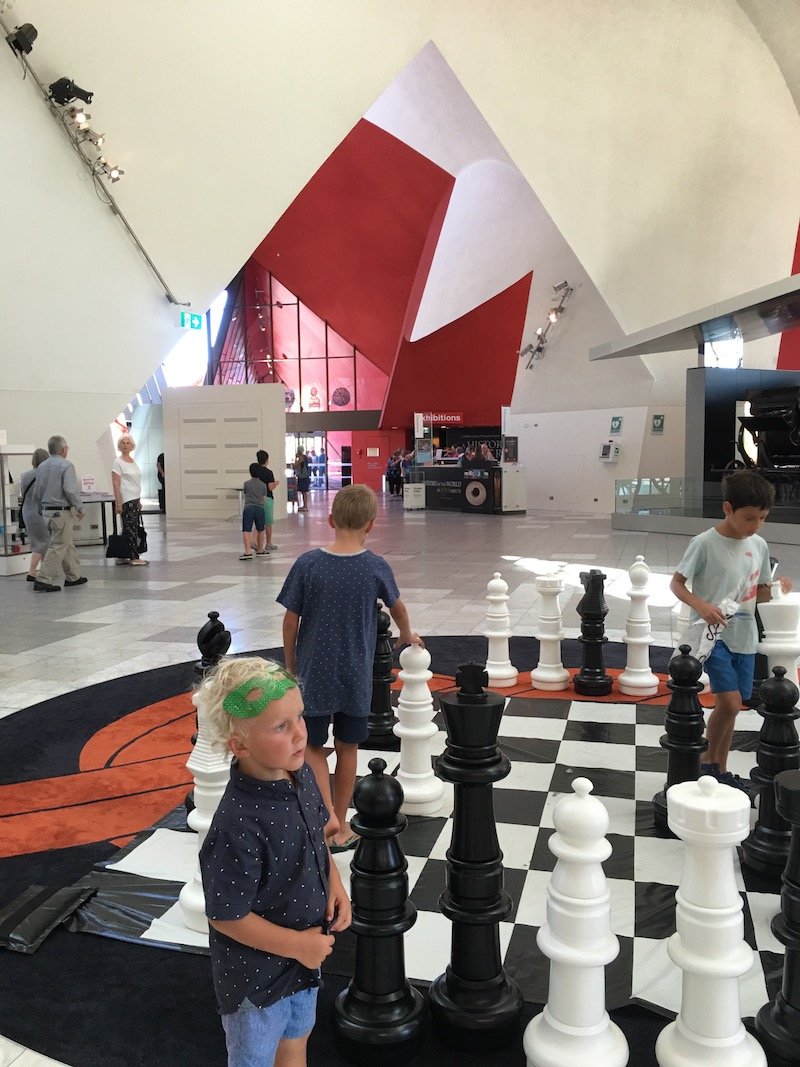 Life size Chess Game
There was a giant game of chess in the foyer entry.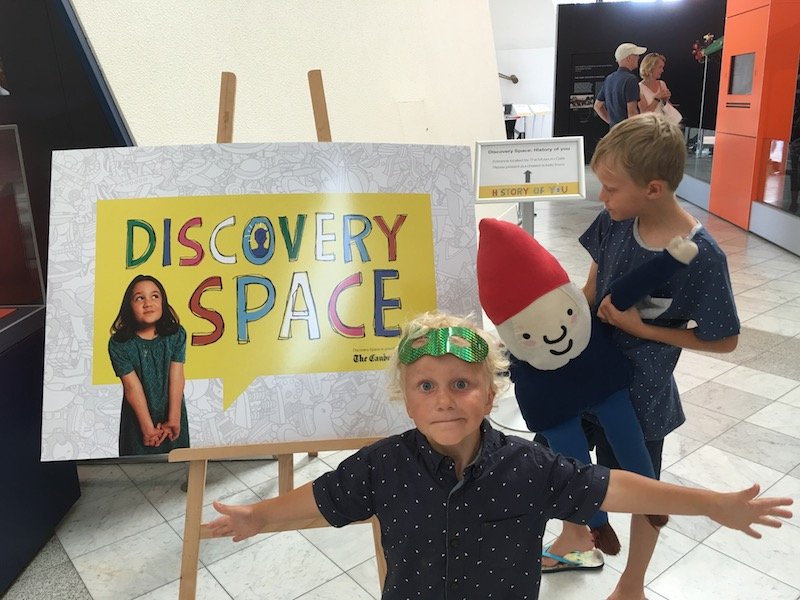 National Museum of Australia Events – Discovery Space during School Holidays
There's always free or low-cost events held during school holidays.
Depending on the theme or collection they are inspired by, kids may:
make craft
play with art materials
create games
explore galleries, or
join in storytelling events.
Click here for details of What's On National Museum Canberra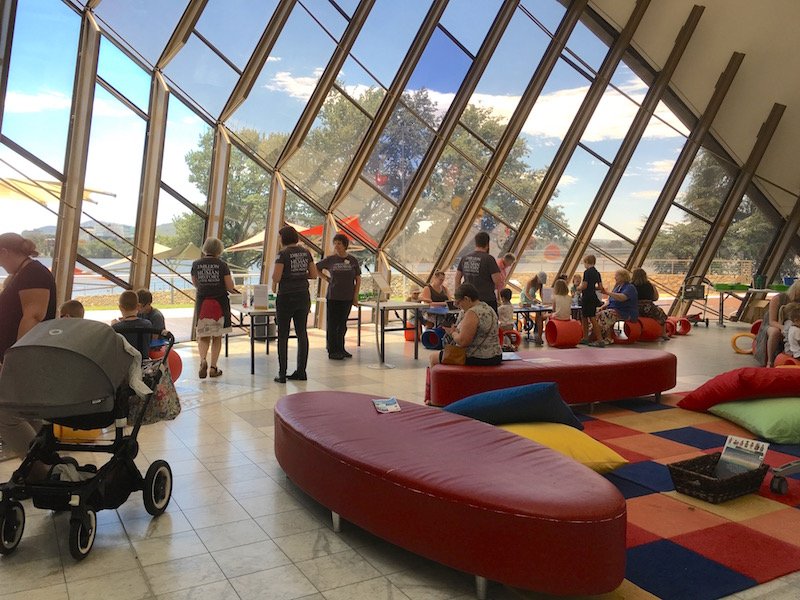 THE INSIDE SCOOP – The National Museum of Australia Canberra
Correct at time of publication on Roam the Gnome. Please check with venue for updates. We apologise in advance if there have been any changes we are unaware of. All prices in AUD dollars, unless otherwise stated
National Museum of Canberra Address: The National Museum of Australia is on Lawson Crescent, Acton Peninsula, Canberra, Australian Capital Territory.
Telephone: Freecall 1800 026 132 or phone +61 2 6208 5000
Email: [email protected]
Website: Click here
National Museum of Australia Opening Hours
9am to 5pm daily (closed Christmas Day)
National Museum of Australia Entry Free:
The Canberra Museum entry free is complimentary.
Free general admission for everyone.
Museum Map: Click here to download.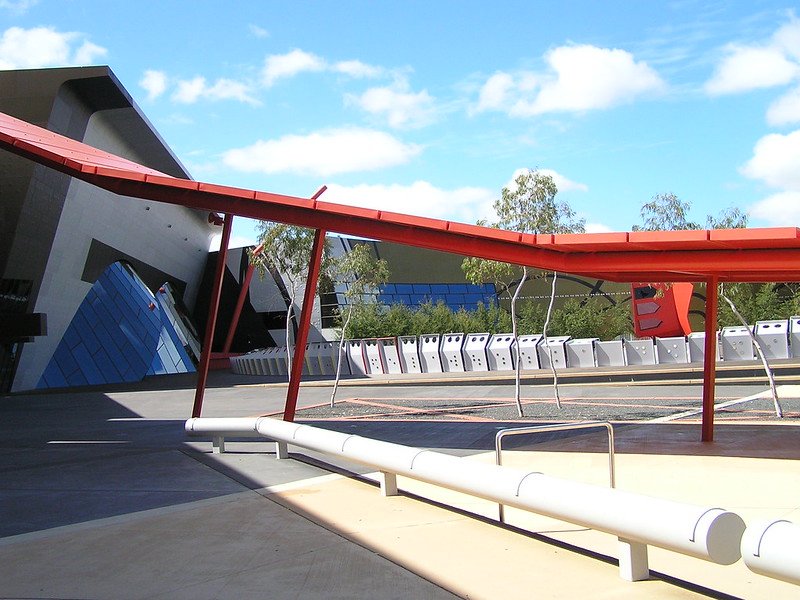 Image credit: Diotime1 via Flickr CC by SA 2.0
How to get to the National Museum of Australia
Where is National Museum Canberra? The National Australia Museum is a short drive south-west of the city, on Acton Peninsula, by Lake Burley Griffin.
By Car: 3.5km (6 minutes drive) from the CBD via Parkes Way
By Bus:
Action runs route 7 to the Museum weekdays and route 934 on weekends and public holidays. The bus stop is on Lennox Crossing, about 200 metres from our entrance.
The free city loop bus, route 101, stops about 15 minutes' walk away from the Museum at New Acton.
On Foot or Cycle:
Via shared paths from the city and by Lake Burley Griffin.
There are bike racks near the main entrance.
By Taxi/Uber:
Pickup is at the taxi zone sign under the loop, near the main entrance.
Canberra Elite – phone 13 22 27
Cabxpress – phone 1300 222 977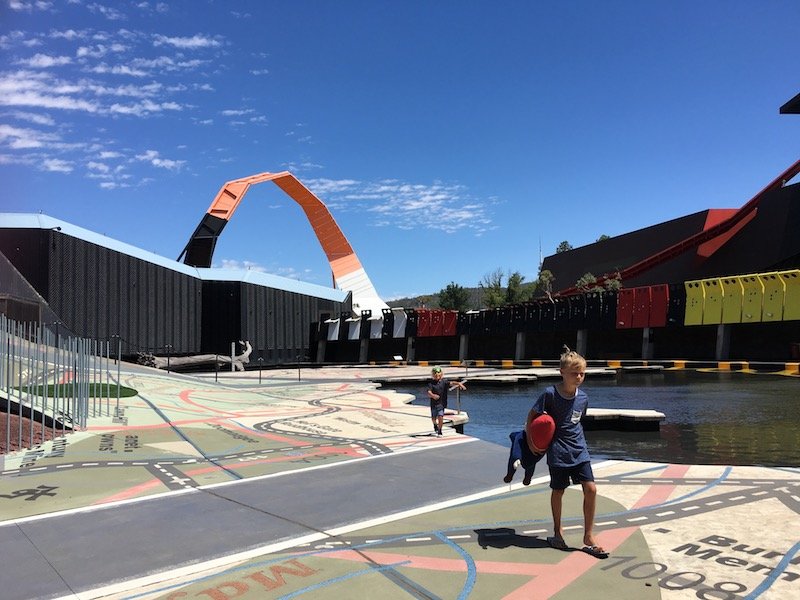 Parking at the National Museum of Australia
There's a few different options for parking at the Australian National Museum.
National Museum of Australia parking cost
$2.50 per hour or $12 per day applies 8.30am to 5pm weekdays.
Ticketing machines in the short-stay area take Visa and MasterCard and coins.
Banknotes are not accepted.
Change is available at the Information Desk in our Gandel Atrium.
National Australian museum Overflow parking
If the Museum car park is full, you may wish to park on Lawson Crescent adjacent to the Museum, in Civic or New Acton and either walk or catch a bus to the Museum building.
Free parking at Canberra National Museum
Motorbike parking, and accessibility parking spaces are always free (Weekends and public holidays included)
National Museum of Australia Map
Facilities at the National Australia Museum
See the Information Desk inside the Museum entrance for:
tickets and tours
what's on and special offers
free wheelchair, scooter and stroller hire
maps in English, Mandarin, German and more
storing bags, umbrellas, baby backpacks, or any item where one side is larger than 30 cms
Wifi:
Wi-fi is free across the Museum.
They also have free recharge stations.
Nearest takeaway coffee: National Museum of Canberra cafe. There is an ATM in the Gandel Atrium.
Toilets: Yes, with baby change table.
Support for Parents:
Breastfeeding is welcome in all areas of the Museum.
There is a microwave in the toilet room to heat bottles.
Strollers for babies and young children up to 17kg are available for free hire from the Information Desk.
Disability access at the National Museum Canberra: Yes. Click here for details.
Closest ATM: There is an ATM in the Gandel Atrium.
Closest playground to the National Museum Canberra: Black Mountain Peninsula Park is 7 minutes drive away.
Food options at the National Museum Canberra: Cafe on site
Water Bubblers/fountains: Yes
Scooters and Bikes: Yes
Dogs: No
Toadstool Rating – National Museum of Australia ACT
In our humble opinion, it's not the best of Canberra for kids unless they are older than 7.
We'd recommend the National Library or the museums listed below as a better alternative.


Looking for MORE SUPER DOOPER FUN places to visit in Canberra with kids?
Click the links in blue below for more of the best Canberra attractions.