INSIDE: The Olympic Park Playground called Pleasure Gardens is the best playground for Parkour Fans. Updated 2019. 
Tumbling Bay playground at Olympic Park in London near Stratford station was our afternoon goal, after a delightful morning spent exploring and playing at the Discover Story Centre in Stratford.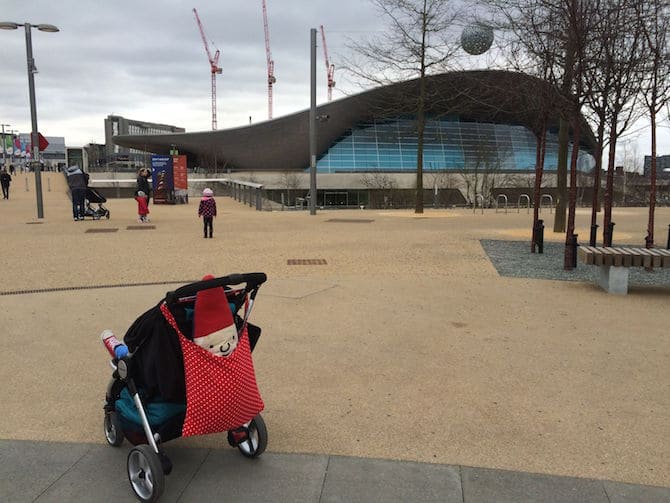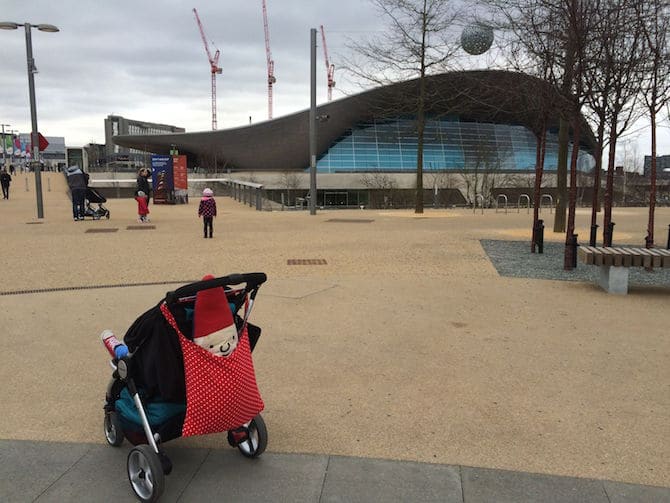 To get there, we walked towards Westfield Stratford City, and crossed the pedestrian bridge, heading towards the London Olympic Park Aquatics Centre.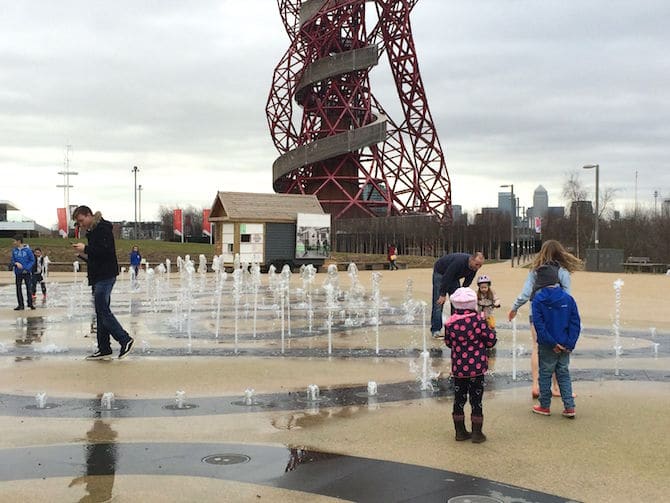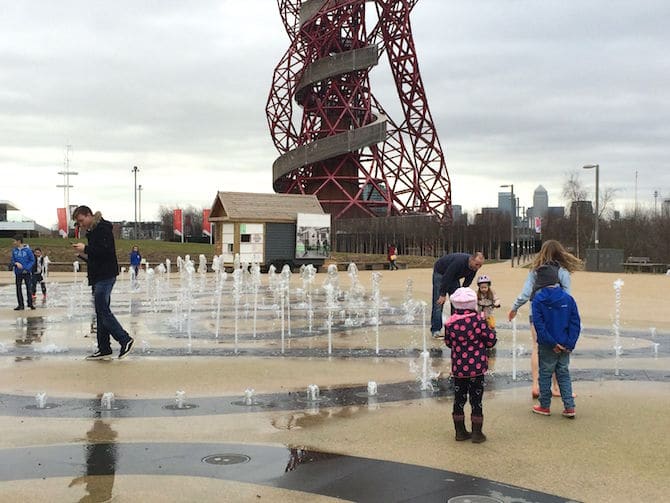 Olympic Park Orbit
We spotted the Olympic Park Orbit (real name: ArcelorMittal Orbit) sculpture, the statuesque red spiral tower with the giant Olympic Park slide, and headed towards it.
Right in front of the Orbit, the Waterworks Fountain, a labyrinth-shaped water park made up of 195 shooting jets of water, danced in a rhythmical pattern.
Ned dodged the freezing streams of water, but the toddler couldn't quite beat the unpredictable streams and drenched his ONLY pair of shoes!
Uh oh.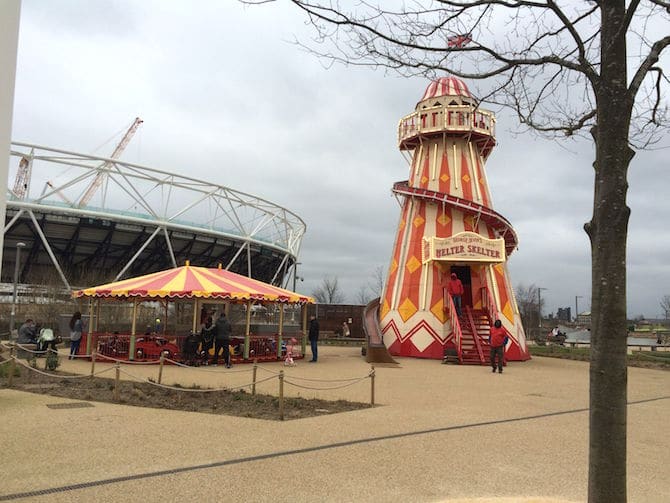 To the right, the Vintage Carnival Rides caught our eye.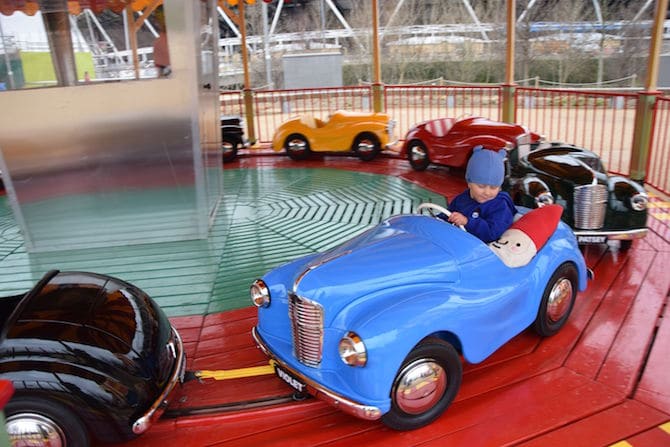 Ned flew down the super fun Helter Skelter slide, and Jack rode the carousel of cars.
Pleasure Gardens Olympic Park Playground
A little further along, we spied the Pleasure Gardens Adventure Playground  in the distance. The kids ran for it, and I chased after them with the stroller.
That was it.
We didn't make it any further!
Pleasure Gardens Playground Olympic Park was our final stop for the day, a big afternoon of adventure play and parkour jumping that wore them out.
(Tumbling Bay Playground is back on the list for our next UK trip!)
READ MORE: The Ultimate Guide to the BEST London Playgrounds for Kids (NEW)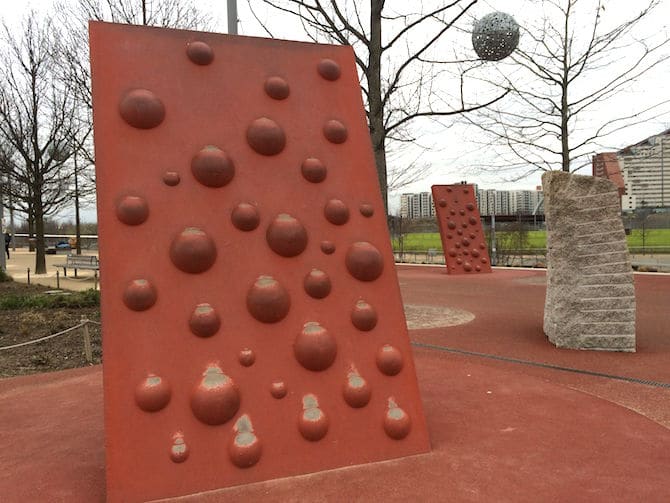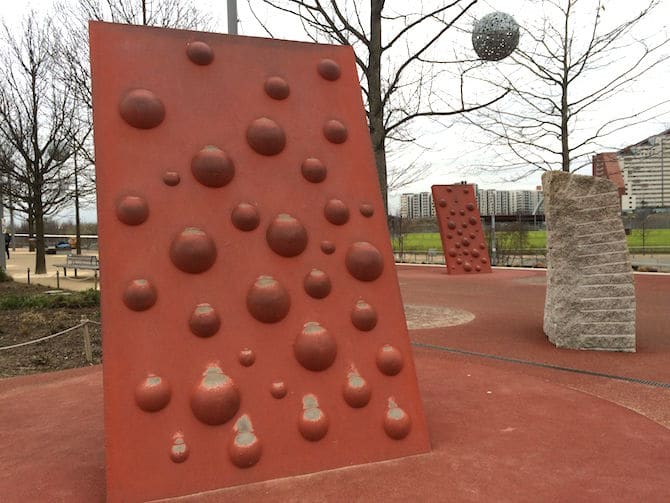 Pleasure Gardens Adventure Park London
The Queen Elizabeth Olympic Park playground features:
Giant red rocks to climb up
Oversized swings (spider web swings for multiple kids)
A Giant sized sandpit!
Super wide silver slides for racing your friends
Freestanding climbing walls
There's a vibrant red climbing wall with handholds for bouldering.
Leaping from structure to slide to boulder wall is the ULTIMATE PARKOUR adventure.
We stayed until dark!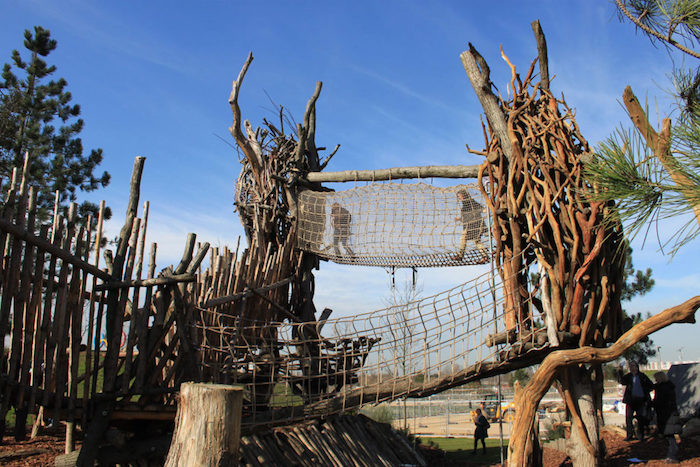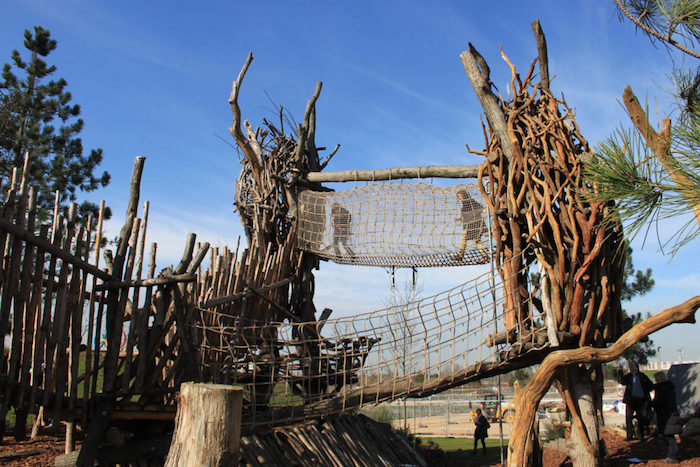 Image credit: https://landezine-award.com/tumbling-bay-playground/
(The elusive) Tumbling Bay Playground at Olympic Park
The actual Tumbling Bay playground in Olympic Park is further away in the northern part of Olympic Park.
This natural environment nature play area features:
very cool rock pools with water pumps
fountains and wooden platforms
swings, and
plenty of space to run about.
The Tumbling Bay nature playground is whimsical and full of quirky timber treehouses with netted walkways, wobbly bridges, and rope bridges too.
Tumbling Bay playground has giant slides, a hands-on sand play area, bark pathways, and more.
It's the best nature playground in London to play hide-and-seek with your newly found friends.
The Tumbling Bay kids playground in London sits alongside the Timber Lodge community centre and café. Parents and kids can relax with a range of fresh, home-cooked food and drink.
Tumbling Bay Olympic Park playground is 10 minutes walk from Stratford station (if you can get further than we did!), or enter via Abercrombie Road if you arrive by car.
These are the two best Olympic Park activities for kids.

Things to do in Stratford for Kids
Here's a perfect London day out with kids itinerary.
Begin your day with a trip to V&A Museum of Childhood. This is one of London's best museums for kids, with bucketloads of toys to play with, hands-on activities and the best kids meals around.
Stop by Old Spitalfields Market for a peek around the stalls if it's the weekend.
Head next to the Discover Story Centre is opposite the Stratford Tube Station on High Street. We HIGHLY recommend this place for kids under 10. Awesome!
Visit the Olympic Park playgrounds in the early afternoon to wear the kids out before bed.
Done. Day sorted.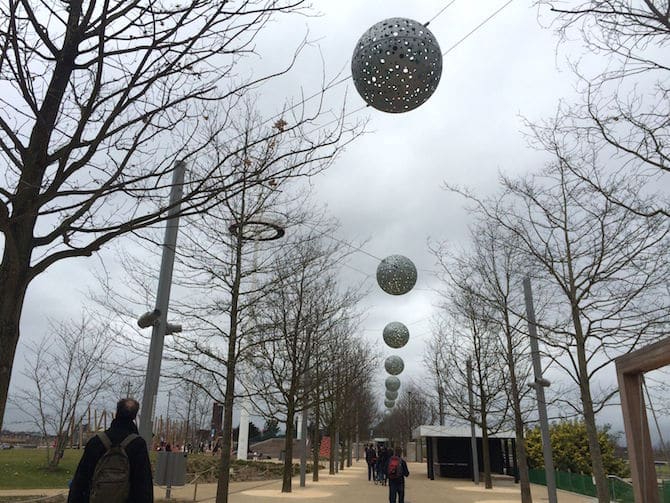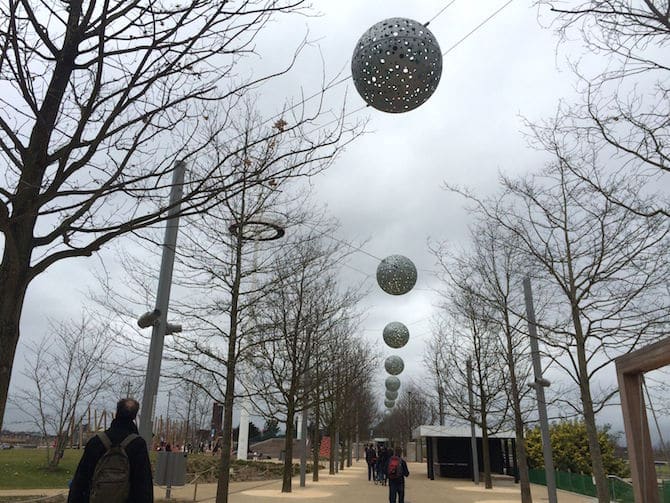 How to get to Pleasure Gardens Playground at London Olympic Park
From the Vintage Carnival rides, turn right and walk along the wide pathway until you spy giant upright logs standing to attention.
Walk towards them, then turn left to enter this Olympic Park playground.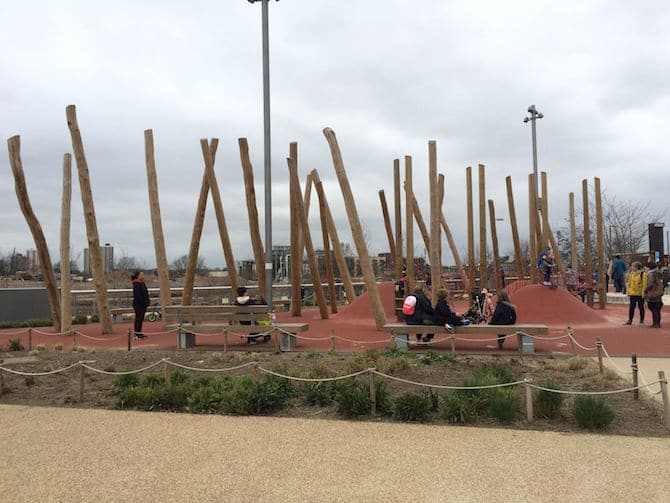 MORE Pictures of this Stratford Olympic Park Playground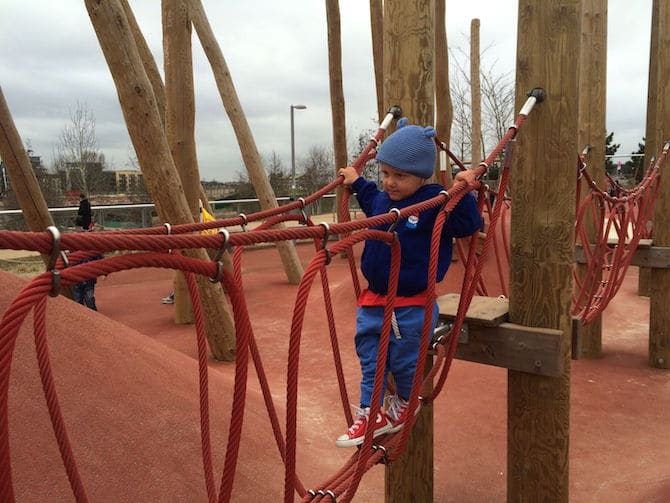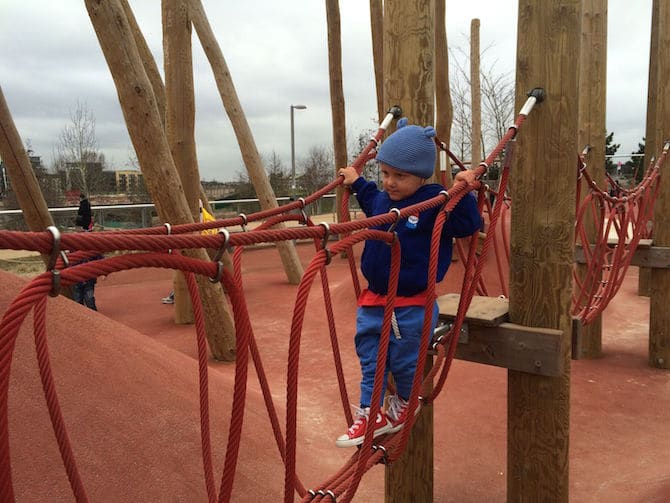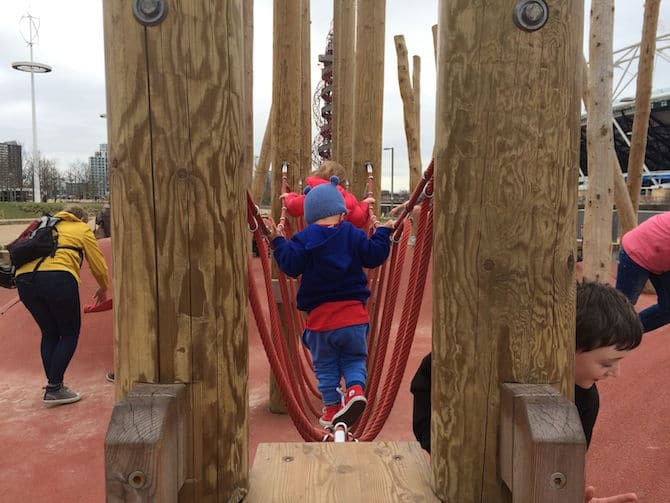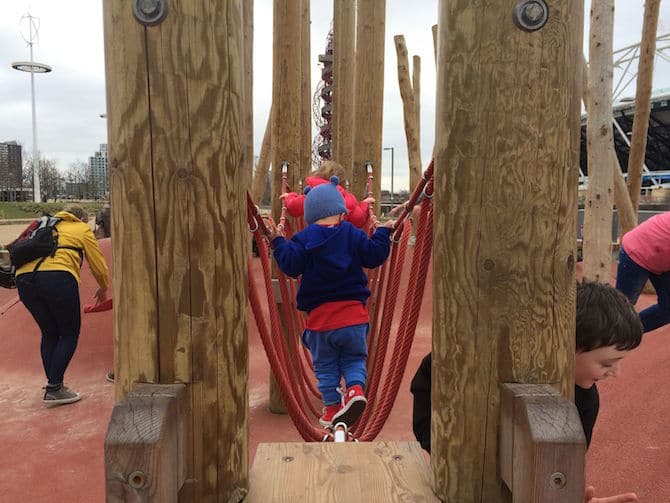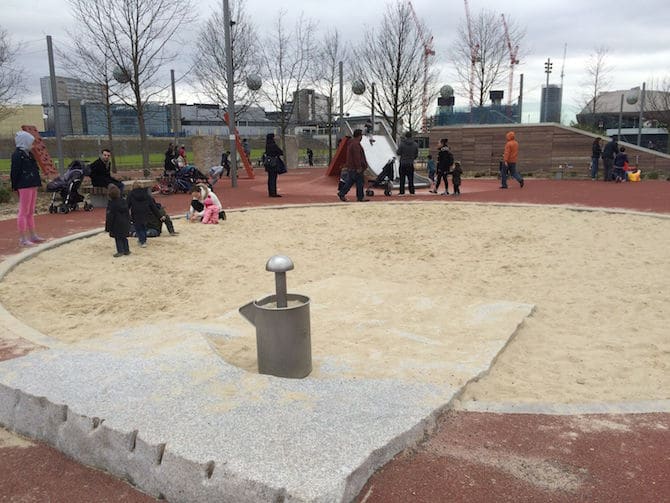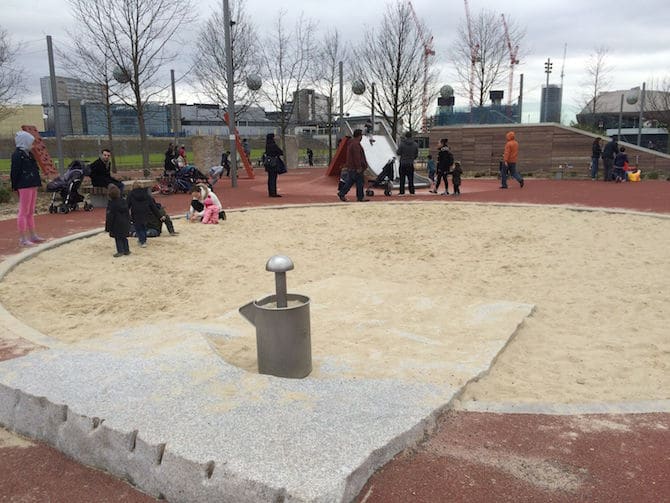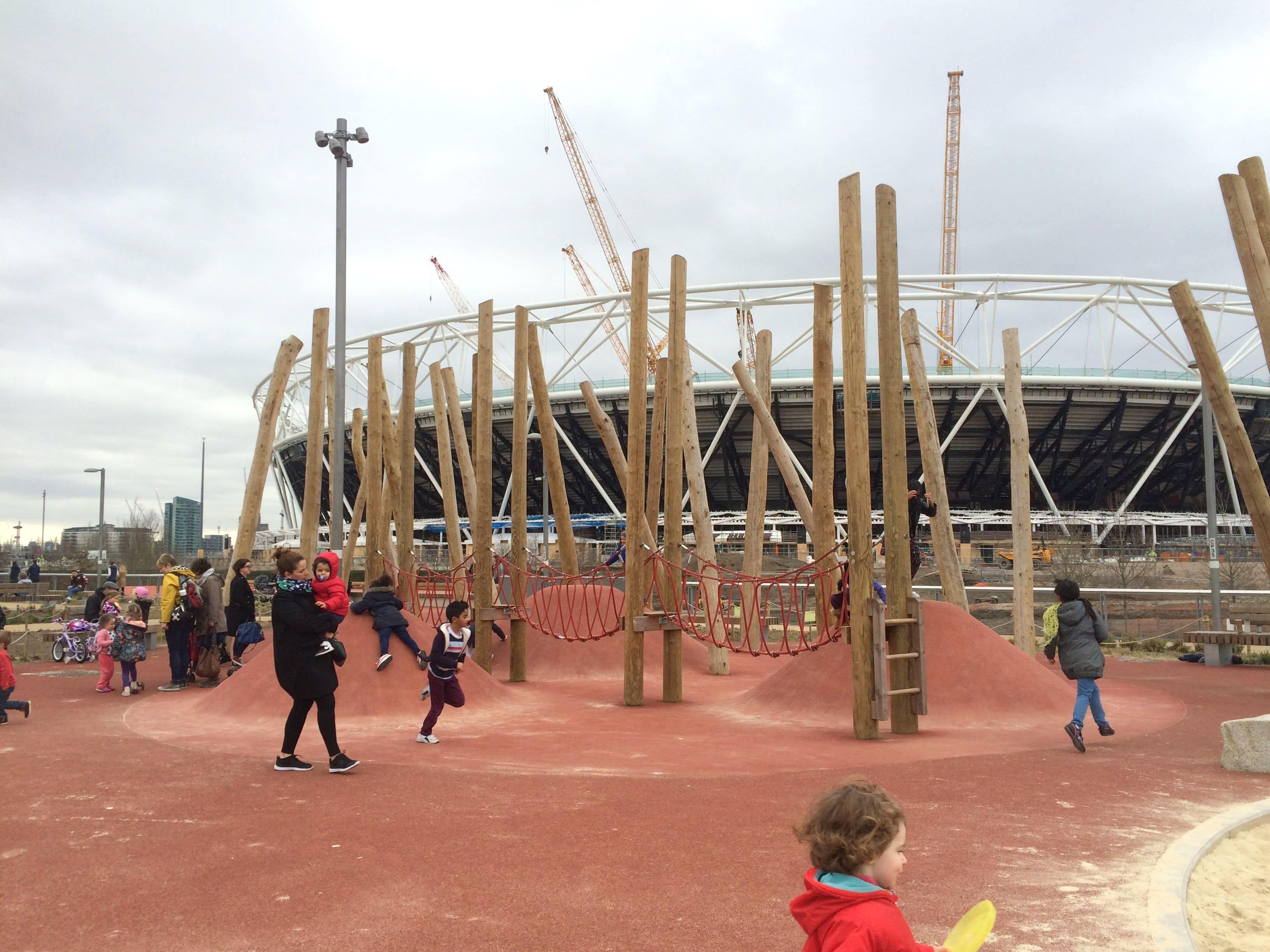 The Inside Scoop – Queen Elizabeth Olympic Park Playground London
Visit Olympic Park for both Pleasure Gardens Adventure playground, and Tumbling Bay Playground
Address: The Queen Elizabeth Olympic Park Kids Playground for children is on Olympic Park Ave, London E20 1DY, UK
Entry fees: FREE  (Vintage Rides cost extra.)
Opening Hours: 9am to 5pm
Olympic Park Water Fountain Opening Times:
The Olympic Park fountains opening times are from 9am to 5pm. Water fountains operate from March to October, and are closed during the winter months due to lower temperatures.
How to get to Olympic Park Stadium in London
By Tube: Stratford station (20 minute walk) is served by the following:
Central & Jubilee lines
Docklands Light Railway (DLR)
National Rail services operated by Greater Anglia and C2C.
London Overground
By Train: Stratford international station (20 minute walk) is served by the following:
Docklands Light Railway (DLR)
Southeastern High Speed 1 services
Pudding Mill Lane station (10 minute walk) is served by the District Light Railway (DLR)
Hackney Wick station (20 minute walk) is served by the London Overground
By Bus or Bike: Please click here for details
By Car: Don't bother. Take public transport.
Olympic Stadium Parking: The closest car parks to London Stadium are at Stratford Westfield.
Queen Elizabeth Olympic Park Map
Toadstool Rating for Olympic Park London Playground
Looking for MORE SUPER DOOPER FUN Things to Do with Kids in LONDON?
Click the links in blue below.
Subscribe
Bookmark Roam the Gnome
Disclosure:
This article may contain affiliate links. This means if you make a booking or purchase after clicking on one of these links on Roam the Gnome™, we may receive a small affiliate commission at NO extra cost to you.
Roam the Gnome™ is a participant in the Amazon Services LLC Associates Program, an affiliate advertising program designed to provide a means for sites to earn advertising fees by advertising and linking to amazon.com, amazon.co.uk, amazon.ca. Amazon and the Amazon logo are trademarks of Amazon.com, Inc. or its affiliates.
Thank you in advance for your support in helping us to grow Roam the Gnome Family Travel™ Website Directory