INSIDE: Roam the Gnome's Guide to the best foods to try in Hong Kong.
Finding where to eat in Hong Kong is not as important as knowing what to eat in Hong Kong!
Don't visit this spectacular place without trying ALL of these top 10 foods to eat in Hong Kong.
They are by far the most popular foods in Hong Kong, not just for tourists and visitors, but also locals.
Take a look below to see what famous food in Hong Kong you need to put on YOUR Hong Kong food bucket list!
Disclosure: This article contains affiliate links. If you make a purchase after clicking on one of these links, we may receive a small commission at NO extra cost to you.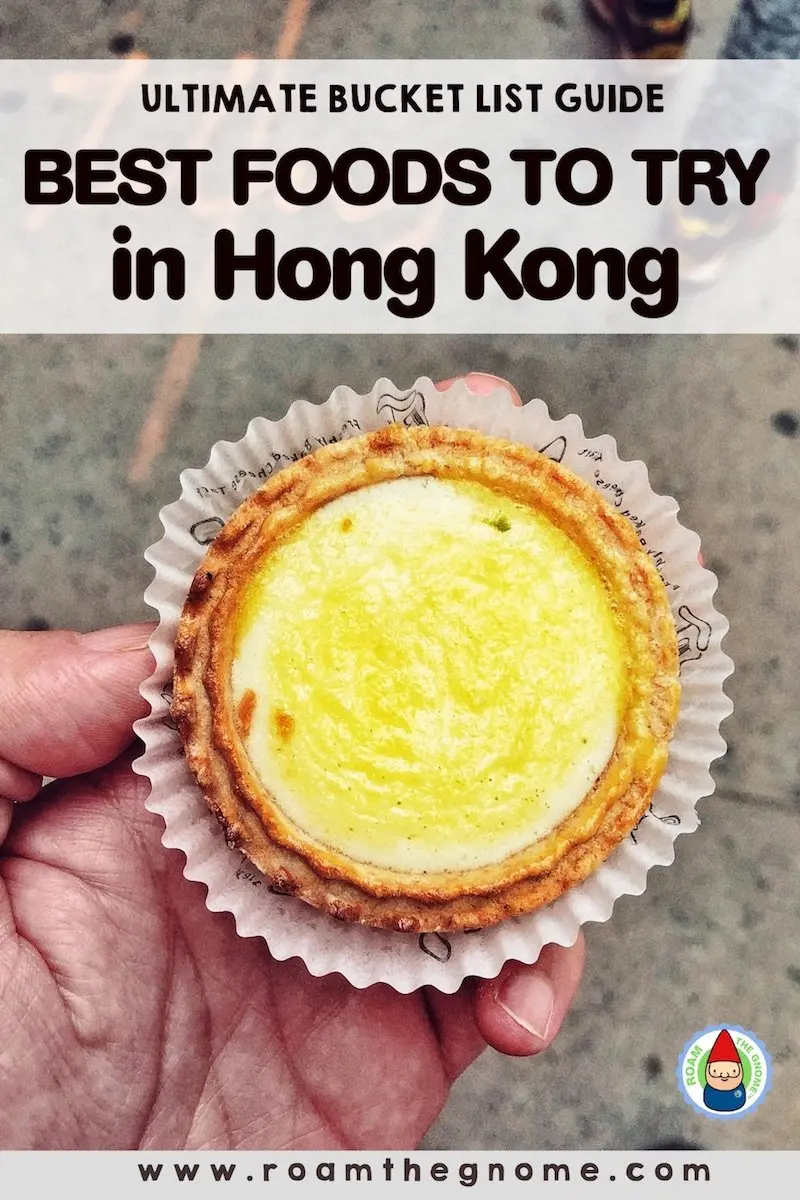 BEST FUN FOODS TO TRY IN HONG KONG WITH KIDS
No.1: Hong Kong Cake Shops
Hong Kong cake shops are something else.
Kids (and parents) will be drawn to the Hong Kong cake shop windows, like a bear is drawn to honey.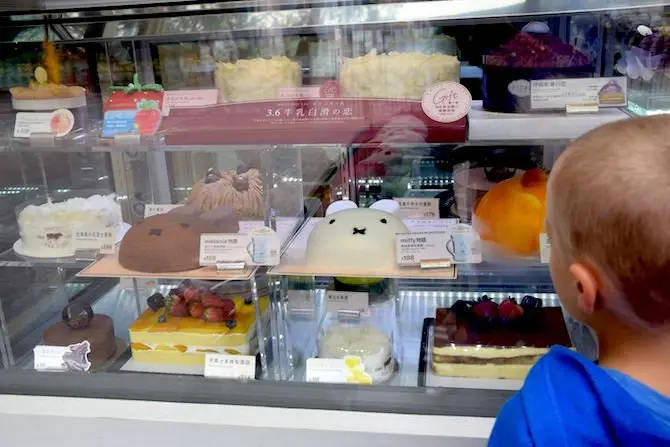 And when the cakes are THIS cute, who can blame them?
There wouldn't be too many cake lovers who haven't dreamed of ordering a chocolate and vanilla cake in the shape of Miffy or Snoopy, or Mickey Mouse!
But if you are not into character cakes and just want something sweet to nibble with your mid-morning coffee, there's plenty of choice.
LOTS of sponge cake variations.
That's a Hong Kong speciality cake, and they are SO soft, the definition of 'melt in your mouth'.
There's Hong Kong cheese cakes.
And brightly colored fruit flans.

But we'd suggest trying an Egg Tart.
That's one of Hong Kong's most popular sweet treat.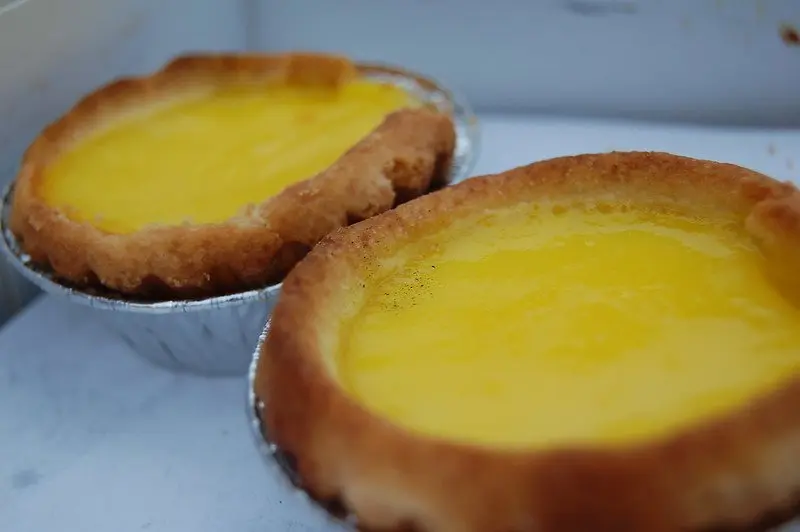 Image credit: Chee Hong via Flickr CC BY- 2.0
Tai Cheong Bakery in Hong Kong
Made using a cookie dough like crust, a Hong Kong egg tart is filled with egg custard, and baked.
The best egg tarts in Hong Kong are at the Tai Cheong Bakery.
Head to Central MTR and take Exit D2. Take the elevator up to the Mid-Levels.
You'll see an "exit" for Lyndhurst Terrace.
Tai Cheung Bakery will be situated on the right when you go down the stairs.
Buy a dozen.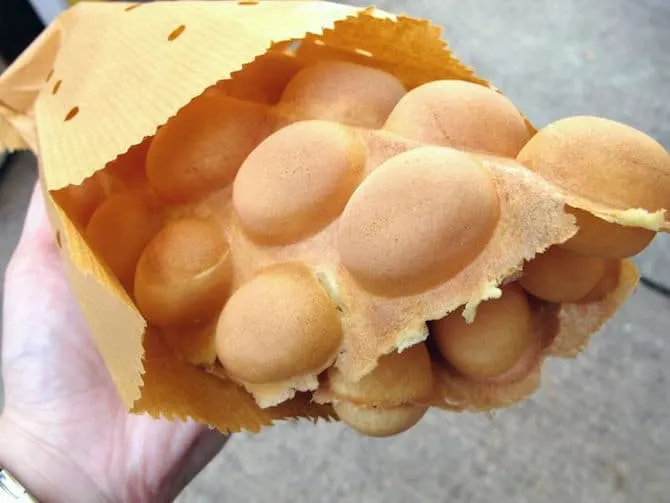 No.2: Hong Kong Egg Puffs
Keep an eye out for mini egg puffs in Hong Kong.
This crunchy outside, soft inside treat is made from sweetened egg batter that is cooked inside a mould to make puffs.
Try strawberry egg puffs, chocolate egg puffs, and if you are lucky, you might even find coconut egg puffs too.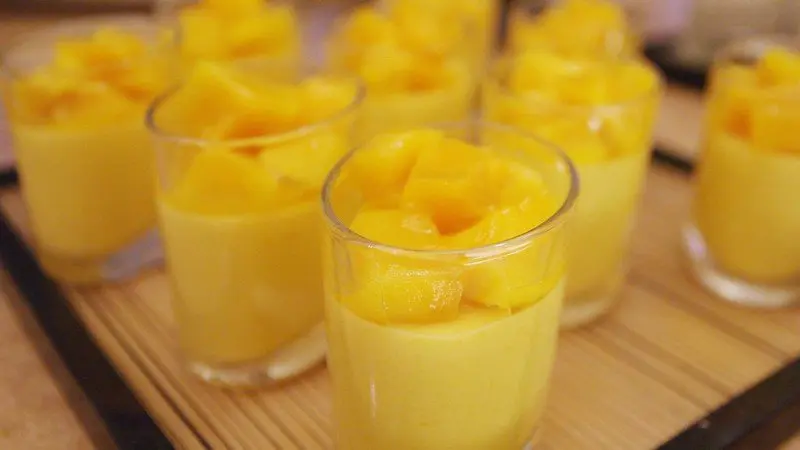 Image credit: Matt @PEK via Flickr CC BY-SA 2.0
No.3: Mango Pudding
Still on the sweet theme (yes, Roam the Gnome and Ned would agree that Jack and I both have a sweet tooth).
Mango Pudding can be found on just about every restaurant menu in Hong Kong.
A combination of agar, evaporated milk, sugar, and fresh mango, it is meant to be eaten cold.
I love that because it's fruit, you can kid yourself that it is healthy!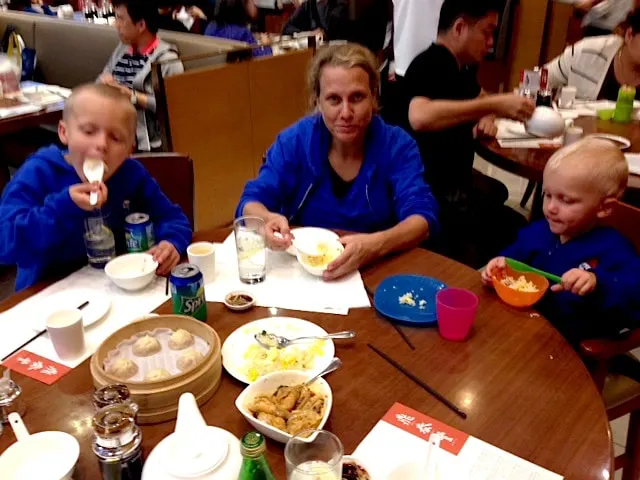 No.4: Best Dumplings in Hong Kong
You can't visit Hong Kong without tasting freshly made dumplings and dim sum.
I can honestly say that the dumplings and dim sum we ate on our last trip was the BEST I've ever had.
The dim sum buns were super dooper fresh, and so full of flavour when they burst in my mouth.
The kids LOVED this dumpling restaurant in Hong Kong.
You need to follow our footsteps and eat dumplings at this One-Michelin-starred restaurant too.
Read our review of Din Tai Fung Causeway Bay in Hong Kong.
You'll find descriptions of the menu, how to book, where to find this dumpling bar, and more.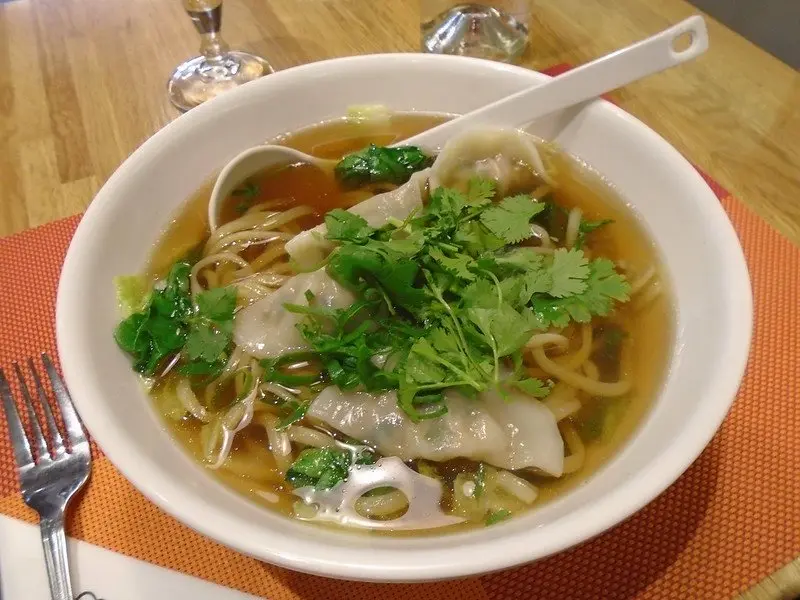 Image credit: Guilhem Vellut via Flickr CC BY- 2.0
No.5: Wonton Noodles
We love to eat noodle type dishes.
They are a cheap meal for budget family travellers, and a favourite of locals (and kids) everywhere.
We look for a busy noodle restaurant and head right on in.
Busy=good.
The kids fit right in when there's a bit of noise and activity. We rarely go anywhere else.
In Hong Kong, you'll often find Wonton Noodles on the menu.
It's a delicious stock filled with noodles with a bunch of Chinese dumpling 'wontons' thrown in for good measure.
Steer clear if you don't eat fish.
Most of the time these wontons are 2/3 shrimp with about 1/3 pork.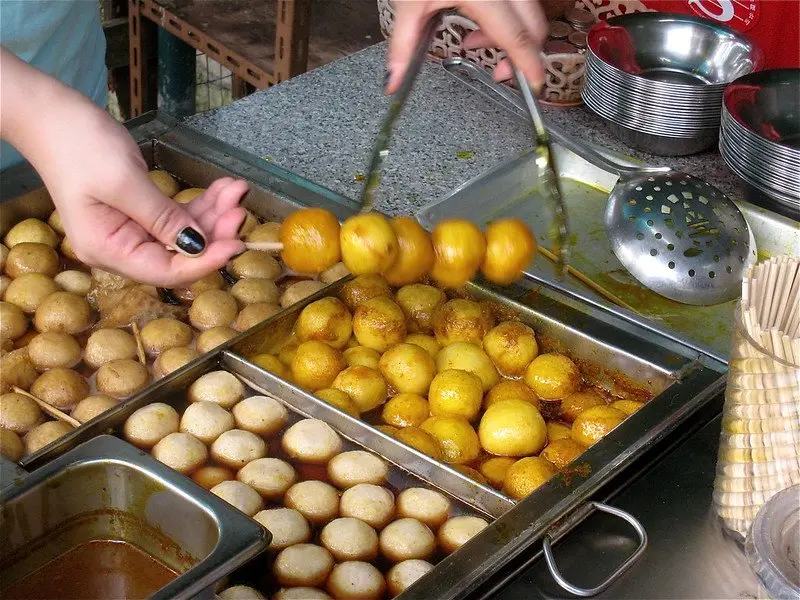 Image credit: Alan Levine via Flickr CC BY- 1.0
No.6: Curry Fish Balls
Street food doesn't get any more Hong Kong -style than this.
This Hong Kong dish is a staple for locals everywhere.
Curry fish balls are just a little spicy, but smell amazing.
You'll find them served on bamboo skewers and drizzled with curry sauce.
Tempt the kids with the aroma!
Look out for more street foods in Hong Kong like this too.
Or take a Hong Kong street food tour like this one.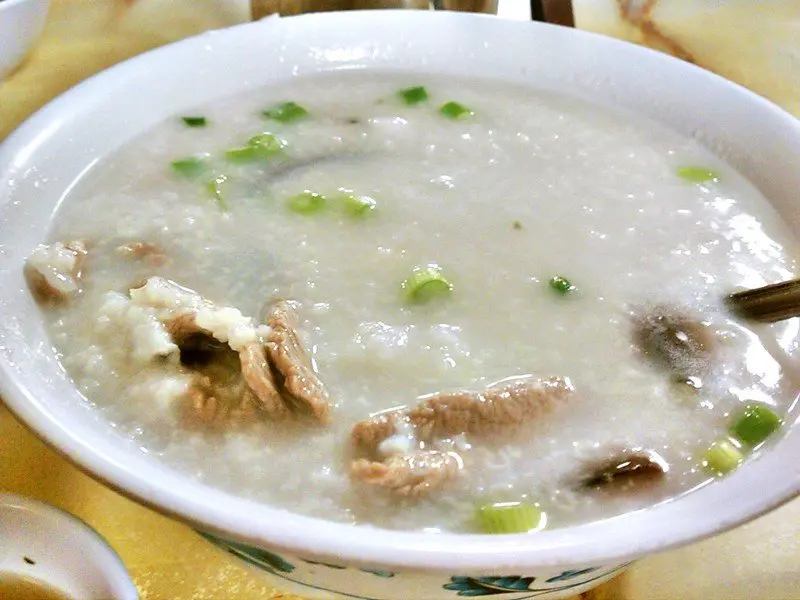 Image credit: Ron Dollette via Flickr CC BY- 1.0
No.7: Congee rice porridge
A hot silky and smooth rice porridge, for want of a better description, most often eaten at breakfast time, but served throughout the day in many restaurants.
The texture reminds me a little of baby food rice cereal, and also of that yummy Japanese home-style food, Neko Manma.
Neko-manma, literally 'cat food', is where you pour miso soup over cooked rice, and let it stew for a bit before you eat it.
It's much favored by babies, old people, and those fighting the flu.
The difference is there's usually stuff to chew in Hong Kong congee, including:
different types of meat
vegetables
sliced green onions (shallots)
cabbage
even poached egg.
My mouth waters just thinking about eating it again!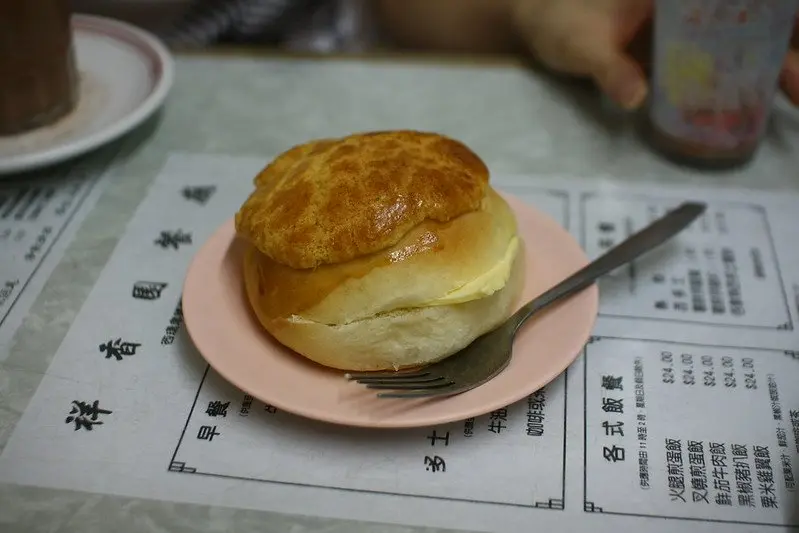 Image credit: Dennis Wong via Flickr CC BY-2.0
No.8: Pineapple Bread
Oh, we're back to the sweet stuff again!
Visit any bakery and you'll see Pineapple Bread, or a Pineapple bun.
Strangely enough, there's not an ounce of pineapple in this bread.
They are called this simply because the top of the bread roll looks kind of like a pineapple.
Only in Asia!
They are very sweet, being made from sugar, lard, eggs, and flour.
AND best eaten hot.
If you are lucky, your baker might pop a sliver of butter inside too.
Mmmm, melty deliciousness.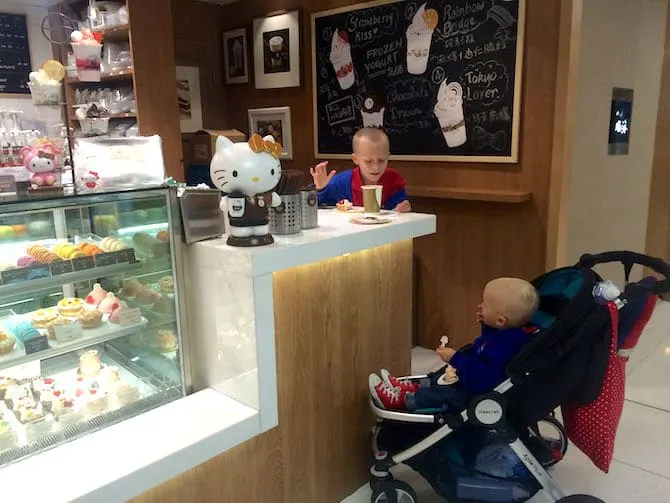 No.9: Hello Kitty Cafe in Hong Kong
The title of this post says 'Fun Foods to eat in Hong Kong with Kids' so here's a cafe you must not miss.
Hello Kitty cafes have three branches in Hong Kong.
We went to the Le Petit one in Sogo Department Store.
There's Hello Kitty cakes, and Hello Kitty desserts.
If you are lucky, you might even see stylishly designed Hello Kitty macarons!
Plus, the Hello Kitty cafe menu includes:
red apple cake
green apple cake
banana chocolate ball
passionfruit chocolate dome
redbean green tea mousse cake
red bean soup tofu pudding (cold)
sesame soup tofu pudding (cold)
Hello Kitty banana split
Glass jelly with assorted fresh fruits
coconut jelly noodles with mango
baked mashed apple sago pudding (hot)
stewed peach pudding with apple (cold)
macarons in pineapple, green tea, cashew nut, vanilla, orange, lychee, and passionfruit chocolate flavors.
They also sell drinks including Oolong tea, vanilla ice cream soda, iced pineapple with ice cream, and iced red bean with ice cream.
Guide includes directions to all THREE Hello Kitty cafes in Hong Kong.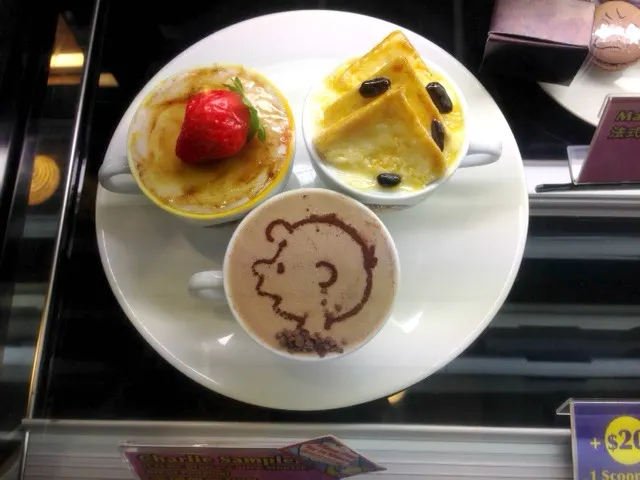 No.10: Charlie Brown Cafe Hong Kong- CLOSED
Snoopy Lovers visiting Hong Kong were advised NOT to skip this Snoopy cafe at any cost.
In fact, anyone who had a fondness for Snoopy, Charlie Brown and the Gang, and wanted to reminisce in the beauty of the Snoopy gang was encouraged to head straight the Charlie Brown Cafe without stopping.
The whole cafe was decorated in Snoopy themes, and the food was Snoopy themed too.
Plus you could take home one-of-a-kind Snoopy and Charlie Brown souvenirs, like an exclusive Charlie Brown mug.
It was a sad day when the Charlie Brown cafe in Hong Kong closed, due to the Hong Kong riots that scared people off the streets.
Step back in time to take a look at the Charlie Brown Cafe HongKong that was.
---
HOT TIP: Snoopy Fans rejoice! Visit the SNOOPY WORLD Theme Park /outdoor play area in Hong Kong instead. It's free!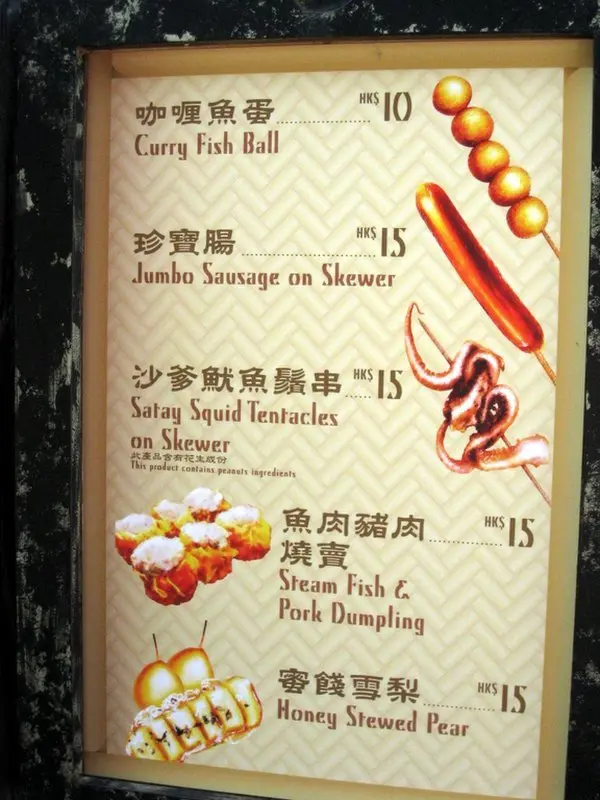 Image credit: Eric Mueller via Flickr CC BY-2.0
No.11: Hong Kong Disneyland Snacks
Wondering what food to try in Hong Kong Disneyland?
You can find ALL kinds of delicious HK Disneyland snacks and food to buy, including:
Curry Fish Balls
Korean squid
Jumbo sausages on skewers
satay squid tentacles on skewers
steamed fish and pork dumpings (not quite as good as Din Tai Fung dumplings but there you go.)
Honey stewed pair
Corn on the cob (HK $25)
Turkey legs (HK $55)
Soya chicken legs
Jumbo hot dogs (HK $45)
Roasted chicken steak with chinese BBQ sauce (HK $30)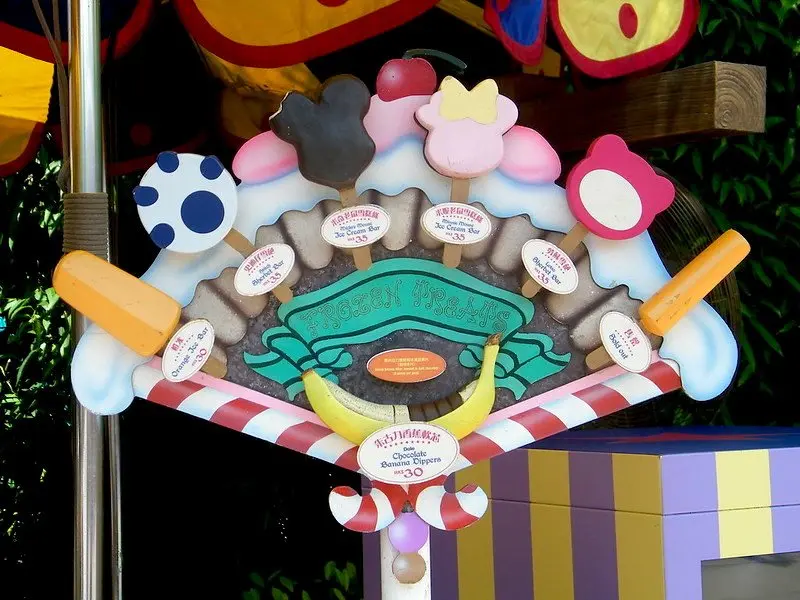 Image credit: Joel via Flickr CC BY-ND 2.0
No.12: Hong Kong Disneyland frozen treats & desserts
Whatever you do, don't skip the traditional Mickey Mouse ice cream bar!
It's a tradition.
There's also:
Minnie Mouse ice cream bar
Chocolate banana dippers
Orange Ice bar
Orange frozen lollipops ice pops
Sherbet bars
You can also find:
Mickey churros
fruit cups
soft serve
Disney popcorn flavors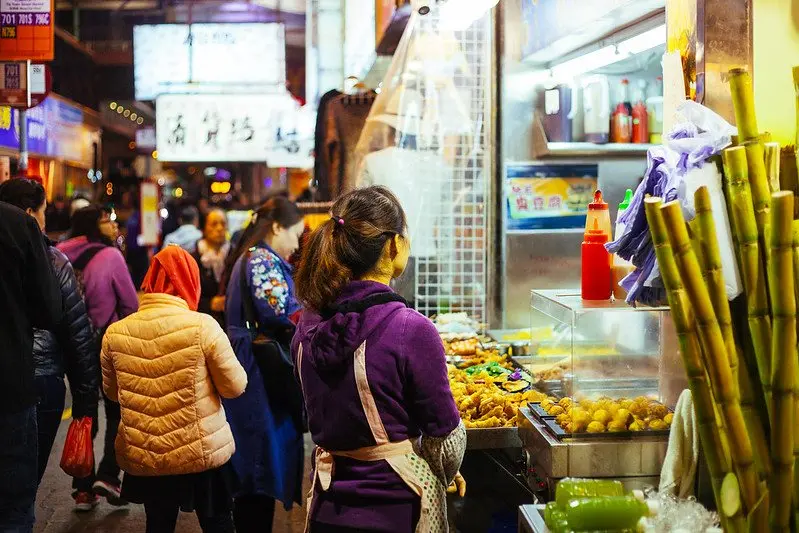 Image credit: WWikgren via Flickr CC BY-2.0
No.13: Street Foods to try in Hong Kong Food scene
Try these foods in Hong Kong (and drinks too) and add them to your personal Hong Kong food guide.
You'll find many of them at a pai dong, or open air street food stall in Hong Kong.
clam with black bean sauce
or soy sauce
roast goose
pork chop bun
claypot rice
lamb brisket
curry beef brisket
chuan skewers
yum cha
rice noodle rolls
char sui
steamed milk pudding
PS: It's totally acceptable to eat another Hong Kong cuisine meal after dinner. It's called "sui yeh" in Hong Kong, meaning supper, and it's served from 9pm, right through till morning!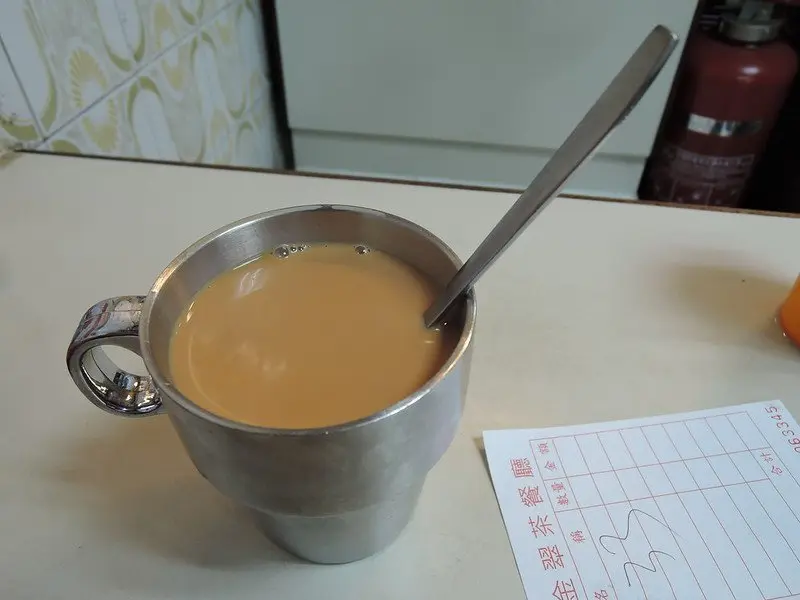 Image credit: Tin Long Yeung via Flickr CC BY-SA 2.0
No.14: Best Hong Kong drinks
Hong Kong style milk tea is my fave!
But Yuenyeung is popular with locals. This is coffee, mixed with Hong Kong milk tea, at a ratio 3:7.
Enjoy it served hot or cold.
Toadstool Rating: Must Try Foods in Hong Kong
Hong Kong for foodies is a top choice. You'll be eating local Hong Kong food for days!


Looking for More Things to Do in Hong Kong with Kids?
Correct at time of publication on Roam the Gnome. Please check with venue for updates. We apologise in advance if there have been any changes we are unaware of. All prices in US dollars, unless otherwise stated
Click the blue links below for more Hong Kong attractions on Hong Kong Island, Kowloon, The New Territories and Lantau Island