INSIDE: Roam the Gnome's Visit to Snoopy World Hong Kong.
Brighten your Day with a visit to this Snoopy theme park in Hong Kong!
Tucked away behind the third floor of the New Town Plaza Shopping Mall is a little treasure, an ode to (arguably) the world's most famous dog – a sweet and cheerful Snoopy land in the middle of Hong Kong!
It's FREE!
And it has a children's playground.
Take a look below!
Disclosure: This article contains affiliate links. If you make a purchase after clicking on one of these links, we may receive a small commission at NO extra cost to you. Main image: New Town Plaza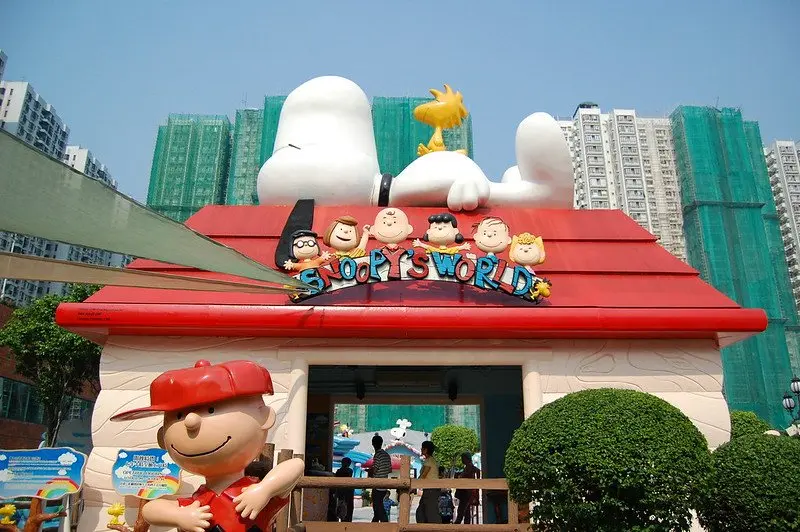 Image credit: Edwin.11 via Flickr CC BY-2.0
Snoopy World Hong Kong
Enter Snoopy World in Hong Kong through Snoopy's doghouse.
That must be the World's Largest Snoopy, lying there on the roof, 4.5 meters off the ground!
Why you should visit Snoopy World Shatin Hong Kong
Created by the late Charles Schulz, who was born in Minnesota, USA, the world of Snoopy and the Peanuts gang is much loved around the world.
Snoopy World HK is both charming and nostalgic to visit.
Somewhere to remind you of childhood, and a place to aquaint the kids with Snoopy, Charlie and all the gang too.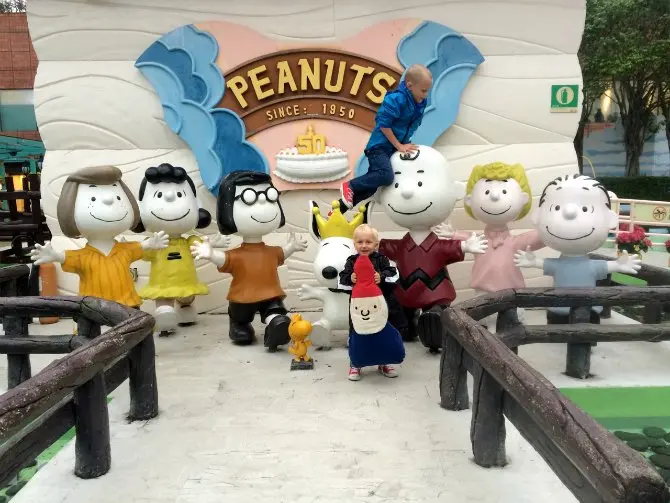 What you'll find at Snoopy Town Hong Kong
All around this place, you'll find life-size replicas of the Snoopy characters.
Grab every photo opportunity!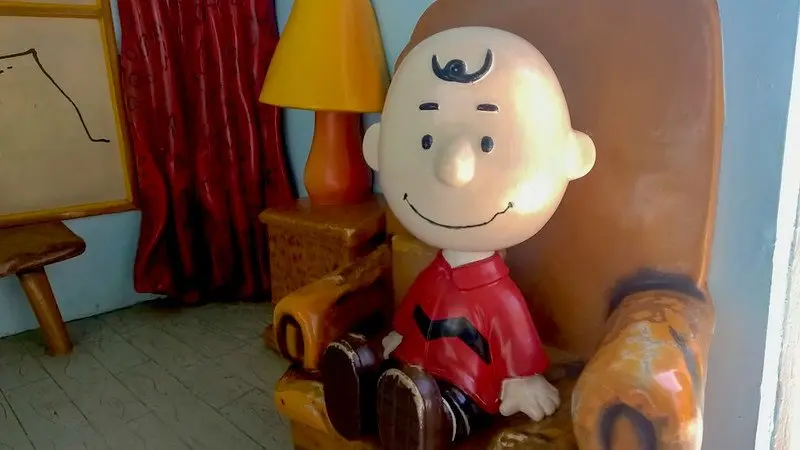 Image credit: Xiquinhosilva via Flickr CC BY-2.0
Do say hello to Charlie Brown inside the dog house.
Where's he watching TV on lounge room furniture, a replica straight out from the illustrations in the comics.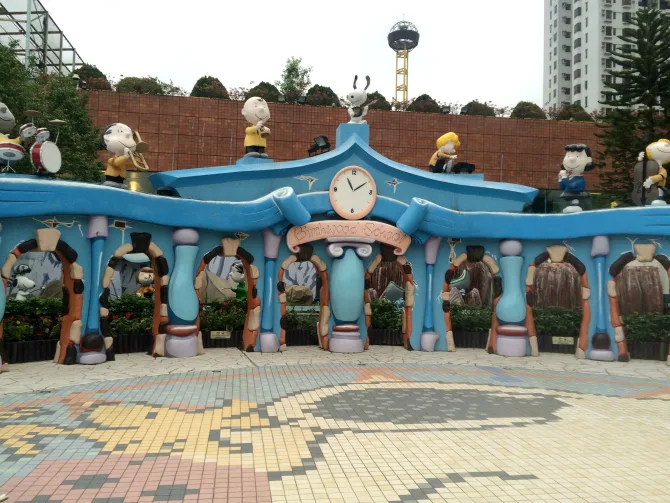 Themed Areas at Hong Kong Snoopy World
Snoopy Land opens up into a series of themed areas.
The Schoolhouse Plaza is the centre of Snoopy's World, and features an enormous Snoopy image created with ceramic tiles.
Kids can wander in and out of the School gates!
It's the perfect spot for busy toddlers and preschoolers, as they can run around on the paved areas, happy to have a space to play again.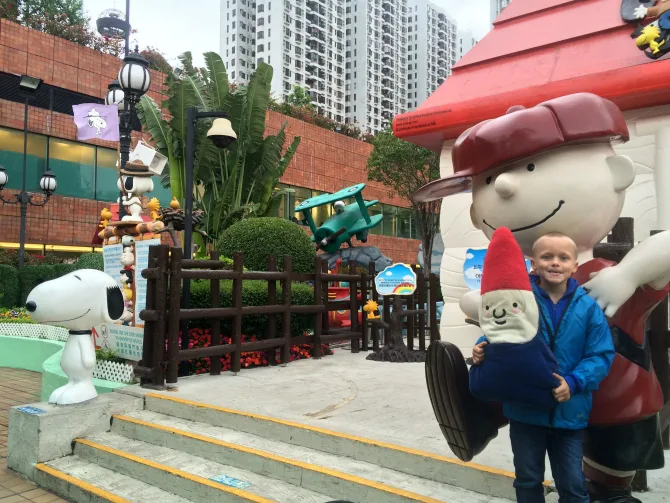 No.1: Snoopy House Museum
This Snoopy House "doubles as a museum dedicated to all the Peanuts characters, as well as their famed creator, Charles Schulz."
Take a look inside.
No.2: Snoopy Land Kong Kong Peanuts Academy School Bus
Kids can 'drive' the bus, flown all the way from America for Snoopy's World.
On Sundays, Snoopy's World Peanuts Academy hosts art and craft lessons inside the bus.
Best school ever!
Image credit: Xiquinhosilva via Flickr CC BY-2.0
No.3: Canoe Ride at Snoopy Park Hong Kong
There's a boating canoe ride too.
Special effects and animatronics bring the world of Snoopy to life.
Charlie and his friends are taking an adventure, through rocky rapids to their destination of their camping spot.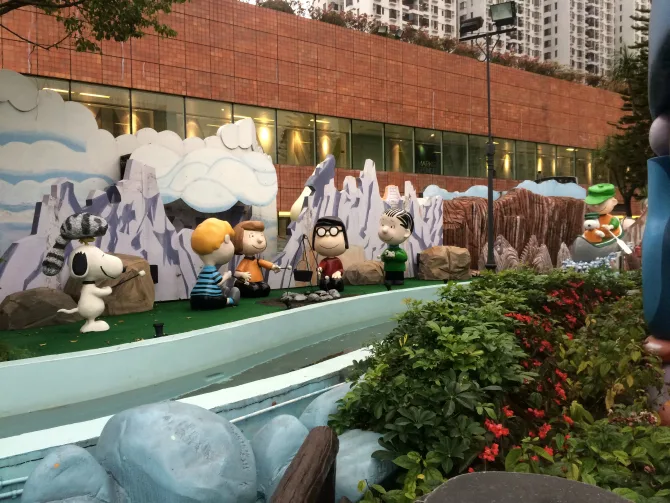 Keep an eye out for the Red Baron, and a Halloween Surprise.
Join them on their journey!
(NB: Non-operational during rainy weather)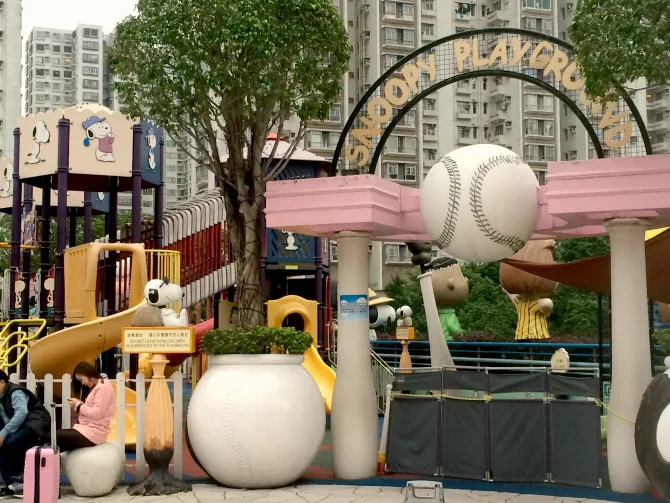 No.4: Snoopy Playground at Snoopy World in Hong Kong
My boys favourite area of Snoopy theme park Hong Kong?
Snoopy's playground of course.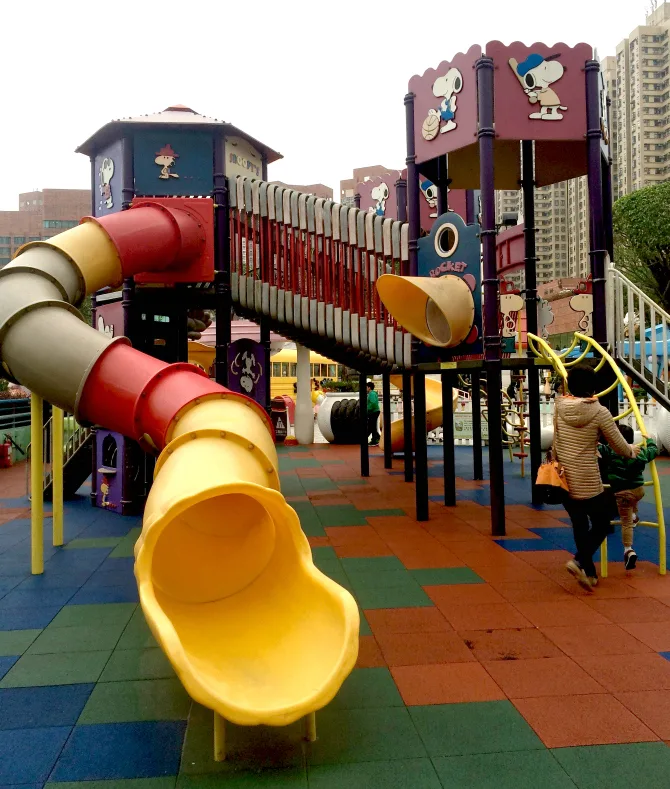 Closed during wet weather
My boys did manage to sneak into the playground with a few other kids for a quick play.
Toddlers!
You can't stop them sneaking through this gaps in the fence, can you?
Wink, wink!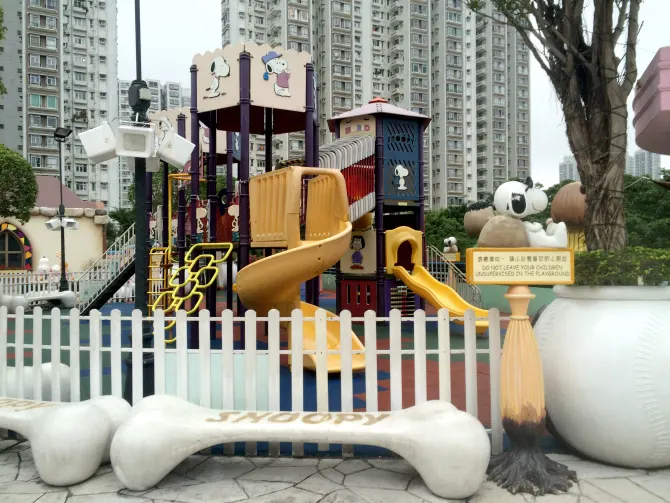 Fun Fact: The playground is exactly the shape of a baseball field.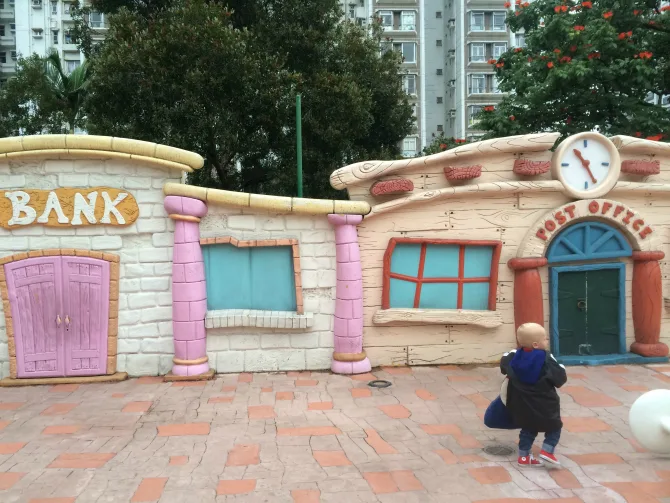 No.5: Peanuts Boulevard Mini Town at Snoopy Shatin
There's a Mini Town too.
This boulevard of shops in a small American town has:
a barber shop
cinema
hospital and
bank.
It's a photo opportunity only.
Sadly, the kids can't play inside.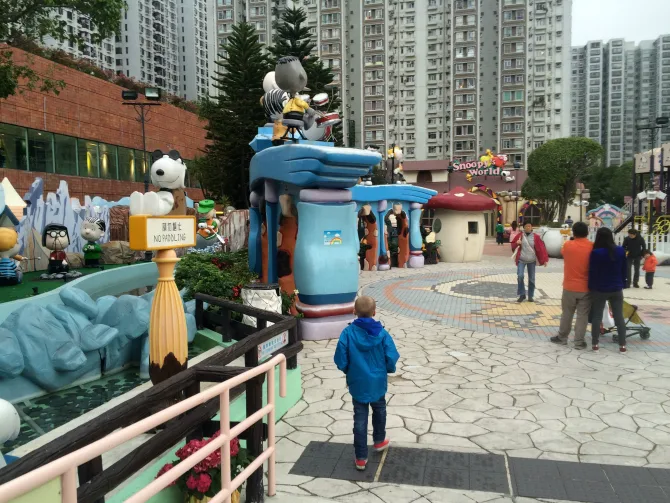 How long should I stay at Snoopy Land Hong Kong
Give yourself two hours max here.
Hot tip: Buy a cup of takeout coffee and snacks on your way over from the train.
You'll have plenty of time to sit and relax with your hot drink while the kids are busy playing surrounded by Snoopy, Charlie Brown, and the rest of the Peanuts gang.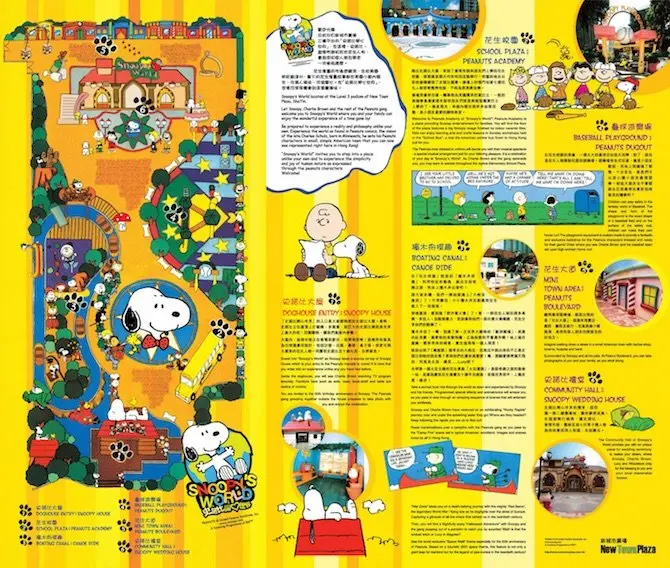 Collect free stickers & a Snoopy World brochure
The staff at the entrance hand out brochures and stickers.
Hot tip: Take at least least two brochures, so the kids can cut them up for their travel journals.
The Snoopy Theme Park (Snoopy's World) brochure can be found online.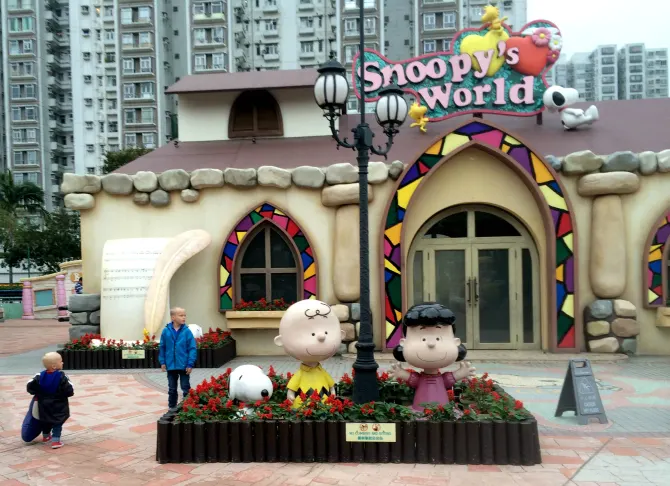 Snoopy World Wedding Chapel
You can even get married at Snoopy's World!
There is a very sweet Wedding Chapel and reception area (pictured above) right in the centre of Snoopy's World.
By all accounts, it's a fairly popular thing to do in Hong Kong!
Snoopy fans, rejoice.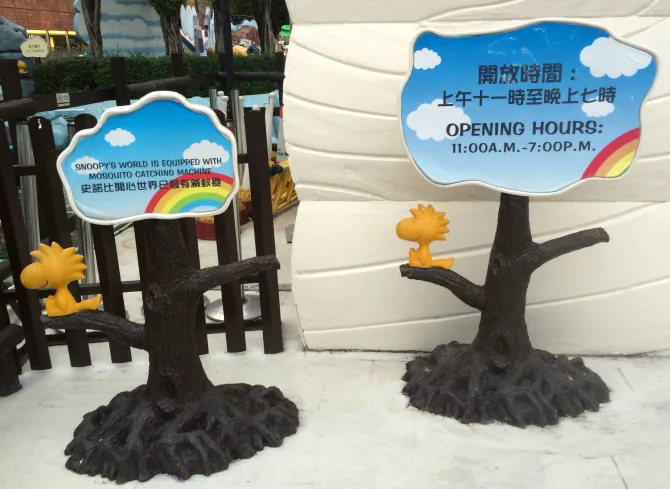 Eat and Drink at New Town Plaza Shopping Mall
New Town Plaza in Shatin is a one-stop shop for food.
Try Chinese cuisine – there's all kinds of Hong Kong restaurants to try, including a branch of the famous Dumpling Restaurant, Din Tai Fung.
Sweet tooth calling?
Tony Wong's Patisserie has mouth-watering desserts, or Honeymoon Dessert for home-style desserts, popular among the local customers especially the young generation of Hong Kong.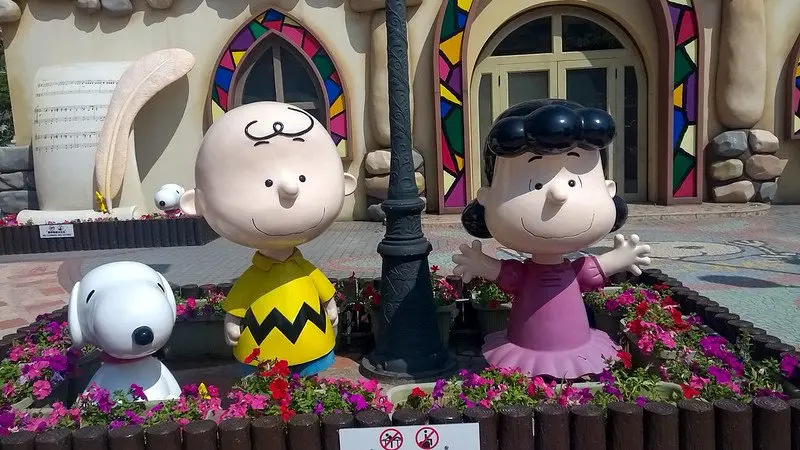 Image credit: Xiquinhosilva via Flickr CC BY-2.0
Snoopy Cafe Hong Kong?
Sadly, the Snoopy Cafe Hong Kong used to have is no longer operational.
But you can take a look back and reminisce with us about our visit to the very cute Snoopy and Charlie Brown cafe here.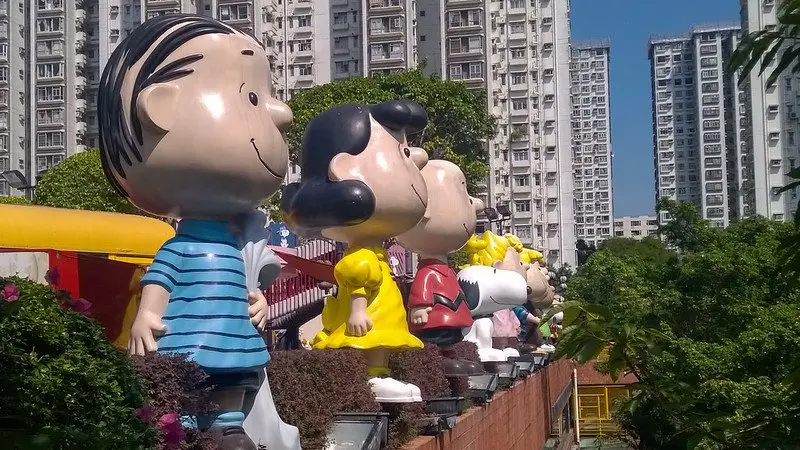 Image credit: Xiquinhosilva via Flickr CC BY-2.0
Shopping at New Town Plaza
There's loads of kids fashion in New Town Plaza. Make a day of it.
See a list of brands and shops to visit here.
There's a LEGO Store, and also a Toys R Us where I bought Ned some LEGO we'd never seen before.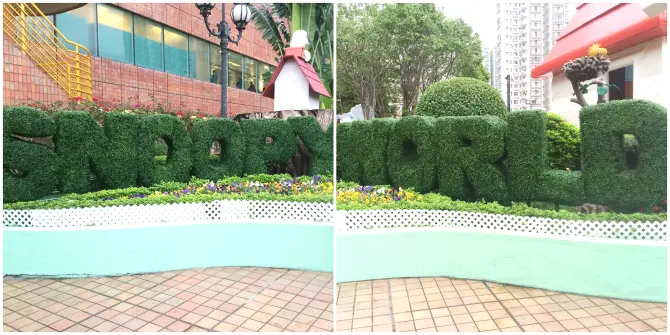 THE INSIDE SCOOP: Snoopy World New Town Plaza Sha tin
Correct at time of publication on Roam the Gnome. Please check with venue for updates. We apologise in advance if there have been any changes we are unaware of. All prices in HK dollars, unless otherwise stated
Address: Level 3 Phase 1, at New Town Plaza 18, Sha Tin centre st, Sha Tin, Hong Kong
Telephone: (852) 2697 9898
Website: Click here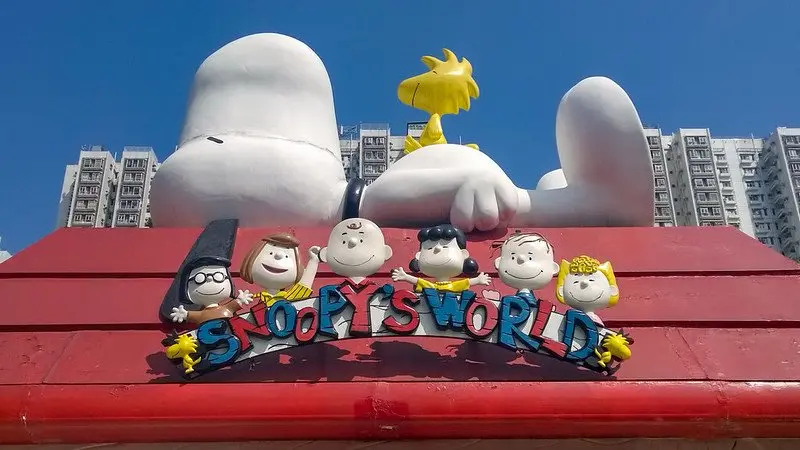 Image credit: Xiquinhosilva via Flickr CC BY-2.0
Snoopy World Hong Kong Opening Hours
11am to 7pm daily
Do not bother visiting if it's a rainy day. They close the playground and the rides for safety. Boo hoo!
Snoopy World Hong Kong Entrance Fee:
Snoopy World is free.
You don't need Snoopy World Hong Kong tickets.
Hot tip: The closest toilets and baby change tables are in the New Town plaza mall.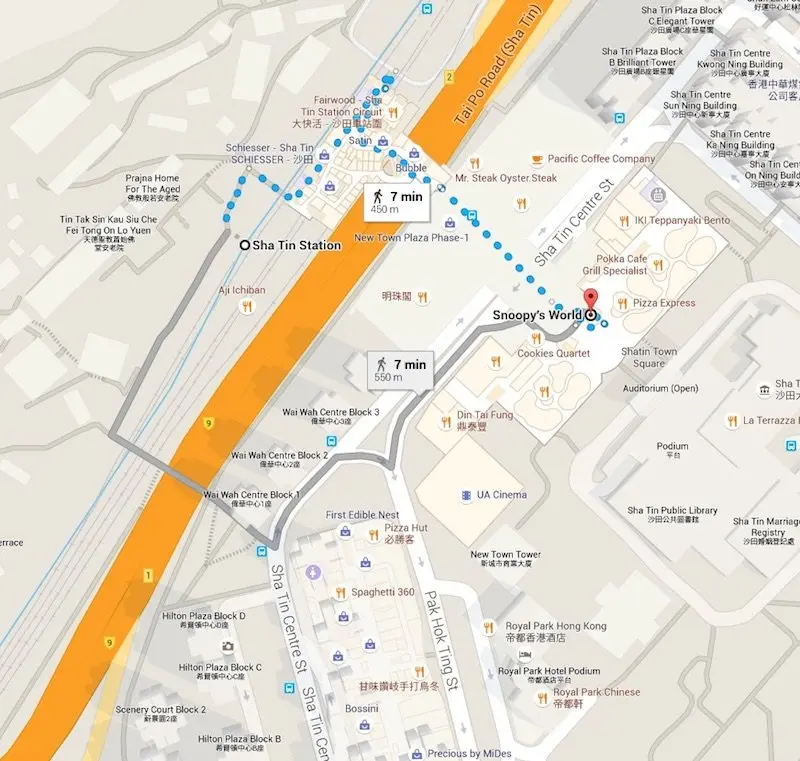 How to go to Snoopy World Hong Kong
Click here for detailed instructions by MTR, Bus, Mini Bus, Coach and Private Car
(Click on the tabs under the heading)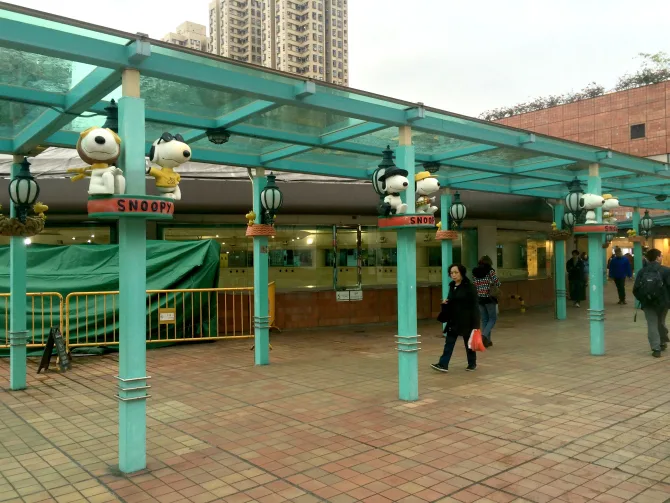 By Train: Sha Tin station Exit B, and walk for 7 minutes (through the shopping mall) – follow the blue dots on the map above.
It's then an easy 7 minute walk through the New Town Shopping Mall to find Snoopy's World.
Bring the stroller.
By Bus: Click on the bus tab on the link above, for all the details on what number bus route to take from your current location.
By Car:
If coming by car, park in the New Town Plaza.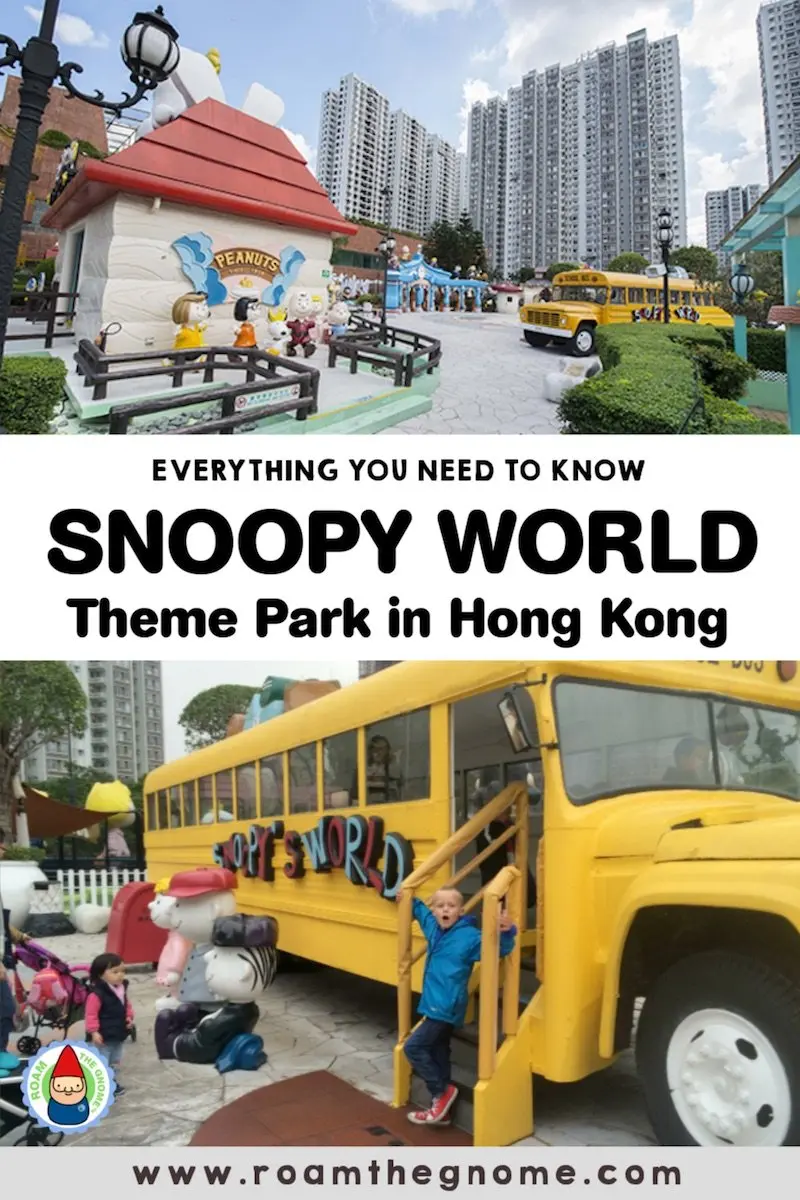 Parking at New Town Plaza
Parking costs are: Mon-Fri – HK$18/Hour. If you spend HK$300 or above, enjoy free parking for 2 hours.
Sat, Sun and public Holidays – HK$24/hour. If you spend HK$500 or above, enjoy free parking for 3 hours
There's a Free Parking Registration Counter:
Customer Care Centre, Level 3, Phase I
Customer Care Centre, Level 2, Phase III
B Lift Lobby, Upper Basement, Phase I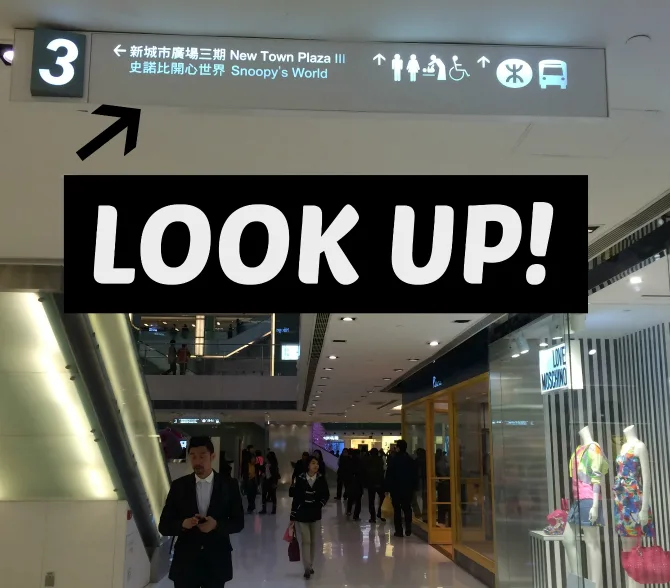 Snoopy World Hong Kong How to Get There
There are SMALL signs throughout New Town Plaza (look up!) that are supposed to help you find Snoopy's World.
It's easier to ask people.
Find a mum with kids in tow, and ask her to point you in the right direction.
NB: There's actually two entrances, but the main entrance is the one with the Snoopy Doghouse to walk through.
Snoopy World Map
Toadstool Rating: Snoopy World New Town Plaza Hong Kong Review
We would have rated Snoopy Park Hong Kong FOUR toadstools if the kids had been able to enjoy the rides.
It's a fun spot in amongst the high-rise lifestyle of Hong Kong, and not too busy either.


Looking for More Fun Attractions in Hong Kong for Kids?
Click the blue links below for more Hong Kong attractions