INSIDE: Roam the Gnome's Guide to Yarralumla Park with kids.
There's a cool place in Canberra where clever kids can entertain themselves for hours using their own wits, and imagination, and it's FREE!
Yarralumla Park in Weston Park has its' very own Nature Play area, full of:
glorious weeping willows
giant boulders and rocks to climb and clamber over
a small lake to float their seedpod boats, and
a manmade waterfall creek to skittle through.
It's barefoot heaven here.
Plus it's one of the best Canberra gardens and parks for kids to dig deep into their imaginations.
Take a sneak peek below.
Disclosure: This article contains affiliate links. If you make a purchase after clicking on one of these links, we may receive a small commission at NO extra cost to you.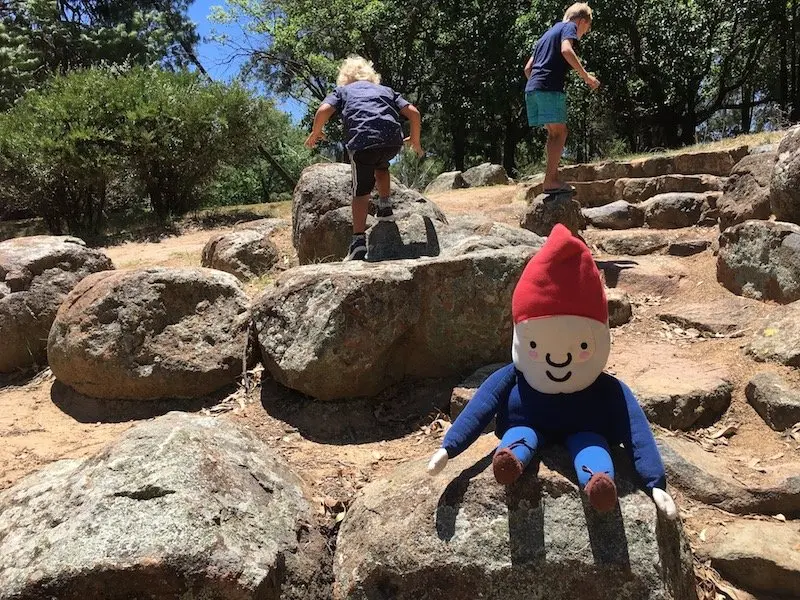 Yarralumla Park Nature Play Fun!
Take a seat on one of the log chairs under the Weeping Willows while the kids enjoy a day of outdoor adventure and fun.
Kids can:
practice parkour-style acrobatics up and down the rock mountain!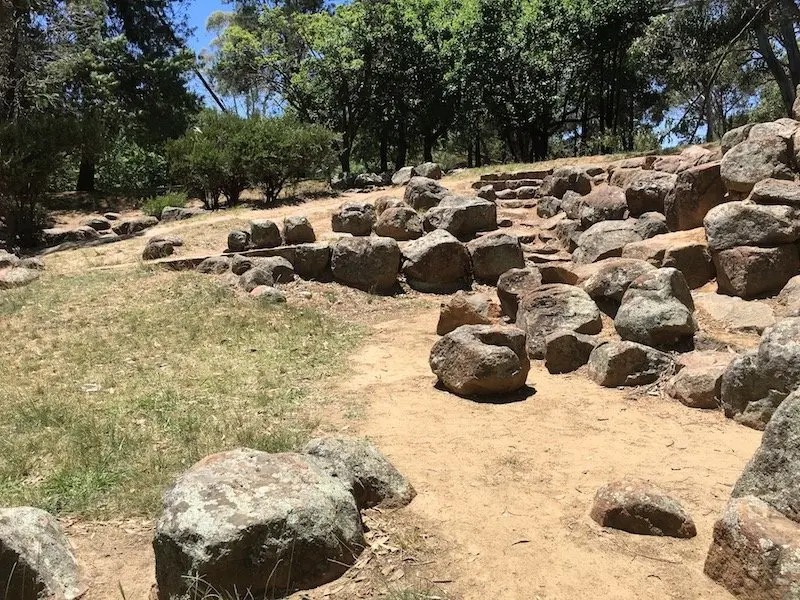 Bouldering
practice leapfrogging from rock, to boulder, to log, to pathway
play hide and sick amongst the trees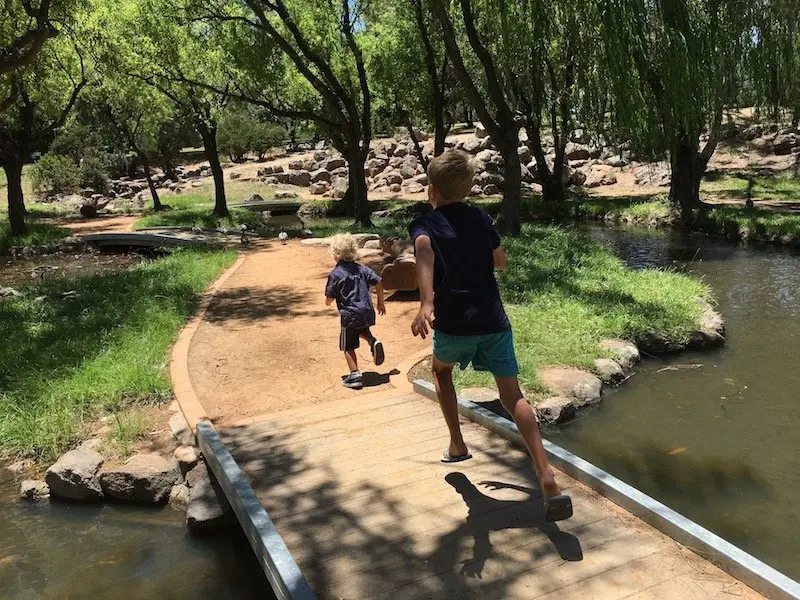 Exert their energy
race one another up the rock footpath
play 'fishing' games from the low bridge that crosses the lake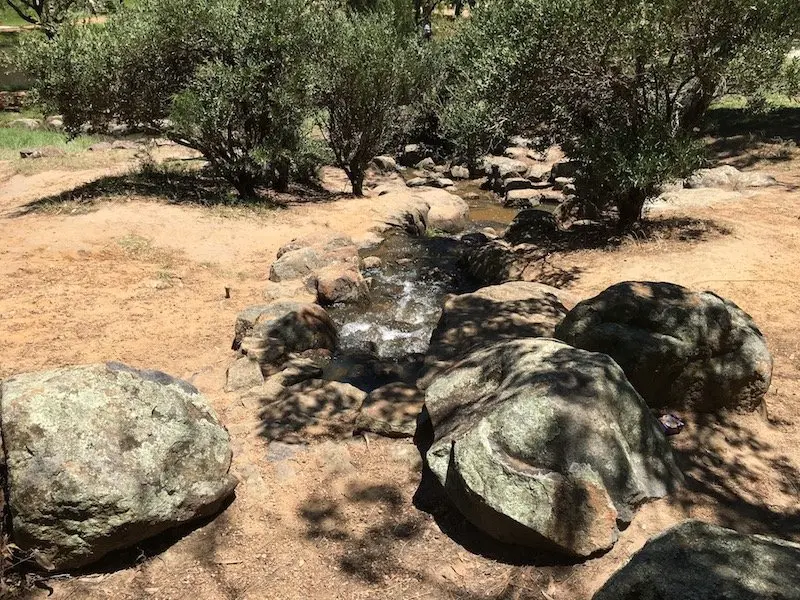 Follow the waterfall
dip their toes in the 'waterfall'
climb up the running waterfall on hot days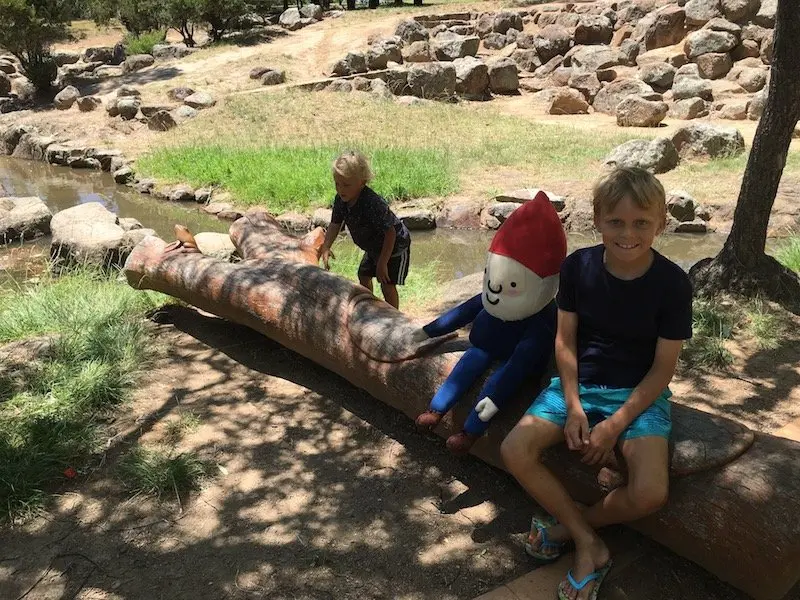 Relax in the Shade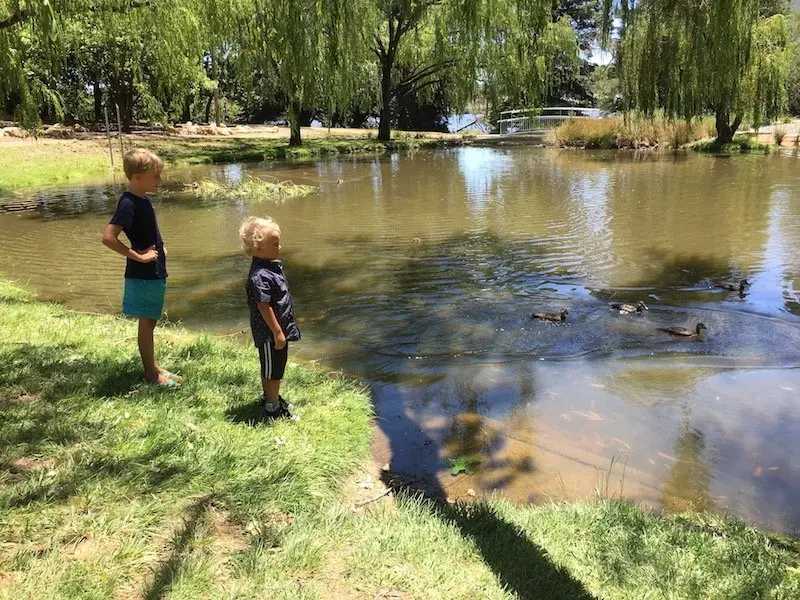 Yarralumla Park Duck Pond
Feed the ducks who swim on the pond.
Or sail paper boats or seedpod boats.
As always, keep a very close eye on children under 5 near any water source.
MORE Things to do at Yarralumla Park Canberra
No.1: Weston Park Adventure Playground
When the kids have used up all their imagination and need a dose of inspiration, head over to the Weston Park Playground.
This Yarralumla playground has:
swings
a cool water feature
a water pump
a spinner seat
a kids slide, and more.
Visiting the Yarralumla water park playground is a chance to chat to locals too.
They are a friendly bunch.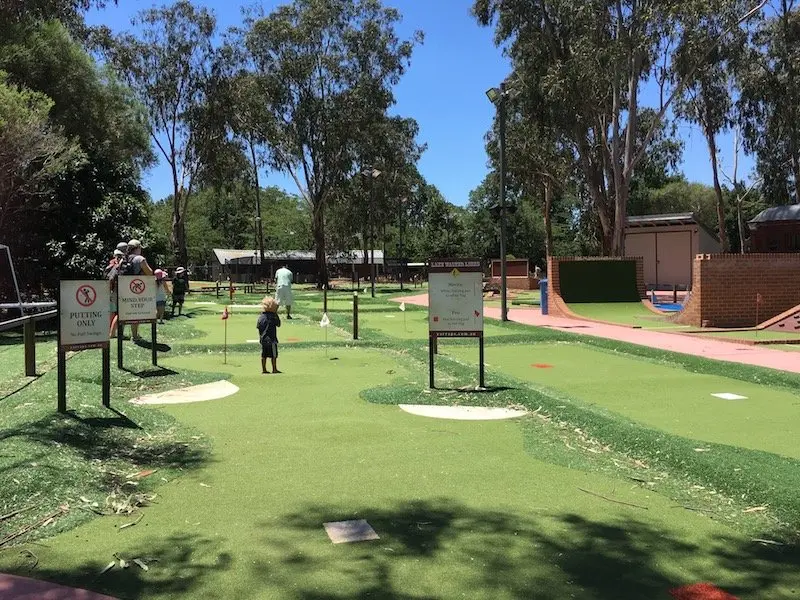 No.2: Yarralumla Play Station, Australian Capital Territory
If you are looking for more things to do in Yarralumla with kids, you can also visit Yarralumla Play Station to take a train ride on the Weston Park mini train.
Or, join the fun of playing mini golf on their unique course.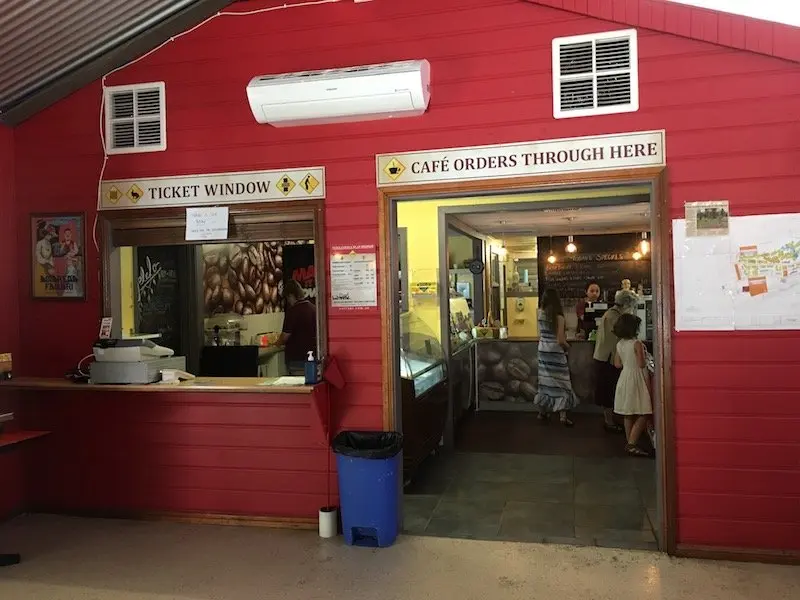 No.3: Canberra Railway Stop Cafe
There's a cool Railway-themed cafe on site that's super child-friendly. Weston Park cafe is a cosy retreat near all the Yarralumla activities.
Check it out here. (Post includes the Yarralumla Play Station Cafe menu)
No.4: Mini Golf at Weston Park
Play a round of putt putt golf at Weston Park and you'll putt through some of Canberra's iconic attractions such as Parliament House!
No. 5: Swimming at Weston Park
Visiting Canberra on a stinking hot day?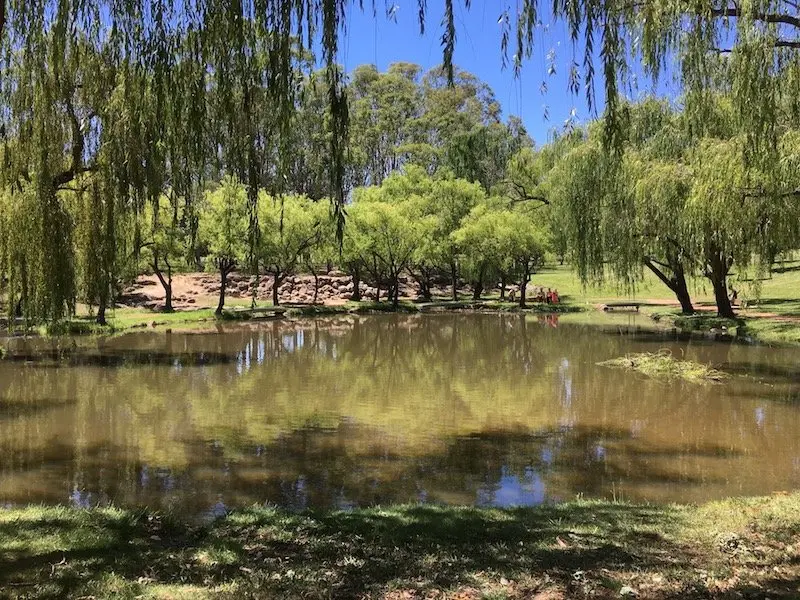 THE INSIDE SCOOP: Yarralumla Playground Canberra
Correct at time of publication on Roam the Gnome. Please check with venue for updates. We apologise in advance if there have been any changes we are unaware of. All prices in AUD dollars, unless otherwise stated
Address: Yarralumla Park is in Weston Park on Weston Park Rd, Yarralumla ACT 2600
Telephone: 132281 (Canberra Connect)
Website: Click here
Yarralumla Park Opening Hours
Gates allow access between 7am and 10pm during daylight saving, or until 8pm during other months
Entry Fees to Yarralumla Weston Park
Free entry.
How to get to Yarralumla Park in Canberra
By Bus:
The Bus No. 315 and Bus No. 1 stop at Weston Park (Yarralumla Park) Canberra.
The Moovit App can guide you there by public transport.
By Car (or Taxi/Uber):
6.6km via Commonwealth Ave/A23 and Alexandria Drive (9 minutes from the CBD), or
10km via Commonwealth Ave (11 minutes from the CBD)
Parking at Yarralumla Park
Free on-street parking
Facilities at Yarralumla Nature Reserve
Toilets: Yes, next to Yarralumla adventure playground
Nearest takeaway coffee: 150 metres walk to Weston Park Railway Stop Cafe
Disability access: Yes
Closest playground: Yarralumla Adventure Playground, 300 metres walk away
Shade: Yes, tree cover
Enclosed: No. Be safe around water – keep a close eye on children under 5 especially.
Ground cover: Grass
Food options: BYO picnic (see closest takeaway cafe above)
Picnic tables: Yes
Electric BBQs: Yes (near adventure playground)
Water Bubblers/fountains: Yes (near adventure playground)
Scooters and Bikes: Yes, there's a bike path cycle track running throughout the park
Dogs: No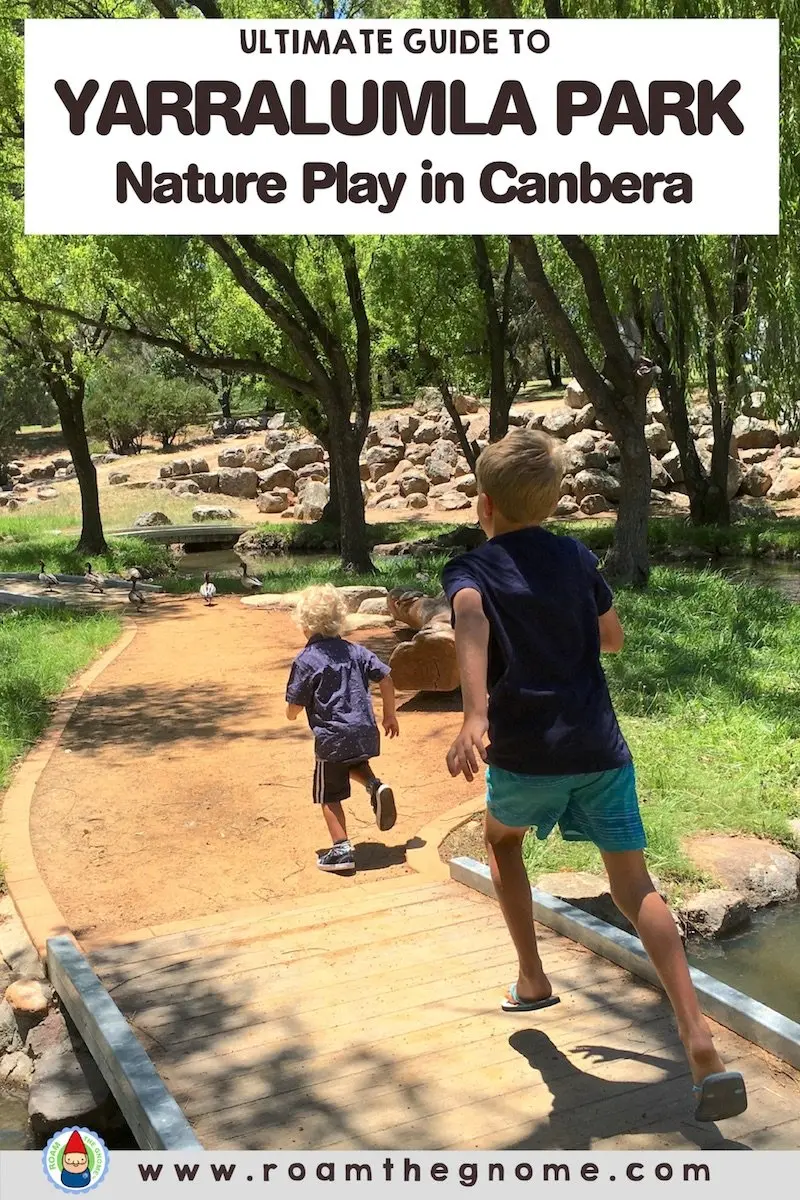 Toadstool Rating- Yarralumla Park Nature Play area
As part of the whole Yarralumla experience, we give this Yarralumla nature park in Canberra the THUMBS UP.
Other cool Canberra playgrounds to check out nearby include Black Mountain Peninsula playground and the Pod playground at the Arboretum.


Looking for MORE SUPER DOOPER FUN places to visit in Canberra with kids?
Click the links in blue below for more Canberra attractions.