INSIDE: Roam the Gnome's Guide to Lake Burley Griffin Cruises.
When the kids tire of historical monuments, Government buildings and cannot stuff another fact into their brains, it's time to hop on one of the hour-long Lake Burley Griffin Cruises and putter about on the water instead.
It's a one-off opportunity to see Canberra's premier landmarks from a unique and memorable perspective.
There might even be a laugh, or two!
Take a look below for details of this one hour lake cruise.
Disclosure: This article contains affiliate links. If you make a purchase after clicking on one of these links, we may receive a small commission at NO extra cost to you.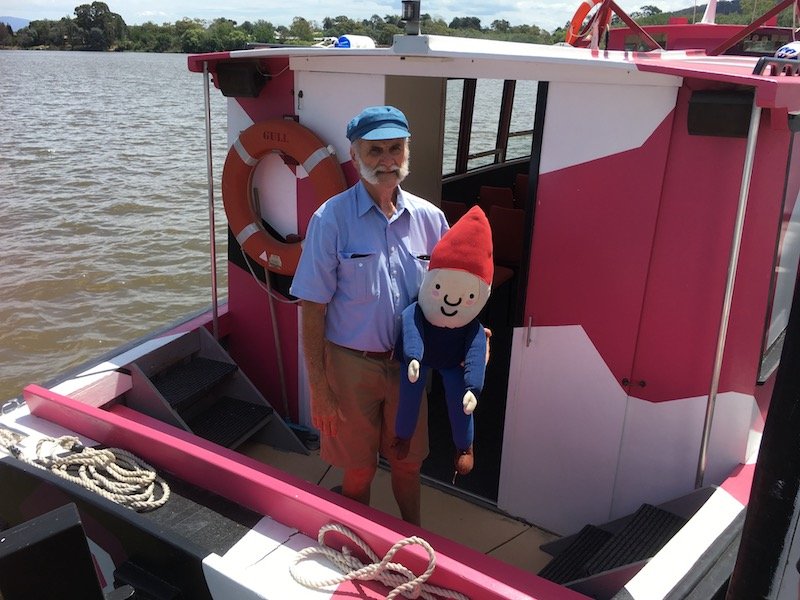 Lake Burley Griffin Cruises with Jim Patterson
Jim Paterson, the owner-operator of Lake Burley Griffin Canberra Cruises, is just the character you hope to meet on your travels.
A friendly, joke-telling, witty orator, with PLENTY OF LAUGHS up his sleeve.
This white-bearded fellow reminded me a little of Grandpa Potts from the vintage film, Chitty Chitty Bang Bang.
Unsurprisingly, he spent his career in broadcasting and television before making the jump to boat life.
You won't find a more entertaining boat driver in Canberra, and his well-researched stories bring Canberra monuments and buildings to life with fun facts and captivating titbits about the people who live here.
A Lake Burley Griffen Cruise with Jim at the helm will become one of your favourite Canberra memories, no doubt.
Jim and wife Virginia have lived in Canberra since the early 80's.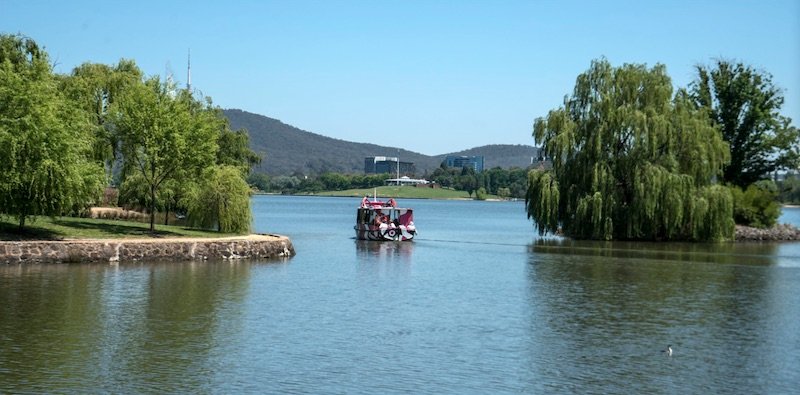 Image credit: John via Flickr CC BY-SA 2.0
The MV Gull Pink Boat
In 2016, local artist Katy Mutton painted the MV Gull boat's livery in distinctive 'dazzle camouflage'.
This was a nod to Canberra's inaugural Contour 556 public art festival.
Her work is based on the vibrant and fascinating camouflage used on warships of World War 1, to confuse the attacking submarines and make the features of the ship difficult to see.
Isn't it cute!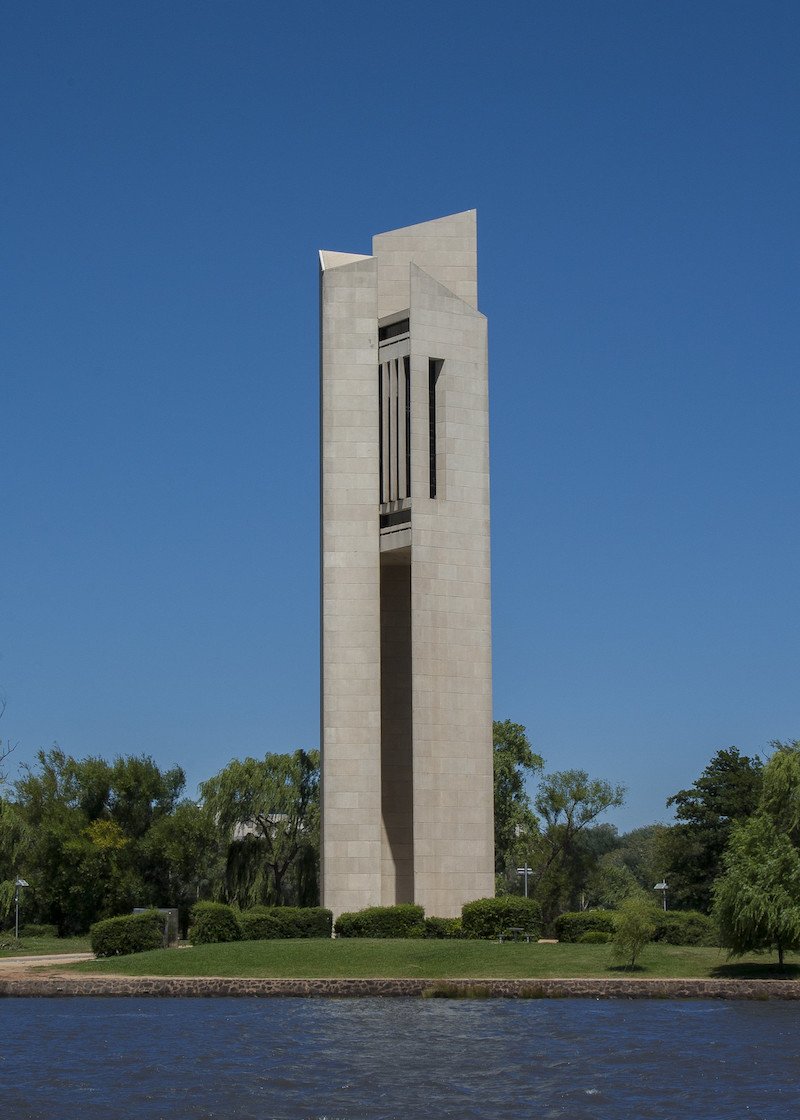 Image credit: Daniel Mee via Flickr CC BY-2.0
Lake Burley Griffin Activities
World schooling families, and those travelling Australia with kids, will love how the kids can soak up the information provided on the cruise, and make connections to the history and stories of Canberra.
The cruise lets you:
sail close to the Captain Cook Memorial Water Jet
hear the Carillon (bell tower) as you pass Aspen Island.
watch and learn about the swans, ducks and other flora and fauna around the lake.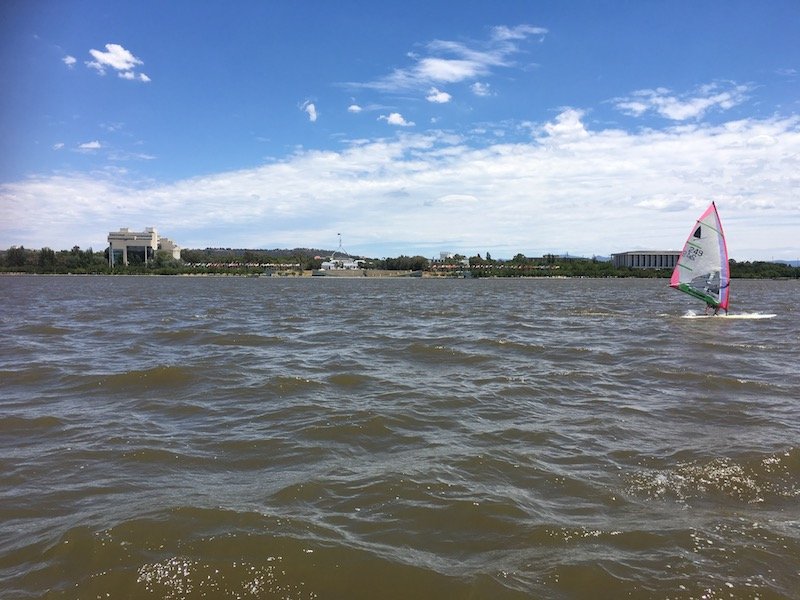 The Sustainable Canberra Lake Cruise
Lake Burley Griffin Cruises use two boats.
Both boats are all electric, so there's:
no diesel
no petrol, and
most importantly, no fumes, or emissions.
The boat is a form of carbon neutral transportation running on green energy!
That made us want to buy a ticket even more.
Electric boats make cruising the lake super enjoyable, as it's whisper quiet too.
Lake Burley Griffen Cruises hold TripAdvisor's Certificate of Excellence, and there's no doubt why.
Image credit: John via Flickr CC BY-SA 2.0
Fun Lake Burley Griffin Facts
Why is it called Lake Burley Griffin?
The lake is named after Walter Burley Griffin, winner of the design competition for the National Capital in 1912.
There are three large islands and three small unnamed islands within the lake.
Aspen Island, home of the National Carillon, is located in Central Basin.
Springbank Island and Spinnaker Island are located in the West Basin.
Is Lake Burley Griffin a natural lake?
The lake is artificial, a manmade lake that has become an important freshwater ecosystem, and a significant wildlife refuge and bird habitat.
How deep is Lake Burley Griffin?
Most of the lake averages four metres depth, but there's one section near near Scrivener Dam that is 17.6 metres deep.
The shallowest part can be found at East Basin, at 1.9 metres deep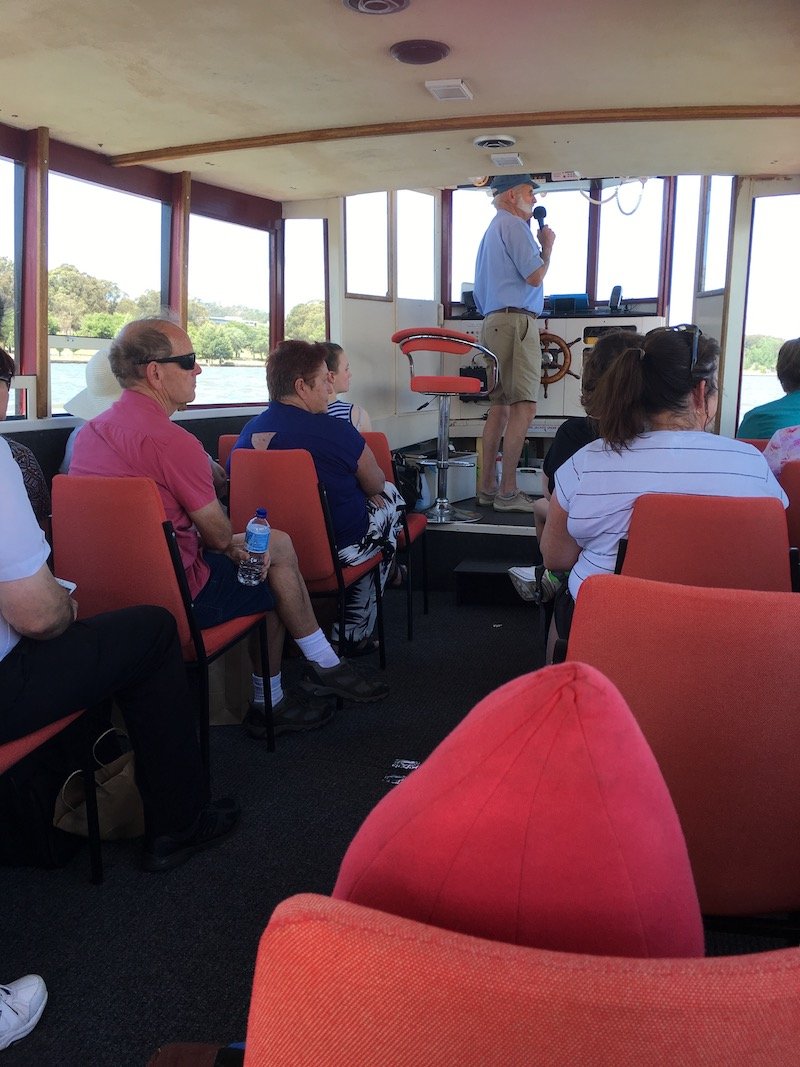 Who should cruise?
My suggestion (a humble one at that) would be that this cruise suits those families:
with kids of school age, from about age 6 or 7 years, and up, and/or
tiny babies under 12-18 months, in ergo carriers, who can be rocked or fed to sleep if necessary.
Most of your fellow travellers are likely to be middle-aged or retirees.
The cruise clientele includes a number of organised tour groups and out of region visitors on day trips and bus trips, and the boat is compact and cosy, so a level of tolerance and patience with your fellow travellers is needed.
Not for toddlers or young kids
This Lake Burley Griffin Boat Cruise in Canberra is NOT for people with kids aged 2-5 years, unless your child is tantrum and bomb proof.
It's too squashy on the boat, and in the event of a full blown tantrum, there's no escaping – for you, or your fellow passengers.
Don't risk it!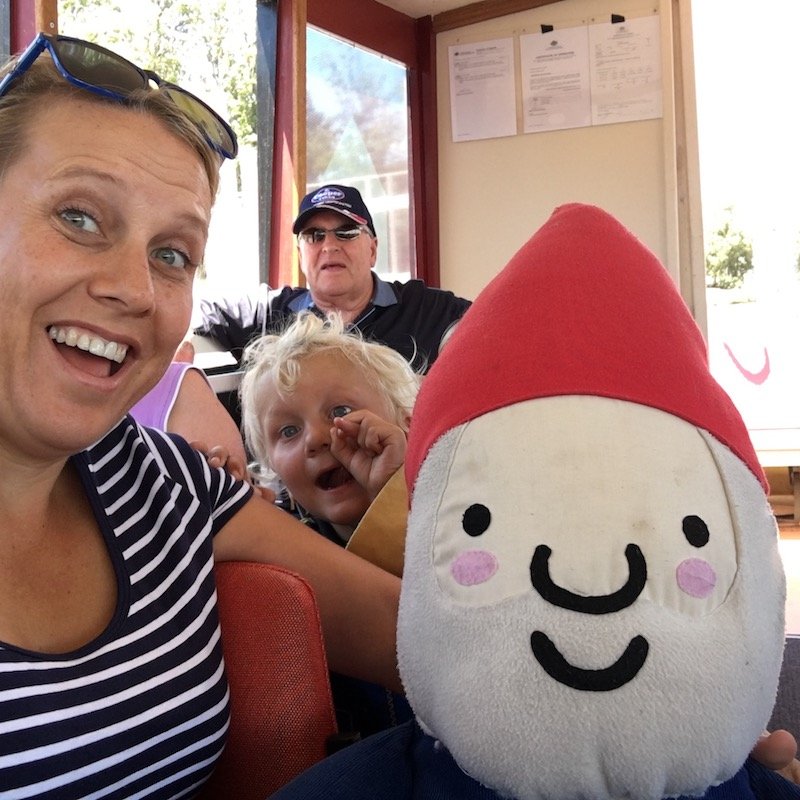 Prepare for a cruise with kids
There's no getting off the boat once you start, and there's nowhere to go and hide, or escape, if the kids become upset or unruly.
That's going to spoil the experience for everyone, you included.
If you have smaller children and seriously want to cruise, prepare before you board.
Take:
healthy snacks (and perhaps a bribe of some sort)
water, and
pop an emergency ipad AND earphones in your backpack for backup support.
Just in case!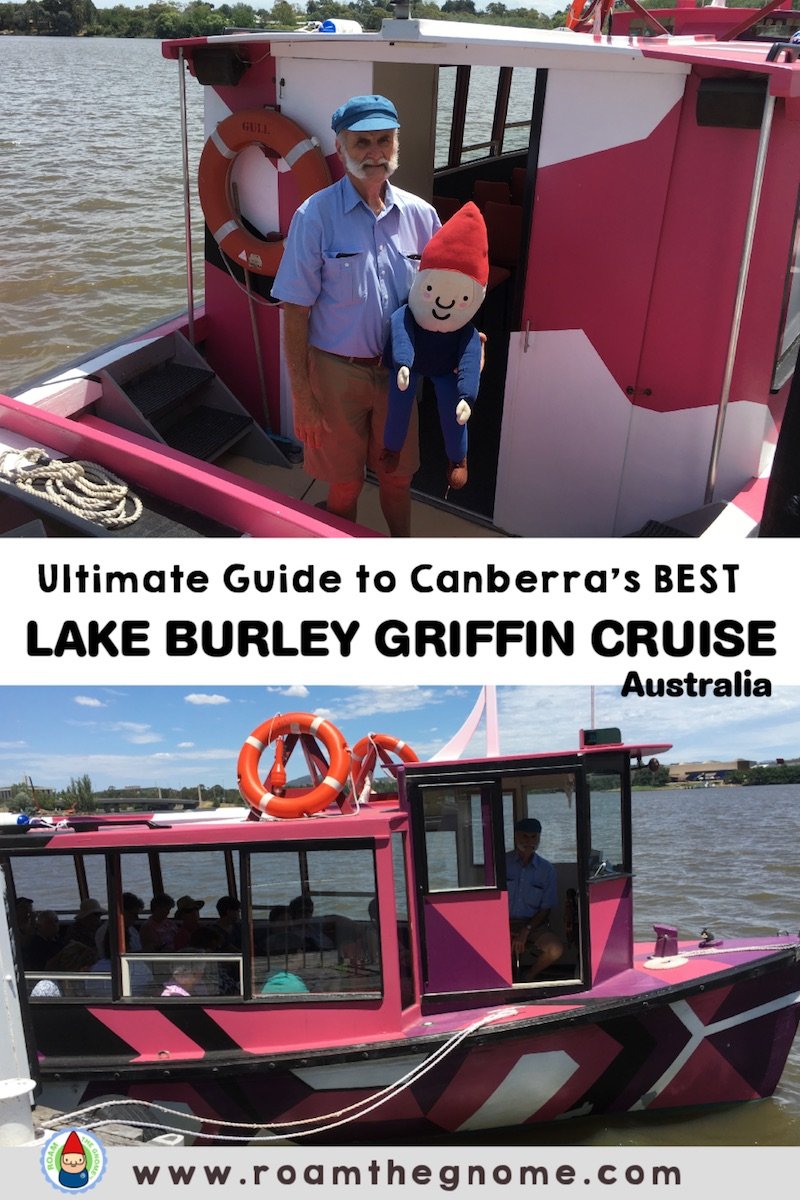 THE INSIDE SCOOP: Lake Burley Griffin Cruise Tours
Correct at time of publication on Roam the Gnome. Please check with venue for updates. We apologise in advance if there have been any changes we are unaware of. All prices in AUD dollars, unless otherwise stated
Address: Queen Elizabeth Terrace, Parkes ACT 2600
Telephone: Contact Jim and Virginia Paterson on 0419 418 846
Website: Click here
Opening Hours: See website for scheduled cruise times.
Lake Burley Griffin Cruises Weekday Schedule
Cruises run from September through till May.
The Lake Burley Griffin Cruises go into recess during the winter months but resume operations in time for Floriade Canberra.
In 2018, cruises resume on Monday September 2018.
For Lake Burley Griffin Cruises weekday schedule, click here.
Lake Burley Griffin Cruises prices
$20 per adult. (Prices subject to change.) Please enquire for current children's prices on 0419 418 846.
Book online at their website, or pay cash on board.
Please note that there are no EFTPOS facilities or ATMs at the wharf or onboard.
Stop by the Canberra Region Visitors Centre to ask about discounts, and to find more Canberra attractions for families.
Image credit: Michael Woodhead via Flickr CC BY-SA 2.0
How to get to Lake Burley Griffin Cruises Canberra ACT
By Bus:
Buses numbered 1,2,3,4,6 and 80 travel from the CBD to Queen Elizabeth Terrace.
Disembark at the King Edward Terrace National Library and walk to wharf.
Taxi/Uber: If you plan to arrive by taxi/uber, please ask your driver to input Queen Elizabeth Terrace in their GPS.
By Car: It's a 3.3km (7 minutes drive time) from the CBD via Commonwealth Ave/ A23.
Where to find the cruise departure point: Cruises are run daily from the International Flag Display (Queen Elizabeth Terrace), with ample parking nearby.
Where to park for Lake Burley Cruises Boat Tours?
Paid parking available in the nearby carpark
Please allow enough time to find a car park, as it can be busy or full, and you may need to find alternative paid on street parking.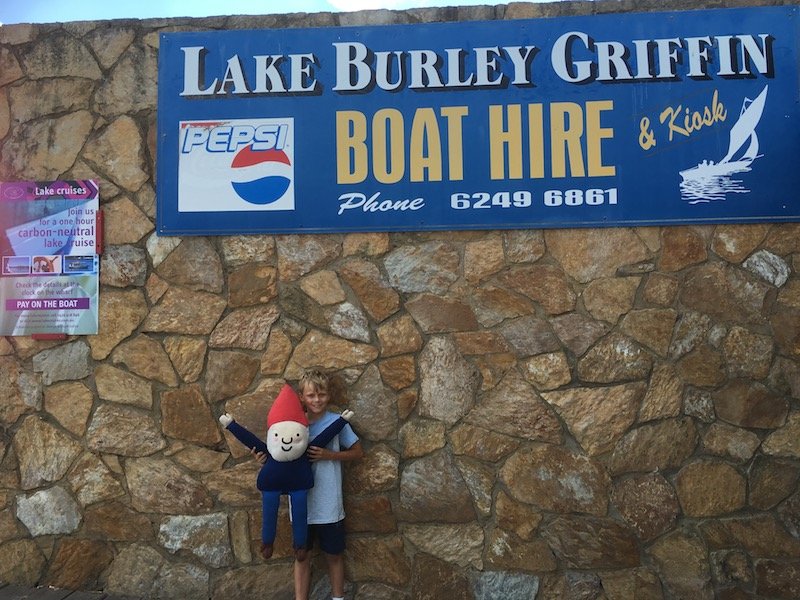 Facilities on the boats on Lake Burley Griffin
Toilets: Yes, onboard.
Disability access: With help. There are a number of steps down on the boat.
Closest playground: The awesome Boundless Playground, Kings Park, Parkes (near the Carillon)
Dogs: No
Boat hire: See below
Paddleboat hire: See below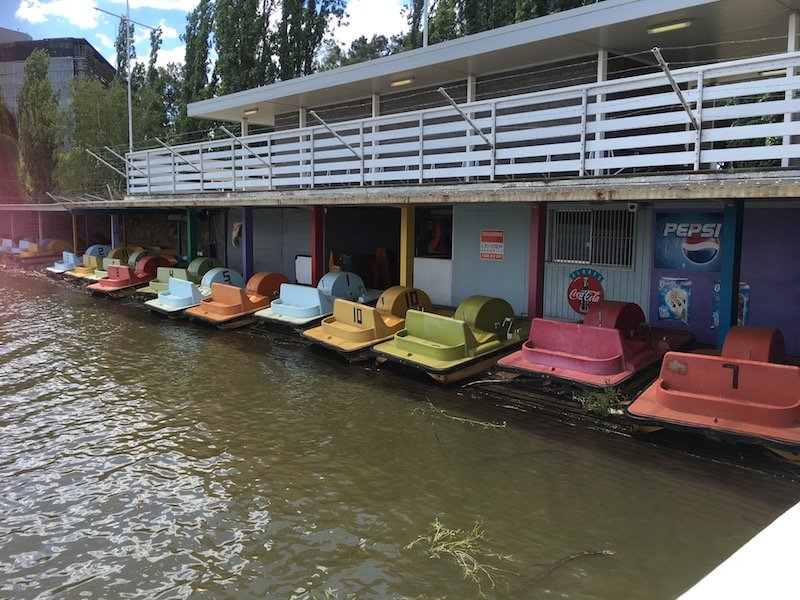 Lake Burley Griffin Boat Hire
There's a few more Lake Burley Griffin water activities you can do, including kayaking, boat hire, fishing and paddle boating.
Lake Burley Griffin Boat Hire phone number
Please call 02 6249 6861 to enquire about Lake Griffin boat rentals.
Lake Burley Griffen Paddle Boat Hire location
Please call 02 6249 6861 to enquire about hiring paddle boats on Lake Burley Griffin.
Where is Lake Burley Griffin Canberra? (Map)
Take note of the Lake Burley Griffin location to see where the Lake Burley Griffin cruises depart from.
Toadstool Rating – Lake Burley Griffin Lake Cruises Review
Not so suitable for kids or babies under 5 unless they enjoy being cooped up, so only three toadstools for families.
But a solid four or five toadstools for adults.
As long as Jim is the captain!


Looking for MORE SUPER DOOPER FUN places to visit in Canberra with kids?
Click the links in blue below for more Canberra attractions.