INSIDE: Roam the Gnome's Guide to Parc De La Villette Playground Paris
If you are looking to hang out where the locals hang out, then head straight to the Parc de la Villette playground at these famous Paris Gardens located behind the Cite Des Science (Paris Science Museum).
PARC DE LA VILLETTE PLAYGROUND in Paris is One-of-a-Kind!
With a canal running through the centre, this reclaimed industrial landscape has been reimagined into a fabulous futuristic park with two playgrounds, one on either side of the canal.
It's unlike any playground zone we've ever seen before!
Visit both sides.
Take a look.
Disclosure: This article contains affiliate links. If you make a purchase after clicking on one of these links, we may receive a small commission at NO extra cost to you.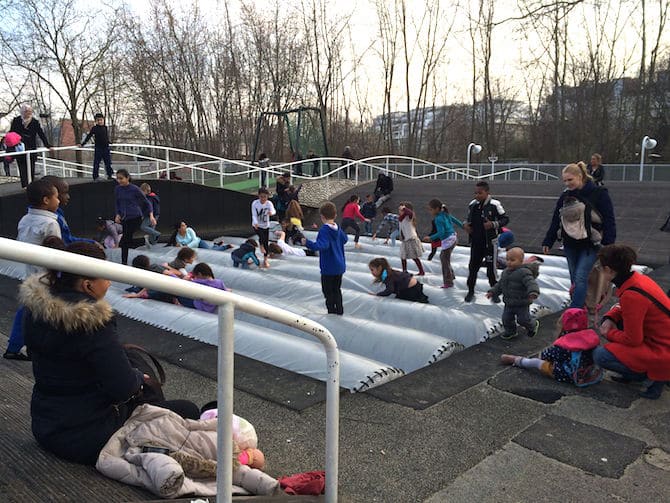 Parc De La Villette Playground at Parc de la Villette Gardens
Find the Parc de la Villette playground located at the northeastern edge of the city in the 19th arrondissement.
The journey to this cool Paris playground takes about 40 minutes by metro from the city centre.
Hot tip: Book this super fun private treasure hunt of the Montmartre district on this family friendly tour!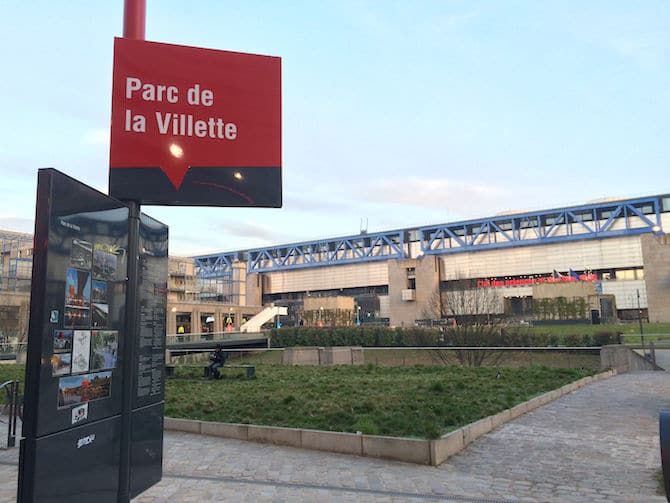 Hot tip: Cité des Enfants Science Museum
If you are travelling Paris with kids, make the trek to this Paris playground worth it by combining it with a session at the Cites des Science museum children's museum.
This museum should be on every Paris visitor's itinerary, especially if you have kids in tow.
Arguably, it's in the top ten of the best things to do in Paris.
Then enjoy a post-museum walk throughout the Parc de la Villette Paris gardens to find the super fun playgrounds.
The Cite des Science Museum has two exhibitions for children.
Hot tip: Book early. Sessions are allocated a certain number of places each day, and they sell out.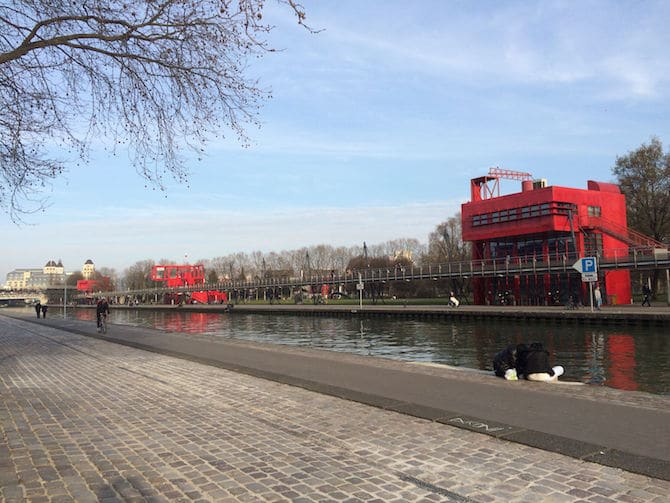 Information about Le Parc de la Villette Paris Gardens
The third-largest park in Paris, a massive 55.5 hectares in area, these Paris gardens are also home to three major concert venues.
These Paris gardens are huge.
Find little treasures along the way as you wander – a crepe stall here, a carousel there.
There's something futuristic about the place too, as the landscape is dotted with these giant red architectural 'follies' (meaning, a building constructed mainly for decoration) that are a nod to the park's industrial history.

Today, the eye-catching follies remain as cues to organisation and direction for park visitors.
Some of them house restaurants, information centres, and other functions associated with the park's needs
(Source: Wikipedia)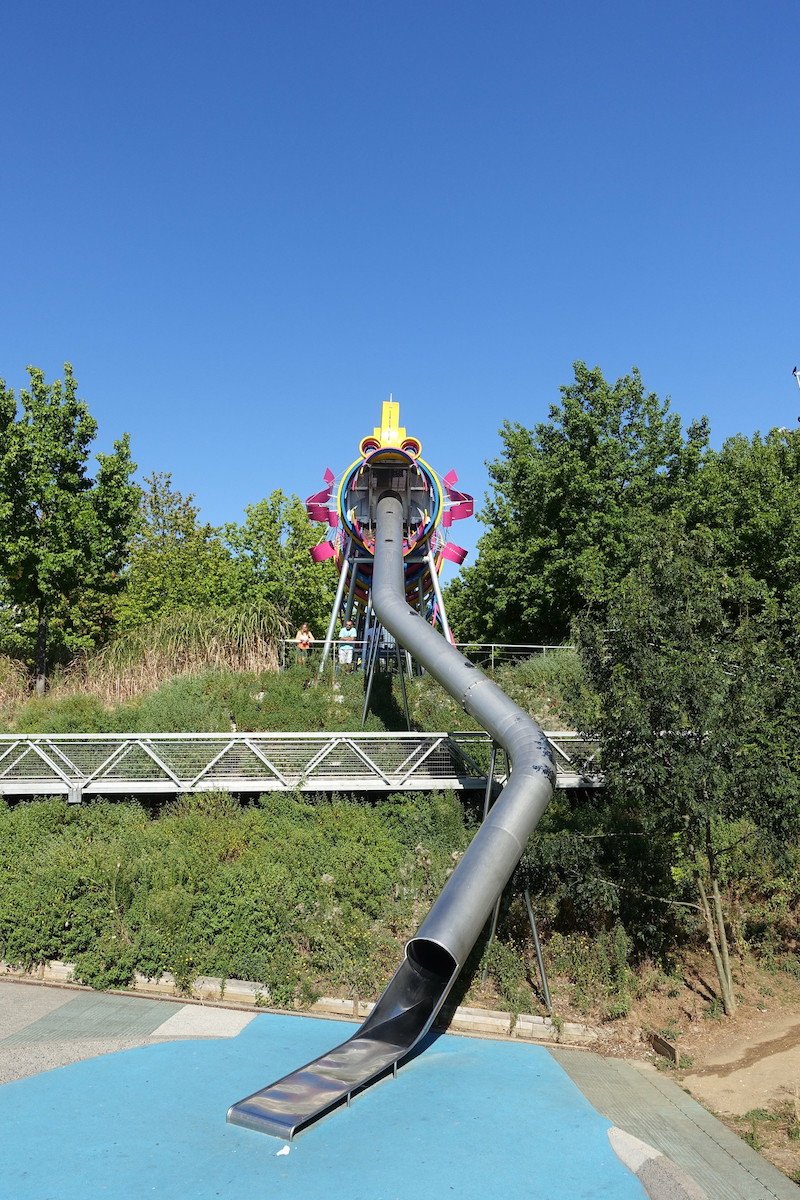 Image credit: Guilhem Vellut via Flickr CC BY-2.0
No.1: Jardin du Dragon playground
The first playground you'll see is the the colourful Dragon Garden Playground, Jardin du Dragon playground.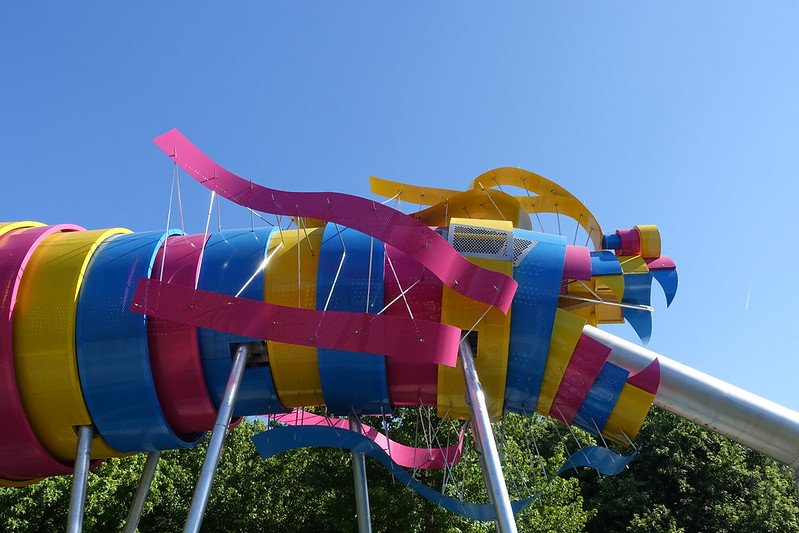 Image credit: Guilhem Vellut via Flickr CC BY-2.0
Kids can ride the extended 25 metre silver tube slippery dip from the steel dragon mouth to the ground.

The way to climb up to the slide is via a short rope course. (Recommended for 8 years +)
Another Fun Paris Activity for Kids: Experience the magic of Paris after dark on this coach tour of the illuminated monuments!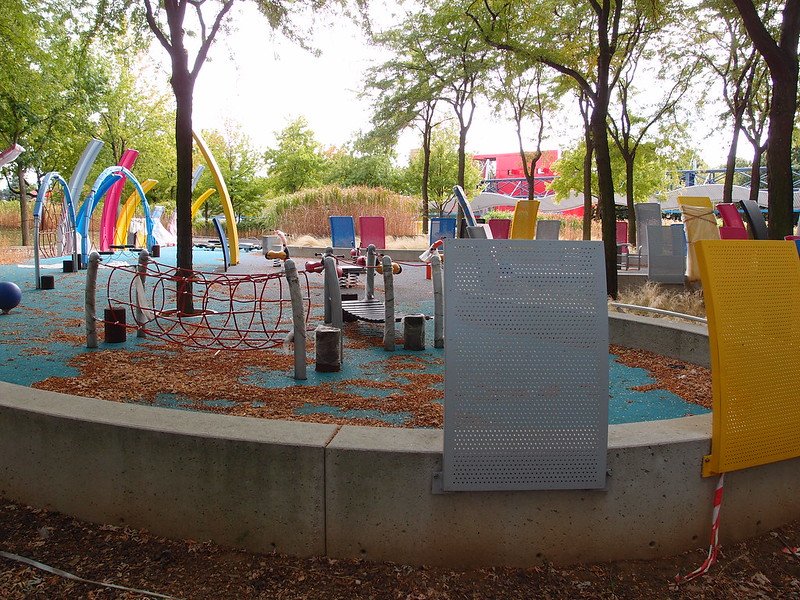 Image credit: Guilhem Vellut via Flickr CC BY-2.0
Dragon Playground at Parc de la Villette for toddlers
There's also a cute playground for younger kids with outdoor activities including:
balance activities
climbing nets
rocking animals and more.
This play area is located at the rear entrance of the Cite Des Science Museum and Geode, near the bridge that crosses the Canal de l'Ourcq.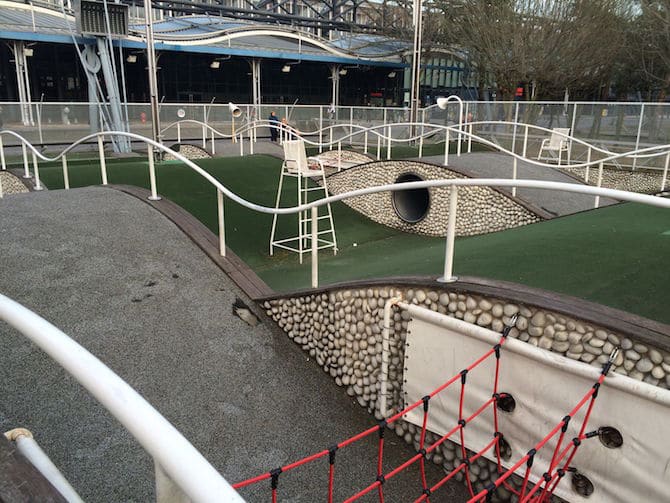 No. 2: "Jardin des vents et des dunes" Paris playground
If you walk a little further, along the walkway between the Pavillon Paul Delouvrier and the Folie des Visite, you'll find this cool playground too.
The Parc de la Villette "Jardin des vents et des dunes" or "Gardens of the Winds and Dunes".
The playground is gated, and you go through a red building to enter.
You may have to wait a while to be allowed in if the playground is busy. We've heard late afternoon is the best time to go.
Once inside, the Paris playground is divided into sections based on age suggestions:
0-2 years
3-5 years
6-8 years, and
9-12 years.
Not that anyone seemed to be policing that. It's more of a general guide.
And it's FREE!
BYO picnic and rug to eat in the sunshine.
---
RELATED: Read our Guide to the best fun healthy foods & snacks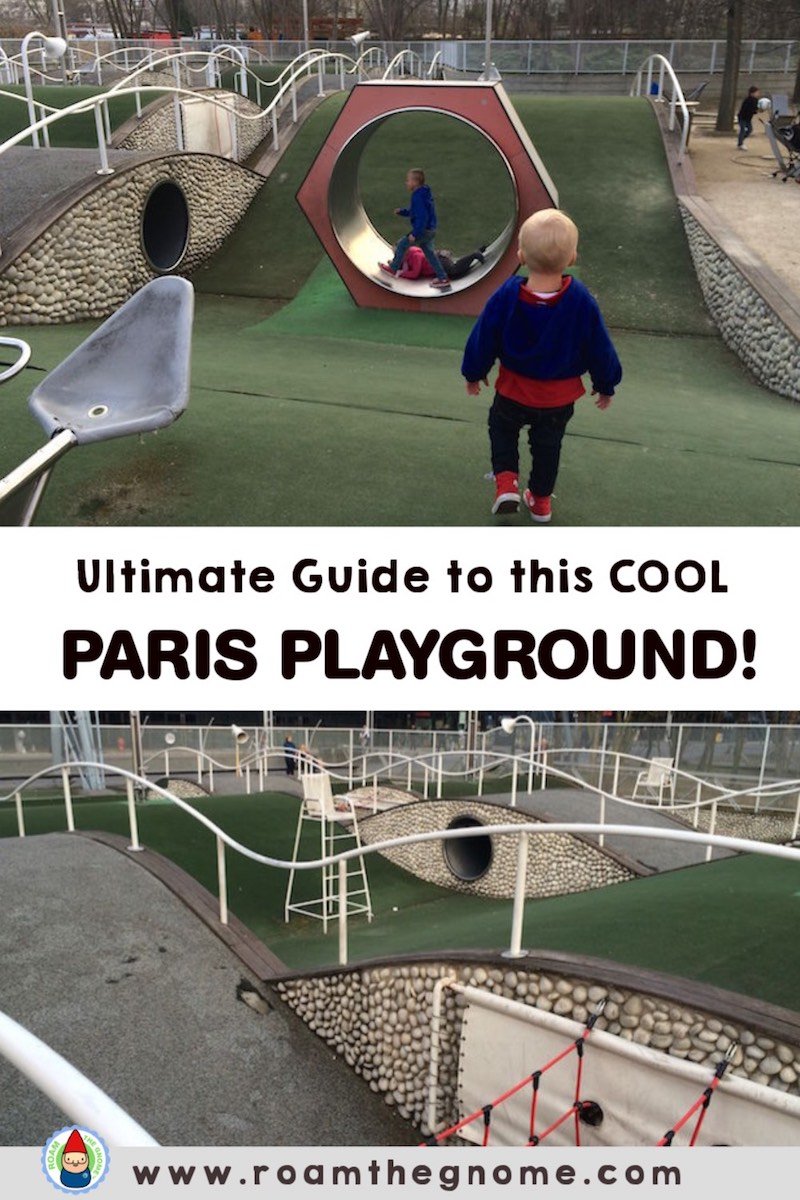 All the kids can play:
running games on rolling hills (albeit with fake grass)
spin on "hamster wheel" rides
hang onto flying foxes over the mounds
find tunnels to run and climb through
pedal-power the windmills, and
jump on this giant undulating bouncy air-filled trampoline!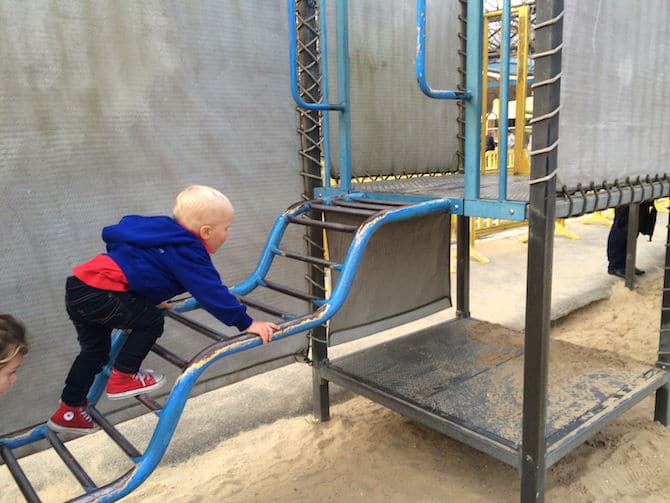 Bonus: Toddler Playground in Paris
For the younger kids, there were:
balancing pallets
climbing gym
digging machines in the sand
lifesize abacus beads, and
slides.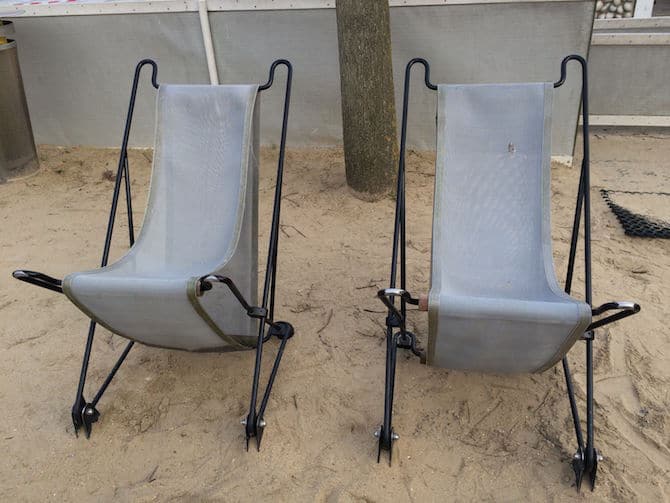 Take a seat at this Paris Gardens playground!
Paris does a good job of taking care of its' parents.
At every park and playground in Paris you visit, you'll find chairs are in abundance.
At this one, the sling-back single deck chairs are just right for a quick rest while the kids play.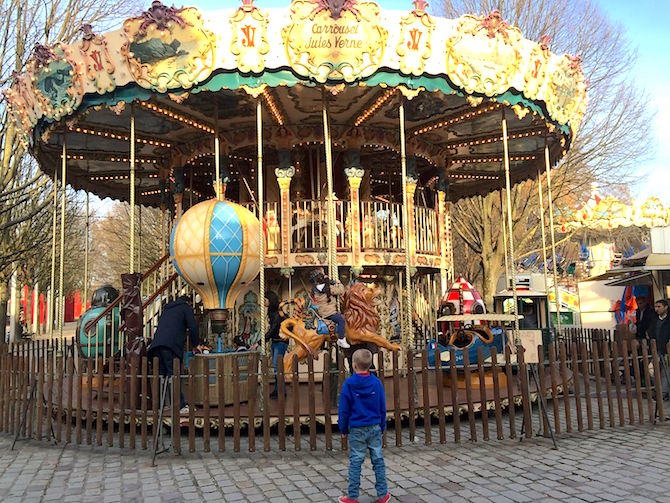 Carousel at Parc De La Villette
You'll pass the Paris carousel as you walk to the Garden of the Wind and Dunes playground.
Make sure to save time for a nutella crepe too!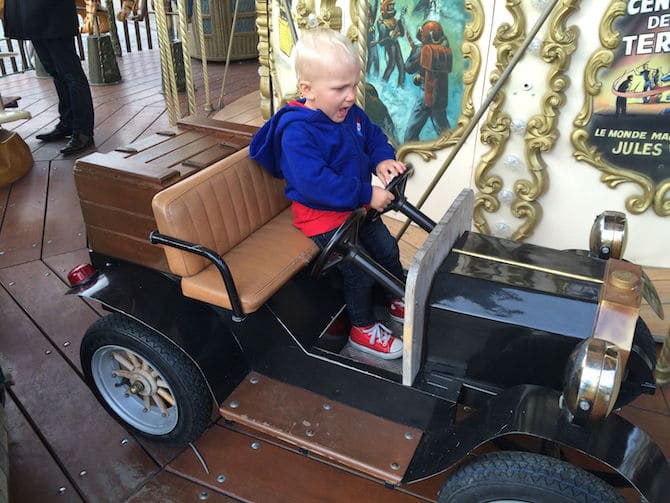 More Green Spaces at Parc de la Villette
Did you know there are more green spaces and play areas at Parc de la Villette too?
Be sure to visit the Garden of Mirrors.
It's just beyond the Garden of Winds and Dunes (Folie des vents et des dunes).
Within 5 minutes walk, you can also visit:
Garden of Bamboo
Garden of Balance
Garden of Acrobatics
Fright Garden for Children
Here's a map to help guide you.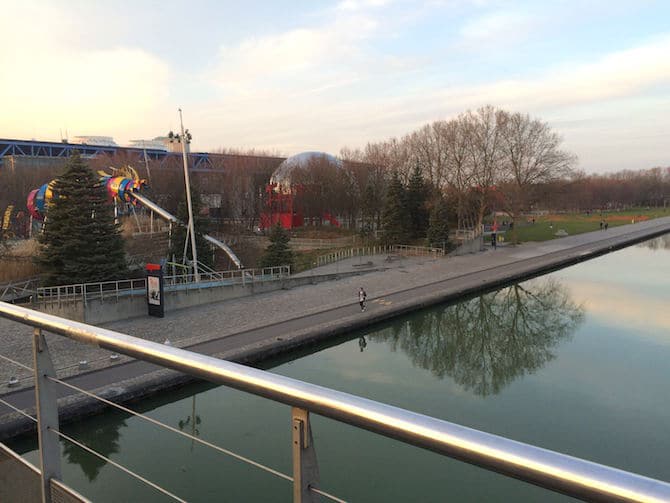 THE INSIDE SCOOP: Parc De Villette Paris Gardens and "The Wind and Dune Garden"
Correct at time of publication on Roam the Gnome. Please check with venue for updates. We apologise in advance if there have been any changes we are unaware of. All prices in EURO, unless otherwise stated
Where is Parc de la villette located?
Address: Parc de La Villette, 211 Avenue Jean Jaurès 75019 Paris
Opening Hours
The Parc de la Villette gardens are open and accessible from 6am until 1am daily.
The Wind and Dune Garden Playground is open from 10am to 8pm daily between April and October, and between 1st November and 31st March on Wednesdays, Weekends, public holidays and school holidays.
Entry Costs
Entry is FREE!
There are restaurants and cafés located throughout the park if you wish to take a break between activities.
There are also two cash distributors and public toilets at three locations around the park.
Parc de la Villette events
Click here to find all the Little Villette activities for kids including:
shows
Villette workshops
themed weekends and large workshops
all year round activities at Parc de la Villette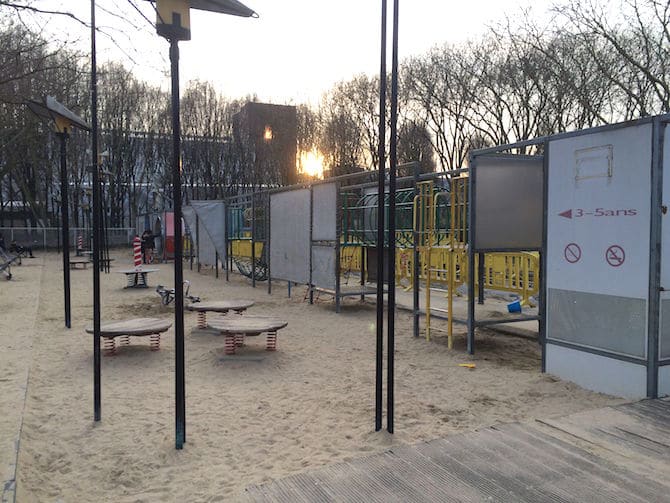 How to get to Parc de la Villette playground
By Metro: Line 5 – Porte de Pantin / Line 7 – Porte de la Villette
By Bus: Lines 75, 151, PC2 and PC3 – Porte de Pantin / Lines 139, 150, 152 – Porte de la Villette
By Tram: Line 3b – Porte de Pantin, Ella Fitzgerald or Porte de la Villette>
By Bike:
Cycle path along the Canal de l'Ourcq
Velib Stations: Porte de la Villette, Porte de Pantin, Quai de Metz, rue Rouvet
Bike Path: In front of the Cité des Sciences, near Porte de la Villette.
By Boat on the Canal:
Cruises between the Bassin de la Villette and Arsenal Harbor with CanalStrama.com
Cruises between the Parc de la Villette and the Musée d'Orsay with Pariscanal.com
Parc de la Villette Map
Parc de la Villette information
Toilets: Yes
Water fountains: Yes
Food trucks: Yes
Strollers: BYO pram or stroller. Park has flat walking pathways suitable for strollers.
Toadstool Rating: Dragon Playground at Parc De La Villette in Paris
Combined with the Paris Science Museum for kids, it's totally worth the effort.

Looking for MORE SUPER DOOPER FUN things to do with Kids in Paris?
Click the links in blue for more Paris attractions below.