INSIDE: Gordon Playground is the Ultimate Adventure Park in Canberra for kids!
The Leaning Tower of Pisa has nothing on this playground in Canberra for kids.
The leaning Point Hut Tower of Gordon Playground is a giant metallic spire that wouldn't look out of place in Rome!
Kids cross the wire-rope swing bridge to reach this towering turret, where they can then scale ladders to reach the top platform inside.
It's quite a feat.
Rapunzel, eat your heart out.
But this is just ONE part of this gigantic playground space.
Take a closer look below.
Disclosure: This article contains affiliate links. If you make a purchase after clicking on one of these links, we may receive a small commission at NO extra cost to you.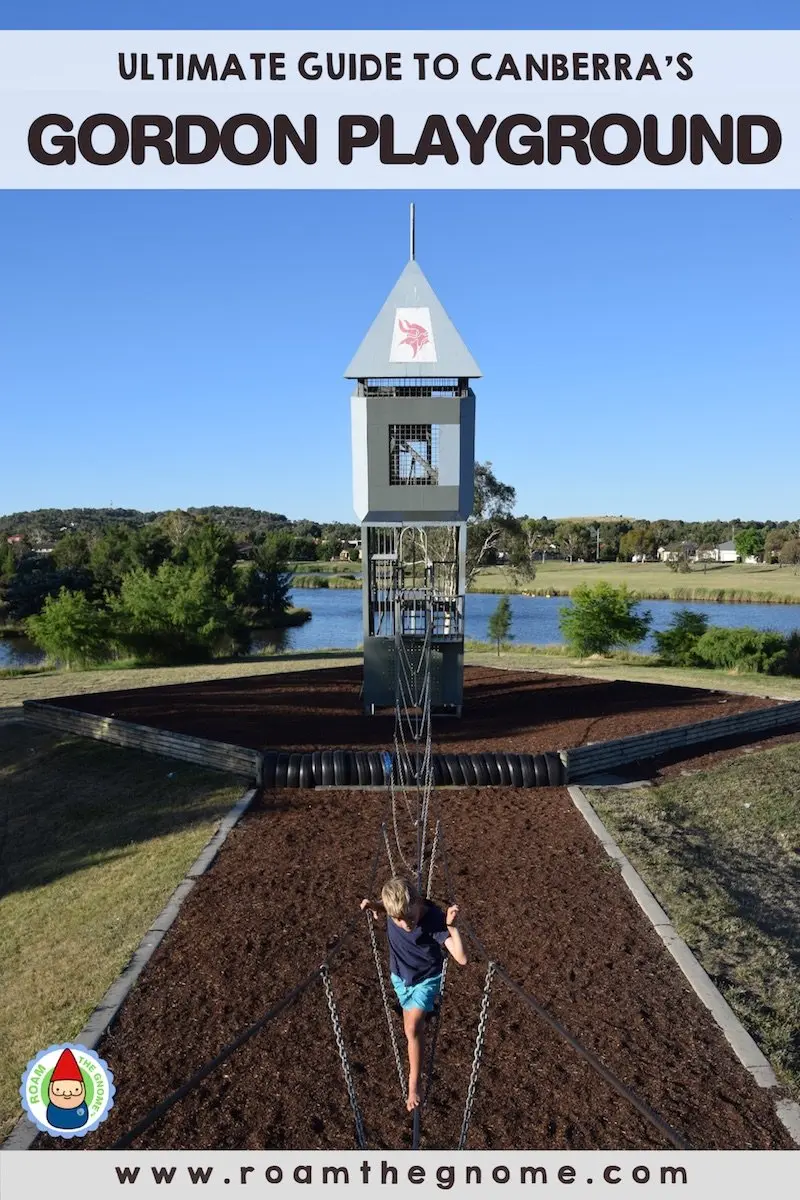 Guide to Gordon Playground Canberra
One of the best playgrounds in Canberra
The Gordon Playground in Canberra, Australia is a SURPRISE FIND when you are searching for the best playgrounds in Canberra.
Revamped in 2017 with a lick of paint, and new play equipment installed, the spacious and easy-to-access Gordon Adventure Playground now tops our list of best kids parks in Canberra.
Located in the Point Hut district, 25 or so minutes south of the CBD, we say GO, GO, GO.
The Gordon community playground should be on every parent's itinerary of Canberra attractions for kids they want to visit.
---
READ MORE: The ULTIMATE LIST of THINGS TO DO IN CANBERRA WITH KIDS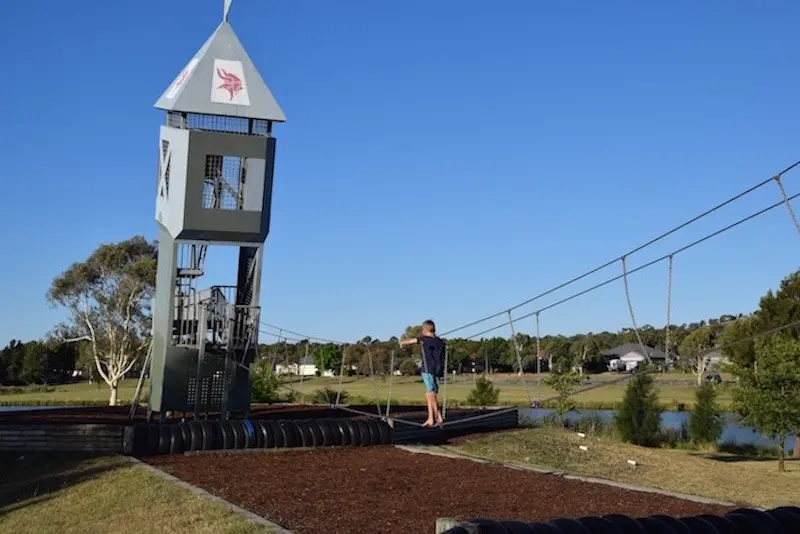 GORDON ADVENTURE PLAYGROUND EQUIPMENT
No.1: Point Hut Tower at Gordon Park Canberra
Our favourite structure is the old-school Point Hut tower and rope swing bridge.
No.2: Bridge tower at Gordon Park ACT
This bridge playground structure is super fun for adventurous kids.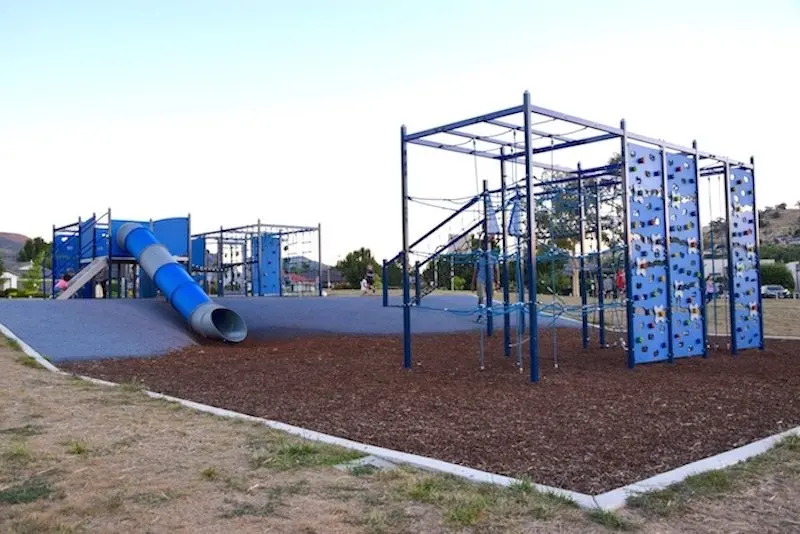 MORE at Gordon Adventure Park in Canberra
The "blue box" playground, as the kids call it, is two distinct structures that share a "bark yard".
Despite rumours, there's no flying fox.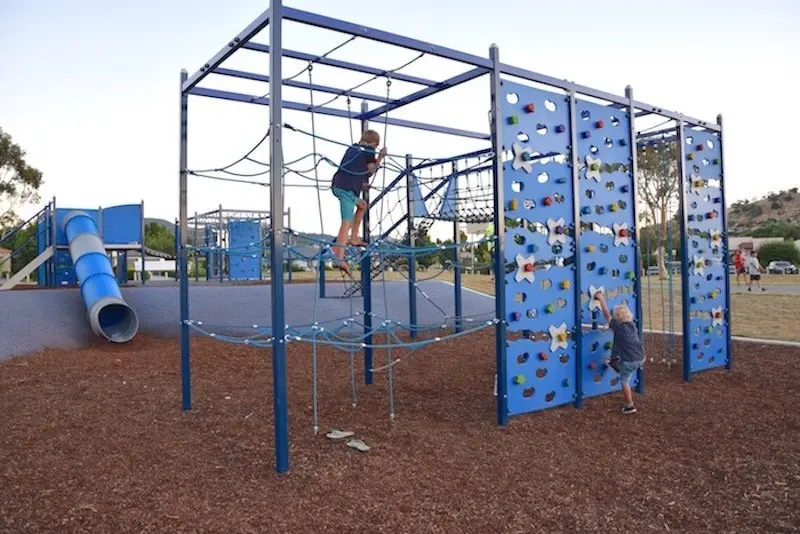 No.3: Climbing nets
The lower playground area is a giant expanse of:
climbing walls
climbing nets, and
rope tunnels for older kids.
---
READ MORE: Yarralumla Play Station has mini golf, a miniature railway, & a petting zoo farm!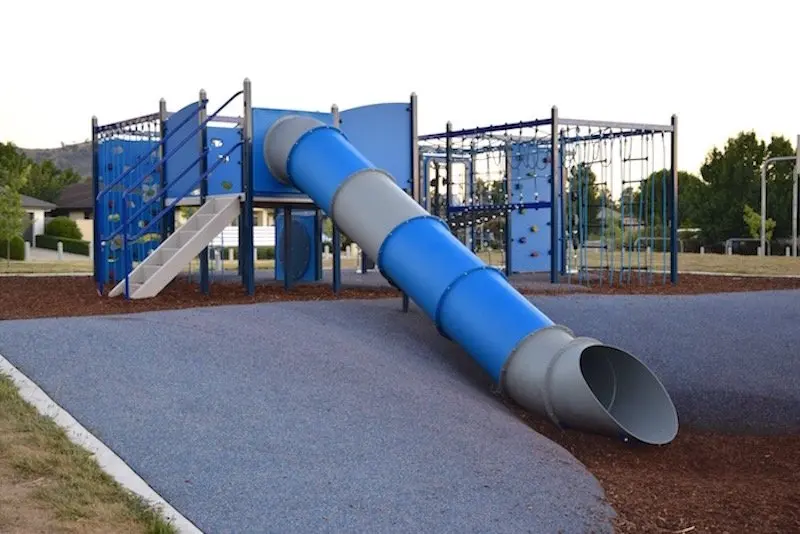 No.4: Giant tunnel slide & fort
The elevated fort has:
platforms
bridges
hands-on play equipment
mirrors, and
a steep tunnel slide.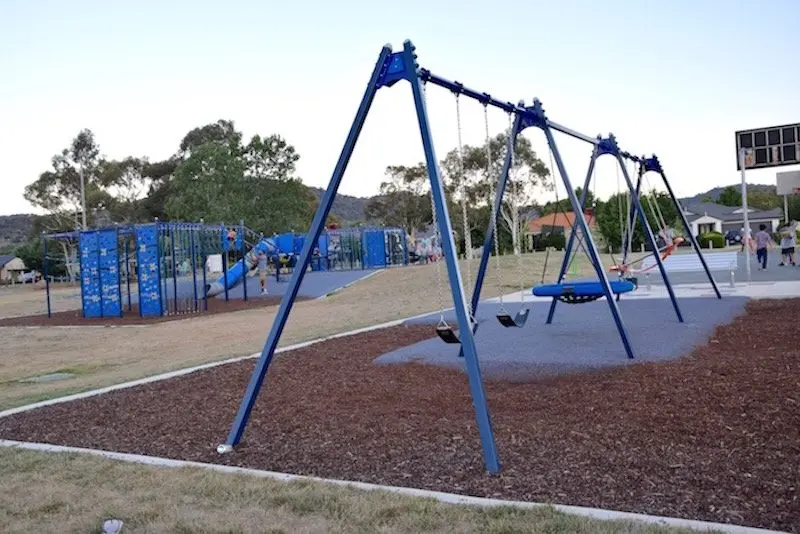 No.5: Swings for everyone
A row of swings including a net swing, and an all-abilities swing.
No.6: Basketball court & biking
There's a basketball court, and plenty of room to skate and scoot about too.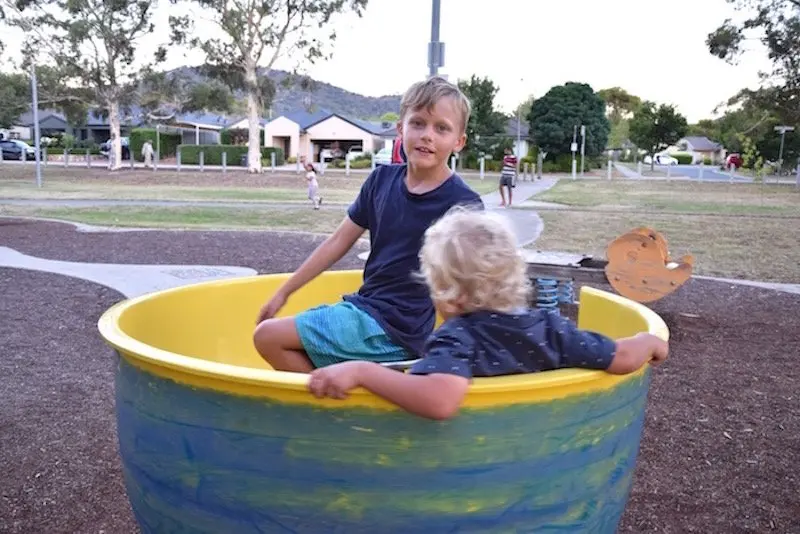 No.7: Canberra Toddler Playground area
The original toddler playground is still in place, with refreshed bark chip flooring and bench seating for parents.
This toddler area has:
a spinning cup ride
swings
a fort, and
a digger excavator in the sand zone.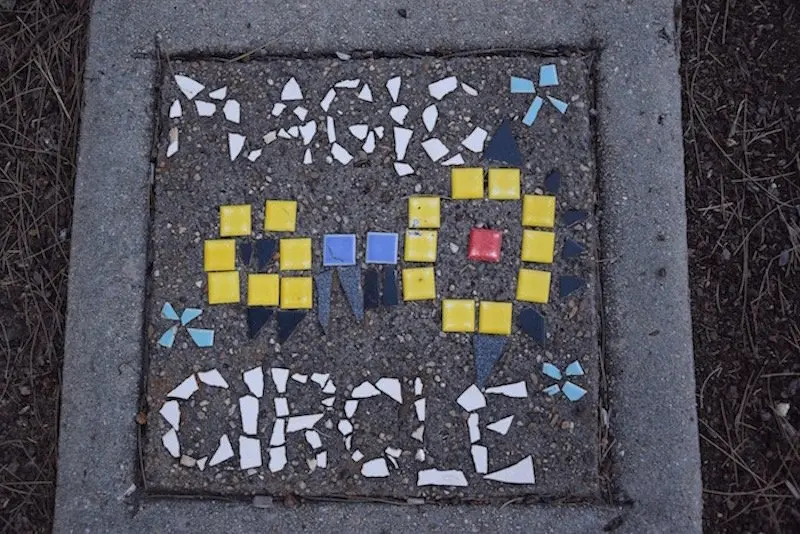 No.8: Magic Circle Spiral Walk
Close to here, you'll find the "Magic Circle" walking spiral ring with log seating in the centre.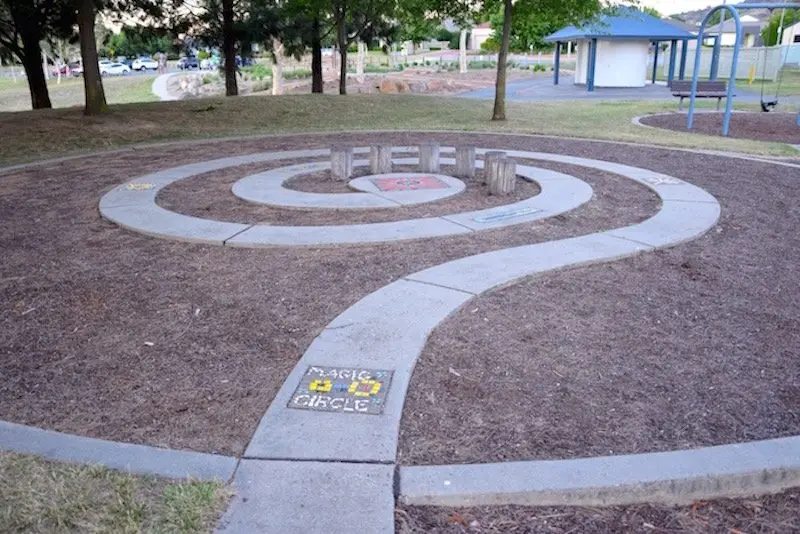 Close up of the spiral walk
This is a fun place for imaginative play.
Take a wander down to the Point Hut Pond to see the water birds and ducks before you go.
---
READ MORE: Ultimate Guide to the National Dinosaur Museum in Canberra
No.9: The Parkour Climbing Zone
Beyond the blue playground and the fields, there is an area with interesting climbing equipment.
Parkour for kids
Kids love this parkour zone, with:
a modern and challenging monkey bar adaptation, laid out in a semi circle
a diagonal climbing frame
other climbable construction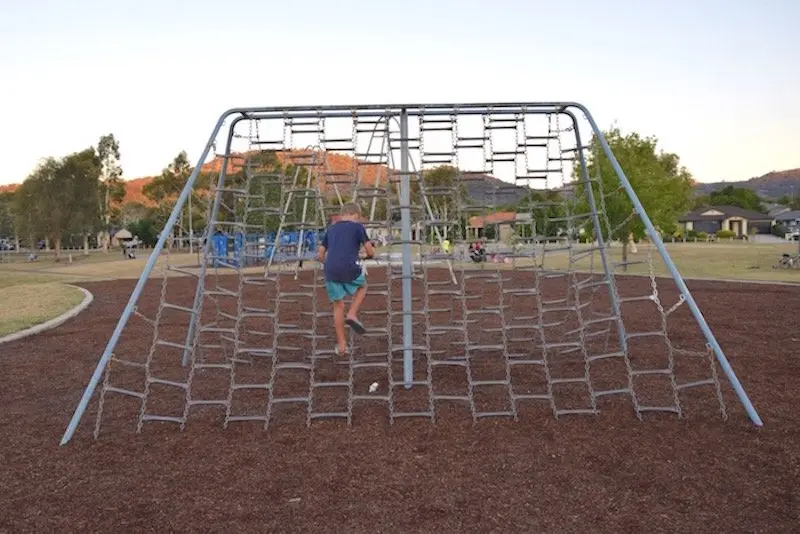 Ladder challenge
Try your luck on this A frame ladder structure.
Challenge the kids to a race, up and over.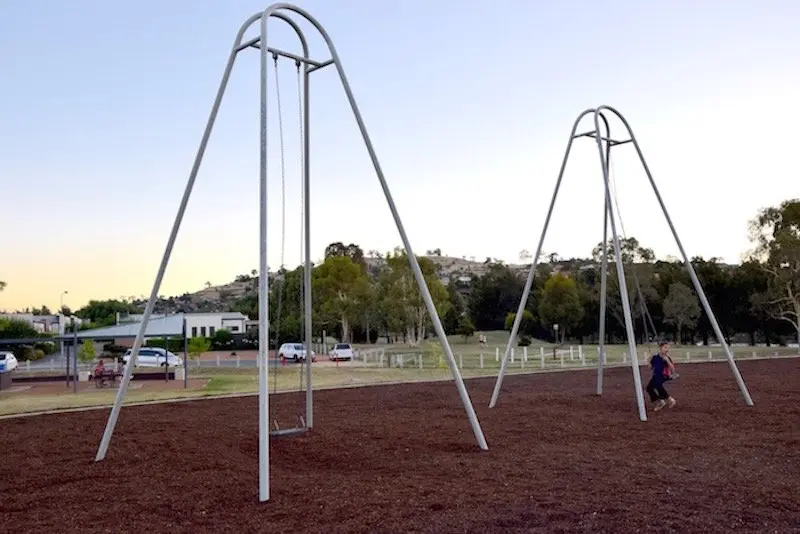 No.10: Colossal Swings
Two monumental swings with arcs that take kids far and wide!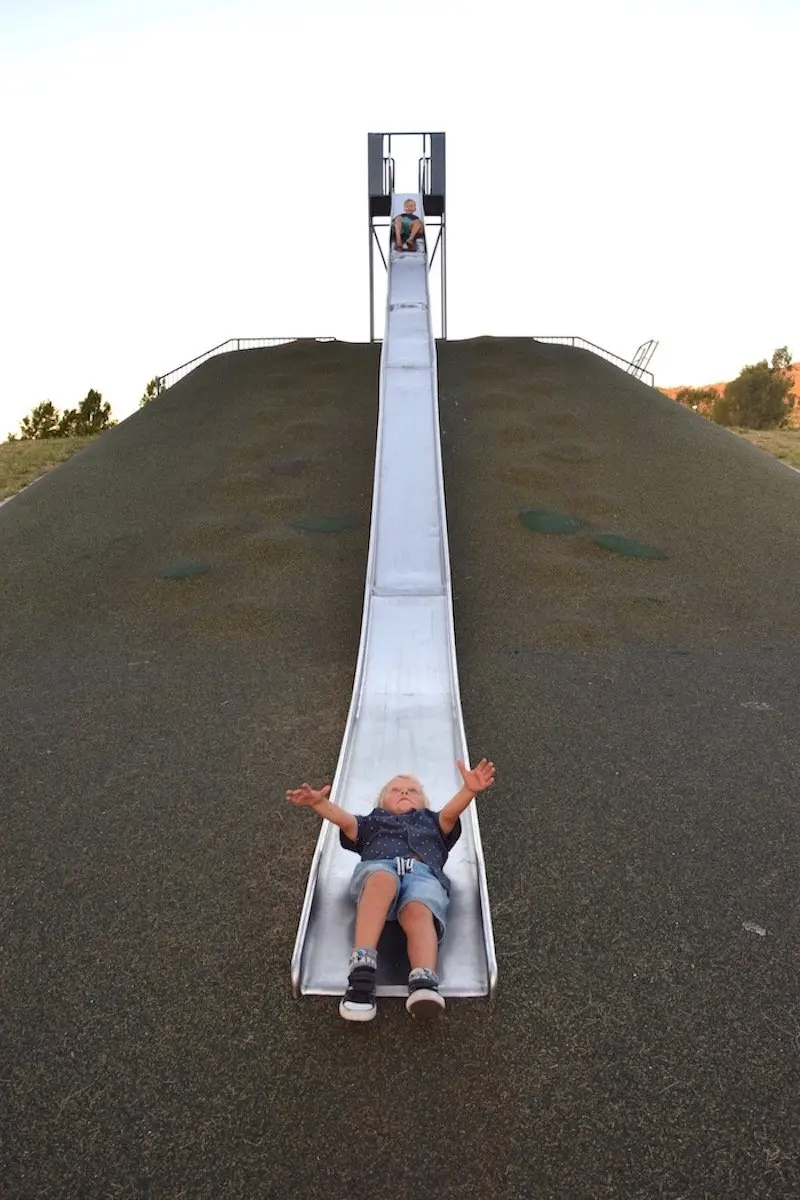 No.11: The Giant Slide
One enormous monster slide goes down the back of a hill.
Hot tip: The slide gets VERY hot on sunny days! Check the temperature of the metal BEFORE you let the kids go down.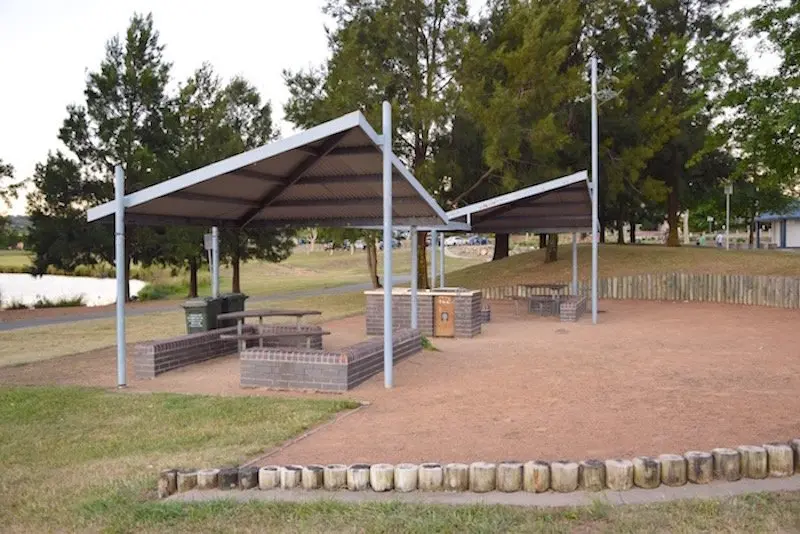 Gordon Playground BBQ areas
You'll spot multiple BBQ areas, and undercover picnic huts with tables throughout Gordon Adventure Park playground as you wander through.
They've thought of everything.
That's why this playground makes the "Canberra for kids" list.
Hot tip: Bring all the ingredients to make a DIY Chocolate Charcuterie board. Here's how.
(This link will give you all the tips on the best healthy snacks and road trip foods, but they can be rejigged for a gourmet picnic too!)
THE INSIDE SCOOP – Gordon Park Playground
Correct at time of publication on Roam the Gnome. Please check with venue for updates. We apologise in advance if there have been any changes we are unaware of. All prices in AUD dollars, unless otherwise stated
Address: Charles Place, Gordon ACT 2906
Telephone: 13 22 81
Opening Hours:
Open 24 hours.
Car park gates close at dusk.
Entry Fees: Free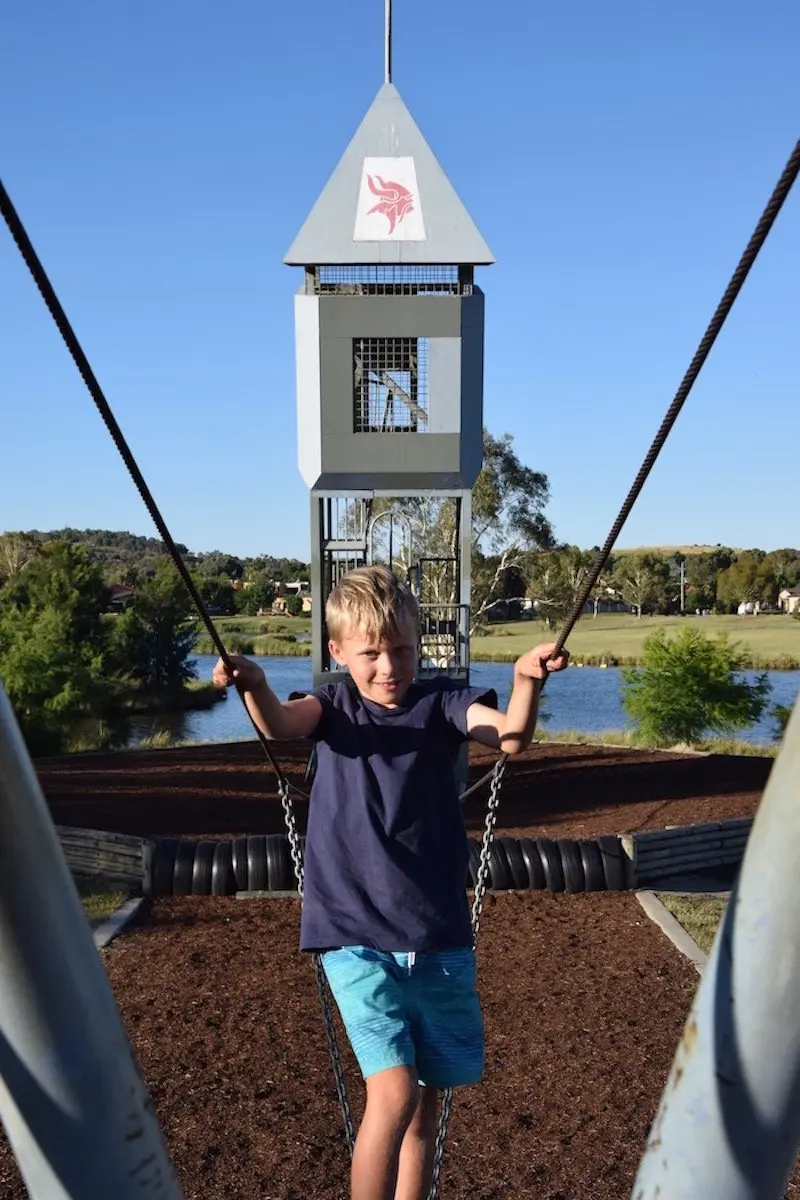 How to get to Gordon Playground in Canberra
By Bus: We do not recommend taking the bus as there are three changes needed. Use a taxi or Uber instead.
By Car: 29km (29 minutes drive) from the Canberra CBD via Tuggeranong Parkway and Drakeford Drive
Parking: Plenty of free parking onsite, both at corner of Scully Street and McGilvray Close, Gordon and further along
Map of Gordon Playground in the ACT
Facilities at Gordon Playground ACT
Nearest takeaway coffee: Local shops on Box Hill Ave
Toilets: Yes, including baby change table
Disability access: Yes
Shade: Trees in toddler area, shade sail over blue playground, shade over picnic tables.
Enclosed: No. But far enough from local traffic.
Ground cover: Rubber soft fall, concrete pathways, grassy field
Food options: BYO picnic or BBQ
Picnic tables: Yes
Electric BBQs: Yes
Water Bubblers/fountains: Yes
Scooters and Bikes: Yes
Dogs: On leads only.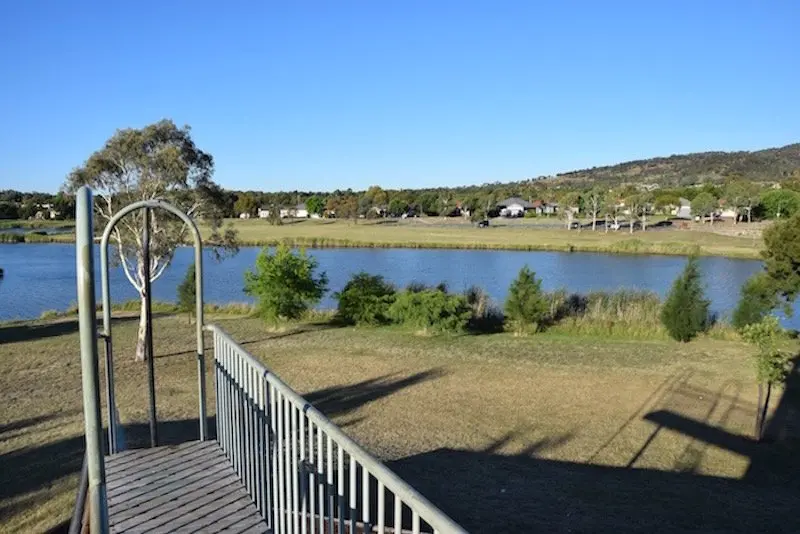 Toadstool Rating – Things to do in Canberra for kids.
Don't miss this top Canberra playground.
But bring your walking shoes.
It covers a HUGE area.
It's also a top spot to host your events, such as birthday parties, and family reunions.

Looking for MORE tourist attractions in Canberra for kids?
Click the links in blue below for more Canberra activities for kids.