INSIDE: Roam the Gnome's Guide to Fadden Pines Playground Canberra.
We are a sucker for a rainbow coloured playground, especially one where the climbing structure looks like a castle.
Complete with flags on top!
It's all our Prince and Princess dreams come true.
That's why we love Fadden Pines playground in Canberra.
But there's more to it. Take a look below.
Disclosure: This article contains affiliate links. If you make a purchase after clicking on one of these links, we may receive a small commission at NO extra cost to you.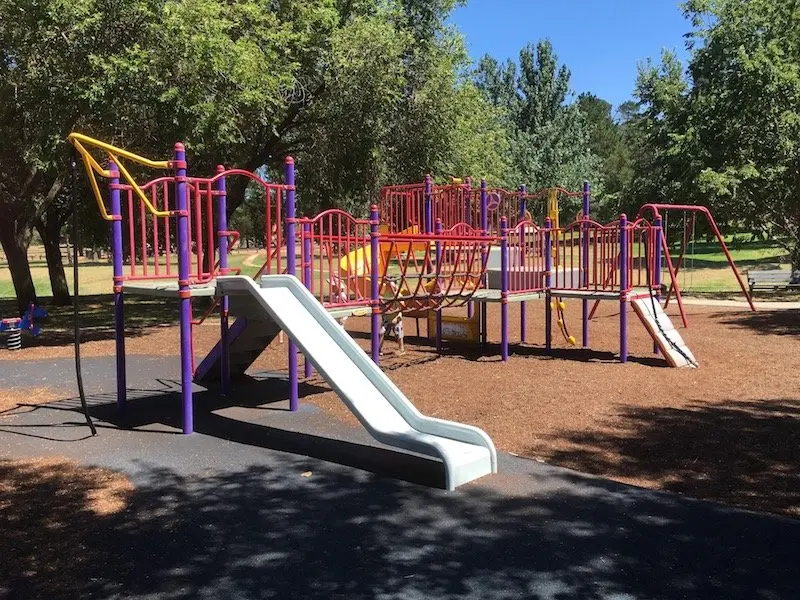 Fadden Pines Playground – Toddler Activities Canberra
Take the toddlers and preschoolers to Fadden Pines Park Canberra.
The flag-flying climbing structure for the older kids might be a bit big for them, but there's a whole other fort/cubby/climbing frame JUST FOR THEM, complete with slides and a pair of swings.
---
RELATED: The ULTIMATE LIST of THINGS TO DO IN CANBERRA WITH KIDS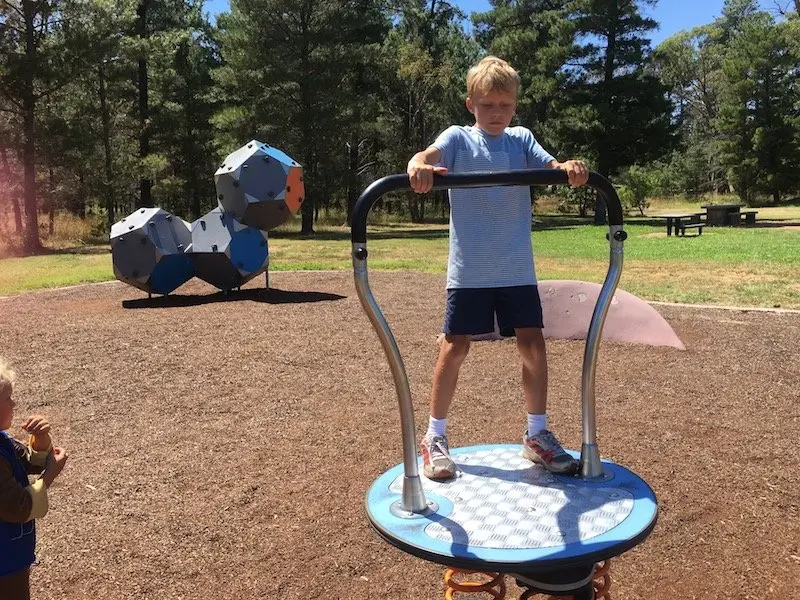 More playground equipment at Fadden Pines
25 metres away, across luscious grass, another play structure beckons.
The 3D hexagon balls are a makeshift rock-climbing wall, plus there's a bouncy rocker to sway.
There's also a set of super dooper fun balancing swings in this area.
(These look similar to an retro weighing scale).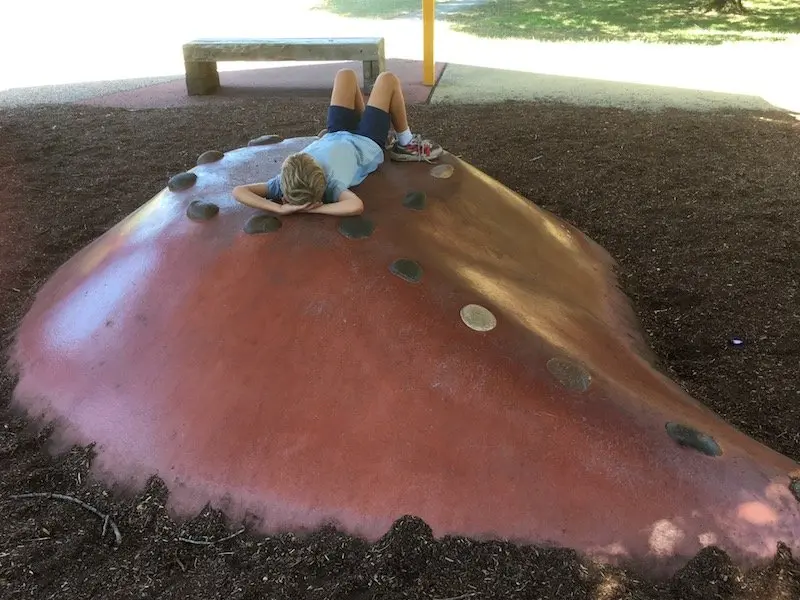 The blob areas?
Over under the shade sail lies what can only be described as a brown blob with spots.
I've no idea what that's for.
Perhaps it's an ode to local Indigenous history?
Ned found it quite a comfortable spot to rest.
(If anyone knows the story, email [email protected] so we can edit this section)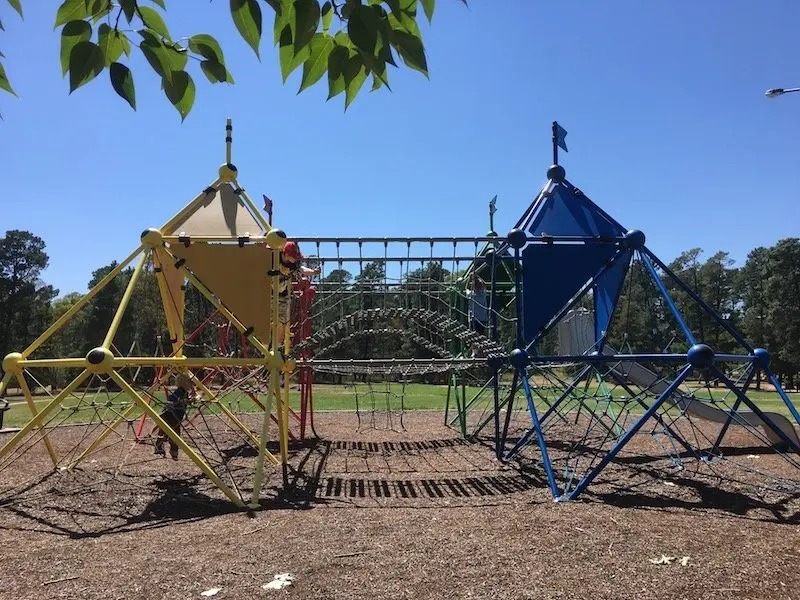 The Big Fort at Fadden Pines Playground Canberra
The geometric maze features four corner turrets, one each in:
It's an eye-catching sight from a distance, and even more so close up.
Bigger kids can:
clamber up and down
across swing bridges
through nets
down a peep hole exit, or
take off via the slide.
Fadden Pines Skatepark
There's also a skate park nearby.
---
READ MORE: Ultimate Family Guide to the National Australian War Memorial (Kids Activities)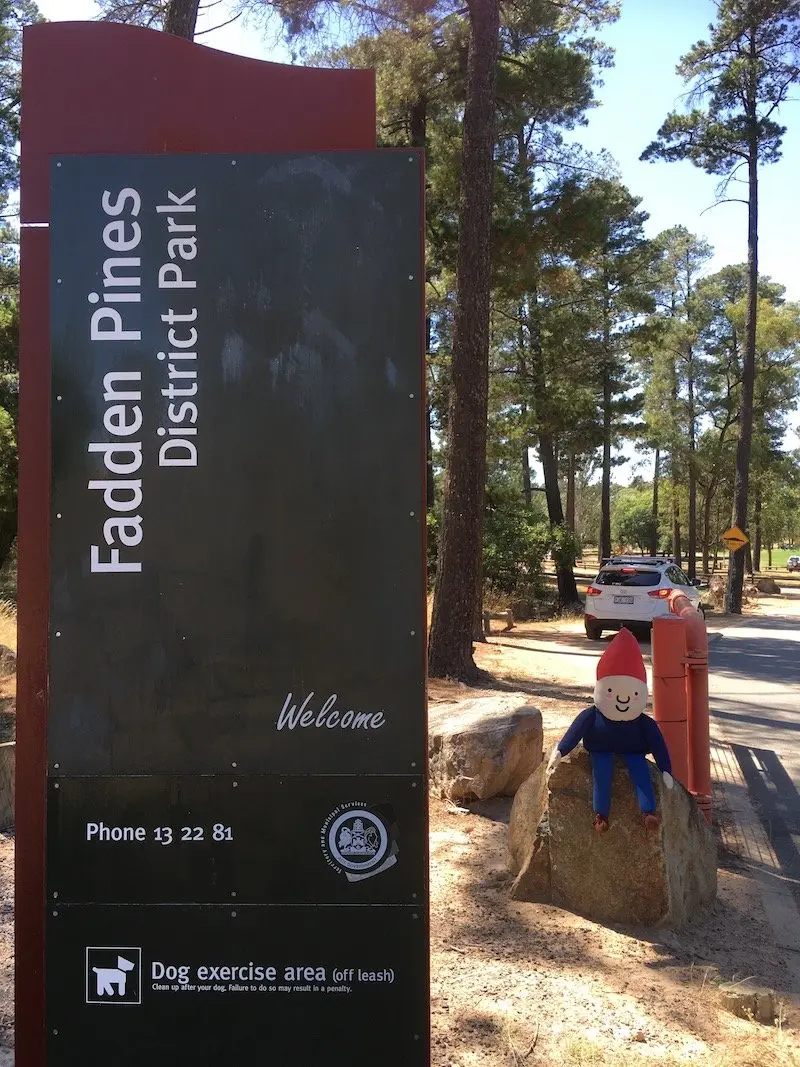 Best ACT Playgrounds in Canberra
It's questionable whether or not Fadden Pines playground is one of the best playgrounds in Canberra?
But there's enough intriguing play equipment to amuse kids and toddlers for a stretch.
If you are looking for things to do in Canberra with kids, and you are in the area, pop in.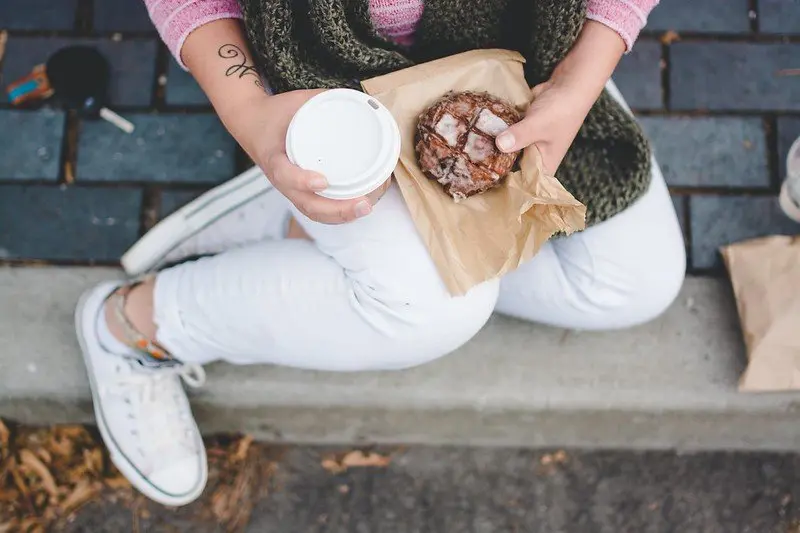 Image credit: Myfriendscoffee via Flickr CC BY-2.0
What to eat at Fadden Pines playground
It is an ideal spot for lunch picnics in Canberra with friends and family.
BYO healthy picnic food and snacks.
Or cook a BBQ for the gang.
The open space, the vibrant green grass, and the ring of trees surrounding the park create a delightful sense of peace and quiet, which is just the thing for busy parents and children.
---
READ MORE: Yarralumla Play Station has mini golf, a miniature railway, & a petting zoo farm!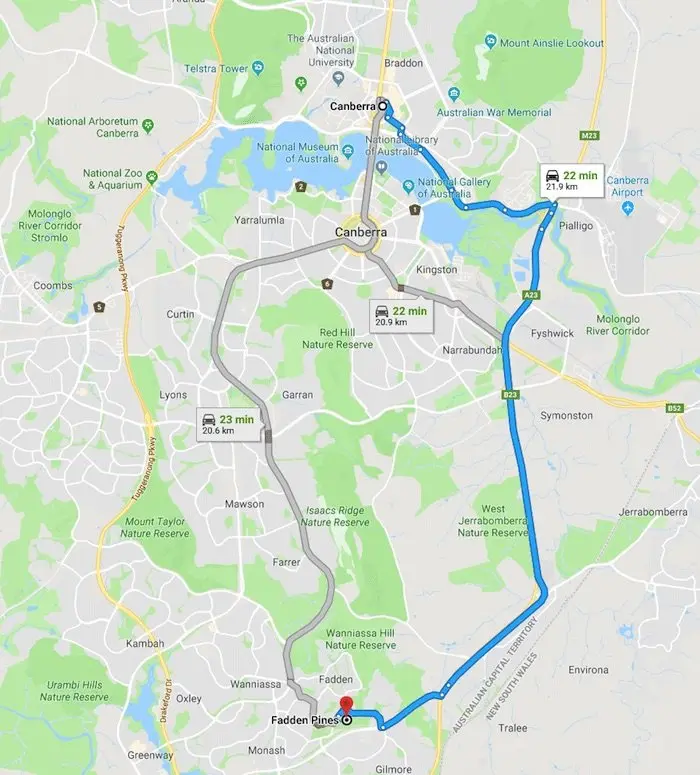 THE INSIDE SCOOP – Fadden Pines Park
Correct at time of publication on Roam the Gnome. Please check with venue for updates. We apologise in advance if there have been any changes we are unaware of. All prices in AUD dollars, unless otherwise stated
Address: Fadden Pines, Fadden ACT 2904
Telephone: 132281
Website: Click here
Opening Hours: Sunrise to sunset
Entry Fees: Free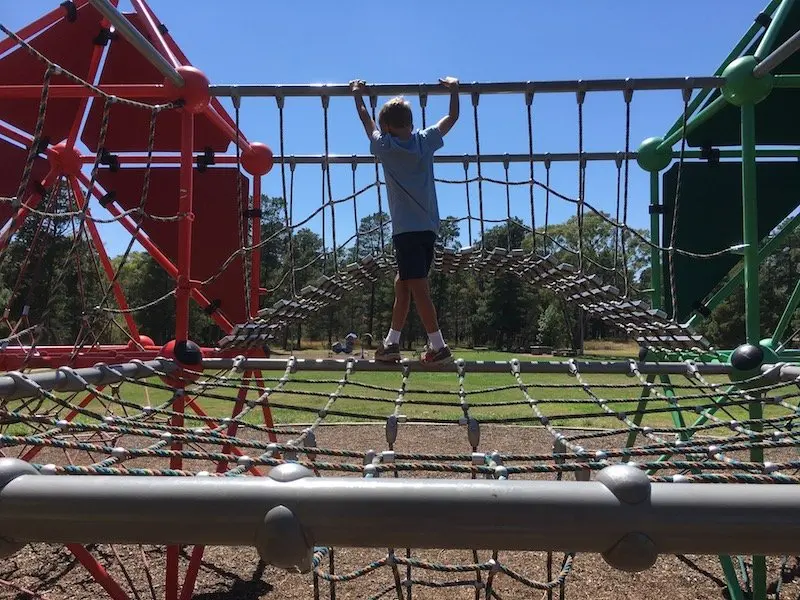 How to get to Fadden Pines playground (map above)
By Bus:
Travelling by bus to Fadden Pines playground requires a change of bus midway.
Disembark at Bugden Ave, at the Holy Family Public school. It's 5 minutes walk from there.
By Car: 22 minutes (22 km) from the Canberra CBD via Monaro Highway or via Yamba Drive.
Parking: Free parking at park. Entry via Budgen Avenue.
Fadden Pines Playground Map
Facilities at Fadden Pines Park playground
Nearest takeaway coffee: Common Grounds Gowrie Cafe on Jeffries St, or the shops at the Aldi complex on Benham Street.
Toilets: Yes, including baby change table
Disability access: Yes
Closest ATM: Aldi centre
Shade: One play zone has a shade sail. Some shade given by trees on edges of field, but not over play equipment or forts. Picnic tables are covered.
Enclosed: No, but little traffic risk. The Fadden Park playground grassed area is huge!
Ground cover: Bark, grass
Food options: BYO picnic or BBQ
Picnic tables: Yes
Electric BBQs: Yes
Water Bubblers/fountains: Yes
Scooters and Bikes: Yes
Dogs: Yes, it's a dog exercise area (off leash)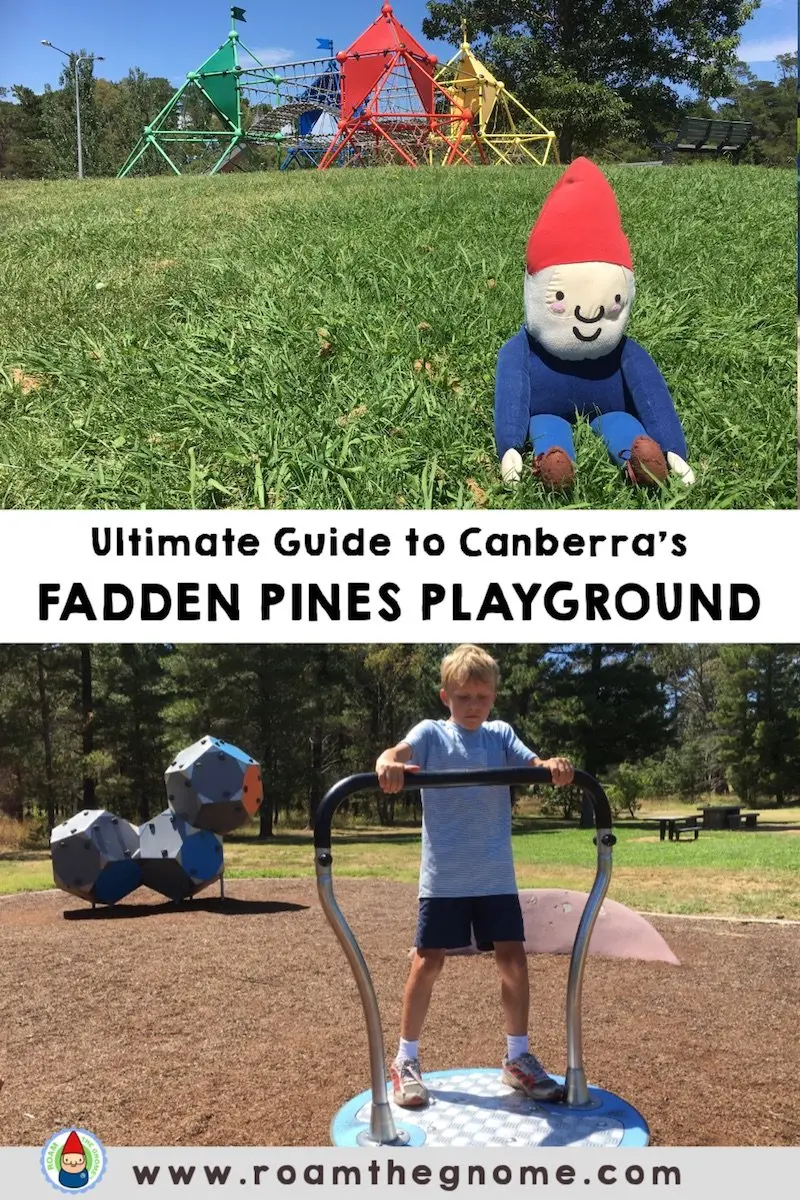 Toadstool Rating: Canberra's Fadden Pines Playground
Fadden Pines playground rates as one of the better toddler activities Canberra has for outdoor play for under 5s.

Looking for MORE of the Best Playgrounds in Canberra for kids?
Click the links in blue below for more Canberra activities for kids.