INSIDE: Roam the Gnome's Guide to the 2-7 year old exhibition at the Cite des enfants Paris Science Museum.
Our NUMBER ONE recommendation for families visiting Paris with toddlers or kids in tow, would definitely be the Cité des Science museum (The Science Museum Paris)
Why?
Because it's home to the Cité Des Enfants Science Museum for kids. (alt: City of Children)
This awesome Paris vacation activity has opportunities for kids between the ages of 2-7 to play, explore, get wet and have the best time ever!
(PS: There's another separate exhibition solely for kids aged 7-12 on the other side of the building. Read more about the Cité Des Enfants for 7 -12 Year Olds here)
Take a look below for an inside scoop on the 2-7 year old exhibition at City of Children in Paris!
Disclosure: This article contains affiliate links. If you make a purchase after clicking on one of these links, we may receive a small commission at NO extra cost to you.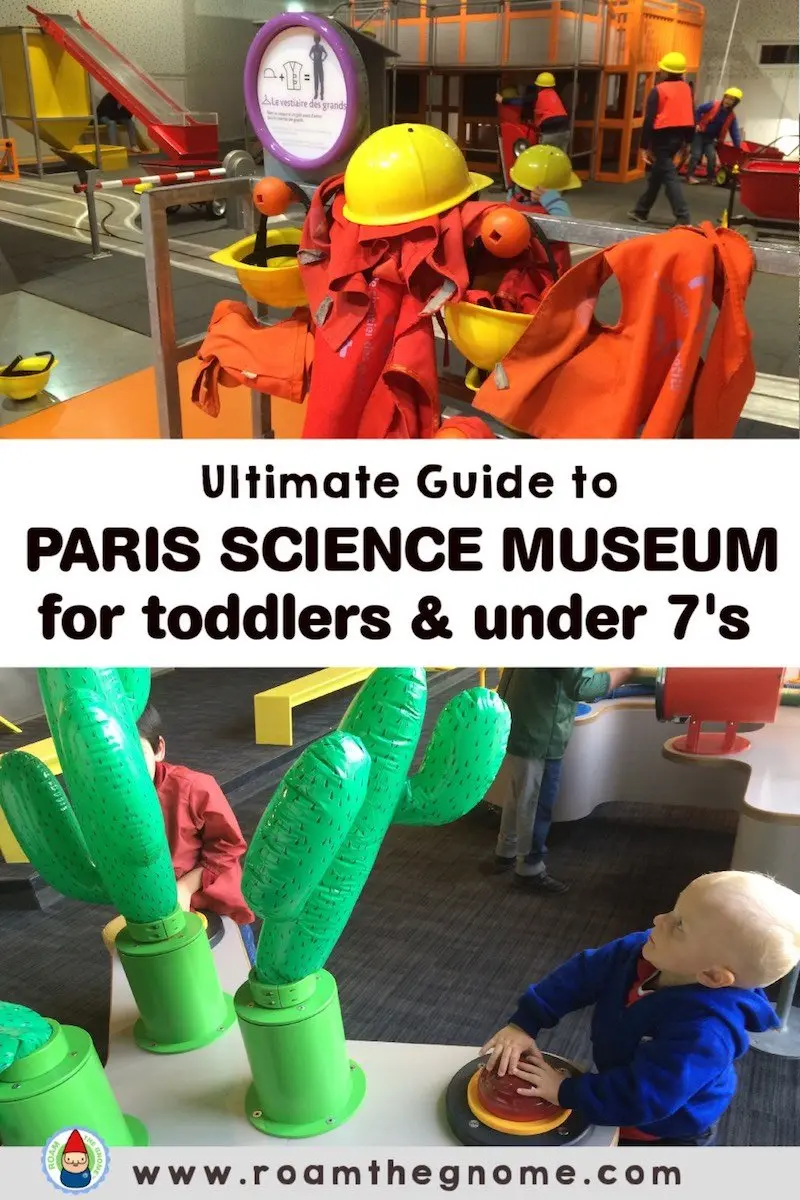 La Cité Des Enfants Paris
If you are looking for things to do in Paris for toddlers and preschoolers, put this science museum in Paris at the top of your bucket list.
In our opinion, there's nowhere better for a half day out in Paris to experience the world of sciences.
The La Cite Des Enfants Paris should definitely be a part of your Paris itinerary.
---
READ MORE: Round up of the BEST PLAYGROUNDS IN PARIS for kids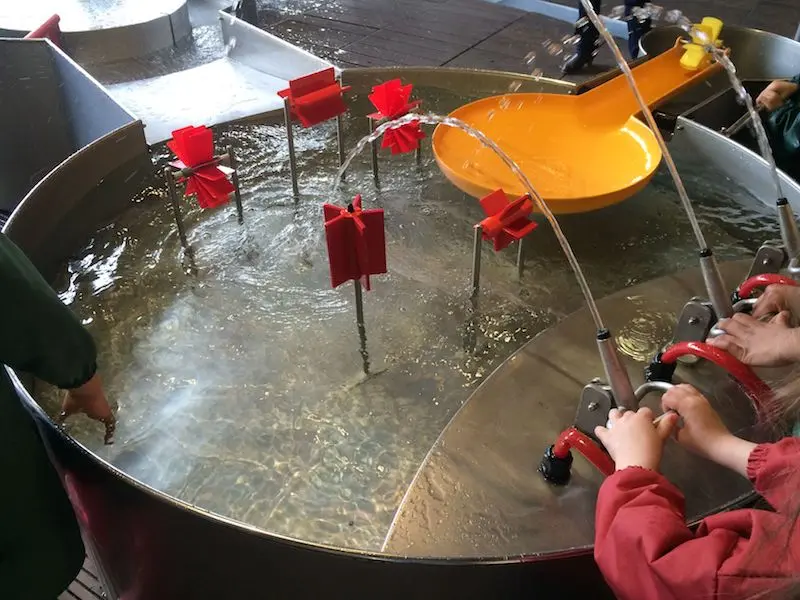 Inside the Paris Science Museum for toddlers & preschoolers
The Cité Des Enfants Museum is colour coded and each section has its' own theme.
Here's a little bit of detail about the five different sections in this cool place to visit in Paris with toddlers and young ones.
This Science Museum is number one of things to do in Paris with toddlers.
---
Hot Tip: Book a Perfume Making Workshop in Paris for the whole family.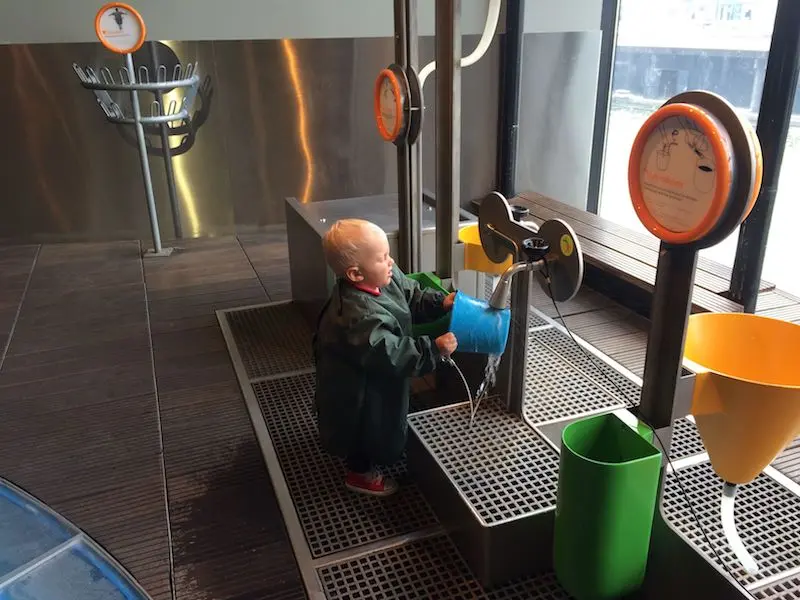 I'm Experimenting
The highlight of this area is definitely the water activity, but BE WARNED.
It gets wet!
Kids need to put on a smock so they don't get saturated but there's not much hope of that!
BYO towel if you can.
A towel is worth it's weight in gold.
At the pool streams area, kids can find out what they can do with water.
The kids can:
move doors and gates to dam up the water
spray water in different directions
bucket water around the place
fill things up and tip things out again.
I had MAJOR trouble trying to move Jack out from this area.
Only the pull of big blocks to build with moved him on.
Another Fun Family Activity in Paris: Book a Dinosaur Tour in the National History Museum in Paris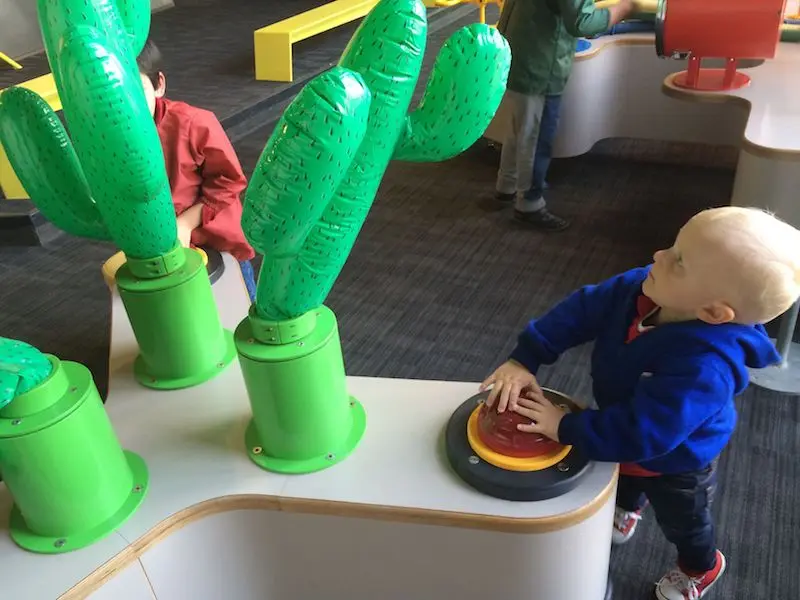 Science experiments with air
In this area, there's also:
experiments with air pressure,
with levers to push and pull and
pumps to blow up balloons and twirl rainbow kites.
Kids can set the air machines in action, and watch the objects move.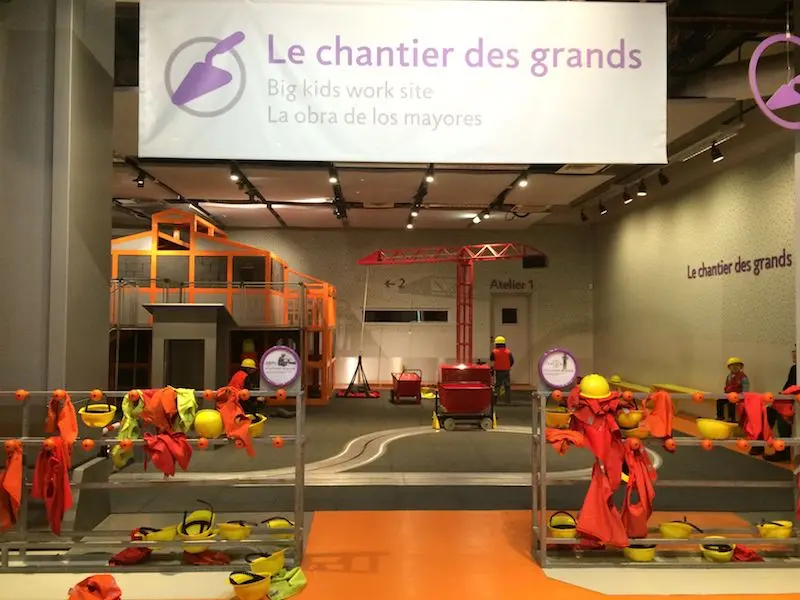 All Together – the Big Kids Work Site
Kids are invited put on their hard hat and vest before entering the Work Site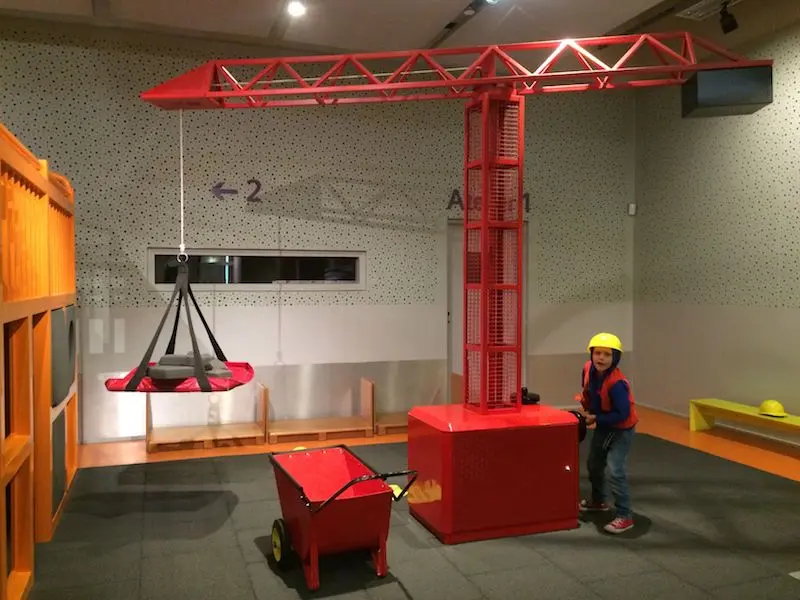 Work Site at Cite des Enfants
Once inside, they can:
build with foam blocks
transport the blocks from place to place via pulley
push the mine cart on the track
climb the fort, and
work in teams with all their new friends.
It's ACE!
I Know How to Do It – The Ball Tower and Wobbly Toys
Kids can turn handles to make marionette puppets move about
Play with Shadow Theatre by pulling handles to move the light and change the shadow shapes
Make animal shadows dance
Challenge others to a ball down the tower race!
Discover where the ball is hiding game
Hot Tip: Book a Family Tour of the Montemarte District (includes a play book for kids!)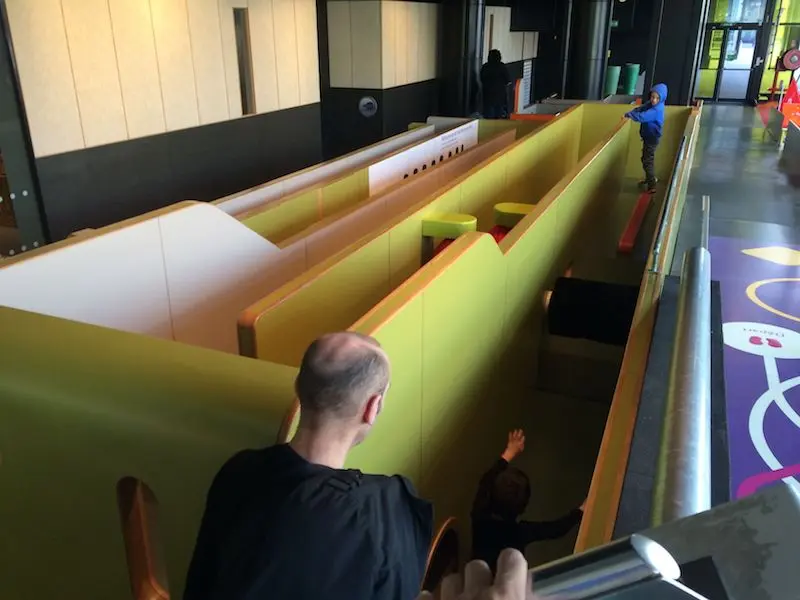 I Locate Myself
Kids can try the motor circuits
Kids can crawl, move forwards and backwards and get lost as they crawl
balance and inch their way along the trail, exploring space with their bodies in these motor circuits
Kids can climb through a giant maze – it's not that easy but it's fun (my boys did this multiple times!)
I Discover Myself
Little experiments and things to touch and do and smell.
Kids can see themselves in mirrors and on screens.
My kids weren't fussed on this bit at all.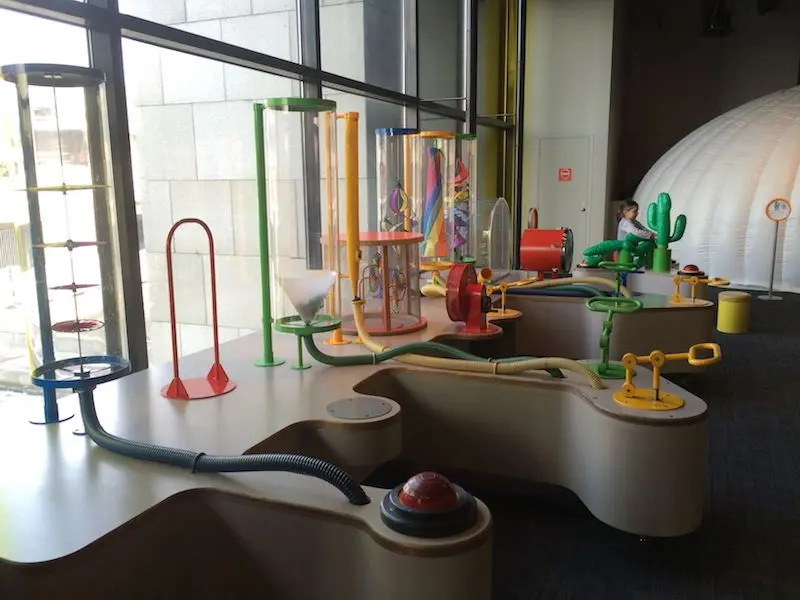 THE INSIDE SCOOP: Science Museum Paris with Toddlers and Kids
Correct at time of publication on Roam the Gnome. Please check with venue for updates. We apologise in advance if there have been any changes we are unaware of. All prices in AUD dollars, unless otherwise stated
Address: City of Science and Industry, 30 avenue Corentin Cariou, 75019 Paris France
Telephone: +33 (0) 1 41 57 32 28
Opening Hours at the Paris Science Museum
The Cité science museum experience is open from Tuesday to Saturday 10.00 am – 6.00 pm and 10.00 am – 7.00 pm on Sunday.
Museum is closed on Mondays and the following public holidays:
1 January – New years day
1 May – Labor Day
25 December – Christmas Day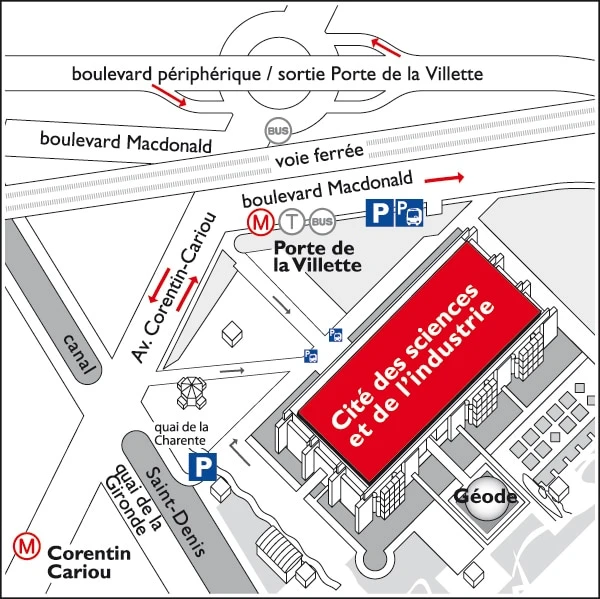 Session Times at the Science Museum for Toddlers
Sessions are 1hr 30 mins long (1hr 15 mins during the Autumn half-term and Christmas holidays).
Booking is strongly recommended during French Holidays but don't risk it. Book a ticket. It's a busy place full of local Parisian families!
Session Start Times
Monday to Friday:
Saturdays and Sundays: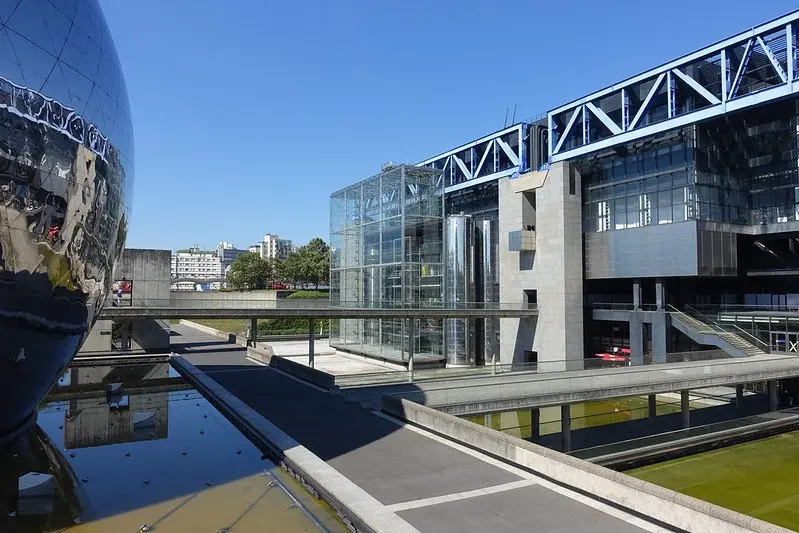 Image credit: Guilhem Vellut via CC by 2.0
Entry Fees for Cité Des Enfants (2-7 year olds)
Full Rate for 2-7 years City of Children exhibition: € 12
Reduced Rate: € 9
Reduced rate is for students, under 25, 65+, large families, teachers
Children under 2 FREE (Two year olds are only allowed if they accompany another child in the 2-7 age group.)
No permitted access for unaccompanied children and adults alone.
Ticket includes access to the Argonaute Submarine (advised visit before 1 pm) and the Louis-Lumière cinema, subject to availability.
NB: The entry fee above covers the City of Children exhibition only.
You can buy a combo ticket for one of the Children's City exhibitions PLUS Explora Exhibitions in the rest of the museum for 16 euro. (instead of 24 euro).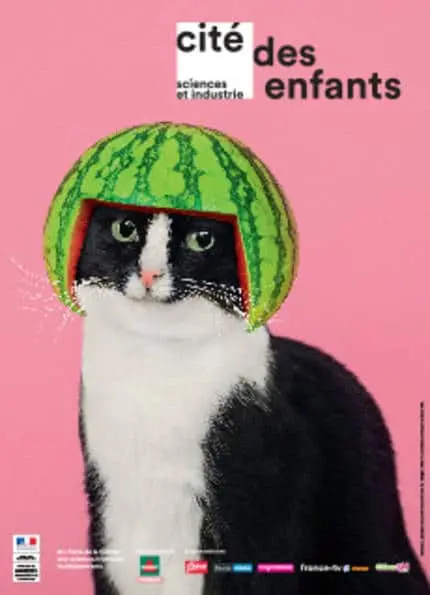 Image credit: Cité des enfants
Plan your Visit and Book your Ticket
Book your Cite Des Enfants Session for 2-7 year olds here
Use Google Translate to buy your Cite des enfants Paris tickets ahead of time. It's the only way to guarantee entry.
We booked and paid online from Australia through the link above with no problem.
Email the Science Center in Paris if you have any dramas and they will help.
Cites des Enfants 5-12 years, or Cites des babes
See top of page for link to details of the Cité des Sciences for 5-12 year olds.
Click here for details of the NEW Cité des bébés for 0-2 year olds. Open until December 2020.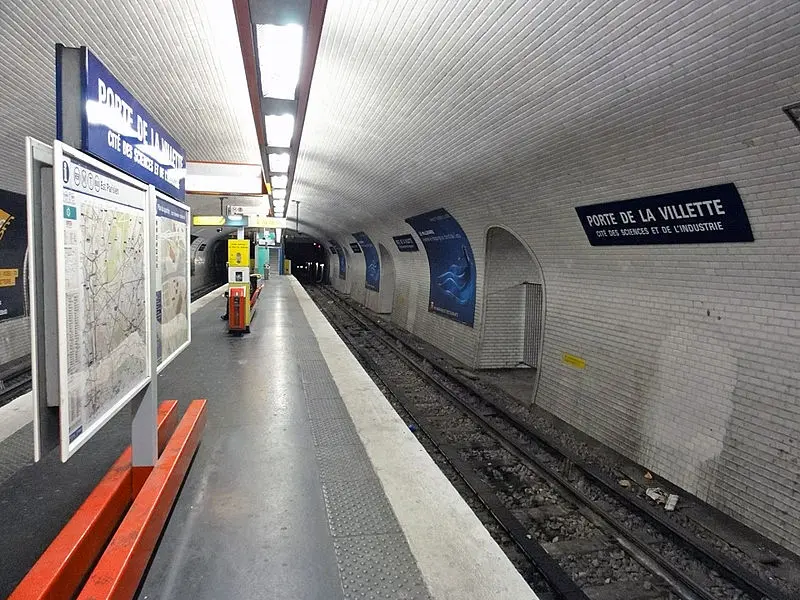 Image credit: Clicsouris CC BY-SA 3.0
How to get to the Science Museum in Paris France
For those with strollers: From the tram platform and the Porte de la Villette bus stop, there is direct access, with a slope of less than 4%, to the Cite des sciences et de l'industrie Paris France.
By Bike (Velib hire)
You can cycle to the City of Science and Industry from the center of Paris using a network of special cycle lanes.
Bicycle parking is available at the front of the City of Science and Industry, by the Forest Hill Hotel.
Velib bike stations close to the Cité des Science museum
Station n ° 19009: 28 bis, avenue Corentin Cariou F-75019 Paris.
Station n ° 19033: 30, rue de Cambrai F-75019 Paris.
Station n ° 19011: 2, rue Rouvet F-75019 Paris.
Station n ° 901: allée du Belvédère F-75019 Paris.
By Metro: Line 7, Porte de la Villette station.
By Tram: T3b (Porte de la Chapelle) Door of the Villette stop
By Bus: Lines 139, 150, 152, Porte de la Villette stop.
By Boat on the Canal:
Cruises between the Bassin de la Villette and Arsenal Harbor with CanalStrama.com
Cruises between the Parc de la Villette and the Musée d'Orsay with Pariscanal.com
Map of Cite de Science Museum location
Toadstool Rating: La Villette Science Museum Paris
My kids and Roam the Gnome want to rate this Paris Science Museum triple our normal 5 Toadstools rating!
They LOVED the Cite des enfants Paris that much, and so did I.
Definitely the best of the museums in Paris for kids, and a top spot on a rainy day.

Looking for MORE SUPER DOOPER FUN things to do with Kids in Paris?
Click the links in blue below.