INSIDE: Roam the Gnome's Guide to The Station Stop child friendly cafe Canberra.
Where can you find the best kid friendly cafe Canberra has to offer?
With built-in entertainment options on site including the
Imagine if this family cafe for kids was a railway-themed cafe too!
It exists.
Weston Park Cafe is the name.
Check out all the details of this child friendly cafe in Canberra below.
Disclosure: This article contains affiliate links. If you make a purchase after clicking on one of these links, we may receive a small commission at NO extra cost to you.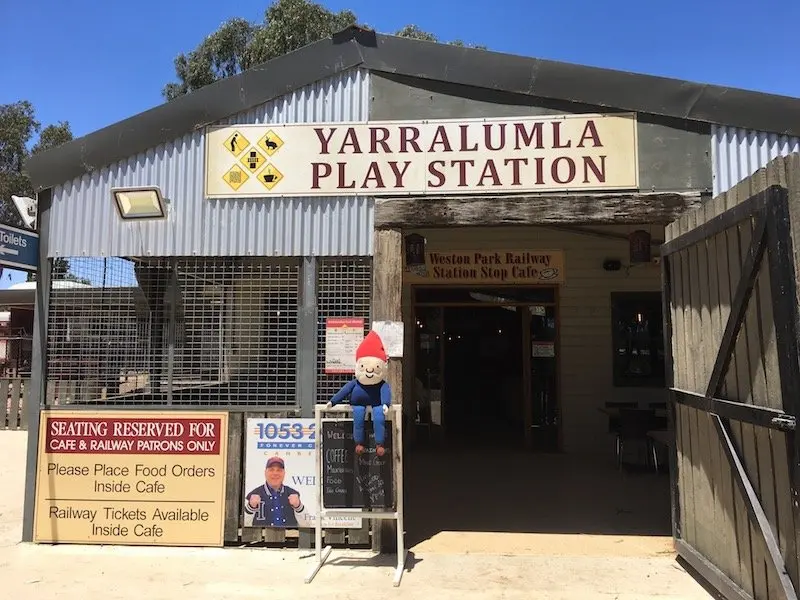 The Best Kid Friendly Cafe Canberra Style!
The Weston Railway Station Stop Cafe at Yarralumla Play Station has:
a play area with an old-school cash register for the kids to enjoy
super cool retro train seating, and
train-travel inspired props to make the place even more authentic.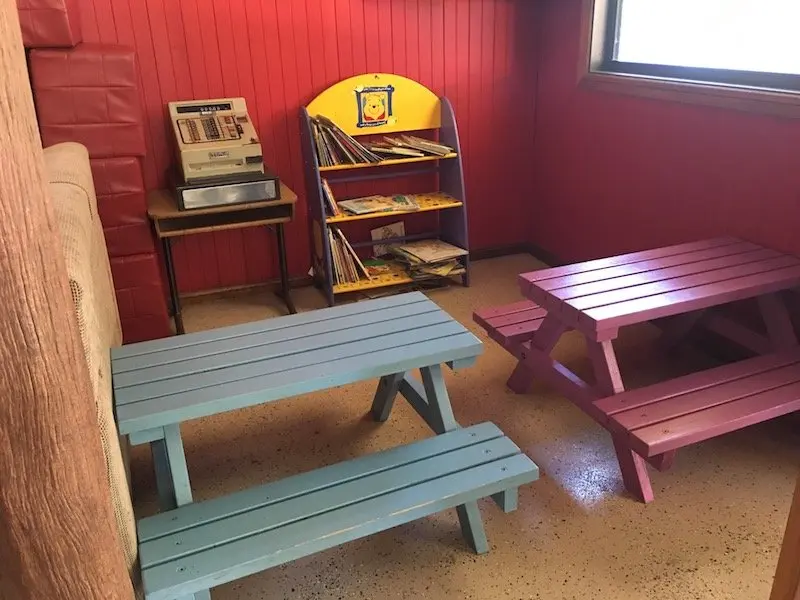 Weston Park Cafe for kids
Plus, there's a children's eating area with child size picnic tables
Yet, it's a cafe that can handle a few bumps, knocks and squeals from excitable children and toddlers.
It's our kind of family place to dine.
Down to earth, with friendly staff, good wholesome food, and a quaint place to eat it.
---
RELATED: The best place to swim at Weston Park with kids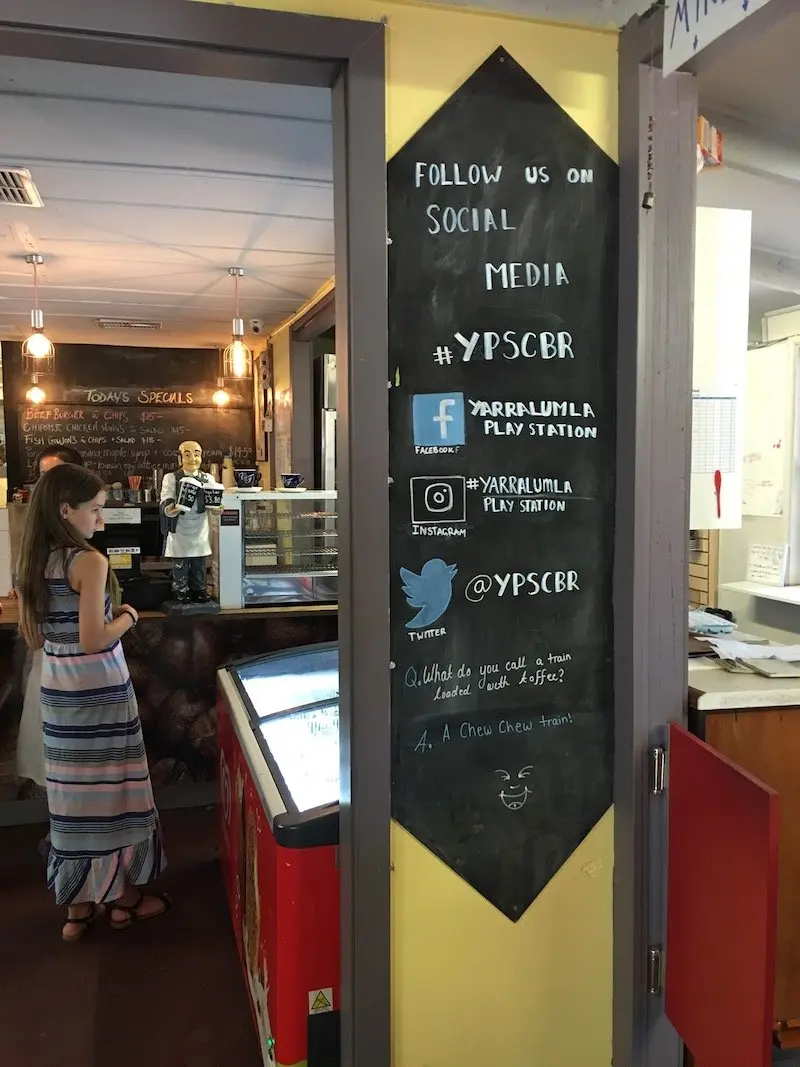 Menu at Station Stop Cafe Weston Park Canberra
While some menu items come and go, you are likely to find such delicious things as:
chipotle chicken wings (yum!)
fish goujons coated in crunchy breadcrumbs and chips (goujons are a fried strip of fish or meat)
pancakes with banana, maple syrup, and coconut
beef burger and chips
the old favourite – bacon and egg burgers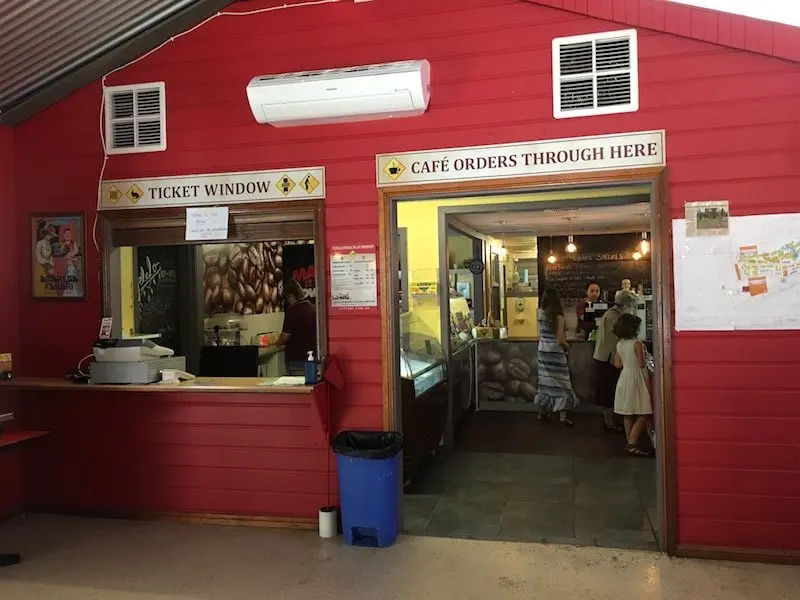 What's to drink at this child friendly cafe in Canberra?
Adults and kids alike will froth over their milkshake menu.
There's good coffee to go too, if you don't want to sit and eat.
For afters, there's ice-cream, and locally made "Gelato Mio" made from 100% natural ingredients.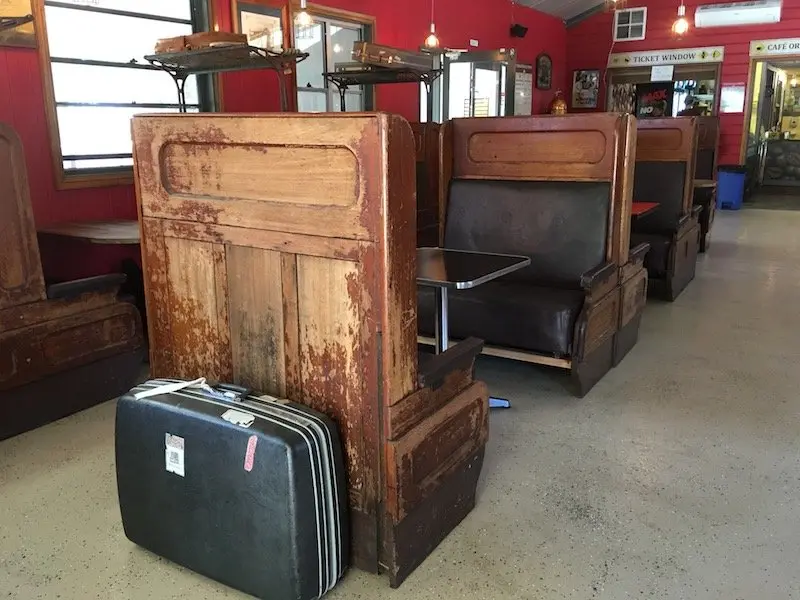 Cute Train Station Cafe cubicles
Do dine in on one of the adorable train seat cubicles!
(The window booths have handmade wooden tables)
Or take your goodies, and the kids outside.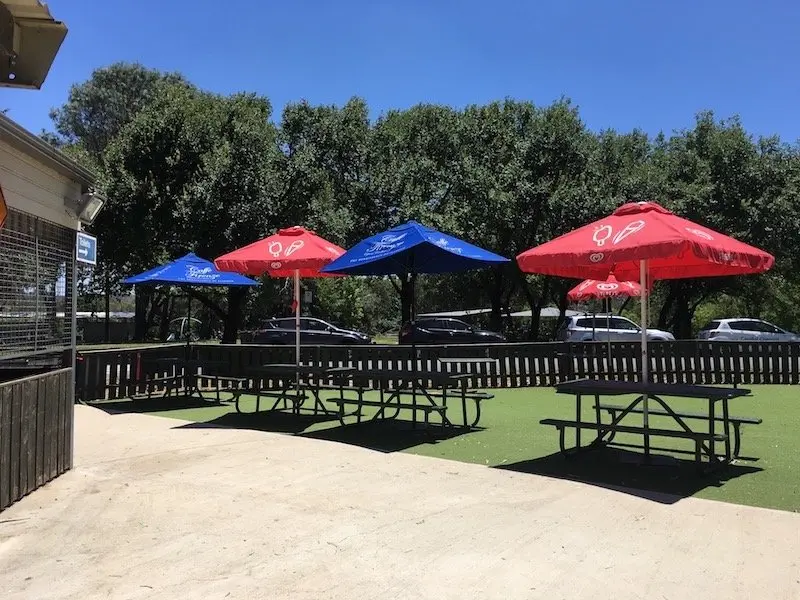 Outdoor picnic tables at Weston Cafe at Yarralumla Play Station
There's shaded picnic tables right outside the Weston Park, Canberra cafe, another reason nit's one of the best family friendly cafes.
Outdoor seating is a fabulous option for families when the kids are being a noisy bunch, and you don't fancy shusshing them too often, or want them to eat the ice cream outside, just in case of spills
Or round them up on a picnic rug at the park across the road.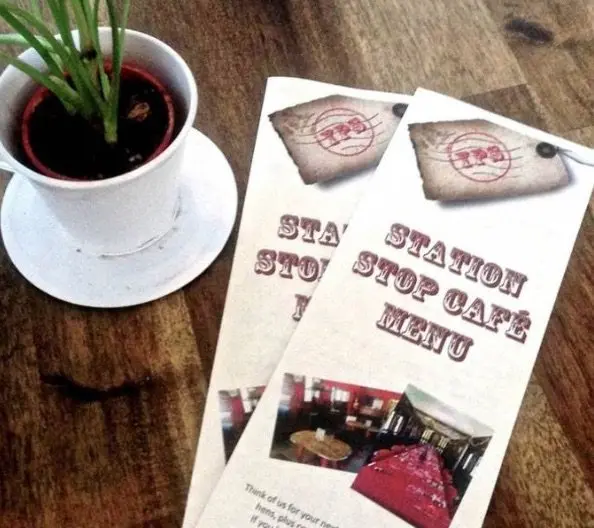 THE INSIDE SCOOP – Weston Park Railway Cafe
Correct at time of publication on Roam the Gnome. Please check with venue for updates. We apologise in advance if there have been any changes we are unaware of. All prices in AUD dollars, unless otherwise stated
Address: This Child Friendly Cafe Canberra is located at Yarralumla Play Station, 9 Pescott Lane, Yarralumla (Weston Park ACT) 2600
Telephone: (02) 6282 2714
Email: [email protected]
Website: Click here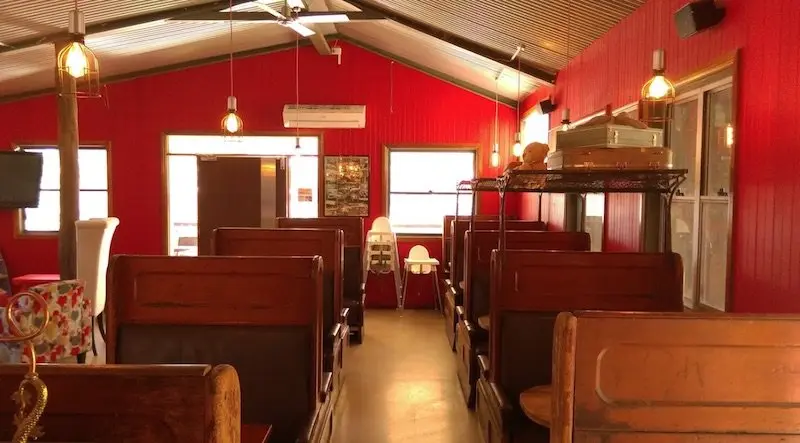 Image credit: Ross Carswell via GM
Opening Hours: (same as Yarralumla Play Station)
Monday to Friday – 8:30am to 4:30pm
Saturday and Sunday – 8:00am to 5:30pm
Closed Christmas Day and Boxing Day
How to get to Weston Park cafe.
By Bus:
The Bus No. 315 and Bus No. 1 stop at Weston Park Yarralumla Canberra.
The Moovit App can guide you there.
By Car (or Taxi/Uber):
7 km via Commonwealth Ave/A23 and Alexandrina Drive (10 minutes from the CBD),
or 10km via Commonwealth Ave (14 minutes from the CBD)
Weston Park parking
There's free parking throughout the park
Weston Park Kid Friendly Cafe in Canberra Map
Facilities at Yarralumla Railway Station Stop Cafe
Nearest takeaway coffee: Head straight to the counter at Weston Park Railway Stop Cafe for your daily brew.
Toilets: Yes
Disability access: Yes
Closest playground: Yarralumla Adventure Playground, 50 metres walk away
Shade: Yes, tree cover
Enclosed: Fenced but open gate at front.
Ground cover: Concrete under tables outside.
Scooters and Bikes: Yes, there's a bike path cycle track running throughout the park. There's room to lock your bikes up while you play.
Dogs: No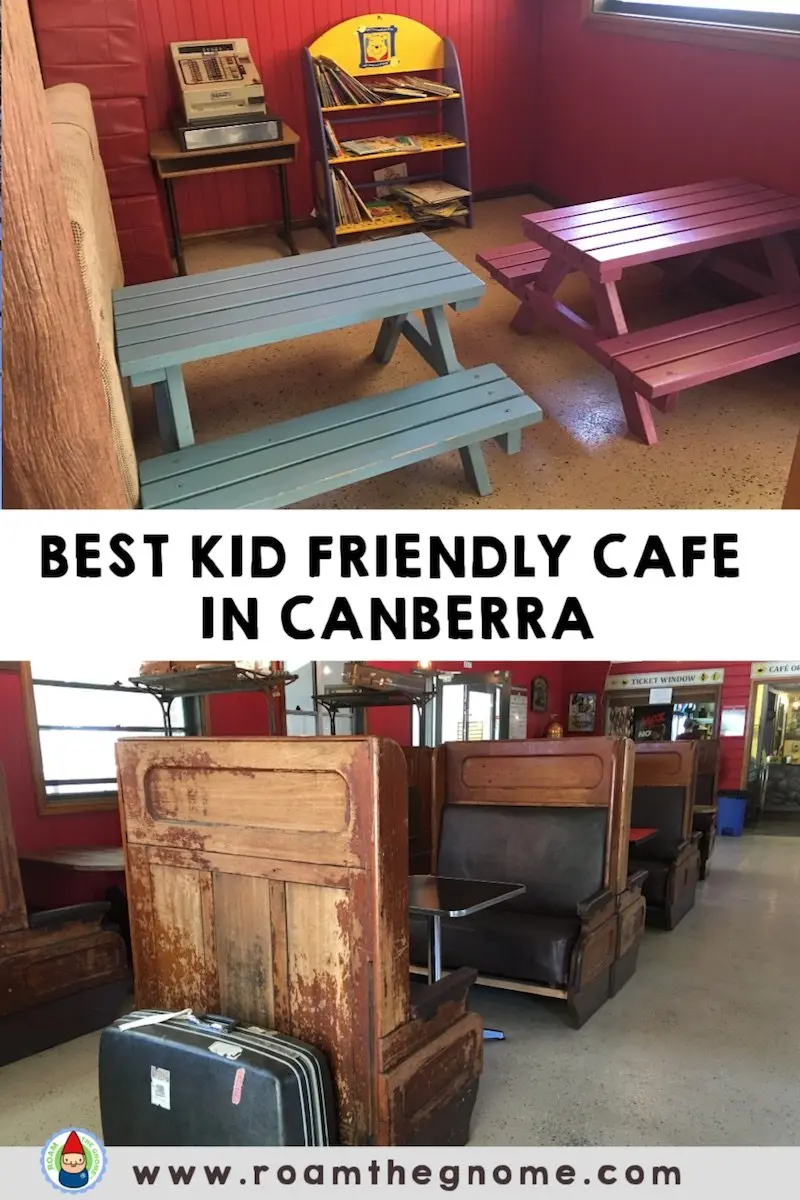 Toadstool Rating- Child Friendly Cafe Canberra at Yarralumla
This child friendly cafe at Yarralumla is everything you need as a parent for little ones who lunch.
It's a great option for school holidays and catch up with friends, with lots of Canberra attractions for kids in one place.


Looking for MORE SUPER DOOPER FUN places to visit in Canberra with kids?
Click the links in blue below for more Canberra attractions.