INSIDE: The Pocket Guide to the best Portobello Market Food in London with Kids.
I've wanted to head to Portobello Markets ever since falling in love, many moons ago, with the film Notting Hill, starring Julia Roberts and Hugh Grant.
That busy market road, filled with fruit & vegetable sellers, street food stalls, and posh antique dealers, speaks to my artists soul.
I've also longed to see "The Travel Book Store" (or at least the location they used as Hugh Grant's down-at-heel book shop) and THAT famous Blue Door, the front door of the unkempt flat where William Thacker's (Hugh Grant's character) lived .
With kids in tow, we set off on an adventure to Notting Hill markets in London to shop and eat.
Take a look at our finds below.
Disclosure: This article contains affiliate links. If you make a purchase after clicking on one of these links, we may receive a small commission at NO extra cost to you.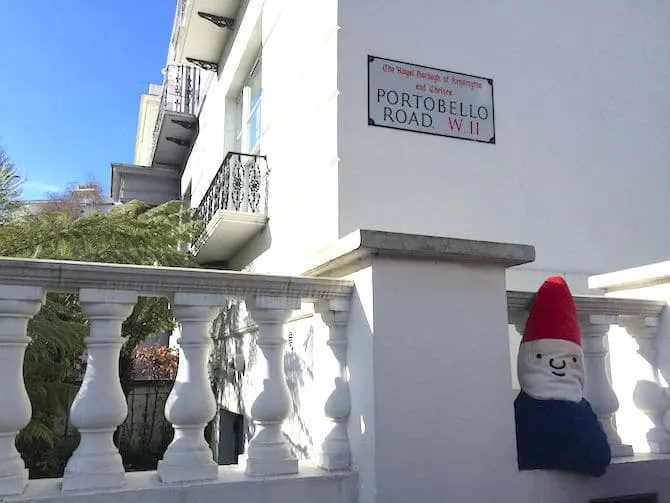 Guide to Portobello Market in London
As a market lover, I couldn't resist the busiest Portobello Market Saturdays.
Portobello Market in London is one of the Top 10 tourist attractions in London to visit, and arguably the most famous London markets, so we were in good company.
And so, with the two boys, AND Roam the Gnome in tow, we took a gamble on my Notting Hill dream quest and started wandering.
But is the Portobello Market in London kid-friendly?
As a whole, I'd vote NO.
It's too busy for toddlers in London, and the stalls are mostly antiques, clothing, and old wares, so there's not much of interest to kids of any age in my experience.
The odd plastic toy but nothing specific, or worthy of an investment as I try to avoid plastic junk.
But where there's a will, there's a way, as my mother always says.
---
RELATED: The Big List of Best Things to Do in LONDON with Kids

Guide to Visiting Portobello Market Notting Hill
Portobello market is a full street market with stalls from Westbourne Grove, all the way up to, and along Golborne Road.
The Portobello Market in London is roughly divided into FIVE sections on a Saturday market in Notting Hill.
Here's all the details:
No.1: Notting Hill Secondhand goods & Bric a Brac
Golborne Road to Westway
Secondhand goods
Furniture
Bric-a-brac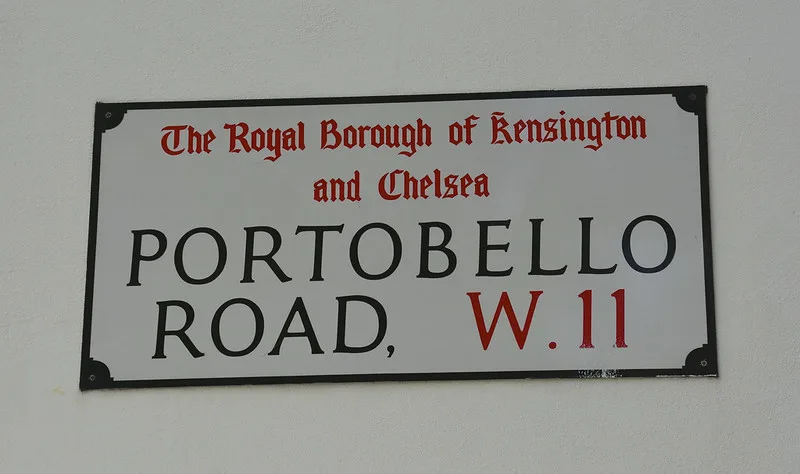 Image credit: Martin Pettitt via Flickr CC BY 2.0
The Notting Hill food market area
This area is also home to the Notting Hill street food stalls.
And where you'll find the best nutella and banana crepes in London, made fresh on the spot.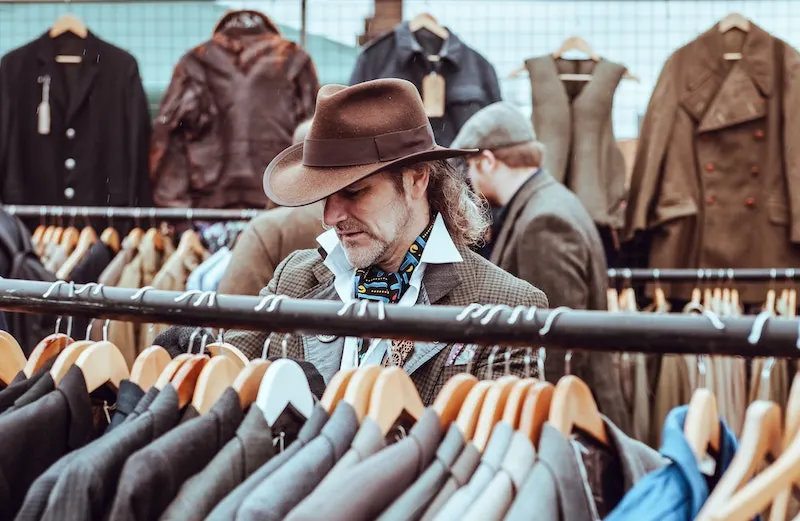 Image credit: Clem Onojeghuo via Unsplash
No. 2: Notting Hill Vintage and Fashion market area
Westway area
Stylish retro clothing & fashion
Vintage bags
Scarves & pashminas
London souvenir t-shirts
Second hand books
Image credit: Jorge Franganillo via Flickr CC BY 2.0
No.3: Everyday essentials
Westway to Talbot Road
Household essentials
Cheap everyday necessities (socks, batteries, plastic toys)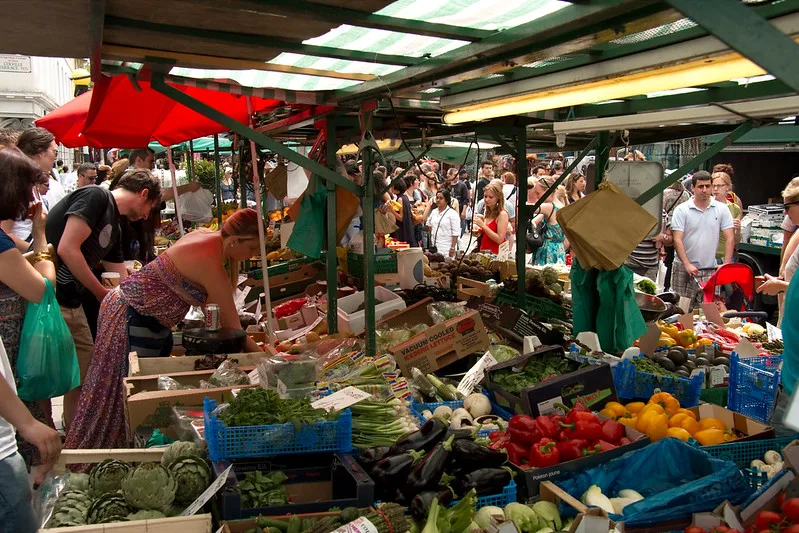 Image credit: Maria Sanchez Prada via Flickr CC BY SA 2.0
No.4: Notting Hill Fruit and Vegetable Markets
Talbot Road to Elgin Crescent
This sections has all the market staples you need to cook all your lunches and dinners in the week ahead, including:
Fresh fruit and veg
Other staple foods
It's a riot of colour.
And fun to watch the vendors and the market customers chatting like long lost friends.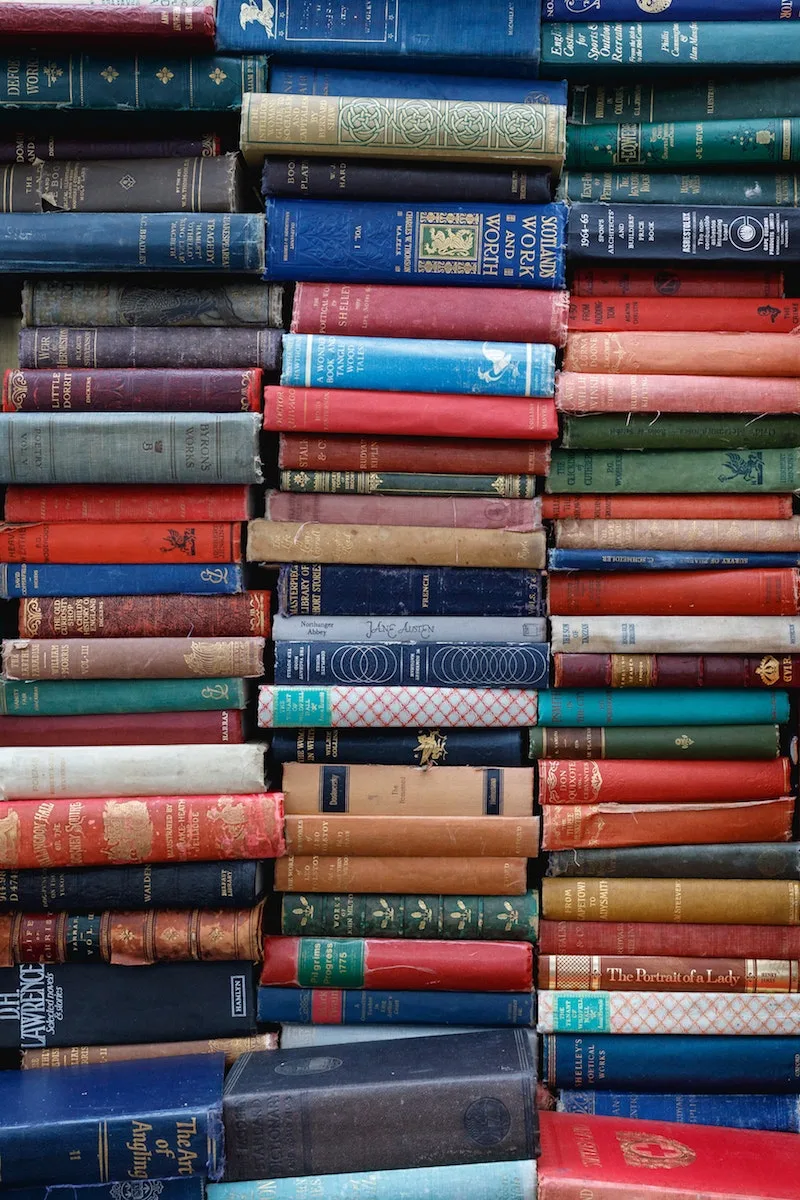 Image credit: Ed Robertson via Unsplash
No.5: Notting Hill Antiques market
Elgin Crescent to Chepstow Villas
This is the best area for treasure hunting for:
trinkets
old pre-loved books
unique decor
vintage house paraphernalia
**See below for specific details.
---
RELATED: All you need to know about Best London Shopping Areas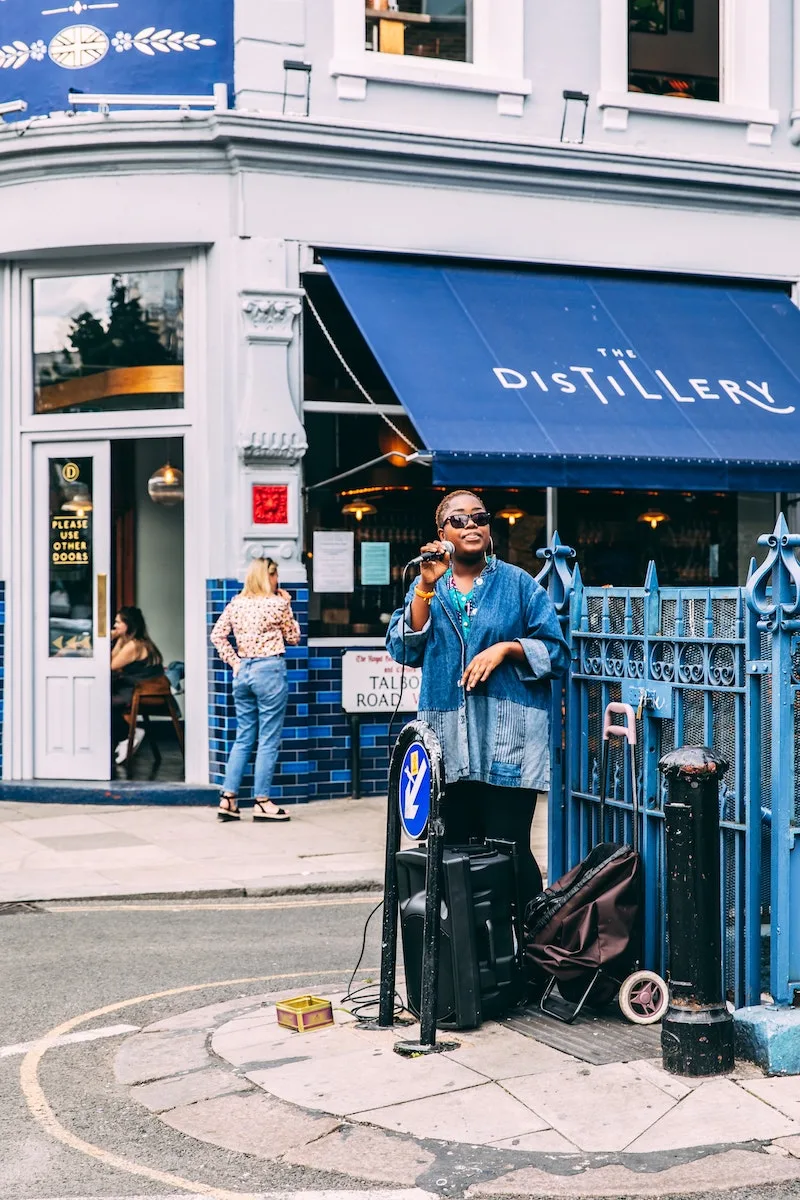 Image credit: Simon Rae via Unsplash
How to navigate Notting Hill markets
If you're google mapping it, start at Notting Hill Gate station.
Step 1: Head north on Portobello Road.
Step 2: Do a left turn at Westbourne Grove for the antiques area and loop back to Portobello road.
Step 3: Then continue on north on Portobello Road, past the Westway A40 to the stalls on the other side, all the way to Golborne road.
There's so many things to do in Portobello road for people who like to shop and people watch, as well as listen to buskers playing live music.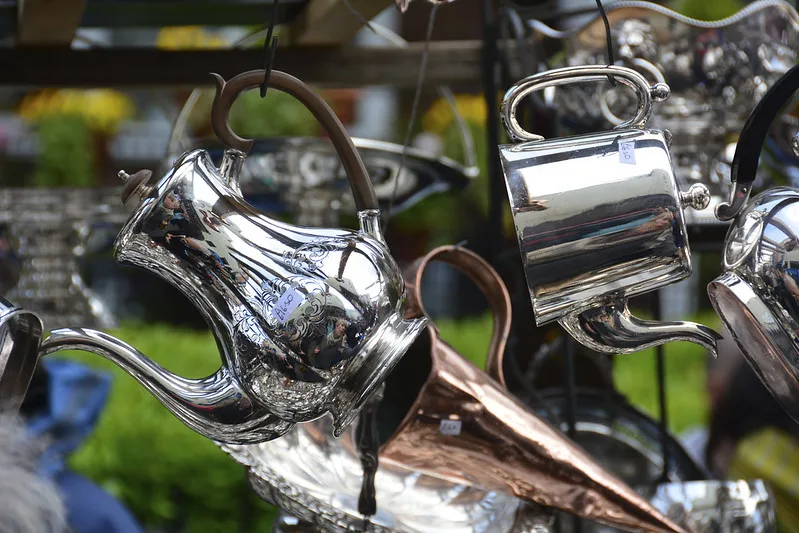 Image credit: Martin Pettitt via Flickr CC BY 2.0
The Best Portobello Antiques Market
Portobello Market in London on Saturdays is the world's largest antiques market with over 1,000 dealers selling every kind of antique and collectible. The Antiques arcade is open for business.
Westbourne Grove between Portobello Road and Kensington Park road is the place for antique stalls in London on a Saturday. (Southern Portobello road).
The main Antiques section is near the Notting Hill tube station.
Image credit: Karen Roe via Flickr CC BY 2.0
Portobello Antique Market finds
You'll find:
glass and crystal
books and maps
silver, pewter
jewellery, cutlery
candleholders
vintage ornaments
collectibles
Portobello Green (and North Portobello) past the Westway A40 is the spot for new fashion, some vintage clothing and accessories, and collectables
(Hot tip: there's more focus on vintage clothing here on a Friday)
What is Portobello market famous for?
Portobello Market Notting Hill is also famous for:
the Portobello road mushroom, and
the elegant Portobello road gin.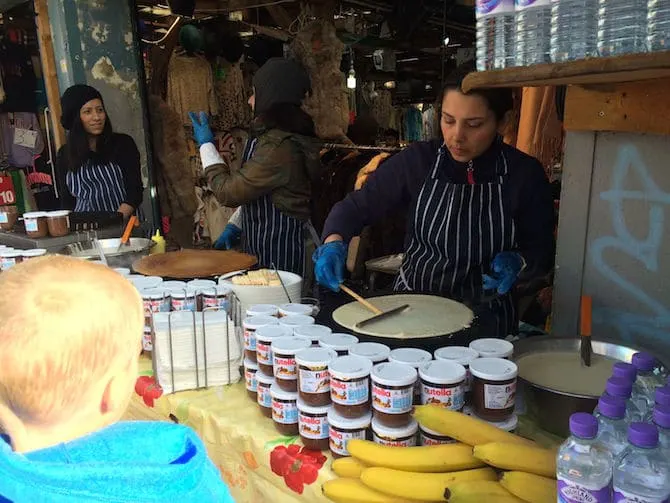 THE INSIDE SCOOP: BEST PORTOBELLO MARKET FOOD STALLS
Did I see the Travel Book Store facade at 142 Portobello Road?
Unbelievably, no.
The combo of a stroller, and swarms of people was not good for my film location scouting mission.
Portobello Market London did, as I suspected, prove to be too much – too loud, too busy, and too uninteresting for my two, but we did have a little win with our find of the Portobello Crepe stall.
The best thing about our trip to Portobello markets with kids was seeing, and eating, all the food!
Are you wondering does Portobello market have food?
The answer to the question "is there food at Portobello market?" is YES.
Food.
Good food.
Go with an empty tummy.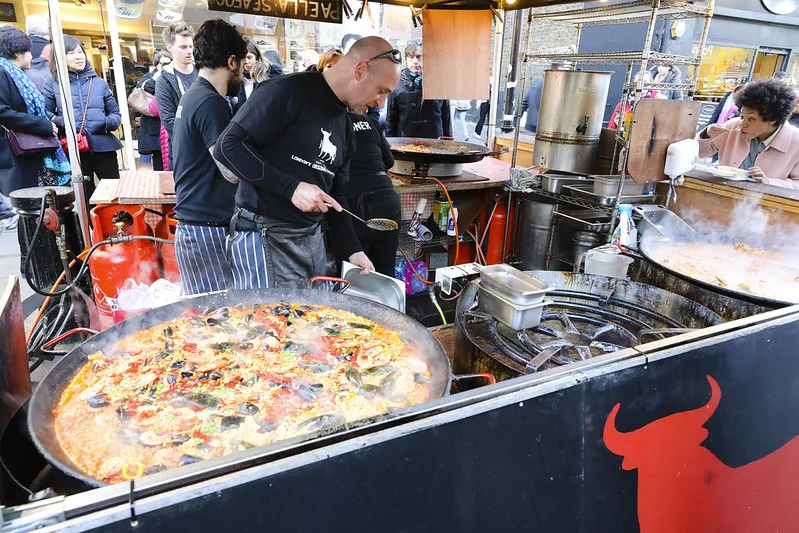 Image credit: Bryan via Flickr CC BY 2.0
The Portobello Markets Food Stalls Area
On Friday and Saturday, Portobello Road Market is the place for hot food stalls and London streetfood.
The Portobello road market in London has an electric atmosphere, with:
live music
buskers
jostling
colour and
flamboyance
It's a real melting pot of cultures and languages.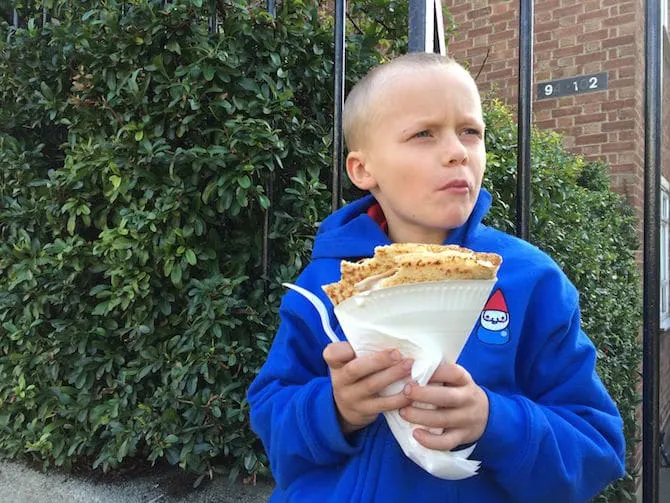 No.1: Portobello market crepes
Ned and Jack shared a banana and whipped cream crepe.
Once they were fed, I managed to find and purchase a few souvenirs from the market stalls lining Portobello road, including the tiny London-themed clip purse I use to this day.
Notting Hill Market Food video (Portobello Crepes)
Take a peek at the making of the Notting Hill market crepes in the quick youtube clip above.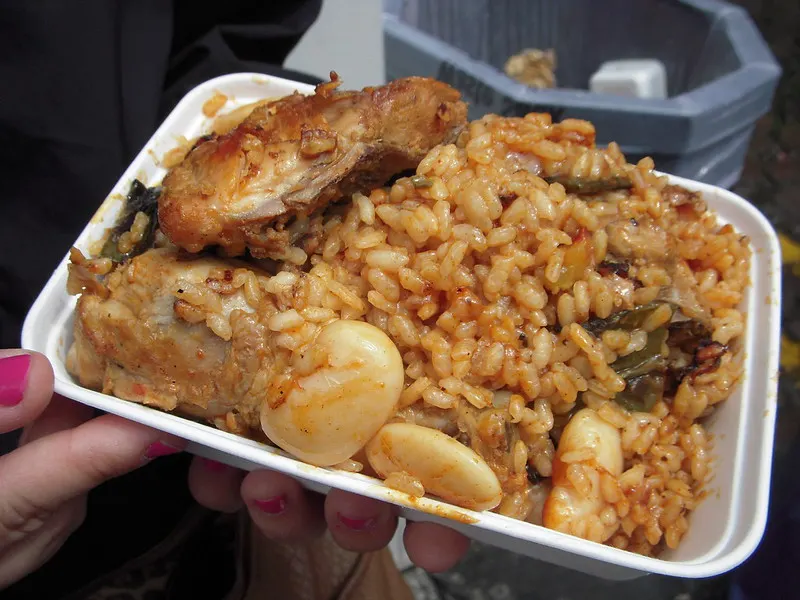 Image credit: An Mai via Flickr CC BY SA 2.0
No.2: Best Portobello Road Food market choices
Choose from:
Indian curries and dhal, flat breads, roti
LOTS of Spanish Paella options
Good ol' British Fish and Chips (wrapped up in newspaper)
Potato twists on a stick
Fresh fruit cups
Chicken kebabs
Fresh crepes
Caribbean jerk chicken, pork and beef
German sausages including bratwurst
Homemade churros with chocolate dip
North African street food stalls
Smoothies and fresh fruit drink
No.3: Notting Hill Bread, Foccacia & Pasta
If bread is more your thing, look out for stalls selling:
Fresh baguettes and bruschetta
Crusty pizza with melty cheese
Italian spaghetti, creamy pasta
This is THE BEST Portobello Kids area!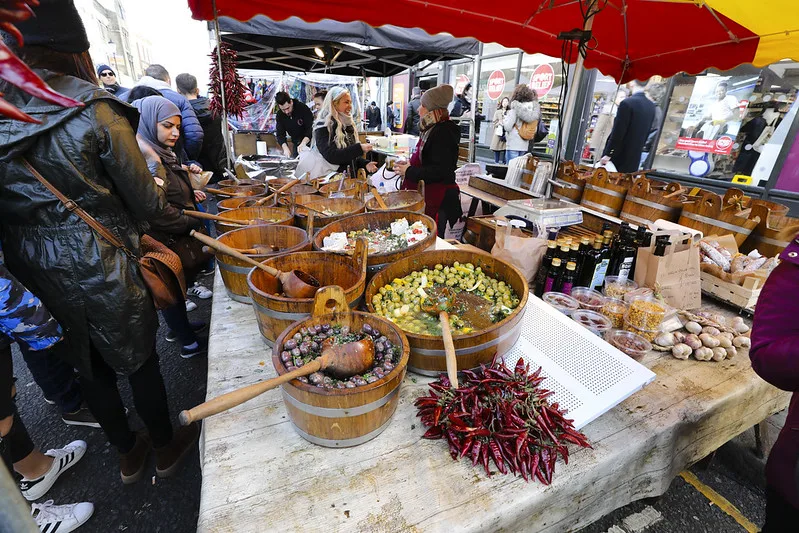 Image credit: Bryan via Flickr CC BY SA 2.0
No.4: Notting Hill Portobello Road Market Food Shopping
Still hungry?
There's iconic London market stalls at Portobello markets, just like you see in the film, including fish mongers, seafood sellers, and cheese stalls
Pick up your favourite foods for a London picnic.
fresh bread, breadsticks, sourdough loaves
fresh blueberries and strawberries
fresh fruit – grapes, figs, avocados, apples, pears and oranges
English baked goods including pasties, spinach pies, vegetable pies, croissants, tomato quiche lorraine, feta triangles, cheese and onion pasties, focaccia,
oils and olives, capers, dolmades
gourmet cheese – feta, ricotta, stuffed capsicum,
smoked meats, salami, prosciutto Italian dry-cured ham, smoked salmon
If you are looking for good London souvenirs, and want to know what to buy at Portobello market, why not take home a selection of sealed bottled goods?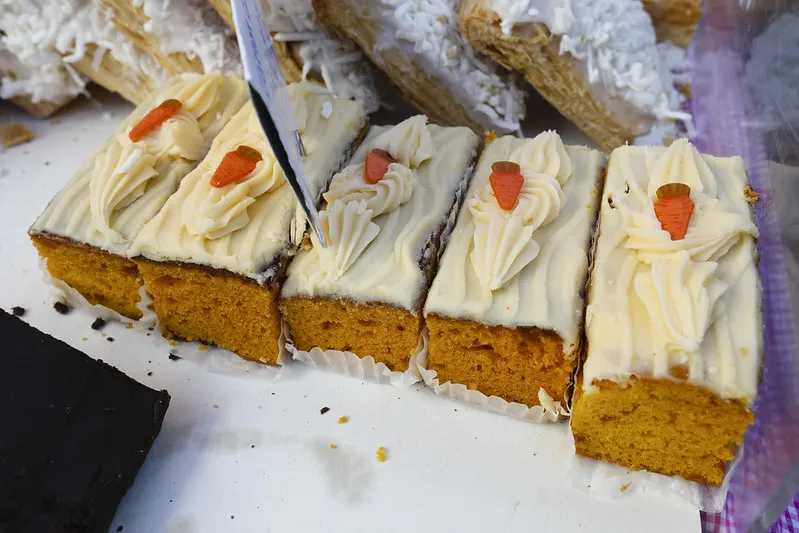 Image credit: Bryan via Flickr CC BY SA 2.0
No.5: Best of the Portobello Food Market Sweets & Treats
Hot tip: Don't miss the sweet baked goods.
You can eat:
delicious cakes including carrot cakes with creamy buttery icing
apple strudel
fresh chocolate cream eclairs
sugared donuts
cinnamon buns
British eccles cakes
cardamon buns, and vanilla buns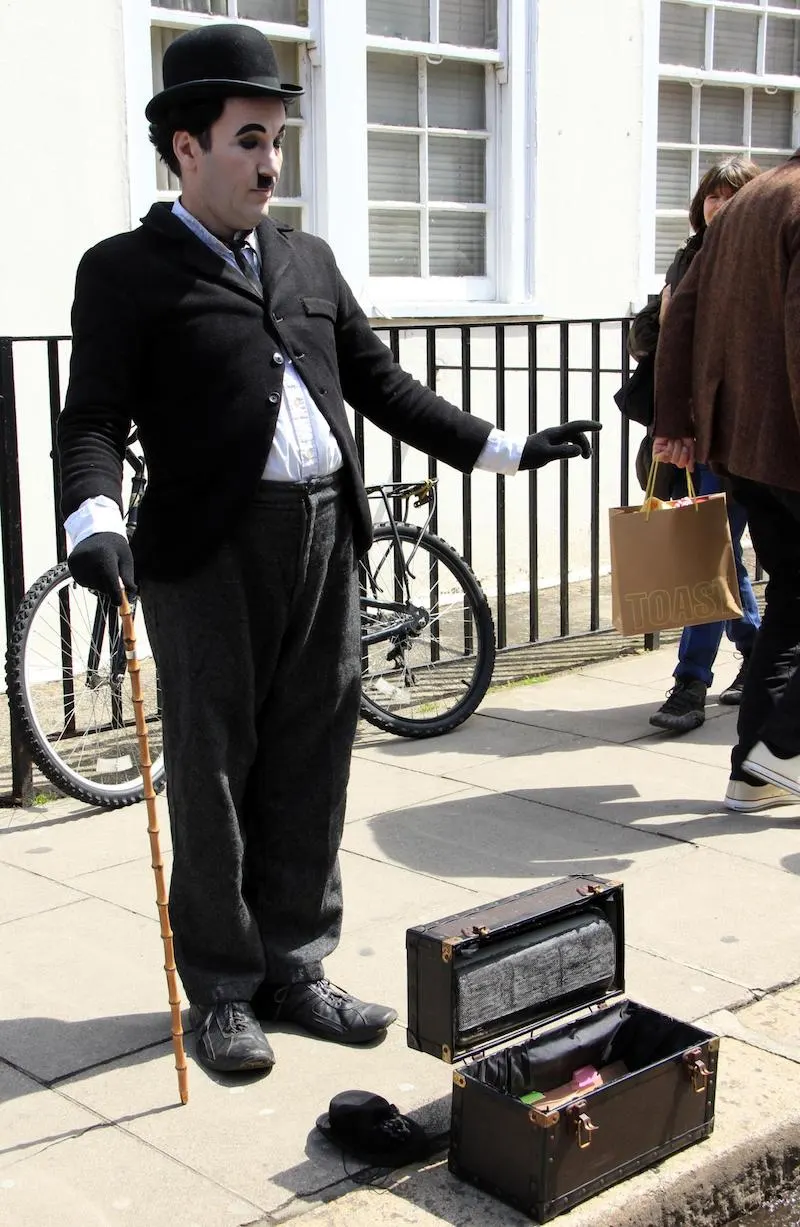 Image credit: Karen Roe via Flickr CC BY 2.0
A Roundup of Portobello Market Days
No.1: Portobello Market Saturday
Saturday is the main market day for antiques in Portobello road, and to feel and be amongst the Portobello Notting Hill market vibe and atmosphere.
No.2: Portobello Market Friday
Friday is the second busiest day.
Head to Golborne Road and the middle of the market for London street food stalls.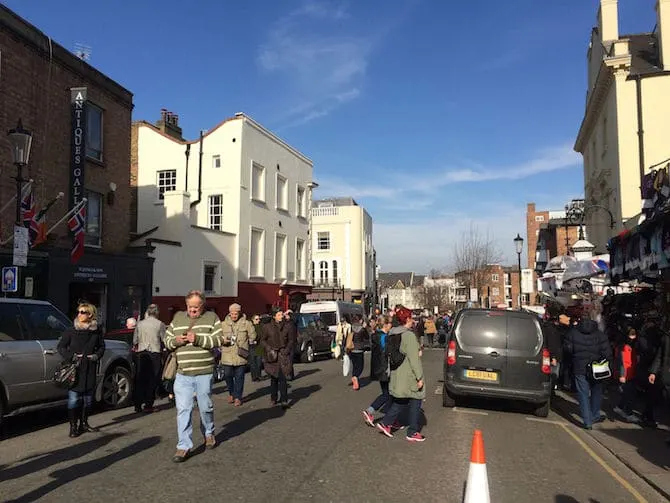 No.3: Portobello Market weekdays
Visit on Monday, Tuesday and Wednesday all day (9am to 6pm) to hang out with the London locals buying up their fruit and veg.
Golbourne Road is the place to buy hot food.
Thursday is a half day, only open from 9am to 1pm.
No.4: Portobello Markets Sunday (Closed)
Sadly, there's no Portobello Market Sunday.
The Portobello street market is closed on both Sundays, and public holidays.
Shops and cafes in Notting Hill are open 7 days a week.
You can visit Portobello Green for a vintage clothing market with a bit of bric-a-brac thrown in.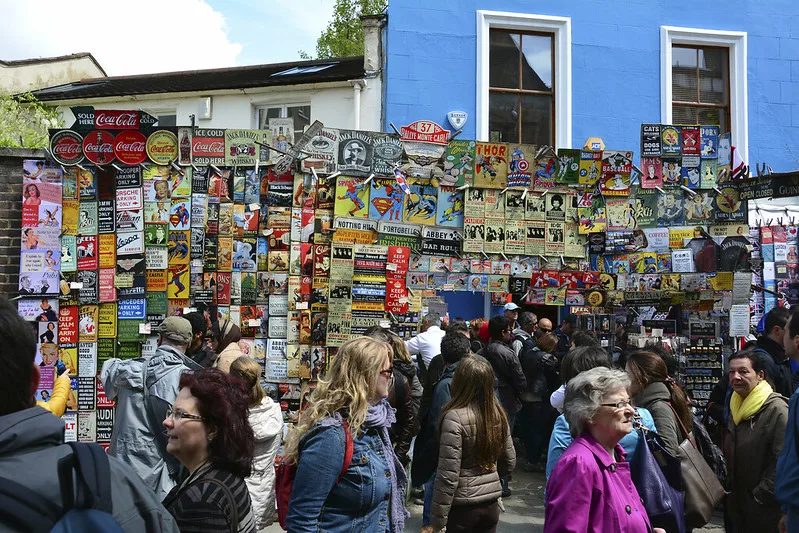 Image credit: Martin Pettitt via Flickr CC BY 2.0
FAQ: What is the best day to go to Portobello market?
We think Friday is the best Notting Hill Market day for the full market experience.
But with slightly less crowds.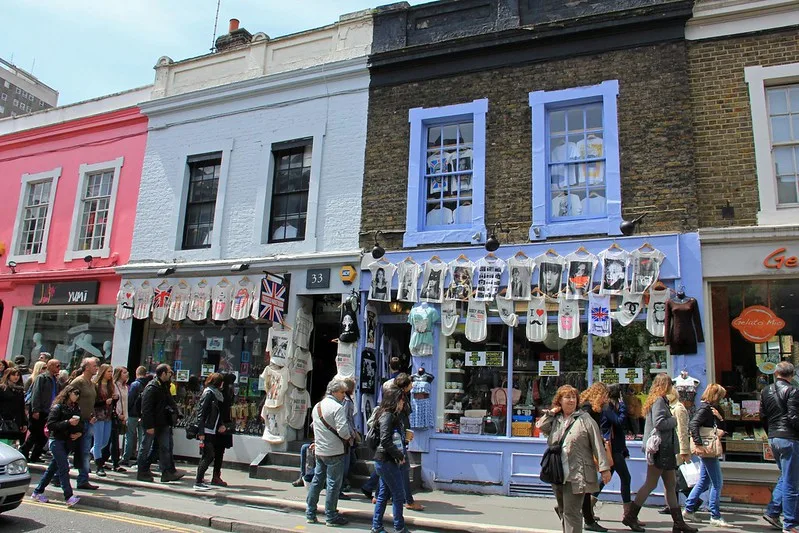 Image credit: Karen Roe via Flickr CC BY 2.0
Interesting facts about the Notting Hill Movie Locations
The film Notting Hill sits at 95th place on the British Film Institute's "list of the all-time top 100 films", based on estimates of each film's British cinema admissions.
The shopfront transformed into the Travel Book Store in the Notting Hill Film is located at 142 Portobello Road Notting Hill, and is now a London Souvenirs Shop, after incarnations as:
an Antique Arcade
a Furniture Store, and
a Shoe Store!
Ironically, the success of the movie boosted the prices of the houses and soon after the shop rents skyrocketed, so shops don't seem to last long…
The famous blue door can be seen at 280 Westbourne Park Road just nearby.
When Notting Hill was filmed, this address was the real life home of screenwriter Richard Curtis, but now it's privately owned, and the original door was auctioned off.
The current owners have once again painted it blue, to keep everyone happy!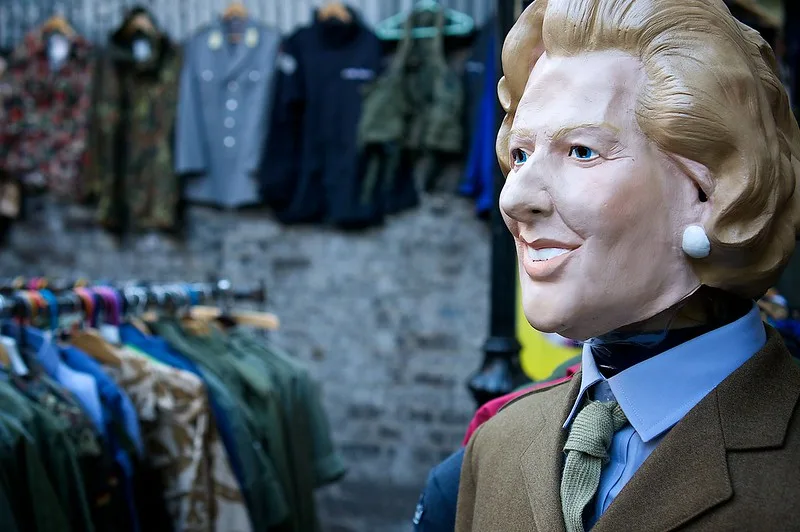 Image credit: Paul Hudson via Flickr CC BY 2.0
FAQ about Portobello Markets London
No.1: What are the Portobello market prices like?
Food prices are fair, although definitely on the upper side.
Fruit and vegetables are reasonable, which is why the locals shop here.
Prices for vintage clothing, antiques, and bric-a-brac are more expensive than you'd find elsewhere in London, because they cater to the tourist market.
Haggle a little.
No.2: How do you eat Portobello mushrooms?
Or, How do you know when Portobello mushrooms are done when pan frying them?
Or, Why are Portobello mushrooms always sold with the stalk removed?
I've no clue.
You'll have to ask the stall holder and let me know when you find out!

THE INSIDE SCOOP: Getting to the Portobello Market Food Stalls
Correct at time of publication on Roam the Gnome. Please check with venue for updates. We apologise in advance if there have been any changes we are unaware of. All prices in British pounds, unless otherwise stated
Address: The Portobello Market address is Portobello Road London, Greater London W10 5TA
Telephone: 020 7727 7684
Website: Click here
Portobello market entrance fee
Entry is free to the Portobello Rd London markets.
Bring enough cash as once you are here, you won't want to be ploughing through crowds to find the closest ATM cash point.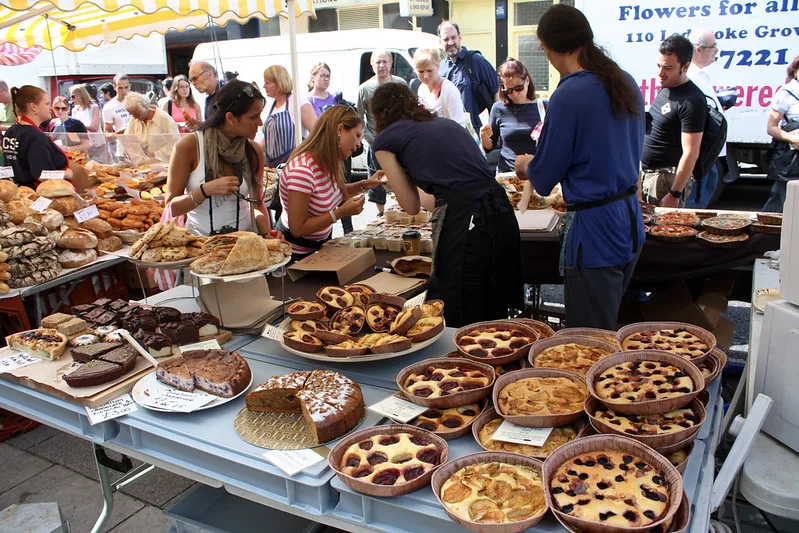 Image credit: Shadowgate via Flickr CC BY 2.0
Portobello Market Hours
The Notting Hill market opening hours are as follows.
No.1: Portobello market opening hours
The Portobello Market London hours start officially at 9am.
At these famous markets in London, the main Portobello antique market day is Saturday.
Friday is the 2nd busiest day.
No.2: Portobello Antiques market opening hours
The antiques market begins to pick up speed about 8.30 – 9am on Saturday.
Avoid the crowds everyday by arriving before 11am.
The market is open until:
6pm Monday to Wednesday
1pm Thursday, and
7pm Friday and Saturday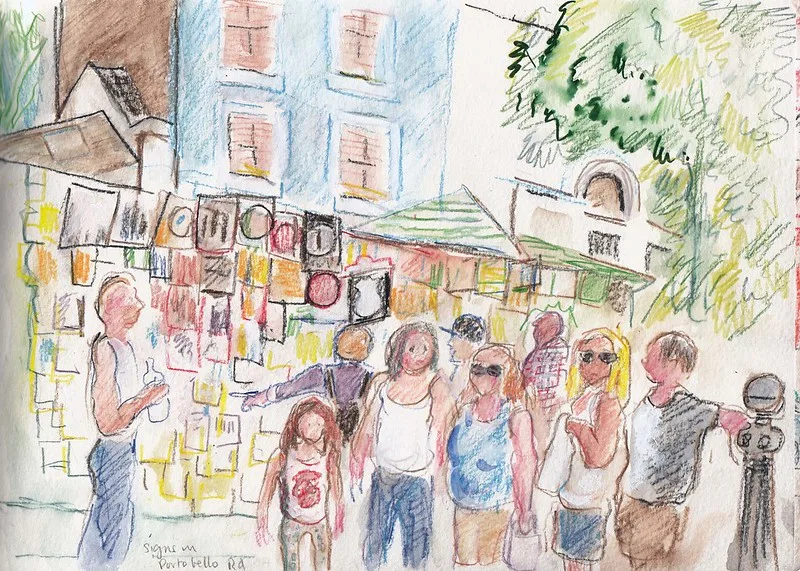 Image credit: Paulina Little via Flickr CC BY 2.0
How to get to Portobello Market Notting Hill
Portobello Road Market Notting Hill is 3 kilometres west of Marble Arch. It's easy to get from anywhere in London by tube or road.
The Portobello market tube station is Notting Hill Gate station. This is the closest station to Portobello market. See below for details.
By Tube: Take the tube to Notting Hill Gate Station which is on the Central, Circle and District lines, and follow the crowd for a walk of about 5 minutes.
By Bus: 7, 12, 23, 27, 28, 31, 52, 70 & 328. Ask your driver where to disembark.
By car: Parking is difficult until 1.30pm. Avoid driving at all cost. Take public transport.
By Taxi: Disembark on the corner of Westbourne Grove and Portobello Road. (less than 10 minutes from the Hyde Park area.)
Portobello Market Map
Toadstool Rating: Portobello Market in Notting Hill
Not great with the kids.
Too busy.
But without them? Make a day of it.
I would say that Portobello Market in London is a must-see London destination for ADULTS and teenagers in London.
Next time, I'm going alone (or with an adult friend) and I will see that elusive blue door!

Looking for MORE places to eat in London with kids?
Click the links in blue below for more London ideas.