INSIDE: Roam the Gnome's Guide to Boundless Playground Canberra.
One of Canberra's most awesome adventure playgrounds is smack bang in the centre of the city, very close to the National Carillon Bell Tower on Lake Burley Griffin.
But if you didn't know it was there, you'd never stumble across it.
When we visited with Roam the Gnome, on a very hot summer's day, we were the ONLY ONES THERE!
This playground is definitely one to put on your list of "Things to do in Canberra with Kids".
We rate it as one of the best playgrounds in Canberra, without doubt.
Take a peek inside below.
Disclosure: This article contains affiliate links. If you make a purchase after clicking on one of these links, we may receive a small commission at NO extra cost to you.

Boundless Playground Canberra (Kings Park Playground)
Boundless Playground is Canberra's FIRST ALL ABILITIES PLAYGROUND in the National Capital, a state-of-the-art playground located on the shore of Lake Burley Griffin at Kings Park.
It was developed as part of a project to celebrate Canberra's centenary, but now it's there for always and ever.
Could it be the best playground in Canberra? It's definitely in the top 3.
---
READ MORE: The ULTIMATE LIST of THINGS TO DO IN CANBERRA WITH KIDS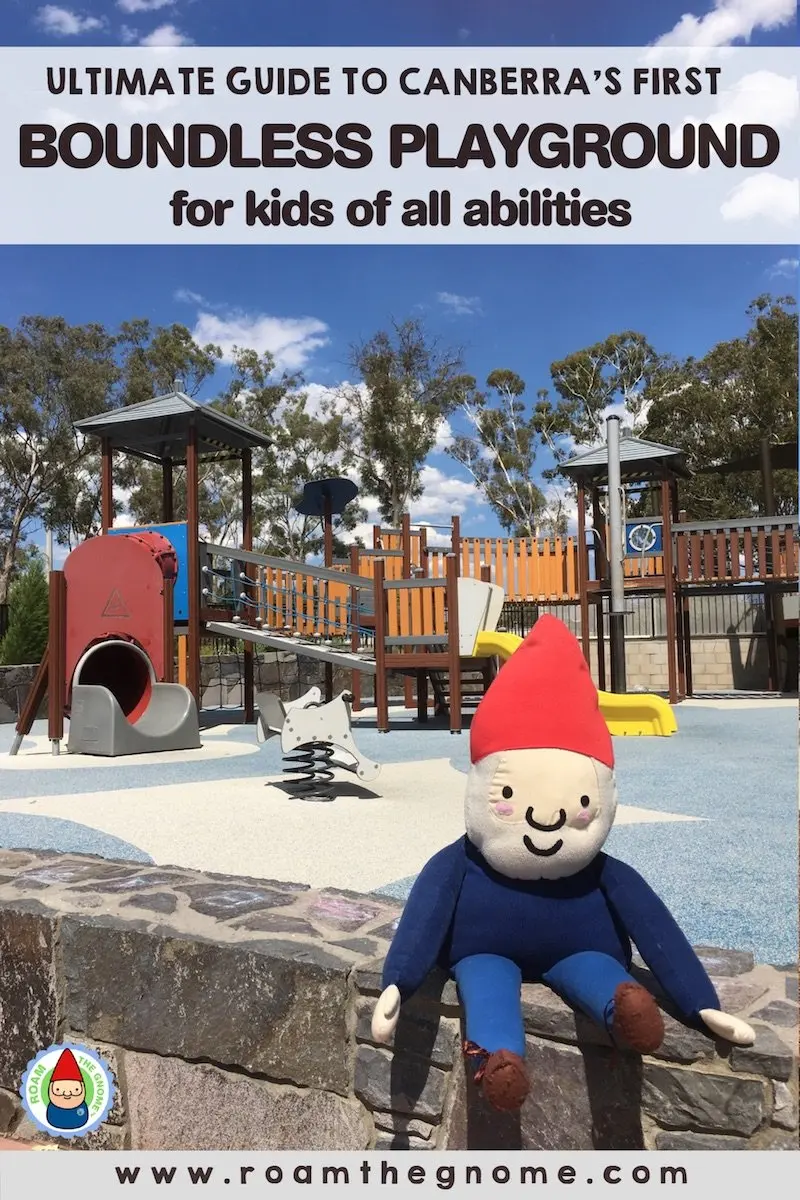 Things to do at Boundless All Abilities Playground in Canberra
There's tonnes of stuff for kids to do at this playground in Canberra for both big kids and small.
There are three distinct zones of play at Boundless Canberra across one giant expanse of prime land, and the whole entire thing is fenced, with a toilet block and water taps right smack bang in the centre.
The hardest thing is to keep an eye on them when they go in separate directions!
As you can see, it's massive!
---
READ MORE: Ultimate Family Guide to the National Australian War Memorial (Kids Activities)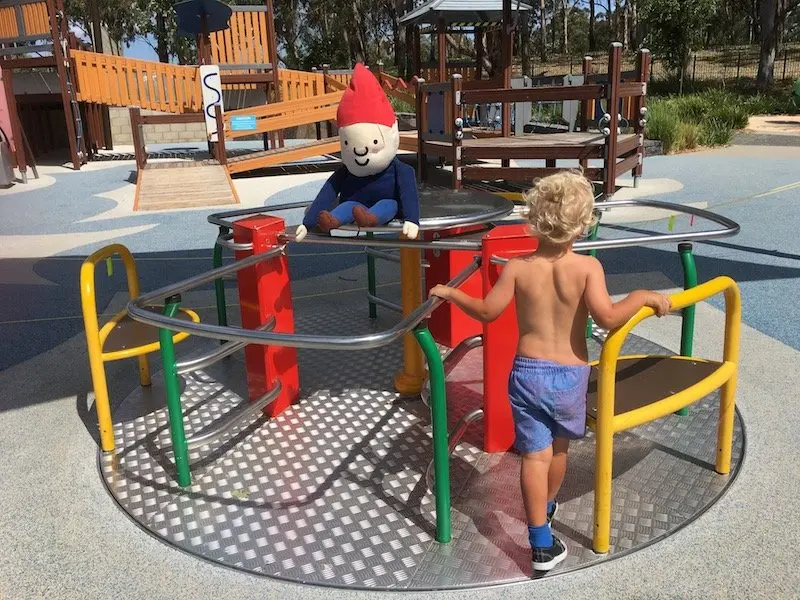 Design of Boundless Canberra All Abilities Playground
What is a boundless playground? And what does boundless playground mean?
Boundless Playground is designed as an inclusive space for both able-bodied and children with disabilities including:
vision impairments
hearing impairments
mobility impairments, as well as
children with spectrum disorders.
Canberra's Boundless play are was designed so that ALL children can use the same equipment without many of the usual barriers to play or inclusion.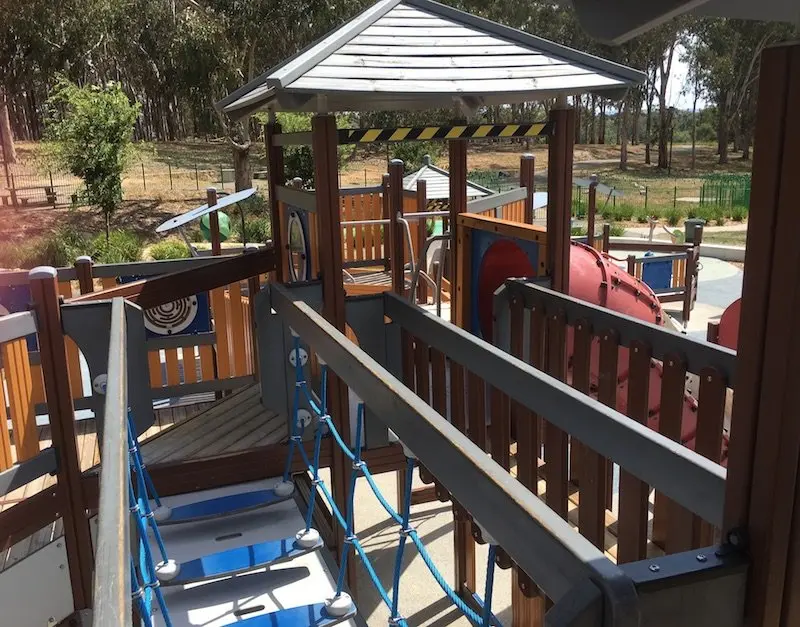 Key differences at Boundless Canberra
Thoughtful design inclusions are:
equipment that can be easily accessed by children of all ability levels without being readily identifiable as 'disabled access' equipment
zoned spaces to cater to a range of different age and developmental levels
elements identified through consultation that reflect the local community, and
a commitment to social inclusion throughout the consultation, design, planning and construction of the playground, as well as a kiosk to be run as a social enterprise.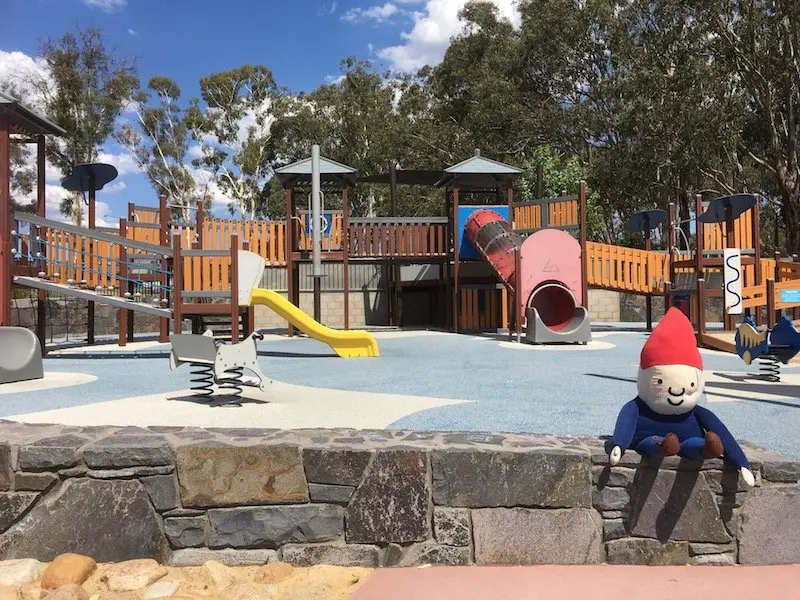 Play Equipment at Boundless Park Canberra
Boundless Playground Zone 1:
Centre stage, there's a giant accessible fort and cubby with:
multiple tunnel slides
slides
a fireman's climbing pole
stepping bridges, and
covered viewing-platform turrets.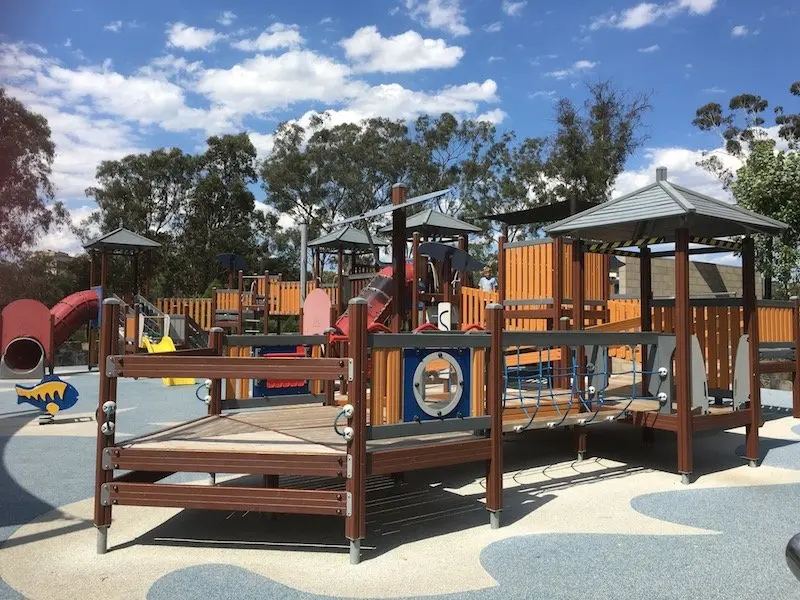 Toddler playground
There are a few toddler rocking toys in front of the fort, and a wheelchair accessible 'merry-go-round'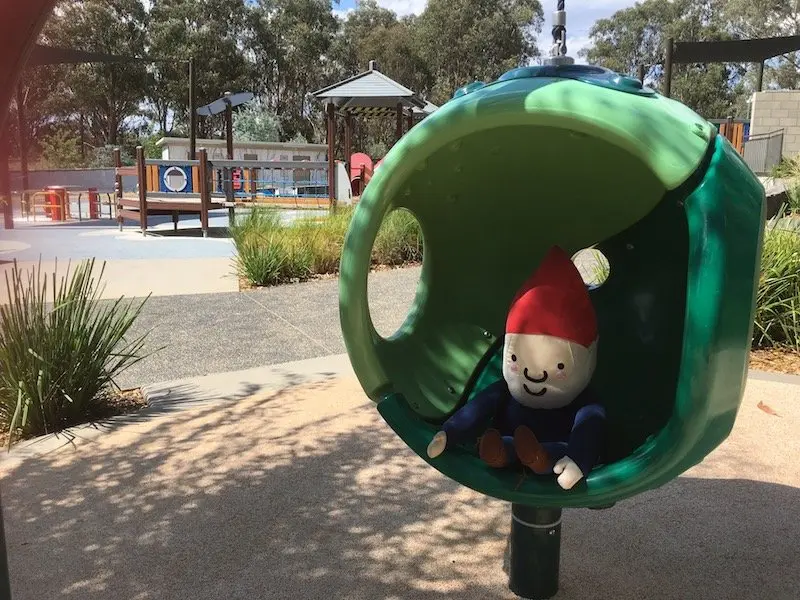 Green space
Kids who like a bit of space, can jump into this green pod spinning chair in the bush zone.
It's perfect for children who like a bit of alone time to chill out.
There's two vertical log stumps for hide-and-seek too.

Boundless Playground Zone 2:
A bike path leads kids to the middle zone with a giant sandpit, and seated digger excavator.
BYO sand toys.
(Here's a guide to our favourite beach toy ideas)
There's a wheelchair friendly aero-glider rocker for multiple kids

Boundless Playground Zone 3:
A giant shade sail covers this area of swings, including:
an all-abilities swing, and
a huge net swing.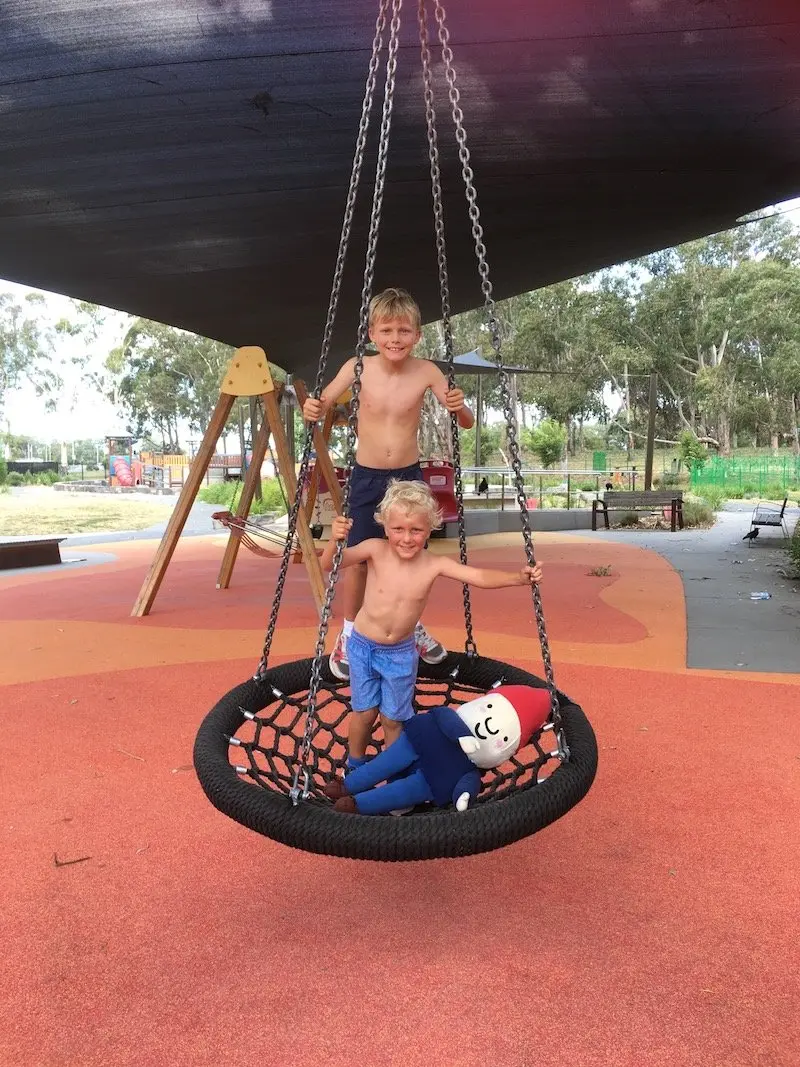 Shaded seating for parents and carers
There's bench seating all round for parents to take the weight off their feet and rest a while!
---
READ MORE: Yarralumla Play Station has mini golf, a miniature railway, & a petting zoo farm!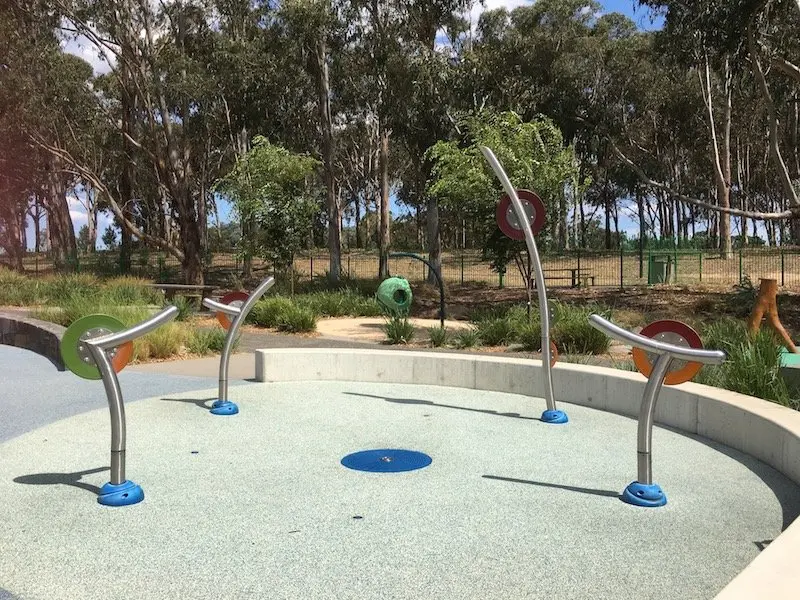 Water Play at Boundless Canberra
The water play zone is to the right of the fort if you are looking from the entrance gate.
This water play area can be accessed by both able bodied kids AND children in wheelchairs, making it the best place for everyone to be on a hot Canberra day!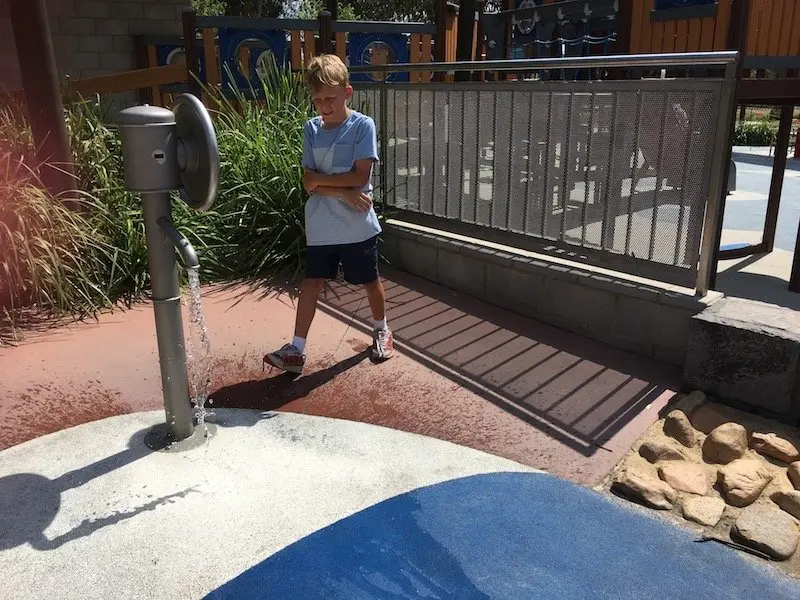 Hand Crank Pump
Kids can turn the hand cranked water pump to start the H20 flowing!
Water makes this play space even more fun.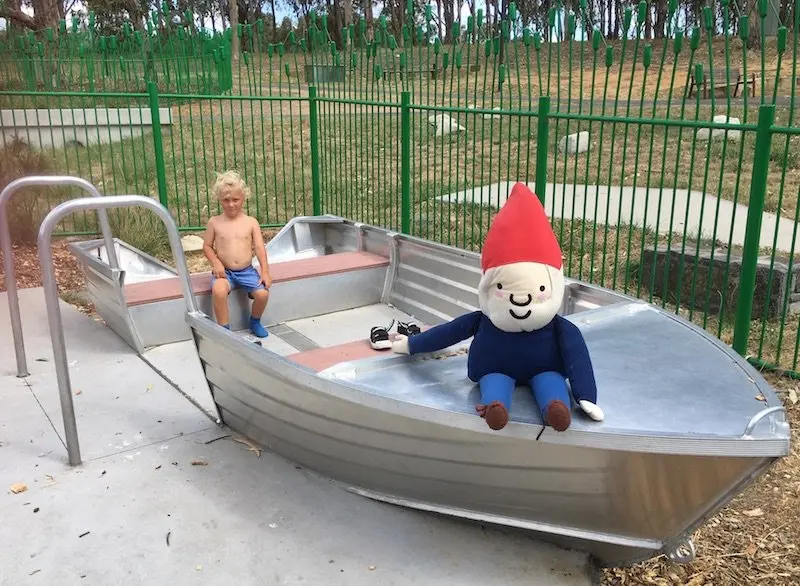 Boat play
On the right is a aluminium boat for imaginative boat-inspired play.
This is not shaded, so it gets hot.
Beware of burned bums!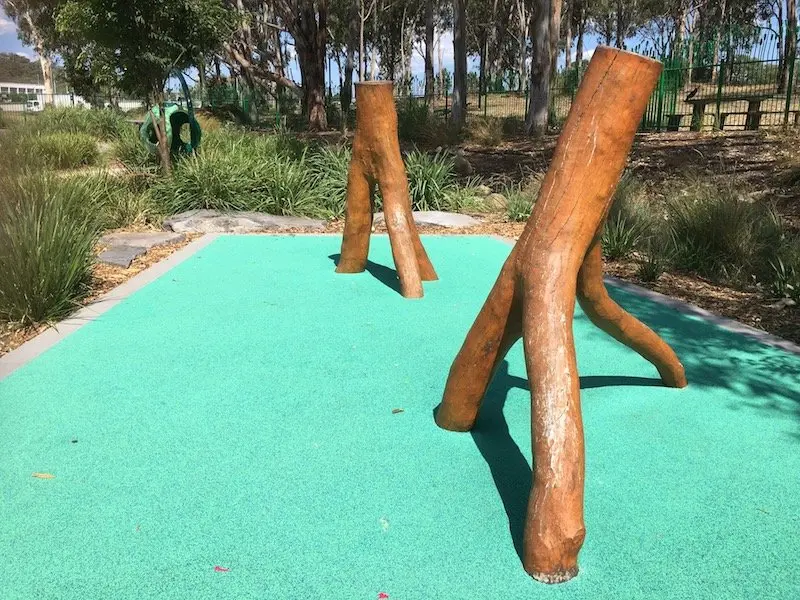 THE INSIDE SCOOP – Boundless Park Adventure Playground Canberra
Correct at time of publication on Roam the Gnome. Please check with venue for updates. We apologise in advance if there have been any changes we are unaware of. All prices in AUD dollars, unless otherwise stated
Boundless Park Canberra Address: Playground in Kings Park, Wendouree Dr, Parkes ACT 2600
Telephone: 02 6271 2888 for playground maintenance and events
Email: [email protected]
Website: Click here
Boundless Playground Opening Hours
Open daily
From 8am to 8pm
Entry Fees: Free!
How to get to Boundless Playground in Canberra
By Bus:
The B830, the 200, 765 and 11 buses all travel to Kings Park.
Disembark at the Russell Dr Russell offices.
By Car:
4.4 km via Commonwealth Ave/A23 (9 minutes driving time), or
12 minutes via Parkes Way and Kings Ave.
Parking at Boundless playground
The park has limited on-site parking, but additional parking spaces are available across Parkes Way with pedestrian access via the intersection and connecting path.
Map of Boundless Playground Kings Park
Facilities at Boundless Playgrounds Canberra
Nearest takeaway coffee: The R2 Cafe (R squared) is located 950 metres away along Kings Ave. We suggest bringing a thermos, and a picnic of healthy food and snacks.
Toilets: Yes, including baby change table.
Disability access: Yes, full access
Shade: Limited. BYO hats and sunscreen. Avoid the middle of the day.
Enclosed: Yes, fully fenced.
Ground cover: Various in different zones. Rubber soft fall, concrete pathways, grass, riverstones
Food options: BYO
Picnic tables: Yes
Electric BBQs: Yes, nearby
Water Bubblers/fountains: Yes
Scooters and Bikes: Yes
Dogs: No
Toadstool Rating – Boundless Review
More shade, and we would rate this a five. But because of the heat restrictions, we give it a solid four.
The playground itself is magical.
In the meantime, our hot tip is to go early before the sun heats up, or late late afternoon.
The heat in middle of the day is brutal.


Looking for MORE of the Best Playgrounds in Canberra for kids?
Click the links in blue below for more Canberra activities for kids.