INSIDE: Everything you need to know about things to Do in Winter in Helsinki with kids in tow!
Helsinki is one of Europe's most underrated cities, a rare gem with small crowds, wide-open spaces, and a picturesque harbour center stage.
But despite the smaller city size, it's impossible to run out of things to do in Helsinki in the winter.
It's the best time to visit, with quaint Christmas markets, charming Christmas light displays AND an ice skating rink, constructed right in the middle of the city next to the main Helsinki Central Railway station.
Travelling with kids to visit Santa in Lapland like we did? (Omg, best trip ever!)
That's the perfect time to add a three-day stopover in Helsinki on your way.
There's an abundance of things to do in Helsinki with kids too.
Check them out below.
Disclosure: This article contains affiliate links. If you make a purchase after clicking on one of these links, we may receive a small commission at NO extra cost to you.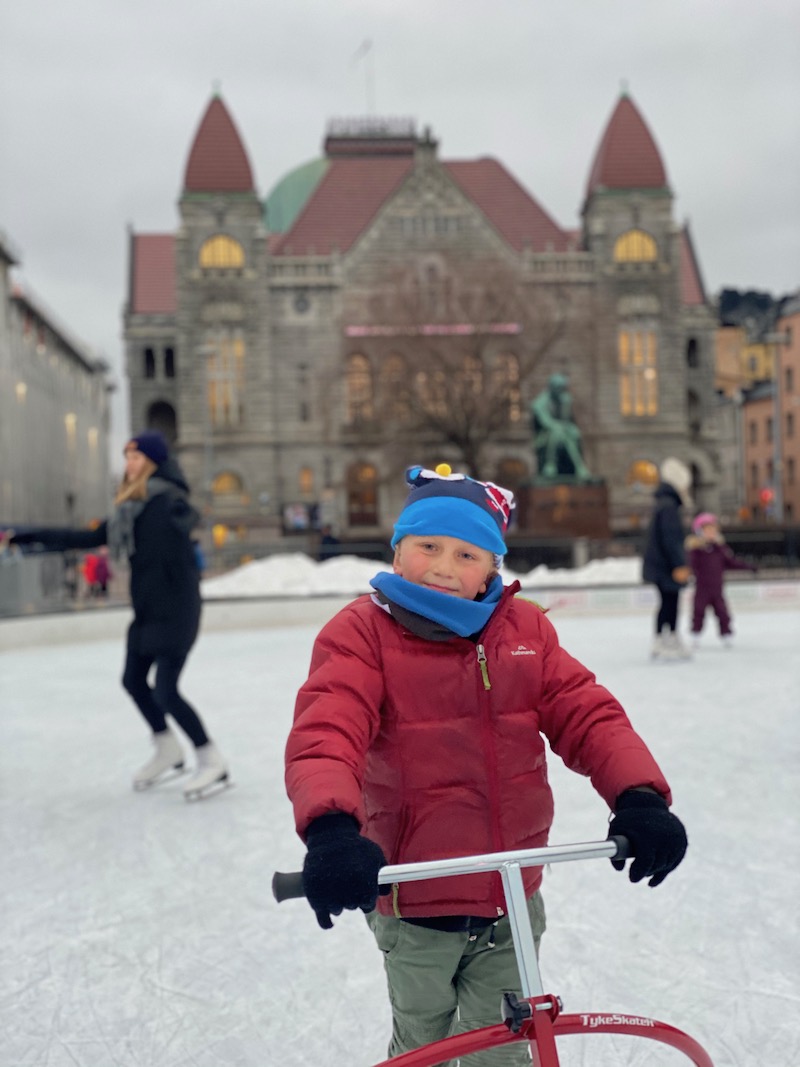 THE INSIDE SCOOP: 11 BEST THINGS TO DO IN HELSINKI IN WINTER WITH KIDS
Correct at time of publication on Roam the Gnome. Please check with venue for updates. We apologise in advance if there have been any changes we are unaware of. All prices in US dollars, unless otherwise stated
Take a look at the top 11 things to do in Helsinki in winter below.
No.1: Ice Skating in Helsinki City Square
If you've always dreamed of recreating the romantic ice-skating scene from the film Serendipity, you don't need to battle the crowds of New York, or wait in line for hours there, hoping for a vacancy.
The central Helsinki ice skating rink opens in early winter, and is a popular place for couples, families, kids of all ages, grandparents, and teens.
Visit the ticket booth, pay for entry, pick up your skates, and off you go.
Be on the rink in less than 10 minutes from arrival, and skate all day for the one price.
Unusually, this skating rink doesn't have a waist-height handrail to hold on to.
Luckily, for those who are a little rusty on the skates, the Ice Park provides free skating aids to help with balance.
These half moon shaped frames have an adjustable height that can be altered to suit both kids and ice-rink shy adults.
Take a well-earned break when the ice machine comes to refresh the ice, and head into the in the indoor café on site, out of the cold.
Find a table with friends to enjoy hot chocolate and mini marshmallows, or a warm savory snack straight out of the oven.
Ice skating fees are 6 € for adults, and 3 € for children under 18.
If you require them, skate hire costs 6 € per person.
Helsinki Ice Park "Jääpuisto" is open:
Monday to Friday from midday to 9pm, and
weekends from 10am to 9pm.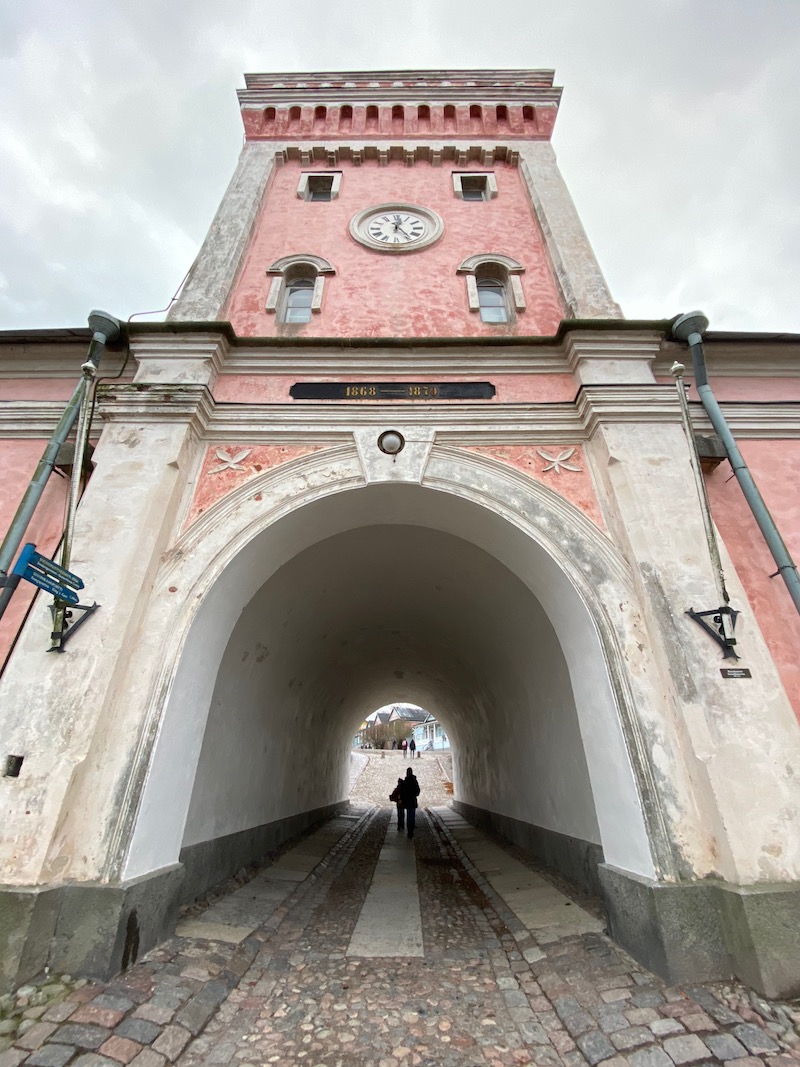 No.2: Suomenlinna Sea Fortress World Heritage Site
Over 900,000 visitors every year make Suomenlinna Fortress one of Finland's most popular tourist destinations, but in winter, you'll barely see a soul, making it the best time to visit this picturesque but harsh island.
Catch the ferry to Suomenlinna from the Market Square next to Helsinki harbour.
The ferry runs at least once hourly, from 6am until 2pm, during the winter months.
Enjoy a 15-minute ferry ride, past the Allas Sea Park on your left, before arriving at the dock.
Stop in at the Visitor Information Center to pick up a brochure and map of Suomenlinna Island.
The best trail to follow is the blue route.
This popular track leads visitors past:
the Suomenlinna Church
the library and
Suomenlinna Museum
The Great Courtyard and Ehrensvärd's tomb, and
all the way to the King's Gate.
Find your lion's courage and wander into the shadowy secret corridors inside the fortress walls as you pass through.
It's spooky but spectacular!
Allow at least 3 hours to wander the island and back.
(And take all your warm clothes – the wind bites hard!)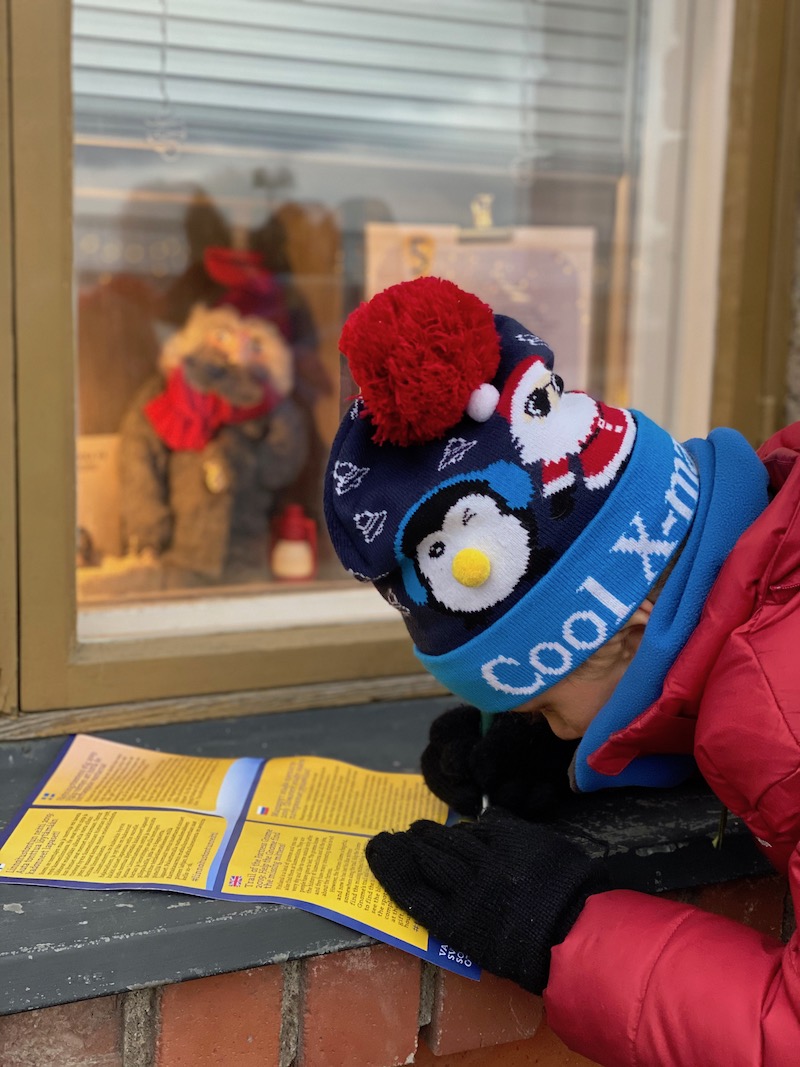 Traveling to Suomenlinna with kids?
Collect a children's map of Suomenlinna from the information center.
The map is colourfully illustrated, plus it features two pencil games aimed to engage kids in the history of this castle of Finland.
There may also be a Gnome's Trail to follow. Ask at the counter.
Suomenlinna Tourist Information is open 10am to 4pm all year round.
FAQ: How much is the entrance fee to Suomenlinna?
Wandering around the island is free.
Pay only for the ferry ride over and back.
FAQ: How much is the ferry to Suomenlinna?
It's in Zone A of the Helsinki transport system, and is included in the day pass (see below for details.)
However, the ferry ticket does not include entrance to the museums on the island.
You need to pay entrance at each museum separately.
FAQ: Suomenlinna Museum opening hours in Winter?
During winter, the Suomenlinna Museum is open for visitors.
Hours are 10.30 to 4.30pm.
Entry is:
8 € for adults
4 € for kids 7-17
Under 4's are free.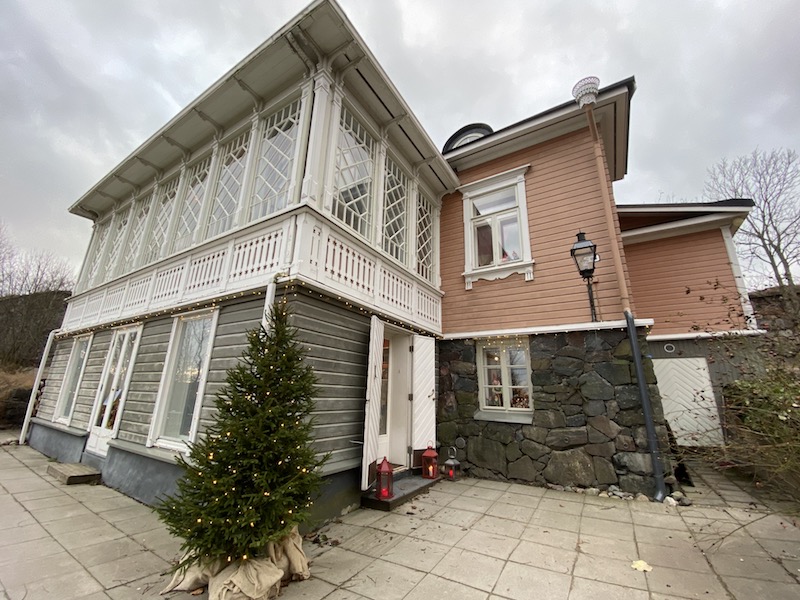 No.3: Suomenlinna Toy Museum Helsinki
To find the Toy Museum on Suomenlinna, take a left past the Suomenllinna church and playground area, and wander off the beaten track down towards the water.
This will lead you to the building housing the Old Toy Museum on Suomenlinna Island.
This private collection of vintage toys is housed in a cute cottage overlooking the sea.
Pick up a free guidebook as you enter so you can learn more about the history of these dolls and toys.
Be wowed by:
the meticulous collection of porcelain dolls, large and small, dating back to the 1860's
rayon fur teddy bears
vintage Finnish board games and children's play toys
a postal game and miniature letterpress set
Finnish playing cards
Finnish children's tea sets, and
Moomin figurines from the 1950's.
FAQ: Suomenlinna Toy Museum entry fee
Entry is:
7 euro for adults
3 euro for children 7 to 17 years, and
free for children 6 years and under.
Buy a family ticket (2A + 2C) for 19 euro.
It's expensive for what it is, but it's important as a traveler to support small local businesses like these ones so Finnish history is not lost.
PS: There's a very cosy cafe inside the doors, and it's a good spot to take a few minutes break from the cold.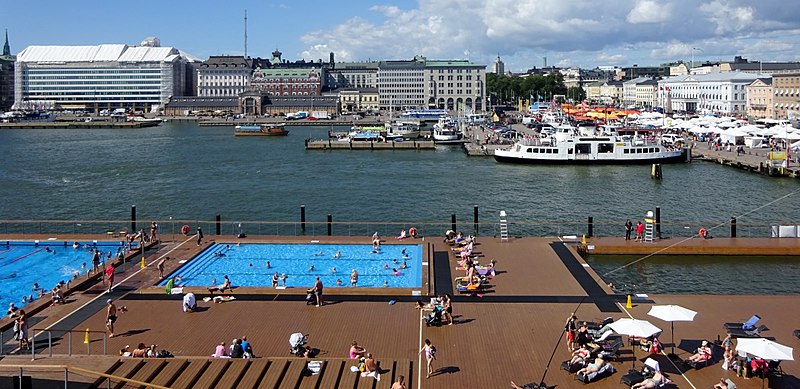 Image credit: Paasikivi via Wikipedia CC BY SA 4.0
No.4: Allas Sea Pool Helsinki
Spy the duo of harbour side swimming pools located on the right as the ferry skims the coastline home from Suomenlinna.
Heated year round by renewable energy, the Allas Sea Pool warm water pool is a tolerable, lukewarm 27° degrees Celsius.
That's considerably warmer than the Sea Water pool just a few steps away, that invites swimmers in for a dip in waters of 1- 2° degrees Celsius during winter!
Don't like the idea of freezing to death between the pool and the change rooms?
Try a HOT sauna instead. It's the Finnish way!
Allas Sea Pool opening hours
Pools are open daily, from:
6.30am to 9pm Monday to Friday, and
later opening times on weekends.
Allas Sea Pool entry fees
Entry to the Allas sea pool is:
14 euro for adults and kids over 13
7 euro for kids aged 3 to 12, and
free for under 2 year olds.
Pool tickets are available online or at the door.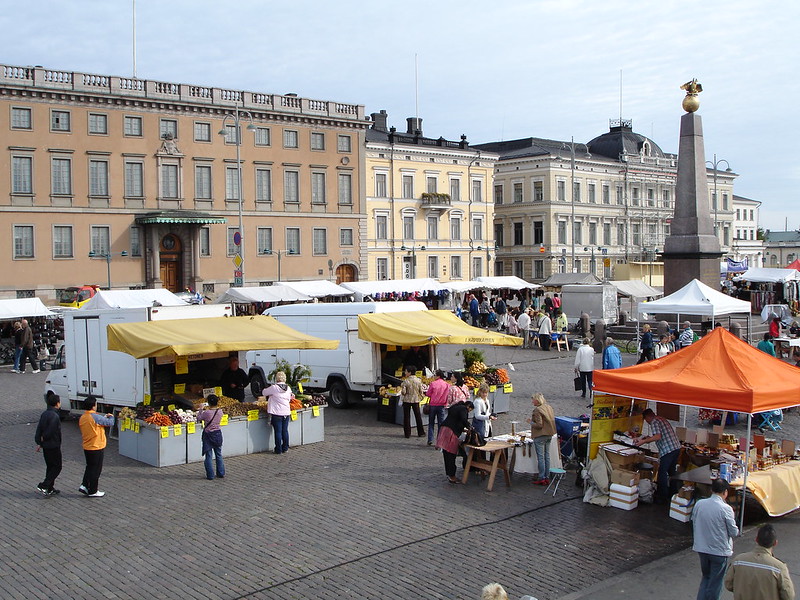 Image credit: Eoghan OLionnain via Flickr CC BY SA 2.0
No.5: Market Square
Round off a swim at the pool with a quick visit to Market Square.
It's a great spot to people watch as it's a local's market as much as it is a tourist market.
This cobblestone open-air market square is the departure point for the ferries, but it's also home to a small Christmas market during winter.
Pick up a punnet of Finnish berries to snack on, or stock up on hand knitted woollen scarves to keep out the swift breeze from the Baltic Sea.
The market is open from 10am until mid afternoon.
Entry is free.
No.6: Senate Square Christmas market
For a real Finnish Christmas market experience, head to Senate Square in Helsinki.
This MAGNIFICENT Helsinki Christmas market transforms the open plaza area below a view of the giant steps leading up to the Helsinki Cathedral, making it one of the most picturesque settings for a Christmas market in Europe.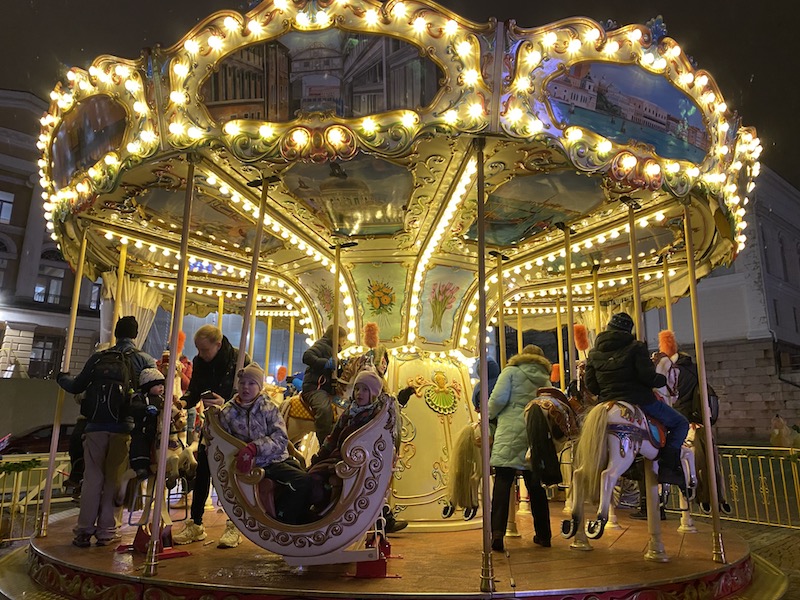 FREE Helsinki Carousel!
Kids (and parents) love the FREE carousel they can ride again and again.
This community-minded treat is a welcomed respite for those travelers weary of putting hand into pocket to pay over the top prices for children's activities at most Christmas markets in Europe.
Helsinki Christmas Market shopping
Spacious and pleasant, without the heaving crowds, this market is full of handcrafted goods including:
woollen sweaters, gloves, hats and scarves
delightful Christmas decorations in Finnish style
miniature needle-felted fairy dolls
handmade Finnish chocolates
Finnish smoked meats
regional tea and coffee products.
The market is quaint, and cute to boot!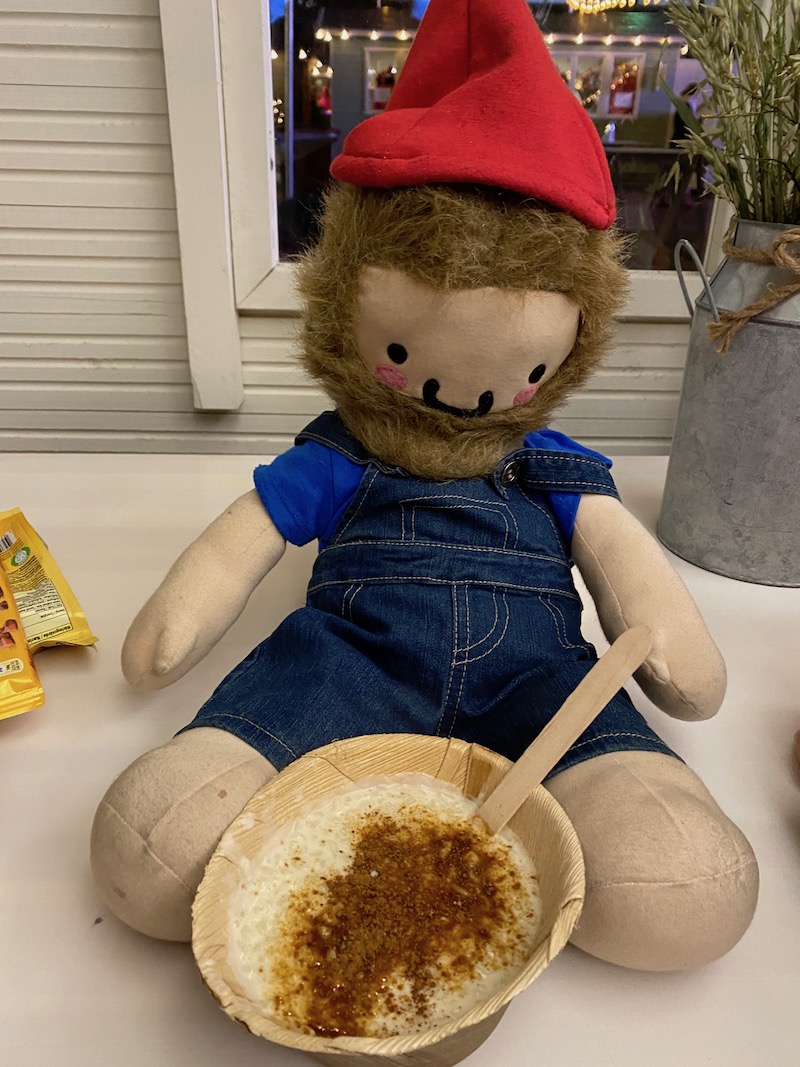 No.7: Eat Traditional Finnish Rice Pudding
Cross one off your Finnish food bucket list.
Try the genuine Finnish Christmas porridge dish at the Kaslink Genuine Porridge cottage at the Senate Square market.
Served with a pat of butter, a drizzle of milk, sugar and tonnes of cinnamon, the salty flavour makes it an acquired taste, but one you won't forget in a hurry!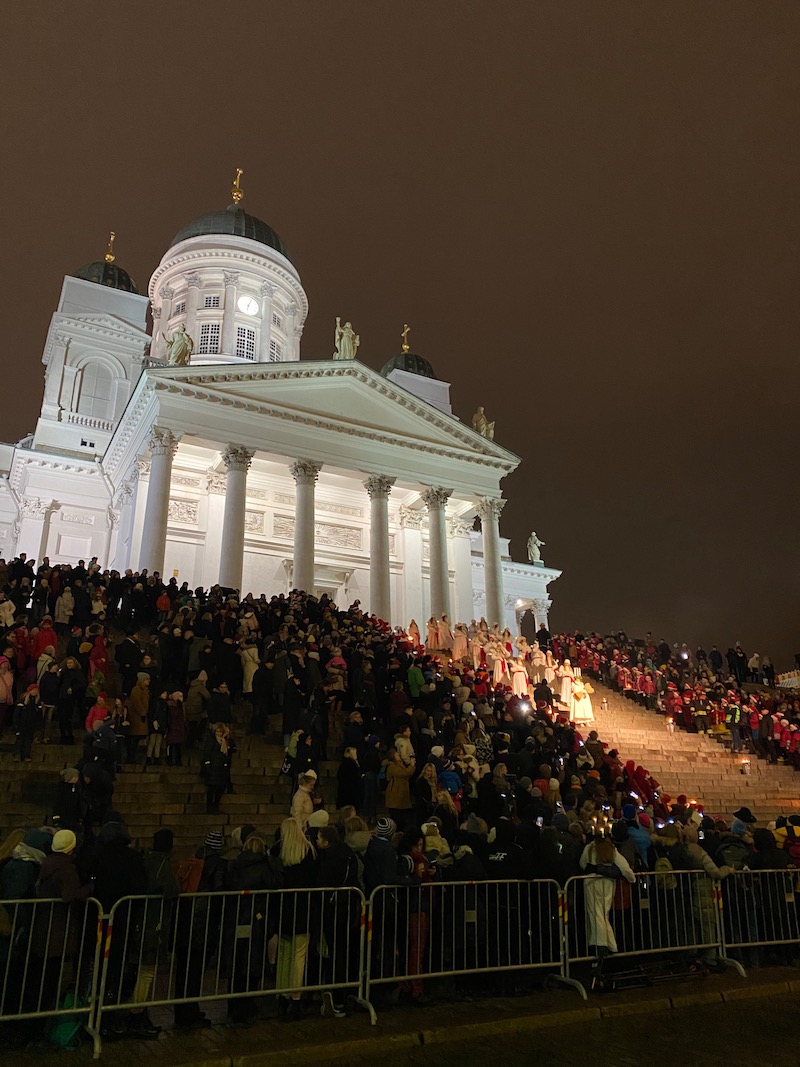 No.8: Watch Santa Lucia parade in Helsinki
One of the highlights when you visit Helsinki in winter is watching the elegant Santa Lucia ceremony, and parade on December 13th.
Find a standing spot at the base of the Senate Square stairs, in view of the large television screen, to watch the ceremony unfold inside the Cathedral live on screen.
You'll then be well positioned to view the newly crowned Santa Lucia maiden descend the stairs in full glory, rugged up in luxuriant white coat and gloves, a crown of burning candles atop a wreath of green foliage, balancing carefully on her head.
Santa Lucia and her chosen circle of women are the stars of the parade through the streets of Helsinki, supported in the procession by:
local community groups
school children dressed up as gnomes, &
miniature Santa Lucia copies (with candle crowns powered by batteries) and,
local families.
Be in place by 5pm for a 6pm start.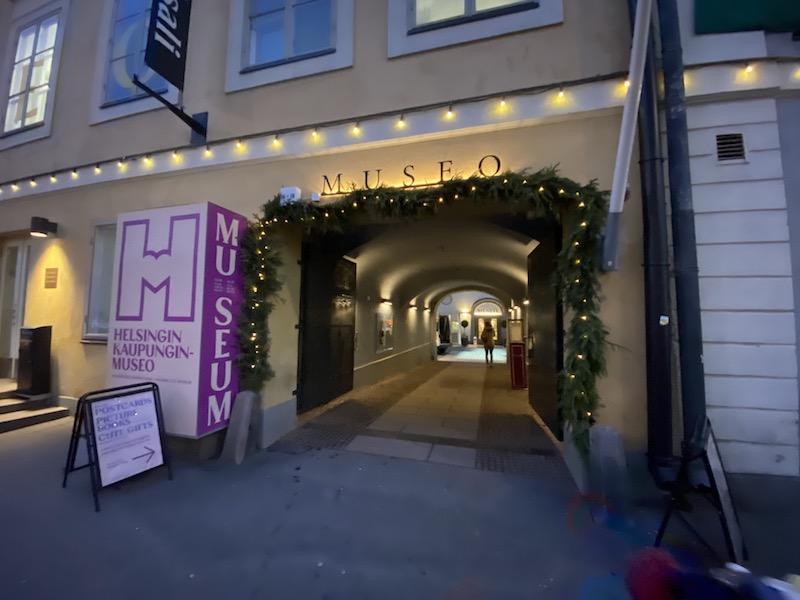 No.9: Helsinki City Museum with kids
Take advantage of free entry to this Helsinki museum and enjoy the current exhibitions.
Dig a little deeper into the daily lives of the not so fortunate locals who call Helsinki home in the Helsinki Hobo exhibition, a curated exposition made possible by the careful journal keeping of Johan Knut Harju during his time on the streets.
Helsinki Bites exhibition is the alternative exhibition, taking visitors back in time to see what it was like to grow up in Helsinki of old.
Try the steel spring bed to appreciate modern luxuries!
Visiting Helsinki with kids?
Stop by Children's Town, a hands-on exhibit and play space showcasing Helsinki's heritage and history.
Children can play schools in the 1930's schoolroom, become a post office master, perform a puppet show, and explore themed rooms.
Helsinki Museum opening hours
Find the museum at Aleksanterinkatu 16.
It's open from 11am to 7pm, Monday to Friday and 11am to 4pm weekends.
Entry is free.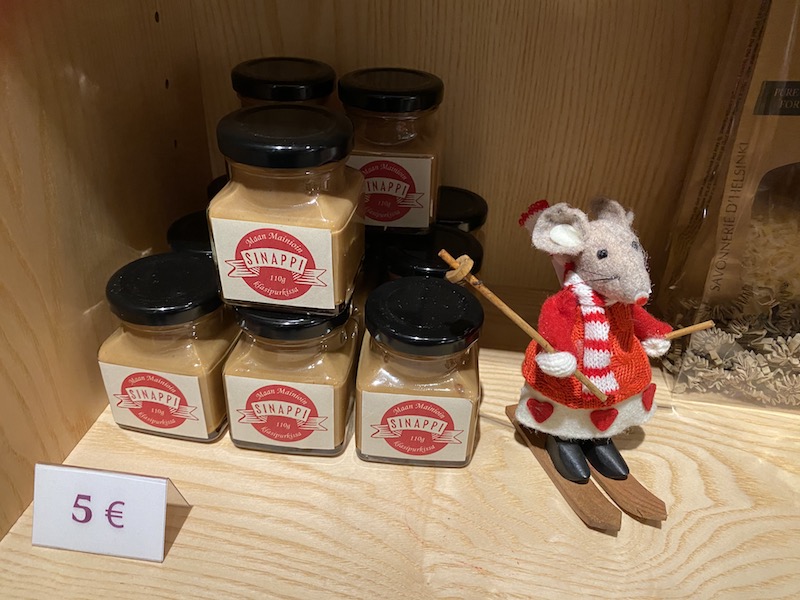 Helsinki Museum Shop
Looking for authentic Finnish souvenirs?
Keep warm and head straight to the superb gift shop on the bottom floor of the Helsinki Museum, opposite Senate Square.
Their carefully curated selection of souvenirs and gifts from Finland includes:
a number of designer artworks
postcards by local artists
handmade scarves
Finnish picture books
Finnish tea towels and tote bags
Finnish paper craft and
Finnish toys.
When the day's budget is all spent, it's time to head to the Helsinki Moomin Cafe for refreshments.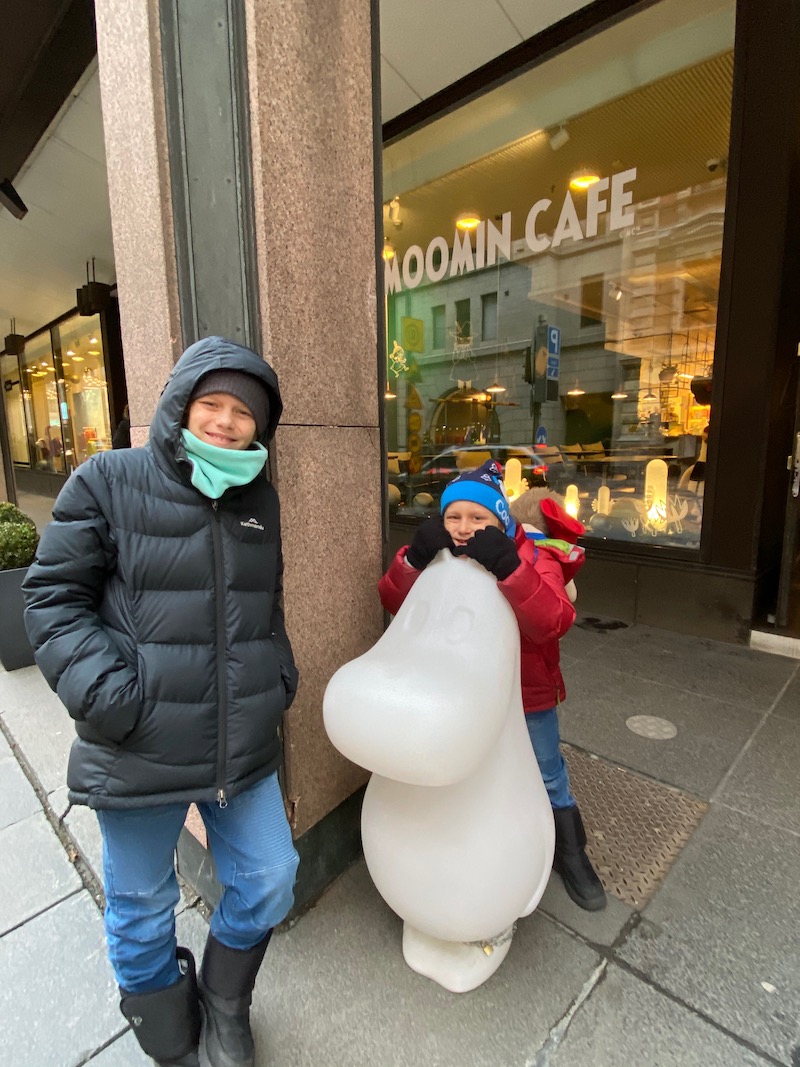 No.10: Moomin Café
When it's time for a refreshment, stop for an adorable Moomin-topped cup of coffee or hot chocolate at the Moomin Café in Helsinki.
Hungry?
Choose from a display of cakes including:
Blueberry Cheesecake
Red Velvet Cake
Blueberry Pie
Vegan Mousse Cake, or
a savory veggie quiche, cheesy pies, or croissants.
Find a table at the rear of the cafe next to the children's play area so kids can play while you wait.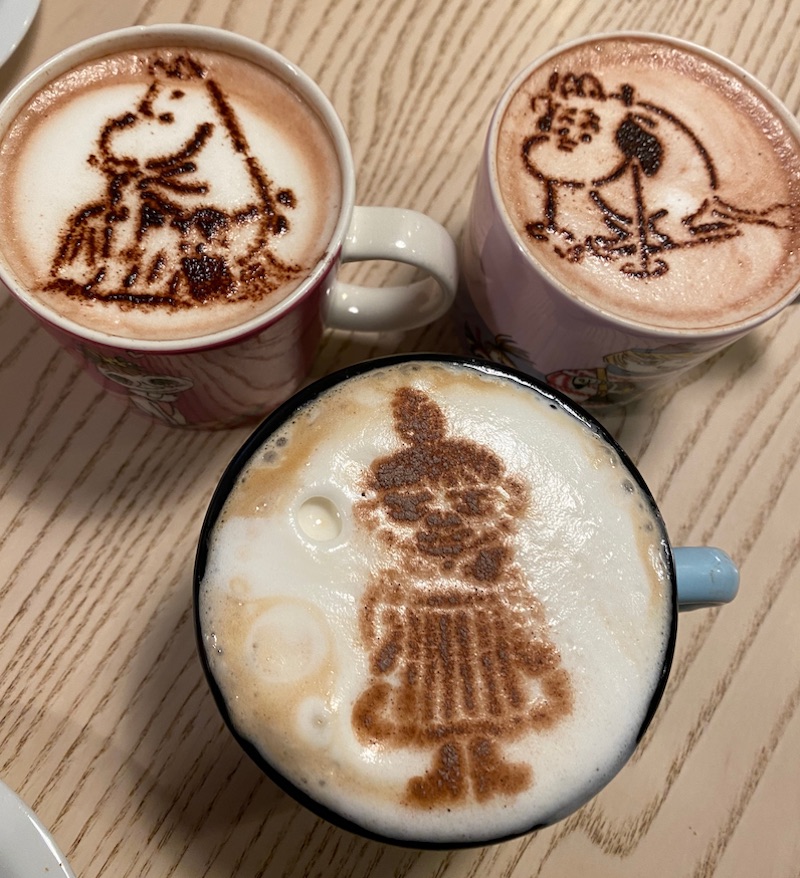 Want to take Moomin souvenirs home?
Sneak a peek at the range of Moomin gifts and souvenirs behind the play area in the cafe.
There's everything from Moomin mugs, stationery, key rings, eye masks to plush toys.
Near the front door, there's another shelf full of Moomin food gifts including:
Moomin cookies
Moomin tea gift boxes, and
Moomin instant cocoa.
Head to Fabianinkatu 29 in Helsinki city, near the Esplanadi to find it. Café opens at 10am till 6pm.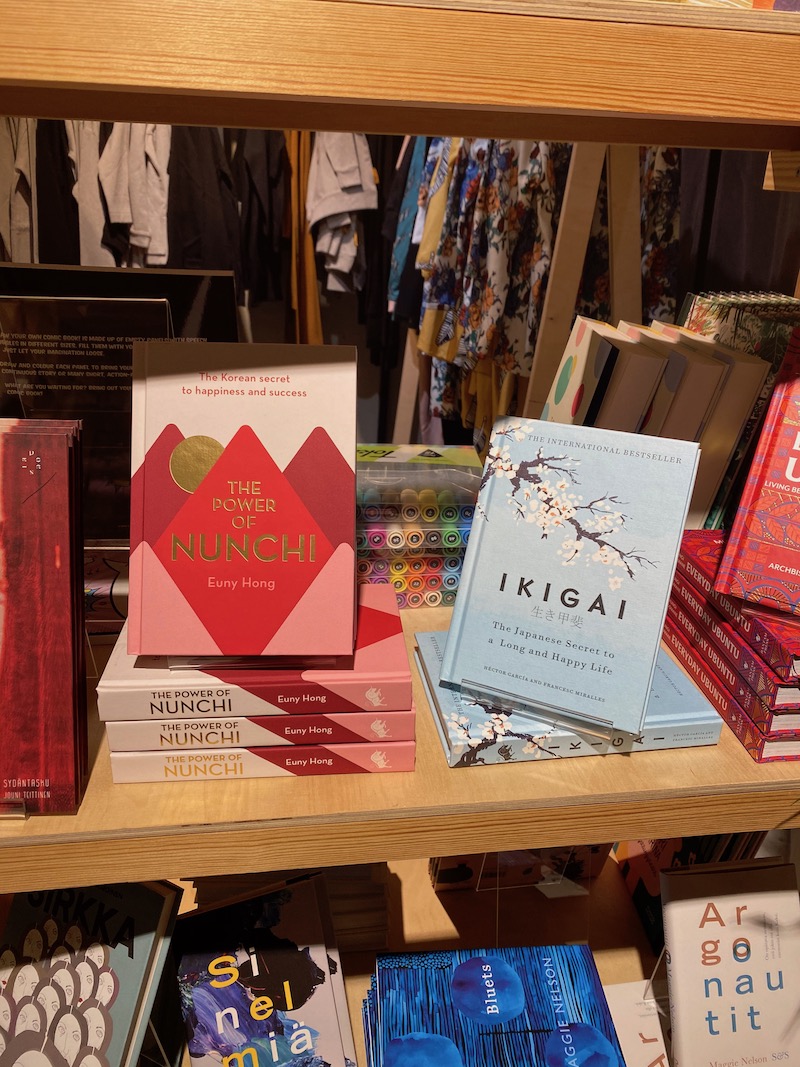 No.11: Danish Design Store, World of Tre
End Helsinki shopping expeditions with the kids in tow on a high note at the Finnish design store, World of Tre.
(This one is for the adults in the group!)
This Nordic shop soothes the body and soul, filled as it is with natural cosmetics, stylish sunglasses, linen clothing, and vegan boots.
Stock up on gifts including:
Moomin lamps
simple Finnish ceramics
fabulous Finnish furniture and homewares
Finnish children's swings
inspiring coffee table books, and
Finnish hair care and skincare essentials.
Visit the main store at Mikonkatu 6 in Helsinki, from 10am Monday to Saturday, and from 12pm Sundays.
You'll also find a second TRE shop at the Forum Shopping Center, on the 2nd floor entrance on Mannerheimintie 20.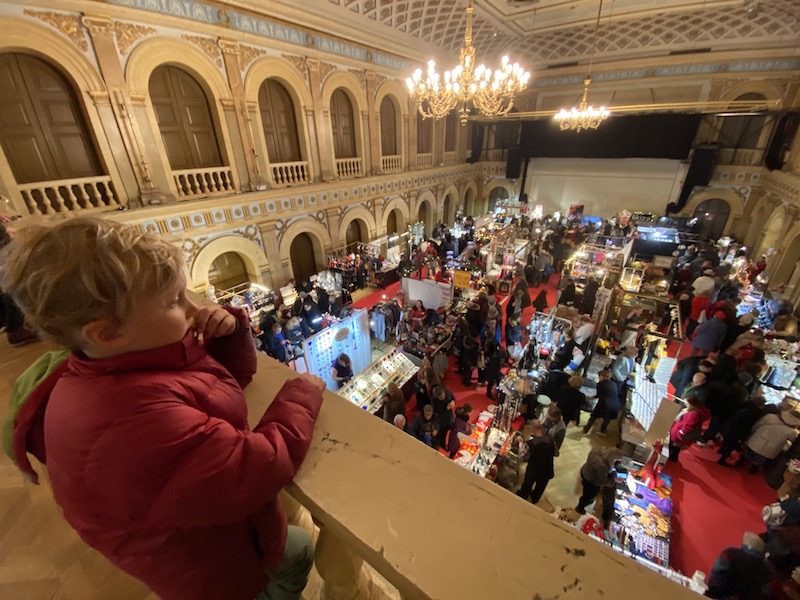 All you need to know about Helsinki
The city of Helsinki was first established as a trade hub in the mid 16th century, and has now become one of the world's most liveable cities, with a reputation for style, and good design.
Helsinki is one of the easiest towns in Europe to navigate.
Many visitors arrive via ship to the Port of Helsinki South harbour.
The city CBD is a flat 20 minute wander from the Silja Line terminal, or a 5 minute tram trip from the Viking Line terminal on the other side.
The Helsinki airport is 12 miles (20 kilometers) from the CBD. Ride the airport rail link to Helsinki central station, next to the ice rink, in 30 minutes.
Typically, Helsinki winter daylight hours are:
sunrise between 9am and 9.30am
sunset between 5 and 6pm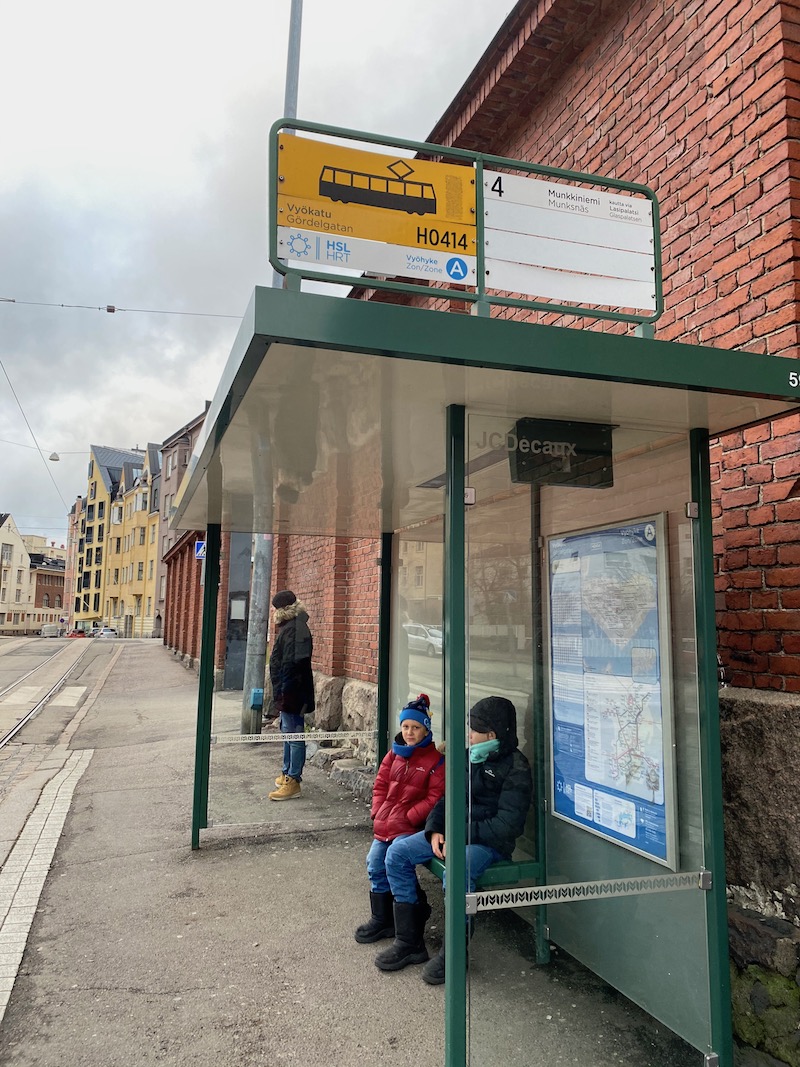 How to ride tram in Helsinki
Once in town, the transport option of choice is the tram.
Helsinki transport area has four zones.
Ticket prices are based on the distance travelled.
The cheapest way for visitors to travel is buying a day pass valid for 1 to 7 days.
Choose the required zones to determine the correct price.
Purchase tickets from HSL ticket machines around town, or via the free HSL app, via the App store.
There are tickets for adults, and children 7-17 years.
Some hotel and hostel concierge desks also sell day passes for the Helsinki transport system.
Helsinki tram prices
Single tickets for adults cost 2,80 euro per trip.
Day pass ticket prices for zone AB start from 8,00 euro.
Children under 7 travel free.
What language do they speak in Helsinki?
Want to know the answer to do they speak English in Helsinki?
Most locals speak three languages – Finnish, Swedish and English, and love to showcase their home to visiting tourists.
Finding your way around is easy with their help.
Look for a friendly face, and ask someone if you get stuck.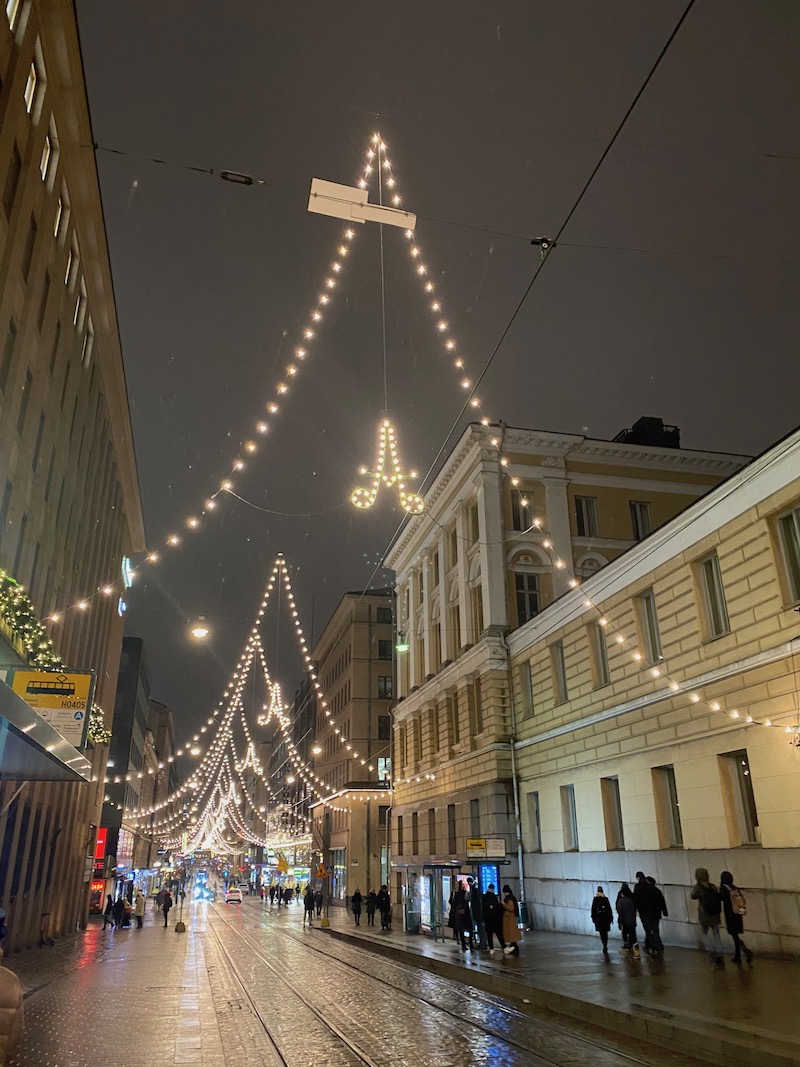 What to do in Helsinki in Winter
Winter in Helsinki is the best time to visit.
The summer crowds have dispersed, the city feels like a big country town, and there's twinkling Christmas high above the main streets.
Most shops and Helsinki attractions are heated and comfortably warm inside, so the only time visitors may feel the cold is on a day trip to the wilds of Suomenlinna Fortress.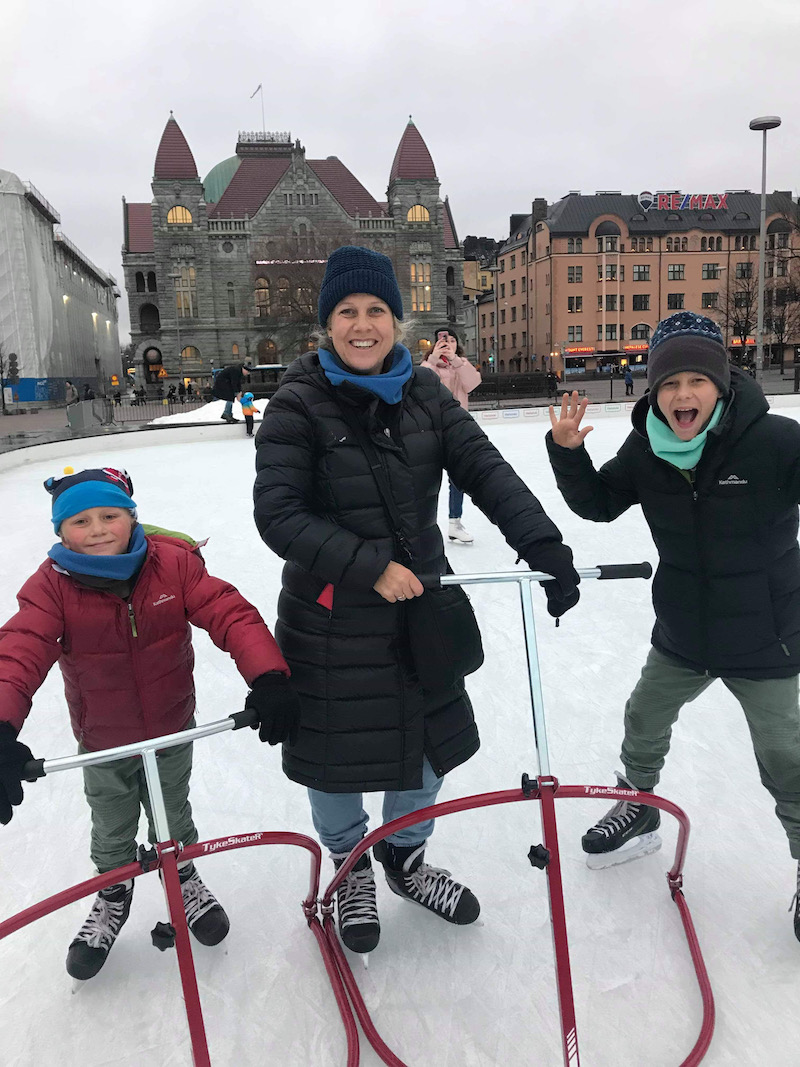 Important Things to Pack for Helsinki winter
What to wear in Helsinki in Winter?
The hot tip when visiting Helsinki in winter is to take a calf-length down coat to wear over your regular clothes, along with all your cold Winter accessories:
a woollen beanie
a scarf
thermal underwear, and
gloves.
Helsinki weather
The jacket plus the above is more than enough to deal with Helsinki temperatures ranging from 2 ° degrees during the day and sinking to an average low of -7 ° degrees Celsius at night during January and February.
Bring cosy warm boots and at least two pairs of thermal socks to keep tootsies (alt:toes) warm.
Where to stay in Helsinki
Historical Radisson Blu Plaza Hotel
This hotel should top the list of the best hotels in Helsinki to stay at, decorated with Finnish design ideals in mind.
Location is everything with this hotel.
The shopping boulevard of Aleksanterinkatu is 400 metres from the front door, and the Finnish National Theater is not much further.
Walk to all the popular Helsinki attractions from here.
Holiday Inn Helsinki City Centre
Holiday Inn in Helsinki is a four star option from a well-known brand, right in the centre of the city.
The wooden flooring and Scandinavian style rooms ensures cleanliness and gracefulness combine.
Euro Hostel Helsinki
Families on a budget can book a room at the Euro hostel, just a few minutes walk from the Viking Line ship terminal.
It's clean and friendly, and a popular affordable accommodation choice for large groups and high school trips.
The bonus is it's 4 quick stops on the tram to Senate Square.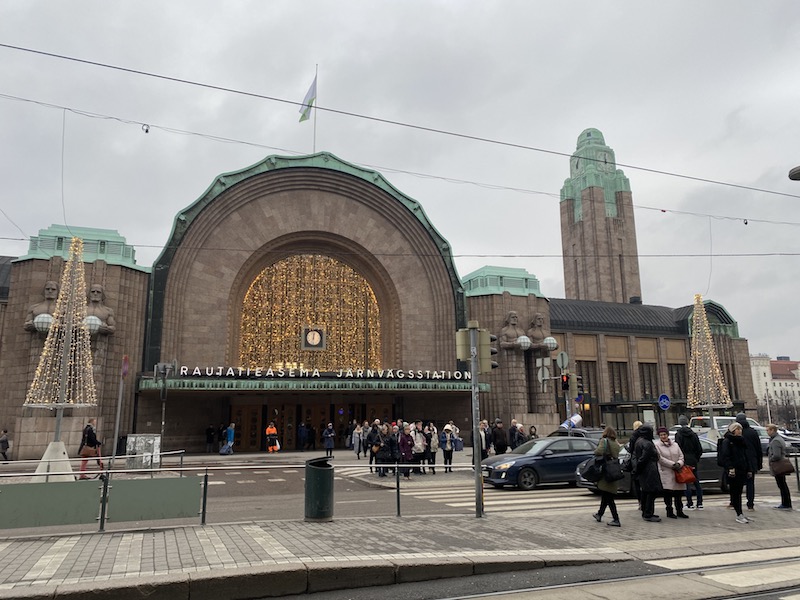 Helsinki Train Station
If you are catching the overnight train from Helsinki to Rovaniemi to Santa in Lapland, it departs from the Helsinki Central train station (pictured above)
NB: Check out the review of the train trip in the link above, complete with video.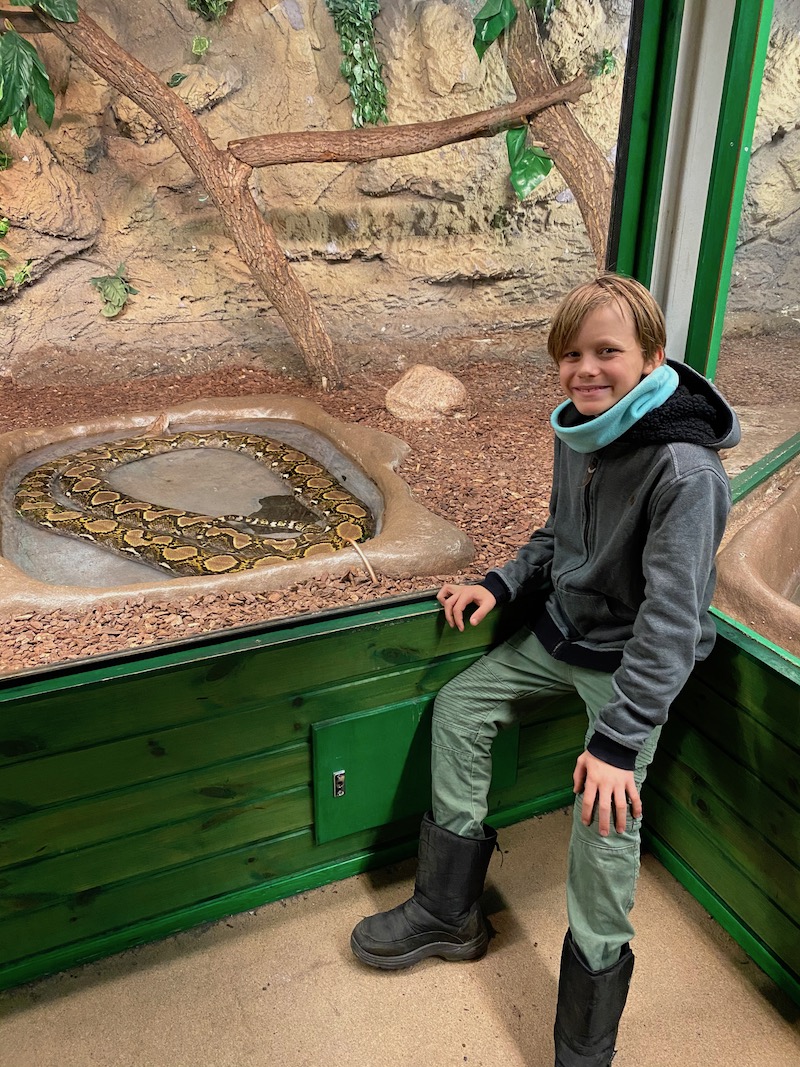 Looking for more things to do in winter in Helsinki with kids?
Click below to read about more Helsinki stories
Tropicana Animals review – coming soon!

Christmas in Old Market Hall