INSIDE: Everything you need to know about Sushi Edo Brisbane CBD.
Finding food that the kids will eat is a priority when you are out and about.
We abhor throwing good money into the bin so there's nothing worse than buying food that the kids don't like, or won't try, especially when these dollars could be put to good use on an entry fee somewhere, or an activity somewhere else.

It's also a balance of trusting and eating the familiar, and stretching their palates a little – this is ultimately the whole purpose of new life experiences and adventures, to encourage them to dive deep and have a go!
That's why we love Sushi Edo Brisbane CBD.
The menu of starters, mains and dessert is delicious, there's a sushi train, AND you order by ipad.
Kids LOVE it.
Take a look below for details.
Disclosure: This article contains affiliate links. If you make a purchase after clicking on one of these links, we may receive a small commission at NO extra cost to you.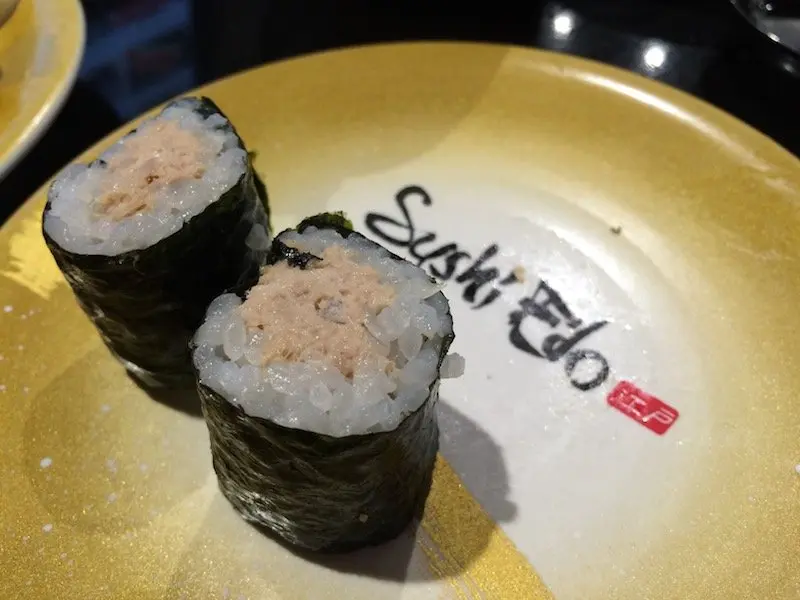 Best Sushi Brisbane CBD? Sushi Edo Brisbane City
For many suburban, urban and city kids in Australia, sushi is now quite de rigueur (commonplace), and not the exotic novelty it once was.
That said, the most popular sushi for kids is chicken & avocado, or tuna/tuna salad, so I'm not sure they are stretching that far yet.
---
RELATED: Ultimate Guide of Best Things to Do in Brisbane with Kids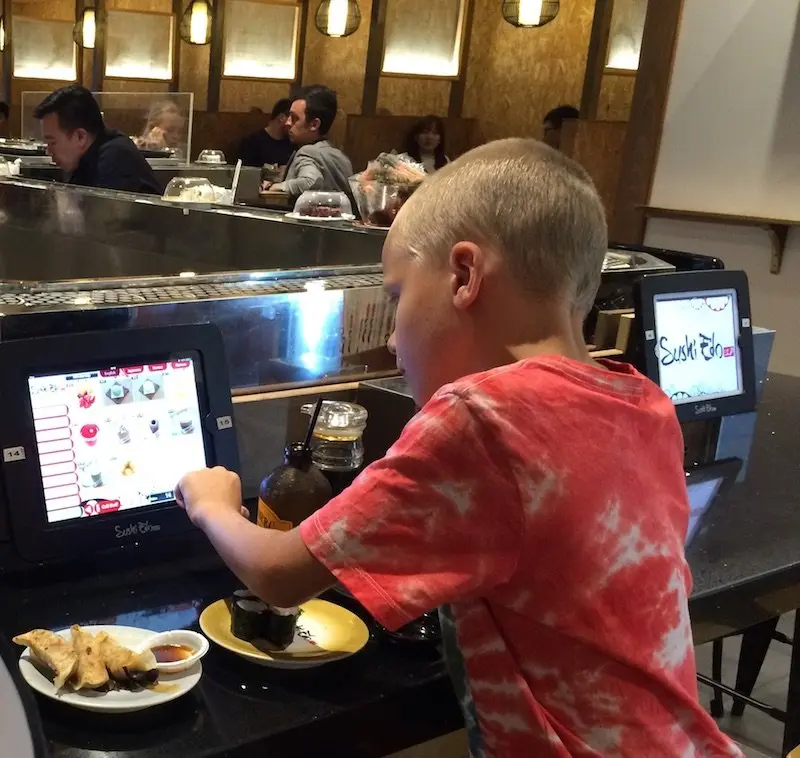 Order by iPad!
But while eating sushi on the run (aka shopping centre sushi) or eating at a sushi-train might be commonplace, eating at a sushi train with an IPAD ORDERING SYSTEM is not!
The kids will LOVE this joint.
Sushi Menu Choices
Small sushi rolls – salmon, cooked tuna, teriyaki chicken, avo, chicken katsu, salmon avo, tamago egg and more
Nigiri (topping on rice)- salmon, maguro tuna, ebi prawn, unagi eel, tamago egg
Gunkan boats – seaweed, corn salad, tuna salad, fish roe
Big sushi rolls – karaage chicken, chicken katsu, spicy chicken, California roll, Teriyaki chicken and cream cheese
Hand rolls – in all the flavours
Rice paper rolls – teriyaki chicken, salmon, prawn and vegetarian
Ordering by ipad is one reason why we think Sushi Edo is the best sushi Brisbane has to offer.
It certainly makes the whole experience even more SUPER DOOPER FUN for kids!
---
Book now: Brisbane Story Bridge Adventure Climb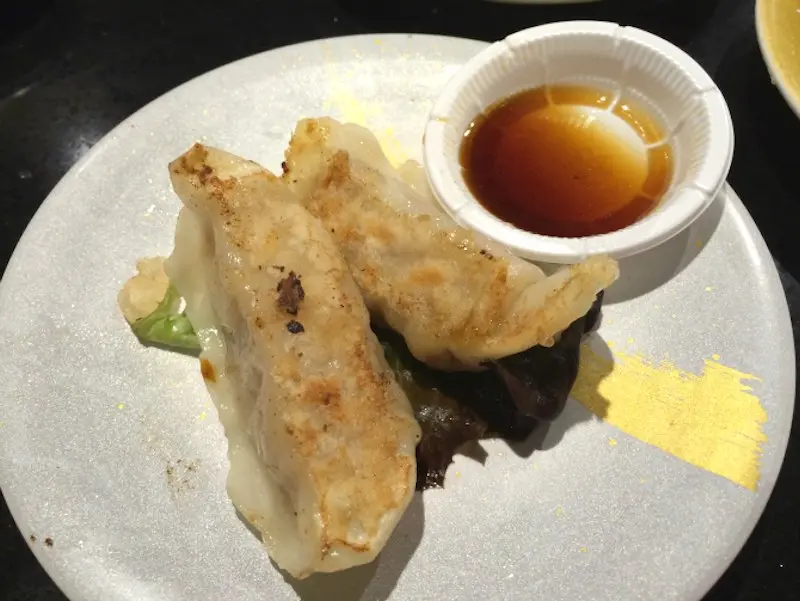 Best Sushi Brisbane CBD!
While Sushi Edo Brisbane originated at Newmarket, the city hub located at 153 Elizabeth St in the CBD is where it is at for days or nights out with the kids in Brisbane.
Yes, there's a conveyor train that pulls delicious morsels on circular plates.
But even more enticing than that is scanning the entire menu on the iPad situated in front of you, and then being given the opportunity to press a button to order something.
There's QUICK SERVICE too, which for our family, roaming about the place with a 7 year old, a 2 year old toddler AND a gnome in tow, is VERY VERY important.
Toddlers and gnomes are not known for their patience.
All standard sushi and extras plates are priced at a flat rate of $3.80 a plate too, which helps with the budgeting.
---
Book Now: Brisbane River Cruise & Koala Sanctuary visit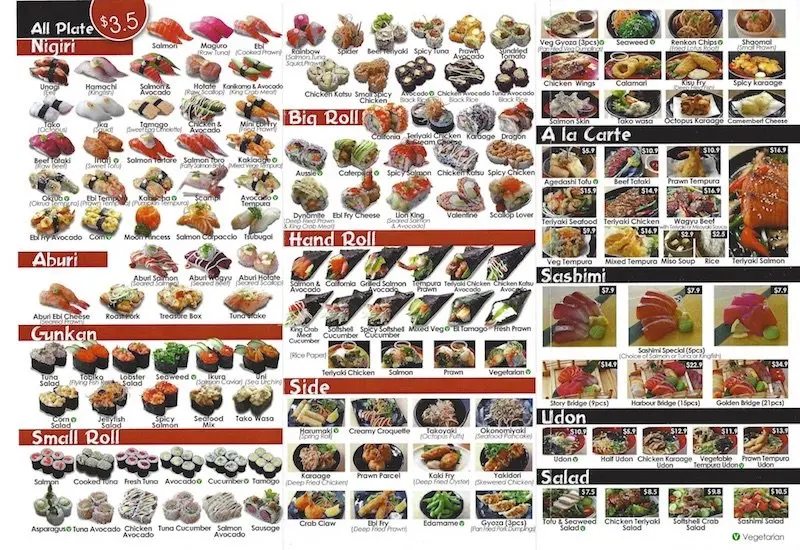 Sushi Edo Menu
But if you fancy trying something a little different, there are other options on the a la carte menu at Sushi Edo.
Think udon noodles, tempura and sashimi platters.
Plus LOTS of sides to choose from.
Sushi Edo A la Carte Menu
Even the ala carte options are reasonably priced though.
Salads up to $12
Tempura udon under $15
Tempura dishes from $10 to $17
Sashimi from $8
Ala Carte dishes such as agedashi tofu (approx $6), beef tataki (approx $11) and teriyaki chicken (approx $15)
From $15 to $37 for a shared Sashimi platter
You won't have to smash open the piggy bank to come up with any extra loose change for this dinner.
(See the menu above for examples, but please note the price rise to $3,80 a plate. Any dish not included in the $3.80 is labelled with a price.)
We love that all the meat, fish and vegetables are ordered fresh daily too, and it's a healthy option for growing bodies.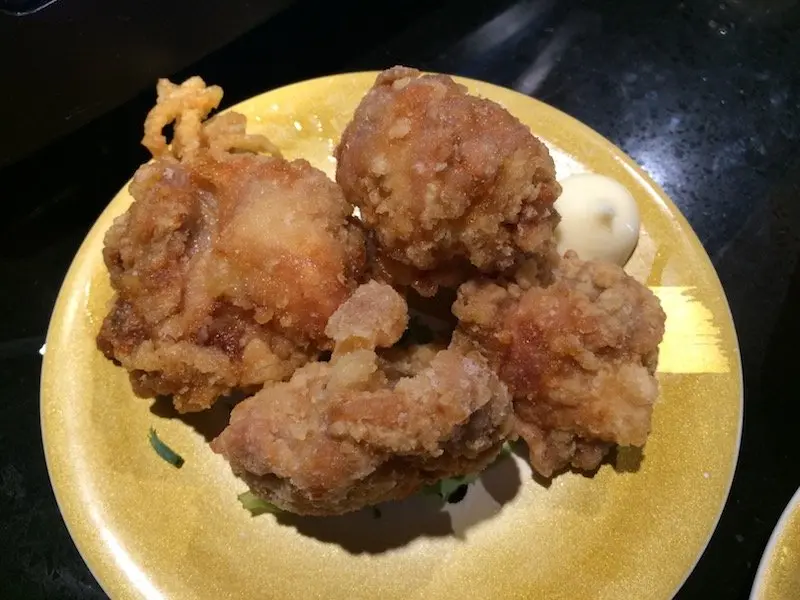 Best of the A la Carte Menu at Sushi Edo
Thinking of giving your kids a little push to try something a little bit different, but not too far out of the question?
Why not offer something like this?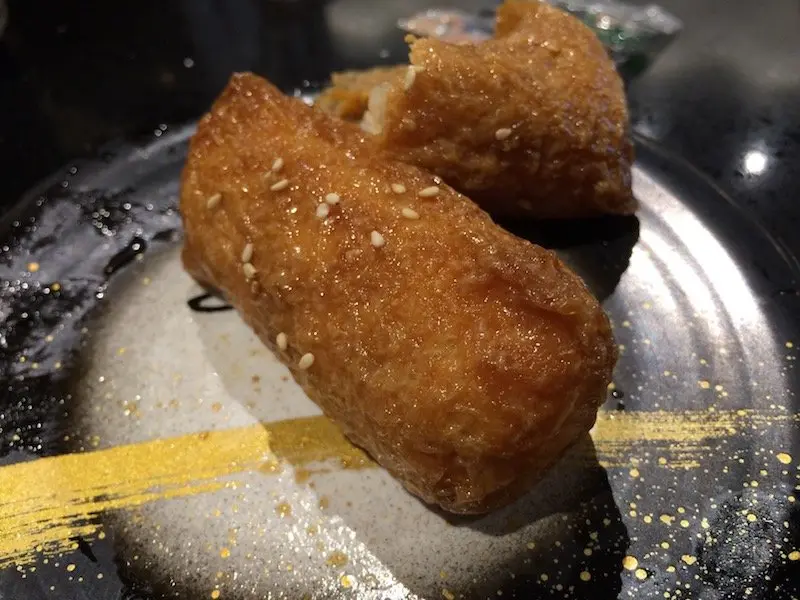 Best dishes at Sushi Edo for Kids
These are our favourites:
Chicken kaarage – lightly fried and battered chicken pieces served with japanese mayo
Gyoza pot stickers – japanese steamed and lightly pan- fried dumplings filled with pork mince and vegetables, or
"Inari" sushi (alt: inarizushi) which is rice bundled inside a sweetish tofu casing.
Inari means "carrying rice" or "rice load" in Japanese.
Side Dishes at Sushi Edo
Pick a few of your favourites:
Okonomiyaki pancakes
Yakitori chicken skewers
Edamame beans with salt
Seaweed salad
Chicken wings
Creamy croquette
Harumaki spring rolls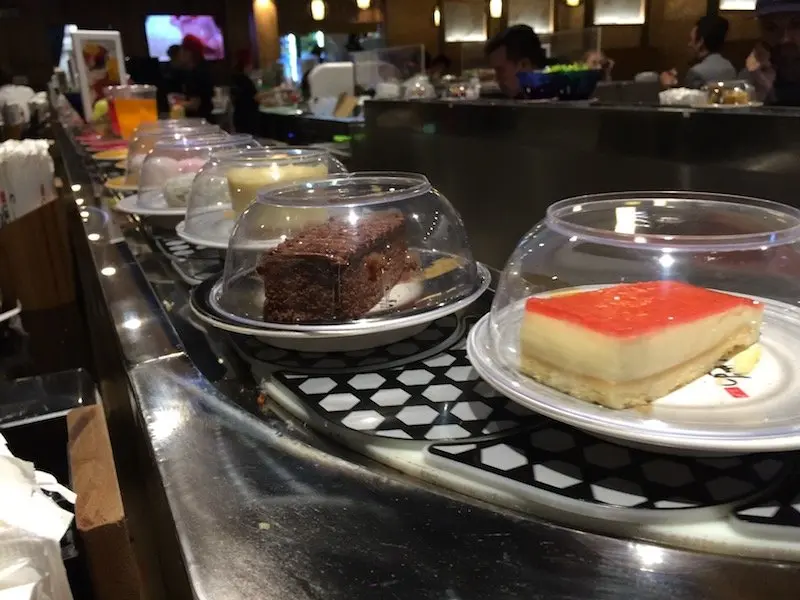 Sushi Edo Dessert Menu
A variety of dessert plates travel the sushi-travelator circuit, making it kind of hard to say no.
(Oh go on, twist my arm!)
This is the only time that the ipad ordering system is NOT so good.
Have kids who want dessert?
Try stopping them from pressing GO on a dessert order.
I dare say, the ipad ordering system with kids means dessert is almost a given here!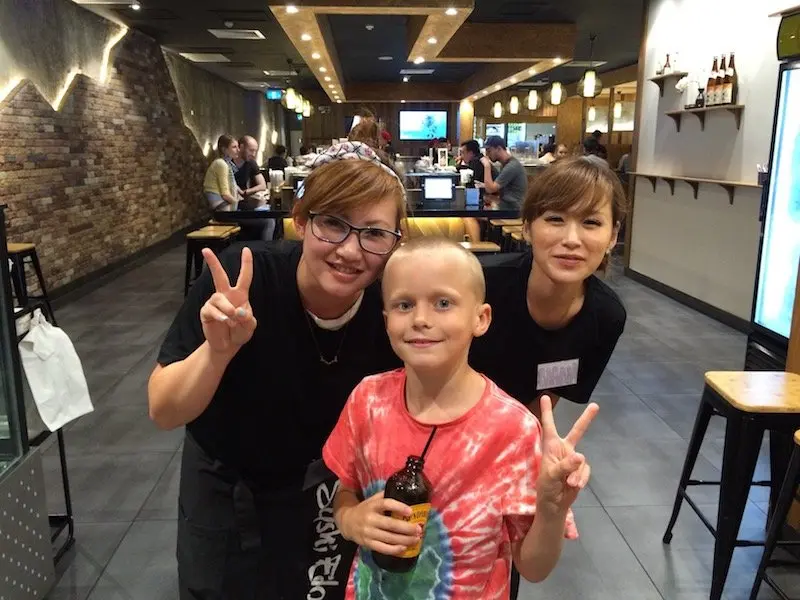 Delicious sweet treats
Luckily, dessert options range include:
Japanese style cheesecake
chocolate brownies
mochi sweet rice balls
Japanese green tea icecream, and
Japanese-style butter pound cake with a scoop of the most deliciously textured vanilla ice-cream.
Yes, Sushi Edo Brisbane for the win!
Follow them on Facebook to keep up to date with opening hours and specials.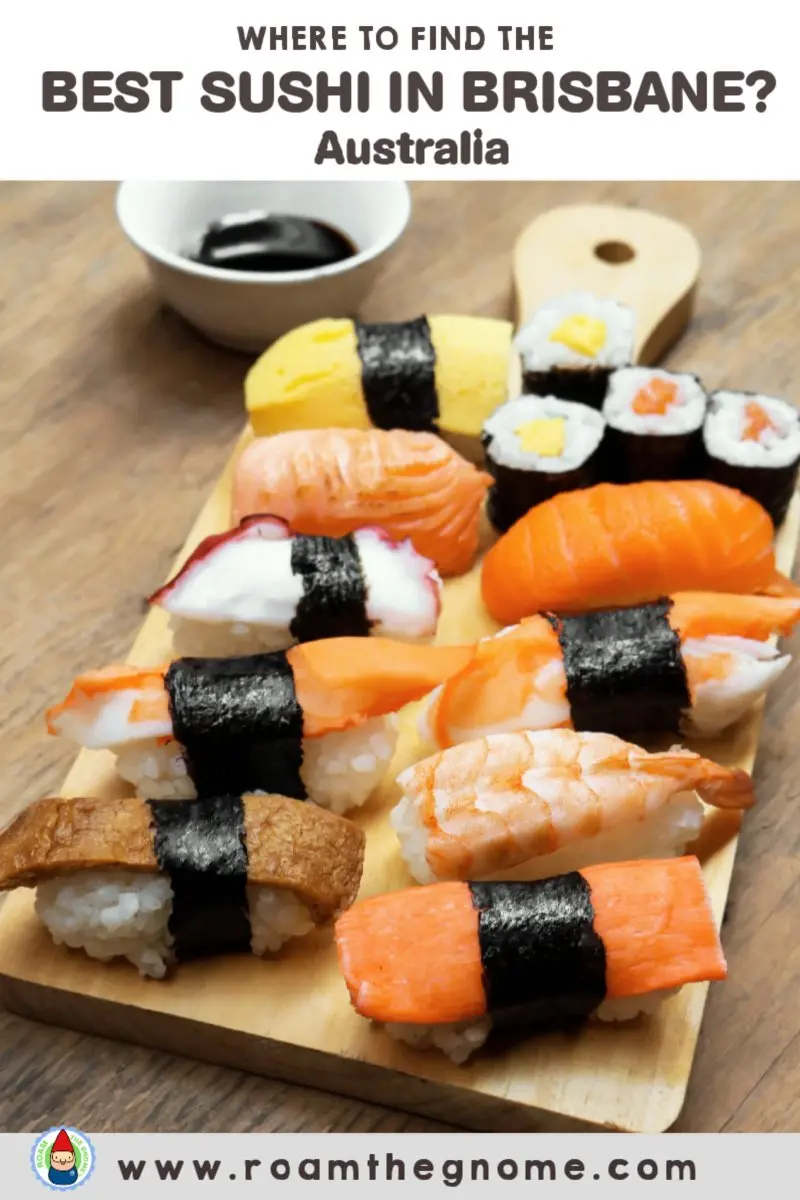 THE INSIDE SCOOP: Sushi Edo Sushi Train Brisbane CBD
Correct at time of publication on Roam the Gnome. Please check with venue for updates. We apologise in advance if there have been any changes we are unaware of. All prices in Australian dollars, unless otherwise stated
Address: Sushi Edo Elizabeth Street is at Ground Floor, 153 Elizabeth St, Brisbane Queensland 4000
Telephone: 07 3210 1324
Website: Click here
Opening Hours: 11am to 9.30pm, Monday to Sunday
Sushi Edo Membership
Sushi Edo did have a membership card at one stage but this seems to have been replaced with weekly specials for regulars instead.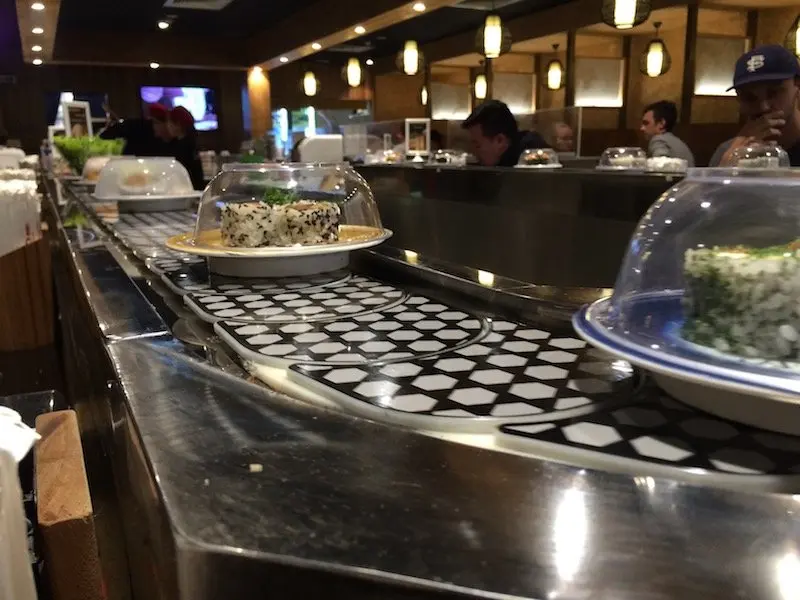 How to get to Sushi Edo CBD
Click here to add your location and find google map directions via car, train or bus.
Parking near Sushi Edo Brisbane
Try one of these secure car parks:
480 Queen Street Car Park (enter via 391 Adelaide street)
Findex Car Park at 120 Edward Street
QueensPlaza Car Park at 250 Edward Street.
Map of Sushi Edo CBD
Location of More Sushi Edo Restaurants
Sushi Edo Newmarket
The Newmarket Sushi Edo can be found at 137/400 Newmarket Road, Newmarket, QLD 4051
Tel: 07 3856 5058
Trading Hours: 11:00- 9:30 Monday to Sunday
Sushi Edo Nundah
The Nundah Sushi Edo can be found at Shop2 1231 Sandgate Road, Nundah, QLD 4012
Tel: 07 3260 5959
Sushi Nundah Trading Hours: 11:00- 9:30 Monday to Sunday
Sushi Edo Kenmore Plaza
The Kenmore Sushi Edo can be found at Shop 21a 841 Moggill Road, Kenmore, Brisbane QLD 4069
Tel: 07 3878 1137
Trading Hours: 11:00- 9:30 Monday to Sunday
Sushi Edo Sunnybank Plaza
The Sunnybank Plaza Sushi Edo can be found at Shop 30b 358 Mains Rd., Sunnybank, Sunnybank Plaza QLD 4109
Tel: 07 3219 5756
Sushi Sunnybank Trading Hours: 11:00- 9:30 Monday to Sunday
Sushi Edo Garden City
The Garden City Sushi Edo branch can be found at Shop 2019, 2049 Logan Road , Upper Mount QLD 4122
(Next to Garden city Library)
Tel: 07 3420 0123
Trading Hours: 11:00- 9:30 Monday to Sunday
Sushi Edo Petrie Terrace
The Petrie Terrace Sushi Edo can be found in the Barracks Shopping Centre at 13/61 Petrie Terrace, Brisbane City QLD 4000.
Tel: 07 3876 3872
Trading Hours: 11:00- 9:30 Monday to Sunday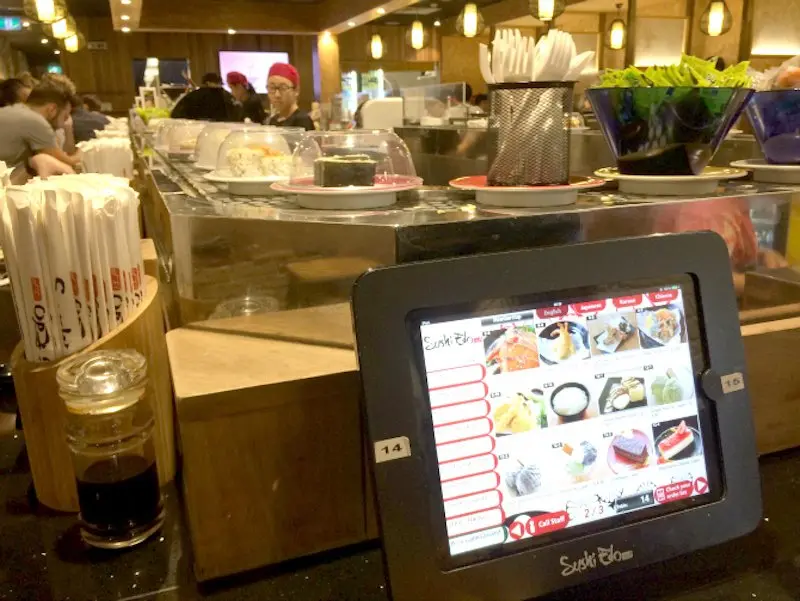 FREQUENTLY ASKED QUESTIONS – EDO SUSHI BRISBANE
Find the best Sushi train Brisbane locations below:
Sushi Edo Delivery
You can order Sushi Edo delivery via Deliveroo from the Barracks (NB: Currently on pause)
Sushi Edo Takeaway
You can order takeaway from Sushi Edo via Uber Eats
Visit the Sushi Edo order online page on their website.
Can you order a Sushi Edo Platter?
Yes, you can order a platter from Sushi Edo for business lunches, birthday parties, reunions, anniversaries, kids parties, or picnics with friends.
Take a look below for a general idea:
Baby Roll Platter, 72 pieces, $42
Aburi Platter, 26 pieces, $46
Roll Platter, 37 pieces, $50
Nigiri and Roll platter, 49 pieces, $65
Call your closest store to order.
Toadstool Rating: Brisbane Sushi Edo

Looking for more things to do in Brisbane with kids?
Click the blue links below for more Brisbane tips