INSIDE: A Sneak Peek inside the London Museum of Transport Shop in Covent Garden.
Enjoying a shopping trip to the best London shopping areas?
Add the London Transport Museum shop to your list of must see shops in London.
The London Transport Museum in Covent Garden is a top day out for kids and families in London, but if shopping is your goal, skip the museum and head straight to the shop.
You won't regret this decision.
The TFL Museum Shop is one of the best unique souvenir stores in London for artistically designed, tasteful gifts and souvenirs from London.
Take a look below for details.
Disclosure: This article contains affiliate links. If you make a purchase after clicking on one of these links, we may receive a small commission at NO extra cost to you.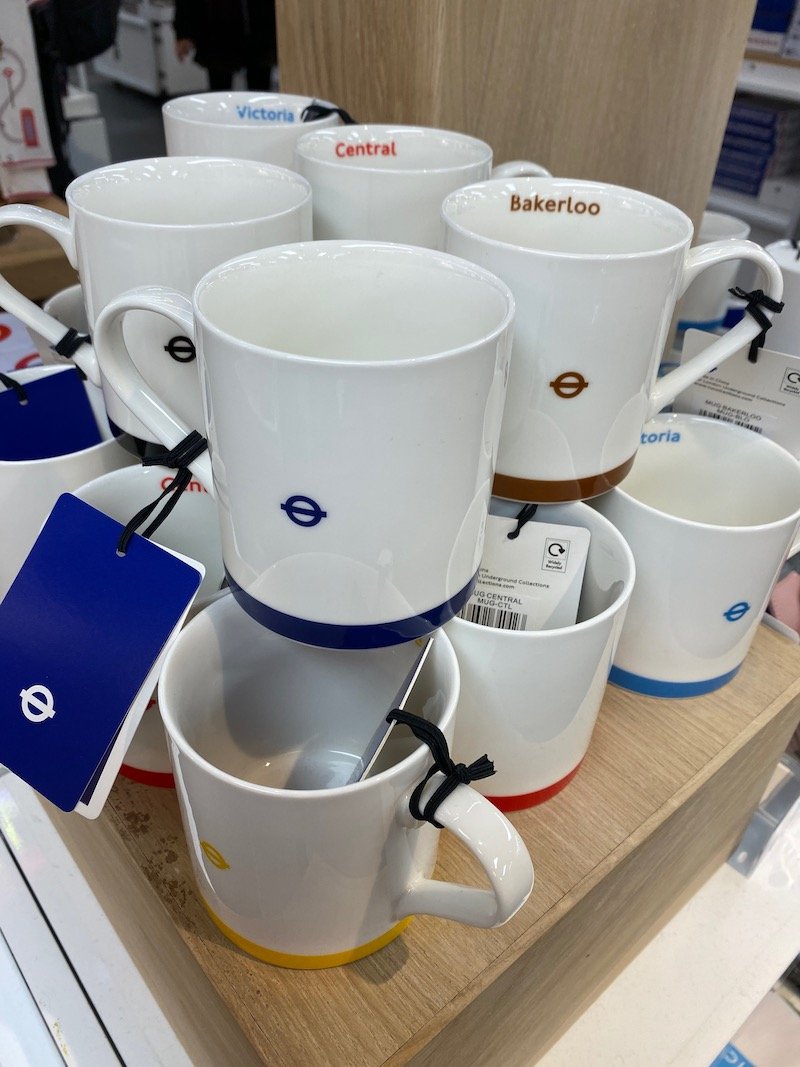 Guide to the Best London Gifts at the London Transport Museum Shop
Without a doubt, this shop should win the award for best stylish London souvenirs.
There are things here you won't find anywhere else, but it's the STORY of London underground memorabilia and the history behind these souvenirs that capture our hearts.
No.1: London Transport Museum Mugs
First up, don't leave the shop without a set of London Underground roundel mugs.
You can buy them individually, so you can pick your favourite stations that have some kind of meaning for you – where you caught the train to your first London job, or met your first boyfriend (or girlfriend), or the area where you bought your first house.
These simply designed but ever so elegant mugs swell the nostalgia in my heart every time I brew a cup of tea.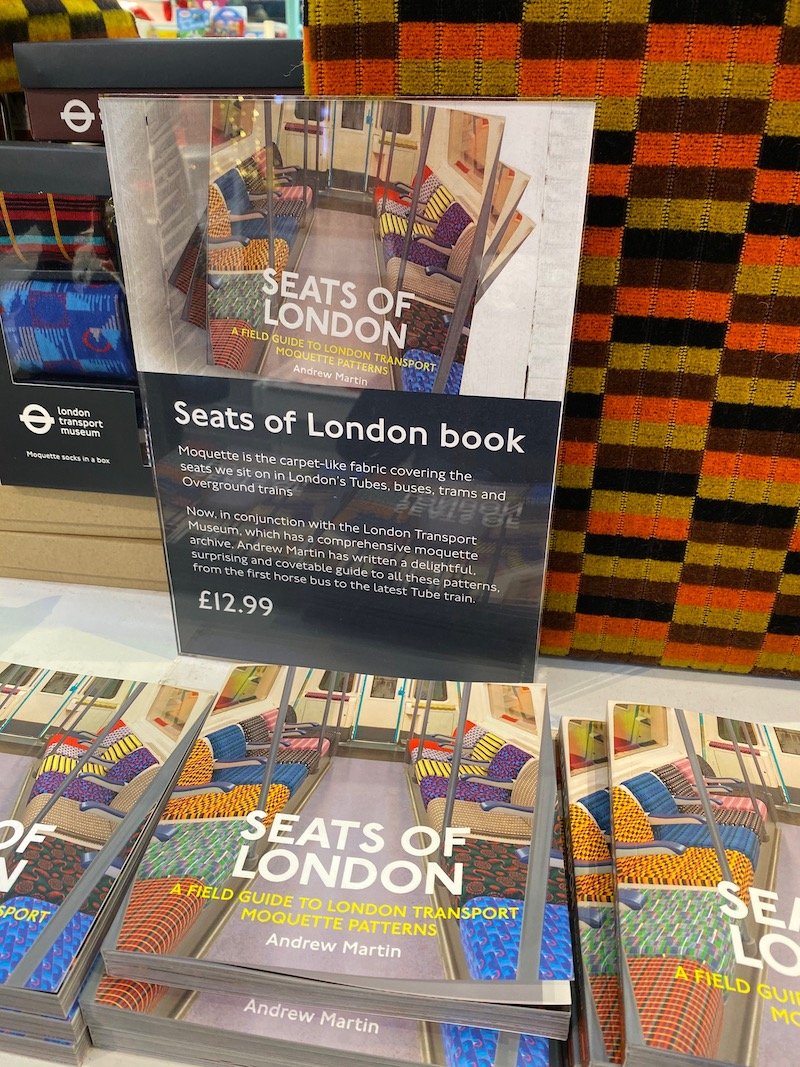 No.2: London Transport Moquette Fabric History
The other top London gift from the Underground Shop is anything featuring the retro moquette design.
The book, Seats of London – A field guide to London Transport Moquette Patterns – is THE gift for that person in your life.
Who wouldn't want to learn about vintage Moquette fabric history and how this bus seat fabric came to prominence?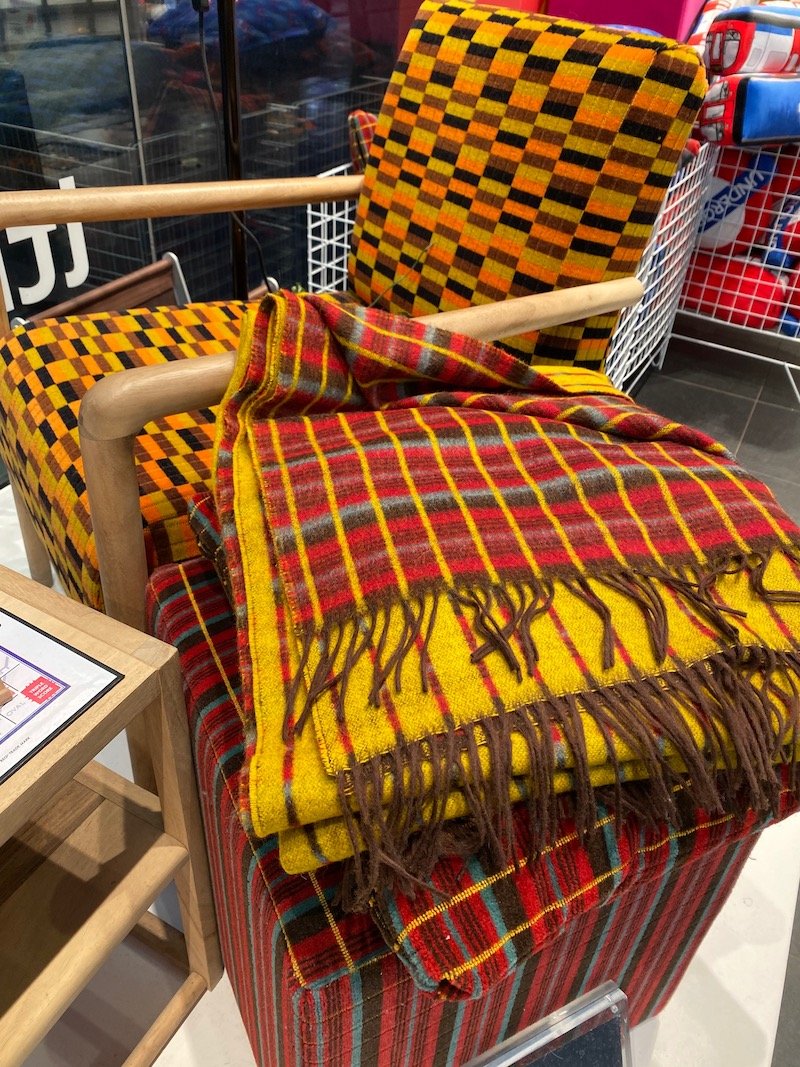 No.3: TFL Moquette gifts & souvenirs
But there's more of this London tube fabric on all kinds of gifts!
You can find London Underground moquette fabric on all kinds of souvenirs in the shop, including:
Moquette furniture
Moquette cushion covers
Moquette sofa and chairs
Moquette footstool
Moquette cubes for storage
District Moquette facemasks
Moquette keyrings
Moquette bags
Moquette scarves & caps
Moquette Oyster card holders
Moquette door stops
Moquette socks
Moquette watch
You can even purchase Moquette fabric for sale by the metre!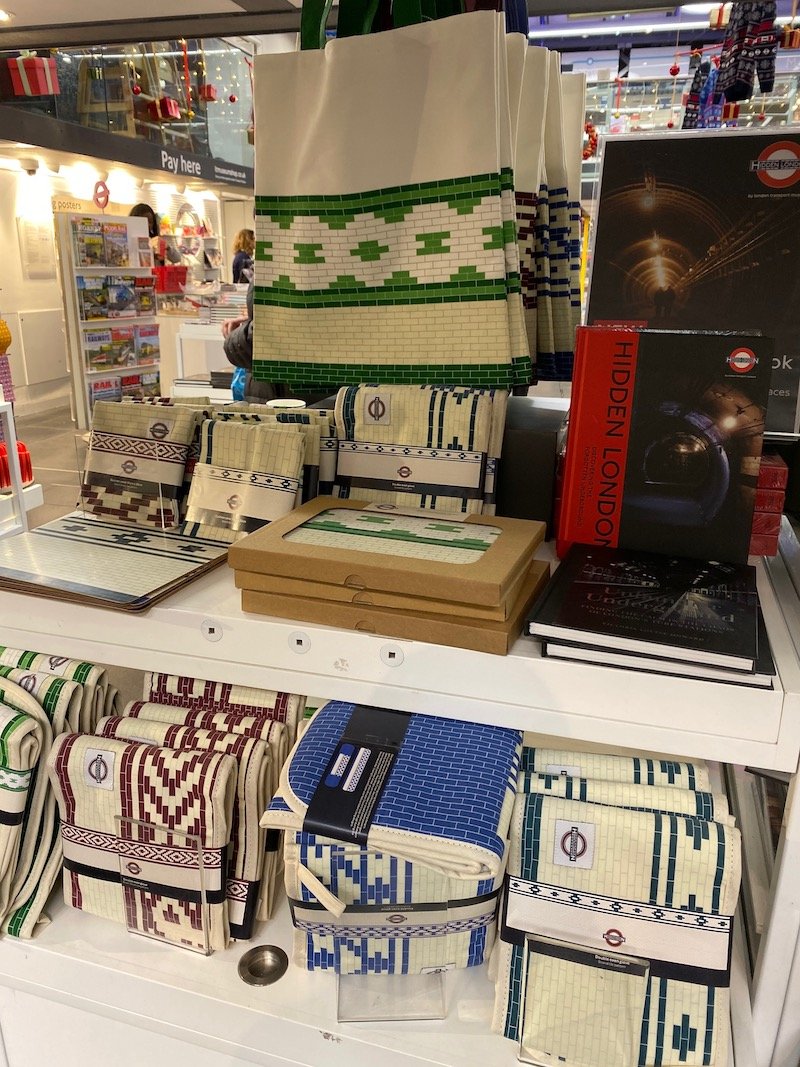 What to buy at Covent Garden Transport Museum London Gift shop
The Transport Museum London Shop has other gifts for the history or culture buff too.
Take a look at these homewares and other souvenirs.
No.1: Hidden London Merchandise
One of the things design afficiandos love about London is the beautification of everyday buildings and transport done in the past.
One of the most beloved by Londoners is the distinct tiling designs in some of the Underground stations.
According to the LTM, these decorative patterns helped passengers identify their destination.
While a number of these underground tiles designs are now hidden from sight in closed stations like Aldwych (once called Strand) and Down Street, you can see these historic tiling designs in real life at stations including Charing Cross and Euston.
Even better than that, you can now take a replica of these London underground tile designs home with you on a range of Hidden London giftware at the TFL Vintage shop including:
teatowels
magnet sets
oven gloves,
coasters
mugs (and a set of four mugs)
canvas shopping bags
Hot tip: You can book secret Hidden London tours from the London Transport Museum that take you behind the scenes into these closed stations – it's the ONLY way in! Find details of upcoming dates on the website.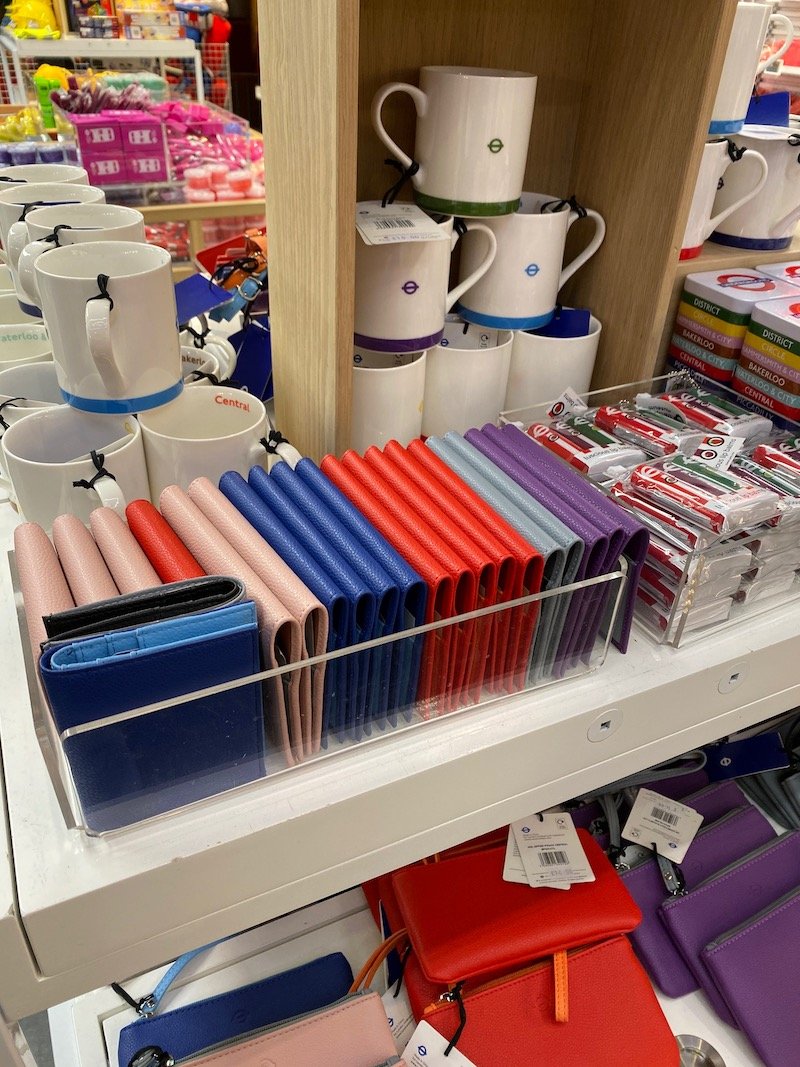 No.2: London Transport Museum souvenirs
Pick up a London Underground Passport holder, or a London Underground Oyster Card holder, luggage tags, or zipped purses.
All made from butter soft leather in solid colours.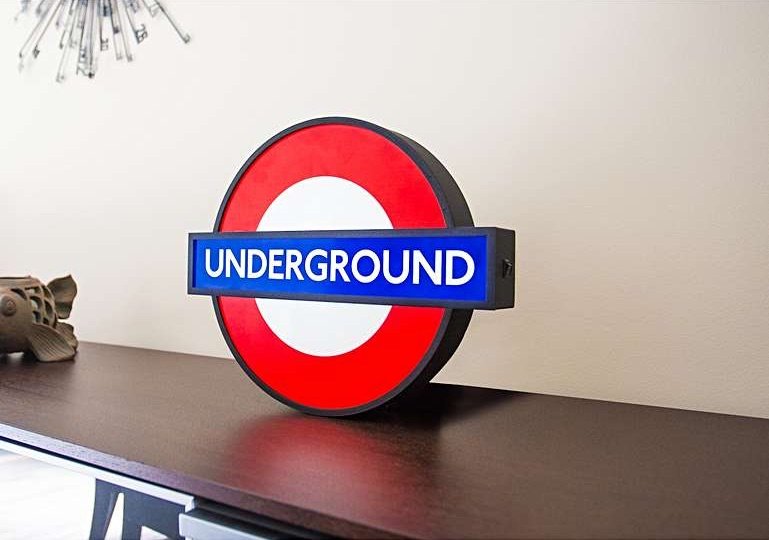 No.3: London Underground Lightbox
You can also pick up a London Underground light box.
Or a Mind the Gap lightbox to brighten up your home with unique London souvenirs.
Hot tip: As well as replicas, you can find ORIGINAL London Transport items for sale including bench seats, train driver seats, and luggage carriage racks. What a talking piece these gifts would be.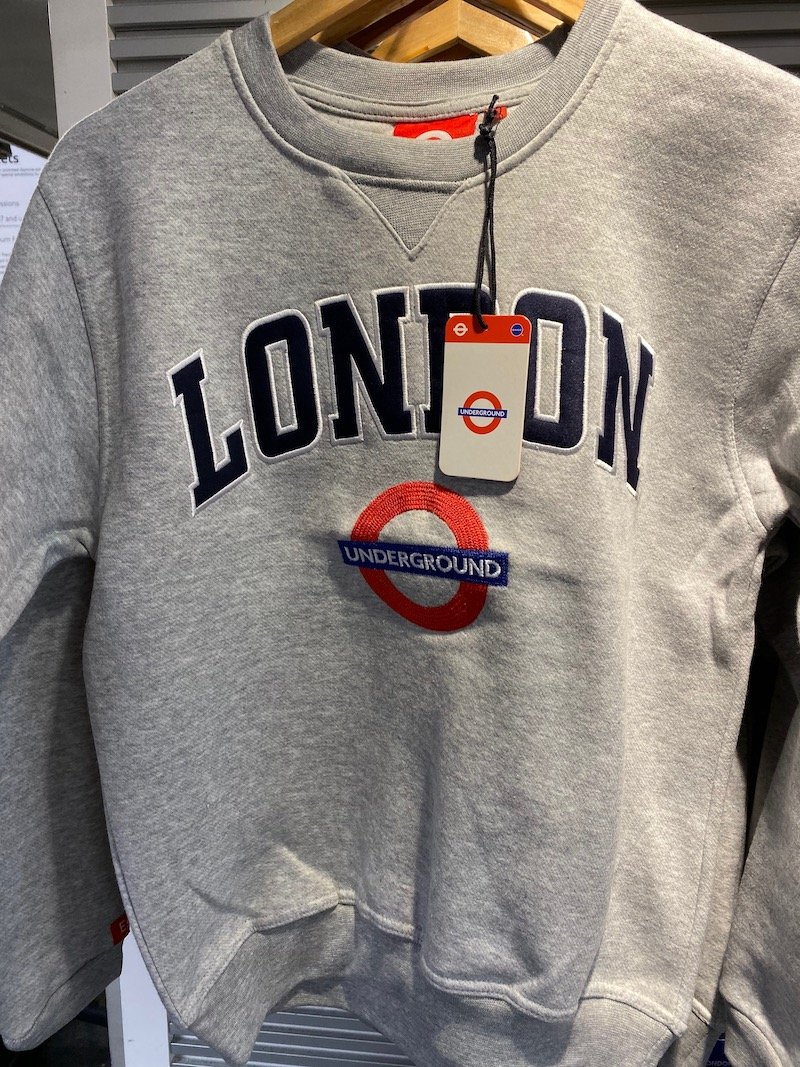 MORE things to buy in the London Museum of Transport Shop
No.1: London Transport Museum Clothing
There's all kinds of clothing options including:
Roundel t shirts
vintage sporting t shirts
kids tube train t shirts
London underground sweatshirts and hoodies
London underground caps.
Look out for the cute range of All Aboard children's clothing for babies and toddlers featuring buses, trains, and transport motifs.
There's:
baby hats
baby onesies
baby socks, and
toddler t shirts too.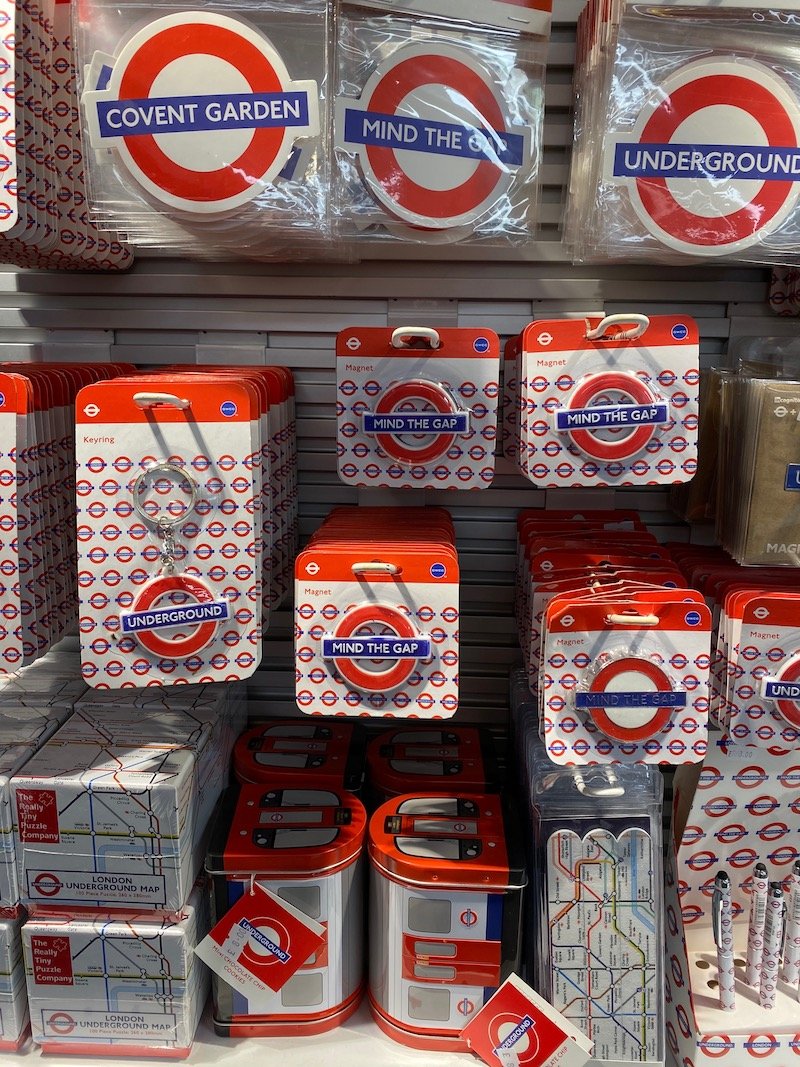 No.2: London Underground stationery
Look out for keyrings, pins, pens, money boxes, notepads, pencilcases, and more – all featuring London Underground motifs & logos.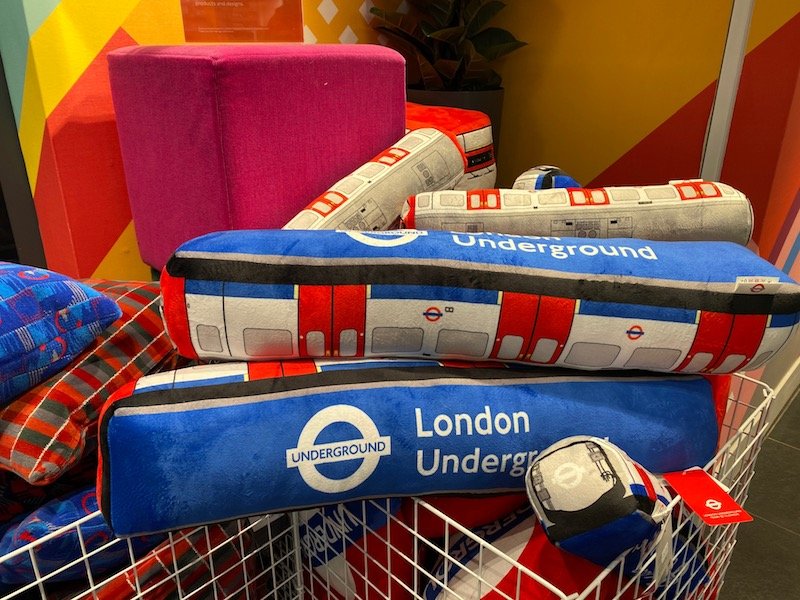 No.3: London Underground cushions
Check out the range of cushions including ones for kids!
Plus London underground door stops, and London underground draught excluders – these are the gift you didn't know you needed until someone gave it to you!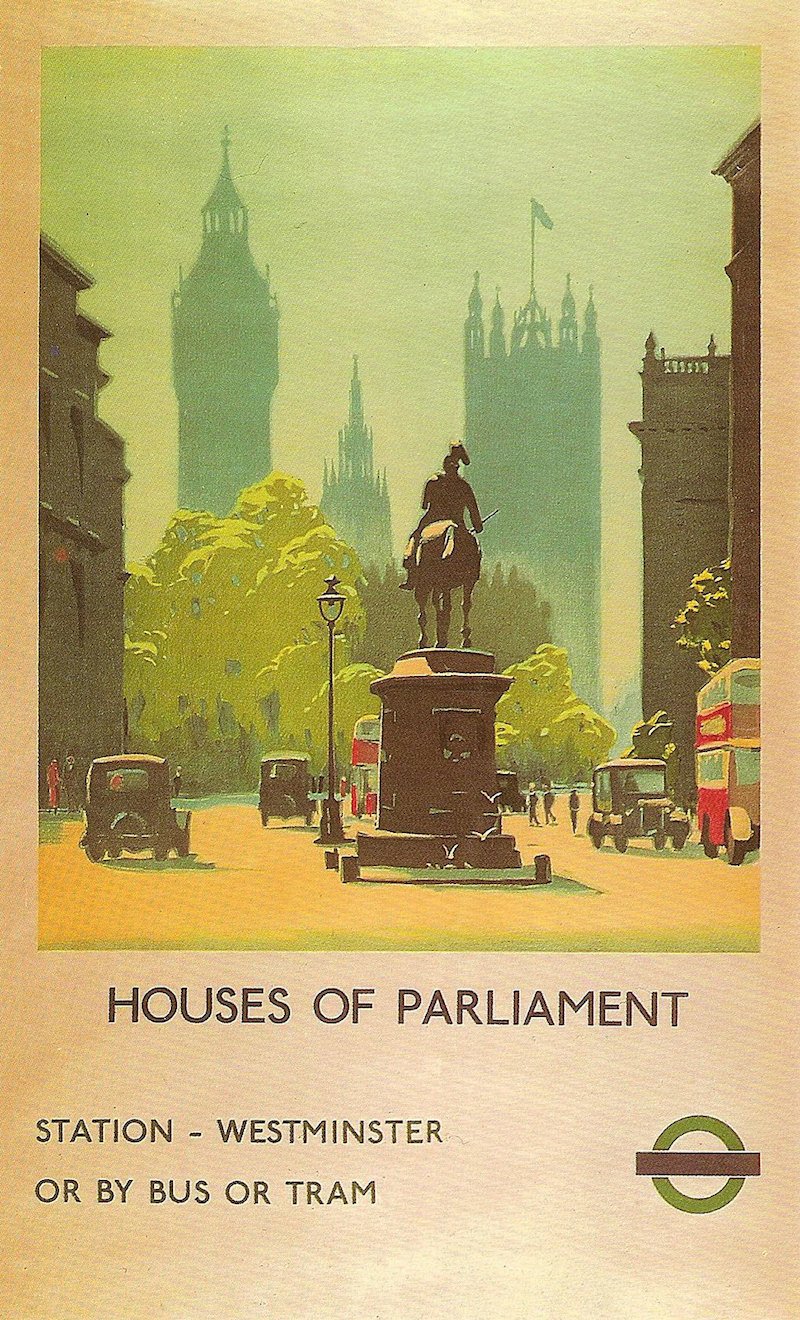 Image credit: Leonard Bentley via Flickr CC BY SA 2.0
No.4: London Transport Museum Posters
Posters.
So many TFL Shop posters.
Featuring all the best vintage graphics from old school London Underground posters advertising local events including:
Rugby at Twickenham
Off to the Zoo
Wimbledon
Kew Gardens
For pure nostalgia, you'll also find quaint
London Underground map posters
Art and Design posters
Art Deco posters
It's worth a visit to the London Museum Transport just to browse.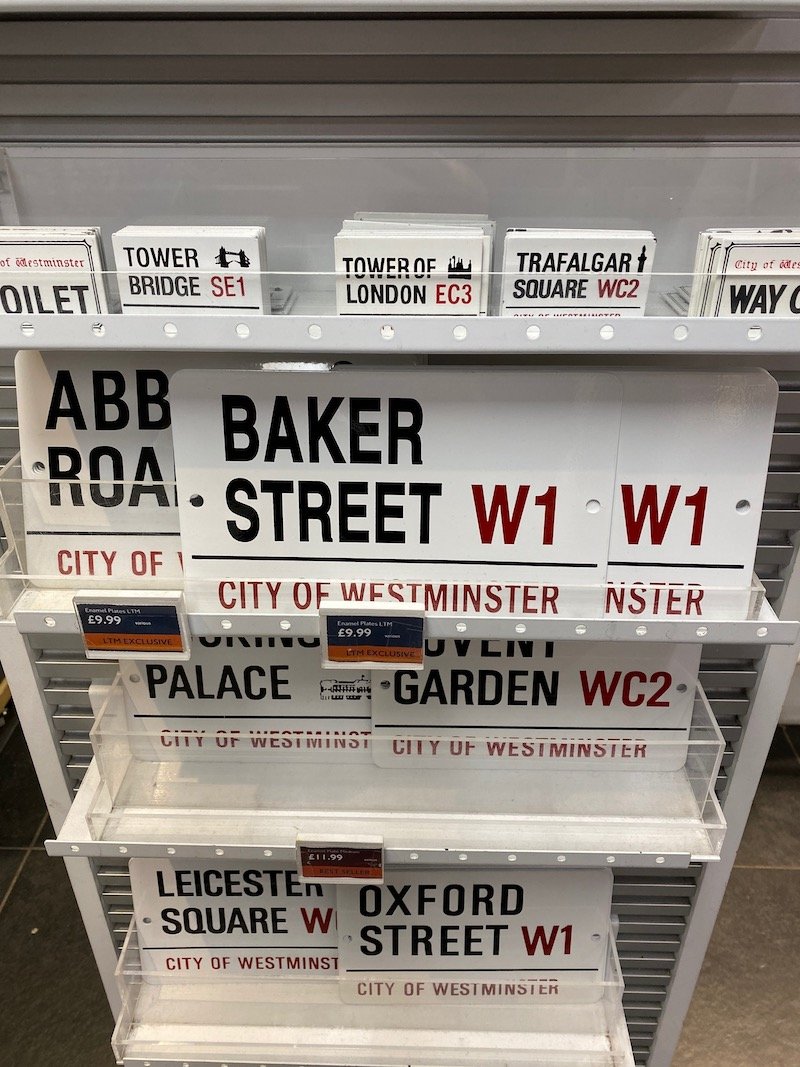 No.5: London City Signage at the London Transport Museum Gift shop
Here's another option to brighten up your home.
These souvenir London street signs look a treat in a bathroom or living area.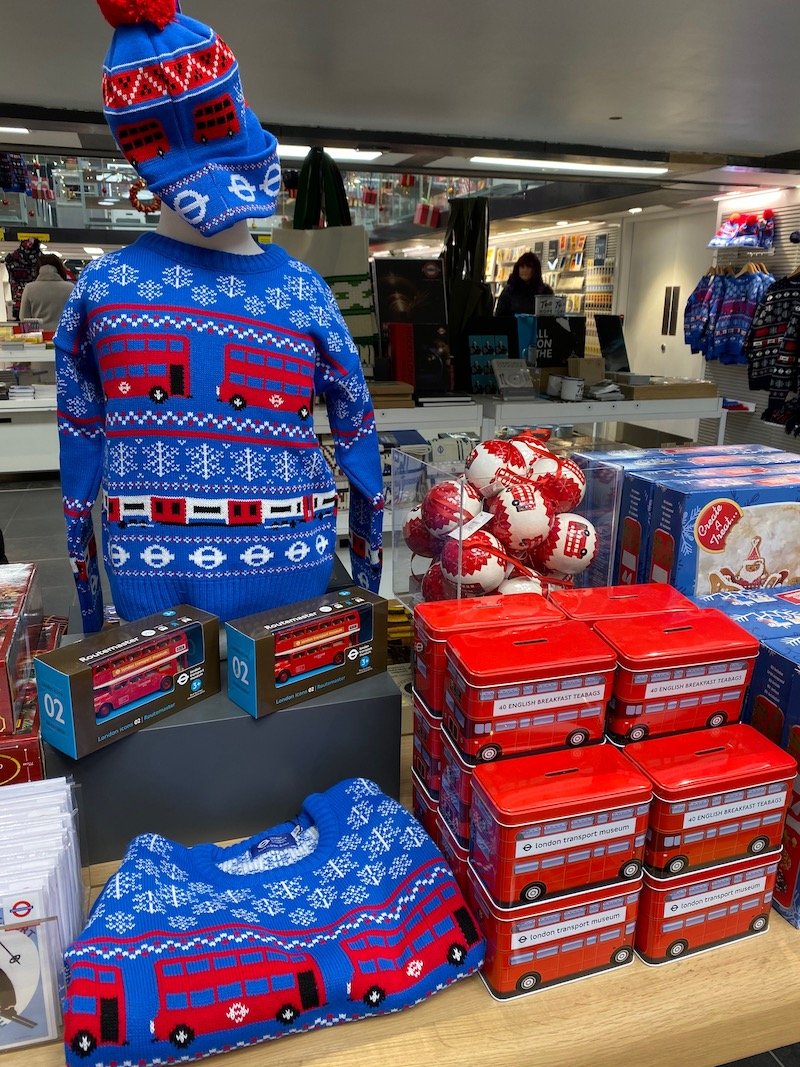 London Transport Museum Christmas gifts
No.1: London Transport Museum Christmas Jumpers
We took our LTM Christmas jumpers to Lapland to wear for our annual Christmas photo.
(Read all about THAT awesome adventure for kids and families here.)
They are, without doubt, the warmest, snuggliest jumpers we own so they come out of the cupboard on every cold wintery day, not just on Christmas!
No.2: London Transport Museum Socks
For those quirky sock wearers in the family, you have quite the choice, including:
Moquette socks
London underground roundel socks
London underground map socks
These London Transport Museum Shop socks can't be found anywhere else!
No.3: London Transport Museum food gifts
There's shortbread, biscuits, and tea in signature 'train' or 'tube' tins that you can reuse
We guarantee you won't want to throw these cute tins away.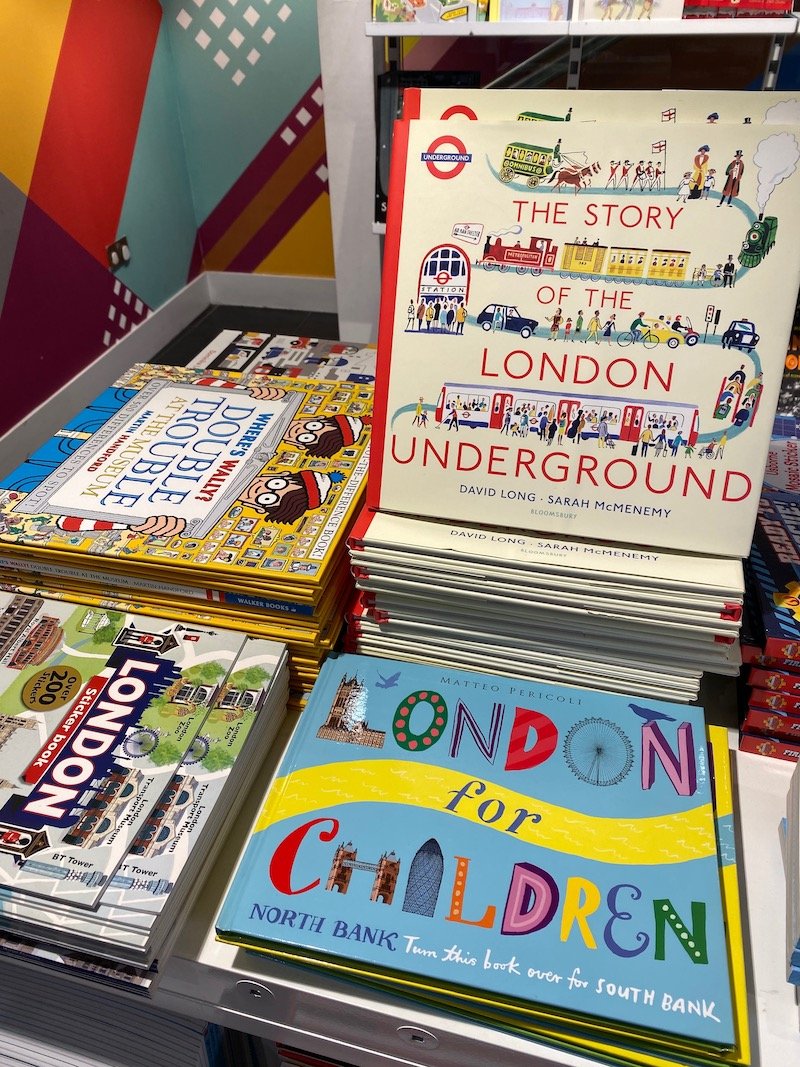 London Transport Museum Gifts for Kids
No.1: Transport Books for Kids
There's a HUGE range of London transport books for sale here, including:
all the latest releases
London picture books, and
delightful London guides for kids too.
RELATED: The 7 Best Children's Bookshops in London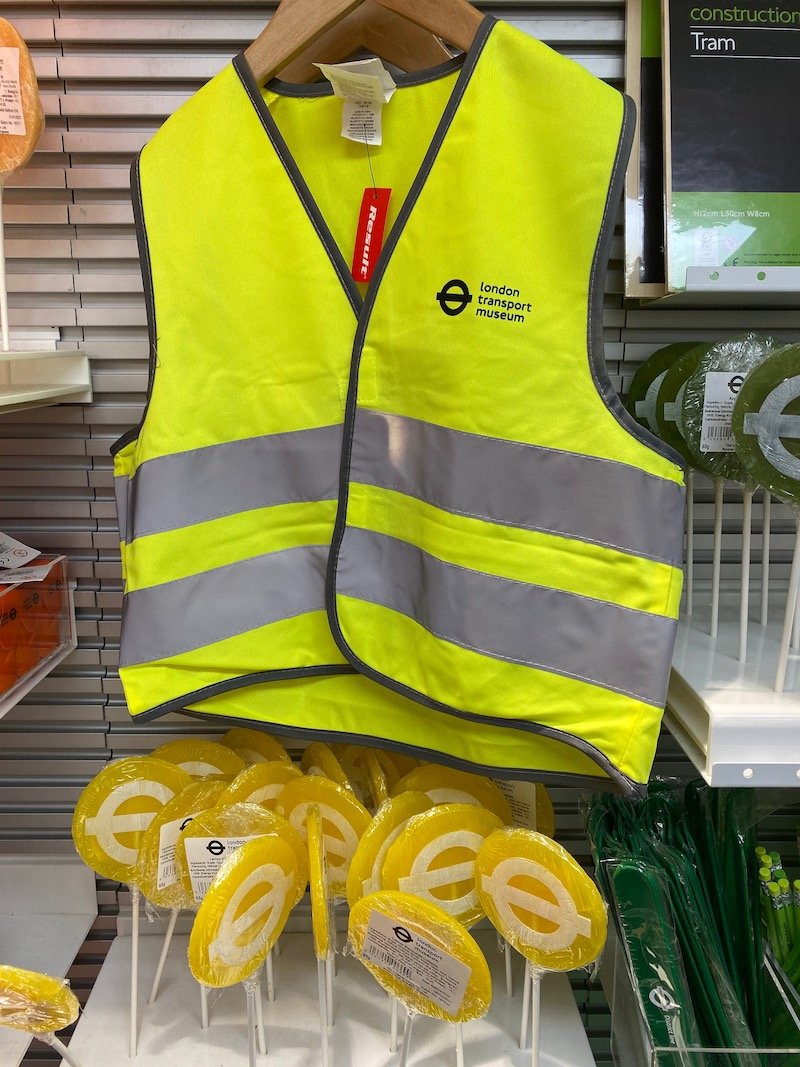 No.2: Dress Up Costumes & Confectionery
Yes, you can even buy London Transport dress ups for kids.
AND London Transport Museum Roundel sweets including these adorable yellow lolly pops!
RELATED: The ULTIMATE List of Things to Do in LONDON with Kids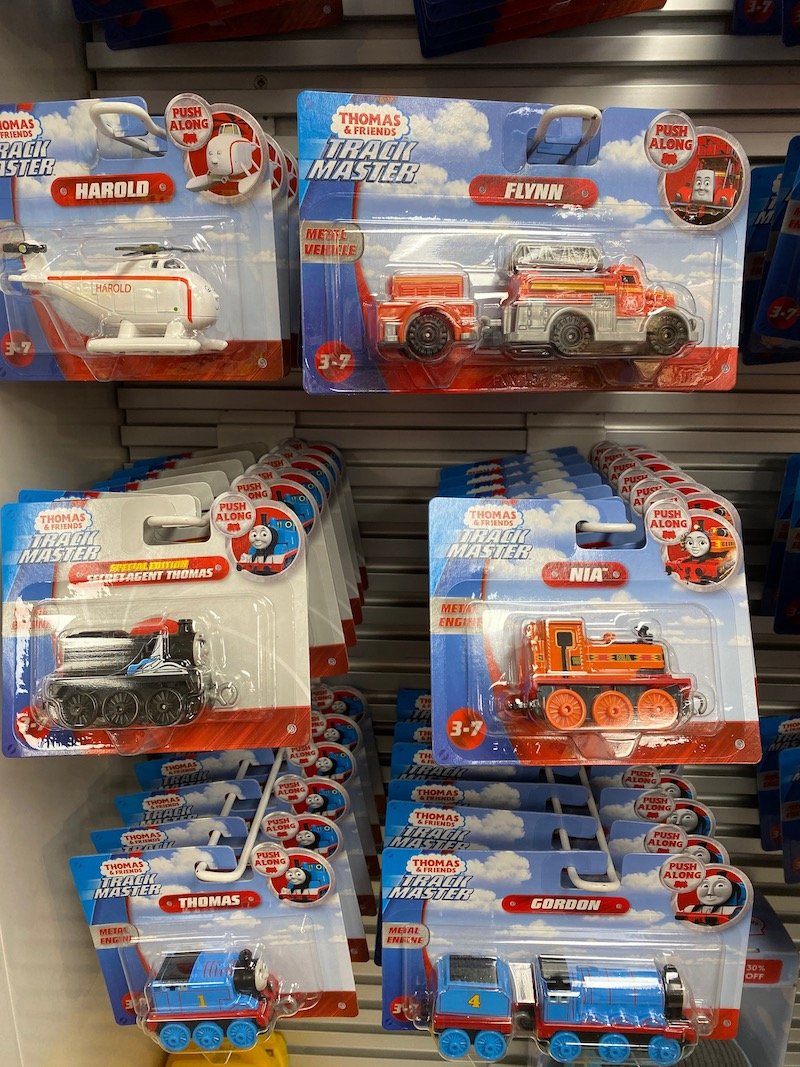 No.3: Toy Vehicles
There's every kind of transport toy imaginable.
It's impossible to pick just one of these models depicting the transport of London.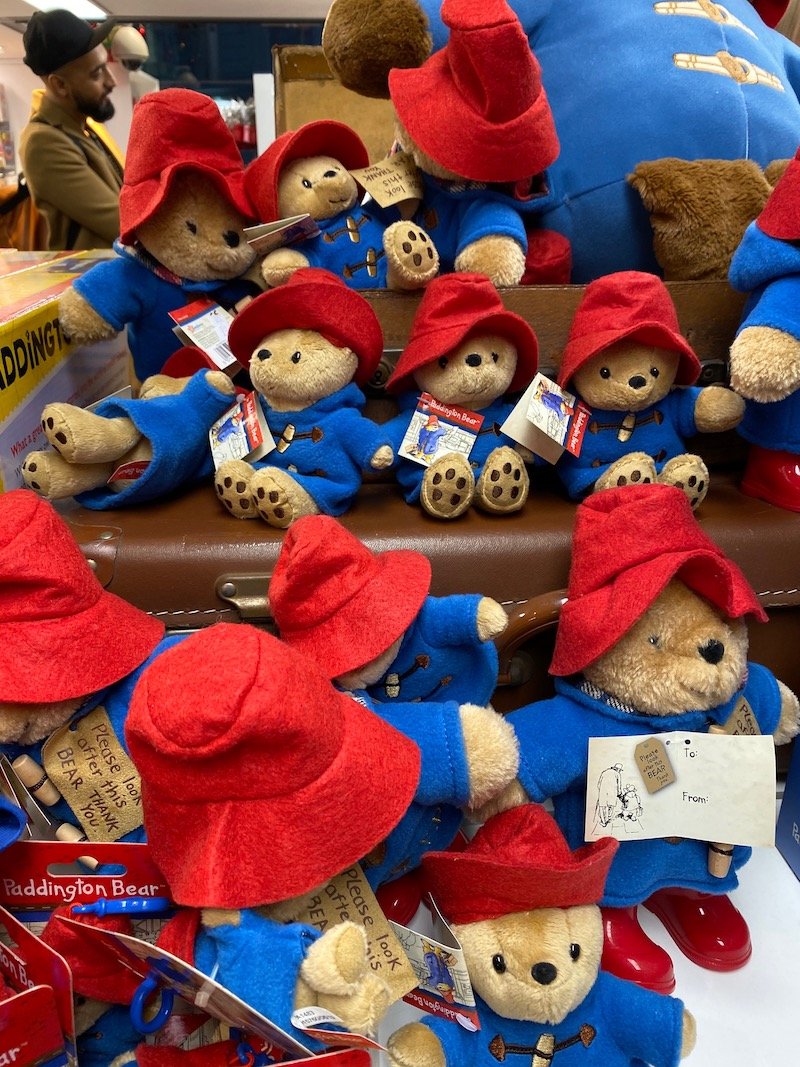 No.4: Paddington Bear Toys
No London souvenir shop is complete without at least ONE Paddington doll.
But this shop – an ode to London transport – would be remiss in its duties without this much loved Bear.
Paddington arrived in London by train at Paddington Station.
PS: If you LOVE this famous bear from Peru, do not miss the PADDINGTON BEAR SHOP in London
(You can also see the PB statue in Paddington station & where the "first family meeting scene" was filmed too!)
London Transport Museum Shop Sale
The Transport for London Museum Shop sale is not to be missed.
Keep an eye on their London for transport website for details.
The savings are spectacular!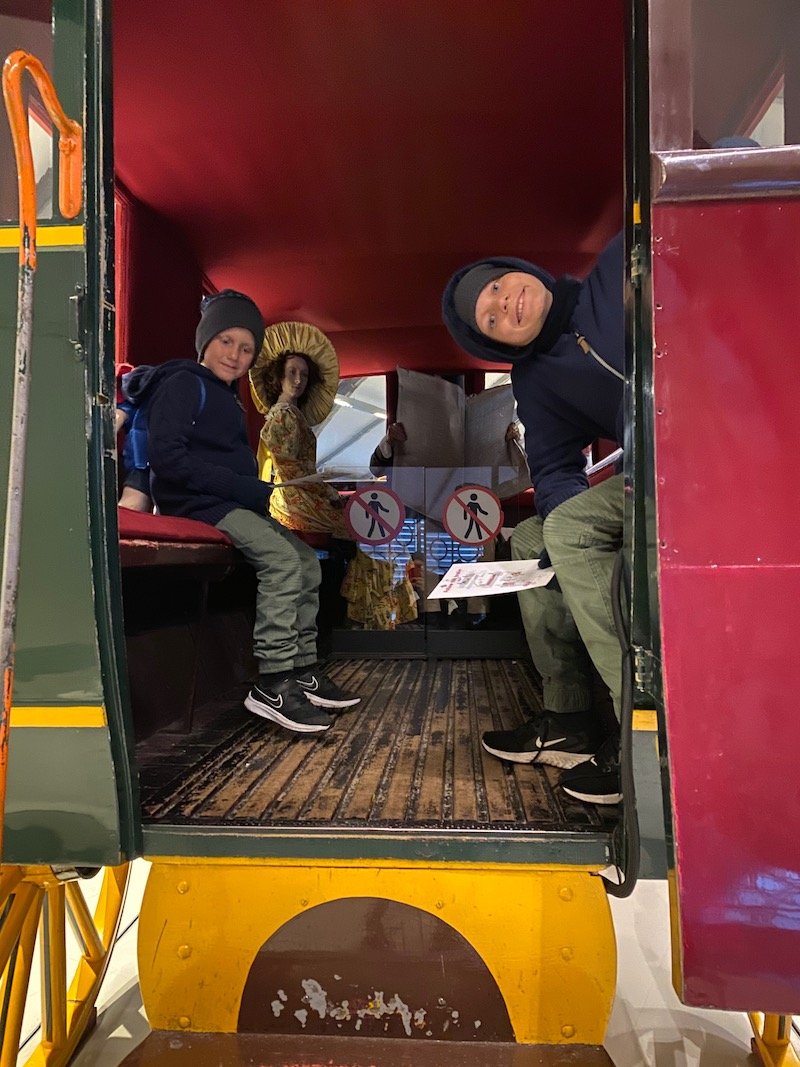 Fun Fact about the TFL Museum Shop
Why is it called the TFL Shop London?
Fun Fact: What does TFL stand for in London?
TFL means Transport for London.
It's an abbreviation often used by people looking for the Transport for London shop.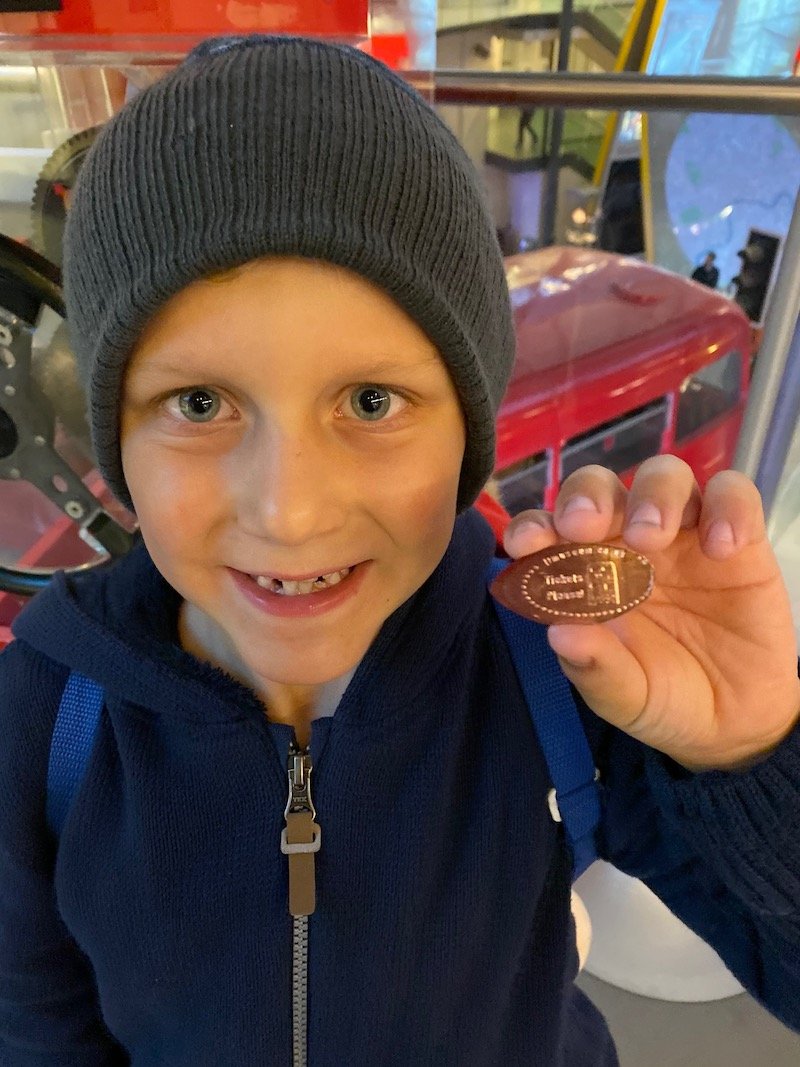 THE INSIDE SCOOP: London Transport shop
Correct at time of publication on Roam the Gnome. Please check with venue for updates. We apologise in advance if there have been any changes we are unaware of. All prices in British pounds, unless otherwise stated
Phone: +44 20 7379 6344
Website: Click here
Email (guest relations): [email protected]
London Transport Museum Shop opening hours
The London Transport Museum shop hours are:
Sunday – Tuesday 10.00 – 18.30
Wednesday, Thursday and Saturday 10.00 – 19.00
Friday 11.00 – 19.00
LTM shop entry fees:
Free entry to the shop.
London Transport Museum Shop Discount code
Sign up to their newsletter for 10% off your first purchase.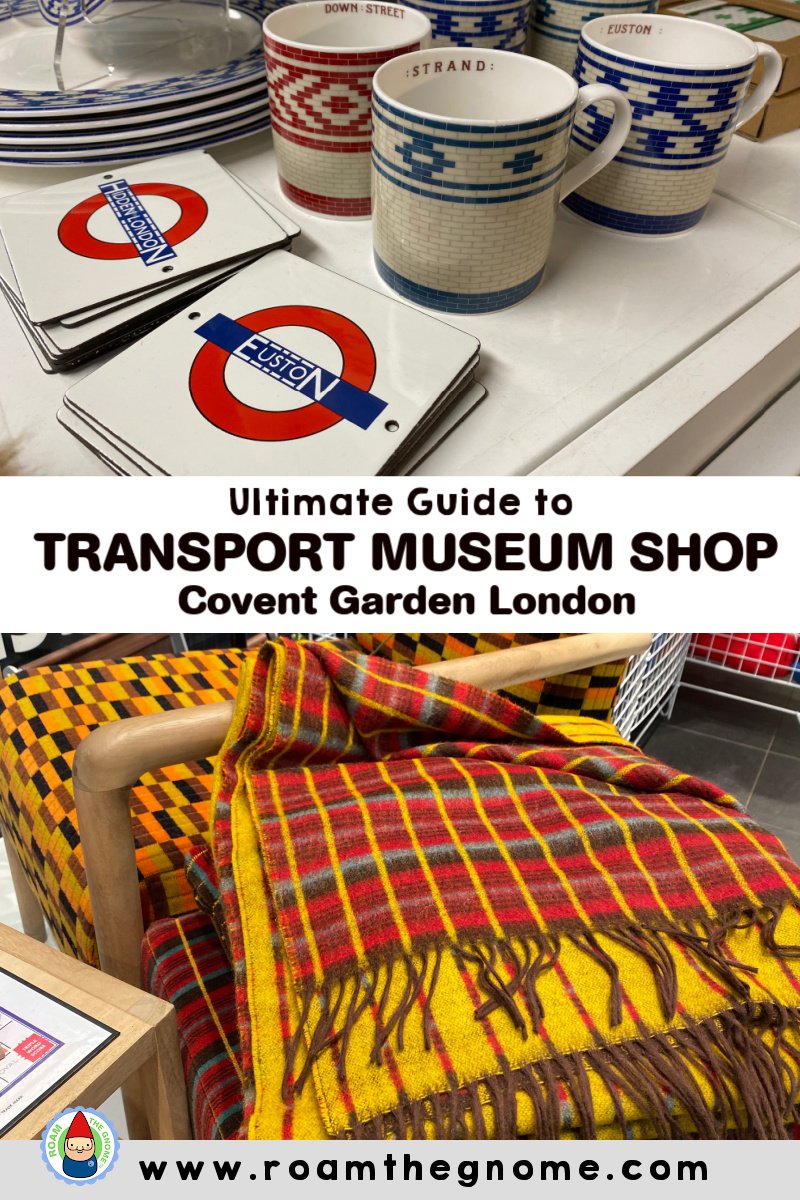 How to get to the London Transport Museum Covent Garden
Get to the London transportation museum:
By Underground
Covent Garden, Leicester Square, Holborn, Embankment, Charing Cross
Plan your journey with Transport for London
By Bus
Strand or Aldwych (RV1, 9, 11, 13, 15, 23, 139)
By Rail
Charing Cross and Waterloo Mainline StationsPlan your journey with National Rail
By Boat
Save with our joint ticket for London Transport Museum and MBNA Thames Clippers.
Embankment Pier is the closest pier to the museum, a 10 minute walk away.
Plan your journey with Thames Clippers
By Bicycle
Get here using Santander Cycle Hire.
Nearest Docking Stations are available behind the museum on Tavistock Street and a short walk from the Museum on Wellington Street.
There is also a public cycle rack located a few minutes walk from the museum in Russell Street.
A comprehensive list of cycle parking locations across Westminster can be found on the Westminster Cycling Campaign website.
By Car: Click here for google map directions to London Transport museum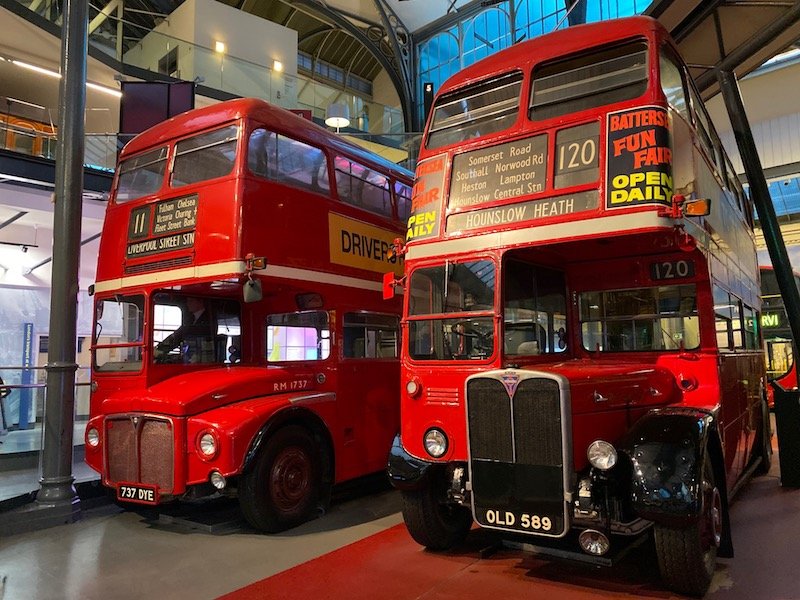 London Transport Museum Parking
There is a very limited number of parking spaces available near the Museum.
These spaces are charged at £4.40 per hour, with a maximum stay of around 4 hours.
The ParkRight app for mobile, developed for the City of Westminster, can provide you with real time parking space occupancy information.
London Transport Museum Map
Toadstool Rating: British Transport Museum Shop

Looking for more places to shop in London with kids?
Click the blue links below for more London tips