INSIDE: The Comprehensive all you need to know guide to TOKYO DISNEYSEA SNACKS.
As you walk around Tokyo Disneysea park between Disneysea rides, look out for cute Disney snacks.
Do not think you can visit Tokyo Disney Sea without trying at least one or two of the best Tokyo Disney Sea Snacks.
There's no time for diets at Tokyo Disney resorts!
Tokyo Disneysea is a magical place where you must eat all the Japanese treats, Japanese snacks, Japanese chocolate, and Japanese candy.
HOT TIP: YOU MUST TRY THE LITTLE GREEN MEN MOCHI.
Disclosure: This article contains affiliate links. If you make a purchase after clicking on one of these links, we may receive a small commission at NO extra cost to you.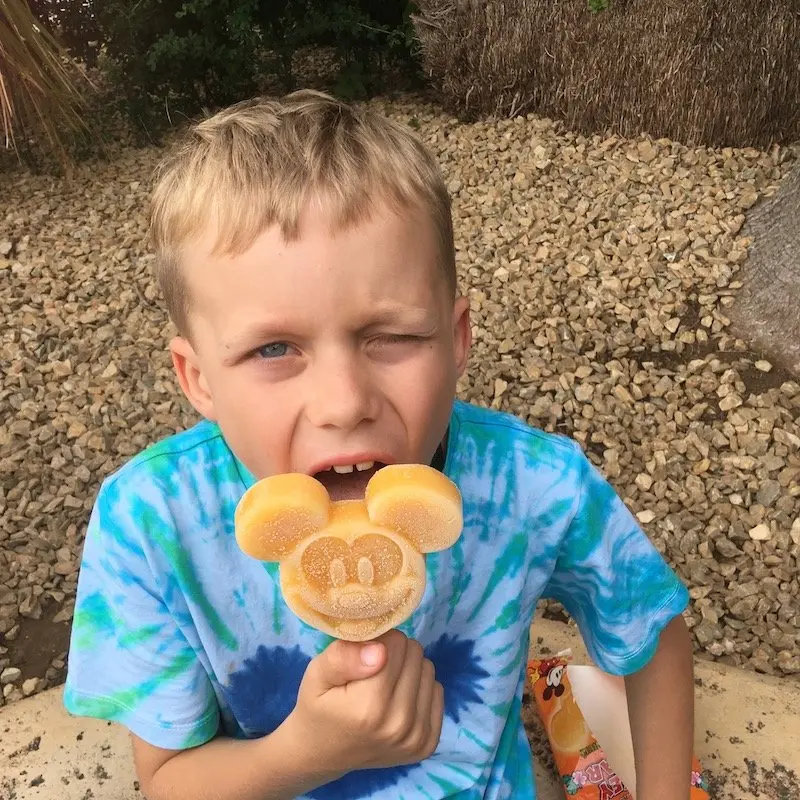 BEST DISNEY SNACKS AT TOKYO DISNEY RESORT
Correct at time of publication on Roam the Gnome. Please check with venue for updates. We apologise in advance if there have been any changes we are unaware of. All prices in yen, unless otherwise stated
One of the MUST DO activities for both kids and adults at Tokyo Disneysea is trying all the fun snacks we've listed below.
Put your favourites on your Tokyo Disneysea itinerary today so you don't forget, and know where to find them on the day.
---
RELATED: Ultimate Guide to Tokyo Disneysea Rides, Tokyo Disneysea Attractions, Food & Fun!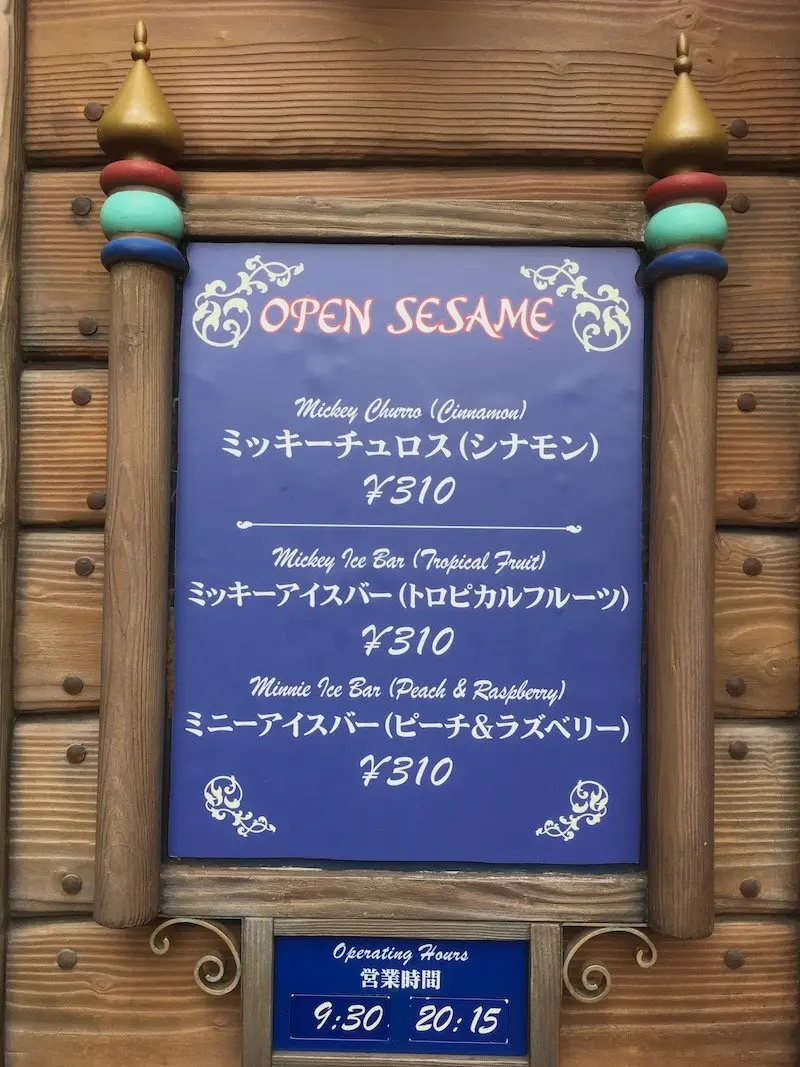 MOST POPULAR SNACKS AT TOKYO DISNEYSEA
No.1: Mickey Ice Pops
The Mickey ice pop at Disney sea comes in two flavors:
tropical fruit, or
peach and raspberry.
Mickey and Minnie Ice bars cost ¥310 each.
---
Check latest prices: Tokyo DisneySea 1 Day Park Entry with Skip the Line – Get Your Guide (BESTSELLER)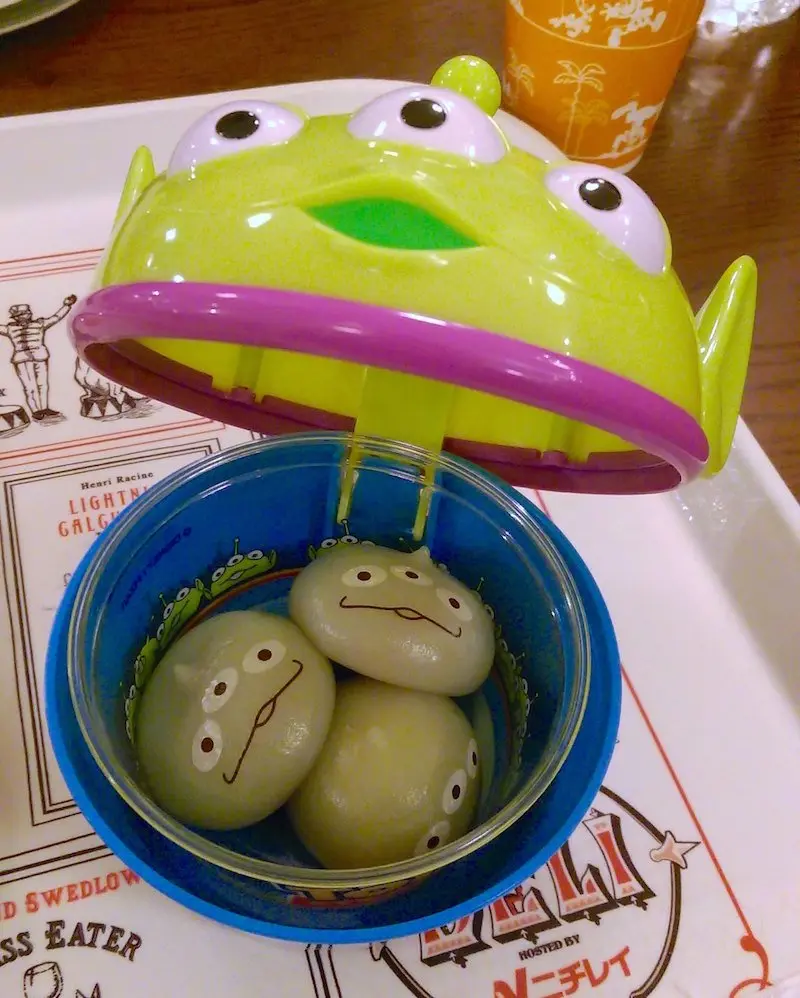 Image Credit: SStrieu via Flickr CC BY-ND 2.0
No.2: Green Alien Mochi Disneysea
Alien mochi dumplings can be found at Mamma Biscottis Bakery in the Mediterranean Harbour for ¥360.
Buy Little Green Men mochi dumplings with the souvenir Little Green Men case for ¥980.
---
READ MORE: The Ultimate Guide to Tokyo Disneysea for Toddlers and Kids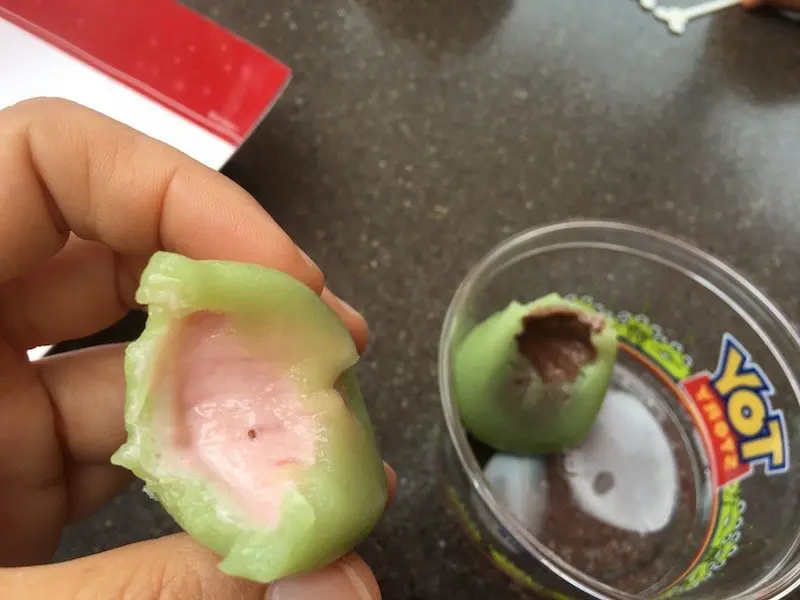 What is the Little Green Man mochi filling at Disneysea?
These Alien snacks are spongy rice balls, made from sticky rice that is pounded into a dough, are filled with sweet custard in three flavors:
Chocolate
Strawberry
Cream
OMG.
SOOOOO goood!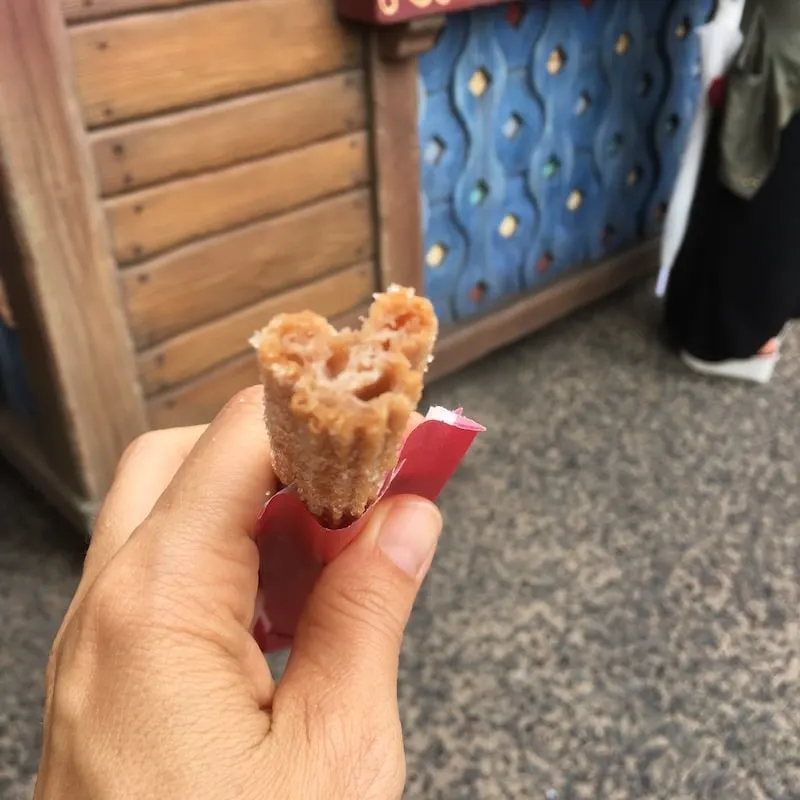 MORE TOKYO DISNEYSEA SNACKS
No.3: Disney Mickey Churros
Mickey shaped churros take a churros treat next level!
For 350 yen each, they are a bargain snack for those on a budget too.
Orange flavored Nemo churros!
Head to Nemo and Friends Sea Rider to find the churro stand (Bayside takeout) that sells ORANGE FLAVORED NEMO CHURROS!
They are orange and white striped, just like NEMO!
Look out for Potato churro snacks too.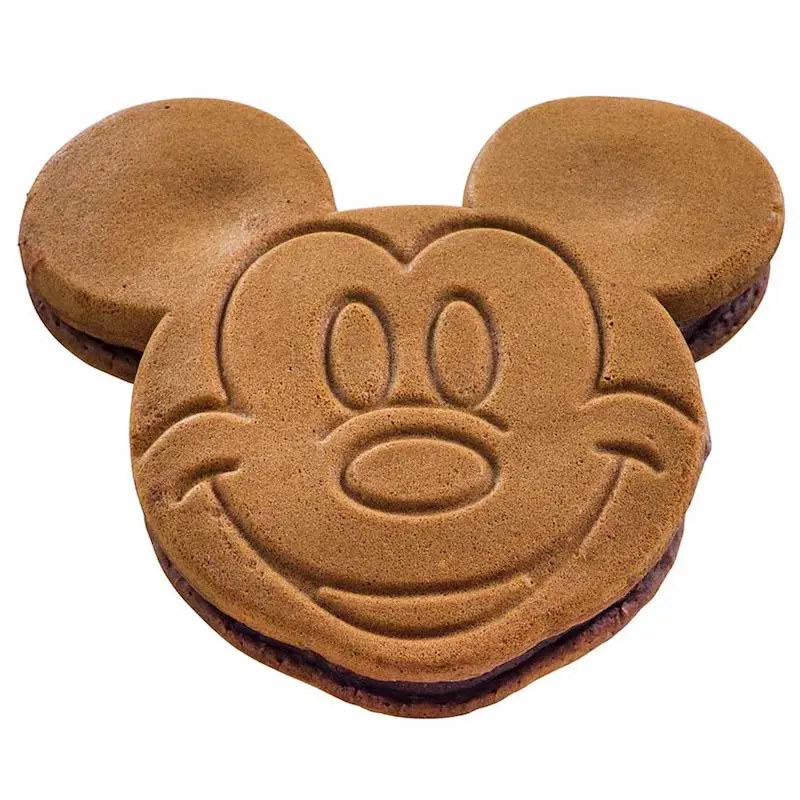 No.4: Mickey Castella cake with chocolate cream
Find this at Hudson River Harvest in the American waterfront.
Look out for the Mickey shaped ice cream sandwich too.
It's a similar soft biscuit filled with vanilla ice cream.
My mouth waters at the thought.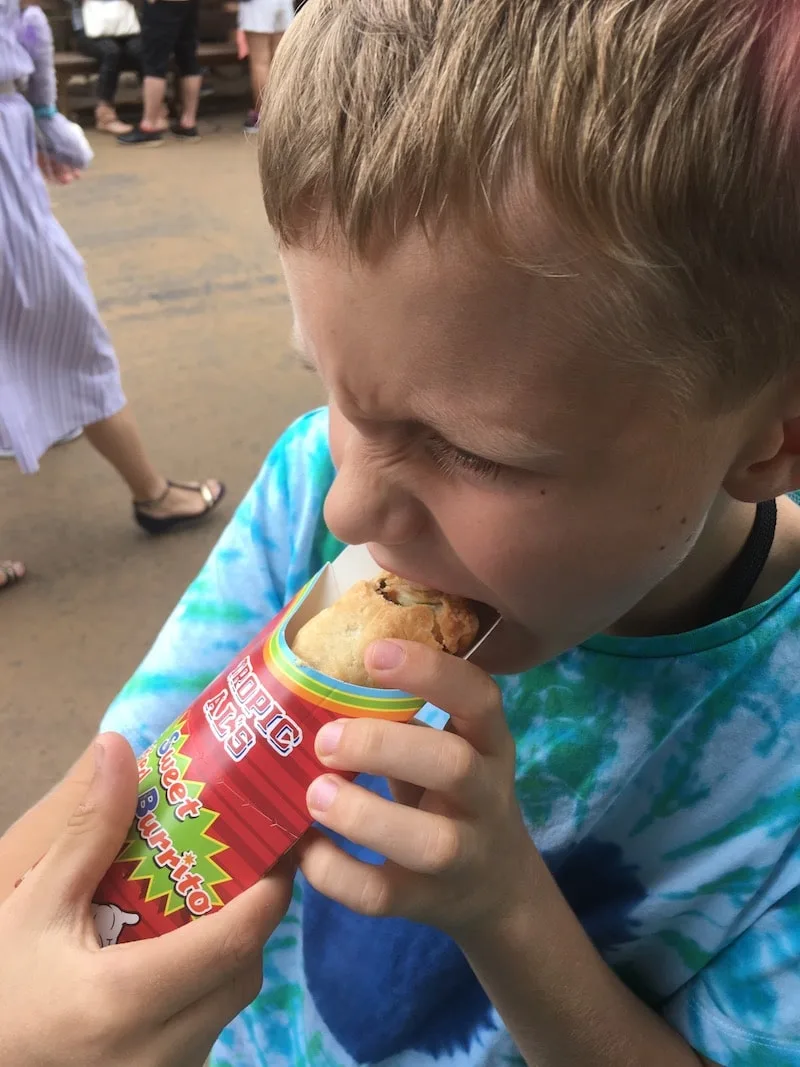 No.5: Sweet fried burrito at Tropic Al's
This sweet treat is filled with caramel and banana.
Careful, they are HOT!
But delicious.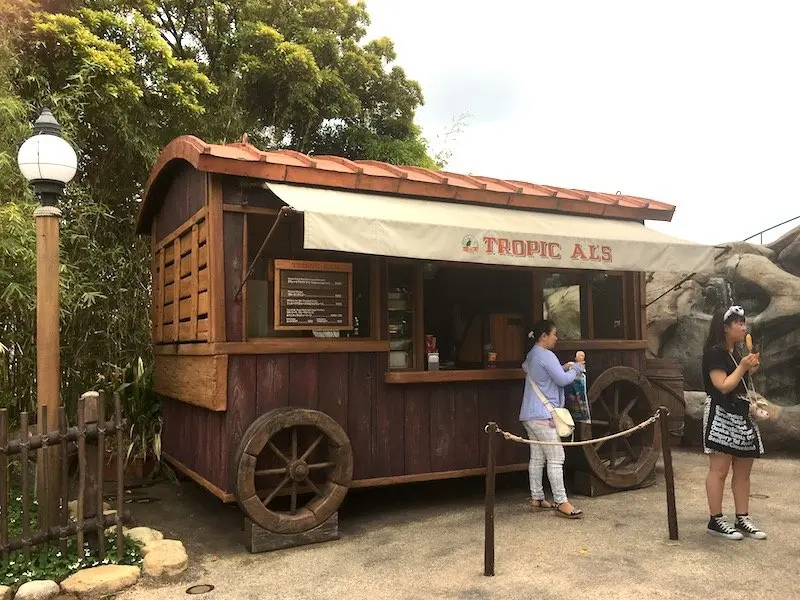 Tropic Al's Wagon at Tokyo Disneysea
Buy these sweet fried burritos from Tropic Al's wagon.
It's in Lost River Delta in Disneysea park.
No.6: Mickey shaped muffins
You can purchase Banana and walnut muffins, or double choc muffins from Mama Biscotti's Bakery.
No.7: Mickey Danish pastries
The same place also sells Mickey shaped danishes in two flavors:
apple custard, and
dark cherry.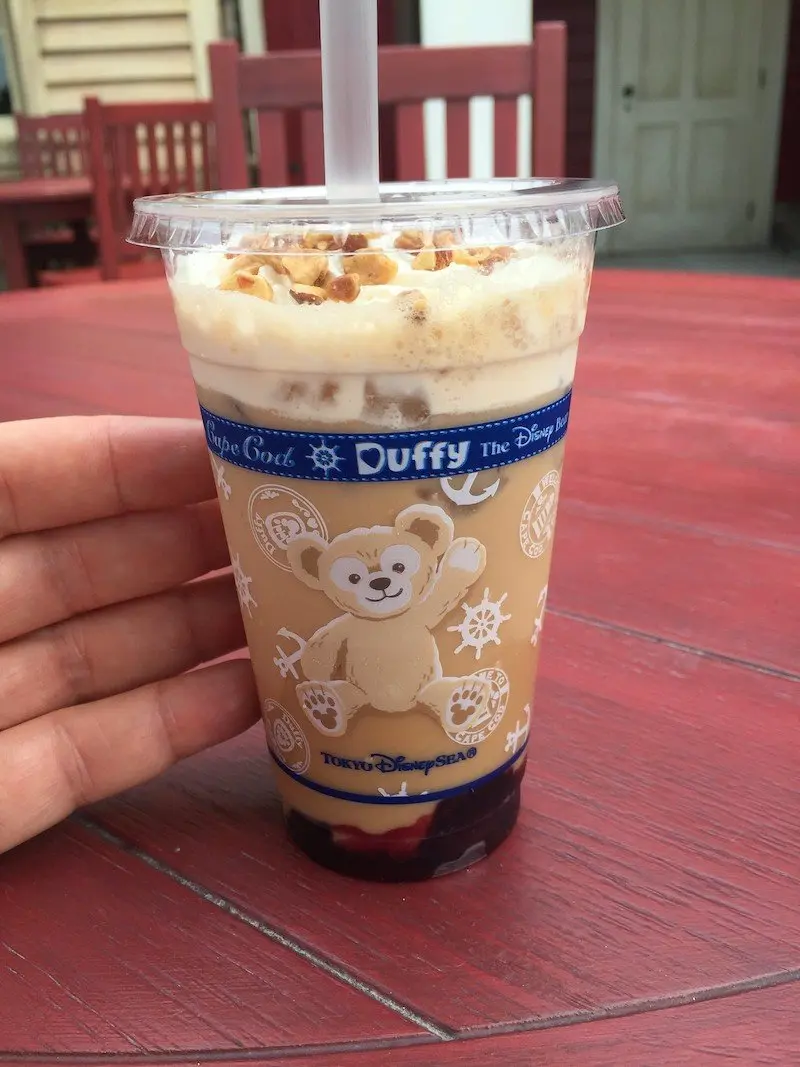 Image Credit: Joel via Flickr CC BY-ND 2.0
No.8: Duffy Sweets and Drinks at Disneysea Restaurants & Shops
The place to find Duffy snacks is at Cape Cod confections.
Try caramel milk tea, or iced caramel milk tea in a Duffy cup.
You can also buy a sweet "omlet" roll and Happy Duffy caramel cream biscuit set for ¥470.
No.9: Shaved Ice at Liberty Landing Diner
If it's a hot day in Tokyo, head straight to the Liberty Landing diner for Japanese shaved ice concoctions.
Kakigori shaved ice dessert is flavored with syrup and topped with a huge drizzle of condensed milk.
If you are lucky, you can add a serving of red sweet anko beans on the side.
(Alt: adzuki beans or azuki beans)
No.10: Fresh Fruit cups at Tokyo Disneysea
Stop by Papadakis Fresh Fruit wagon to pick up giant cups of seasonal fresh fruit, all chopped up ready to eat.
Tokyo Disneysea fruit cups are sometimes just what you need after all the other sweet treats!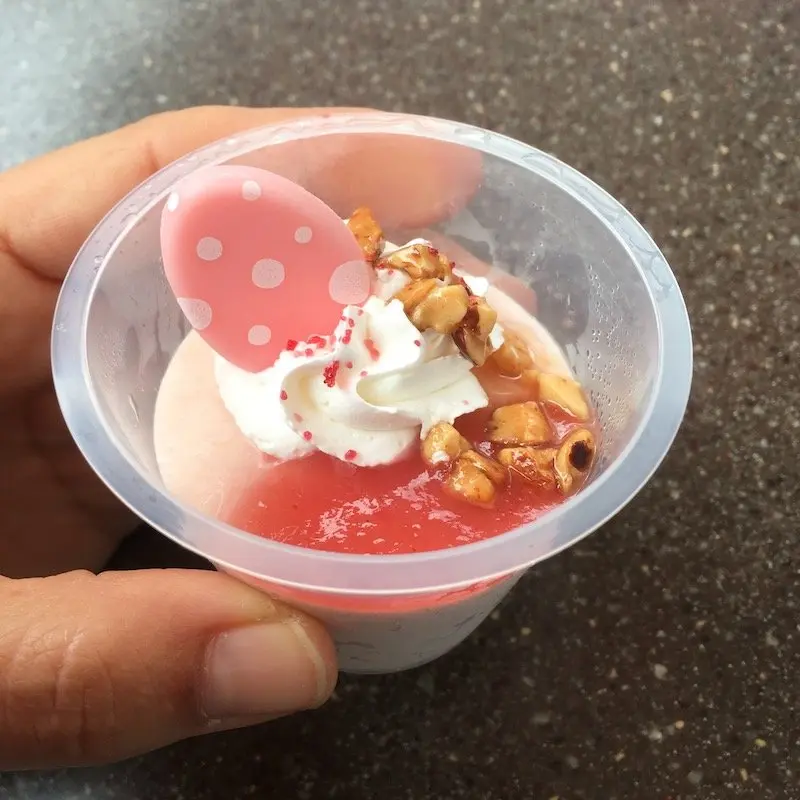 No.11: Seasonal Snacks at Tokyo Disney
You'll find LOTS of seasonal snacks on offer at Disneysea.
These Disney snacks tend to be in place for a 3-4 month long limited edition time, and are often accompanied by souvenir cups or plates to mark the occasion such as:
Disney Easter
Disney Christmas, or
Disney Golden Week.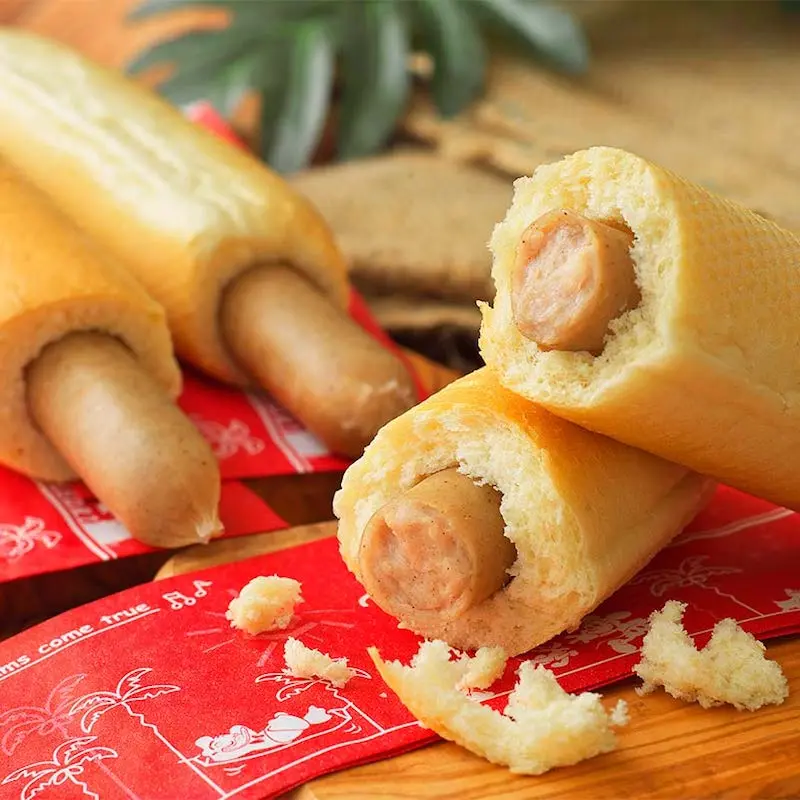 Image credit: Tokyo Disney Resort
SAVORY TOKYO DISNEY SEA FOOD
No.12: Spiced Smoked Chicken Leg
Find it at Lost River cookhouse for 500 yen each.
No.13: Gyoza Dog Disneysea
Find the Gyoza Bun at the Nautilus Galley Refreshment Station at Mysterious Island for ¥500.
No.14: Yucatan Sausage Dog
Grab this hot dog before you stand in a ride queue.
Find it at Expedition Eat at Lost River Delta for ¥ 500
No.15: Seafood Cream Calzone
This pizza-type treat is enfolded in pizza dough, and filled with seafood cream.
Try one at Sebastian's Calypso Kitchen for 670 yen.
No.16: Pizza in Tokyo Disneysea Mermaid Lagoon
Head to Sebastian's Calypso Kitchen to pick up pizza on the go.
There's both scallop pizza and sausage pizza.
Hot tip: Try the deep-fried scallop cutlet sandwich, served on a clamshell shaped bun!
When you are done eating, head to the Sleepy Whale Shoppe to pick up exclusive Tokyo Disneysea Merchandise, including LOTS of Ariel and the Little Mermaid souvenirs.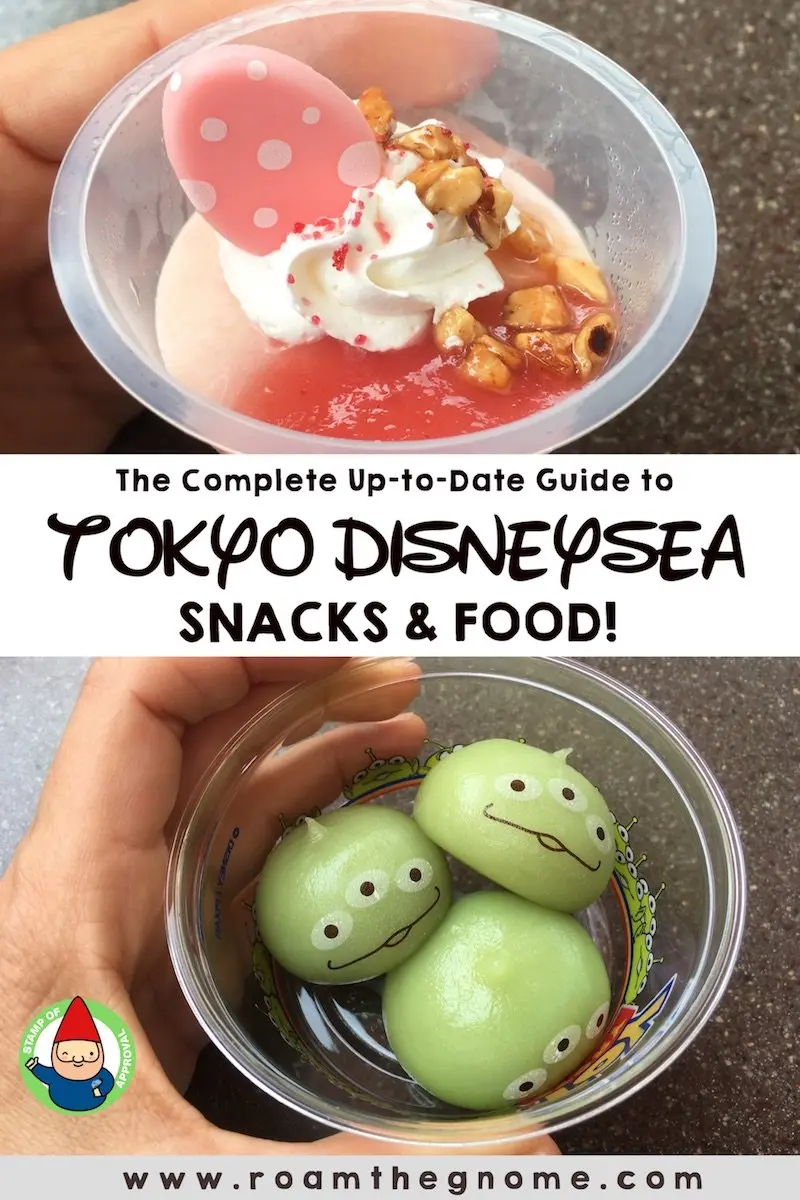 GOODBYE TO THESE FAMOUS TOKYO DISNEY SNACKS
No.1: Chandu Tail Disneysea
The popular Chandu Tails were sold at Sultan's Oasis in Arabian Coast. Sadly, Tokyo Disney resort phased these Disneysea snacks out in August 2018.
Luckily you can still buy cute Chandu souvenirs & toys. This tiger from Sindbad's Storybook Voyage is adorable.
No.2: Donald Duck Life Preserver Steamed Bun
Sadly, the Donald Duck ukiwaman shrimp-filled steamed buns shaped like a Life Preserver are no longer available at Disneysea.
They were sold at Seaside Snack, Port Discovery.
**It looks like these might be back on the menu from June 2020. Do check!**
It was a sad day when these both disappeared.
---
Book now: Tokyo DisneySea 1 Day Park Entry with Skip the Line – Get Your Guide (BESTSELLER)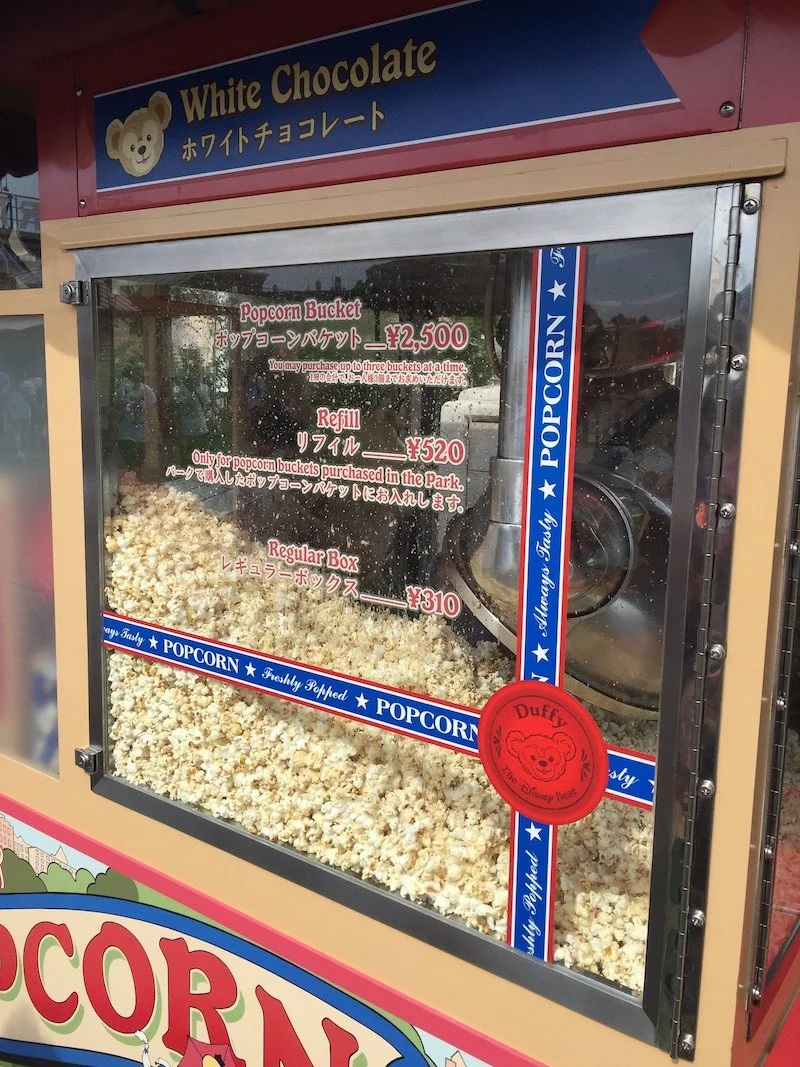 Image Credit: Joel via Flickr CC By ND 2.0
TOKYO DISNEYSEA POPCORN WAGONS
Go on, buy the cute Popcorn bucket.
It's a once-in-a-lifetime souvenir from this magical Disney theme park.
Then buy all the different Tokyo Disneysea popcorn flavor refills (such as caramel, curry, or soy sauce) as you go round the park.
There are so many, we wrote a bucket list food travel guide.
Read our Ultimate Guide to Tokyo Disney Sea popcorn here.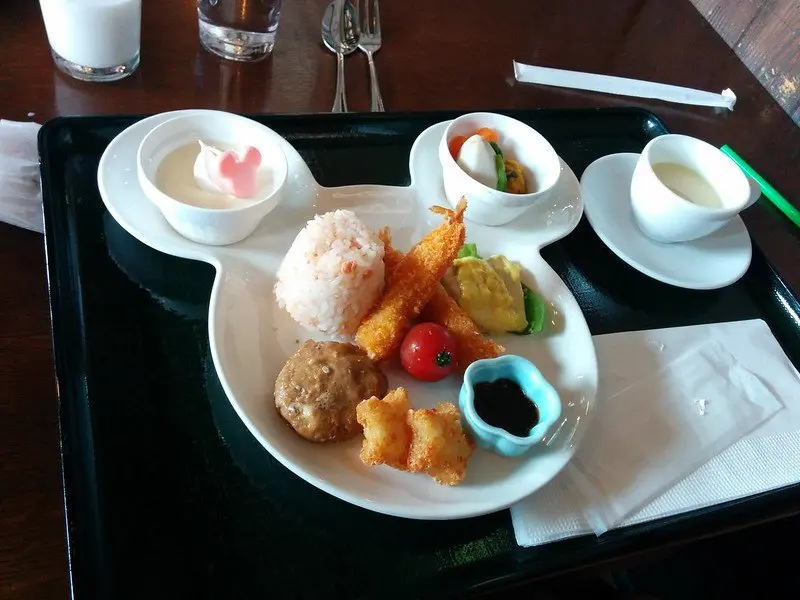 Sakura restaurant at Disneysea. Image credit: Cory Doctorow via Flickr CC BY-SA 2.0
TOKYO DISNEYSEA CHILDREN SET MEALS
You can find children's set meals at Disneysea table service restaurants starting from ¥ 940.
Tokyo Disney's children's meals appeal to kids. They are often served on Mickey plates, with small portions of a variety of kid friendly food including star shaped nuggets!
The most expensive is the Little Explorer's set at Magellans. This three course set will set you back ¥2100.
Take a look at the range of children's sets in different Tokyo Disneysea restaurants here.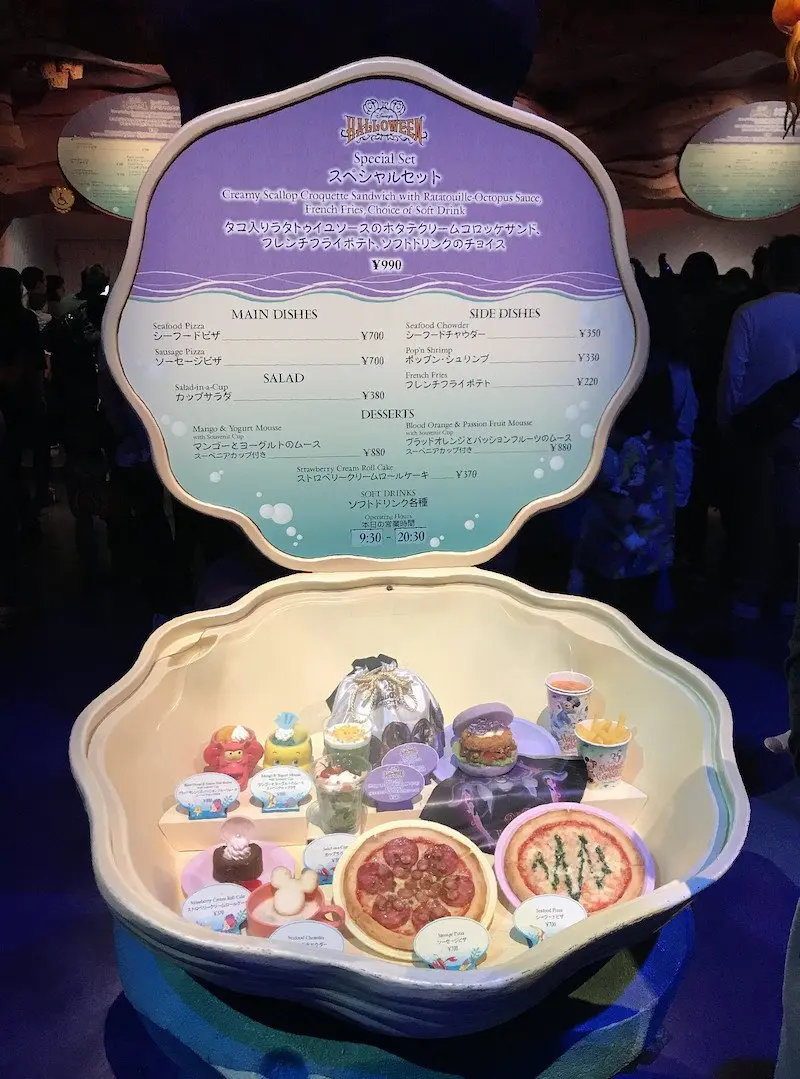 Image credit: Laika Ac via Flickr CC BY-SA 2.0
TOKYO DISNEYSEA FOOD PRICES LIST
Tokyo Disney Resort meals and snacks at Tokyo Disneyland and Tokyo Disneysea are truly the best priced Disney food dishes in the world!
They are the only Disney parks in the world where I don't even think about taking snacks from home to keep to our budget.
We indulge in all the snacks, and at least one sit down meal too without having to rob the nearest bank.
It's yet another reason why these two Japanese Disney parks continue to be at the top of our favorites list.
Churros
Cinnamon Churros at Disneysea cost ¥350
Demiglace Churros (potato) cost ¥450.
Tokyo Disneysea Popcorn
A regular box of popcorn costs ¥400.
A popcorn bucket refill cost at Disneysea is ¥500.
Tokyo Disneysea Snacks cost
Savory snacks cost ¥4.50 to ¥5.00. An absolute bargain.
Our tip is to skip lunch, and try all the savory snacks instead!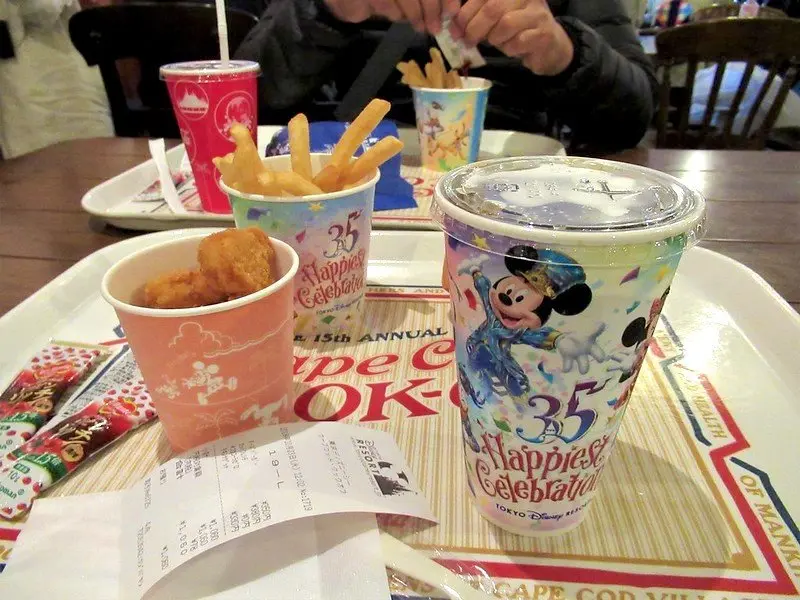 Toadstool Rating: Tokyo Disneysea Food & Snacks

Looking for More Things to do in Tokyo with Kids?
Click the links in blue below.