INSIDE: Roam the Gnome's Review of Singapore Airlines travelling with children.
Singapore Airlines is the NUMBER ONE airline in the world, according to TripAdvisor, with the world's best cabin staff.
And now that we're back traveling, it's our go-to airline of choice once again.
It's safe.
It's clean.
It's reliable, trustworthy, and if you book early enough, affordable to book tickets on Singapore airlines even when you are travelling with children in tow.
Take a look at a few of the benefits of flying Singapore airlines with children.
Disclosure: This article contains affiliate links. If you make a purchase after clicking on one of these links, we may receive a small commission at NO extra cost to you. Main image credit: Photo by Eric Salard Flickr CC BY-2.0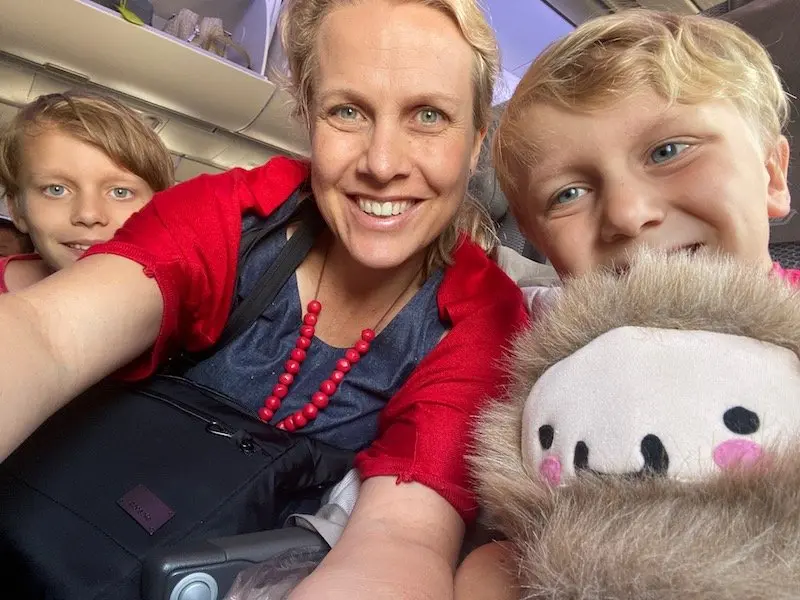 SINGAPORE AIRLINES Travelling with Children
We've gathered ALL the information you need to know if you are planning a Singapore airlines flight with kids, including information on:
the limit of infant baggage you can take on Singapore airlines with kids
all the options for entertainment on Singapore airlines (including movies you can watch)
the kids fun packs on Singapore airlines
how to order Singapore airlines children's meals
baby food on Singapore airlines
bassinet size on Singapore airlines
---
Book now: Singapore Zoo 7-day Pass – Visit Singapore Zoo, River Safari, Night Safari, and Jurong Bird Park
Singapore Airlines Entertainment
Singapore Airlines inflight entertainment includes over 1,800* on-demand entertainment options.
There's movies, television shows for both adults and kids, and music.
Singapore Airlines children's entertainment also includes computer games for kids like:
Monsters University Hide and Sneak
Disney Mickey's House Party
In-flight PAC-MAN
In-flight Tetris
Frantic Finlay: Ocean Adventure
---
READ MORE: The BEST Travel Toys for Toddlers and Preschoolers for Flights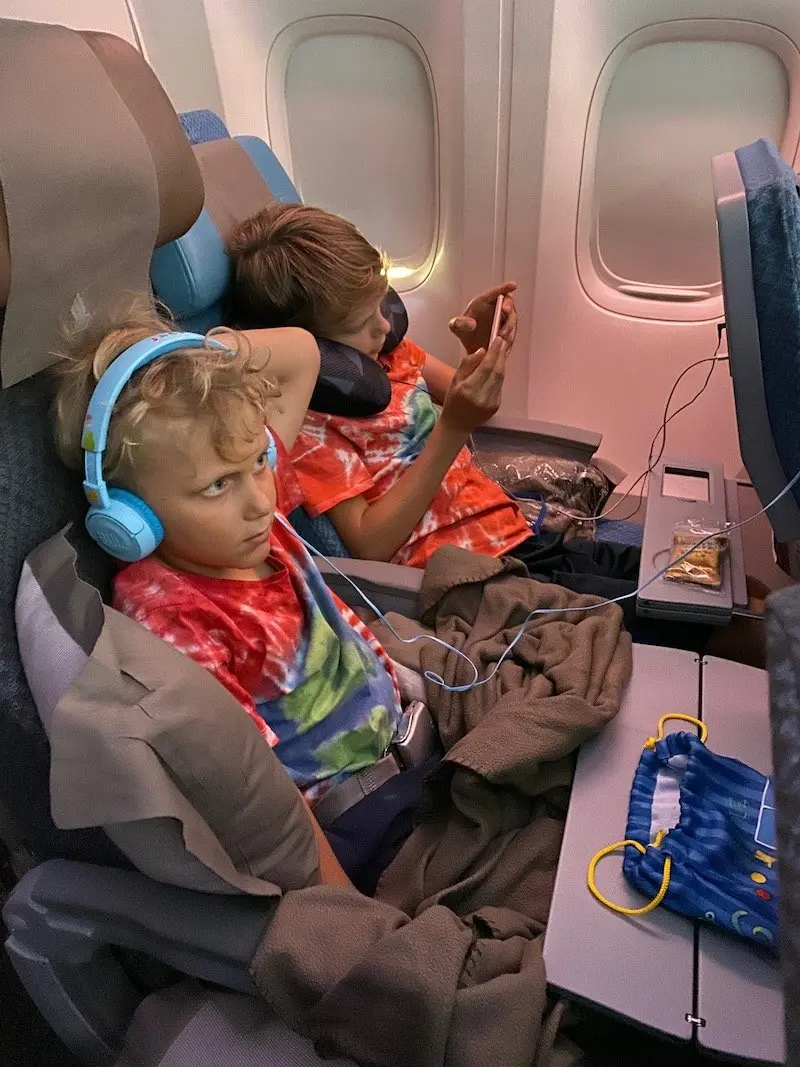 Singapore Airlines Movies
Singapore airlines has inflight movies to keep the kids entertained.
There's new releases for kids such as Toy Story 4.
Click here for current movies on Singapore airlines for this month and next.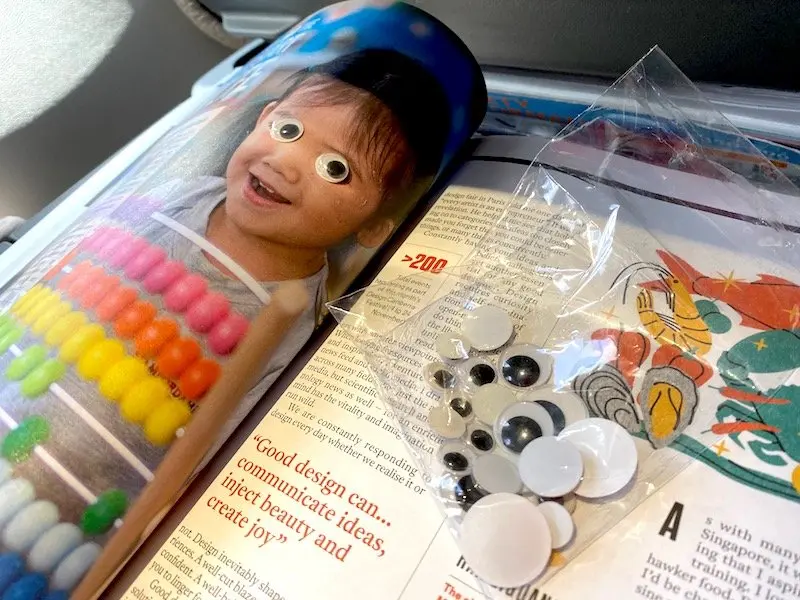 Simple games to play on airplanes with kids
When the screen won't hold their attention anymore, you can also bring a few small props or toys to use as toddler activities on the plane.
Our favourite?
Peel and stick goggly eyes.
Our next best favourite?
Invisible ink books. No mess, no fuss.
---
READ MORE: The Best Toddler Plane Activities to save your sanity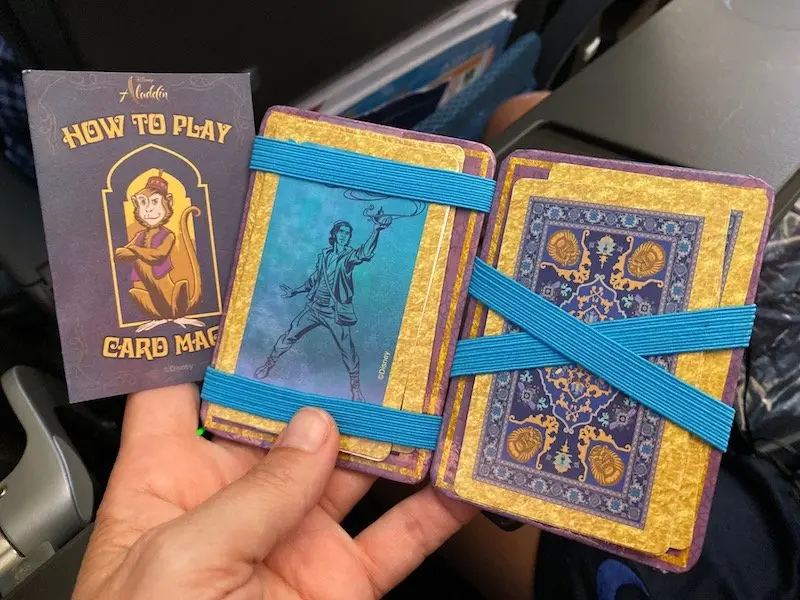 Singapore Airlines Kids Pack
Kids may be given a special kids activity pack for the plane, depending on the route you are flying.
This Singapore Airlines activity pack for kids may include a soft toy, games, a notepad, and pencils.
On a recent flight, the boys were lucky enough to receive a magic card kit!
Fun Fact: Singapore Airlines removed the outer plastic polybags from the Singapore Airlines toy and children's activity pack giveaways, and changed to recyclable paper packaging. Awesome move by a forward thinking company!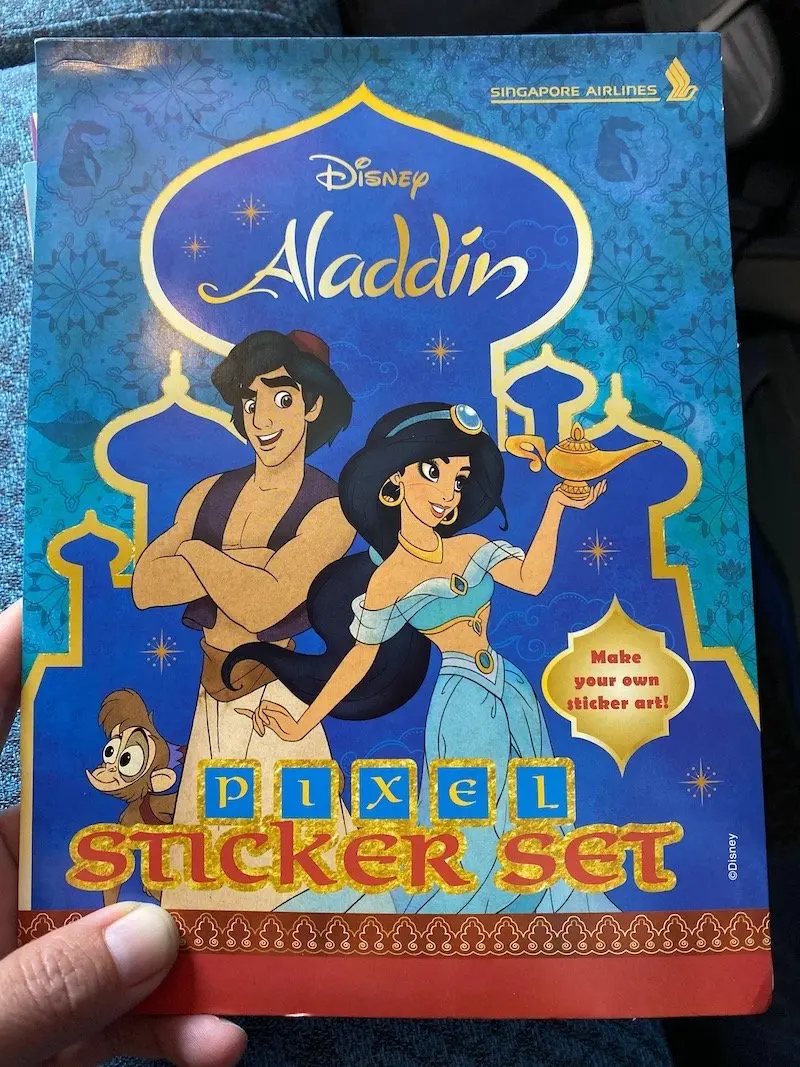 Singapore Airlines Children's Pack
On another flight, Singapore airlines gave these sticker books to the kids.
This Pexel sticker activity book was a fabulous time killer for every age.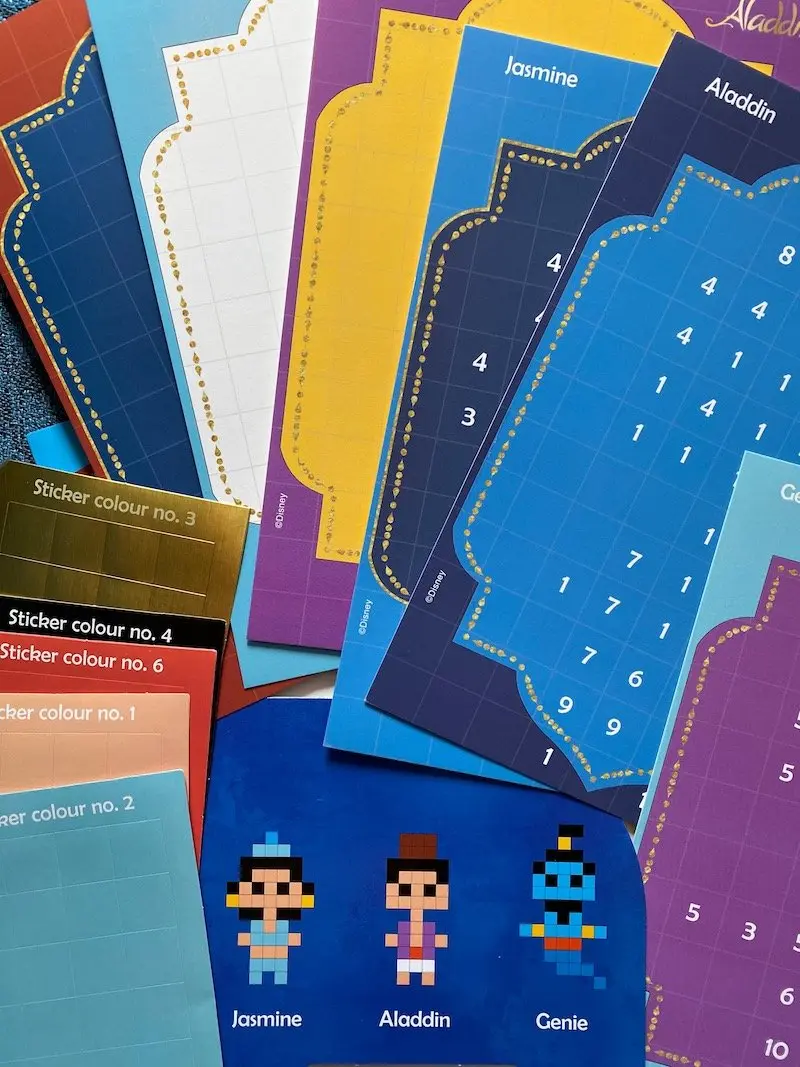 Aladdin Pixel Sticker Set Toy
All the kids needed to do was peel off the colored squares and match them to the picture board to make the figure of:
There were also blank boards so kids could make their own artistic creations.
Super fun for both Ned and Jack!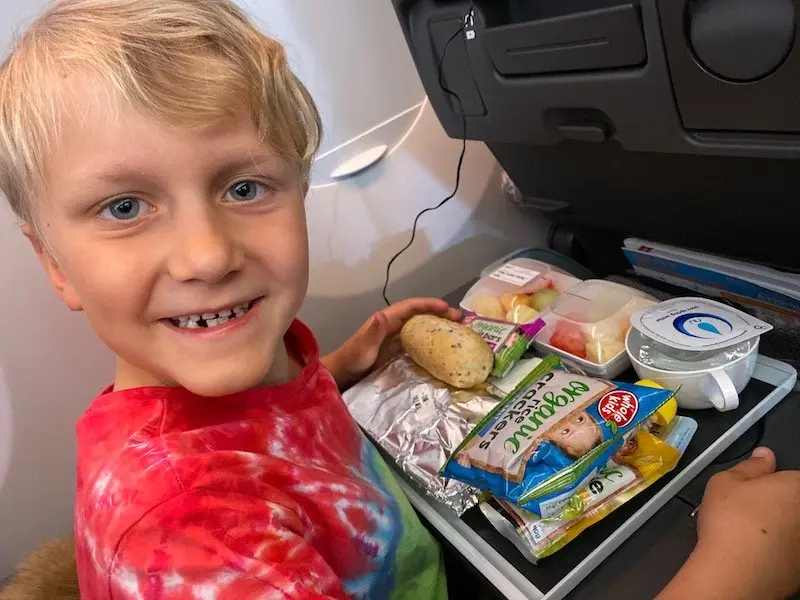 Singapore Airlines Kids Meal
The Singapore Airlines child meal is one of three choices:
A child meal of penne pasta with chicken bolognese sauce
An Asian dish of fried rice
A Vegetarian option of vegetarian lasagne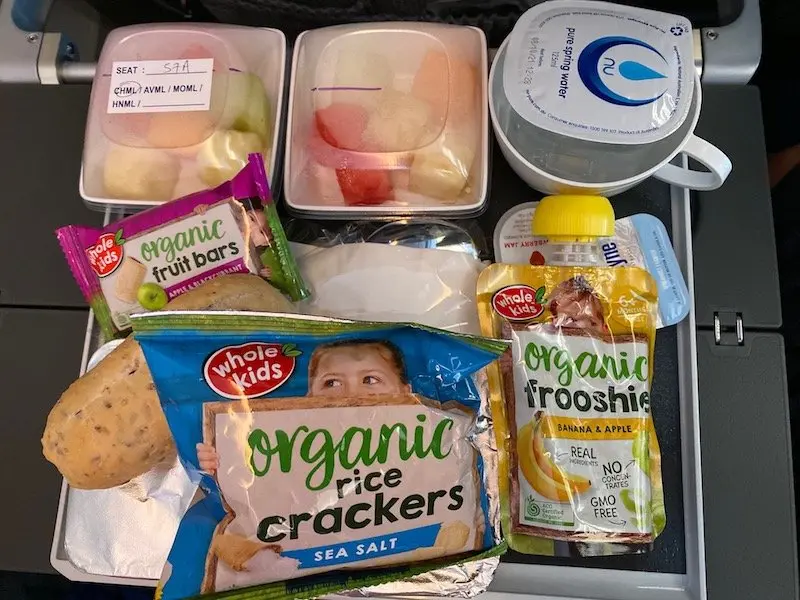 Singapore airlines children's meal contents
Jack's recent meal included:
fresh fruit
organic rice crackers
bread roll, butter and strawberry jam
organic fruit bar
organic frooshie pouch
water
penne pasta with chicken bolognaise sauce and cheese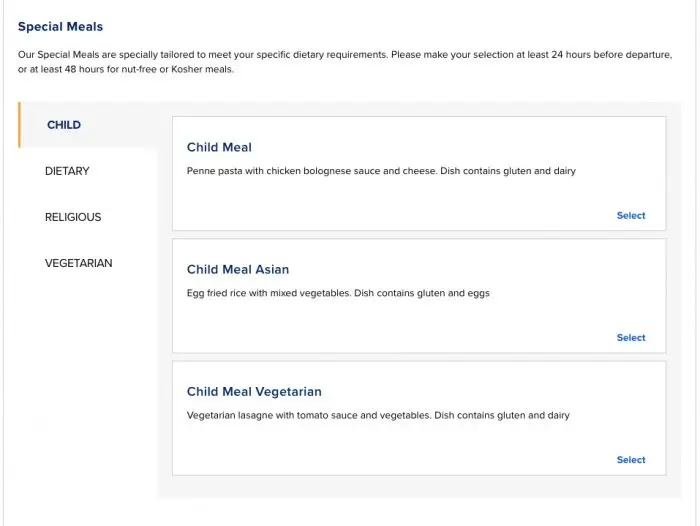 How to Prebook children's meals on Singapore Airlines
Prebook your kids meals in advance at least 24 hours before departure.
To do so:
visit the Singapore Air website
add your booking reference to open up your booking
go to the page to manage your trip, and
find the tab 'MANAGE' under the flights.
This will give you the option to choose your meals.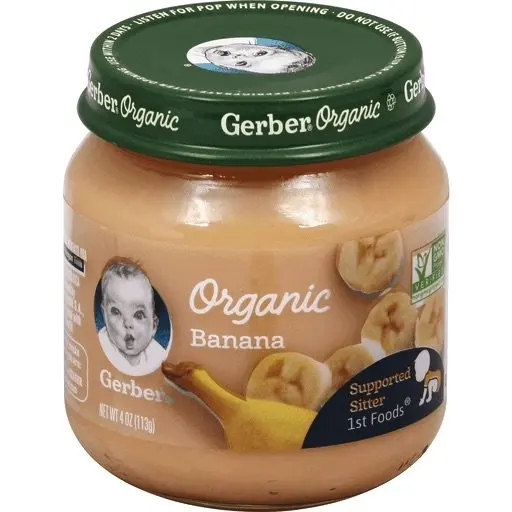 Singapore Airlines Baby Food
If you are travelling with a child under 1, they offer 3 jars of baby food per meal.
This consists of:
main course
vegetables and
dessert.
There's also:
post-weaning meals for kids between 1 and 2, and
child meals for infants less than 2.
READ MORE: 11 excellent tips for flying with a toddler on a plane (or baby)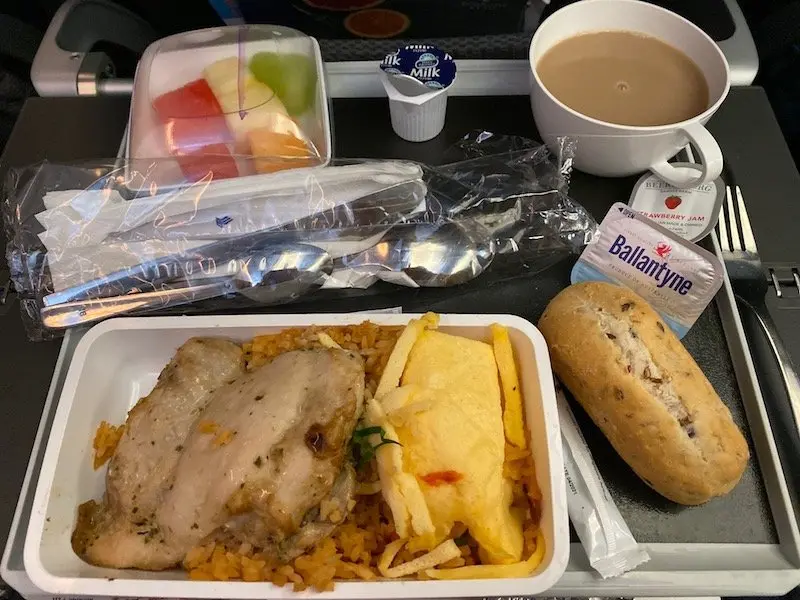 Singapore Airlines Meals for Adults
Is food and drink free on Singapore airlines?
Yes, Singapore Airlines is a full service airline, so food and drinks are included.
Both non alcoholic drinks, AND wine, beer and spirits are served.
Depending on the time of day of your flight, you'll be served either :
breakfast
lunch
dinner, and/or
snacks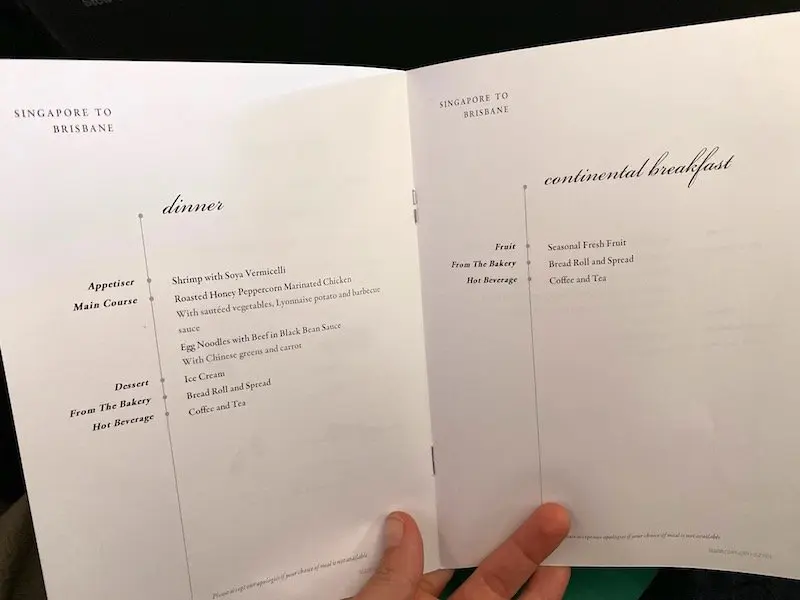 Singapore Airlines Economy Class menu
Singapore Airlines meals in economy are your standard fare.
The Singapore Airlines Menu in Economy normally has two choices on offer, usually a meat dish and a vegetarian dish.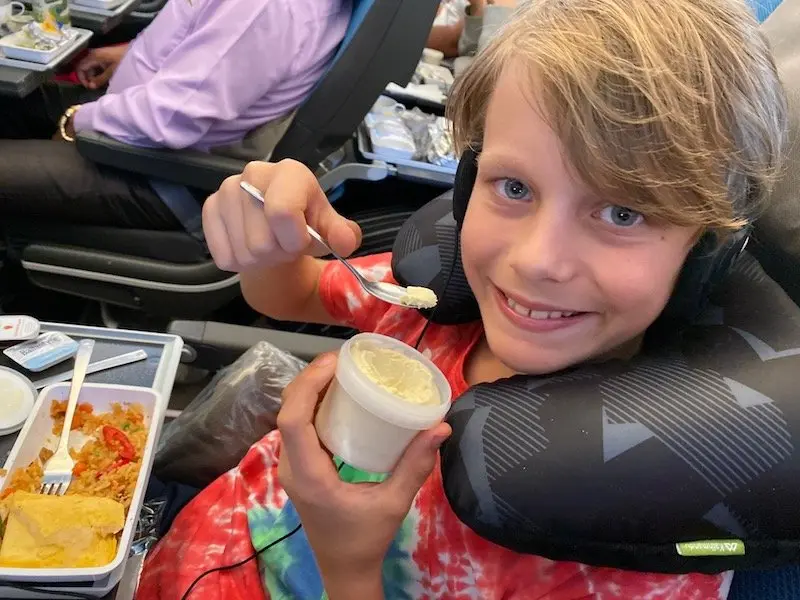 Singapore Airlines Food Example
On our recent flight from Brisbane to Singapore, we were served brunch of:
coffee and/or tea
seasonal fresh fruit
bread roll and spread
The main course was either:
Nasi Goreng (Malay style fried rice with egg and chicken) OR
Egg with Parmesan cheese and caramelized onion (served with bacon, Boston beans, and chat potato)
The service finished with delicious Maggie Beer vanilla bean ice cream for dessert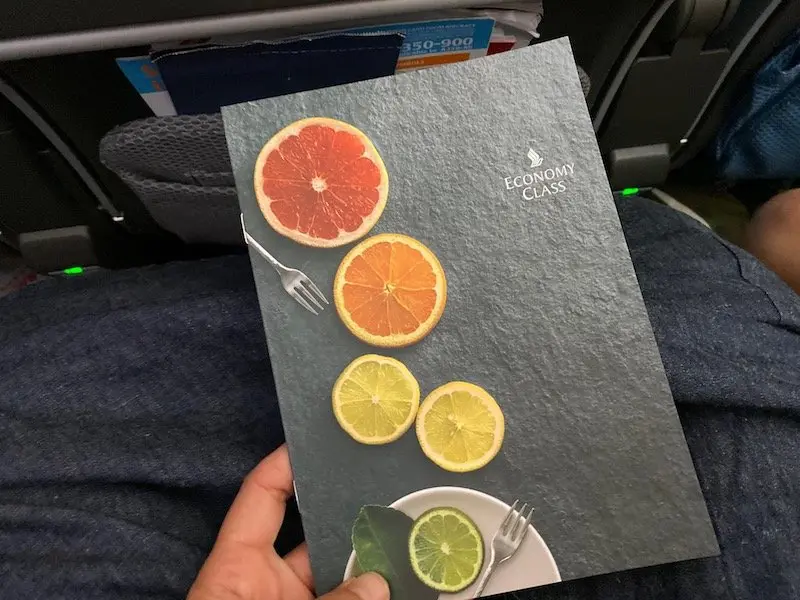 Singapore Airlines lunch meal example
From Singapore to London, we were served lunch.
This started with a barbeque chicken with vegetable salad appetiser.
Main course was a choice of either:
chicken breast with mushroom sauce, sauteed veggies and potatoes, OR
fried fish in sweet and sour sauce with chinese vegetables and fried rice, OR
Hyderabadi Mutton Keema Biryani, Baingan Ka Salan (chich is baked minced mutton rice with braised eggplant in spice peanut sauce)
Plus these accompaniments.
Maggie Beer vanilla bean ice cream for sweets
a bread roll and spread
hot coffee and/or tea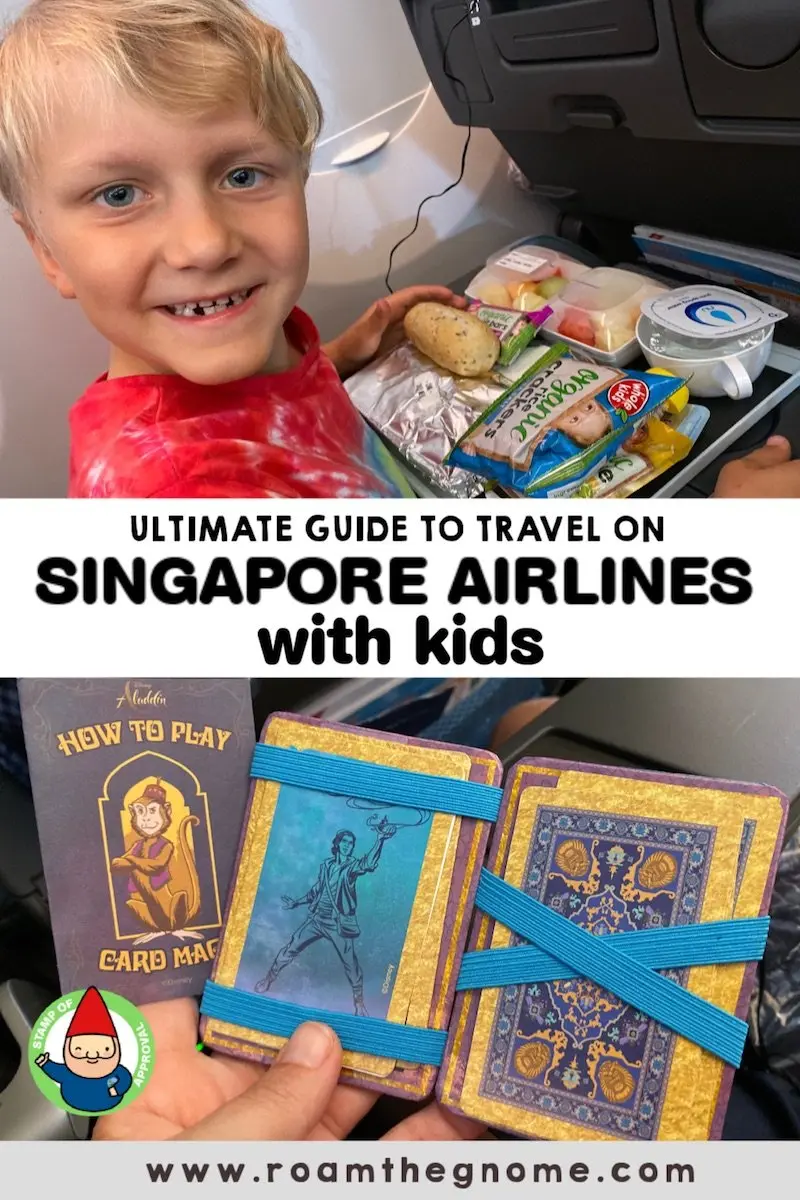 Singapore Airlines dinner meal example
The Singapore Airlines dinner meal enroute to London on this flight commenced with a Cajun spiced chicken salad for entree.
Main was a choice of:
Fish fillet in tomato coriander sauce with sauteed vegetables and parsley potatoes, OR
braised egg noodles with beef brisket with Chinese greens and mushrooms
Dessert was Chocolate mousse and Cherry cake.
Plus, there was a bread roll with spread, and coffee and tea too.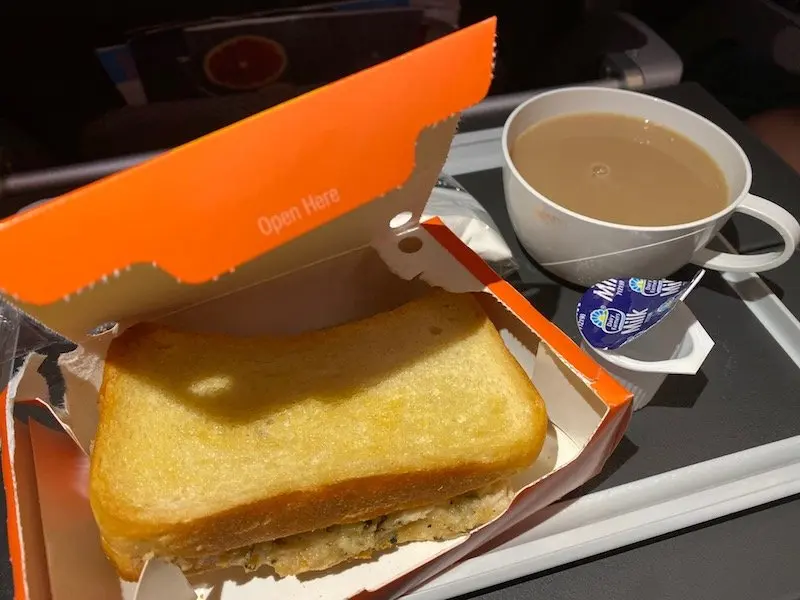 Singapore Airlines Toastie!
On the Brisbane to Singapore flight, we were also served a snack later on.
This was a choice of either:
Chicken and Aioli toastie, or
cheese and tomato toastie,
with coffee or tea, or cold drinks
From Singapore to London, there was also a range of 'delectables' to choose from.
You could order these at any time from the flight attendants.
cold vegetarian or cold savory sandwich
peas and crackers
assorted muffins
assorted chips
trail mix
fresh fruits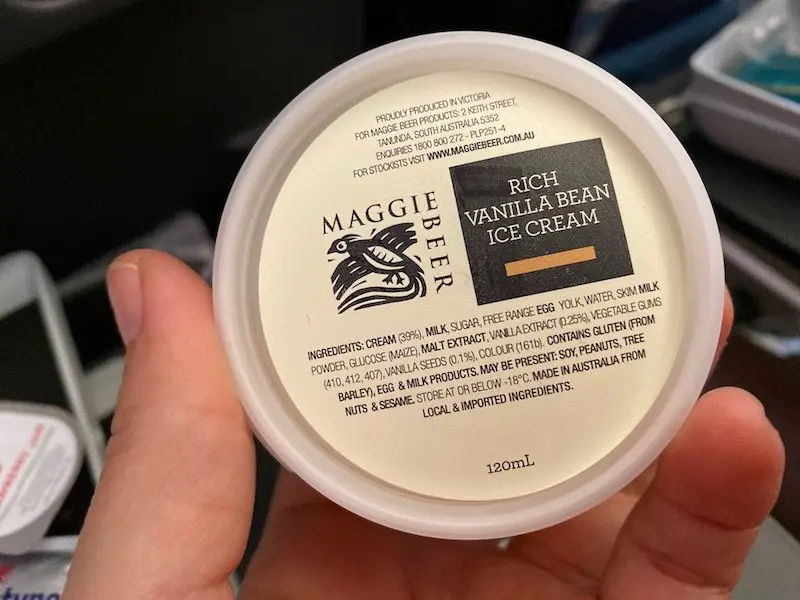 Singapore Airlines Meals in First Class, Business & Suites
If you are lucky enough to travel in Suites, First, Business or Premium Economy Class, you may pre-select your main course for all meal services.
Visit the website to log in and do so.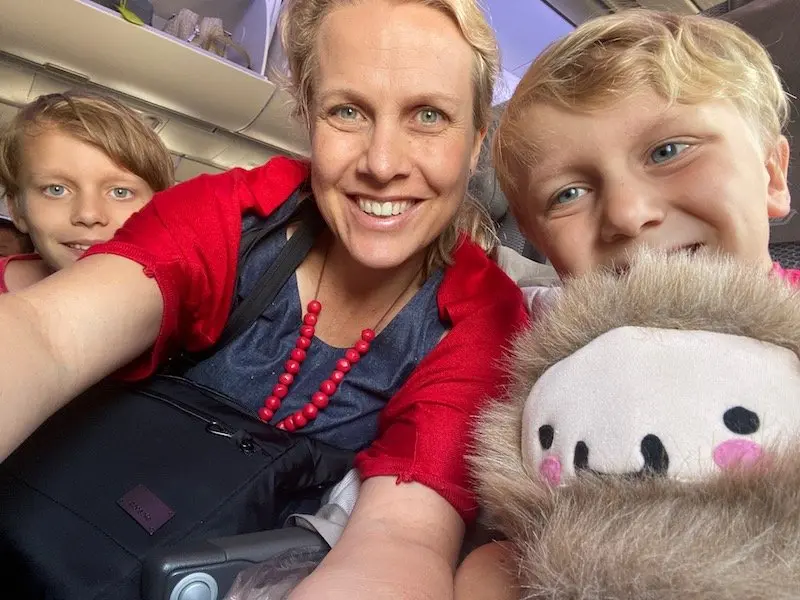 Singapore Airlines Bassinet Size
Request an airplane bassinet at the time you book your infant plane ticket. There's only a few bassinets on board, so don't miss out.
It's first come, first served.
The benefit of booking a bassinet on plane is that you will sit in the bulkhead, so you'll have more room for your legs to stretch out.
The downside is that your tray table folds out from inside the armrest, and that can be a big pain!
The TV screen folds out from under your seat too, as it can't be fixed to the wall in front.
The Singapore Airlines baby bassinet size is 768mm (L) x 298mm (W) x 158mm (H).
The toddler bassinet weight limit is a baby or toddler up to 14kg in weight.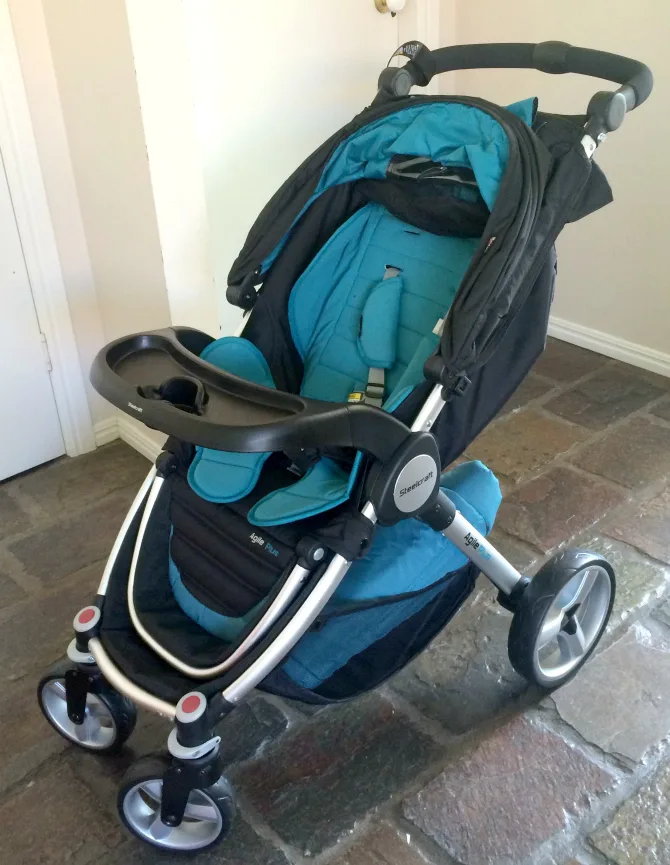 Singapore Airlines Infant Baggage
If you are flying with a baby or a toddler, you can take one piece of checked baggage for the infant, up to 10kg in weight.
Child fares are entitled to the normal baggage allowances. (30kg for economy)
You can also take one each of these WITHOUT CHARGE.
1. A fully collapsible stroller or pushchair (we own this Britax travel stroller)
2. Carry-cot or car seat
UPDATE: SIA only allows free check in for car seat and stroller for INFANTS Only (0-23 months). If you are checking in a car seat for a toddler, there will be an extra charge.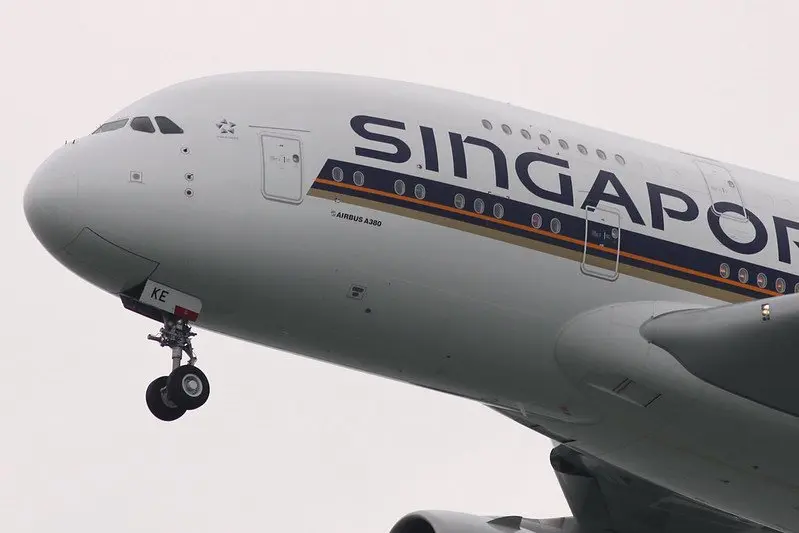 Image credit: Kentaro Iemoto via Flickr CC BY-SA 2.0
THE INSIDE SCOOP: Singapore Airlines Economy Review
Correct at time of publication on Roam the Gnome. Please check with venue for updates. We apologise in advance if there have been any changes we are unaware of. All prices in US dollars, unless otherwise stated
Singapore Airlines Contact numbers: Click here
Singapore Airlines Website: Click here
Singapore airlines Reservations
We made our Singapore Airlines Flight Booking direct via the Singapore airlines website, and found this to be the best price.
Dealing directly with Singapore airlines has always been a dream.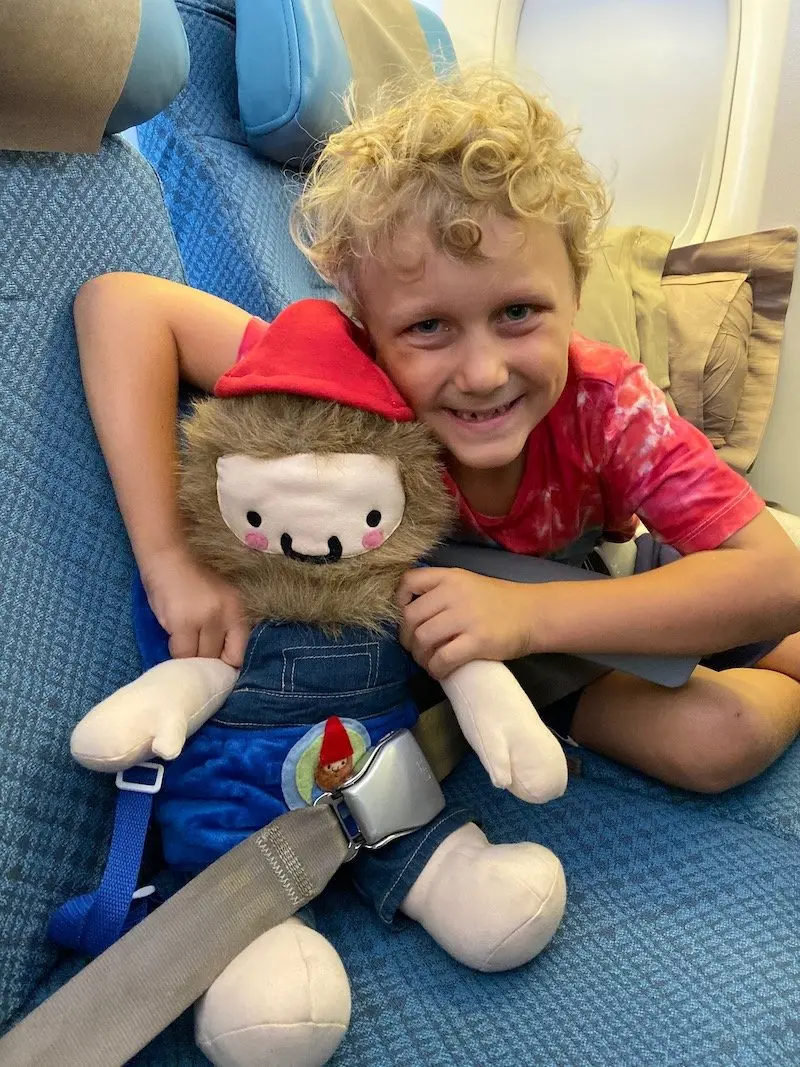 Child airfare international flight
A Singapore airlines child fare and a Singapore airlines infant fare are charged at a percentage of the adult fare.
You can check prices when you set up a Singapore Airlines Ticket Booking on the website
What is the Singapore Airlines change flight fee?
Check the current service fees schedule here.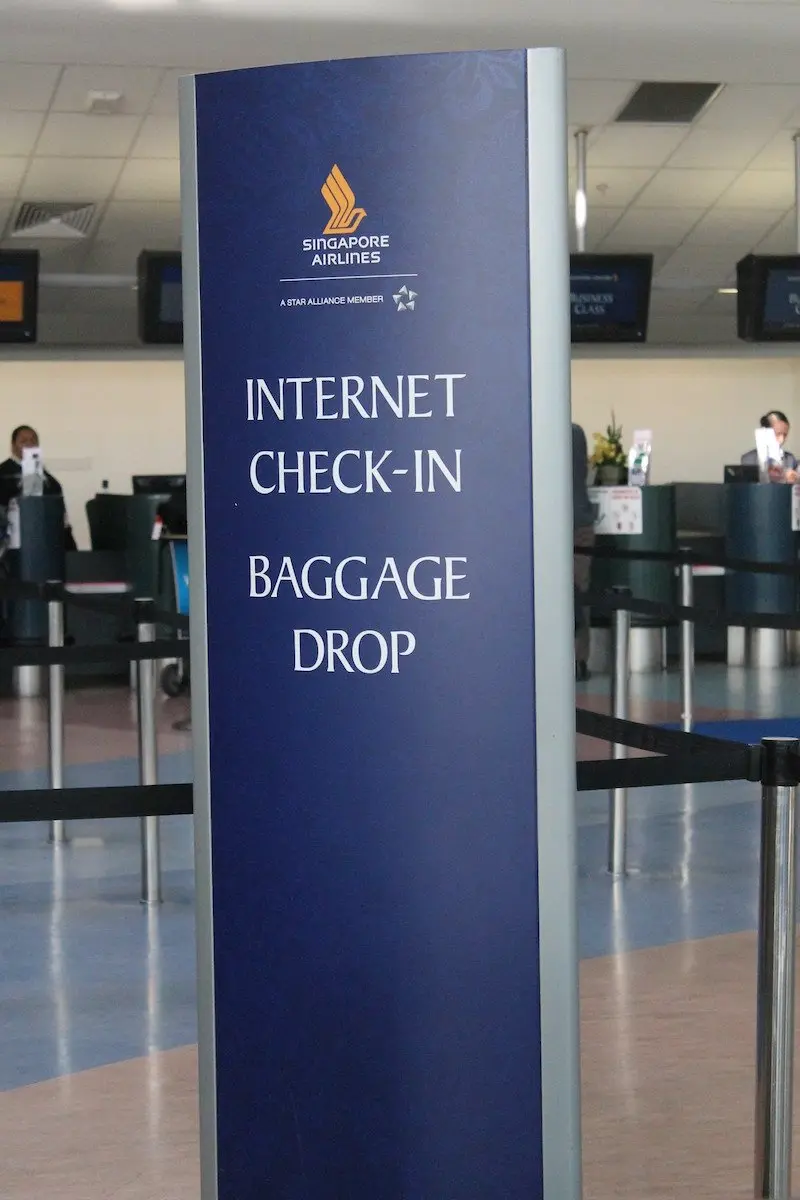 Image credit: Umedha Shanka Indranath Hettigoda via Flickr CC BY-SA 2.0
Singapore Airlines Online Check In
If you live in certain countries, you can check in on your computer or mobile device from 48 hours to 1.5 hours before your flight departs.
You can also print your boarding pass or download it to your mobile device before going to the airport.
For details, click here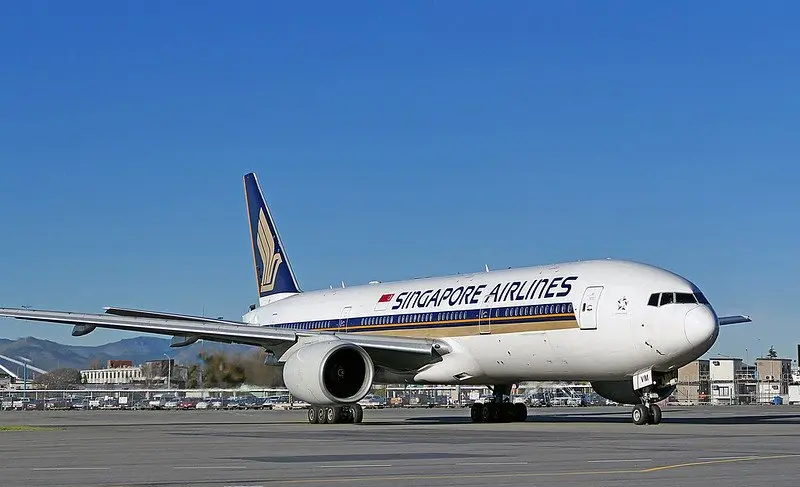 Image credit: Bernard Spragg via Flickr Public Domain
Singapore Airlines Baggage Allowance
Singapore Airlines Check in Baggage
Economy class baggage limits are:
30kg for a standard economy or lite fare
35 kg for flexi economy class or premium economy class
40kg for business, and
50kg for suites and first class.
Check details here.
Singapore Airlines Carry On luggage
Singapore Airlines hand luggage limits in economy are 1 piece up to 7kg for economy passengers.
You can also take 1 additional item per person such as:
a ladies handbag
camera bag
overcoat
laptop in a bag, or
infant supplies.
Singapore Airlines seat allocation
Prebook your seat allocation online ahead of time via Manage your booking.
Doing this ensures you sit where you'd like.
If this is your first time traveling with children on Singapore Airlines, we recommend doing this.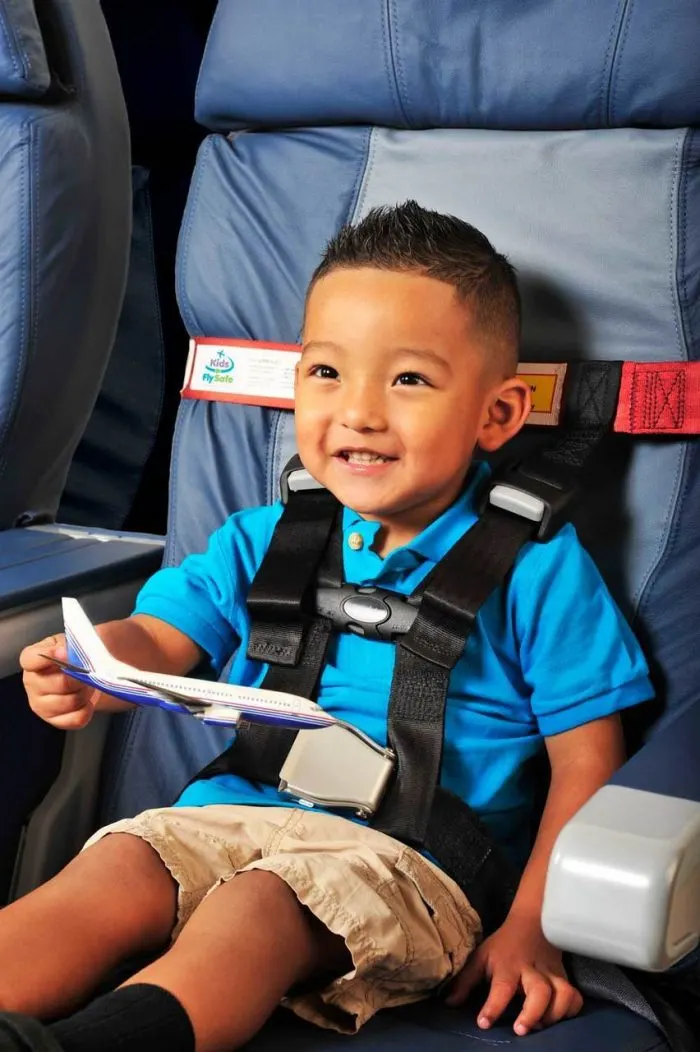 FREQUENTLY ASKED QUESTIONS
How old does a baby have to be to fly?
At least a week of age.
One adult is allowed to travel with two infants under 2.
Staff will help.
Get in contact with your local Singapore Airlines office to notify them before you fly.
What is the Singapore airlines carry on baggage allowance?
7kg for economy class.
See details above.
Can you take a car seat on board?
No, booster seats and harness-type child restraint devices are not permitted on board.
You can use a car-type child safety seat (details here).
Or bring your own FAA-approved child harnesses for children under 3 years old, such as this AmSafe one by CARES
Can I take a stroller on board Singapore Airlines?
Yes, you can take a compact foldable light-weight stroller (like the light & fabulous Pockit stroller pictured above) onboard.
The travel stroller must meet:
Singapore standard cabin bag dimensions (up to 7kg and sum of length, width and height should not exceed 115cm), AND
can be stored in the cabin overhead compartment.
NB: If it's a full flight, with limited cabin bag space, the stroller may still be put underneath the plane.
It must be folded and put in it's bag BEFORE you board.
Obviously, you can't use it INSIDE the plane during the flight.
If you take it onboard, the stroller counts as 1 piece of cabin baggage.
Bigger strollers need to be checked in, but they go free!
(Ie: NOT as part of your checked baggage allowance.)
Can I use an inflatable flight cushion pillow bed, such as Plane Pal or Fly Tot, or a JetKids Bed box during the flight?
Yes, you can use a convertible inflight bed for children on the window seats, or the middle seat of an aisle, but only if used as instructed by the manufacturer.
Take a look at the diagrams here for more information.
Singapore Airlines child assistance – Emergency supplies for children?
General baby amenities are also available on board for family travel emergencies.
They keep small supplies of the following:
diapers
disposable bibs
feeding bottles, and
baby wipes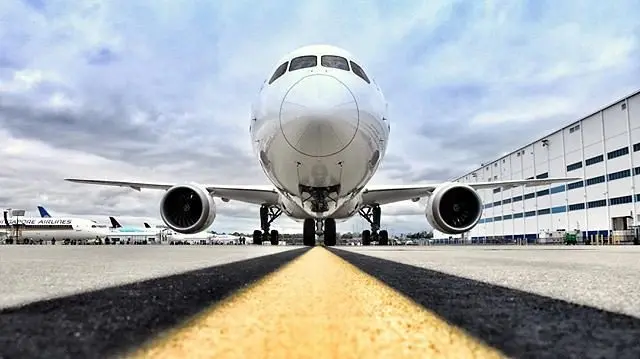 Image credit: Paul Thompson via Flickr CC BY-ND 2.0
What is Singapore Airlines safety record?
Singapore Airlines was named one of the top 20 safest airlines in the world in 2019 by Airline Ratings.
Who are Singapore Airlines Partner Airlines?
Click here for a list of Singapore Airline codeshare partners, including:
Air Canada
Air New Zealand
Silk Air
Virgin Australia
Swiss International Air Lines
Lufthansa, and more.
Toadstool Rating: Singapore Airlines Kids Rating
A fabulous airline for families with kids! One of our favorites.

Want MORE Travelling with Children Tips?
Click the blue links for more Singapore travel tips.
Complete Guide to Singapore with Kids (update coming soon!)