INSIDE: Playground Antics at Birrarung Marr Playground Melbourne.
Next to the Flinders trail that runs along the Yarra River, but hidden amongst leaves and greenery, is the unique Birrarung Marr Playground.
Finding a playground just a few hundred metres from Flinders Street station in Melbourne CBD is nothing short of a miracle.
But finding a Melbourne playground surrounded by nature is next level!
This one is well hidden, and known only to locals.
Take a look inside below.
Disclosure: This article contains affiliate links. If you make a purchase after clicking on one of these links, we may receive a small commission at NO extra cost to you.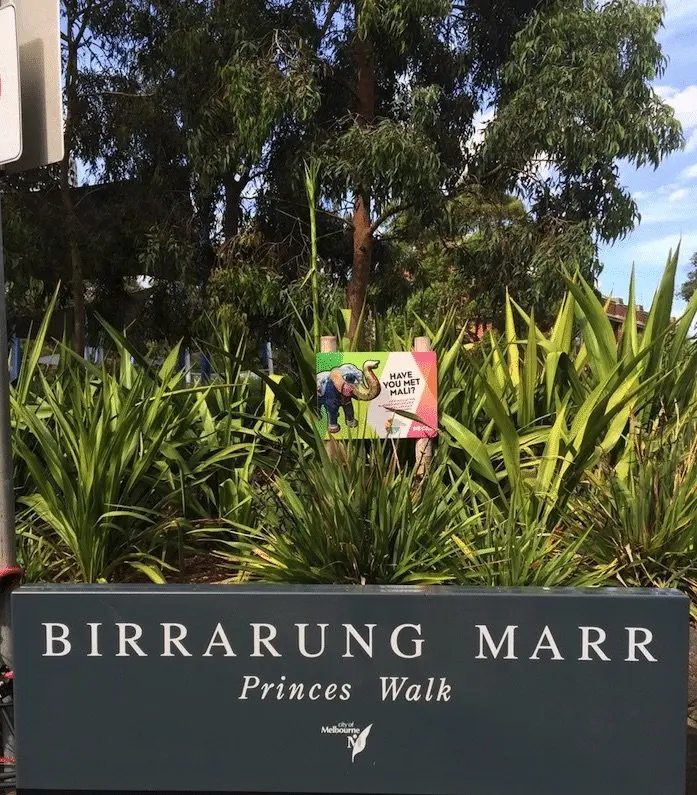 Finding Birrarung Marr Melbourne
Wander down towards the river from Federation Square and turn left.
You'll find the playground just a few hundred metres along on the left.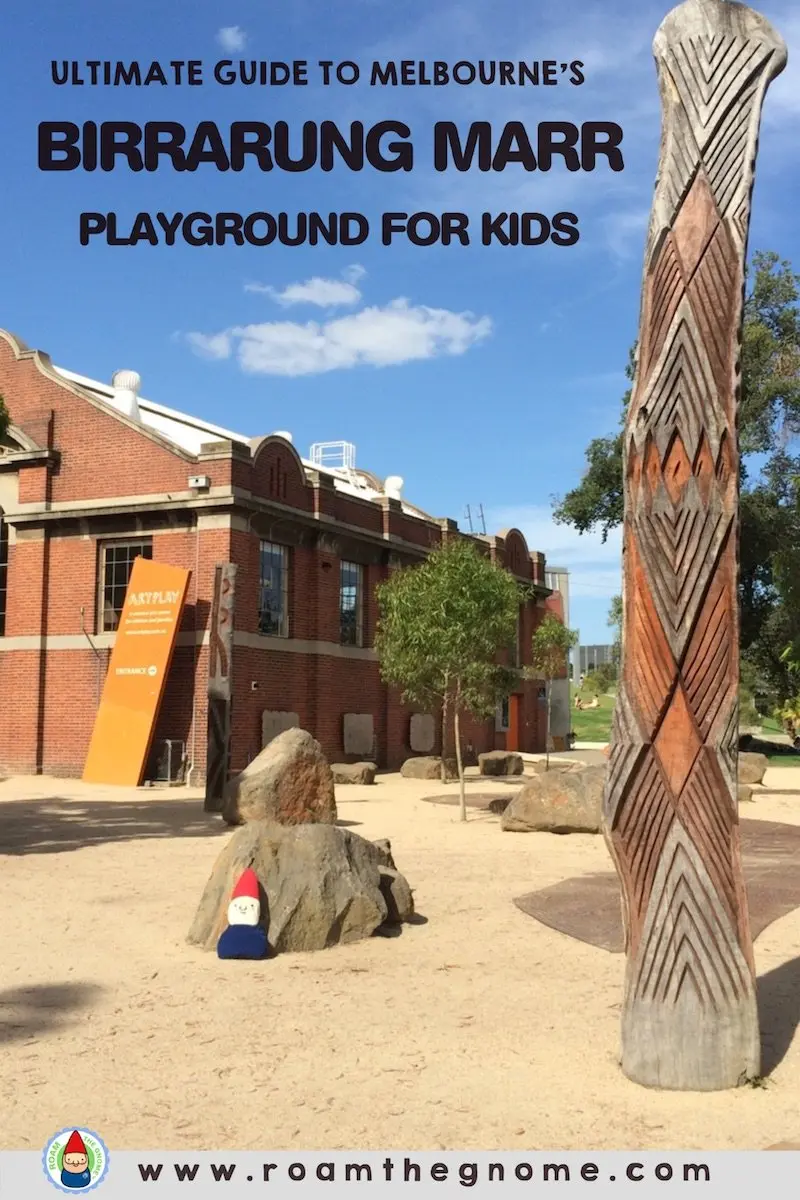 Birrarung Marr Playground Melbourne Vic
Brightly coloured, the Birrarung Marr playspace has lots of natural elements.
Kids have plenty of grass to run around on. (BYO healthy snacks too.)
At one end sits a semi-circle of Sacred Stones, reminiscent of Stone Henge.
Kids love to climb these giant rocks.
The only downside is it's not fenced, and there's multiple entrances and exits.
Keep a close eye on those quick runaway toddlers.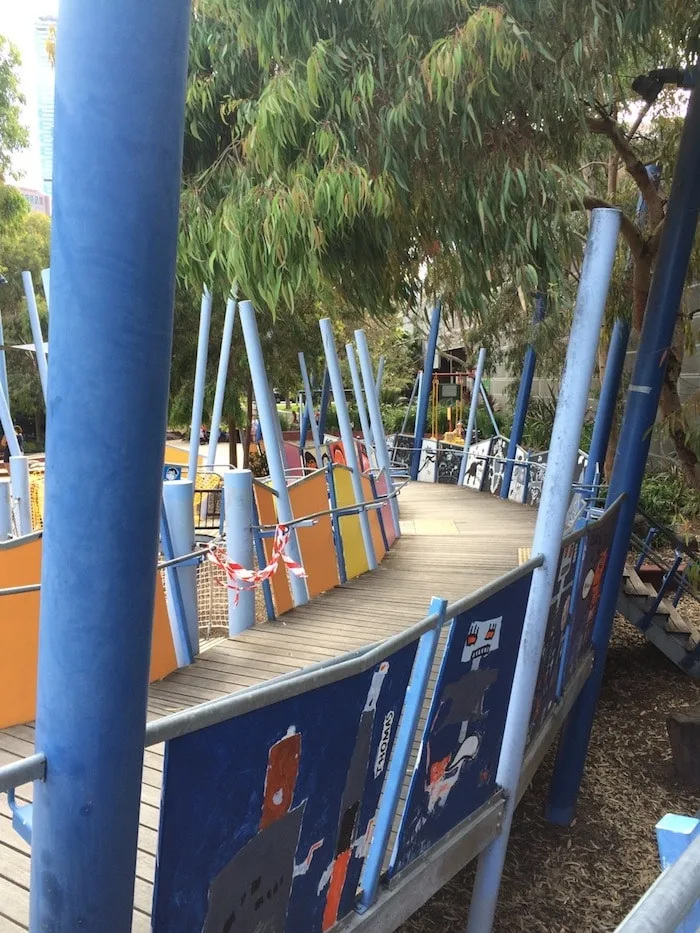 Playground Equipment at Birrarung Park Melbourne
The Birrarung Marr playground also features:
a wooden ramp elevated walkway and stairs
a liberty swing
sandpits
swinging hammocks
activity panels
balance beams
Sadly, graffiti is an ongoing problem.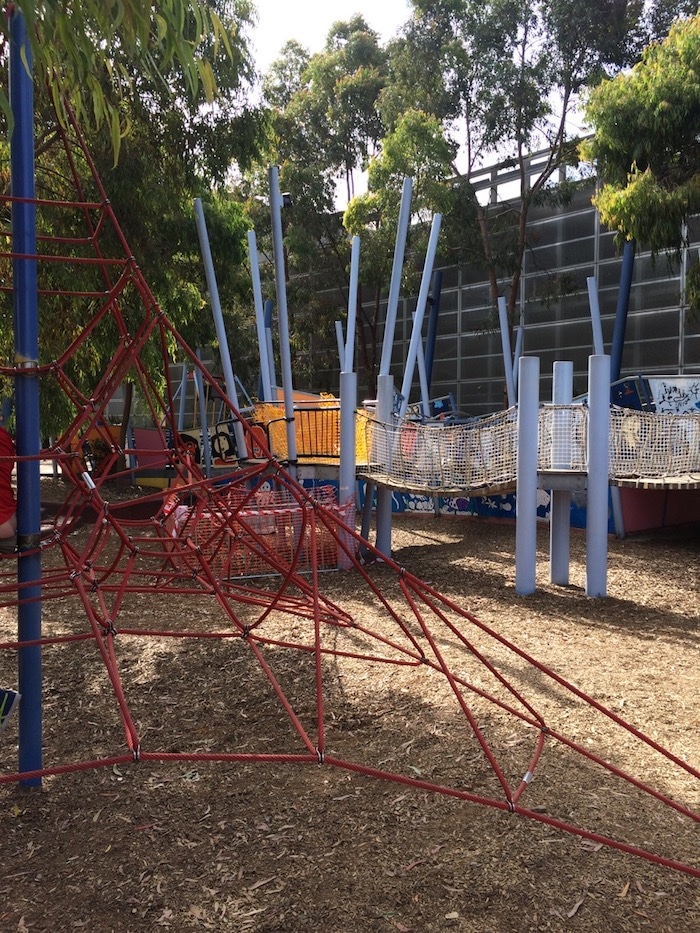 Playground Equipment at Birrarung Marr
netted bridges
giant scramble net pyramid for rope climbing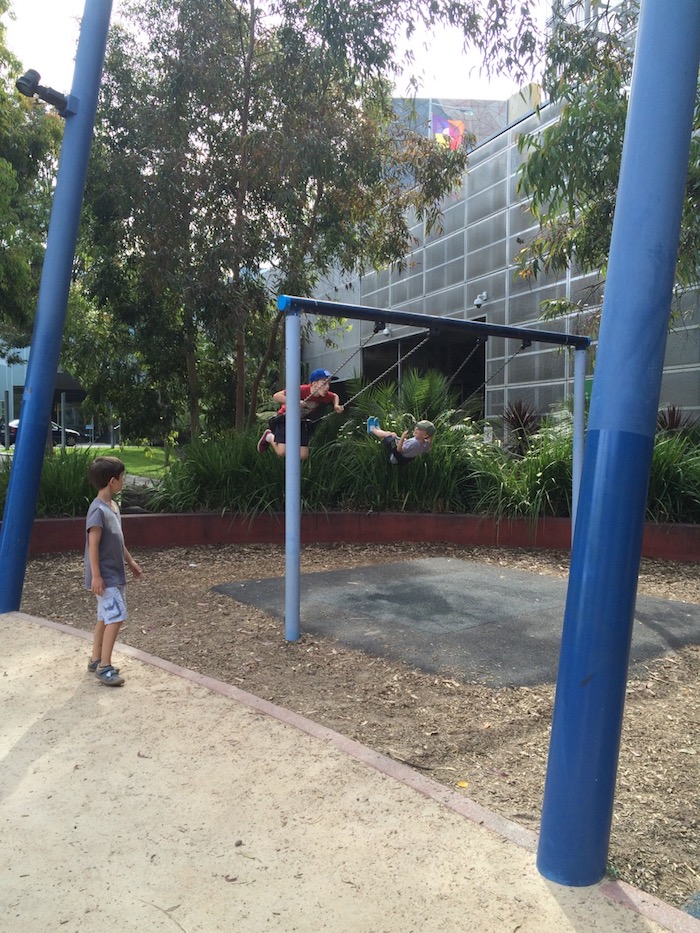 Swings
Yes, there's swings too.
Dual Slides
Kids can race each other down the two super-slippery tube hill slides.
Birrarung Marr Park Melbourne
It's a top spot to stop for a play when you are riding bikes around Melbourne too.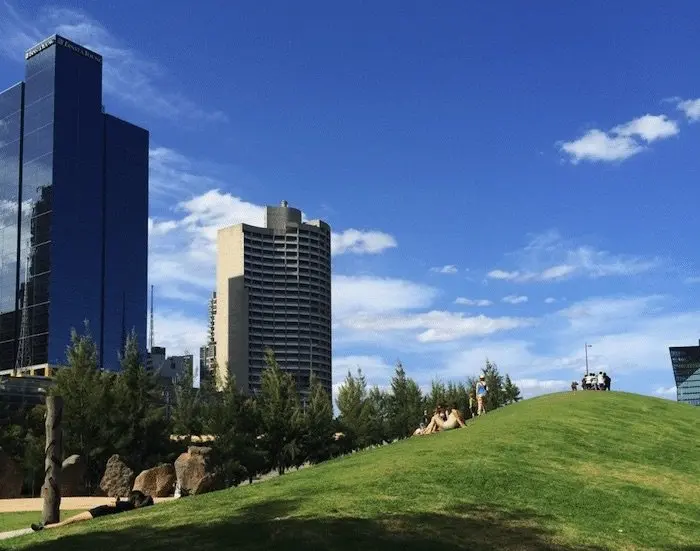 Things to Do at Birrarung Marr Melbourne
This Melbourne park is one of our favourites.
It's hard to believe it is in inner city Melbourne, as it's peaceful and there's LOTS OF SPACE to relax on the grassy fields, or ride bikes.
Being riverside brings a cool breeze.
There's also lots to do here.
Click here for what's happening at Birrarung Marr today.
---
Book Now: 24 Hour Melbourne Hop On Hop Off Bus & River Cruise tickets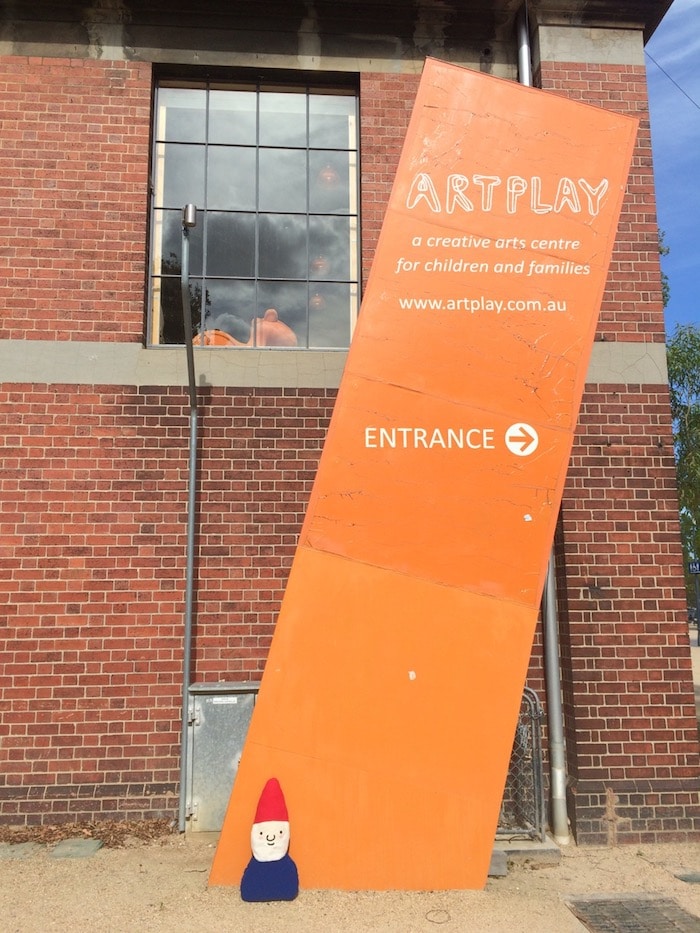 BIRRARUNG MARR EVENTS
No.1: ArtPlay Birrarung Marr
There's a gorgeous brick building smack bang in the middle of Birrarung Marr park.
One of the last remaining structures from the Jolimont Rail yards, this heritage building has been converted into a children's art and cultural centre called ArtPlay.
Opened in 2004, children from babies to 12 year olds, and their families, can join in creative arts workshops on weekends, and during school holidays.
Birrarung Marr ArtPlay in Melbourne supports kids to explore their creativity and share unique artistic experiences with professional artists.
With over 300 workshops, events and performances a year, with teachers from a variety of cultures and backgrounds, you will definitely find something fun to do.
Bookings are required for most workshops, however there are also free drop-in events available.
Click here to follow them on Facebook to find out about upcoming events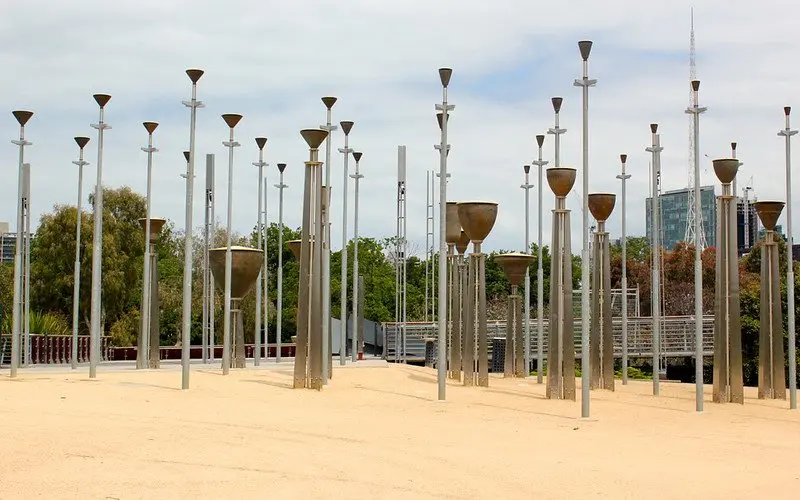 Image credit: Kandukuru Nagarjun via Flickr CC BY-2.0
No.2: Birrarung Marr Bells
You'll hear the Birrarung Marr Bells before you see them.
The Federation Bells sit on the middle terrace and you access them via the ramp.
There are 39 inverted bells, and they sound something like a church bell symphony. Controlled automatically by a computer, they play a range of compositions.
The best bit? You can download a player from Federation Bells and compose and submit your own works online!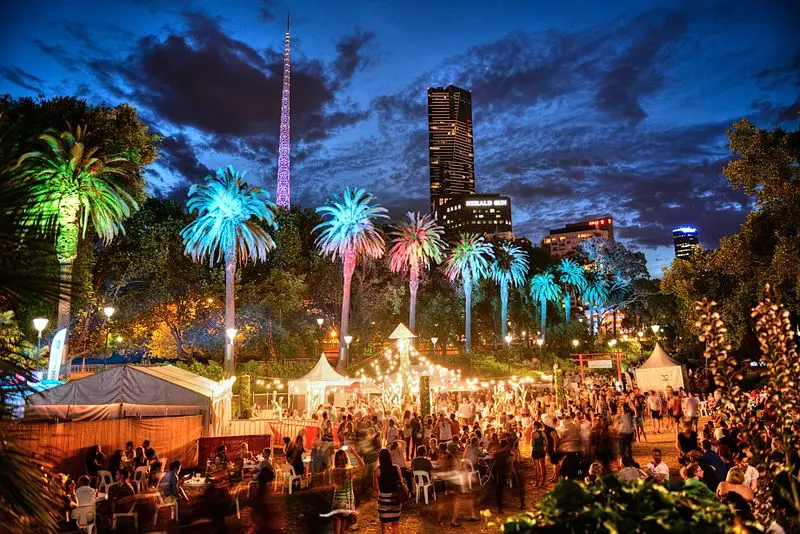 Image credit: Chris Putully via Flickr CC BY-2.0
No.3: Birrarung Marr Night Noodle Market
Love noodles?
Get on down to Melbourne's annual Asian Noodle market at Birrarung Marr.
Try your favourite noodle dishes and street foods from Japan, Philippines, Korea, Taiwan, Malaysia and more from November 8th to November 25th.
Here's some of the noodle market stalls you'll find:
Donburi station
the Original Korean Twisto Potato
Mr Miyagi
Sambal Kampung
Bangkok Street Food
Chinese Dim Sum King
Bao Brothers
Oriental Tea House
Puffle's Egg Waffles
Korean Tacos
Wonderbao
Teppanyaki noodles
Hoy Pinoy skewer sticks
Night Noodle Markets Opening Hours:
Mon – Tue 5pm – 9pm
Wed – Thu 5pm – 10pm
Fri 5pm – 11pm
Sat 4pm – 10pm
Sun 4pm – 9pm
Entry is free.
Event is cashless. All major cards accepted.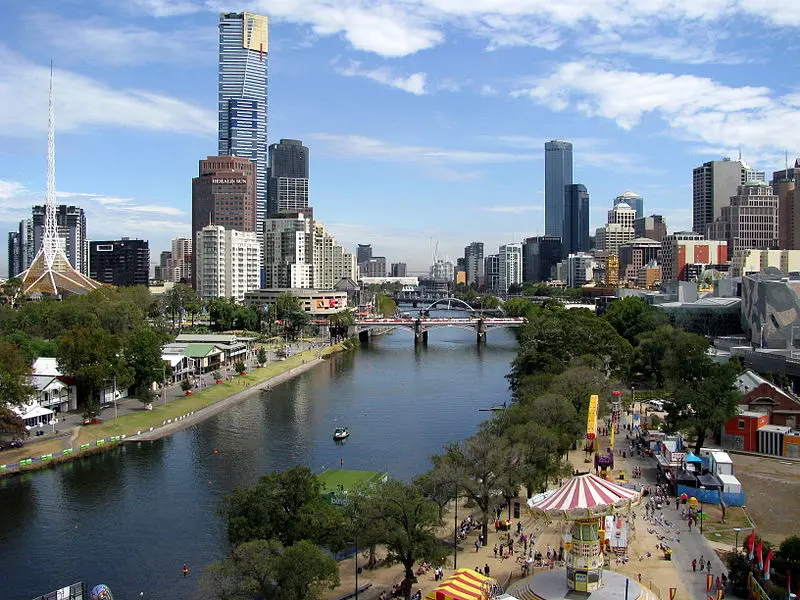 Image credit: Peter Dowley via Flickr CC BY-2.0
No.4: Birrarung Marr Festival
Birrarung Marr plays host to LOTS of different festivals and travelling theatre companies including:
Circus OZ
Moomba Festival "Waterfest"
2 Worlds Festival
Suitcase rummage
Paint and Sip
Oktoberfest in the Gardens
Global Poverty Walk
Bikefest
Run Melbourne Friendship Dash
Nike events
The Natural Confectionary Co. Family Splash Play Park event
Sustainable Living festival
Find latest events at Birrarung Marr here
No.5: Birrarung Marr Tennis at Federation Square
Federation Square Flinders Street amphitheatre nearby, also hosts the 7Tennis Australian Open live, showing all the matches live on screen from the comfort of deck chairs, cushions and beanbags.
---
Visiting Melbourne with Kids? Book a Neighbours "Ramsey St" set tour with exclusive access!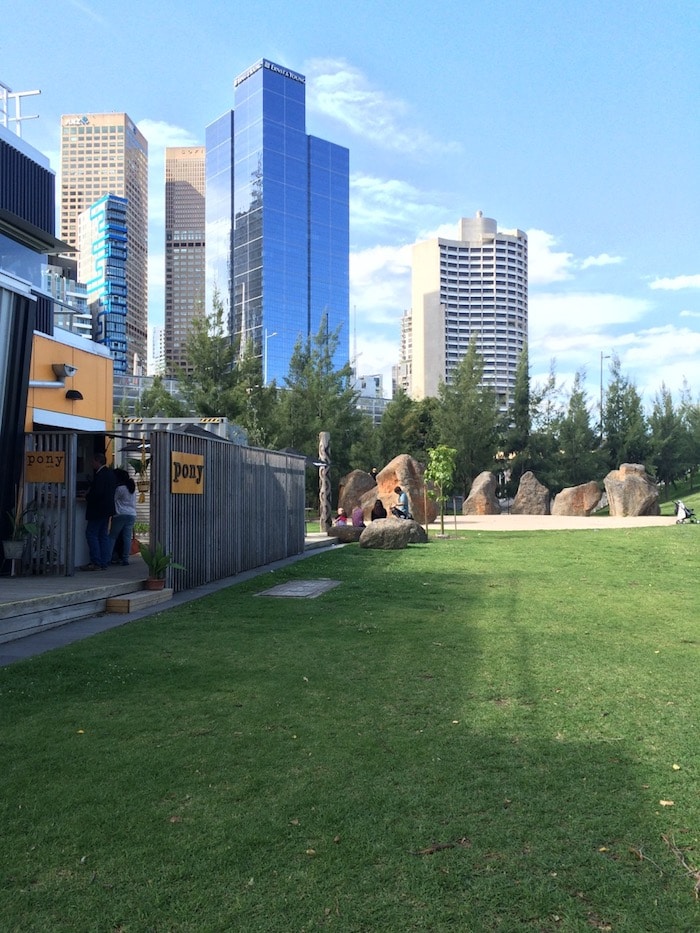 Where to eat at Birrarang Marr
The best bet to find food close by is to find the food trucks near Federation Square.
Head to Chocolate Buddha Japanese restaurant, or Taxi Kitchen for more substantial meals, both in the Federation Square area.
Tower Sushi, in front of Flinders St Station, is another good bet for kids.
FAQ about Birrarung Marr
Why is Birrarung Marr sacred?
This site is a traditional one because of the ceremonial importance that it conveys. Individuals from various tribes come to this location to perform a Tanderrum which is a large gathering/celebration. (Source)
What is the proper Birrarung Marr pronunciation?
This is how to pronounce Birrarung Marr is:
Birra Rung Mar. (beer-a rung-ma)
---
Did you know? Book a 2 hour Foodies Tour of Queen Victoria Market. Kids 8+ welcome.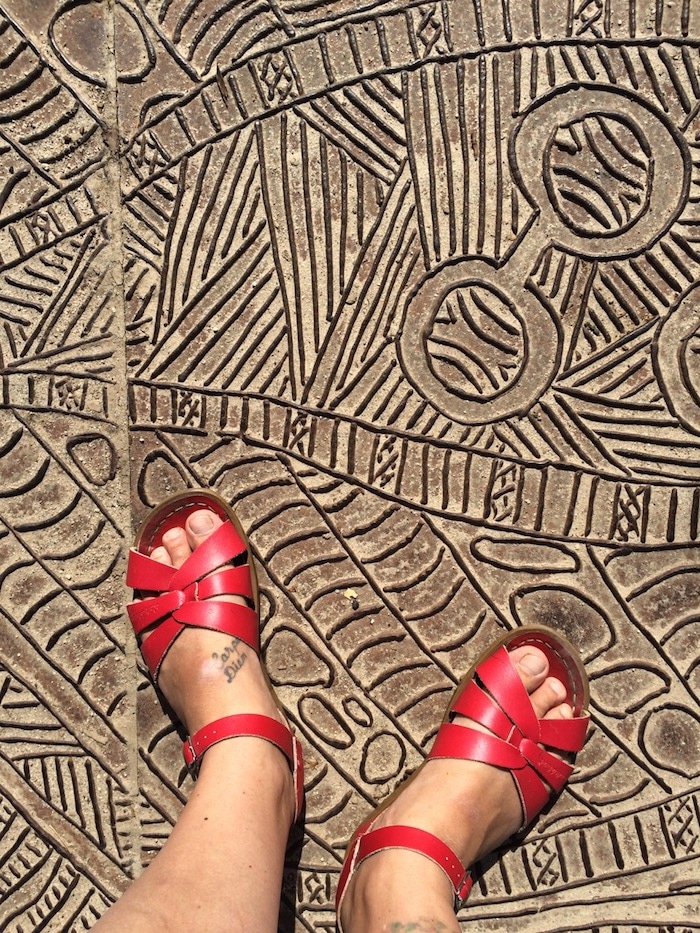 THE INSIDE SCOOP: Birrarung Park
Correct at time of publication on Roam the Gnome. Please check with venue for updates. We apologise in advance if there have been any changes we are unaware of. All prices in AUD dollars, unless otherwise stated
What does Birrarung Marr mean?
"River of mists" and "river bank" in the Woiwurrung language of the local Wurundjeri people.
Opening hours: Sunrise to late afternoon.
Entry fees: Free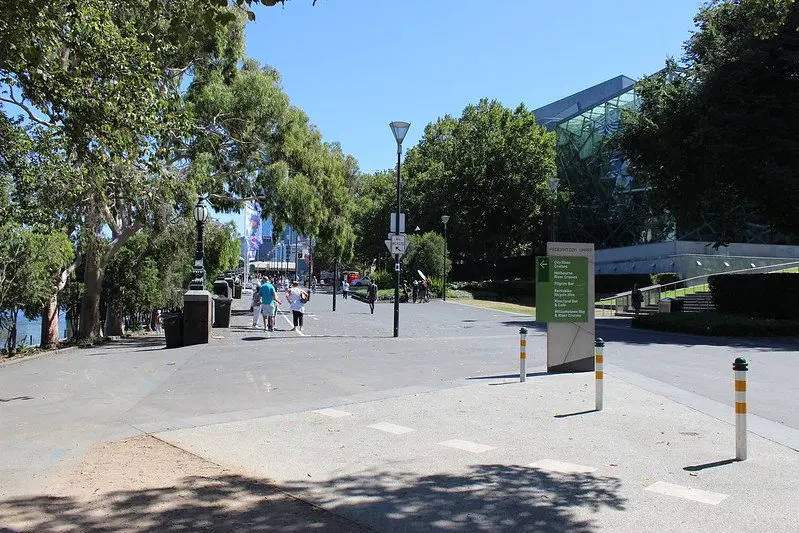 Image credit: Philip Mallis via Flickr CC BY-SA 2.0
Where is Birrarung Marr Melbourne?
The park lies south-east of the Melbourne CBD, between Flinders street and the north bank of the Yarra River.
How to get to Birrarung Marr in Melbourne
By Tram: Disembark at Federation Square/Swanston Street, and walk along Princes walk until you find the playground
By Car: Click here to add your location for directions on google maps
By Foot: Birrarung Marr is directly behind Federation Square and you can walk to the playground and ArtPlay via the Flinders Walk riverside trail from the city.
Alternative access via Batman Avenue.
Birrarung Marr car park
Car parking at Birrarung Marr can be hard work.
For Birrarung Marr parking, the best bet is the Wilson Parking Federation Square carpark.
Our last visit, we scored a park near the William Barrack Bridge, and walked in via the bridge.
Birrarung Marr Map
Facilities at Birrarung Marr in Melbourne
Toilets: Yes including baby change table
Disability access: Yes
Shade: Yes, trees and shade sails.
Enclosed: No
Ground cover: Rubber soft fall, concrete pathways, grassy field
Picnic tables: Yes
Water Bubblers/fountains: Yes
Scooters and Bikes: Yes
Dogs: No
Toadstool Rating: Artplay Playground at
It's not a playground we'd go out of our way for.
But if you are in the city, it's only a hop skip jump to get there along the riverbank, and give the kids 30 minutes of outdoor exercise after lunch.

Looking For More Things to Do in Melbourne with Kids?
Click the blue links below for more Melbourne attractions for kids.