INSIDE: The Best Zoo in New York City is CENTRAL PARK ZOO with kids!
The Central Park Zoo is a small 6.5-acre zoo located in Central Park in New York City. It's the best zoo in New York because it has a VIEW of the New York Skyline!
No other zoo in the world can claim such a honour.
Our favourite part of the best zoo in New York is the Tisch Children's Zoo.
I've longed to visit since I first read the classic Golden Book, "A Visit to The Children's Zoo" by Barbara Shook Hazen.
The Tisch Children's Zoo in New York is arguably the most well known children's zoo in the world.
Find all the details of how to Central Park Zoo, and a list of the animals at the Central Park zoo below.
Disclosure: This article contains affiliate links. If you make a purchase after clicking on one of these links, we may receive a small commission at NO extra cost to you.
Guide to Central Park Zoo with kids
Visiting the Childrens zoo in New York was a Bucket List moment, strangely enough, and it didn't disappoint.
It's cute and quirky, and not touristy, another reason this IS the BEST Zoo in New York City.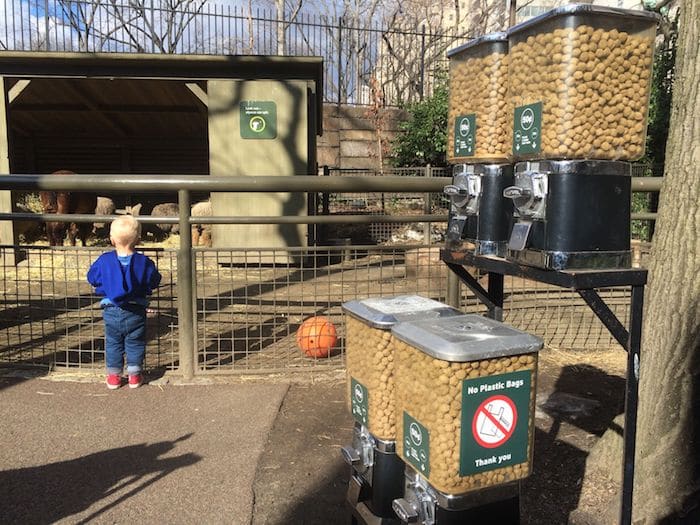 Tisch Childrens Zoo
The Central Park Children's Zoo is home to so many cute animals including:
Sheep
Goats
Zebu
the only Cow in Manhattan!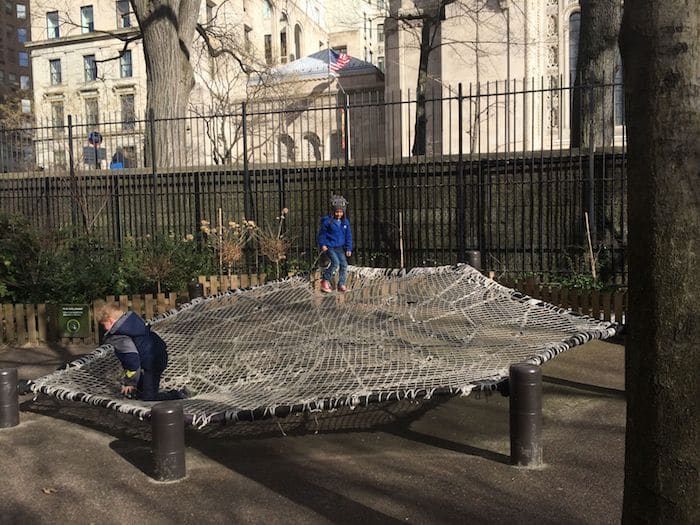 Things to do at Tisch Children's Zoo
At the Tisch children's zoo, kids can crawl, jump, and climb on the spider web scramble net.
Ned crawled into the 'turtle shells' too!
There's places to play all around.

Central Park Zoo Petting Zoo feeding
You can also hand feed the animals at the Central Park petting zoo between 10 a.m.–2 p.m too.
The BEST New York Central Park Zoo Exhibits
Take a look at some of the other things you can do at Central Park Zoo with kids.
Sea Lion Feeding Central Park Zoo
Harbor seals, penguins and puffins reside in the Polar Circle exhibit in the Central Park Zoo.
Spot Sea Lions sunning themselves and swimming in the Central Garden Sea Lion Pool exhibit. This is the only place in the world where Sea Lions have a view of the New York city skyline.
Twice a day (10.30am and 2.30pm), you can watch the penguins being fed.

Sea Lion Feeding at Central Park Zoo New York
You can also see the Sea Lion feeding and training sessions at:
11.30am
1.30pm and
3.30pm.
Central Park Zoo Grizzly Bears
Do New York zoos have bears? YES!
See the Grizzly Bears in their new natural enclosure.

Need more reasons to visit the Best Zoo in New York?
Watch the Snow Leopards roam around their steep terrain with grace.
Look up in the trees for Red Pandas and look down to the water for the Snow Monkeys. There's cranes in this Temperate Territory too.
Check out the weird and wonderful in the Tropic Zone – emerald tree boa snakes, black and white ruffed lemurs, poison dart frogs, and crowned pigeons live here.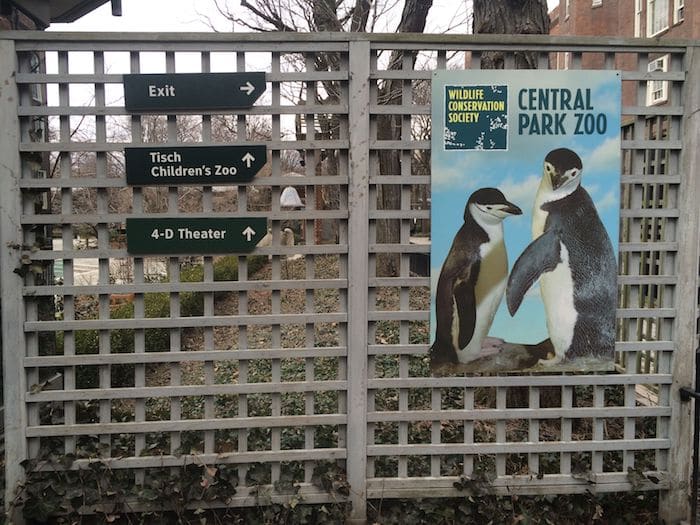 Central Park Zoo 4D theatre
There's a 4D cinema theatre too.
The kids LOVED this bonus New York attraction, featuring the character birds from the film RIO.

4 MORE Fun Things for Kids to do at Central Park Zoo
1. Central Park Zoo Scavenger Hunt Nature Quest
Join us for a scavenger hunt around the zoo and find your favorite animals.
Click here to download the map.
2. Get up Close with the Animals for a Family Morning at the Zoo
Who wakes up the animals at the Central Park Zoo?
What do they have for breakfast?
Following fun animal-themed activities, children and caregivers will find answers to these questions when you visit the exhibits and watch as animals receive their breakfast!
For families with kids aged 3 – 6.

3. Book tickets for an Exploration of the Wild.
Take a walk on the wild side!
Families discover amazing animal adaptations and survival strategies around the Zoo through fun activities and live animal encounters.
Children and caregivers get up close to various animals in the Zoo, help prepare animal treats and understand how keepers care for them each day.
For children aged 6 – 10. Children must be accompanied by an adult.
4. Junior Zoo Keeper at Central Park Zoo
Book the kids in to become a Central Park Zoo Keeper for the day. Monthly programs available.
Junior keepers join in a hands-on, interactive program, going behind the scenes to learn about the daily responsibilities of of real life Central Park Zoo keepers.

Visit the Central Park Zoo Gift Shop
Visit the Zootique to shop for unique and wild items, including:
plush animals
children's books
toys
games, and more.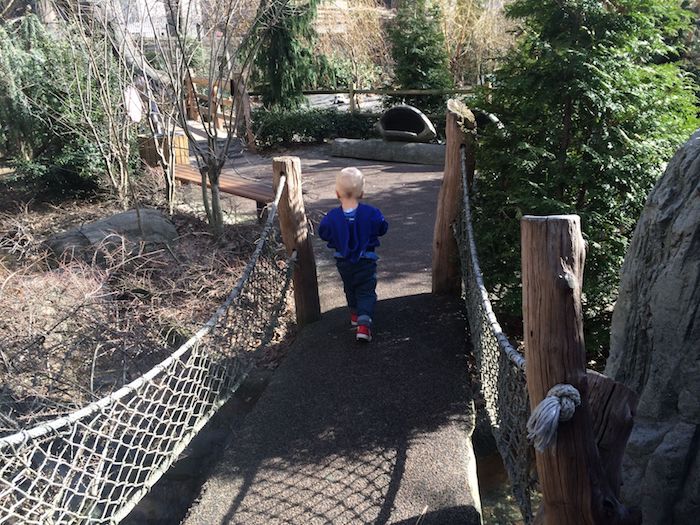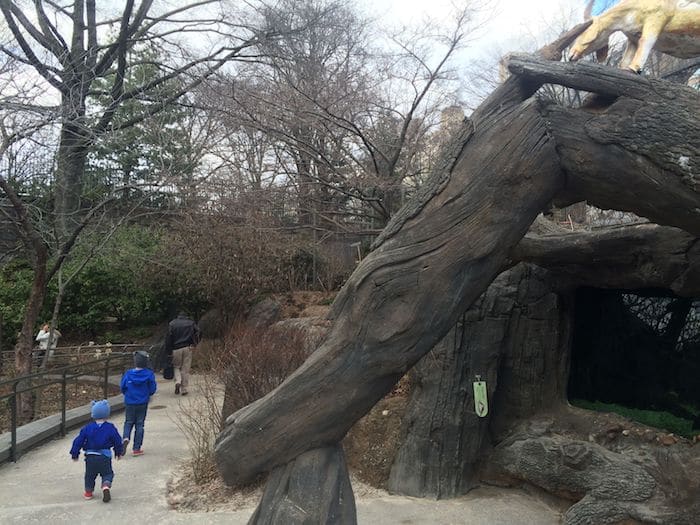 Where to eat at Central Park Childrens Zoo
Rest and re-fuel at the Dancing Crane Cafe.
High-quality meals, snacks, beverages, and desserts that include carefully prepared fresh and healthy choices on offer.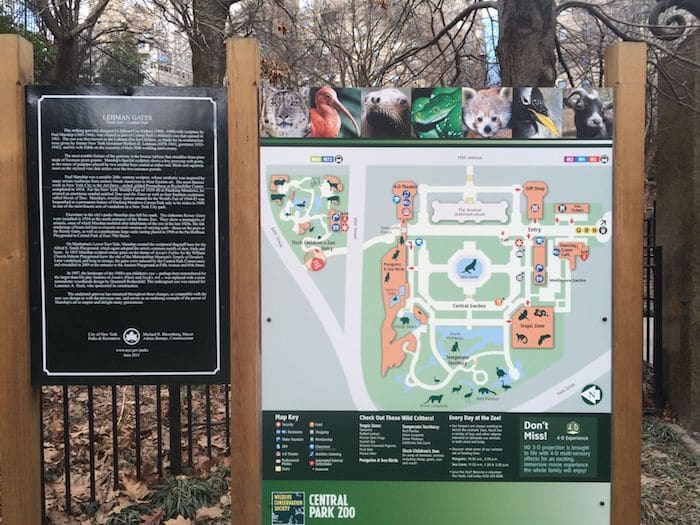 THE INSIDE SCOOP: Best New York Zoo in Central Park
Correct at time of publication on Roam the Gnome. Please check with venue for updates. We apologise in advance if there have been any changes we are unaware of. All prices in US dollars, unless otherwise stated
Address: The Central Park zoo is located at 64th Street and 5th Avenue, New York NY 10065
Website: Click here
Opening Hours:
10am to 4.30pm (Winter hours).
10am to 5pm weekdays and 10am to 5.30pm weekends (Summer hours).
Last entry is 30 minutes before closing.
The Central Park Zoo is open 365 days a year, and the animals are on exhibit all year-round

Central Park Zoo tickets
The Central Park zoo price is:
Adults over 13 years $19.95
Children 3-12 years $14.95
Senior 65 & over $16.95
Under 2 FREE
Admission fees include entrance to the Main Zoo and Children's Zoo, and 1 entry to the 4D theater.
Cash and all major credit cards accepted at the booth.
Central Park Zoo Promo Code
Looking for Central Park Zoo discount tickets?
Subscribe to the newsletter to get the Central Park Zoo Discount code on the website for discount offers such as 10% off the purchase of Total Experience tickets.
Central Park Zoo Coupons
Looking to lower the Central park zoo cost? Check Groupon for Central Park Zoo discount admission for up to 10% off tickets.
NYC Zoo membership
Become a member of NYC zoos and receive unlimited admission for one year. This ticket pays for itself in two visits.
You'll also save on food, souvenirs, gifts, events and programs at Central Park zoo.
Central Park Zoo Tour
If you have limited time in New York city, we recommend booking a Central Park Zoo and Sightseeing Walking Tour.
Book here with Get your Guide.

How to get to Central Park Zoo New York City
The Central Park Zoo is located near numerous New York subway and bus stops.
By Subway:
Take the N, R, or W trains to Fifth Avenue/59th Street station in Manhattan, and walk north four blocks to 64th Street.
Or take the Lexington Avenue #6 train to the 68th Street/Hunter College station, walk west 3 blocks to Fifth Avenue, then take a left and walk four blocks south.
By Bus:
The following buses stop on Fifth Avenue, between 59th and 65th Streets: M1, M2, M3, M4, M5, M66, Q32.
Central Park Zoo parking
There is no parking at the Central Park Zoo.
Plan ahead and reserve a park cark near the Zoo through SpotHero.
Map of Central Park Zoo New York NY
Click here for a downloadable Central Park Zoo Map to plan your day.
Facilities at the Central Park Zoo NYC
Toilets: Yes
Disability access: Yes
Shade: Limited
Enclosed: Yes
Water Bubblers/fountains: Yes
Scooters and Bikes: No
Dogs: No
Notes:
Yes, you can bring your own stroller. Some buildings and exhibits request that you stow your stroller in a designated area before entering.
There are no lockers to rent.
Toadstool Rating:
Visit this zoo with kids. It's one of our top 10 zoos in America to visit.

Looking for MORE Super Fun Things to Do in NEW YORK CITY with Kids?
Click the blue links below for more New York tips