INSIDE: All you need to know about where to buy Paddington Bear merchandise?
Want to know the answer to "Where can I buy a Paddington Bear in London?", you are in the RIGHT PLACE!
The BEST Paddington Bear shop is the one at Paddington Station.
It's where you'll find the original paddington bear for sale, along with ALL kinds of Paddington Bear merch.
If you can't make it to Paddington Station in London, there's a few other London shops that stock the famous old bear.
Try one of these places to find Paddington Bear for sale.
Disclosure: This article contains affiliate links. If you make a purchase after clicking on one of these links, we may receive a small commission at NO extra cost to you.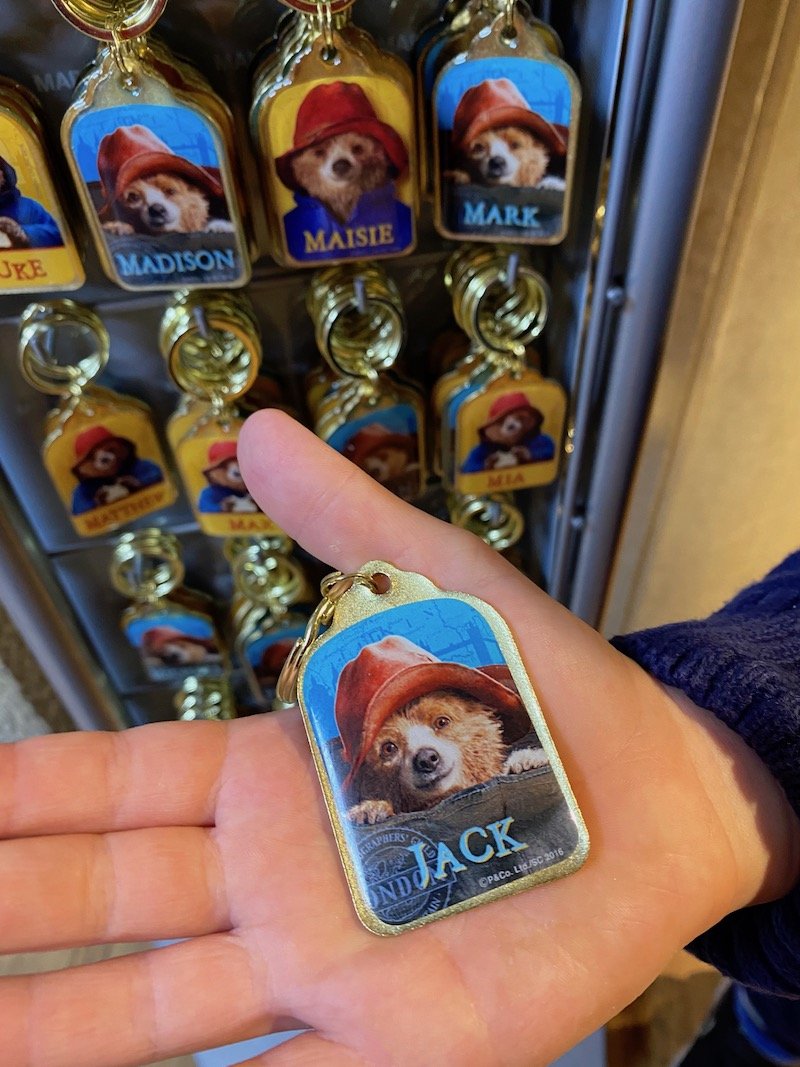 THE INSIDE SCOOP: WHERE TO BUY PADDINGTON BEAR IN LONDON
Correct at time of publication on Roam the Gnome. Please check with venue for updates. We apologise in advance if there have been any changes we are unaware of. All prices in pounds, unless otherwise stated
Find all 8 different shops to try and each one is the answer to where to find Paddington Bear in London.
Each one of them has a different style of classic Paddington, the bear from Peru created by Michael Bond, so check them all out to find the one you like best.
RELATED: Round Up of the Best Paddington Bear Facts!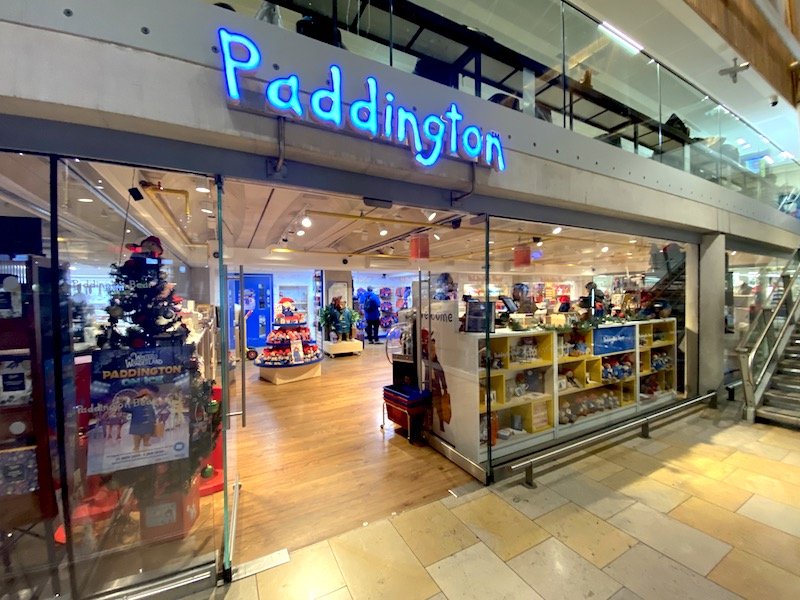 No.1: Paddington Bear Shop London
Stop by the official Paddington Store to find ALL the best Paddington merch including:
Paddington Bear gifts for adults
Paddington Bear toys & puzzles
Paddington Bear marmalade gift sets
Paddington Bear luggage
Paddington Bear figure sets
Paddington Bear collector's items & souvenirs
Paddington Bear stationery, gift wrapping and gift cards, and MORE!
Paddington Bear store is definitely the go-to spot in London for a HUGE variety of exclusive Paddington merchandise that you won't find anywhere else, as well as the Paddington Bear official merchandise.
Click here for the Inside Guide including Paddington Bear Shop opening hours, and a sneak peek at the things you can DO inside the shop!

No.2: Harrods Paddington Bear
Yes, you can also buy a variety of Paddington Bear toys in Harrods too.
Take a look at our Guide to Harrods with kids to find out more.

No.3: Hamleys Paddington Bear
You can also head to the biggest toy shop in London, Hamleys, to find MORE Paddington Bear dolls in store.
THIS is where you'll find the best Paddington Bear toy with a polar fleece jacket.
He's adorable.
In fact, Hamley's keeps this lot of Paddington Toys near the entrance door, so you don't miss this iconic London souvenir!
It's a London gift you can give to just about anyone!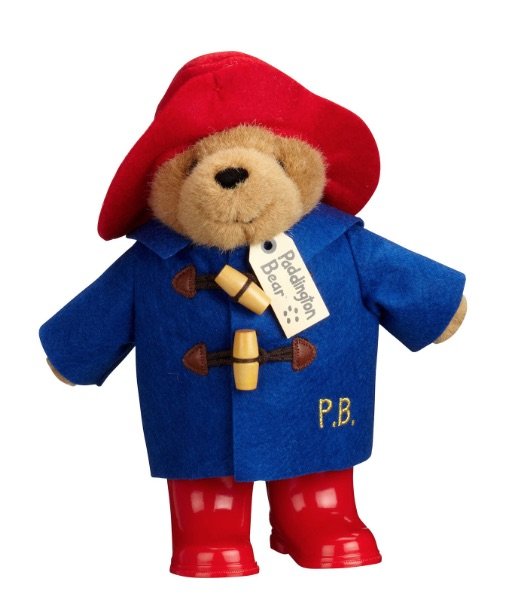 No.4: Paddington Bear John Lewis
John Lewis & Partners is another British shop you can visit to find a range of Paddington gifts and toys including:
John Lewis Paddington Bear Plush toys
Spot the Difference Games and Puzzles
Musical bedtime toys
Paddington Bear Pushalong toys and Stacking toys
London Skittles set by Orange Tree (Exclusive to John Lewis & Partners)
Hot tip: Check out the Paddington Bear toy Marks and Spencer has too.

No.5: Paddington Bear Shop Heathrow
There's no official Paddington Shop at Heathrow but you can find Paddington dolls at Hamleys at Heathrow, in:
Terminal 2 on Level 5, or
in Terminal 4, Level 2 near gate 21.
Hamleys Heathrow is open from 5am until 10pm at Terminal 2, and from 5.30am at the Terminal 4 shop.
Secure your last minute Paddington toy gifts through Reserve & Collect via Heathrow Boutique.
Submit a request, receive the confirmation of price and availability, and turn up at the store upon arrival at the terminal to collect and pay for your shopping.
Simple!

No.6: Paddington Bear Clothes from Build a Bear!
Did you know you can buy a Paddington Bear outfit for your own 18″ (45cm) doll or teddy from Build a Bear in London?
You can.
Take a look here.
The Build a Bear Paddington outfit is sold separately.
Individual pieces to buy include:
Paddington bear duffel coat & Red Paddington Hat set
Red Wellies (red rubber boots) for £5.50
A Paddington Bear suitcase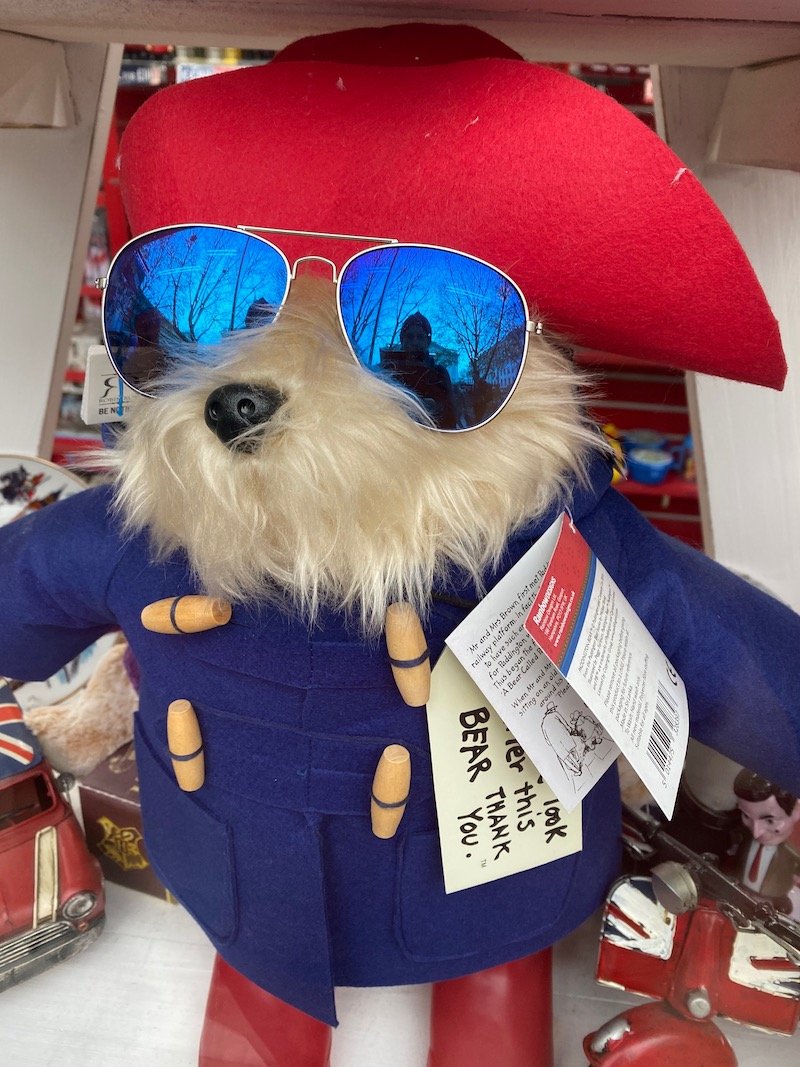 No.7: Various Paddington Bear Merchandise at Souvenir Shops in London
You can also find Paddington Bear dolls, Paddington bear memorabilia and PB souvenirs in most London souvenir shops, especially near Paddington station and Buckingham Palace.
Look out for a Paddington Bear garden gnome – they are not easy to come by, so if you spot one, grab it with both hands!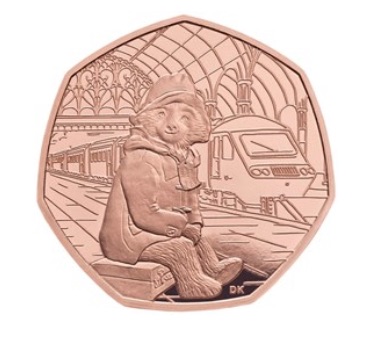 No.8: Paddington Bear 50p
Two new 50p coins featuring the official Paddington Bear capture his visits to the historic Tower of London and St Paul's Cathedral.
These Paddington Bear products are one of a kind. (Or at least limited edition!)
These are awesome Paddington Bear presents for a new baby gift!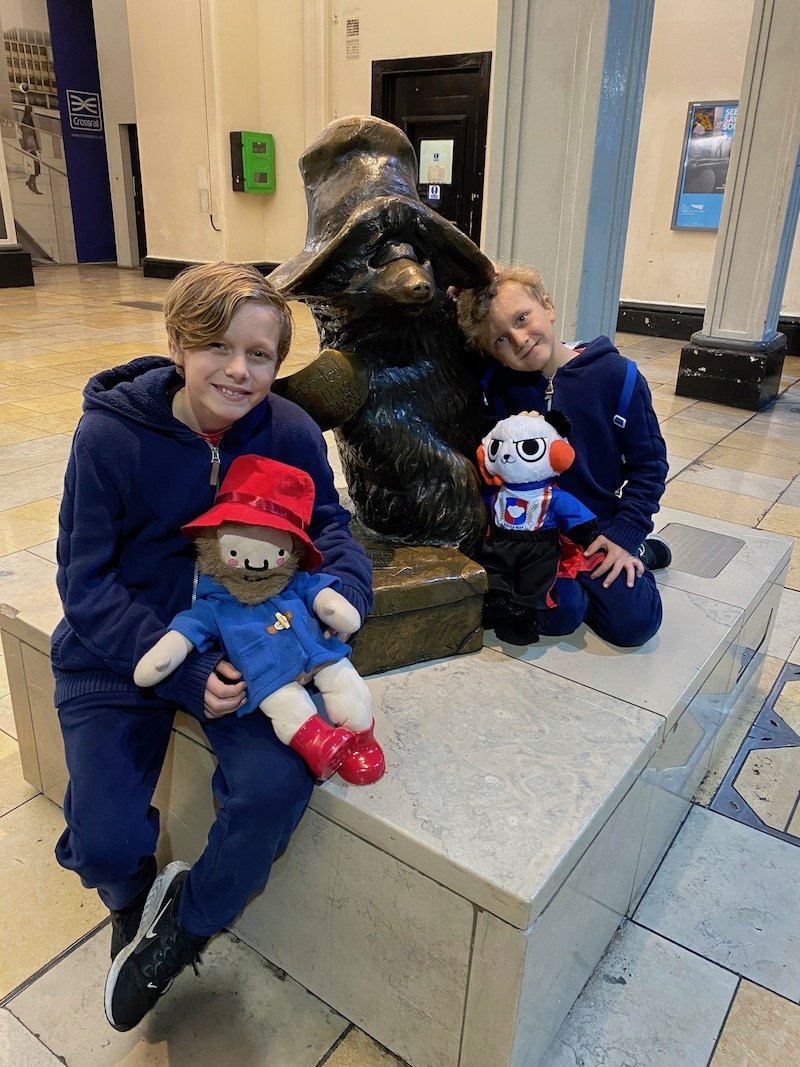 Visit the Paddington Bear Statue at Paddington Station London
Where is the Paddington Bear statue?
The official Paddington Statue can be found near Platform 1 at Paddington Station.
The Statue of Paddington Bear is very close to the Paddington Bear statue bench too.
The Paddington Bear bench is another spot for a cool photo, if the waiting train passengers will move for you!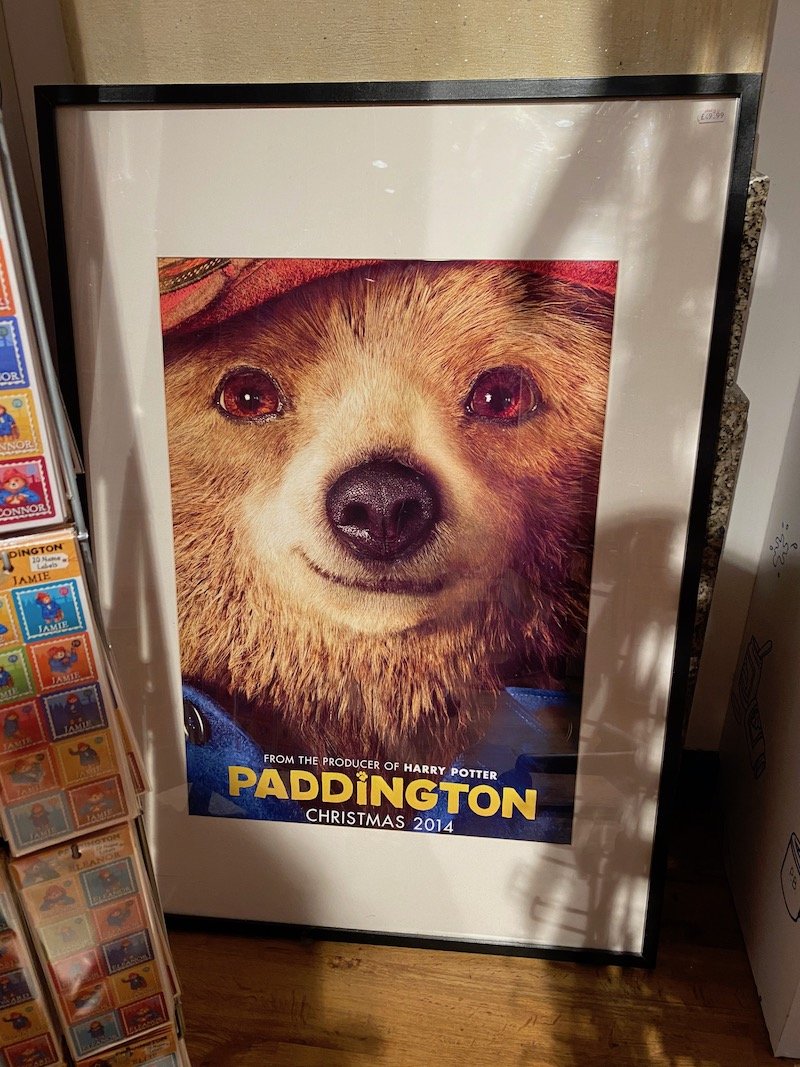 Hot tip: Paddington Bear Movie Set Tour
Have you ever wondered:
where was Paddington filmed?
what street was Paddington filmed on?
who was in the Paddington Bear cast?
about Paddington Bear movie set locations?
Did you know you can take a tour and visit some of the Paddington Bear film locations in person?
You can!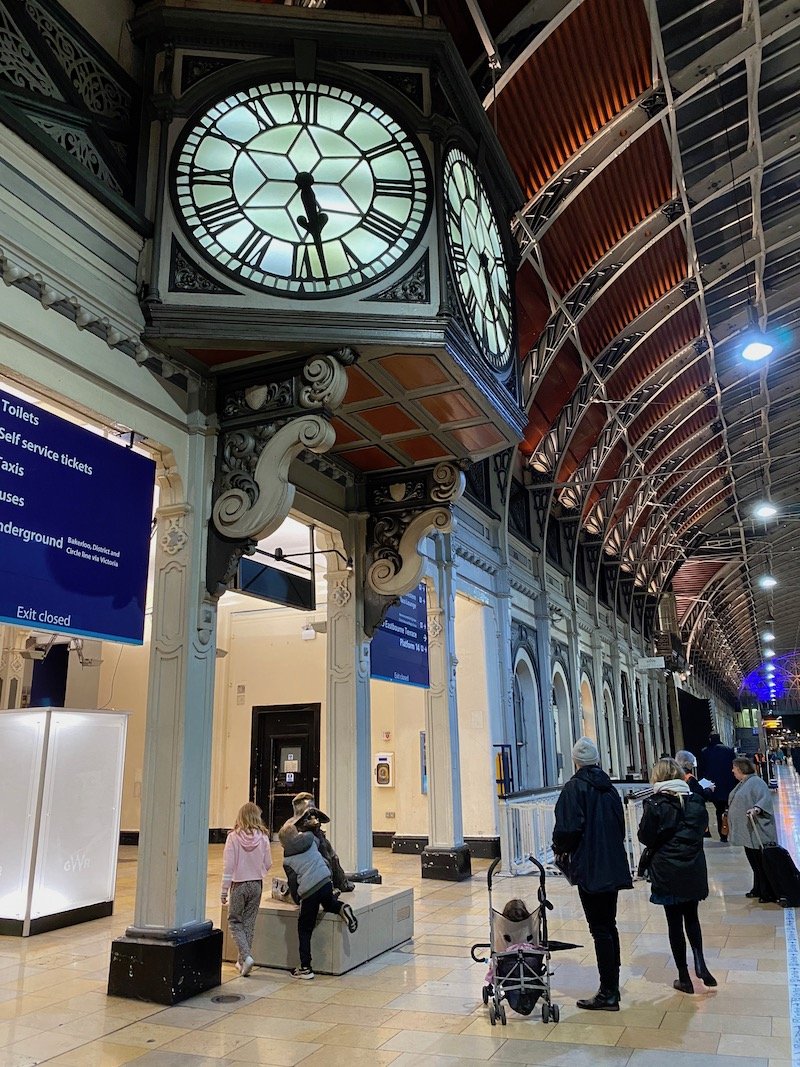 Looking for More Things to Do with Kids in LONDON?
Click the links in blue below for MORE London fun.