INSIDE: The Complete Guide of Things to do at Pier 51 NYC at Hudson River Park.
Named as one of Time Out New York Kids 25 Best Playgrounds in New York City, the exciting Pier 51 playground should top your list of the FOUR best things to do at Pier 51 in New York City.
This Pier 51 NYC water play park and New York playground has EIGHT SEASONAL WATER FEATURES!
But there's more things to do at this pier too.
Check them out below!
UPDATE 2019: Is Pier 41 playground open?
YES! It reopened in July 2019 after refurbishment of surfacing of the playground floor.
Disclosure: This article contains affiliate links. If you make a purchase after clicking on one of these links, we may receive a small commission at NO extra cost to you.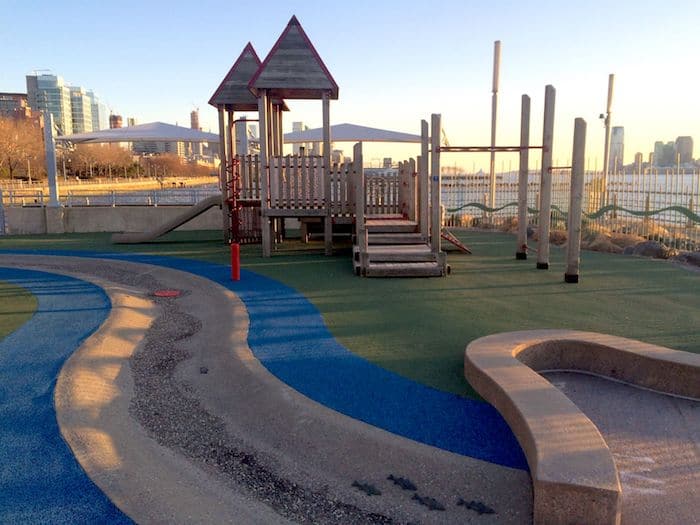 NO. 1: Visit the Hudson River Park Pier 51 Playground NYC
The Hudson River Park Playground is creatively styled in the theme of a boat harbour.
The highlight of the playground is the blue waterscape channel, a replica of Minetta Brook, that winds it way through the play area.
On hot summer days, this water trough fills and children delight in scampering through. The water flow in the brook is controlled by children using the interactive play structures such as child-activated water gushers and buckets.
Toddlers love spying the brass turtles and fish that dot the landscape.
On cold winter days, kids use their imagination to sail pretend boats and play pirates sailing the seas.
Aye Aye Captain!
Hot tip: BRING TOWELS.
Plus, a sweater for when the cooler air blows in from the harbour, and at least one change of clothes.

The Pier 51 Play Area Equipment
At this Manhattan playground, you'll also find a flag-topped fort with an wheelchair accessible ramp to run up to the Pirate's lookout.
Timber Playground
This New York playground features:
multiple timber forts with rock climbing slopes
platforms
swing bridges
ramps
look outs, and
monkey bars.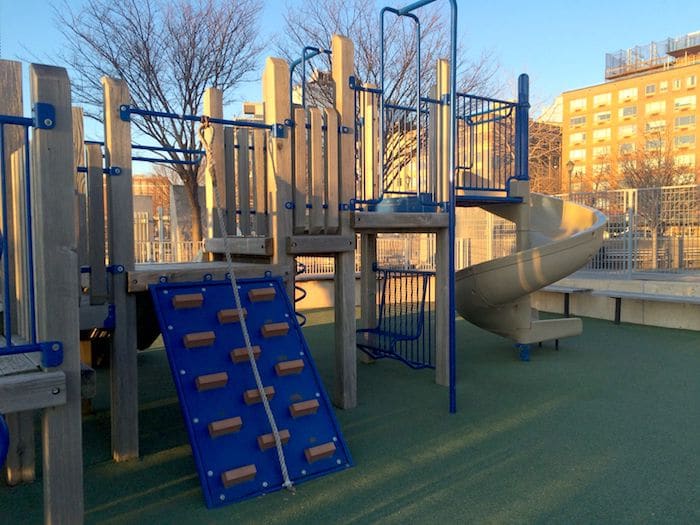 Slides & More
There's:
Twirly slides
Rock climbing walls
Raised platforms
A Model Boat hull that the kids can captain during imaginative play
Hudson River playground andpit
There's a sandpit for kids too.
BYO sand box toys.
No. 2: Take in the New York Skyline views
The best thing about this spot in New York is the iconic views of New York City skyline, and the harbour in the other direction.
The New York city views are spectacular, especially when the golden afternoon light shines down.
No.3: Where to eat at Pier 51 NYC
The closest family-friendly places to eat near Pier 51 in Tribeca are:
Zutto Japanese American eatery serving ramen, sushi, and bento boxes
Ninja New York – everyday Japanese dishes served in a traditional Ninja setting!
Starbucks
Zuckers Bagels and Smoked Fish serving bagels and sandwiches
McDonalds and Subway are 5 minutes walk away too.

No.4: MORE Things to Do Near Pier 51 New York
Check out the:
Pier 25 Playground with giant scramble net and sea-themed sandpit
Pier 46 Lawn Turf. Kick a footy or go for a run. You can also spy the fish habitat at the end of the pier.
Pier 54 Bike Park. Learn to ride a bike in a safe, car-free area with free daily bike education classes and programs for kids and adults. Preregistration required.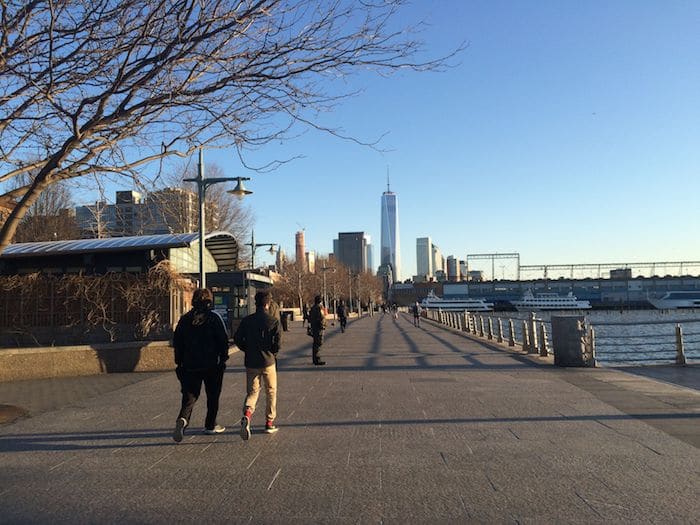 THE INSIDE SCOOP: Pier 51 Hudson River Park New York
Correct at time of publication on Roam the Gnome. Please check with venue for updates. We apologise in advance if there have been any changes we are unaware of. All prices in US dollars, unless otherwise stated
Now Open!
**The Hudson River Park Playground at Pier 51 has now reopened following its' recent restoration**
Address: Where is Pier 51? The pier and the New York water playground are located at the intersection of Jane St and West St. Pedestrian crossings at W.12th St or Horatio St on either side of the playground.
Website: Click here
Opening Hours: 8am to dusk, all year round
Entry Fees: Free
How to get to Pier 51 NYC
By Subway:
Take the A, C, E or the L line to 14th Street. Walk towards the harbour.
By Train:
Take the 1 train to Christopher St.
Pier 51 at Hudson River Park New York Map
Facilities at Pier 51 New York
Toilets: Pier 51 Comfort station
Disability access: Yes
Shade: No. BYO sunscreen and hats for sure.
Enclosed: Yes
Ground cover: Rubber soft fall, concrete pathways
Picnic tables: Bench seating inside the playground. Picnic areas close by.
Electric BBQs: No
Water Bubblers/fountains: Yes
Scooters and Bikes: Yes (to ride along the Hudson River Greenway)
Dogs: No
Toadstool Rating- Hudson River Park Playground at Pier 51

Looking for MORE Super Fun Things to Do in NEW YORK CITY with Kids?
Click the blue links below for more New York tips