INSIDE: The Best Things to do at Disneyland for toddlers.
Planning a visit to DISNEYLAND with kids?
Looking for the best things to do at Disneyland for toddlers?
Take a look at our best tips for visiting Disneyland with toddlers.
We'll give you the answers to these popular questions:
What are the best things to do at Disneyland for toddlers? (the Disneyland must to for toddlers)
Does Disneyland have rides for toddlers?
What to pack for Disneyland with toddlers? (we have the tips!)
Is Disneyland worth it for toddlers? (Oh yes!)
Take a look at our comprehensive guide below! You won't regret it.
Disclosure: This article contains affiliate links. If you make a purchase after clicking on one of these links, we may receive a small commission at NO extra cost to you. Main image credit: Pxhere CC BY-2.0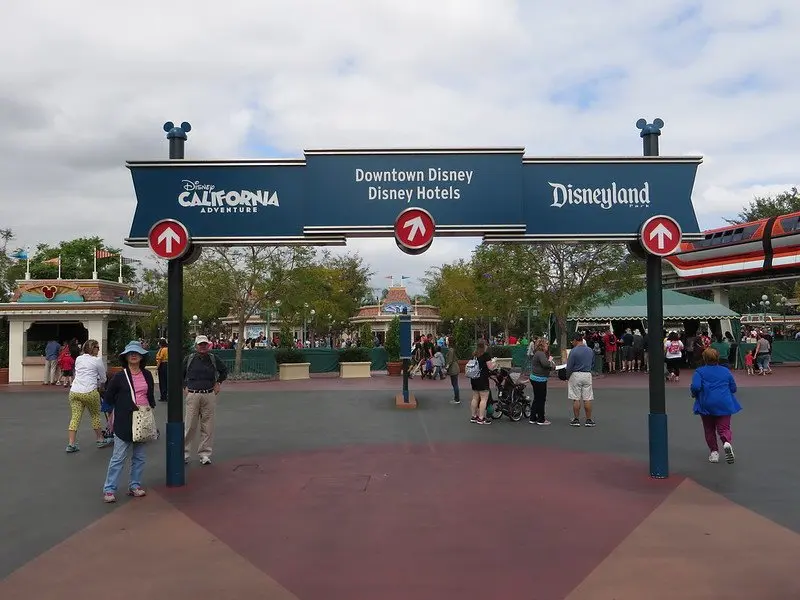 Image credit: Ken Lund via Flickr CC BY-SA 2.0
BEST TIPS FOR VISITING DISNEYLAND WITH TODDLERS
These are the first two important Disney tips to know about – where to stay at Disneyland, and what to buy at Disneyland.
Grab your pen and paper to take notes!
NB: This article focuses only on Disneyland Anaheim, and NOT Disney California Adventure Park next door.
Check back soon for a guide to Disney California Adventure Park for toddlers too.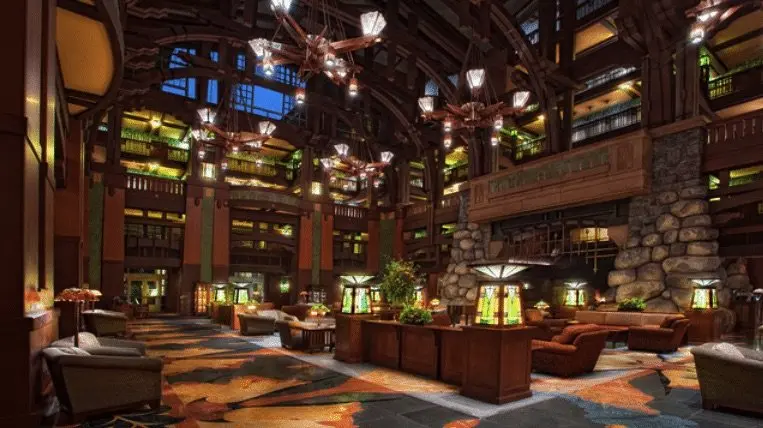 TIP ONE: The Best Disneyland Hotel for Families
The best Disneyland hotels for families are the three Disney properties.
If you can stretch your budget to stay on a Disney property, these are your choices.
Disney's Grand Californian Hotel and Spa – Luxury Superior
The Grand Californian Hotel is Disneyland Resort's flagship hotel, the West Coast sister resort to the Grand Floridian Resort and Spa, Disney World's flagship resort.
Designed to honour and feature the architecture of the 20th Century Arts and Craft era of Northern California, the hotel opened in 2001 as part of the Disneyland expansion.
The lobby reminds me of the living room in the Brady Bunch home, with:
dark wood panelling
enormous rock wall columns
a cavernous ceiling
arched beams, and
hand crafted light fittings.
It's cosy and inviting, with comfy chairs centred around small coffee tables.
If you stay here, there's your very own entrance to California Adventure Park!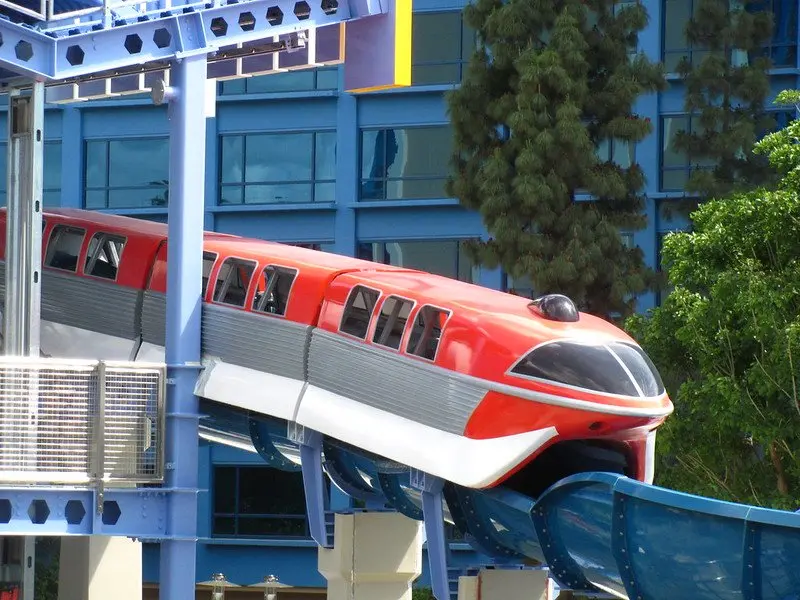 Image credit: Loren Javier via Flickr CC BY-ND 2.0
Disneyland Hotel – Moderate Disneyland Resort Hotel
You stay here so the kids (and you) can ride the very cool MONORAIL WATER SLIDES!
There's also Mickey and Minnie Spa whirlpools, a water park, and two pools – E-ticket, and D-ticket.
The rooms and the decor here pay homage to the very first three Disneyland 'lands':
Adventureland
Fantasyland, and
Frontierland.
It's a whimsical, retro look back at Disneyland of old.
Hot tip: Book an all-you-can-eat character breakfast at Goofy's Kitchen during your stay.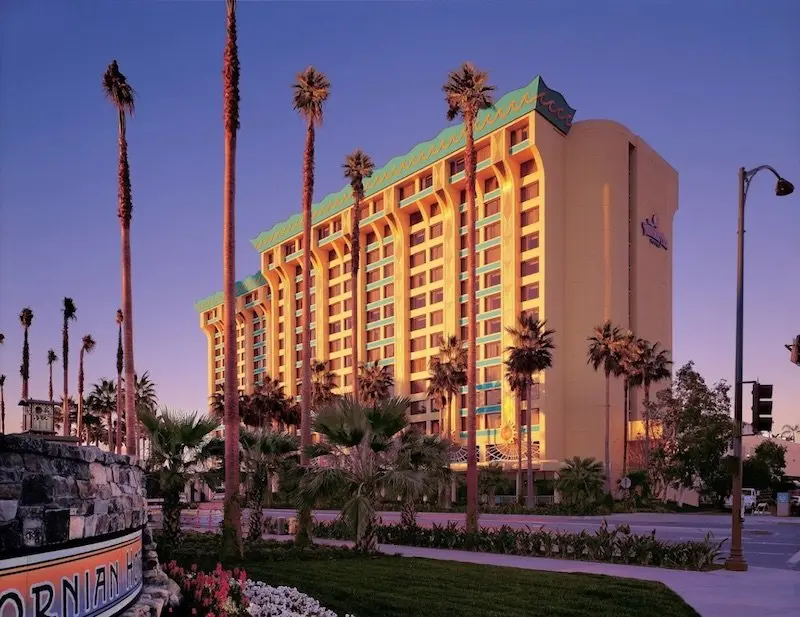 Image credit: Disneys Paradise Pier Hotel
Disney's Paradise Pier Hotel – Moderate Disneyland Resort Hotel
This is a light filled, bright and cheery hotel with a happy sand-and-surf vibe, and it's no wonder.
The Paradise Pier hotel salutes the relaxed era of California beachfront boardwalks, carnival games, and seaside scents.
Kids will love the super fast California Streamin' waterslide, or swimming in the Paradise Pool. There's a children's pool nearby too.
If you stay here on a weekend when fireworks are scheduled, you can watch the sparkles from the third floor pool deck.
Hot tip: Book a table at Donald Duck's Seaside breakfast, and you can eat Mickey waffles and Minnie pancakes!
Unfortunately, there are no Value Resorts at Disneyland, unlike Disney World in Florida.
READ MORE: The Best Disney Hotels at Disneyland California and Disney World Orlando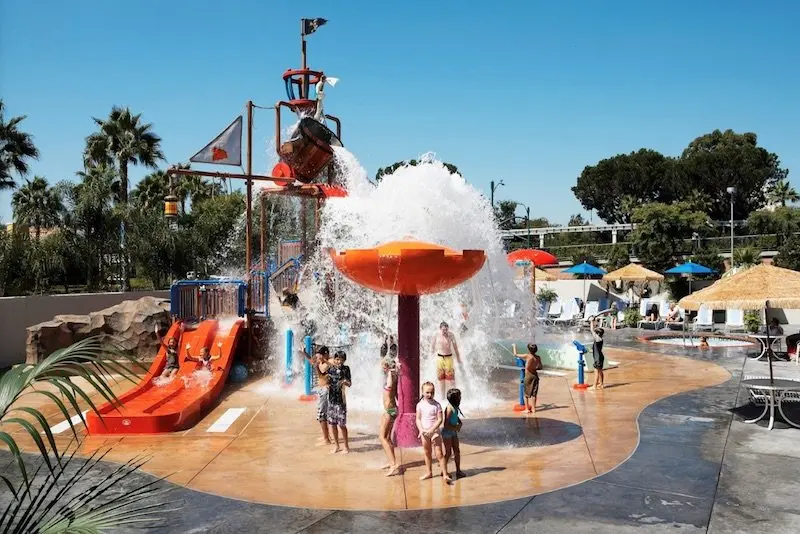 Image credit: Howard Johnson Hotel
Disneyland Good Neighbour Hotels
Your next choice should be a Disneyland Good Neighbour Hotel.
We hear good things from other travelling families about these four in particular.
Anaheim Camelot Inn & Suites
Best Western Plus Anaheim Inn
Candy Cane Inn – a block away
Howard Johnson Anaheim Hotel and Water Playground (pictured above)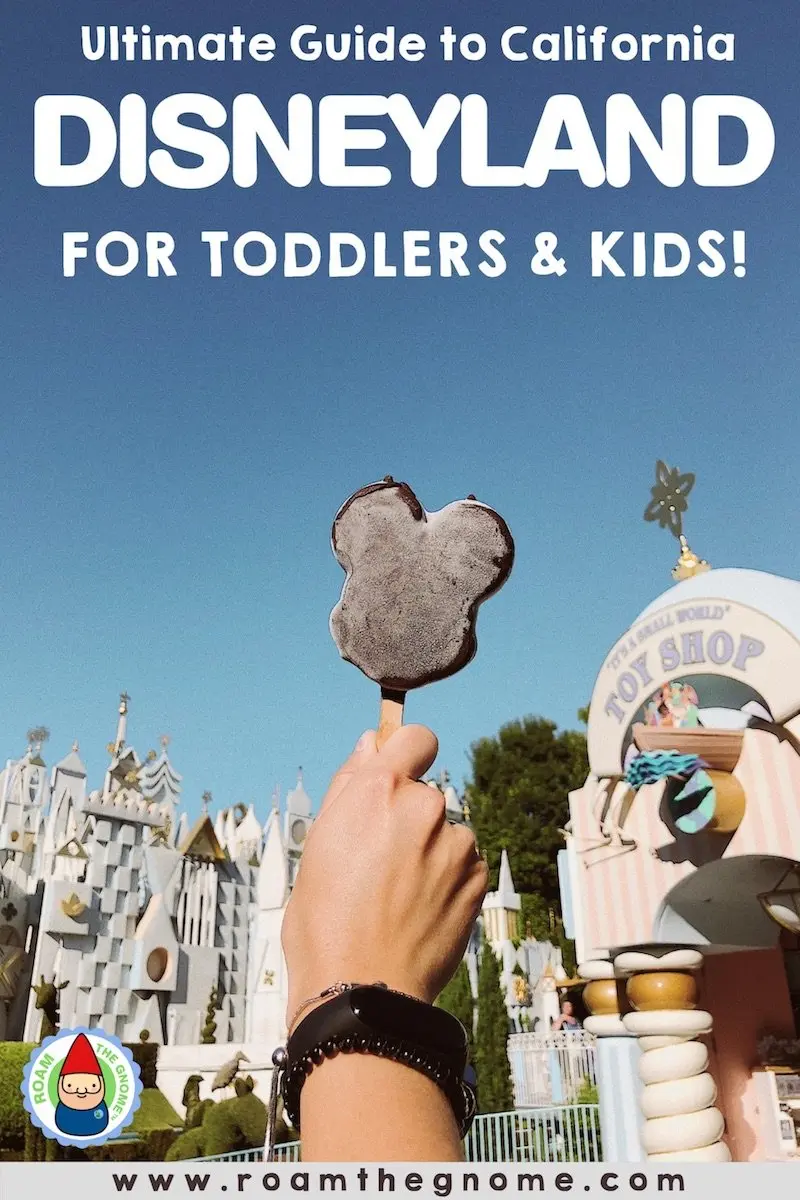 Image credit: Liza Lova from Pexels
TIP TWO: Unique Disneyland Souvenirs
If you LOVE shopping for Disneyland park merchandise, and plan to visit a Disneyland shop or three, here's some ideas for your Disneyland shopping list.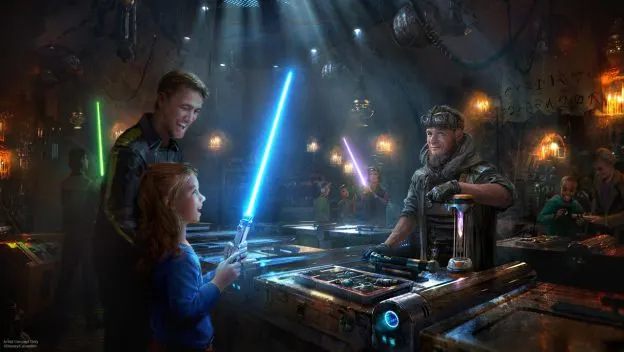 Image credit: Scott Trowbridge via Disney Parks blog
The best unique Disneyland souvenirs in Anaheim are:
A HAND BUILT LIGHTSABER!
Reserve your spot to build at Savi's Workshop at Star Wars: Galaxy Edge.
Don't delay. This is a very popular experience, of course.
A custom Astromech Droid Unit!
Visit Droid Depot to build your own droid unit.
Make a reservation on the Disneyland Parks website, up to 14 days before your visit to secure your spot.
---
RELATED: The Ultimate Guide to Disney Souvenirs, Gifts and Disney Things to Collect.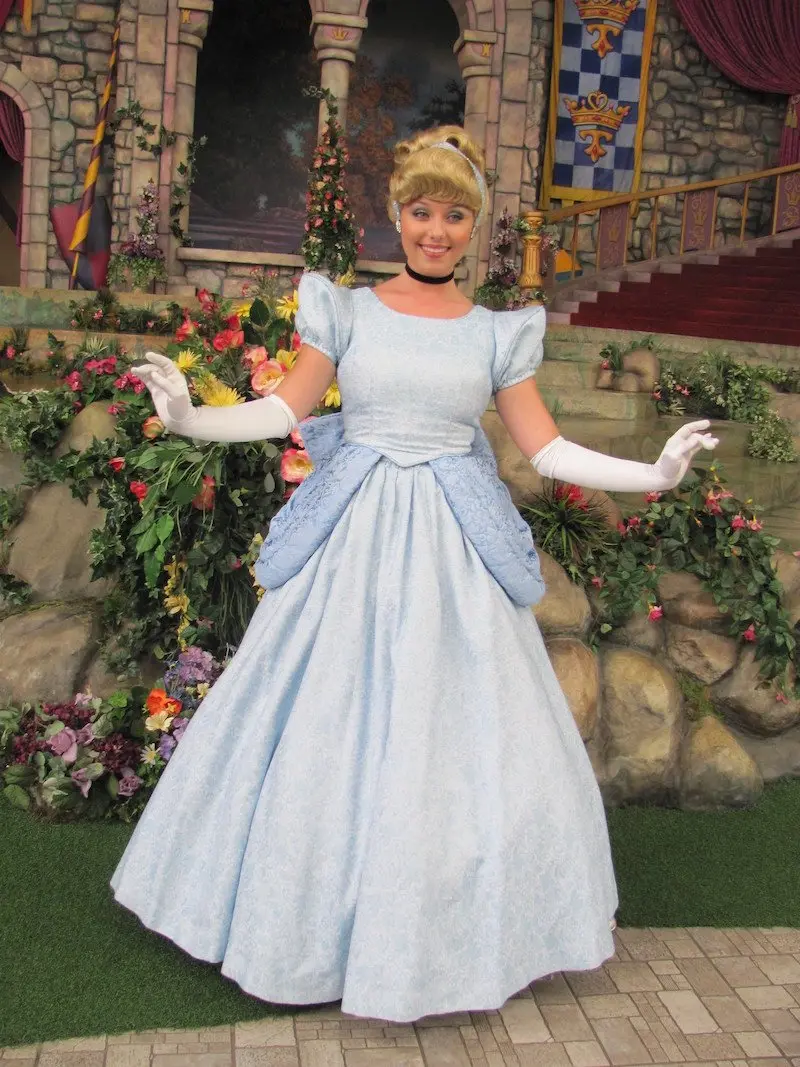 Image credit: Loren Javier via Flickr CC BY-ND 2.0
A Disney Princess gown.
The only and only gown for kids from the Castle Package magical makeover at the Bibbidi Bobbidi Boutique. This is an exclusive Disney souvenir inspired by the real Disney Princesses that you can't get anywhere else.
A REAL Disney Princess Tiara
Stop by Crystal Arts on Main Street USA to find ALL the glittery Disney gifts including crystal mementoes, and personalized glassware that can be engraved while you wait.
The best one?
A Disney Tiara!
Hundred Acre Wood Keepsakes at Pooh Corner
Looking for very cute Winnie the Pooh toys & merchandise? THIS is the spot.
Personalize your very own Winnie the Pooh plush with an embroidered felt tag on a ribbon.
Don't miss the Candy Kitchen at Pooh Corner.
Look out for the very delicious PEANUT BUTTER SANDWICH.
No, it's NOT a PB sandwich as you know it. Think graham cracker bursting with smooth peanut butter and dunked in milk chocolate. I told you so!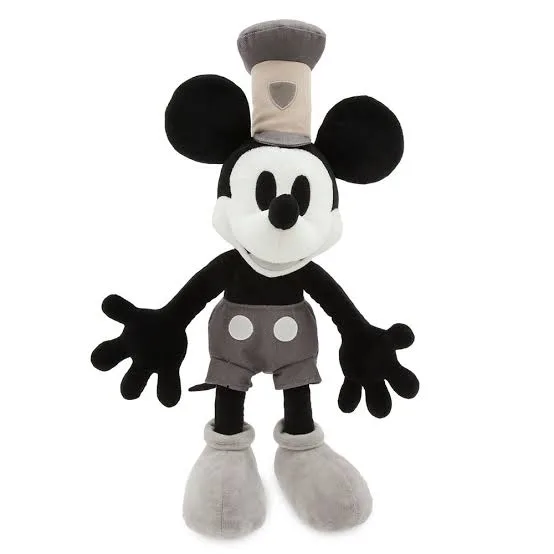 Image credit: Shop Disney
Mickey Mouse Plush – Steamboat Willie
There's no better Mickey Mouse plush toy than the ORIGINAL Mickey Mouse plush Steamboat Willie. This black and white toy celebrates Mickey's 90th birthday.
Did you know Mickey Mouse debuted in Walt Disney's first sound cartoon Steamboat Willie on November 18, 1928?
Disneyland Christmas Ornaments
You can buy:
Sleeping Beauty Castle ornament
Sleeping Beauty Castle Glass Drop ornament
Mickey and Minnie Mouse Icon Ceramic ornament
Mickey Mouse Mouseketeers ear hat ornament
Mickey Mouse Krispie Treat ornament
Disneyland Park Pins
Don't forget to pick up this year's collectible Mickey Mouse Disneyland Resort Pin, Lanyard, and trading pouch.
---
READ MORE: The Rest of the Best DISNEYLAND SOUVENIRS! (Coming soon)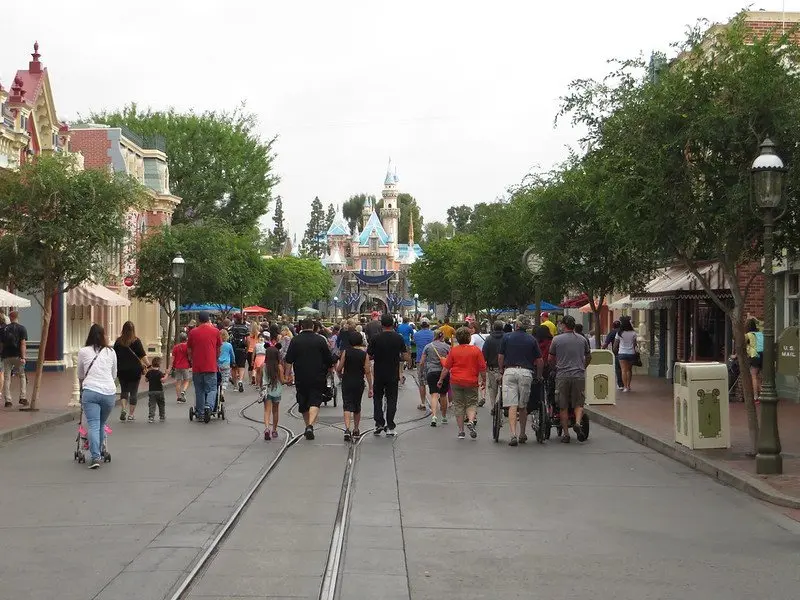 Image credit: Ken Lund via Flickr CC BY-SA 2.0
THE BEST THINGS AT DISNEYLAND FOR TODDLERS
No. 1: Sleeping Beauty Disneyland Castle
Did you know the Sleeping Beauty Castle at Disneyland is inspired by a REAL LIFE castle, the Neuschwanstein Castle in Bavaria?
The castle opened at Disneyland Anaheim on July 17, 1955.
Take your toddlers for a winding walk through the stone-walled passageways of the Disney castle to see 3D displays, and spectacular special effects.
Watch out for the fire-breathing dragon!
Fun Fact: The castle drawbridge does work, but it's only been lowered TWICE in history:
on opening day, and,
again at the rededication of Fantasyland in 1983.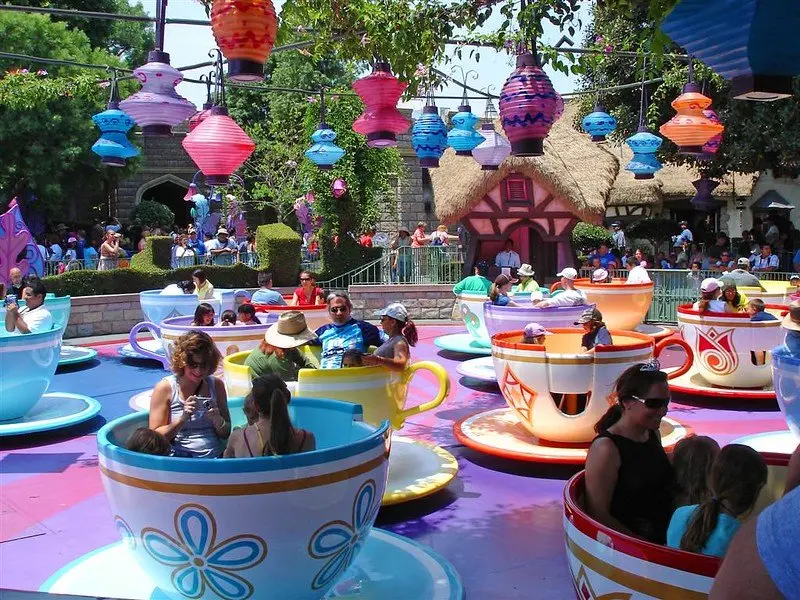 Image credit: Radiohead via Flickr CC BY-SA 2.0
No.2: Best Disneyland Rides for Toddlers
Does Disneyland have rides for toddlers? It's a common question.
The answer is YES!
The best rides at Disneyland for toddlers and preschoolers are:
Alice in Wonderland
Astro Orbiter
Buzz Lightyear Astro Blasters – a VERY fun interactive ride. My 2 year old LOVED this!
Casey Jr. Circus Train
Chip 'n Dale treehouse
Disneyland Monorail
Disneyland Railroad
Donald's Boat
Dumbo the Flying Elephant
Goofy's Playhouse
"it's a small world" cruise – gentle and nostalgic
Jungle Cruise – fun for the WHOLE family
Tarzan's Treehouse
Sailing Ship Colombia
More good Disneyland rides for infants & preschoolers
This is a list of more suitable toddler rides at Disneyland.
Mad Tea Party spinning cup ride
Main Street vehicles. There's something wholesome and charming about these vehicles. Jump on board.
The Many Adventures of Winnie the Pooh
Mark Twain Riverboat – look out for the busy beavers and the mountain lions too!
Peter Pans flight – one of our faves
Pinocchio's Daring Journey
Roger Rabbit's Car Toon Spin
Storybook Land Canal Boats – a slow, sweet drift through a land of well known miniature villages from famous Disney films
King Arthur carousel – ride one of the 68 hand-painted galloping horses, just like King Arthur himself
Fun fact: We can thank the Griffith Park carousel in Los Angeles for the magic of Disneyland.
Watching his young daughters go round and round on the carousel was the spark that ignited Walt's imagination to create a whole new kind of theme park!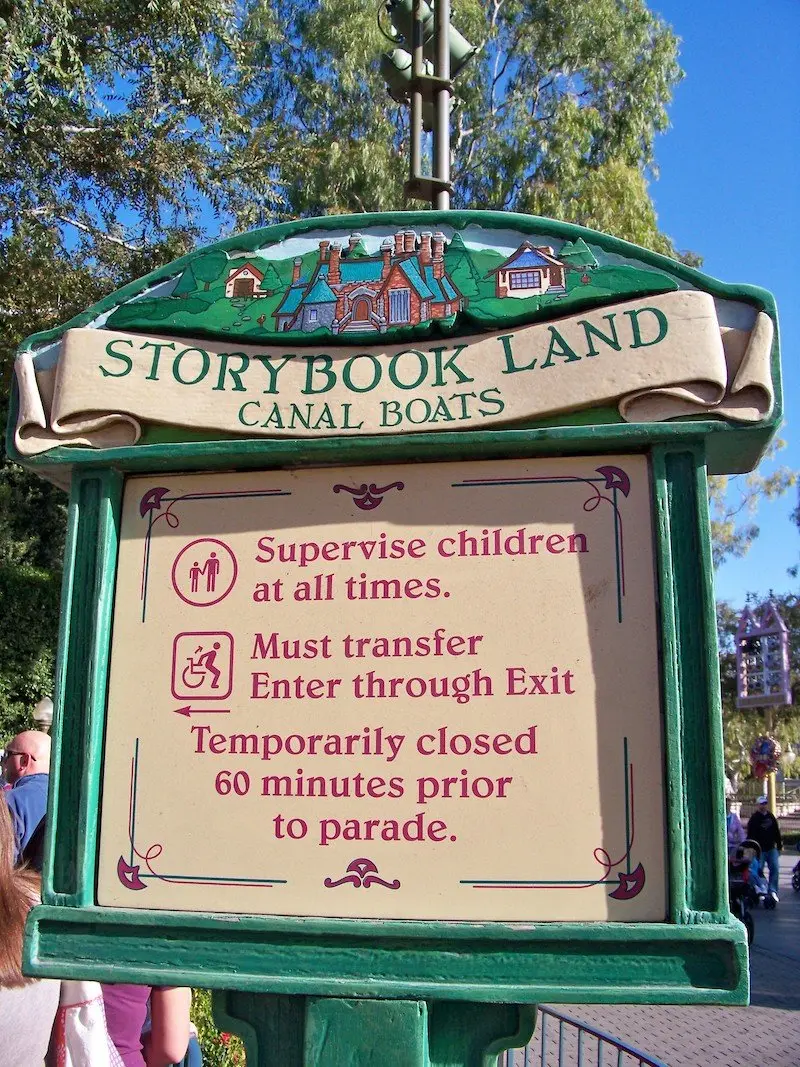 Image credit: Loren Javier via Flickr CC BY-ND 2.0
No.3: Best Disneyland Rides for Babies
The best Disneyland rides for babies are found in Fantasyland, and Mickey's Toontown.
These four rides should be top of your list:
Casey Jr. Circus Train
it's a small world
King Arthur Carousel
Storybook Land Canal Boats
Followed by Minnie and Mickey's houses, Goofy's playhouse, and Donald's Boat in Toon town.
These are interactive playground areas for them to explore under your guidance.
The Disneyland Monorail and the Disney Railroad are more ride options in Disneyland for babies.
Hot tip: Be sure to grab a Disneyland Fastpass for "it's a small world" to save waiting in the queue with bub.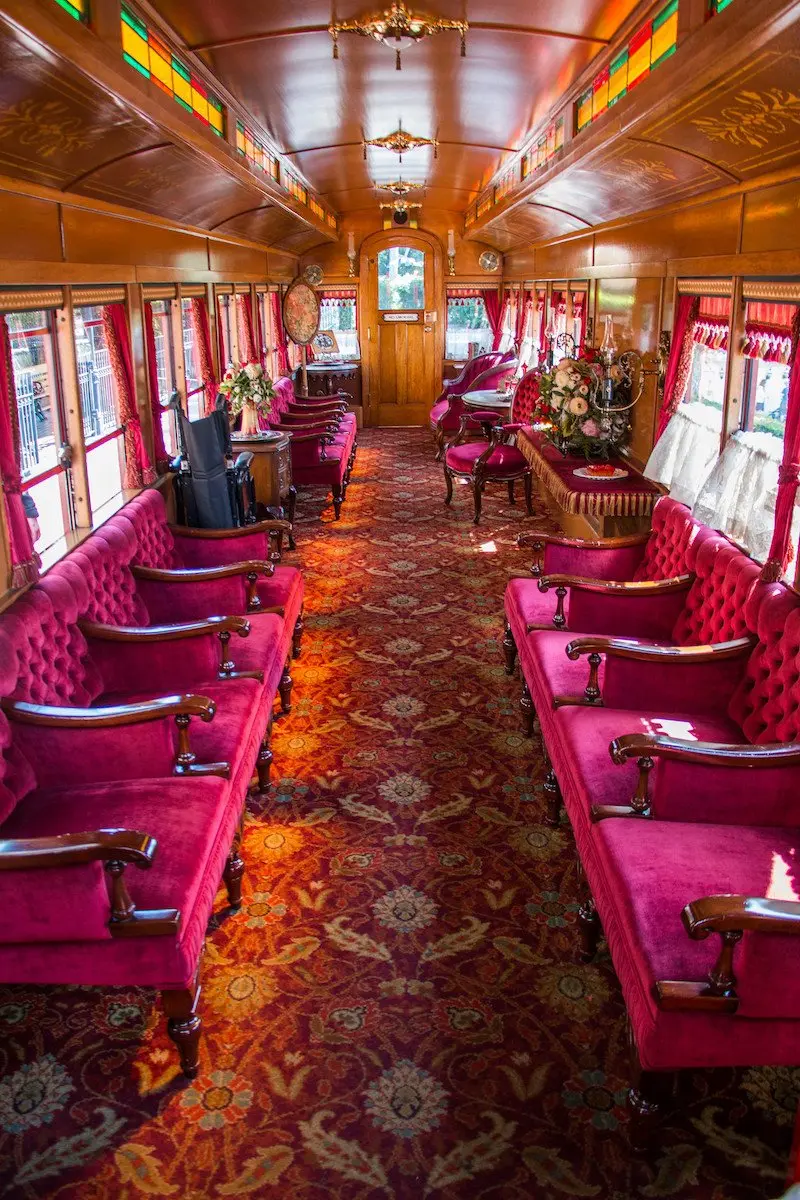 Image credit: Harsh Light via Flickr CC BY-2.0
No. 4: Ride the Lilly Belle Presidential Carriage
Take the Grand Circle Tour and you'll be able to climb aboard Disneyland Railroad's special parlour car, the Lilly Belle, the last car on the train.
Named by Walt in honour of his wife, Lilly Belle, this is the only way you can ride inside this historical train carriage.
While occasionally it used to be possible to be gifted a trip around the tracks by asking a cast member nicely, this experience is now solely the preserve of those who book this tour.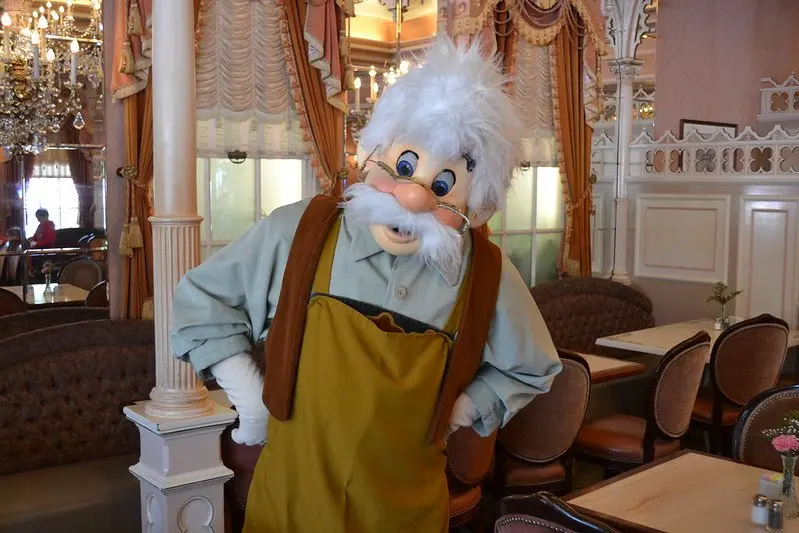 Image credit: Loren Javier via Flickr CC BY-ND 2.0
No.5: Disneyland Character Dining
Our favorite Disneyland Character Resort dining experience is breakfast with Minnie and friends at the Plaza Inn Disneyland.
The kids are up, and full of energy, so when better to take advantage of meeting a random and unique range of the most popular Disney characters.
Minnie Mouse is a guarantee, but depending on the day, you may also meet up to 6-8 characters including:
Winnie the Pooh
Eeyore
Tigger
Chip & Dale
Fairy Godmother
Pinocchio or Gepetto
Captain Hook
Pluto
Rafiki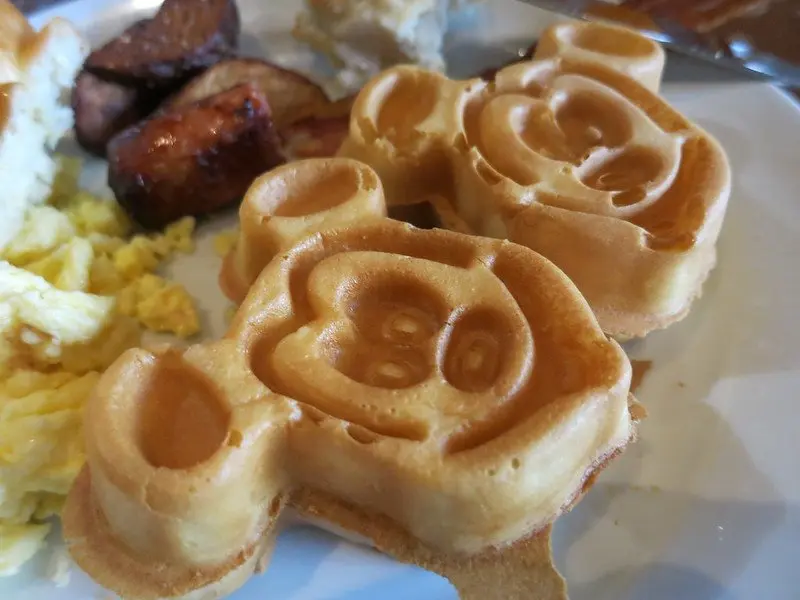 Image credit: DanUV via Flickr CC BY-2.0
Mickey Waffles!
There's fun food at the Minnie & Friends Breakfast at the Plaza Inn, including:
famous Mickey waffles
French toast
scrambled eggs, omelettes
bacon
sausages
biscuits and gravy
breakfast potatoes
fresh-baked pastries and breads
fruit
hot and cold cereals.
Bring your camera and autograph book to capture the experience!
Note: You do need park entry tickets to access this Disney character dining experience. The cost of the breakfast ranges from $15 to $35 per child, and $35 to $60 per adult. Children under 3 are free. Advance reservations available via the Disneyland parks website.
Address: 1313 S Harbor Blvd, inside Disneyland, Anaheim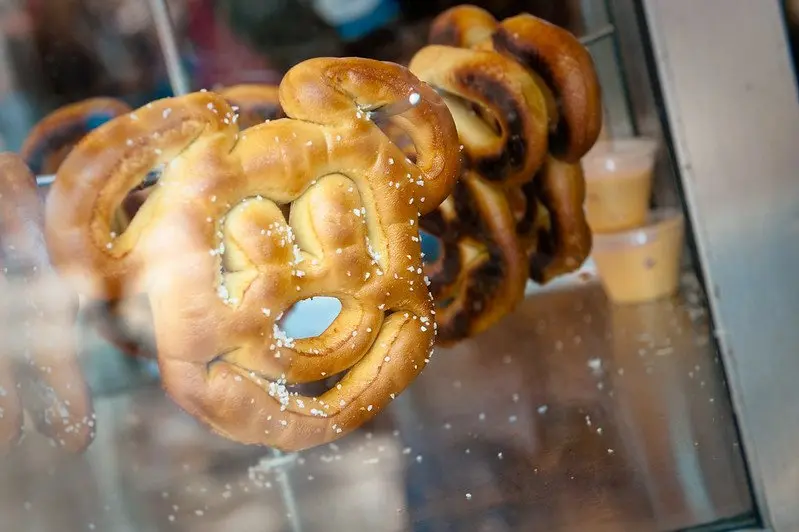 Image credit: Josh Hallett via Flickr CC BY-SA 2.0
No. 6: More Disneyland Dining
When you are looking for family favorites, or plain and simple comfort food and savory snacks they'll eat, the best Disneyland food for toddlers includes:
chicken nuggets
grilled cheese sandwiches
mac & cheese
pizza & pasta
burgers
corn dogs
hot dogs
Mickey pretzels
fries
The best Disneyland restaurants for kids offering these toddler friendly food options are:
the Hungry Bear restaurant in Critter Country (chicken nuggets, burgers, corn dogs, fries, )
Stage Door cafe in Frontierland (chicken nuggets, corn dogs, fries)
Jolly Holiday Bakery Cafe (grilled cheese)
Carnation Cafe on Main street (mac & cheese)
Alien Pizza Planet in Tomorrowland (pizza, spaghetti and meatballs)
Daisy's Diner in Mickey's Toontown (pizza)
Plaza Inn on Main street (pizza, pasta, mac and cheese)
Pluto's Dog House in Mickey's Toontown (hot dogs)
Red Rose Tavern (giant pretzels, burgers)
Image credit: Ken Lund via Flickr CC BY-SA 2.0
No. 8: Visit the Penny Arcade on Main Street USA
The Penny Arcade is next to the Candy Parlour, a recreation of the games arcades from Walt Disney's youth.
While there is nowhere near the amount of old fashioned pinball machines and amusement machines as there once were, it's still the place to take a step back in time to take a look and play a few nostalgic arcade games of old.
Plus, there's pressed penny machines so you can add to your collection.
Look out for the Fortune Teller Esmeralda!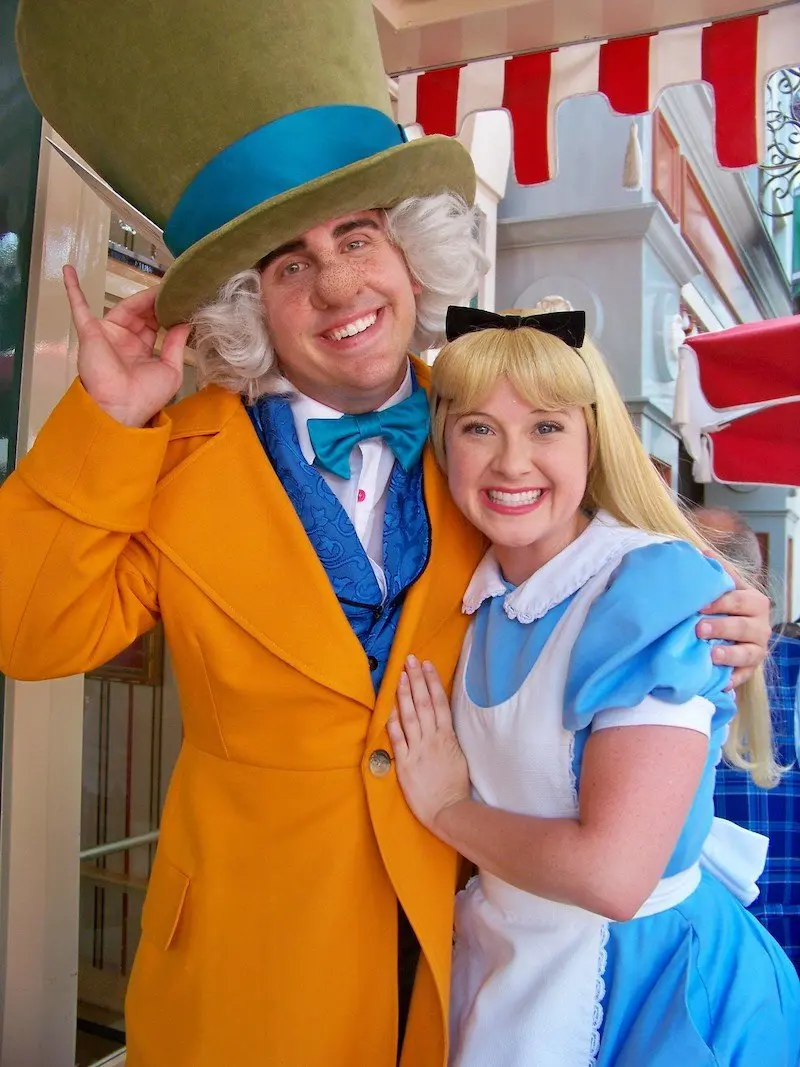 Image credit: Loren Javier via Flickr CC BY-ND 2.0
N0. 9 : Meet the Disney Characters
Download the official Disneyland App and click on 'characters' to find out where to queue to meet your favorite Disney Characters.
There's different Disney characters at photo spots throughout the park, so your task is to pick WHO you want to meet for a:
Head to Pixie Hollow in Fantasyland to meet Tinkerbell and her fairy friends.
Mickey's Toontown is the hot spot to meet Mickey.
Love Minnie? Head to her house in Toontown instead.
Or find Goofy from time to time over at his Playhouse, or Chip 'n Dale at their treehouse.
If you don't have the app, or prefer a low-tech visit, head to the Information Board near the entrance of both parks or City Hall on Main Street, U.S.A for daily greet times.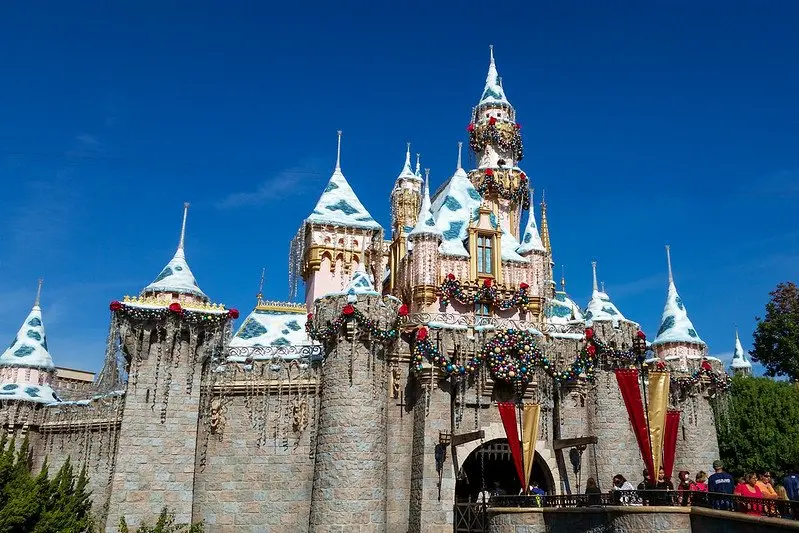 Image credit: Harsh Light via Flickr CC BY-2.0
No. 10: Disneyland Christmas
If you've not yet experience Christmas at Disneyland, plan a trip now.
We're lucky enough to have experienced both the magic of meeting Santa at the snowy Santa Claus Holiday Village in Rovaniemi Finland (the official home of Santa) and the real elves in Lapland AND the Christmas season at Disney.
Christmas at Disney is lots of fun too!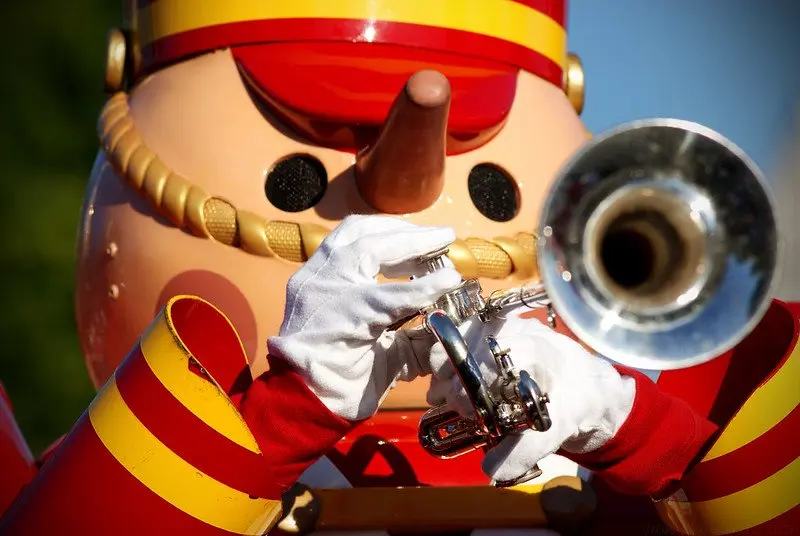 Image credit: Jamesongravity via Flickr CC BY-2.0
Christmas at Disneyland California
If a visit to the icy forests of Lapland is not in your budget this year, Disneyland is the next best place to experience all the magic of:
decorated pine trees
shimmering lights
sparkly ornaments
Christmas carols and music
cute Christmas themed food
Disney characters dressed up in Santa suits and Santa hats
a dedicated Disneyland Christmas Parade, and
'snow'!
Walking down the Main Street of Disneyland when it's all done up in Christmas style is a dream come true!
So is seeing the Sleeping Beauty Disneyland castle at Disneyland California all decorated with garlands and baubles!
Book tickets for a day trip during the season now.
No.11: Disneyland Birthday Tips
Did you know you can receive a FREE Disneyland Birthday Button?
Head inside City Hall on Main Street, U.S.A. in Disneyland Park, and ask a Disney Cast Member about this complimentary birthday gift.
(Alternatively, visit Guest Services in Disney California Adventure Park).
You can order a Mickey Mouse Celebration Cake on the day, by ordering in person at the restaurant's host podium, or at the Concierge desk of any Disneyland hotel.
Cakes come in either chocolate, or white chocolate, and you can have the ears engraved with 'Happy Birthday' too.
Book a Character Dining experience on a birthday, like we did, and your little one will be showered with an extra dose of love and laughs from the Disney characters.
There might also be a birthday cake treat for the birthday boy or girl!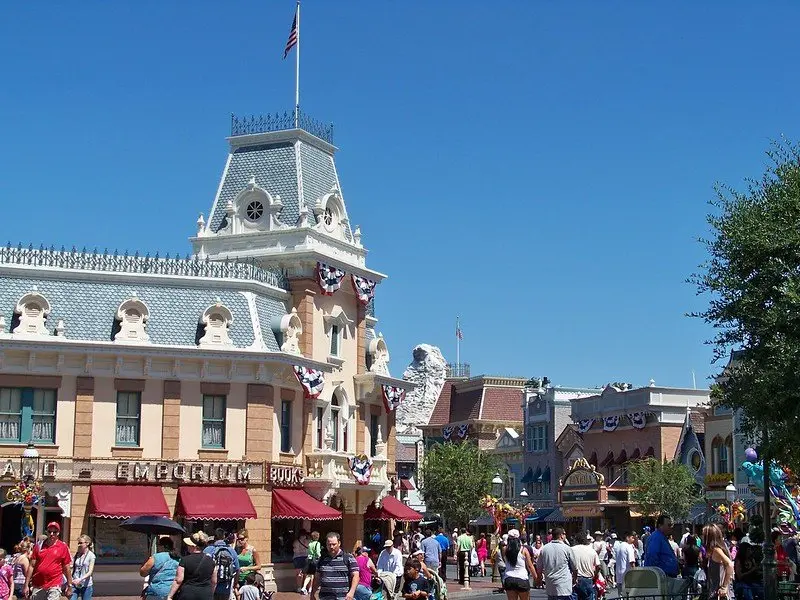 Image credit: Loren Javier via Flickr CC BY-ND 2.0
THINGS TO DO IN DISNEYLAND WITH PRESCHOOLERS
Looking for things to do in Disneyland for preschoolers?
Here's a few ideas.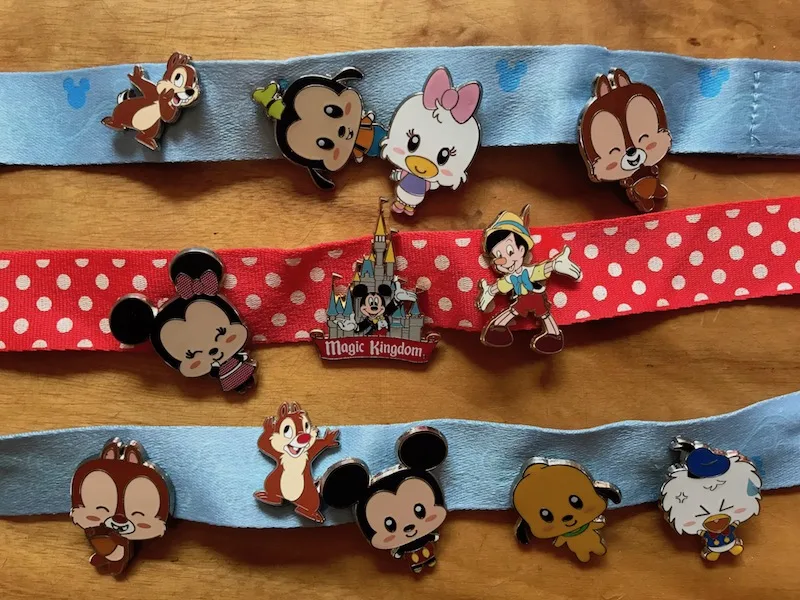 No.1: Disneyland Pin Trading
Pop into the Disneyland Emporium on Main Street USA to pick up some new Disney pins, and a Disney pin lanyard to keep them on.
The real fun begins when you start trading your current pins for ones you like better.
Look for a Cast Member wearing a green lanyard filled with pins.
(A green lanyard is Disney's signal that these cast members can only trade with children.)
You might find a green-lanyard wearing cast member at the entry and exit turnstiles, as ride attendants on ride lines, at pin booths, and in the Main street stores and shops around Disneyland park.
Then trade to your heart's content!
Hot tip: Buy pins in bulk packs to save money. Use your least favorite pins for trading.
Fun Fact: Did you know that in 2016, Disneyland resort played host to a Disneyland Scavenger Hunt called Disney PinQuest.
Disney Pin Quest was the chance for kids and families to explore Disneyland, while at the same time completing six clue cards (and purchasing unique Disneyland pins at each point) on a mission towards collecting a unique, limited edition PinQuest pin that meant you were an Official Disney QuestEAR.
You couldn't buy these pins online, or anywhere else unless you played the Disney Pin Trading scavenger hunt game, so they are proof of die-hard Disney fans.
Image credit: Loren Javier via Flickr CC BY-ND 2.0
No.2: Disney Animation Academy Drawing Classes
At the Animation Academy in Disney California Adventure Park, you all can try your hand at drawing classes.
Guests of all skill levels are invited to draw their very own Disney character, with step-by-step instructions from a Disney artist.
As an added perk, take home your artwork as a one-of-a-kind, free souvenir!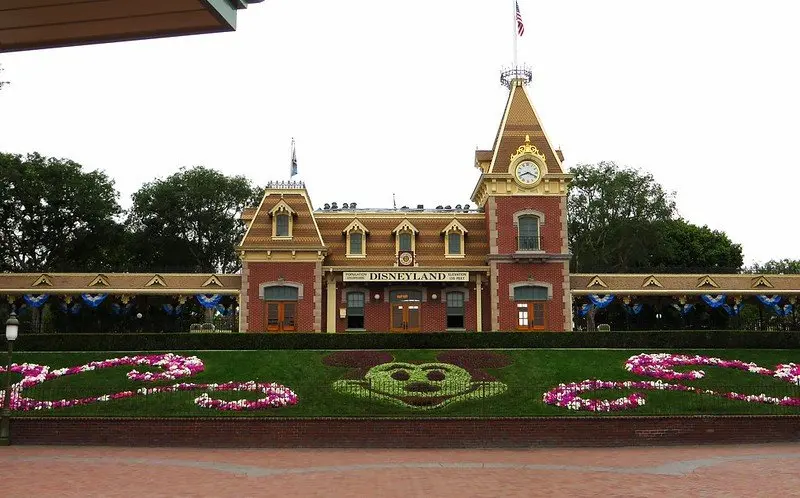 Image credit: Ken Lund via Flickr CC BY-SA 2.0
Best Disneyland Itinerary?
Our hot tip is to get hold of a hard copy of a Disneyland map before you go (ask your friends, family, or in FB groups for help) to take a look at the layout of the park.
Plan to turn right, not left when you enter, as many people walk in a clockwise direction.
OR, head to the furthest point of the park from the front entrance and travel backwards in the opposite directions to the crowds.
(Hot tip: Make your first stop the Disney Railroad, and ride there in style.)
Then do these things:
Write a list of the rides you most want to ride, the shows you most want to see, the foods you most want to eat, and the shops you most want to visit.
Mark these attractions on the map.
Add a tick next to those rides in the list above that have fast pass options
Work out what things you want to do nearby these top rides, eg eat a particular Disney food, try a unique Disney snack, or visit a specific shop to buy a particular souvenir. Plan to do everything (or as much as you can) in this land before moving on, so you don't waste time walking from place to place.
Open up a word doc, or a google doc, or notes on your phone, and make a vague outline. Anything more than a vague outline is called wishful thinking! Plus, set-in-stone plans DO NOT work at Disneyland, so don't even bother stressing yourself out trying to plan for every eventuality.
You will NOT get to try every single ride, show, restaurant, cafe, or buy all your most-wanted things in one day. Although you will get closer to your goals if you have multiple days, or a week, to wander between both Disneyland and Disney California Adventure Park.
Also, it's the surprises that pop up unexpectedly that sometimes make the best memories!
Be open enough to receive those gifts.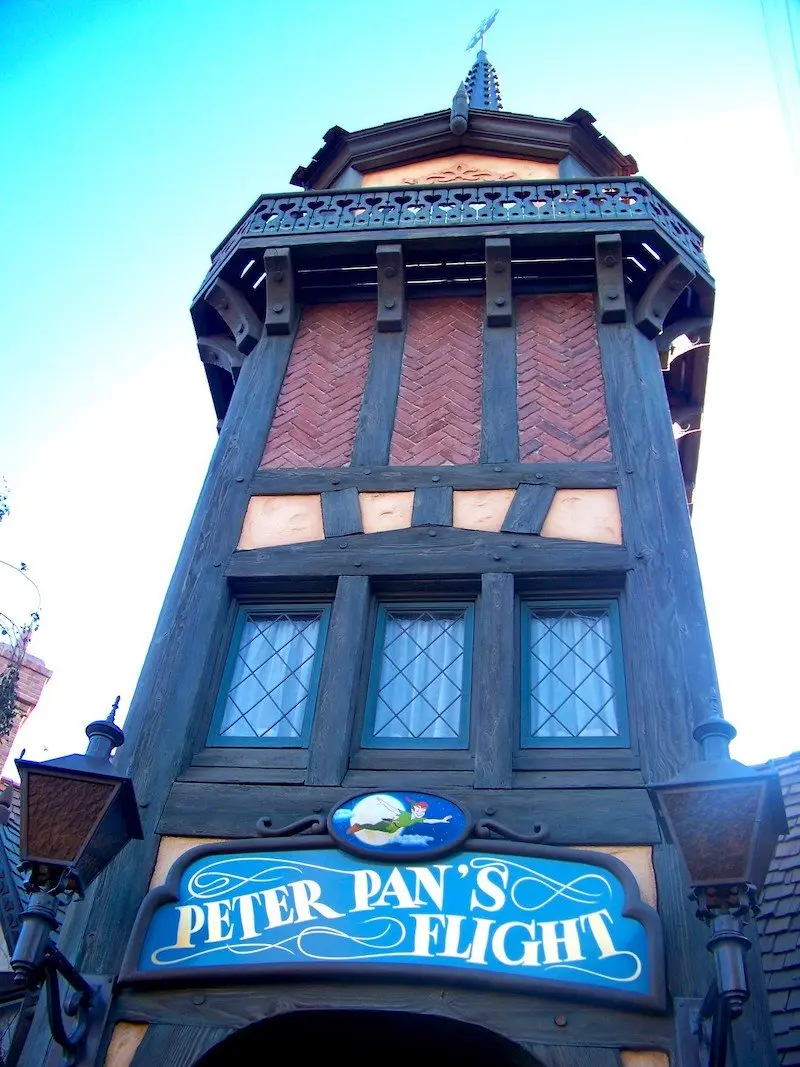 Image credit: Loren Javier via Flickr CC BY-ND 2.0
Disneyland Itinerary Tips
Hot tip #1: Book your fast passes in advance via the app if you have purchased the Disney MaxPass addition to your daily tickets.
Otherwise, be prepared to head directly to your number one ride to find the fast pass machines in park, and lock it in.
Hot tip #2: If you are travelling with toddlers and young kids, leave Fantasyland and Mickey's Toon Town until the end of the day.
It seems odd, but this is the best way to guarantee lower crowds, and smaller queues as most families with young kids head straight to these rides, then leave for naps, or head to shows, shops, or restaurants.
Another good time to ride the attractions in Disneyland with toddlers is when the parades are on.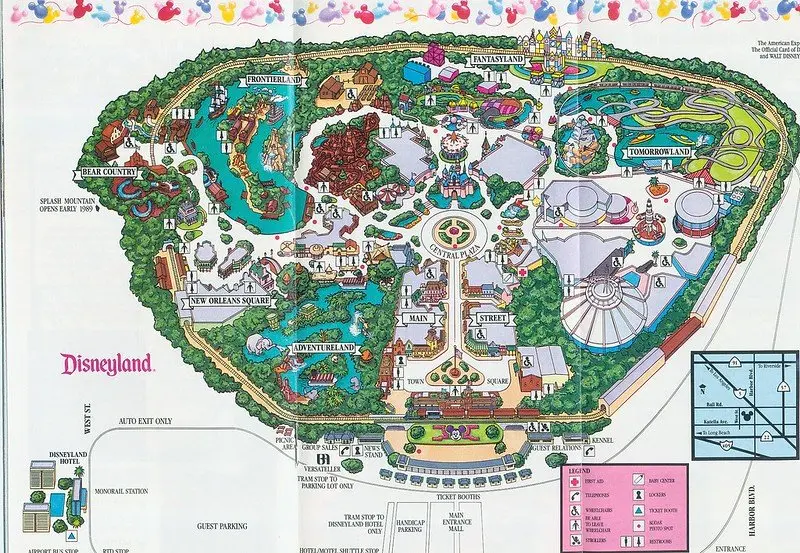 Disneyland Map from 1982- Image credit: Loren Javier via Flickr CC BY-ND 2.0
Disneyland Map
Click here for an interactive map of Disneyland to help with your Disneyland itinerary planning.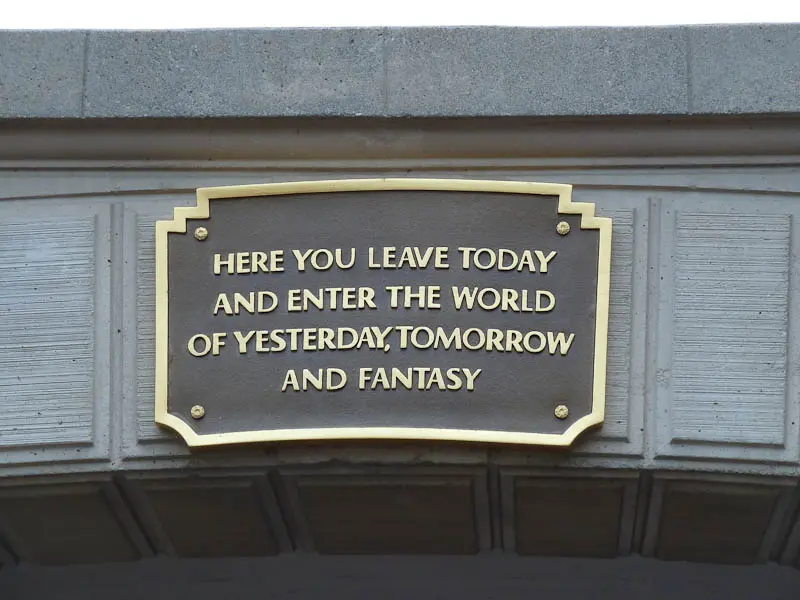 Image credit: Minnie Mom via Flickr CC BY-ND 2.0
Frequently Asked Questions about Disneyland California
When is the best time to visit the Disneyland Resort?
Mid-September through mid-November (before the Thanksgiving break) is the best time to visit Disneyland to beat the crowds
The next best time to visit Disneyland with a toddler without crowds is during Mid-January through mid-March.
Can you bring food into Disneyland?
Short answer, yes.
Disneyland Guests are allowed to bring outside food and nonalcoholic beverages, including snacks.
These things are prohibited:
glass containers
foods that require heating or reheating
foods that require refrigeration
smelly foods
This is good news for those who want to visit Disneyland on a budget, or those with special dietary restrictions.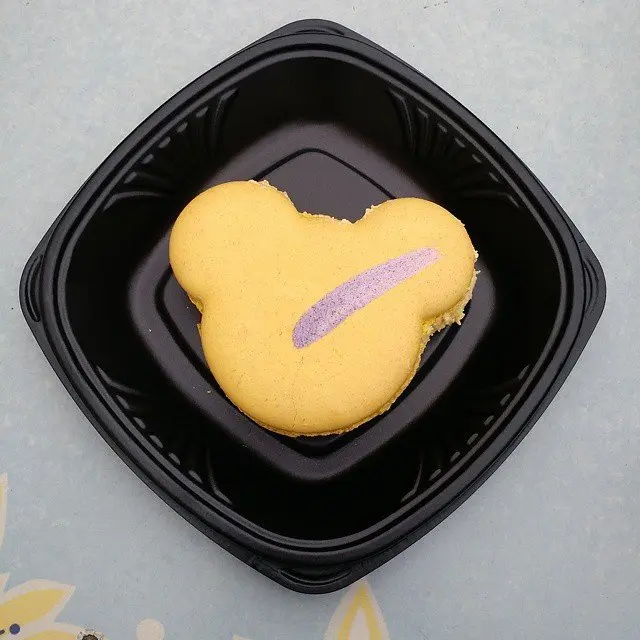 Image credit: Kristin via Flickr CC BY-2.0
Can you take snacks into Disneyland?
Yes you can bring your own snacks to Disneyland for your little ones.
But don't let that stop you trying some of the best snacks in Disneyland!
There are lots, and it's part of the fun.
Restrictions as above.
---
READ MORE: The Ultimate List of the Best Snacks to Bring to Disney (coming soon)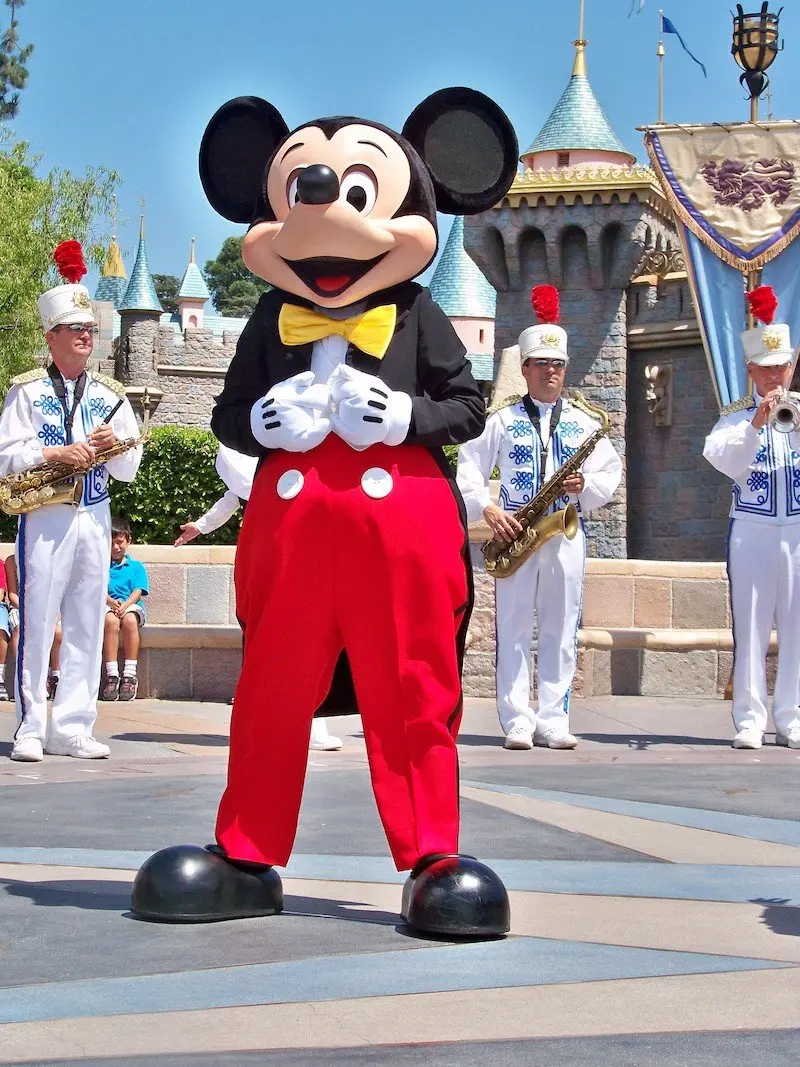 Image credit: Loren Javier via Flickr CC BY-ND 2.0
What to bring to Disneyland?
What do I need on my Disneyland packing list?
We've solved the problem so you'll be surviving Disneyland with a toddler.
Other than snacks, the most important things to take to Disneyland are your iphone, or camera, your Disney autograph book and a pack of colored permanent markers if you are planning on collecting signatures, and a Disney Lanyard with pins for trading.
We recommend adding these things to your Disney backpack too:
portable charger and cord, just in case you run out of power
refillable water bottle (fill it up around the park at water stations to save cash)
extra pair of socks
pack of bandaids/plasters in different sizes
Check back soon for a printable PDF of "What to pack for Disneyland"
Image credit: Joe Shlabotnik via Flickr CC BY-2.0
Tips for Disneyland with a baby
These are just a few hot tips to make your trip to Disneyland with a baby that little bit more manageable.
Book a hotel nearby so you can retreat to your hotel room for a nap, or a break if absolutely necessary without trudging a hundred miles.
Visit The Baby Care Center at the end of Main Street, U.S.A to find a nursing room with chairs. Baby Care centers have toddler toilets, a feeding area with highchairs, and a kitchen area with sink, bottle warmers and microwave. Need an emergency diaper or pacifier? You'll find it here too.
Babies can go with you on many (if not most) rides, with the exception of roller coasters and rides with a height restriction.
If this is your first trip, it's good to know there's stroller parking withinn walking distance near every ride and show.
Add some kind of special tag or identification to your stroller so you can find it quickly and easily. Many people tie a helium balloon to the handle, but you can also tie a colorful scarf or ribbon if you are not a fan of battling balloons in the wind!
If you have another adult with you, you can take advantage of Rider Switch, where one person holds the baby while person 1 rides, then swaps out for the other one.
---
RELATED: The Best Travel Stroller for Disney for little ones (coming soon)
Image credit: Loren Javier via Flickr CC BY-ND 2.0
Visit Walmart near Disneyland California for Cheap Disney Souvenirs
Want to save some money on Disneyland souvenirs from your theme parks visits?
Head straight to the Walmart Neighbourhood Market at 1120 S Anaheim Blvd, Anaheim, CA 92805 to pick up a selection of California Disneyland souvenirs on a budget.
Or take a car or UBER to visit the Walmart Supercenter at 88 E Orangethorpe Ave, Anaheim for a bigger range of Disney souvenirs from California.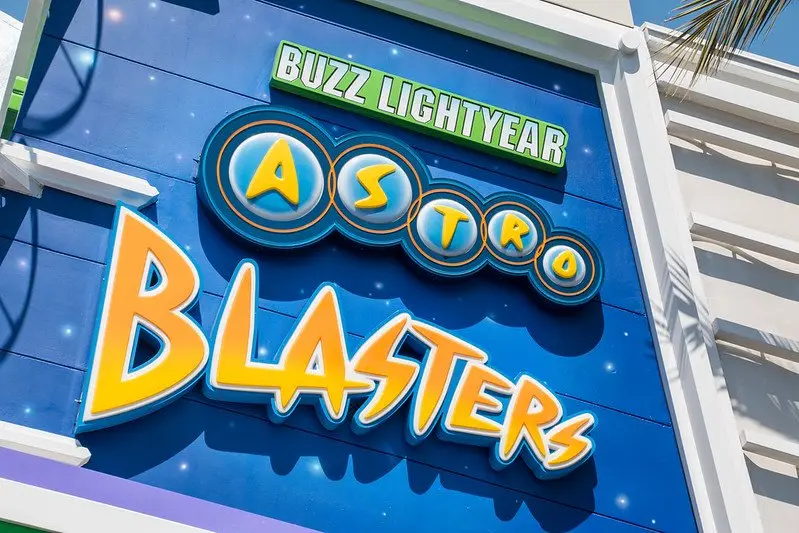 Want MORE Disney Tips and Tricks?
Correct at time of publication on Roam the Gnome. Please check with Disneyland California Park for updates. We apologise in advance if there have been any changes we are unaware of. All prices in US dollars, unless otherwise stated
Click the links in blue for more Disneyland tips.