INSIDE: Roam the Gnome's Guide to the Best Disney World Playgrounds & Play Areas for Toddlers & Kids.
Want a comprehensive list of ALL the playground areas INSIDE the four theme parks at Disney World?
I wish someone had handed me this list before our vacation at Disney World.
As a solo mama travelling with two boisterous boys, PLAYGROUNDS are my truly my "knight in shining armour".
A life saving necessary bit of time out for this exhausted parent.
But a DISNEY PLAYGROUND is a happy time out for EVERYONE.
These are some of the best Disney World attractions for toddlers & kids under 12!
See below for all the details.
Disclosure: This article contains affiliate links. If you make a purchase after clicking on one of these links, we may receive a small commission at NO extra cost to you.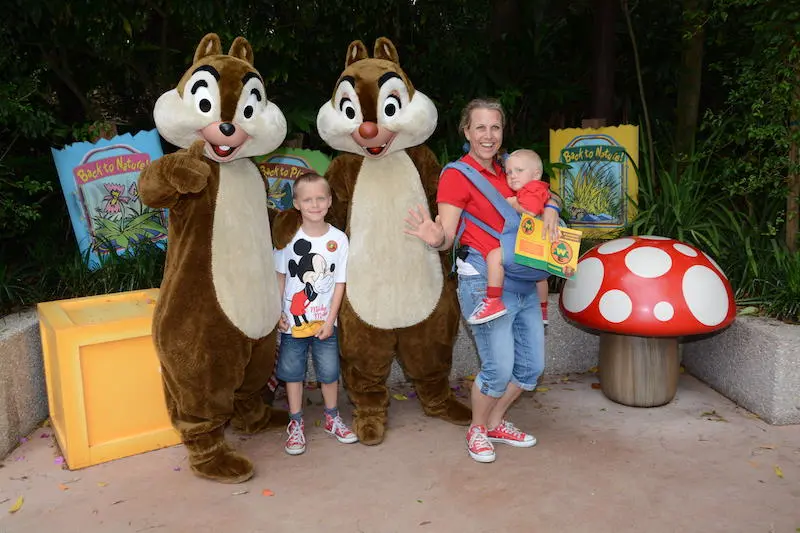 Visiting Disney World with Toddlers?
I've added a list of what you really need to know about when taking kids to Disney World.
The hot tips on where you and they can take a little time-out break to avoid the massive meltdowns, the sugar highs, the fits of rage from being over-stimulated or needing a nap, and sore feet.
Plus our vote for the best Disney World parks for toddlers.
---
RELATED: 30 Wonderful Reasons you should take a toddler to Disney World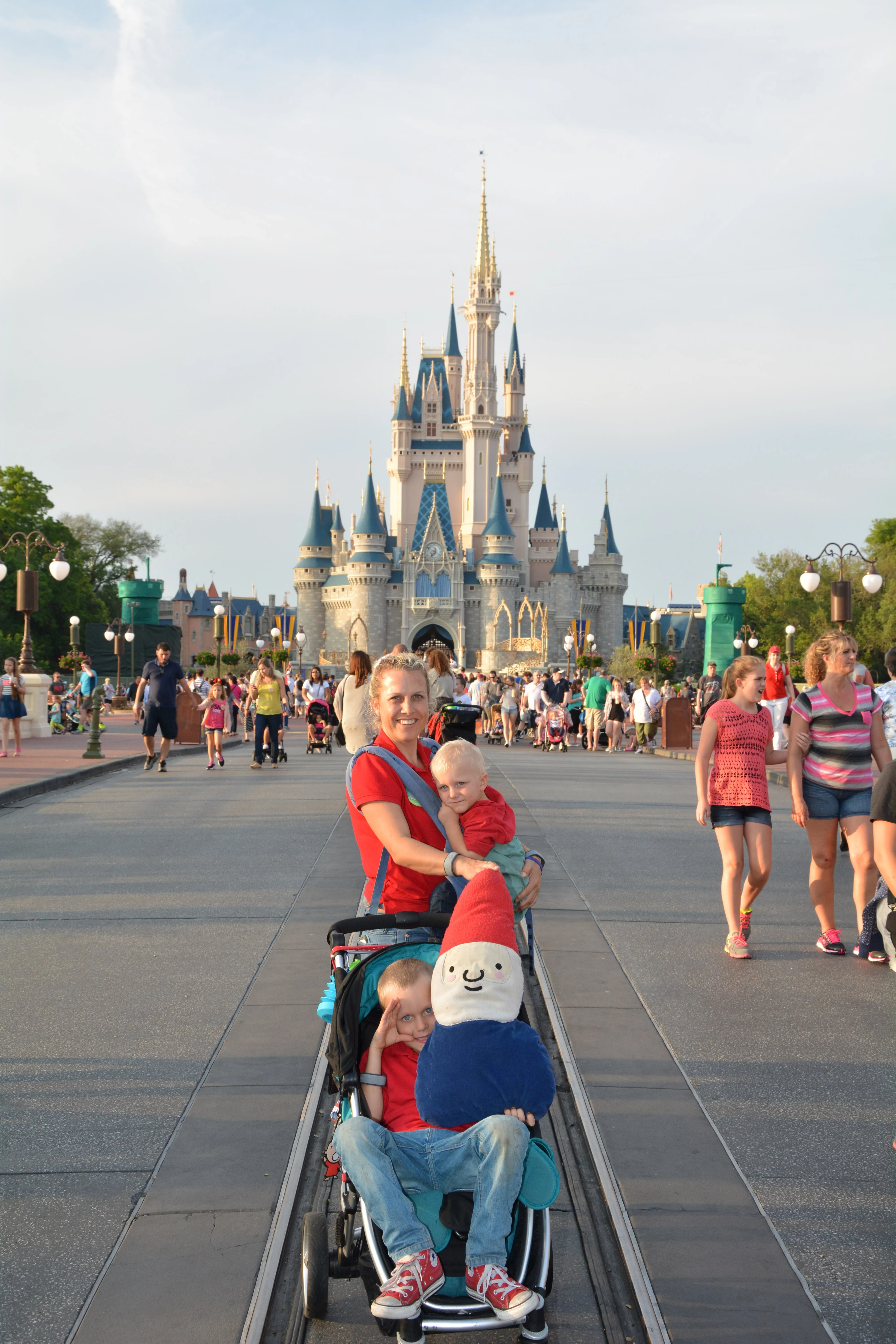 COMPLETE LIST OF DISNEY WORLD PLAYGROUNDS
Correct at time of publication on Roam the Gnome. Please check with venue for updates. We apologise in advance if there have been any changes we are unaware of. All prices in US dollars, unless otherwise stated
Pull out your park map.
Then take note of the stops at each park where you can take time out from the crowds with kids.
This will ensure you really do have the best time at the "Happiest Place on Earth".
---
RELATED: The Epic Guide of SPECIAL THINGS TO DO AT DISNEY WORLD with kids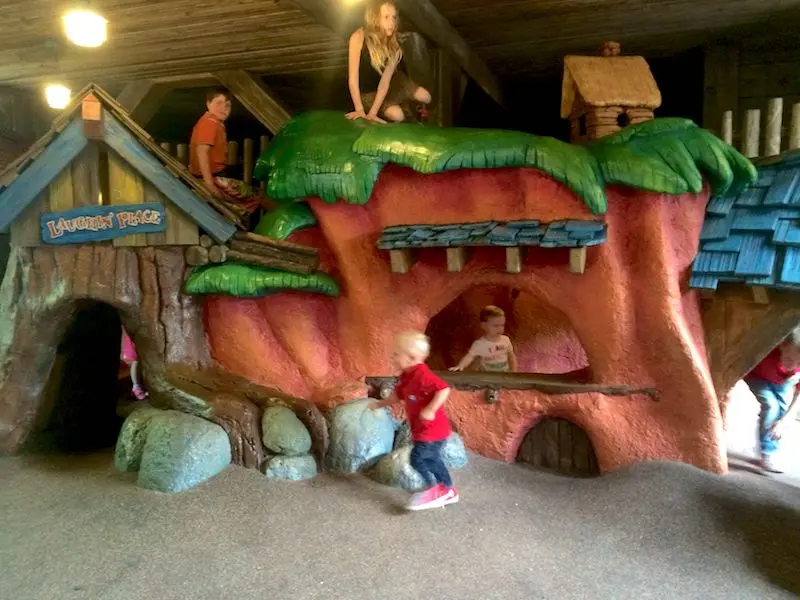 PLAYGROUNDS IN DISNEY WORLD – MAGIC KINGDOM
Stop 25. The Laughing Place
Just underneath the Walt Disney World Railroad, there is a small soft-floored playground called "The Laughing Place".
The enchanted forest-like play area is designed for littlies up to about aged 4, but my 7 year old thought it was pretty cool too.
We stopped there during a massive rainstorm and weather 'event' that closed all the outdoor rides so it was packed with kids, who decided it was just the right place for a game of hide-and-seek.
This play area at Disney has:
tunnels to run through
large open 'windows'
hidey holes
a small slide, and
a small area out the front in which to run around.
There's no specific 'seating' there for parents but we all made do, perching on the short wall-like fence that separates the playground from the main traffic heading under the bridge.
It's right near Splash Mountain too, so if you have one parent waiting for the rider switch, this is a good spot to wait.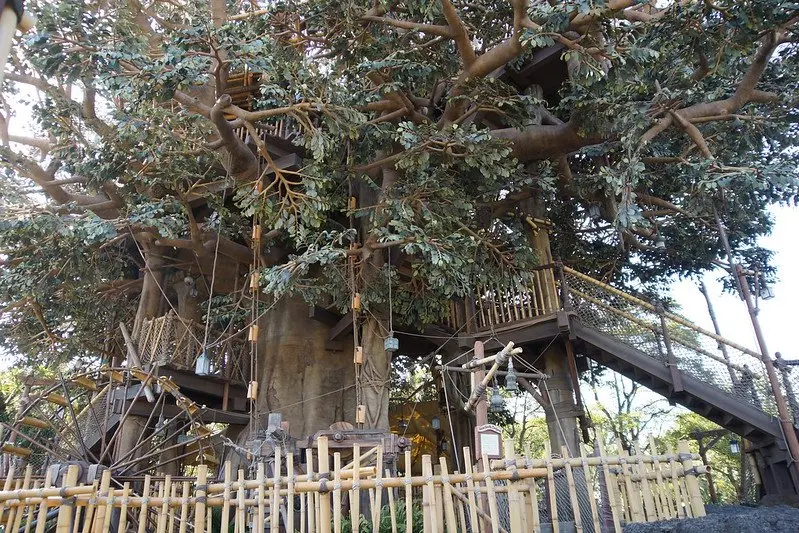 Image credit: Ume-y via Flickr CC BY-2.0
Stop 14. Swiss Family Treehouse
Good for a contained 'run' up the tree and back.
The path is all in one direction with no chance for them to slip out unawares.
If there's two of you, position one of you at the exit then let the kids go, with one adult free to follow along if you feel like it.
The 'tunnel'-like walk is completely contained with rope-mesh borders.
The kids aren't going anywhere but following the path.
It is quite a rigorous climb AND the perfect antidote to queuing, and there's plenty of kid-friendly intrigue and stuff to see along the way.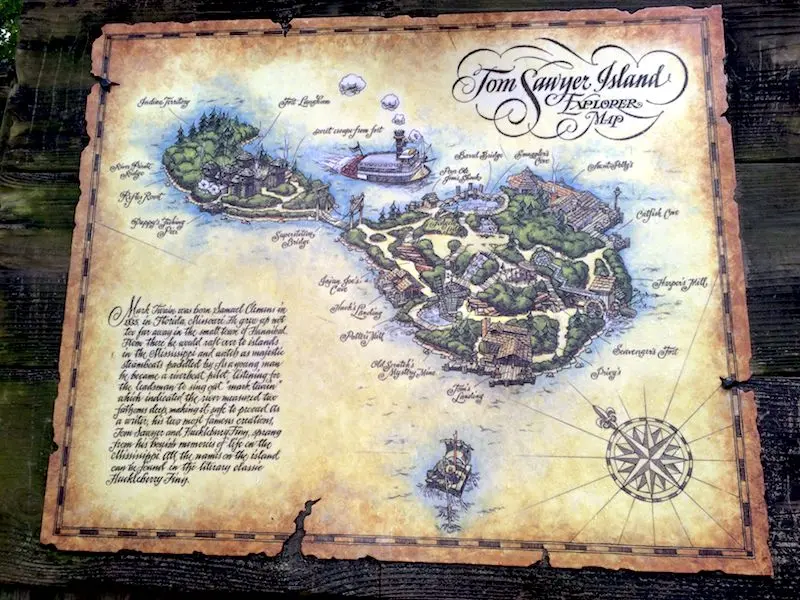 Stop 26. Tom Sawyer Island.
Who doesn't want to visit Tom Sawyer Island when they go to Disneyland?
It's been on my 'must do' bucket list ever since I was a kid and I have to say, if you have little kids, it's even better!
(I loved Tom Sawyer island too. It totally met all my hopeful expectations!)
First of all, you have to take the raft across the Rivers of America – this takes like 2 minutes tops.
(Too late, I heard a rumour that Ned could have had a go at helming the steer or ringing the bell. Pays to ask.)
When you disembark, go left to head towards the mystery tunnels that wind in and out and all around in semi-darkness.
My boys thought this was a hoot. Just be sure to keep up!
A bit further down, we came across an 'abandoned' miner's camp, "Fort Langhorn".
If you are looking to run off a bit of energy, then the hundreds of stairs including spiral staircases and mystery trapdoor exits here will suit your purpose.
BUY NOW ON AMAZON: The Adventures of Tom Sawyer (Illustrated First Edition): 100th Anniversary collection.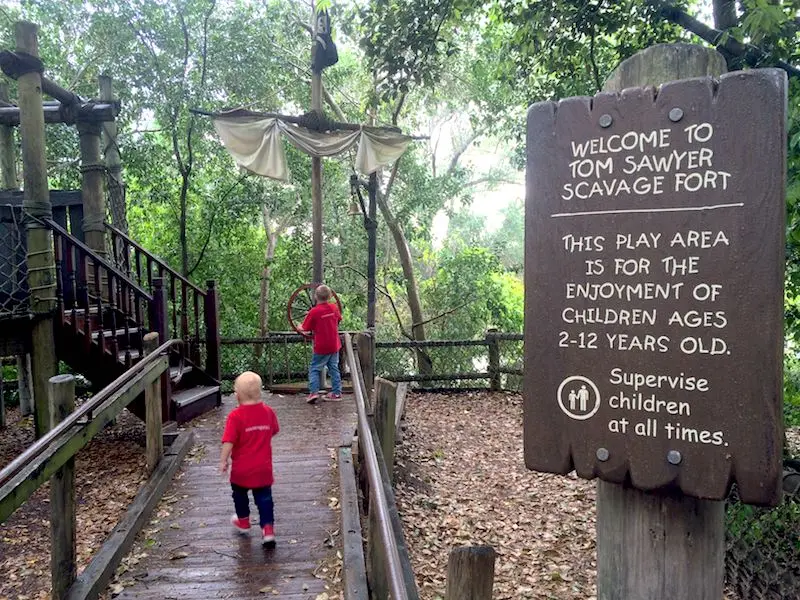 Word of Warning for Tom Sawyer Island Magic Kingdom
If you are a mum/mom who does not want to encourage 'gun play', stay away from the hideouts on the top floor of the log buildings.
My explorers found these, and of course wanted to spend time 'shooting' the passengers (invaders) on the Liberty Belle, alongside a few burly men who seemed to be reliving their childhood cowboy duels with KAPOW Boom! sound effects galore!
Run back across the rope bridge to the other side of the island to find the Tom Sawyer Scavage Fort play area too.
There's plenty more to discover on this side too.
Whether you have girls or boys, don't miss it.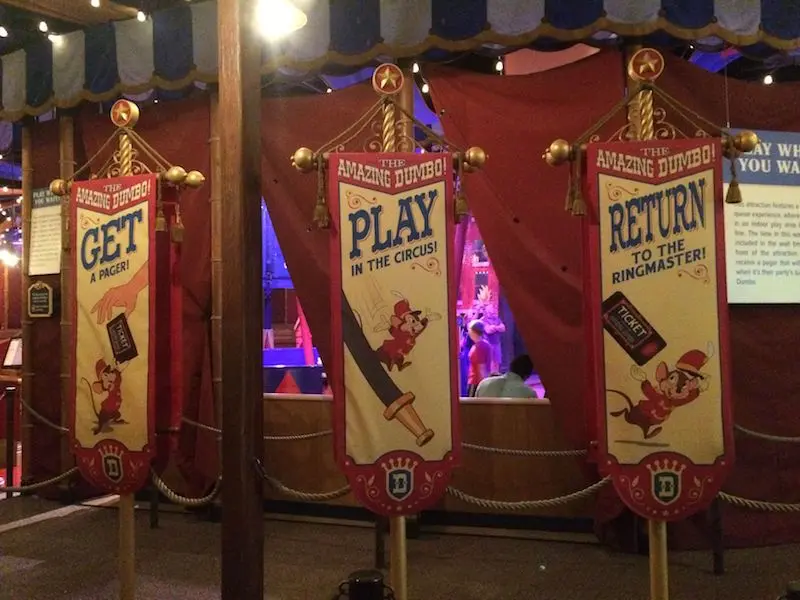 BEST DISNEY PLAYGROUND? Interactive queues at Disney World for toddlers
There's also two other spots to mention in the quest for playground time-outs:
the interactive queue at the Dumbo ride
the interactive queue at the Winnie the Pooh ride.
Interactive Queues are Disney's best invention EVER.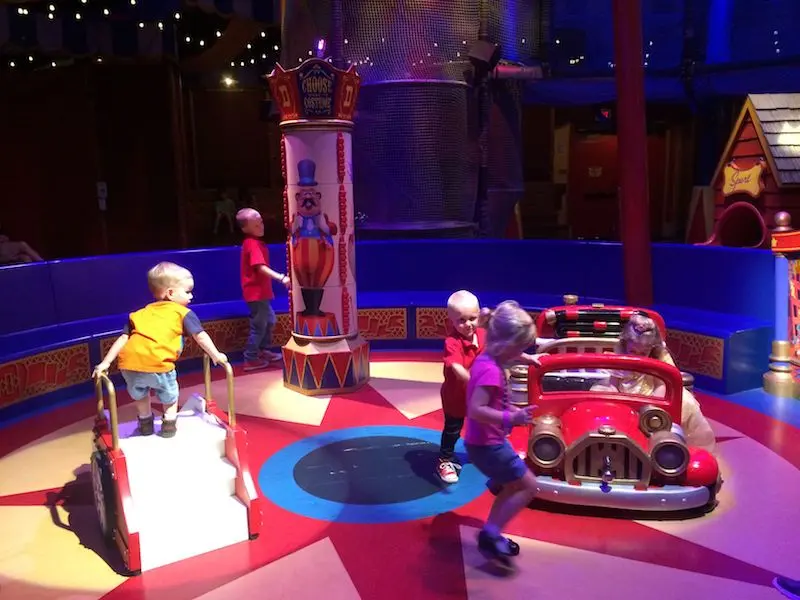 Stop 53. The interactive queue at Dumbo the Flying Elephant in Storybook Circus
This must be one of Disney's best inventions yet.
First up, the kids are invited into a circus-themed tent where they can climb high up and wind through rope mesh corridors on an adventure quest, slide down tunnels, and push their way through obstacles.
Mums and dads can sit on the bleacher seating in the tent post to Instagram while keeping half an eye on the older kids.
Toddlers and super young children have their own little area with:
a button-pressing fire truck
a mini slide and
an oversized puzzle.
This Disney World playground in Magic Kingdom for toddlers sits inside a round enclosure complete with bench seating, so parents can stay close.
BUY NOW ON AMAZON: The Perfect Disney DUMBO Plush Toy Souvenir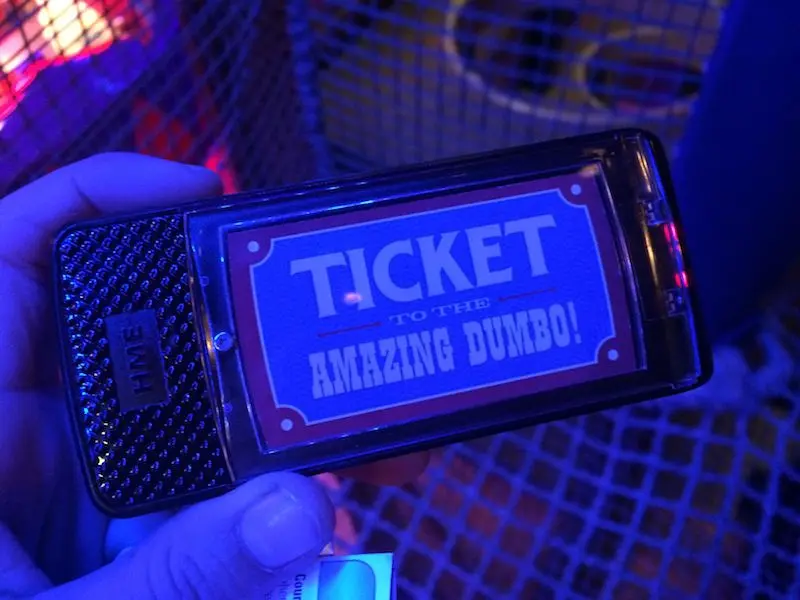 Queue by pager!
Parents are given a beeping pager upon entry and when it's your turn to fly with Dumbo, it will beep and flash to call you in and let you know it's your party's turn to fly with DUMBO.
BONUS – the time in the waiting area is included in the wait time posted in front of the attraction.
The Dumbo ride at Disney World is a triple win!
A win for happy kids
A win for tired parents, AND
A win for a chance to update your social media!
The famous DISNEY ingenuity is another reason why it's so easy to visit Disney with toddlers compared to other theme parks too.
BUY NOW ON AMAZON: The Best DUMBO souvenir for boys who like cars & die cast vehicles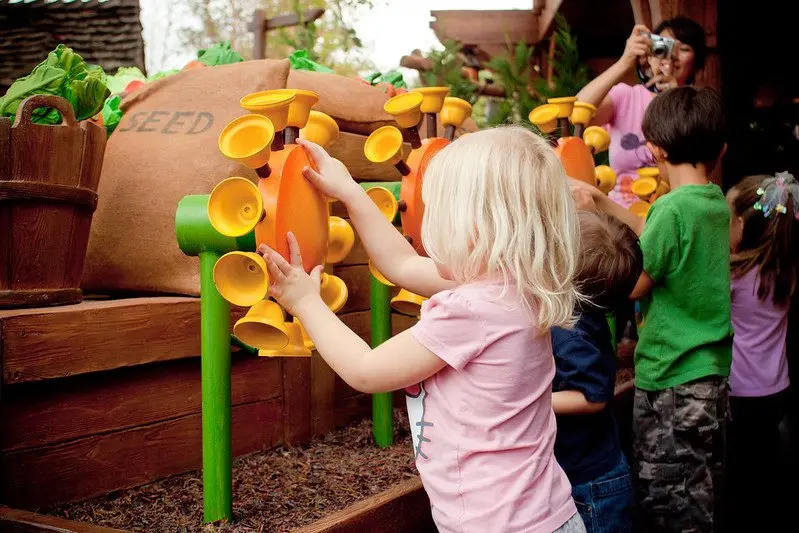 Image credit: Rain0975 via Flickr CC BY-ND 2.0
Stop 48. The interactive queue at the Winnie the Pooh ride
Hopefully, you have a fast pass for this Winne the Pooh ride in Fantasyland, in which case you will have no need for this intervention.
However, if you must stand in line, this has to be the best Disney World queue when you have kids in tow.
There's a bunch of kid-friendly interactive activity stations where the kids can play.
The best bit is the Gooey Hunny wall (somewhat like a heat map)
"Drawing with honey is funny. When the pictures are sticky and runny"
We loved watching the gooey honey wall where families could 'draw' on the screen to make sticky pictures. Even the adults couldn't resist playing!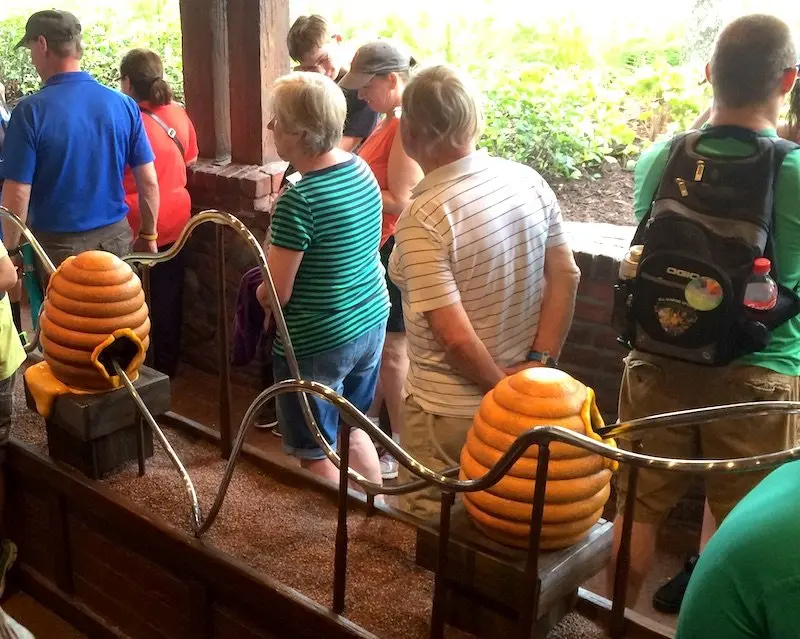 Things to do at the Winnie the Pooh interactive queue
This is one of the extra things to do at Disney World, a bonus find for kids.
There's:
a life-sized version of one of those bead maze toys from yesteryear– where you push each ball along a colourful bendy wire from one side to the other. (pictured above)
ball games
vegetable patch to dig through
flowerpot petal "flowers" to spin, and
pumpkin and watermelon "drums" to play.
Keeps 'em out of trouble!
BUY NOW ON AMAZON: More DISNEY Play Toys for kids: Disney Winnie the Pooh Figure Play Set
Image credit: Josh Hallett via Flickr CC BY- 2.0
PLAYGROUNDS AT DISNEY WORLD – EPCOT
Stop 23. The Seas with Nemo and Friends Shark Play Area.
To the right of the entrance, there's three noisy seagulls and if you catch them just at the right moment, you'll hear their squabbles!
"Me, me, me"
Hilarious!
The ride itself is cute, taking a clam shell through the underwater environment of the coral sea (technology is cool too!), but the highlight is when you come out, surrounded by sea life in the aquarium of the Coral Reef.
It's here where you'll also find Bruce's Sub House, a small playground spot with a submerged ship where kids can climb INTO Bruce the Shark's mouth and wander through a mini maze.
Parents beware.
It is very easy to lose kids in this area so keep a sharp eye on toddlers!
But it's fun, especially for NEMO fans.
(Maybe not so much if they haven't seen the movie)
BUY NOW ON AMAZON: The Perfect DISNEY Backpack for Toddlers featuring FINDING NEMO!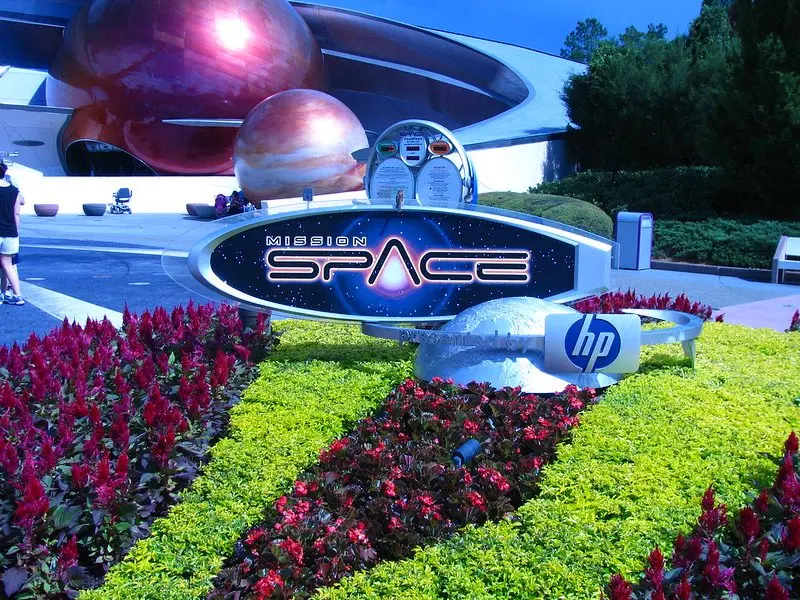 Image credit: Patrick McGarvey via Flickr CC BY-ND 2.0
Stop 3. Mission: Space "Space Base"
This was a highlight of our morning.
Even though Epcot is actually filled with quite a few hands-on interactive things for kids to do, sometimes they just want (and need) to roam free, and this was the perfect solution.
Enter by the Gift Shop to the Mission: SPACE ride and it's on your right about 20 metres in, inside the Advanced Training Lab.
Our tip: stand by the entrance zone and let the kids roam free.
There's:
buttons to push
hand grips to swirl, and
sounds to activate.
The playground tunnels and nets span from floor to ceiling and it can take them quite a while to work their way through.
You can't see the kids at all during the process, except for a momentary glance should they make it to the bubble up top where they might wave at you.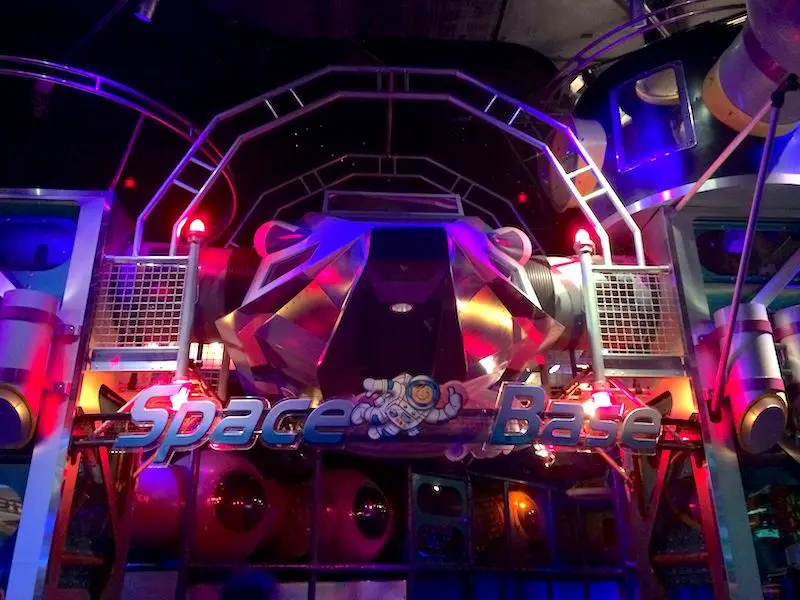 This is the Best Epcot playground for toddlers & kids
I let Jack go in alone, to follow Ned who was quite a way in front.
About 5 minutes in, I started to have a few panic moments when I saw Ned but not Jack.
(He was just being a social being, chatting to all the other kids who were congregated up top!)
But rest assured.
So long as you don't leave the entrance zone, they can't get out without passing right by you.
Side note: I don't know if I'd have been super keen to go in after him.
It looks pretty squeezy in there. Perfect for little bodies but not so forgiving to bigger ones.
Squash!
So it pays to know if your toddler is the kind who might freak out inside at the top.
If yes, limit them to the bottom level toddler-friendly playground only.
BUY NOW: Start your own souvenir coin collection with this EPCOT International Coins Set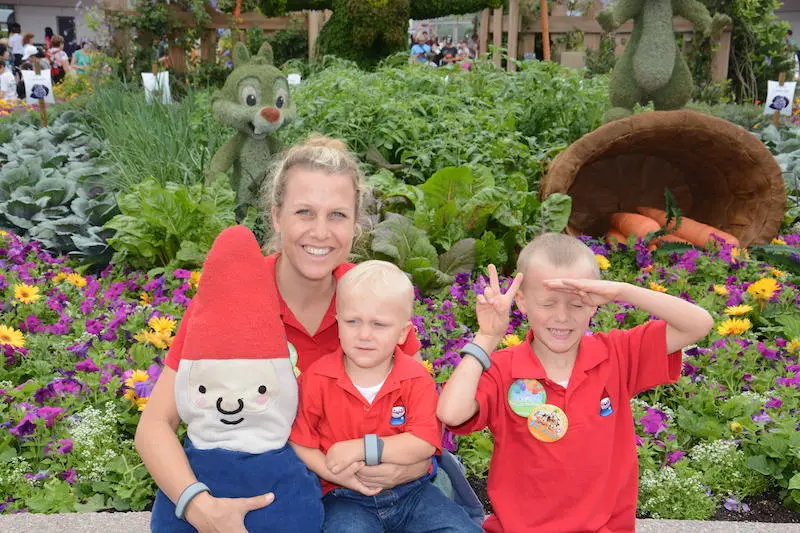 Near Stop 28. Temporary Playground
We found random and unexpected playgrounds in the area behind Captain EO along the path to Canada (Stop 70).
There were two small climbing frame playgrounds in this area, manned by Disney staff.
I asked if these were permanent but they said, no, just seasonal- during the Epcot Flower and Garden Festival. I've heard that they utilise this spot again during the Epcot Food and Wine festival too.
That's exactly why Disney with toddlers is so good.
They really cater for kids.
Pays to keep a look out as you pass by on your way to the restrooms here, just in case.
You never know if you will get extra lucky with a quick time-out opportunity.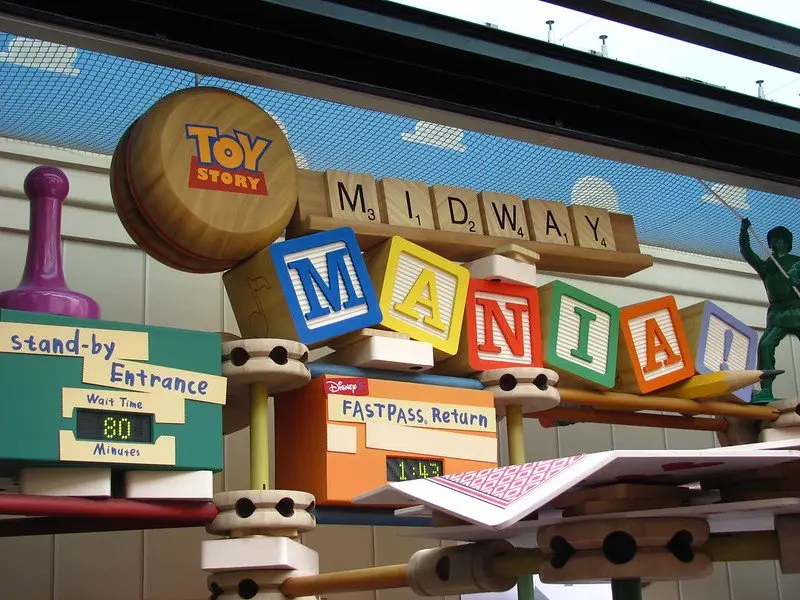 Image credit: Jeremy Thompson via Flickr CC BY- 2.0
PLAYGROUNDS AT HOLLYWOOD STUDIOS
Bonus Stop: TOY STORY MANIA ride.
Don't miss the Toy Story Mania ride.
Ride this interactive and hilarious Disney World ride with toddlers and you will be certain to have a glorious time at one of the Happiest Places on earth.
Book a Fastpass now.
Toy Story Mania is our favourite ride of all four Disney World parks!
BUY NOW FROM AMAZON: The Best Buzz Lightyear Dress Up Costume for Kids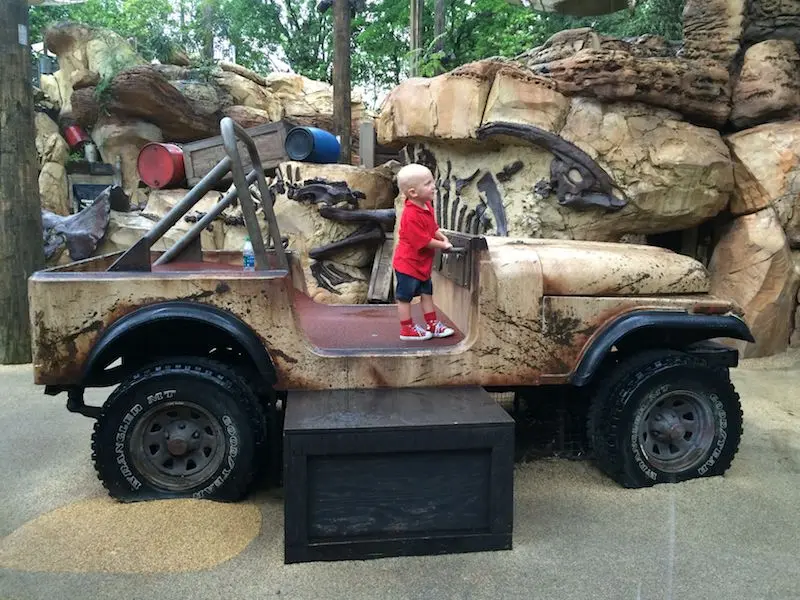 PLAYGROUNDS AT DISNEY'S ANIMAL KINGDOM THEME PARK
Stop 42. The Boneyard Playground.
The Animal Kingdom Boneyard Playground is manned with Disney staff to keep an eye on things and again, if you stay close to the entrance, the kids can't get past you.
The only exception to this rule is if they take off up and over the bridge into the Boneyard digging pit so watch out for wayward wanderers…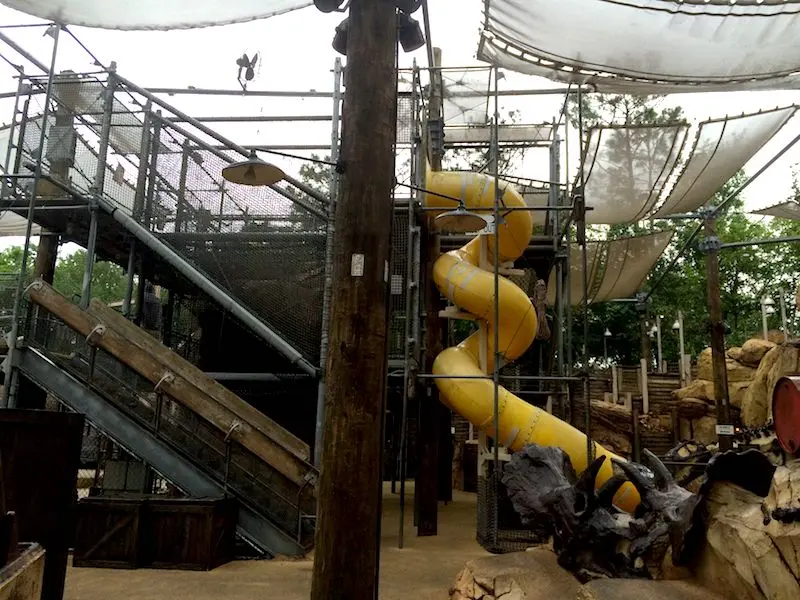 BEST Disney World Animal Kingdom playground
It's a HUGE area filled with big twirly spiral slides, a rustic jeep to clamber over, hide-and-seek tunnels, and dinosaur skeleton replicas housed in what looks like a building site.
You know, LOTS of wire mesh, exposed beams, steel poles, and scaffolding.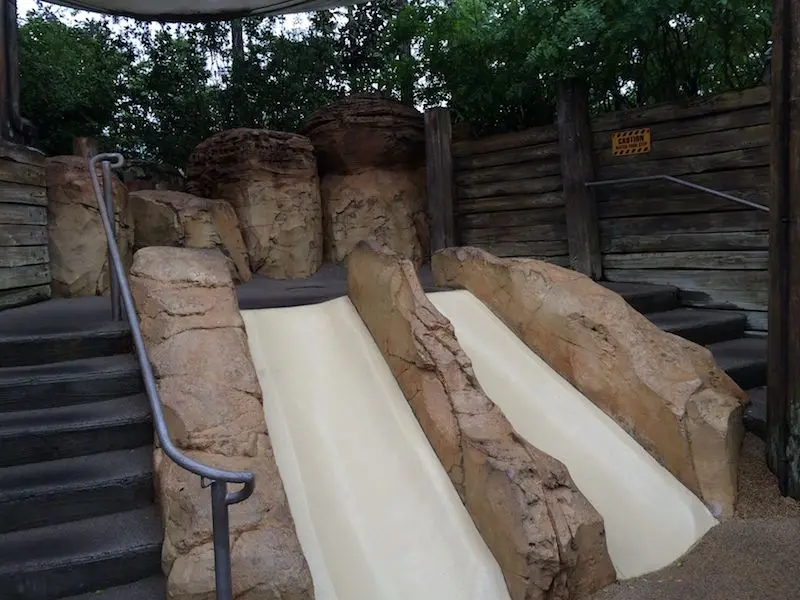 Plus there's twin slides for toddlers.
My boys thought this Disney World playground at Animal Kingdom was cool as!
Note: We discovered when it started pouring down that they close the slide area when it rains, so if a stormy sky is looming, head there quick smart so you don't miss out!
BUY NOW ON AMAZON: Be prepared. Stay dry with Mickey Mouse Rain Ponchos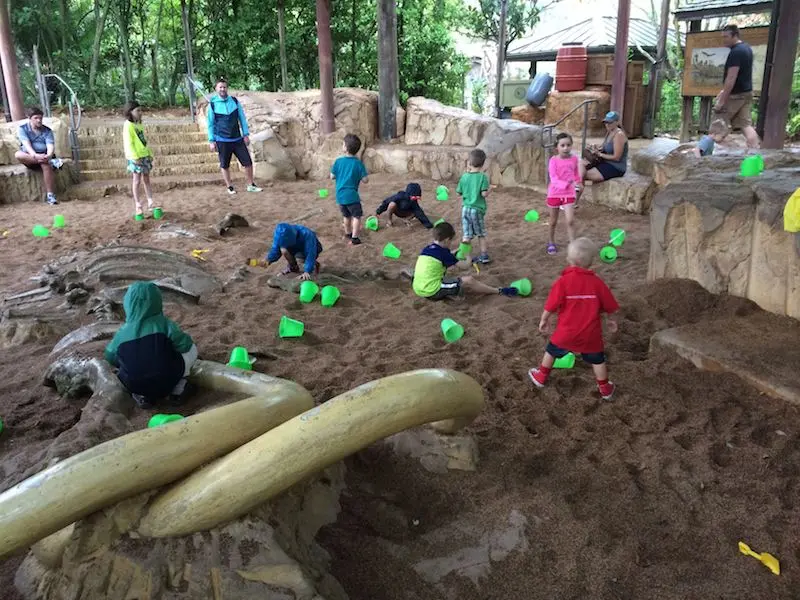 Stop 42 – Mammoth Dig Site
Over the bridge, the Boneyard Digging Pit stays open even when it rains, so there is always something to do and somewhere to play should the kids need a bit of a stretch and breathe out.
This Mammoth Dig Site Disney World Playground was the highlight of our day at Animal Kingdom.
Both my boys LOVED this place.
Ned gave it FIVE Toadstools. Our highest Roam the Gnome rating.
It's a giant pit filled with that rubber 'sand', a big heap of green buckets and yellow spades and digging tools (enough to make sure EVERYONE has one! Yay, Disney!) and a hidden dinosaur skeleton to exhume.
Around the edges, there's plenty of rock crevasse seats for weary mom-bums (and dad bums too).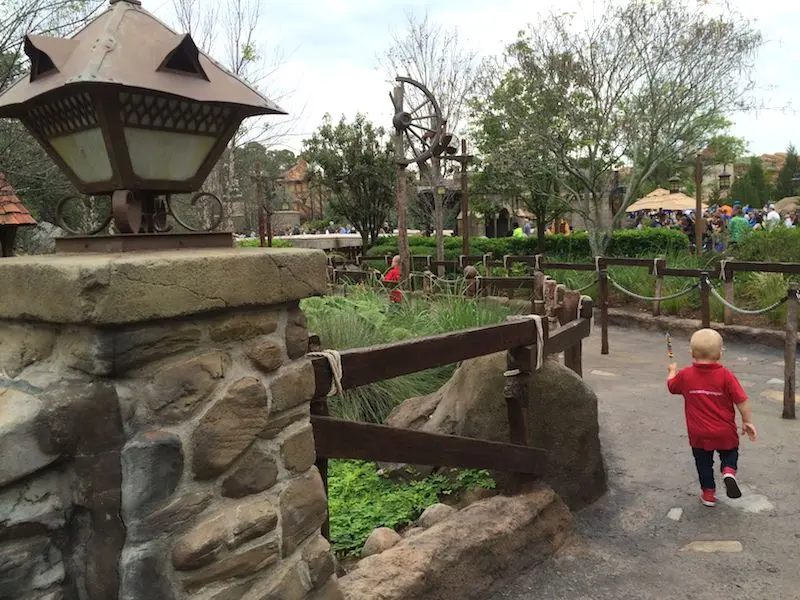 THE INSIDE SCOOP: Tips for Disney World with Toddlers and the Under 5's
What's the three top Disney World with Toddlers tips?
Hire a stroller, or bring your own.
Tie a Disney Balloon onto your stroller so you can locate it quickly after a ride
Ensure they are carrying identification – check this list for ideas (You can also stick an office name sticker on their back, with their name, and your cell phone number. This way, they can't rip it off!)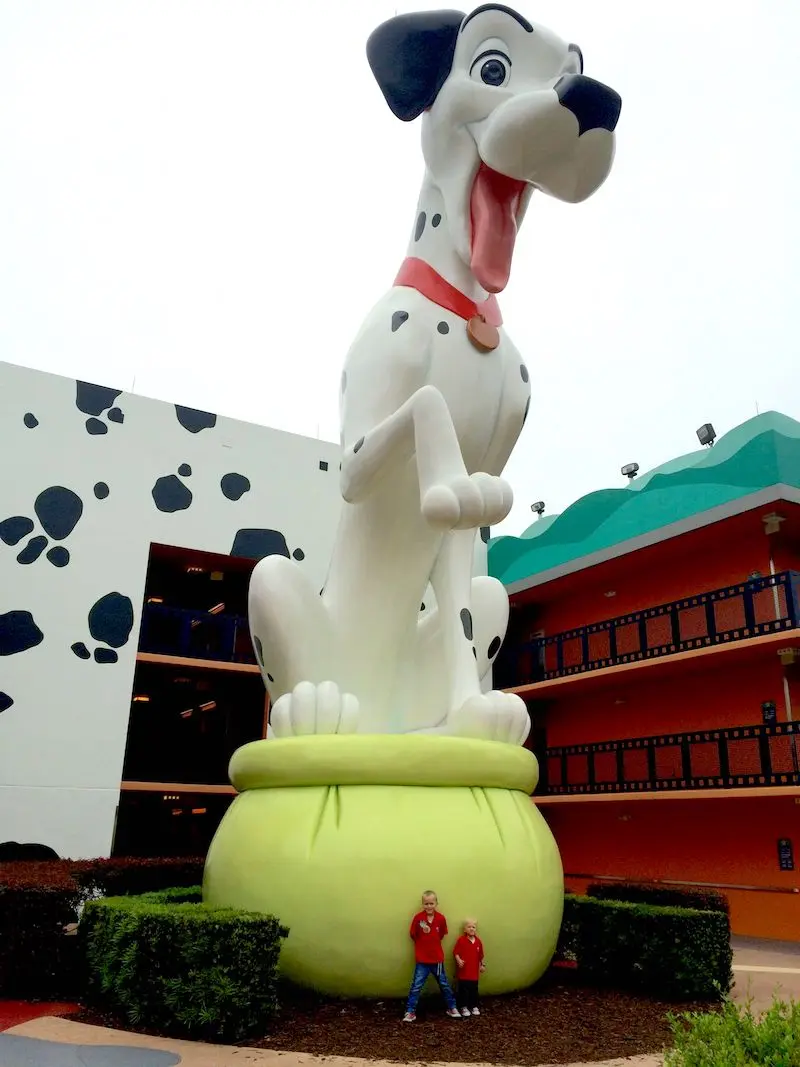 Where to stay at Disney World with toddlers?
We love the Value Resorts:
Disney All Star Movies Resort
Disney All Star Music Resort and
Disney All Star Resort.
There's no point wasting money on fancy resorts with extras you can't utilise.
Plus, the Value Disney hotels are geared for young kids, and there's plenty of them there.
The chaos of kids, parents, extended families and noise makes the atmosphere SO MUCH FUN!
---
RELATED: The Complete List of all the Disney Hotels on Property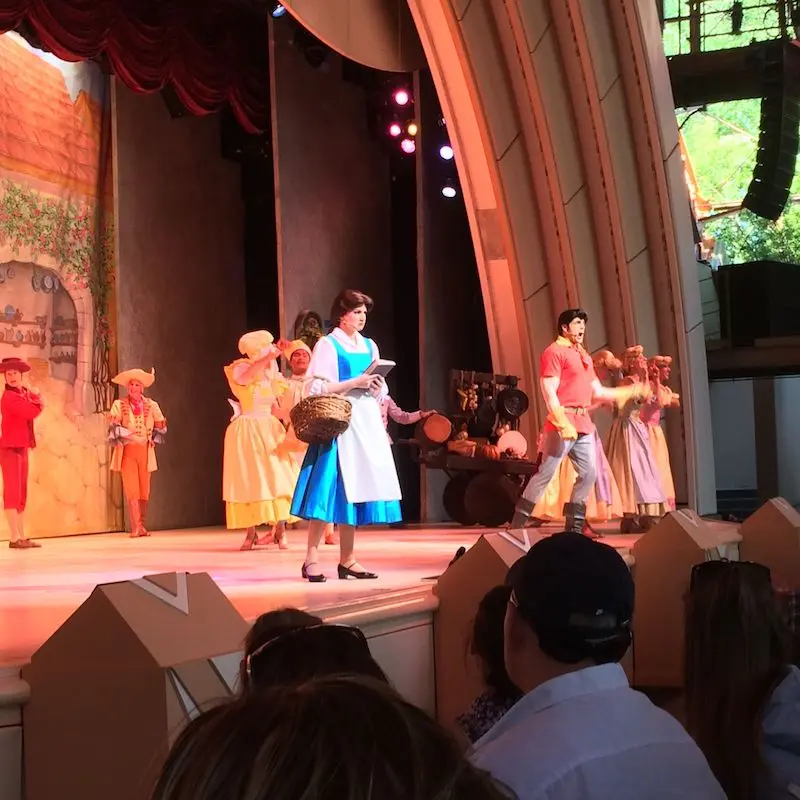 How to do Disney World with toddlers?
Don't over plan your day. Leave time to go with the flow.
Catch the shows if you can but don't stress about it. There's always another time!
We like to start the first day in the afternoon after a nap, and smash out some of the kids rides (over and over and over again with little wait time) after 5pm. Most other families with toddlers have left, so you can have double the fun exploring all the Disney World rides for toddlers without queues or long wait times.
Accept that you will need to find Disney World playgrounds or a play area every now and then. Use this time to enjoy a coffee, or post a few pics to Facebook or Instagram. You'll feel refreshed and ready to go too.
Wear matching clothes (now is the time for matching tees!), or at the very least, put your kids in matching clothes.
Want the best tip on how to spot your kids easily?
Make them wear red shoes.
They stand out from the crowd like a sore thumb.
This is one of the most practical and useful tips I've ever learned!
Is Disney World for toddlers?
ABSOLUTELY.
It's the most magical place on earth.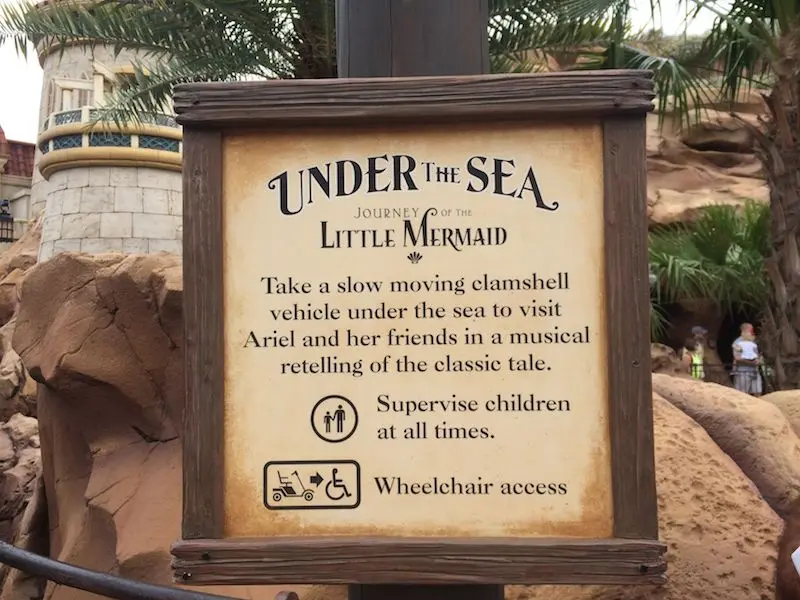 Are there any rides for toddlers at Walt Disney World?
Yes, so many.
Come back soon for a big list.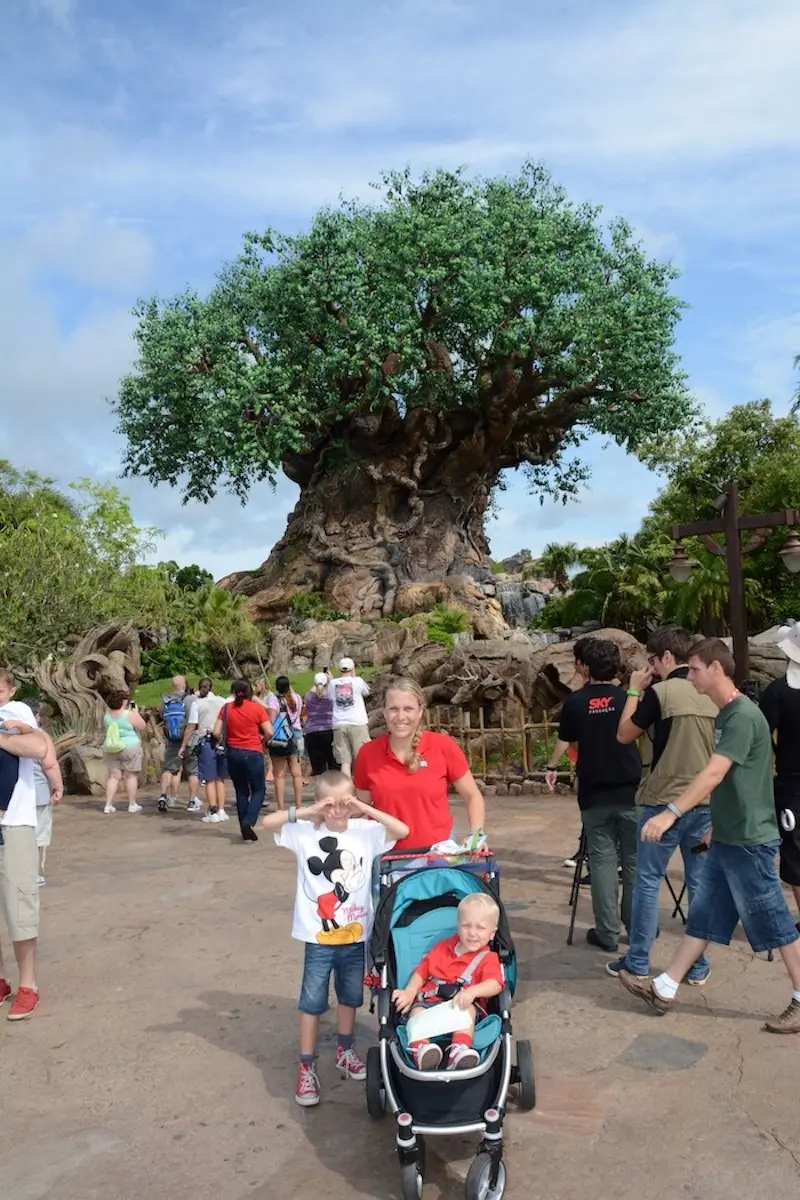 Toadstool Rating for Disney World for Toddlers
The Disney World playgrounds help families to take a break from queues, and crowds, and the controlled chaos of Disney Parks.
We love them!

Disneyworld for toddlers? Share your finds!
Do you know of any more "secret squirrel" play spots for kids at any of the four Disney parks inside Disney World?
Share your secret tip in the comments!
Looking for more Disney Tips and Tricks?
Click the links in blue below for more Disney World tips