INSIDE: Roam the Gnome's Guide to the Melbourne to Tasmania Ferry Boat Overnight Trip on the Spirit of Tasmania.
When I wake up in the morning, there is ONE thing (other than my kids nagging me for their breakfast) that inspires me to get up and begin my day of work.
It's knowing that, every single day, some of the dollars I will earn will be saved up for our next family travel adventure.
The best kind of adventure is an overnight ferry boat.
The trip on the Melbourne to Tasmania Ferry, The Spirit of Tasmania, is one of the best overnight boat trips around.
Take a look at this fun family adventure below!
Disclosure: This article contains affiliate links. If you make a purchase after clicking on one of these links, we may receive a small commission at NO extra cost to you. Main image: Bernard Spragg, Public Domain.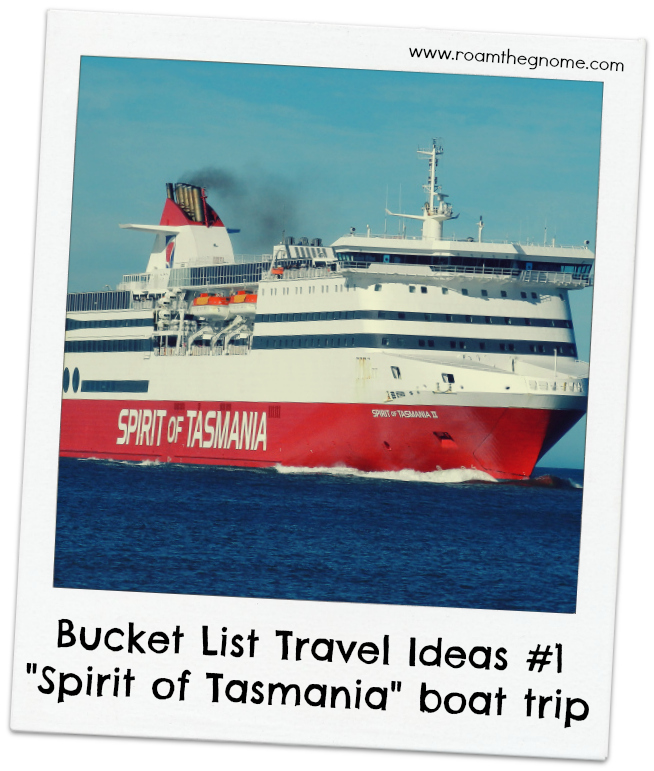 From Melbourne to Tasmania by The Spirit of Tasmania Ship
Here's the thing.
I'm not really interested in playing 'tourist'.
I want my boys to taste and fully engage with the places we go.
I want to touch, and be metaphorically 'touched' by:
the place
the people
the local community, and
the energy of the land.
For that reason, getting there is half the fun. The way you go is a big part of the romance of slow, mindful travel.
(It's why we just spent 6 weeks going by Eurail to get from Paris to Rovaniemi in Northern Finland to visit Santa in Lapland.)
As much as I LOVE the airport and plane travel, I'll be honest and say I prefer solo plane travel over traveling with kids.
Squashing into economy class seats wrangling two kids in tow DOES NOT conjure up images of the 'romance of travel' at all.
But boat travel with kids is THE BEST!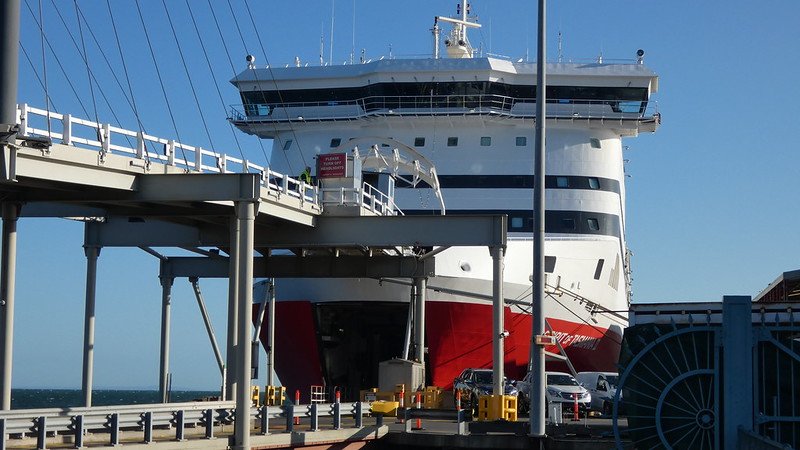 Image credit: Ins1122 via Flickr CC BY-2.0
Melbourne to Tasmania Ferry Trip
I prefer my slow-style travel with kids to be fun, not fraught.
Relaxed, not rushed.
Meditative. NOT manic.
Which is why I love trains, buses, boats, and private cars (but only when I can drive on MY normal side of the road).
It's so much more agreeable to our collective ability to stay happy and calm when we can get up and walk around, or retire to our cabin, seat, or car when it all gets a bit too much.
So it's no surprise that returning to Tasmania by ferry from Melbourne is one of my bucket list goals.
I LOVE that place.
Tasmania is elegance, hospitality, gorgeousness, and spectacular landscapes combined.
Tassie reminds me a little of England, with the scenery and the spectacular drives, the architecture and the colonial buildings.
Oh, and it's foodie heaven.
---
Book Now: Port Arthur & Surrounds Day Tour, from Hobart (Bestseller)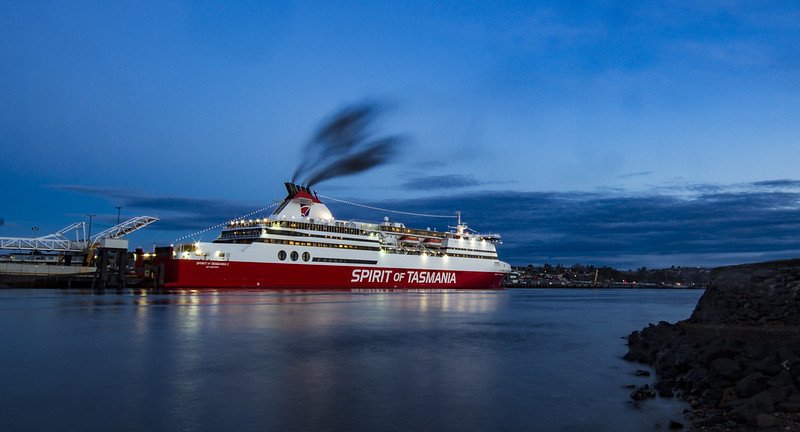 Image credit: Steven Penton via Flickr CC BY-2.0
Crossing the Tasman Sea on board Spirit of Tasmania boat
Not surprisingly, one of my favourite things about Tasmania is that you CAN get there by a big boat car ferry.
In 1998, my boyfriend at the time and I, along with my 3-year-old daughter Henrietta, circumnavigated this lovely country of ours.
An around-Australia trip was a no-brainer – I simply couldn't afford airfares to far-flung places at the time, but with itchy feet needing to be scratched, going around Australia was do-able, AND cheap.
Our round trip took a year.
While there were many highlights during our trip, (in among the kilometres and kilometres of unspoken-about mind-numbing repetitive scenery) the trip across the Tasman Sea on the Spirit of Tasmania was an adventure from start to finish!
And super affordable too.
We drove our fully-loaded kombi van on board (actually, my boyfriend did that bit. I was terrified!) and parked in among the caravans, 4WD's, sedans, and trailers.
There was ONE heavily loaded car with roof racks supporting a house-load's worth of furniture and bits of a family returning home to their own slice of heaven after a city jaunt.
This car had to be seen to be believed. Think MR BEAN, and you've just about got it in one!
---
Book Now: Cradle Mountain National Park Day Trip from Launceston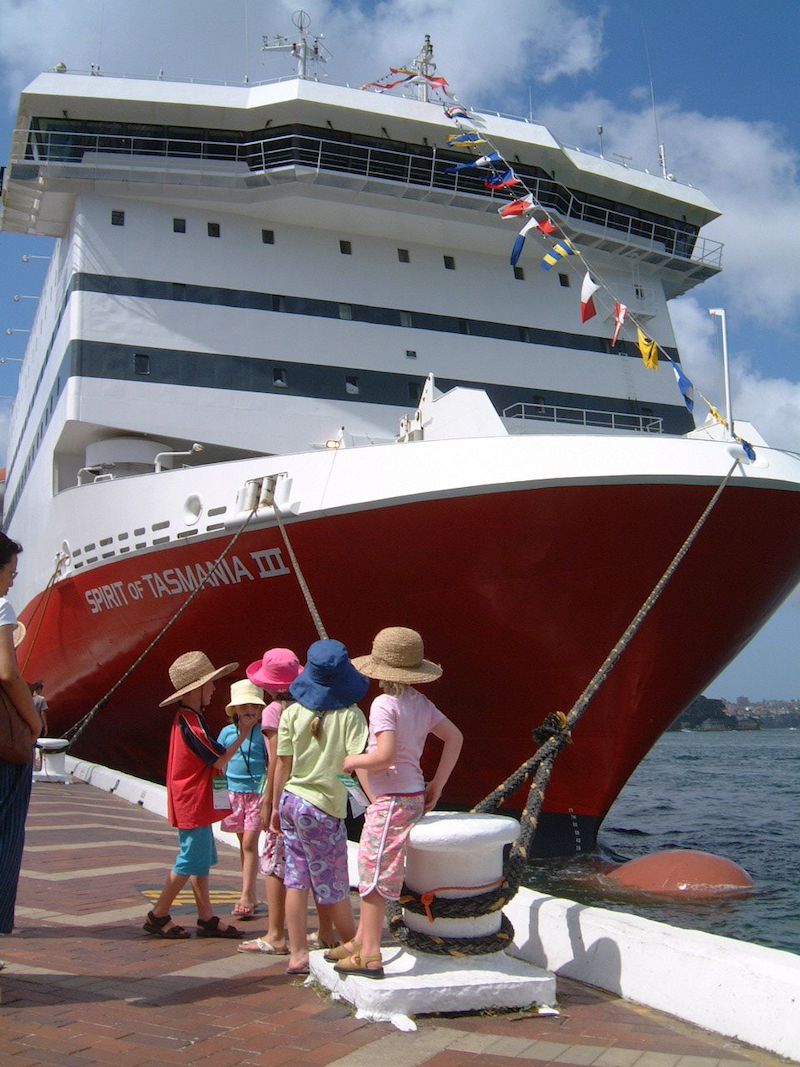 Image credit: 29cm via Flickr CC BY-SA 2.0
Highlights of The Spirit of Tasmania Ferry Boat to Tassie with Kids
Once onboard, it was a child's dream adventure!
Watching young kids explore every new abode, including their new overnight accommodation, is one of the thrills of family travel.
It's a reminder that the simplest of things can be, in their eyes, the world's biggest buzz.
Throw in some new shops and restaurants to explore, other children to meet and play with, and a sit-down dinner to enjoy, and who needs a playground?
---
BOOK NOW: Bruny Island Highlights Day Trip from Hobart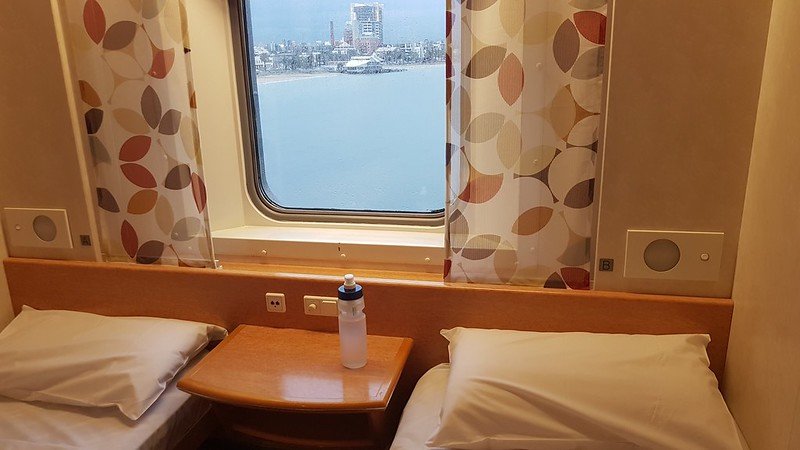 Image credit: Steve Bittinger via Flickr CC BY-2.0
Spirit of Tasmania Accommodation
Now, over the years I've enjoyed all kinds of slow travel- buses, long distance trains, but my favourite by far was this overnight water-crossing journey.
It made getting to Tasmania all the more enjoyable.
Our Spirit of Tasmania cabin had:
bunkbeds to climb and explore
lights to turn on and off, and
mystery switches to fiddle.
Our Spirit of Tasmania nook was cosy, roomy and heated, making it even more difficult to return to the squashy, frigid interior of our beloved but cold kombi-wombi during early winter.
So much so, it took a gargantuan effort to get off at the conclusion of the 10-hour trip.
Current Accommodation on Spirit of Tasmania options
All cabins are air conditioned, and have powerpoints at each bed to charge ALL your devices.
There's room to hang up your jackets or day packs, there's a table and chair so you can use your laptop, and a ladder to reach the top bunks.
Bedding, towels, and soap are included in the price.
Choose from:
Deluxe Cabin
Deluxe cabin for two adults at front of ship
two large twin porthole windows
private shower
queen bed
television
Twin Bed Private Porthole Cabin
Twin bed private cabin for two passengers
Bright colorful interior style
private shower
window
2 single beds
Four Bed Porthold Private Cabin
perfect for families
private shower
window
4 bunk beds
Four Bed Inside Private Cabin
interior cabin
perfect for family groups or groups of friends
private shower
4 bunk beds (top two pull down from the wall
Shared Twin and Four Bed cabins.
Shared cabins are a good option if you are a single person wanting to cut costs by sharing with another person of the same gender. Perfect for backpackers too.
Recliners
You can also opt for the cheapest of overnight crossings and book a recliner seat. These are positioned in front of full length windows so if you love to see the sunrise, this is a cool option.
They provide blankets if you choose this option for your overnight ferry trip.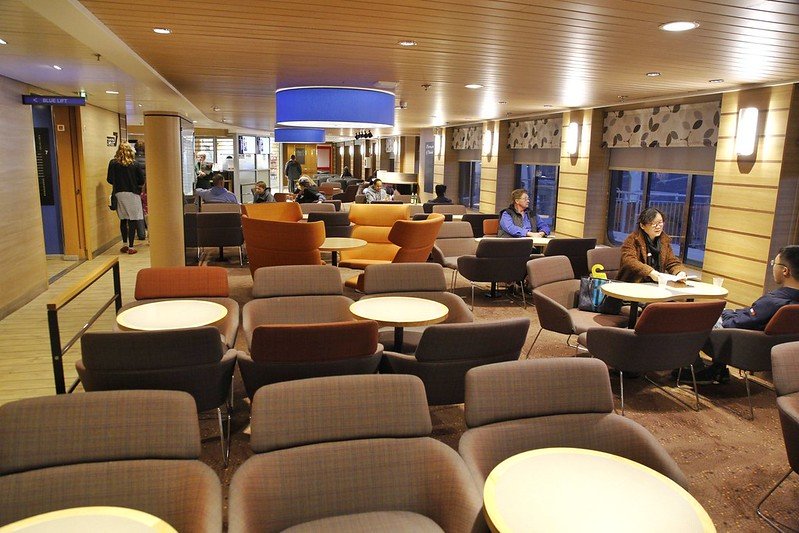 Image credit: Steve Bittinger via Flickr CC BY-2.0
Spirit of Tasmania Restaurant Options
Tasmania Market Kitchen (TMK) is the place to order a full breakfast. Proper lunch and dinner menus (including vegetarian options) are also available.
Spirit of Tasmania breakfast:
continental breakfast – yoghurt, muffins, assorted sandwiches, toasted sandwiches, bacon and egg rolls, croissants, muesli, cereal
hot breakfast (full english breakfast of toast, hash browns, eggs, sausages, bacon, etc)
Spirit of Tasmania Lunch and Dinner Menu at TMK:
Roast dinners
Seafood dishes
Curry
Garden Salads
Caesar Salad
Smoked salmon salad
Our tip is to book the buffet special for $28.50 per person. Available on Night sailings only
Hot tip: Kids under 5 can eat a main meal for free (includes chips & salads).
The other Spirit of Tasmania food options on board are:
The Terrace Lounge Bar – bar snacks, pizza and panini breads
Top Deck Lounge (best spot for families, as it's near the kids play area)
The Pantry – grab and go coffee, sandwiches, pies, snacks, pastries, juices, cheese drinks, chips & chocolate
The Pantry also sells a range of Tasmanian souvenirs including wine, t shirts, hats, toys, patches, and keyrings.
Click here for operating hours of restaurants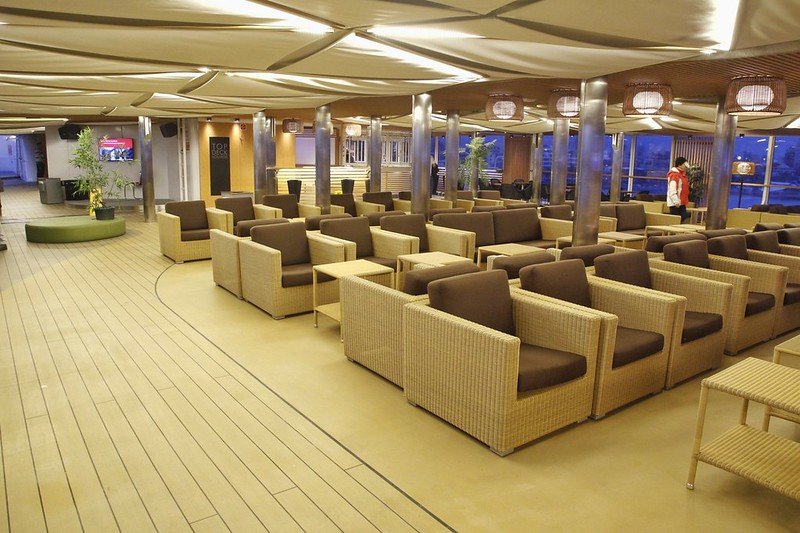 Top Deck Lounge – Image credit: Steve Bittinger via Flickr CC BY-2.0
More Things to Do on the Spirit of Tasmania Ferry from Melbourne to Tasmania
Cinema
Go to the movies to see a latest release movie. Showings available for kids and adults.
Ticket only: Adult $10, Pensioner $7.50, Child $5 (3 – 15 years).
Add a Choc Top ice cream treat for just $4.50 with any cinema ticket purchase.
Kids Play Area
Kids under 10 can head to the indoor play area on the ship. It's a beach themed jungle gym with slide, ramp and pyramids to climb.
Game Zone
Older kids and teens might prefer the game zone on Deck 9. There's arcade games, car racing, claw machines and more.
Quiet teens might like the reading room.
There's also a casino with pokie machines for adults.
Day Sailing entertainment
Between September and April, you can sail during the day.
Local musicians play live music.
Storytellers keeping you entertained with talks on Tasmanian art, wildlife, and heritage.
If you travel during school holidays, there's circus and carnival fun for the kids including:
face painting
roaming entertainers – trivia games, riddles,
singing and games
art cart of activities for kids and adults
THE INSIDE SCOOP: Ferry to Tasmania
Correct at time of publication on Roam the Gnome. Please check with ship operator for updates as the Spirit of Tasmania schedule changes frequently. We apologise in advance if there have been any changes we are unaware of. All prices in US dollars, unless otherwise stated
Spirit of Tasmania location: Station Pier, Waterfront Place, Port Melbourne, Victoria 3207 (Google map)
Spirit of Tasmania Devonport address: Esplanade, East Devonport, Tasmania 7310 (Google map)
Spirit of Tasmania phone number:
1800 634 906 (in Australia)
+61 3 6419 9320 (International)
Spirit of Tasmania website: Click here for Spirit of Tasmania bookings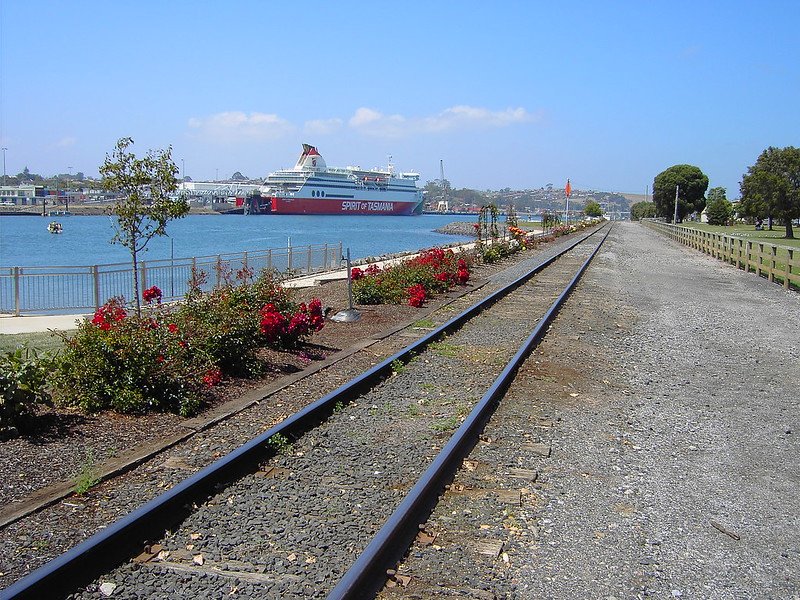 Image credit: Denis Bin via Flickr CC BY-ND 2.0
Spirit of Tasmania Timetable
Ferry from Melbourne to Tasmania
The Spirit of Tasmania sailing times are as follows:
Melbourne to Devonport Ferry departure schedules change to suit the season.
Melbourne to Tasmania ferry time departures are either:
There may be later departure on overnight sailings (8.30pm, 9.10pm or 10.30pm) between September and May when day sailings are also in operation.
Day sailing ferries heading South across the Bass Strait depart at either 8.30am or 9.50am.
Ferry from Tasmania to Melbourne
The Devonport to Melbourne Ferry has a similar schedule to above.
If you are traveling overnight, listen out for the wake up announcement that is broadcast 45 minutes before the disembarkation process begins.
The Devonport Ferry terminal Tasmania side is on the Esplanade.
Spirit of Tasmania Check in
Check-in for the Spirit of Tasmania opens between 1.5 hours to 2.5 hours prior to departure.
Be on time.
Check in closes strictly 45 minutes before the scheduled departure time, and if you miss it, it's too late!
Adults over 18 will need photo ID to board.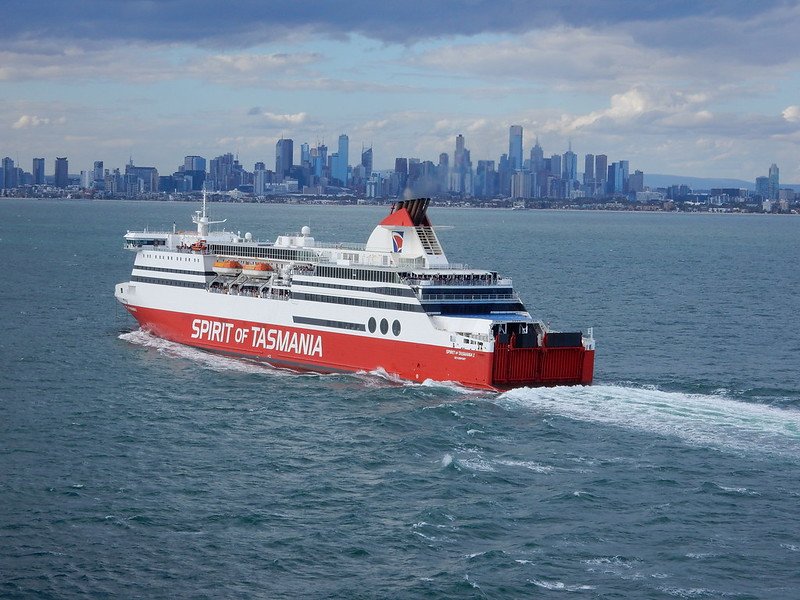 Image credit: Docklands Tony via Flickr CC BY-SA 2.0
Spirit of Tasmania Cost
The Spirit of Tasmania fares depend on lots of things:
whether or not you bring a car, caravan, motorbike or RV van
passenger fare (get a quote on the website online booking system)
whether you buy a day ticket with no specific seat allocation, or a night ticket with an accommodation option such as a cabin or recliner seat
if it's low season or high season
Take a look here for a general comparison guide on the Melbourne to Tasmania ferry cost, showing the variation in fare prices between months.
Spirit of Tasmania Discount
The Melbourne to Tasmania ferry price for children aged between 3 and 15? Child fares apply.
Infants are under three years of age and travel free of charge. However, you need to include infants in your booking.
Those with an Australian Pensioner Concession Card issued by Centrelink or Veterans Affairs can book a pensioner fare.
Spirit of Tasmania Deals
There's always Spirit of Tasmania specials on offer.
Check their website below for details.
You may be lucky enough to score a ticket to bring your car from $99 AUD extra, or snap up a discounted last minute walk-on deal for an upcoming sailing.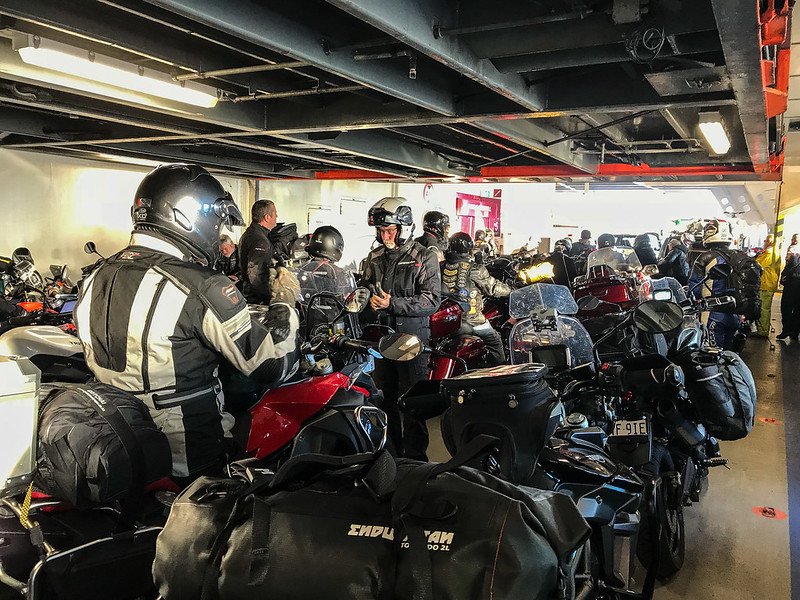 Image credit: R Reeve via Flickr CC BY-ND 2.0
Organising Car Transport to Tasmania
A common question is can you take cars on the Spirit of Tasmania?
The answer is yes.
Cars, motorbikes, caravans, and RV vans too.
Click here for step by step details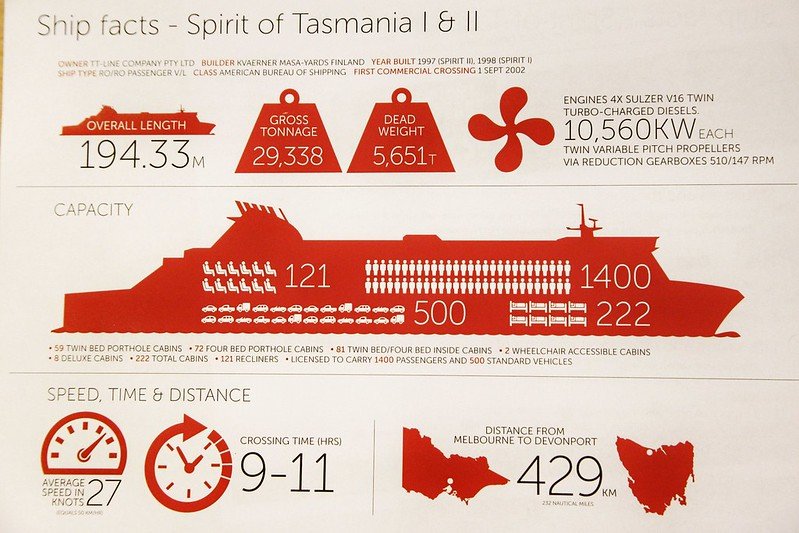 Image credit: Steve Bittinger via Flickr CC BY-2.0
FREQUENTLY ASKED QUESTIONS
How long does the Spirit of Tasmania take?
The Spirit of Tasmania takes approximately 9-11 hours to cross from Melbourne to Devonport.
On days of single sailings, the voyage takes 11 hours.
On days of double sailings, the voyage takes 9 hours.
How do I book a cot on the Spirit of Tasmania?
When you book an infant fare and a private cabin, a cot will be placed in your room free of charge.
Deluxe Cabins and Inside Cabins can fit a maximum of 2 cots
Porthole Cabins can fit a maximum of 1 cot.
Inside Cabins can fit a maximum of 1 cot (this is the easiest fit)
BYO linen for the cot.
Is there wifi on board the Spirit of Tasmania?
Yes, wifi via satellite is available in all public areas on Deck 7, Deck 8 (Recliner Lounge), Deck 9, and Deck 10
But not in the cabins.
It comes at a cost. $12 per hour, or $20 per crossing.
NB: Free media streaming is available in all public areas (excluding cabins). Stream free-to-air TV on your own device.
PS: Yes, mobile phones work throughout the crossing.
Download the brochure here.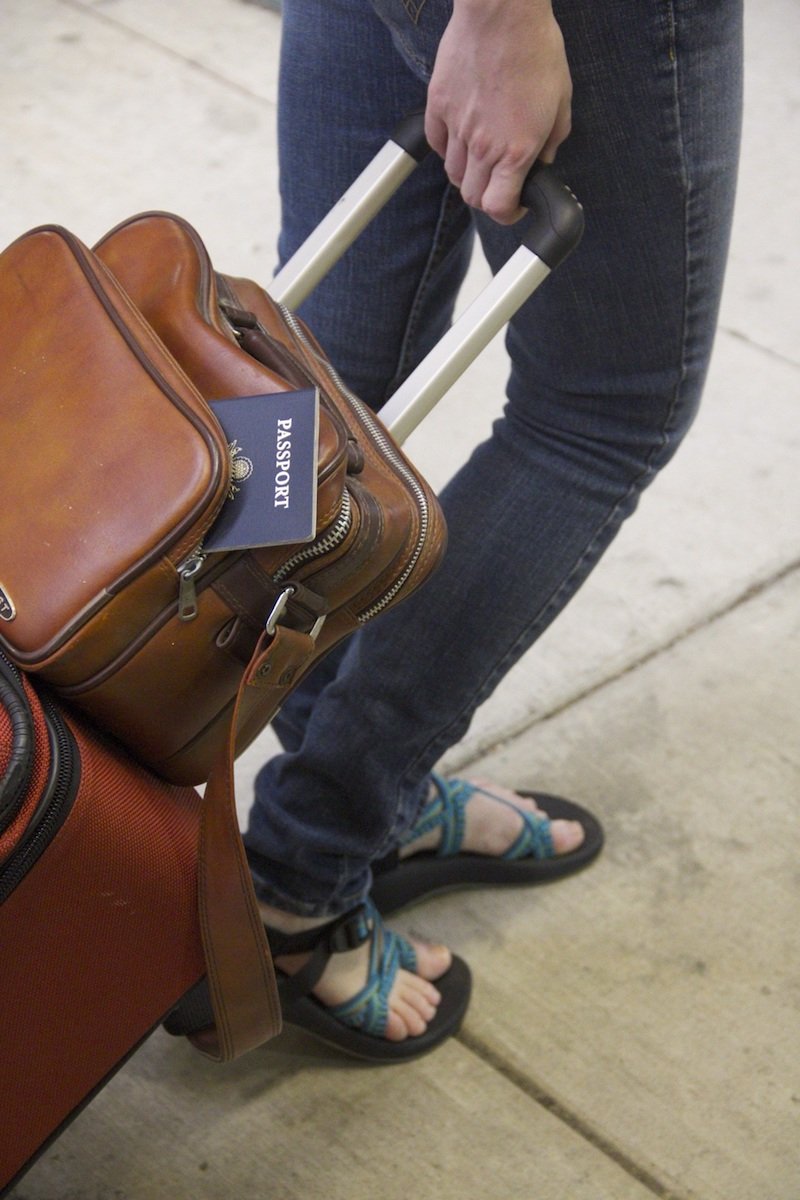 Image credit: Via Pxhere CC0
What luggage can I take on the Spirit of Tasmania?
If you cross with a car or campervan, leave the bulk of your luggage locked in the car.
Put these things in an overnight bag to take to your cabin with you, along with your handbag.
BYO snacks
change of clothing for each person
personal toiletries
medication and
devices
If you are traveling without a car, you can bring two suitcases or luggage bags with you.
Are there lockers on board the Spirit of Tasmania?
There is self service locker hire on board to keep your valuables safe.
Find it at Deck 8, next to the recliner lounge.
Pay by card or cash.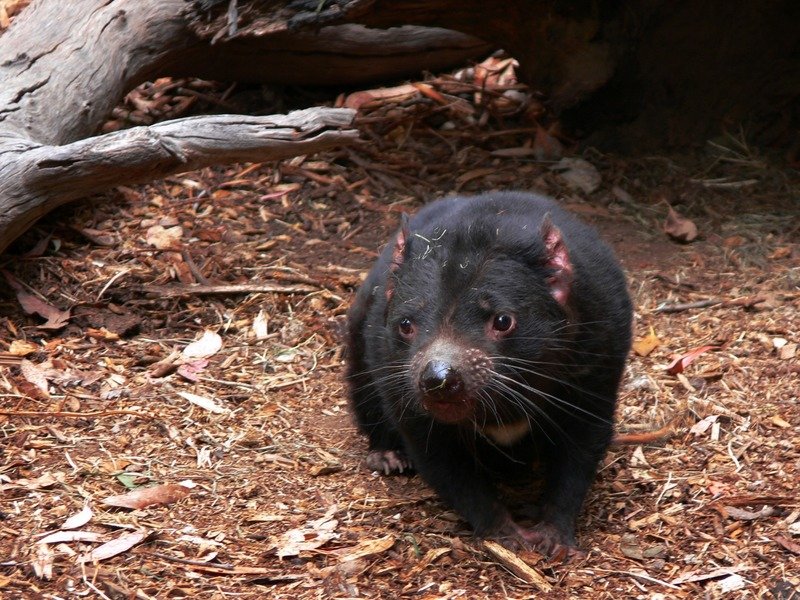 Image credit: Via Pxhere CC0
When is the best time to go to Tasmania?
One option is to visit Tasmania between December and February, Australia's summer season.
Temperatures in this part of the world during summer are pleasant, with a maximum of around 70F. (21°C)
March to May is the other best time to travel Tasmania.
Autumn in Tasmania is cooler of course, but there's less tourists around, and the days are dry with blue skies while the nights dip down a few degrees.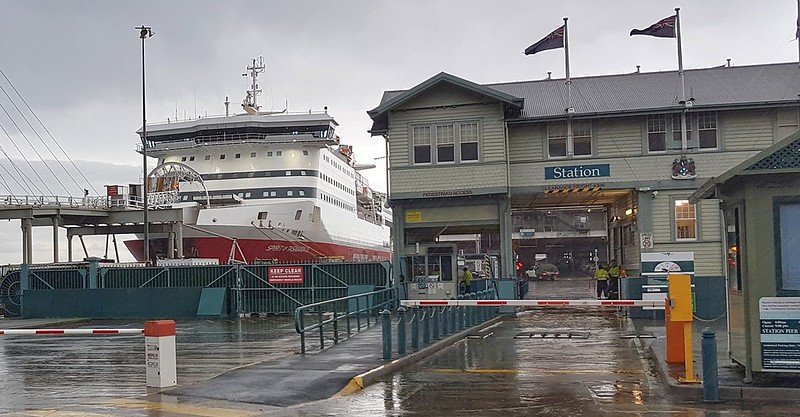 Image credit: Steve Bittinger via Flickr CC BY-2.0
How do you find out the Spirit of Tasmania weather forecast?
Check the BOM for the Bass Straight here.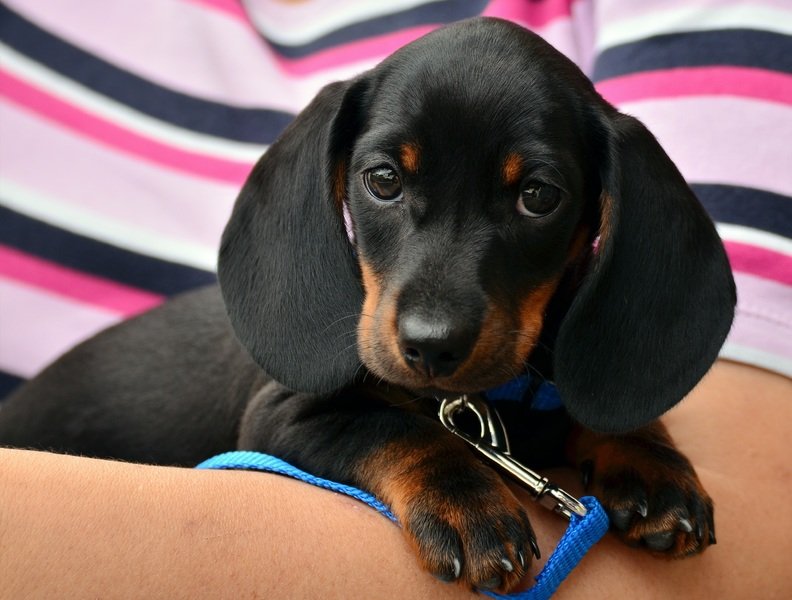 Image credit: Via Pxhere CC0
Can you take dogs on the Spirit of Tasmania?
"Dogs, cats, rabbits, guinea pigs, ferrets, some birds, chickens and ducks may travel on Spirit of Tasmania.
If travelling with a pet, it is a requirement your pet travels in a Spirit of Tasmania kennel. Our kennels are located on ventilated decks.
During sailing, access to the kennels is not permitted.
Fresh water is supplied and regular checks are performed on pets throughout the sailing. Bedding is not provided."
Source: FAQ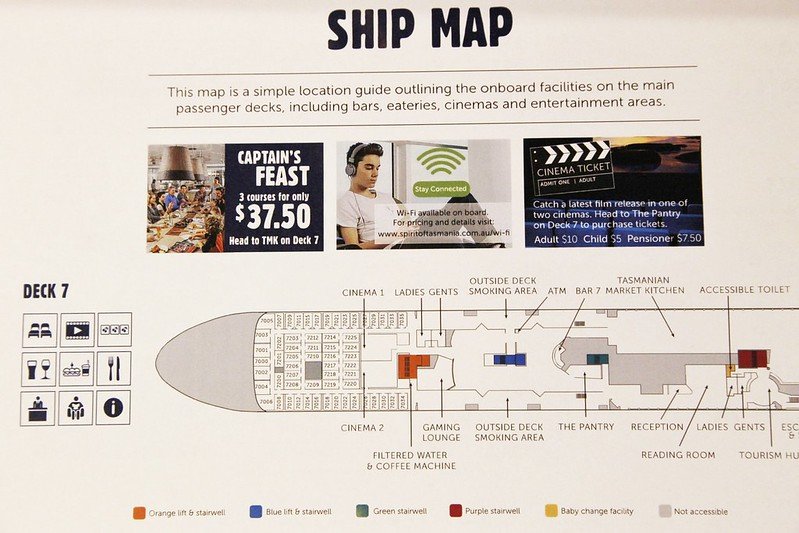 Image credit: Steve Bittinger via Flickr CC BY-2.0
Spirit of Tasmania Ship Layout?
Click here for the current ship layout map.
Spirit of Tasmania route?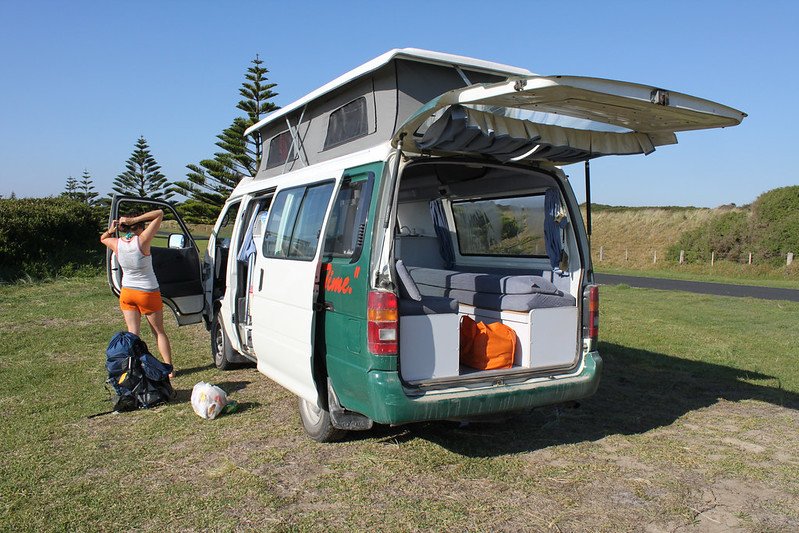 Image credit: Eli Duke via Flickr CC BY-SA 2.0
Campervan Hire in Tasmania
These are the companies you can trust for hiring a Campervan for Tasmania travel.
Britz
Jucy
Cruisin'
Apollo Campers
Hertz
Hot Tip: AVOID Wicked Campers in Australia. Their vans are covered in disgusting graffiti art, with slogans that demean women and children.

Image credit: Lynette Woods via Flickr CC BY-ND 2.0
Top 10 Things to Do in Hobart and Launceston
When you get there, be sure to check out my top 10 things to do in either Hobart or Launceston. These are some of the best places to visit in Tasmania.
Visit Battery Point Salamanca Markets to find LOTS of Tasmanian produce, knitted hats, clothing and scarves, gifts, souvenirs, dolls, handmade design and crafts. Hot tip: Take the kids to visit the Princes Park Playground 
Battery Point.
Train Park playground in West Hobart. (Caldew Park)
The Royal Tasmania Botanic Gardens
Visit MONA Museum of Old and New Art. Do not miss this.
Take a trip on the Derwent Valley railway
Cataract Gorge in Launceston- breathtaking spot. Take a ride on the world's longest span chairlift too.
Go see the fluffy 'pillows' sculptures in downtown Launceston Mall- be sure to tap them. They talk!
Visit the Old Umbrella Shop visitor information centre
City Park in Launceston. There's Japanese macaque monkeys, Design Centre, John Hart Conservatory (with beautiful orchids) and a lovely park to boot. At one edge is the Albert Hall, another of Launceston's architectural delights.
Take a day trip to Beaconsfield & the Grubb Shaft mine museum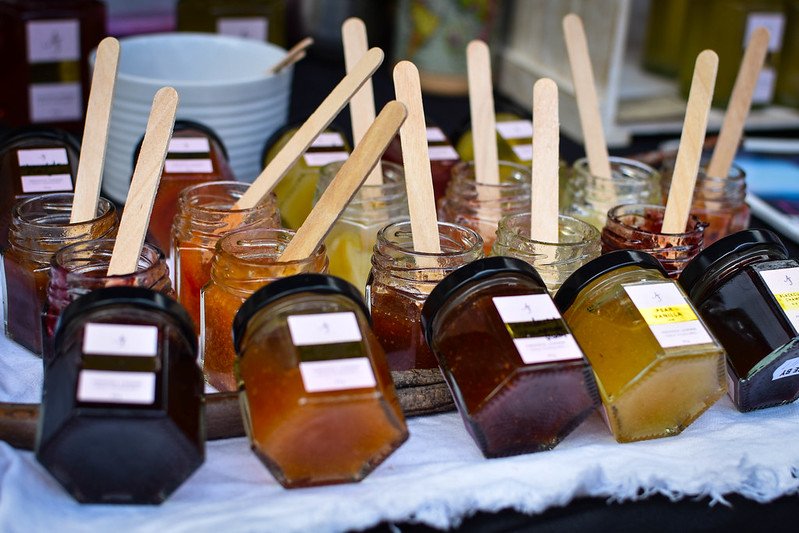 Image credit: SarahJ WS via Flickr CC BY-ND 2.0
Toadstool Rating: Spirit of Tasmania Review
It's a fabulous adventure for kids, and taking the ferry boat from Melbourne to Tasmania definitely beats going by plane.
So, if you are dreaming up ideas for your own travel bucket list, remember that travel is not always about the destination.
The journey matters, and this journey is one to satisfy the bold spirits of lustful wanderers.

Tips on Caravanning & Camping in Tasmania
Check back soon for our itineraries for 3 days in Tasmania, or 4 days in Tasmania, and our updated guide that includes:
where to shop for groceries in Tasmania (sadly, there's no Aldi in Tasmania yet)
the best hotels in Hobart for families
the best hotels in Launceston for families
the best AirBNBs in Tasmania for families
the best things to do in Tasmania with kids
what to pack for Tasmania
what to wear in Tasmania (it can get very cold, and weather can change in an instant!)
how to get to Tasmania from Australia by air (just in case)