INSIDE: Eat Cheap breakfast London style at Pret a Manger. Details of the Pret Breakfast menu & more here.
When we travel, I always try to lock in a hotel that includes breakfast, especially in London.
Breakfast in the London apartment, hotel or London AirBnB gives me the time to indulge in a few leisurely (but necessary) cups of tea before we embark on our London adventure.
God knows THAT is important for the day to begin right.
BREAKFAST INCLUDED are my favourite two words ever, a bonus inclusion vital for budget travel.
Buying three meals a day, plus snacks, for the whole family is the biggest budget killer for travelling families.
When we can't swing it, and I've not been organised enough to have visited a local supermarket in London for bread, sandwich fillers, pastries, or the like, we eat breakfast on the go.
On these occasions, we need a quick AND cheap breakfast in London.
Also, there must be no dilly dallying about when the kids are in tow.
Adventures are waiting.
So the answer to the question "Where can I get a nice breakfast in Central London at 7am?"
It's PRET.
Visit PRET for a QUICK & CHEAP BREAKFAST in London with Kids!
Take a look below for details including the Pret Breakfast menu!
Disclosure: This article contains affiliate links. If you make a purchase after clicking on one of these links, we may receive a small commission at NO extra cost to you.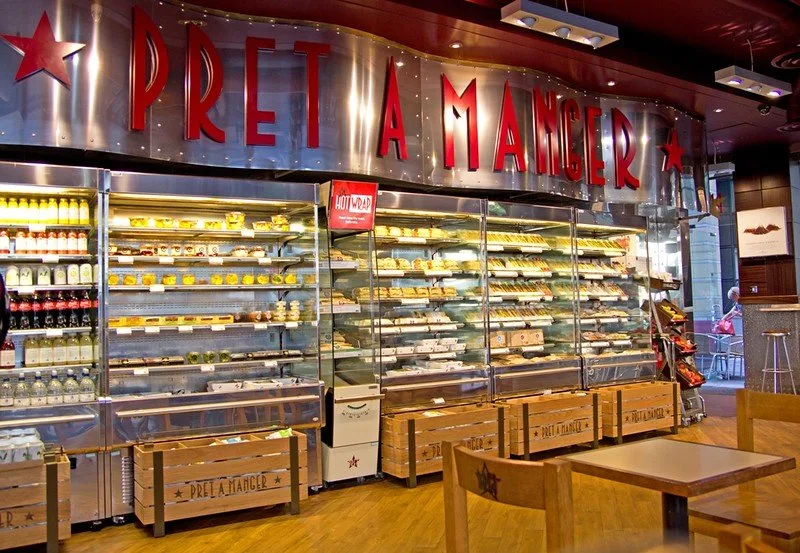 Image credit: Transport Pixels via Flickr CC BY-SA 2.0
Guide to a Cheap Breakfast London? Try PRET UK
On our last visit to London, staying at the Grand Plaza Serviced Apartments in Bayswater, we stumbled upon Pret A Manger, or PRET as the locals call it, one chilly morning.
When temperatures dropped to 10° C overnight, we needed HOT breakfast food quick smart, and Pret A Manger delivered.
Pret a Manger is one of the BEST breakfast places in London:
the food is fresh
the service is quick AND
the breakfast is affordable.
If you're wondering where to have breakfast in London, find a Pret store near you.
It's a cheap breakfast London style.
Plus, they deliver!
---
RELATED: The Big List of Best Things to Do in LONDON with Kids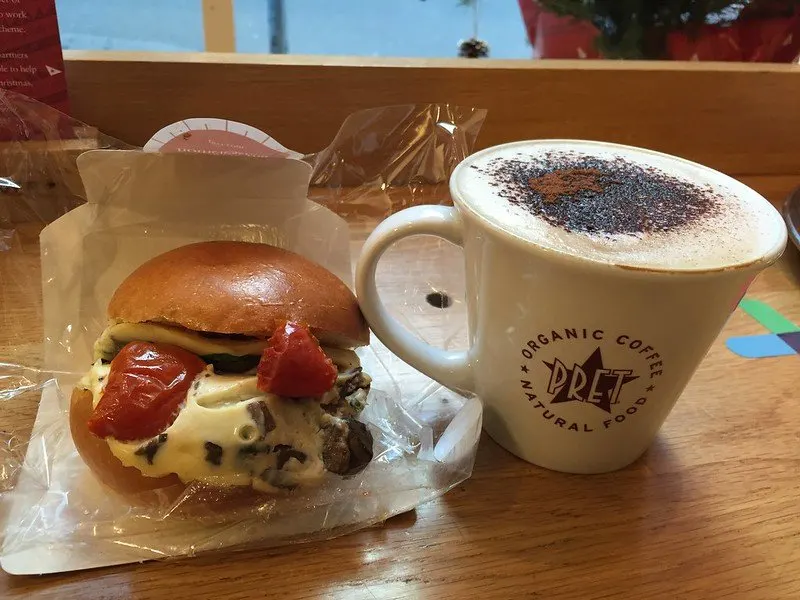 Image credit: Kathryn via Flickr CC BY-ND 2.0
PRET Breakfast Menu
Pret a Manger breakfast menu has so many wholesome tasty choices too, including the typical big English breakfast menu.
Here's our picks.
Pret's Egg and Bacon Brioche
Sausage and Egg roll
Free-range Egg Mayo and Roasted Tomato Breakfast Baguette
Ham, Cheese, Tomato and Bacon Croissant
Five Grain porridge to warm your toes!
Poached eggs, Mushroom and Baked Beans Breakfast Bowl
For those with a sweet tooth at breakfast, try Pain Au Raisin or a Chocolate and Hazelnut Croissant, or the Acai & Almond butter bowl
Need a heart starter?
Pret Coffee is up there with the best coffee in London.
Prep café is the best healthy breakfast London has for when you are travelling, (and we all know how hard it is to find healthy food on the road), plus the Pret menu includes a range of Pret gluten free food.
We think Pret Cafe is one of the best places to have breakfast in London because a Pret breakfast is all about Organic Coffee and Natural Food.
Can't get better than that.
Pret a Manger breakfast prices are super reasonable too.
Pret a Manger breakfast hours
Pret a Manger breakfast hours are said to be from opening at 7am to around 11am, although there's no definite answers on when breakfast menu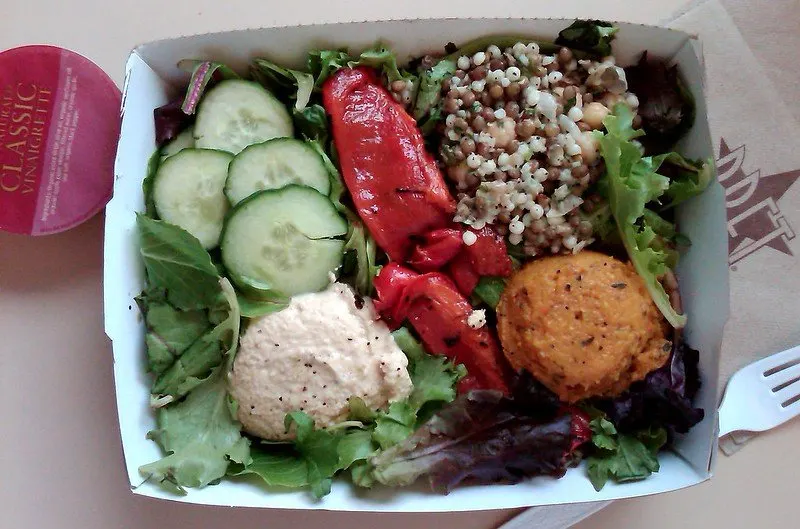 Image credit: Mr.TinDC via Flickr CC BY-ND 2.0
Pret a Manger Menu
If you are hungry later on, refill your tank with Pret a Manger Soup. (see below for details)
Live a little and try all kinds of food from the Pret UK menu.
On the PRET food menu, you'll also find:
Fresh juices
Smoothies
Salads
Sushi
Sweet treats
Snacks
Pret sandwiches
Pret salad, and
Fruit
Pret Sandwiches
Pick your favourite from this list:
Classic Super Club
Free Range Egg Mayo
Ham and Cheese
Chicken Avocado and Basil
Smashed Avo
Mature cheddar and Pret pickle
Scottish Smoked Salmon
Smoked Salmon & Soft cheese open sandwich
Tuna and Cucumber
Plus, there's a range of sandwiches for kids too!
Egg Mayo
Kids cheese sandwich
Kids Ham sandwich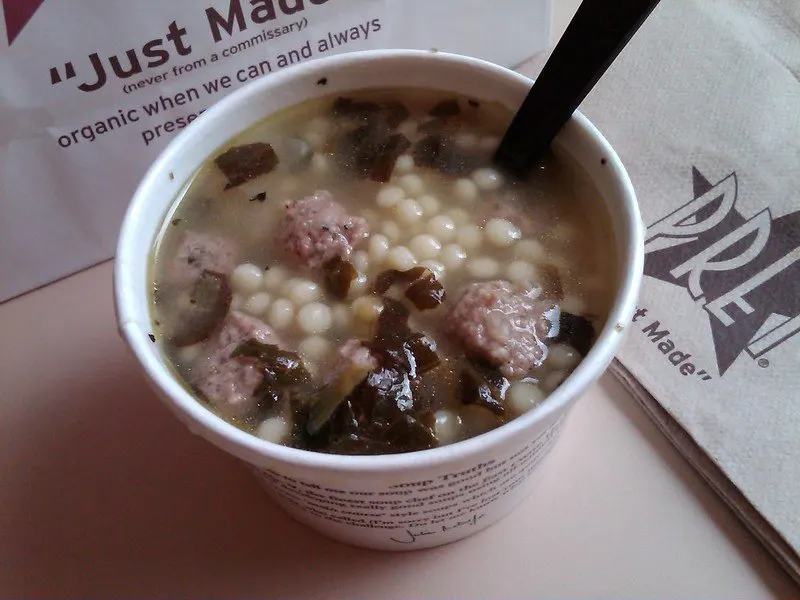 Image credit: Mr.TinDC via Flickr CC BY-ND 2.0
Best Pret Soup of the Day?
Buy soup for lunch and you'll help to break the cycle of homelessness in London, as Pret donates 10p for each soup sold to The Pret Foundation.
There's a different soup flavour available each day.
Here's a few to sample:
Chicken, brocolli, and brown rice
Pea and mint
Carrot and coriander
Red thai chicken and veg
Souper tomato!
Check out the entire Pret Soup Menu here.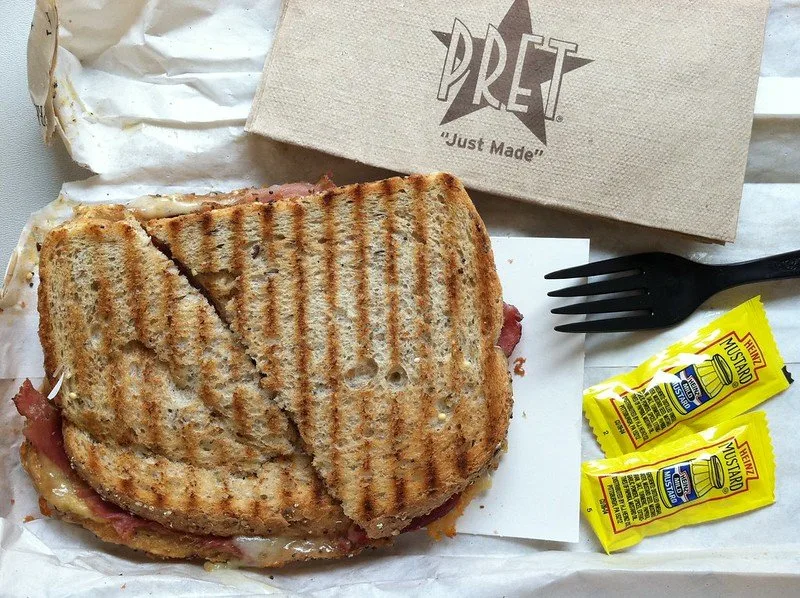 Image credit: Mr.TinDC via Flickr CC BY-ND 2.0
Pret Ready to Go meals
The ready-to-go meals are only ever cooked in small batches, regularly throughout the day, so you know the food-to-go (on the run) is also as fresh as can be.
Our favourite is their Pret ham and cheese toasties.
SO good.
Roam the Gnome, the kids and I love this place, and dining in was never a hassle with two boisterous boys in tow (unlike other places we've been to.)
Pret Sustainability
Pret is committed to sustainability.
Single use plastic has almost gone.
Compostable cutlery is on the way.
They are working towards ensuring all their packaging is 100% reusable or compostable.
They've been giving their food waste to local charities supporting the homeless crisis since they opened their first store.
More reasons to have a nice breakfast in London at Pret.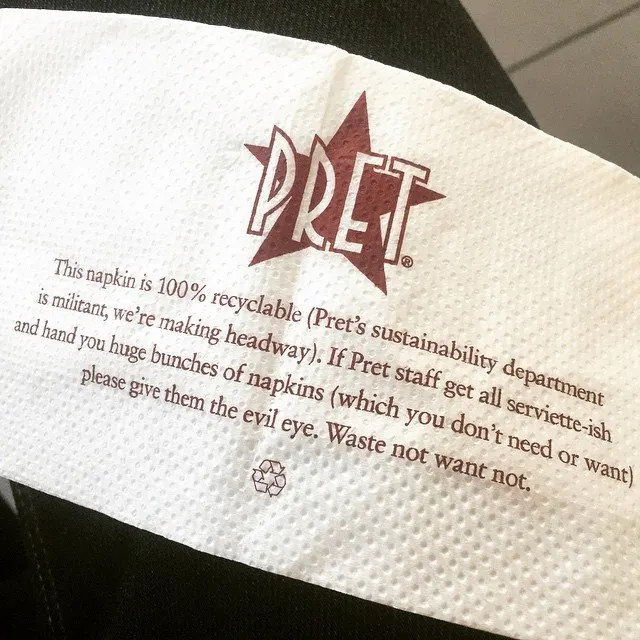 Image credit: Faruk Ates via Flickr CC BY 2.0
THE INSIDE SCOOP: Pret Breakfast Spots London
Correct at time of publication on Roam the Gnome. Please check with venue for updates. We apologise in advance if there have been any changes we are unaware of. All prices in British pounds, unless otherwise stated
Address: Pret A Manger is at 127 Queensway, Bayswater, London W2 4SJ, UK
Telephone: 0845 205 0000 (General)
Website: Click here
Opening hours: Monday to Friday from 6.30am to 9pm. Saturday and Sunday from 7am to 9pm.
Free Wifi? YES!
Seating: Available
Wheelchair access: Yes
Delivery available: Yes. Order online.
How to get to Pret Queensway Bayswater
From Queensway tube station, turn left away from Hyde Park down Queensway.
Walk past Sainsburys local and the Bayswater tube station, and you'll see it on your left.
McDonalds and Burger King are almost opposite.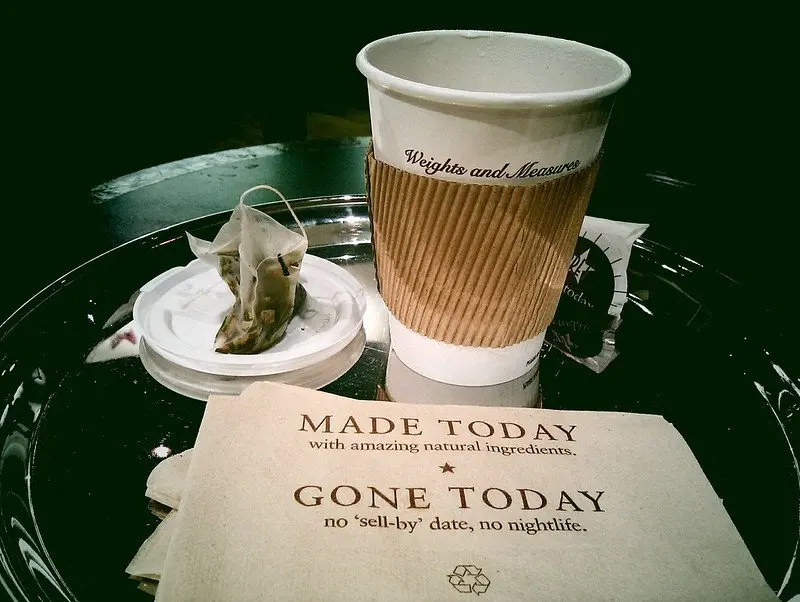 Image credit: Garry Knight via Flickr CC By 2.0
Pret a Manger locations
If you are not near Bayswater PRET, find your closest Pret A Manger in London here.
For exact Pret opening and closing times, check with your local branch.
Download the PRET app.
Download the APP so you can find a Pret anytime you need one!
Map of Pret a Manger Queensway Bayswater London
Toadstool Rating: Best Breakfast Central London
Looking for cheap breakfasts in London? PRET wins our vote for a good breakfast in London that won't break the bank.
Perfect for families in London on the go.

Looking for MORE places to eat in London for kids?
Click the links in blue below for more London ideas.