INSIDE: Eat Delicious Spitalfields Market Food, then Shop till you drop at this London Market.  Updated 2019.
Old Spitalfields Market London is on the way if you are heading to Brick Lane Markets, and the Cereal Killer cafe.
The Old Spitalfields Market London is housed in a renovated and covered Victorian market hall with restaurants and boutiques, fashion and vintage stalls.
Did you know there has been a daily market on this site in London for over 350 years?
This historic market is open 7 days a week with something new to discover each day including pop-ups, takeovers, events and the best Sunday arts market in London.
The Fruits and Veg have moved to the NEW Spitalfields Markets in Leyton, leaving the original London markets site for more elegant and refined wares, and most importantly, Spitalfields Market Food! 
Old Spitalfields Market Food Stalls
The Old Spitalfields food market sells:
organic food
freshly baked bread
fresh juices
smoothies
good coffee
Japanese sushi bowls
Chinese street food
falafel burgers, and
cupcakes.
Head to the corners of the market to find the regular food stalls that anchor the market, and provide all important coffee to the market stall holders who've been up before dawn.
This is the spot for a light breakfast before spending an hour or two browsing around the Old Spitalfields market stalls.
Old Spitalfields restaurants
There's also plenty of Spitalfields restaurants around the perimeter of the market stall area.
Try any of these Spitalfields favourites:
Tre Rote traditional pasta
Pilpel falafel burgers
Bleecker burgers – the best NYC burgers in London
The Real Greek for greek food
Rice Brother for authentic Chinese food, all packaged up in bite size bites
High Mood food – home to seasonal, vegetable packed natural foods including fermented goodies for gut health
Cafe Caribbean for Jamaican food, the home-cooked way
Indi-go Rasoi for Indian street food
Sud Italia for the best pizza in East London
Wheelcake Island for fluffy Taiwanese pancakes filled to the brim with sweet stuff
The Kitchens are open Monday to Friday, from 11-8pm, Saturday 11-6pm, and Sunday 11-5pm.
Our tip: arrive early for breakfast, lunch or dinner to beat the crowds. These Old Spitalfields market restaurants are popular with locals and were PACKED at 11.15am!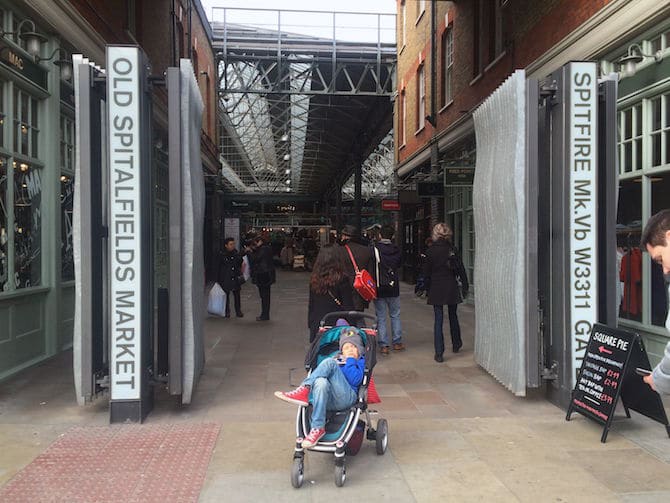 Old Spitalfields Market London – Handmade & Original
The Londoner's Home Market on Sundays once a month is the first place to meet the all-stars of London's market scene at The Londoner's Home Market.
While the monthly market itself was smallish, the quality of the stalls on offer made up for that.
Visit these Arts and Crafts markets London style for trinkets and tasteful thingamajigs too.
All the stall holders for this special Sunday London Market offer original products including:
art
fashion clothing & accessories
vintage goods
jewellery
ceramics
perfume
pet goods
homewares
leather bags
furniture
If you are wondering where to buy art in London from new and established artists, this is the spot. It's becoming a hotspot for artwork in London.
Opening hours: Old Spitalfields Arts Market is on the 4th Sunday of Every Month from 10am – 5pm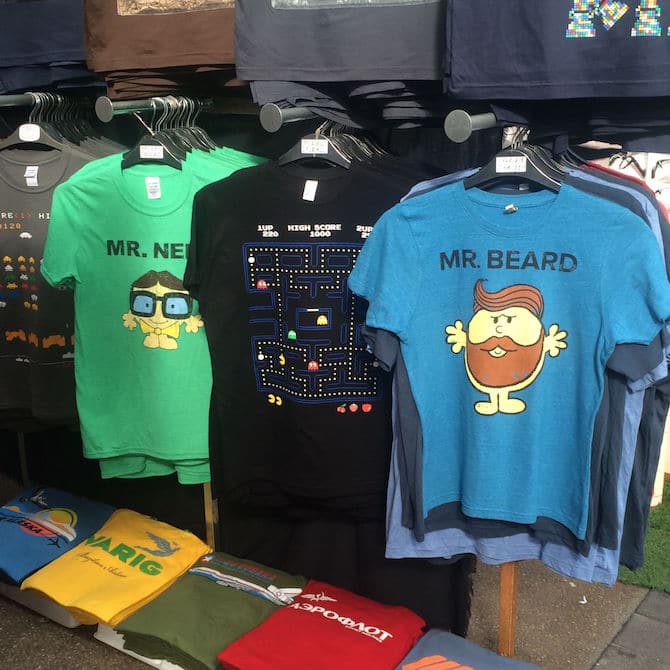 Visit London Old Spitalfields Market for Quirky London Souvenirs
The Daily Market at Old Spitalfields also has lots of regular stall holders selling everything from bags, handbags, leather goods, home grown fashion, fashion accessories, scarves, jewellery, art, homewares, kimonos, sunglasses, handwash & bathroom scents, beauty products & makeup, and unique London souvenirs.
You'll find handmade items from local creators, artists & illustrators, and makers, plus kooky takes on t-shirts and fashion.
Our pick were the Mr Beard and Mr Nerd t-shirts we found by a local artist- a hipsters dream tee.
Antique Market and London Vinyl Market
Wondering what else to do in Spitalfields markets?
Thursday is the famous Antique and Vintage Market, and every second Friday it's time for the Vinyl market.
The stalls are ever-changing, so there's always something to see at these craft markets in London.
Check more info on the Daily Market stall holders here.
London Old Spitalfields Market Shops
There are also permanent shops at the London Old Spitalfields markets including upmarket stores including:
Chanel
Pick a Twig minimalist jewellery
Lululemon
Cybele London for modern and vintage style watches
Polka Dot luxury glasswares
Cheaney handcrafted English shoes
Jo Malone signature scents
Malby maps for antique globes, maps and books
Jigsaw for British fashion
Klasik vintage eyewear
Tag Heuer watches
Dr Martens boots and shoes
Most shops open from 10am to 7pm.
Visit the Spitalfields Arts Market
The Spitalfields Arts Market is the place to buy art in London from both up and coming artists, and established artists to.
Spitalfields Arts Market are held once a month from Thursday to Sunday on Market Street, between Brushfield street and Crispin place.
What is the New Spitalfields Market?
The New Spitalfields Market is the home of wholesale fruit, vegetables, food and beautiful flowers. It's not open to the public.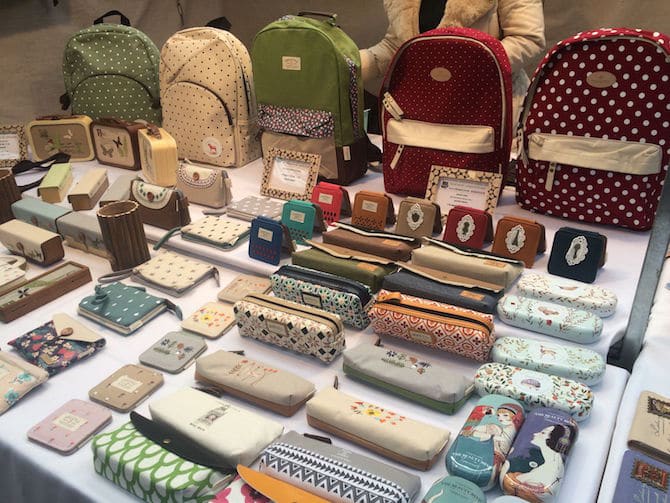 The Inside Scoop – Old Spitalfields Sunday Markets London
Old Spitalfields Market Address: These East London markets can be found at 16 Horner Square, Spitalfields, London E1 6EW, United Kingdom
Telephone: +44 20 7375 2963
Website: Click here 
Old Spitalfields Market Opening Times: The Old Spitalfields market hours are seven days a week.
The Daily market is open:
Mon, Tues, Weds, Fri: 10am — 6pm
Thurs: 7am – 6pm
Sat: 10am — 6pm
Sun: 10am — 5pm
Entry fees: FREE entry
How to get to Old Spitalfields Market London
By Train:  The closest Spitalfields Market Tube station is Liverpool Street Station, a 5 min walk from the markets.
You can also arrive via Shoreditch High Street (7mins walk), Aldgate East (8mins walk), Moorgate (14mins walk) and Old Street (16mins walk)
By Bus: 
Brushfield Street (67)
Primrose Street, Stop J (8, 26, 35, 48, 78, 135, 149, 205 242, 388)
Old Spitalfields Market parking: The Spitalfields Car Park  can be found at
Map of Old Spitalfields Market
Toadstool Rating (by the kids) – Old Spitalfields Markets
Not a lot for kids to do in London here at the Old Spitalfields Markets, but I did buy them a short 100% wool hand-knitted scarf each here.
Instant hipsters they were!
Looking for MORE Things to Do & Places to Shop in LONDON?
Click the links in blue below.
Subscribe
Bookmark Roam the Gnome
Disclosure:
This article may contain affiliate links. This means if you make a booking or purchase after clicking on one of these links on Roam the Gnome™, we may receive a small affiliate commission at NO extra cost to you.
Roam the Gnome™ is a participant in the Amazon Services LLC Associates Program, an affiliate advertising program designed to provide a means for sites to earn advertising fees by advertising and linking to amazon.com, amazon.co.uk, amazon.ca. Amazon and the Amazon logo are trademarks of Amazon.com, Inc. or its affiliates.
Thank you in advance for your support in helping us to grow Roam the Gnome Family Travel™ Website Directory