INSIDE: The Ultimate Guide to the Cereal Killer Cafe Menu.
Pop on in to the Cereal Killer Cafe in London for an All Day Menu of Breakfast Cereal!
Yes, Breakfast Cereal for EVERY Meal. That's the CEREAL KILLER CAFE MENU!
The guys who started it wondered why they don't serve cereal in restaurants, and then changed the rule.
Do you LOVE sweet breakfast cereal as much as we do?
Then check out the Cereal Killer café menu.
Cereal is NOT the healthiest of breakfasts, but it IS the most fun one!
Visit the Cereal Killer Cafe London, the UK's first speciality Cereal Cafe, for breakfast with a difference.
Find all the details below.
Disclosure: This article contains affiliate links. If you make a purchase after clicking on one of these links, we may receive a small commission at NO extra cost to you.

Guide to the Cereal Killer Cafe London
The Cereal Killer Cafe London sells nothing but cereal, pop tarts, and SUPER FUN cereal cocktails!
Can you imagine the kids' faces when you take them here for a feed?
Be prepared for a queue and to have to wait though.
This cafe in Brick Lane in London is very very popular, and yet hard to find, with little signage.
(Look for the people queuing along a brick wall).
It's no wonder the twin brothers who own it opened a second branch of the Cereal Killer cafe in Camden, London.
Hot tip: You can book ahead.
Call Brick Lane: 020 3601 9100 or Camden: 02033938857
---
RELATED: The Big List of Best Things to Do in LONDON with Kids

The Cereal Killer Cafe Menu
Cereal Killer Cafe London sells over 120 different types of cereal from all around the world, including most of your childhood favourites.
If they can source it, they will sell it.
Their mission is to create the perfect bowl of cereal for you, with just the right combination of ingredients.
(Ever wondered how much milk do you put on cereal? They know the answer!)
Mix and match your cereal with one of 30 different varieties of milk, and over 20 different toppings.
It's potentially the biggest sugar rush you'll have all week, maybe all year! But super fun.
Lay claim momentarily to the title of Super Mum (or Super Dad). You'll be a hero in the eyes of the kids for finding this cool cafe in London.
READ MORE: Still hungry? Visit the Brick Lane Food Market on Sunday for the Best London Street Food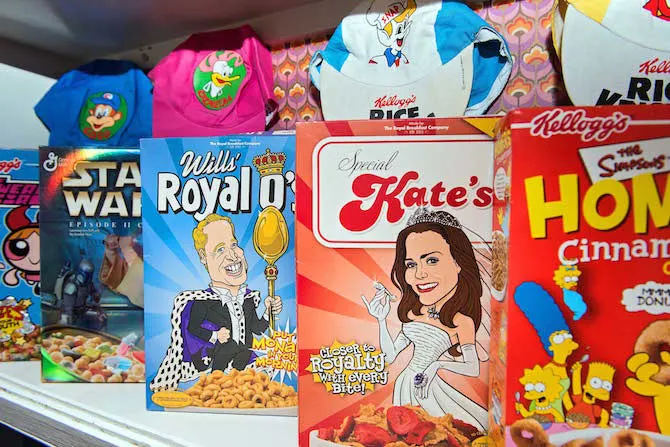 The EPIC Cereal Killer Menu
Are you wondering what is on the Cereal Killer Cafe Menu Brick Lane?
Wonder no longer.
Take a sneak peek.
We've also included the Cereal Killer Cafe menu prices. (Breathe. Breathe. Breathe.)
Cereal Killer Cafe Prices!
There's Cereal Killer Superbowls for £8.90.
Or Cereal Killer Cereal ready-made combos to try for £5.50 a bowl.
Or create your own bowl in these two sizes:
regular £4.50 and
large £6.90 .
Pick one or two cereals from the Cereal cafe menu selection behind the bar.
Enjoy with Skim, Whole and Semi-skimmed cows milk – it's FREE with any bowl.
Cereal Cafe Menu Milk Options
Upgrade to a premium milk or flavoured milk for an extra 50p per bowl.
Premium milks include almond, soy or oat.
Or upgrade to one of these flavoured milks:
Salted caramel
Banana milk
Bubble Gum
Cinnamon
Vanilla
Strawberry
Chocolate
Mint
White Chocolate
There's milk for everyone!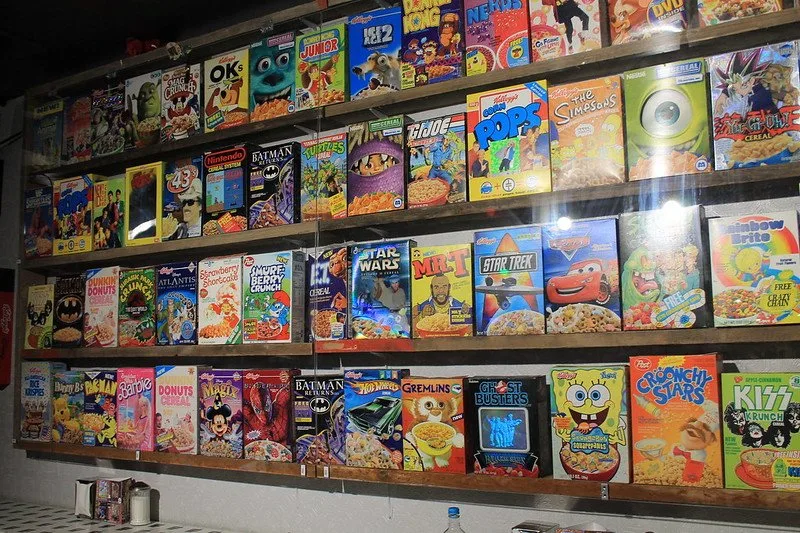 Image credit: .Martin. via Flicker CC BY_ND 2.0
Best Cereal Toppings on the Cereal Killer Cafe London Menu
Add a topping (+ £1)
Layer your cereal with a fun topping. Try:
freeze dried strawberries
pretzel sticks
fresh strawberry or banana
Freeze dried marshmallows
chocolate covered cornflakes
peanut butter chocolate crunchies
chocolate covered rice krispies
These are the best thing on the Cereal Killer London menu!
Don't miss out.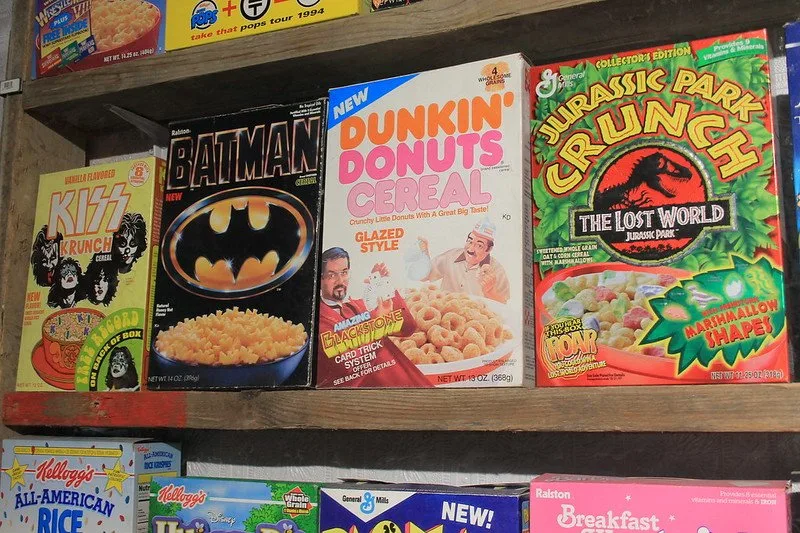 Image credit: .Martin. via Flicker CC BY_ND 2.0
Cereals in Stock
No.1: American Cereals
Find a huge range of American breakfast cereals including:
Froot Loops
Hershey's Cookies n Creme chocolate cereal
Lucky Charms or Chocolate Lucky Charms
Apple Jacks
Jurassic Park crunch
Cotton Candy crunch
Homer's Cinnamon Donut
Batman or Shrek cereals
Plus, my favourite American cereal from my days as a Camp Counsellor – Cinnamon Toast Crunch!
And many more.

No.2: British Cereals
You'll find a whole range of English breakfast cereals including, if you are lucky, popular cereals that are no longer manufactured.
There's:
All Bran
Dorset classic muesli
Honey Monster Puffs
Quaker Oats apple cinnamon granola
Ricicles
Shreddies
Sultana bran
Toffee crisp
Spice Swirls (inspired by the Spice Girls!)
Mr Kipling french fancies cereal
Weetabix minis banana, and plenty more!
No.3: Breakfast cereals from around the world
You'll find Australian breakfast cereals including Milo cereal, and Nutrigrain on the cereal menu!
Plus, almost every cereal you can imagine!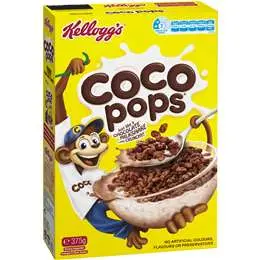 Best Cereal Mascots List
As you wait for your cereal to arrive, browse the cereal displays and ponder who is your favourite cereal mascot?
Can you spot:
Count Chocula, Frankenberry and Boo Berry from the Monster Cereals
Snap Crackle and Pop from Rice Krispies
Cap'n Crunch
The Trix Rabbit from Trix Cereal
Tony the Tiger from Kelloggs Frosted Flakes
L.C Leprechaun from Lucky Charms cereal
Toucan Sam from Kellogg's Froot Loops
Buzz Bee from Honey Nut Cheerios
Fred Flintstone and Barney Rubble from Cocoa Pebbles
Chef Wendell from Cinnamon Toast Crunch
Mine is Coco the Monkey on Cocopops, my favourite snack to have in the house out of sight from the kids.
It's still just like a chocolate milkshake, only CRUNCHY!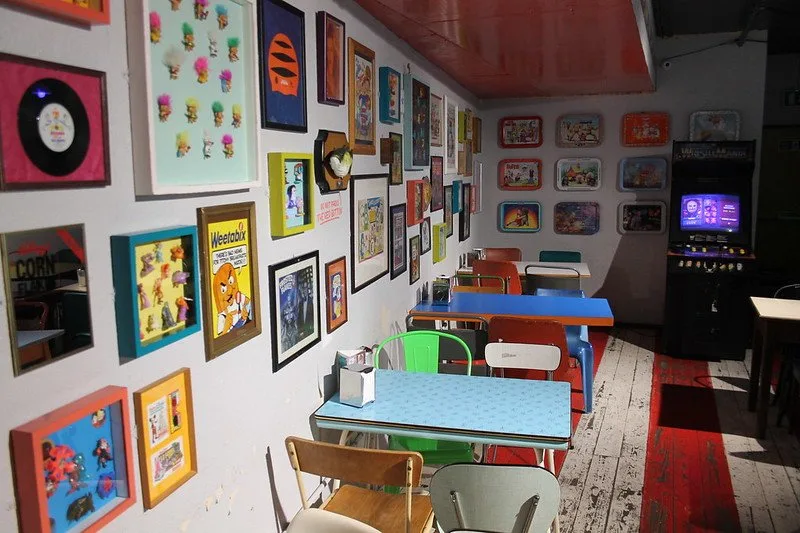 Image credit: .Martin. via Flicker CC BY_ND 2.0
MORE Cereal Killer Cafe Breakfast Choices
Want something different?
There's:
Poptarts, served with cream and sprinkles for £2
Poptart ice cream sandwiches
Tater Tots, American fried shredded potato
Bran Fries – potato fries coated in a crispy bran flakes
Crunchy Nut Corn Dogs
Mac'N'Cheese'N'Cereal
Mozzarella Toast Crunch (with my favourite Cinnamon Toast Crunch cereal on mozzarella sticks)
Cereal Fried Chicken – fried chicken with a crispy cereal coating….
View the entire savoury menu here
Cereal Killer Cafe has a selection of Hot and Cold Drinks to choose from, including all the regulars PLUS fun ones too.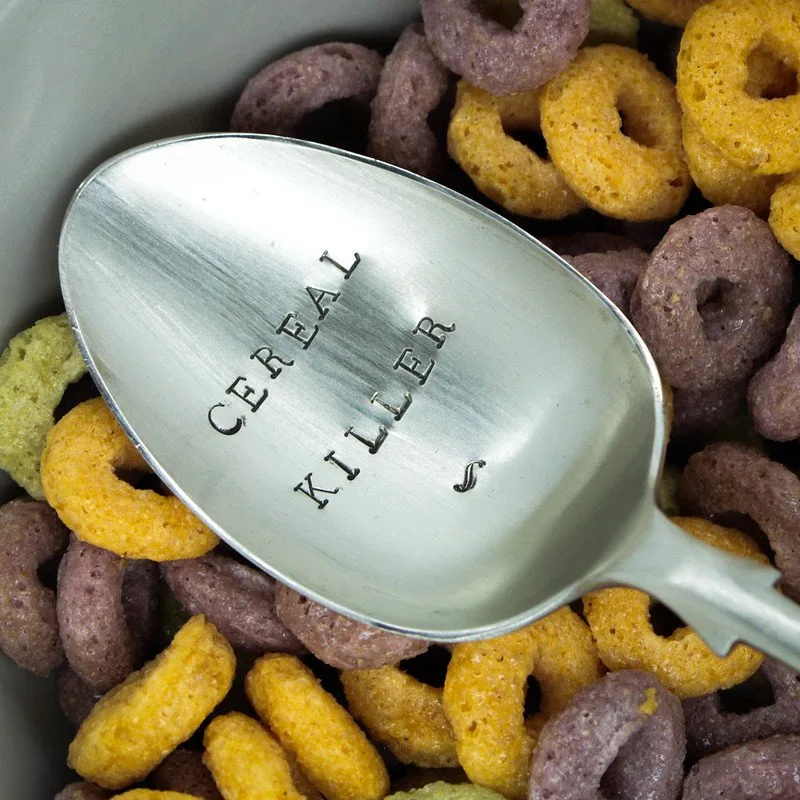 Image credit: Gavin Jones via Flickr CC by 2.0
Cereal Cocktails!
This is where it is at.
I mean seriously, who doesn't want to drink Unicorn Poop!
You can, as it's another unique option on the Cereal Killers menu.
Ingredients:
Ricicles
Party rings
fluff
marshmallows
hundreds and thousands, and
semi skimmed milk.
The Bowloccino appeals to chocolate lovers too.
Ingredients:
Nesquick
Coco pops
Flake
Espresso milk and
Cafe curl.
These are freak-shakes with a cereal difference.

Interior Styling at the Cereal Cafe London
The Cereal Killer Cafe London United Kingdom is also decked out with chair and table combinations made from old-school single beds covered in kitsch bedspreads such as Power Rangers, Bart Simpson, and Mr Blobby.
The interior is full of character, with colourful cereal boxes lining the walls, great examples of old cereal toys, posters (including Smash Hits magazine covers!) and collectables, and retro video games to play while you wait.
This cereal only cafe is a trip straight back to your childhood when weekend breakfast tv viewing and staying in your pj's was the done thing.
Who wouldn't love that?
That nostalgia helps to deal with the PRICES – exorbitant, but worth one trip for the fun of it.
Eat there for breakfast, lunch or dinner.

Cereal Killer Cafe Shop
There was a shop at this breakfast cereal restaurant, with all kinds of things for sale, including:
cereal and pop tarts to take home
cereal-inspired beauty products
homewares including mugs, magnets and a Cereal Killer 'cookbook'!
cereal-inspired clothing and jewellery
cereal-inspired stationery (a Cocopops notebook anyone?)
stickers
Now it looks like they only sell gift vouchers so you can return, or share the cereal love with friends!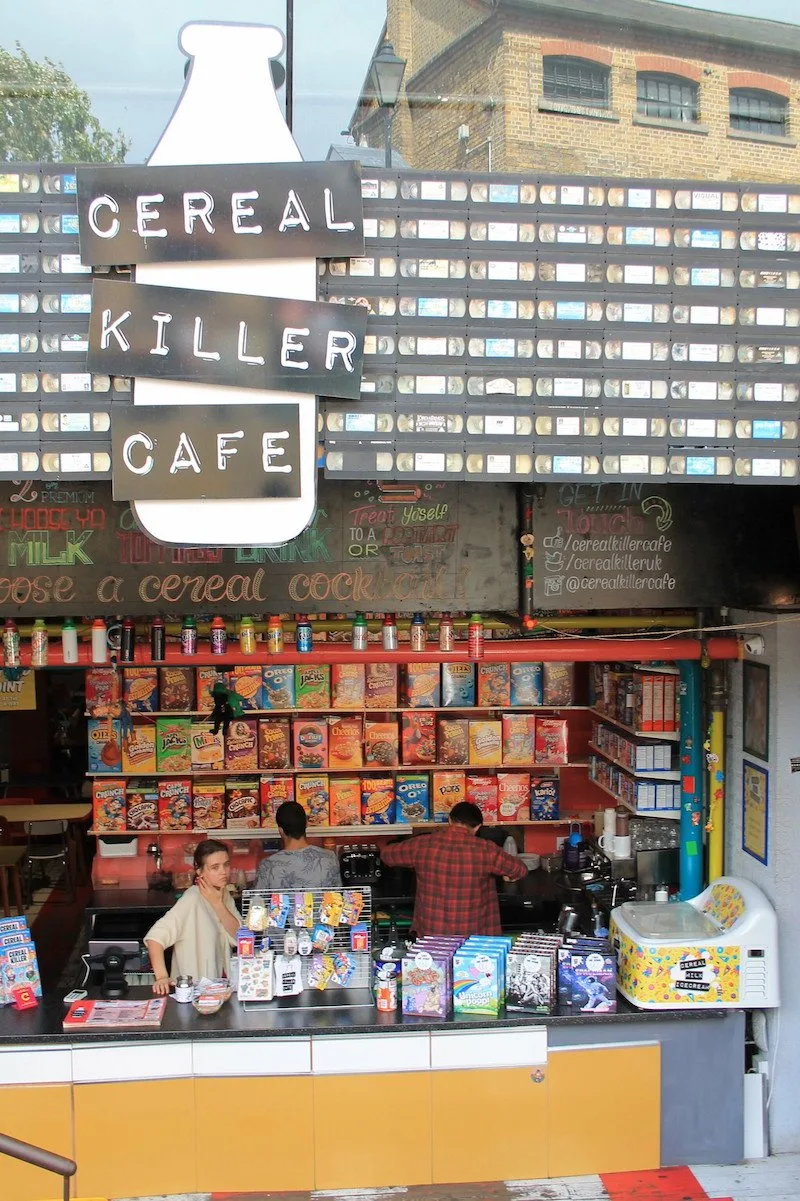 Image credit: .Martin. via Flicker CC BY_ND 2.0
THE INSIDE SCOOP: Cereal Killer Cafe United Kingdom
Correct at time of publication on Roam the Gnome. Please check with venue for updates. We apologise in advance if there have been any changes we are unaware of. All prices in British pounds, unless otherwise stated
Addresses: The Cereal Killer Cafe BRICK LANE location is 192a Brick Lane, London, E1 6SA
The Cereal Killer Cafe Camden
The Cereal Cafe CAMDEN location is Mezz 2, Camden Stable Market, London, NW1 8AH Tel: 07943603517
Website: Click here
Cereal Killer Opening Hours
Open for breakfast, lunch and dinner. 9am to 9pm.
For bookings please call – Brick Lane:020 3601 9100 or Camden:02033938857
Cereal Killer cafe price?
Load your wallet.
How to get to Cereal Killer Cafe Brick Lane London
By train: It's a 5-10 min walk from Liverpool St, Aldgate, Algate East (underground) and Shoreditch High St (overground).
By Bus: The best bet is to get the 8 or 388 bus and get off at the Brick Lane stop.
Map of Cereal Killer Cafe London Brick Lane
Toadstool Rating: Cereal Cafe London
The cereal shop London Brick Lane is a gimmick, but a fun one.
We say YES to fun.

Looking for MORE fun places to eat in London with kids?
Click the links in blue below for more London ideas.