INSIDE: Check out the Entire Chatime Menu! It's delicious.
If your first question of the day is "What do I feel like drinking today?", the second question of the day should be "Where is my nearest Chatime?"
Chatime is the Number One Bubble Tea shop in the world – choose your favourite bubble tea or sweet drink from their super-sized menu.
Choosing is the hardest part.
Do be sure to order 'bubbles' of the Chatime Menu – Chatime's tapioca balls (or pearls as they are known) are super fresh and their chewiness factor cannot be beaten!
Take a look at the Chatime Drink Menu below.
Disclosure: This article contains affiliate links. If you make a purchase after clicking on one of these links, we may receive a small commission at NO extra cost to you.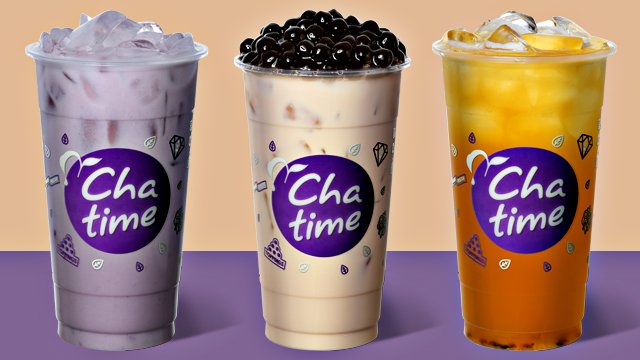 Guide to Chatime Bubble Tea
Whether you crave a milk based tea, a traditional tea, or a fruit based tea, Chatime is the answer with a drink and a unique topping to match.
There's also refreshing smoothies, decadent chocolate blends, tangy yogurt mixtures, aromatic coffees, and if you are feeling adventurous, extra special creamy mousse fusions.
Chatime Locations
You can find Chatime in Asian countries including:
Taiwan
China
India
Japan
Malaysia
Singapore
Korea
Thailand, and
100 stores in Indonesia alone (including Bali!)
You can also find Chatime outlets in Australia, USA, Canada, UK, France, and parts of the Middle East.
See the INSIDE SCOOP below the menus for details.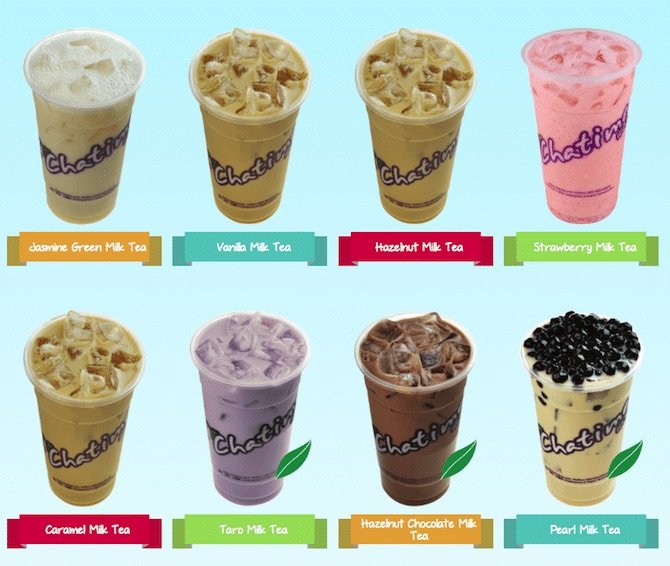 CHATIME MENU LIST
Guide to the Best Chatime Flavours
Here are the the different types of Chatime drinks on offer, with all the different Chatime flavors you can order.
No.1: Chatime Mellow Milk Tea
Mellow milk teas are the reason I visit Chatime.
Choose one of these Chatime milk tea drinks:
Chatime Roasted Milk Tea
Brown Rice Green Milk Tea
Oolong Milk Tea
Chatime Milk Tea
Jasmine Green Milk Tea
Vanilla Milk Tea
Hazelnut Milk Tea
Strawberry Milk Tea
Caramel Milk Tea
Taro Milk Tea
Hazelnut Chocolate Milk Tea
Pearl Milk Tea
Red Bean Pearl Milk Tea (this one!)
Matcha Red Bean Milk Tea
Chatime Thai milk tea
No.2: Chatime Oriental Pop Tea
Choose one of these Chatime tea options:
Japanese Sakura Sencha
Japanese Genmaicha
Anxi Tieguanyin Tea
Green Tea Latte
Tieguanyin Tea Latte
Matcha Tea Latte
Black Tea Latte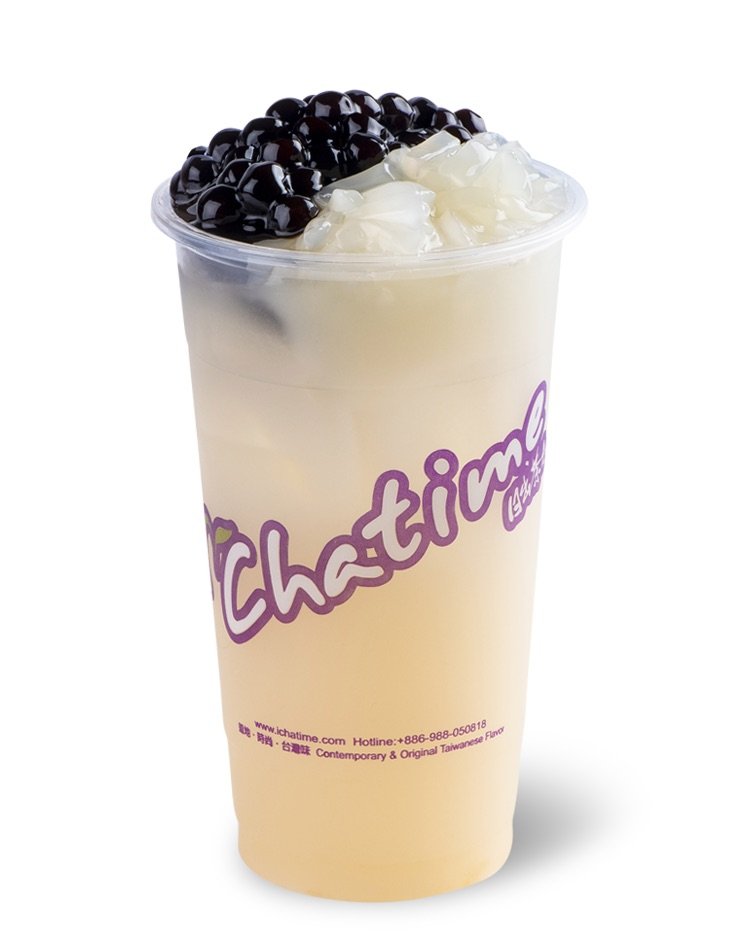 No.3: QQ Jelly
Fun fact: Chinese people cannot pronounce "chewy chewy" and what they can say sounds like "QQ" so QQ is the shortcut when you order chewy pearls and coconut jelly in your drink!
QQ Lychee yoghurt juice (as pictured above)
Grass Jelly Roasted Milk Tea
Taiwan Mango Juice QQ
Passionfruit Juice QQ
Grapefruit Juice QQ
Lemon Juice QQ
QQ Milk Tea
Grass Jelly Milk Tea
Grass Jelly with fresh milk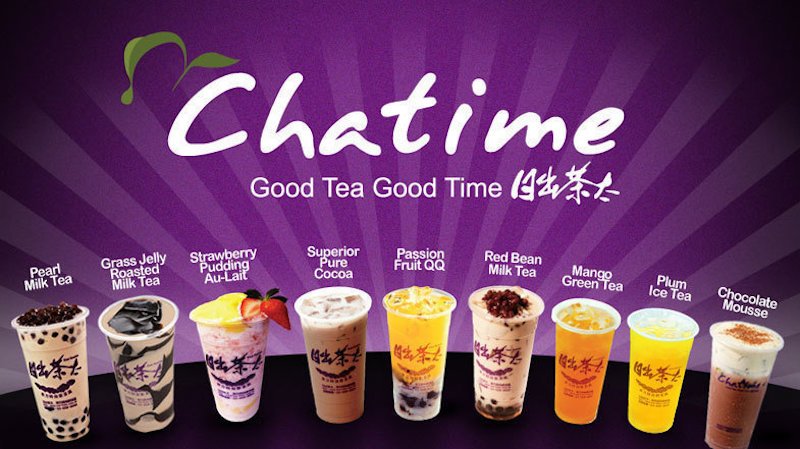 No.4: Chatime Smoothies Series
Choose from:
mango
passionfruit
strawberry
strawberry yoghurt
lemon yoghurt
matcha red bean,
or coffee
No.5: Energetic Healthy Juice
There's a few healthier options:
Hawaii fruit tea
lemon juice
yoghurt lemon juice
superior pure cocoa (the choice for chocolate addicts), and
honey lemon aloe.
No.6: Chatime Fresh Tea
For lovers of iced tea, these drinks come in these flavours:
Brown rice green tea
oolong tea
ichiban roasted tea
jasmine green tea, and
black tea
No.7: Chatime Special Mix
Taste explorers can try these concoctions:
Pearl green/black tea
mango green tea
grapefruit green tea
lemon green/black tea,
Taiwan plum ice tea
passionfruit green tea
sour plum green tea, and
yoghurt green/black tea.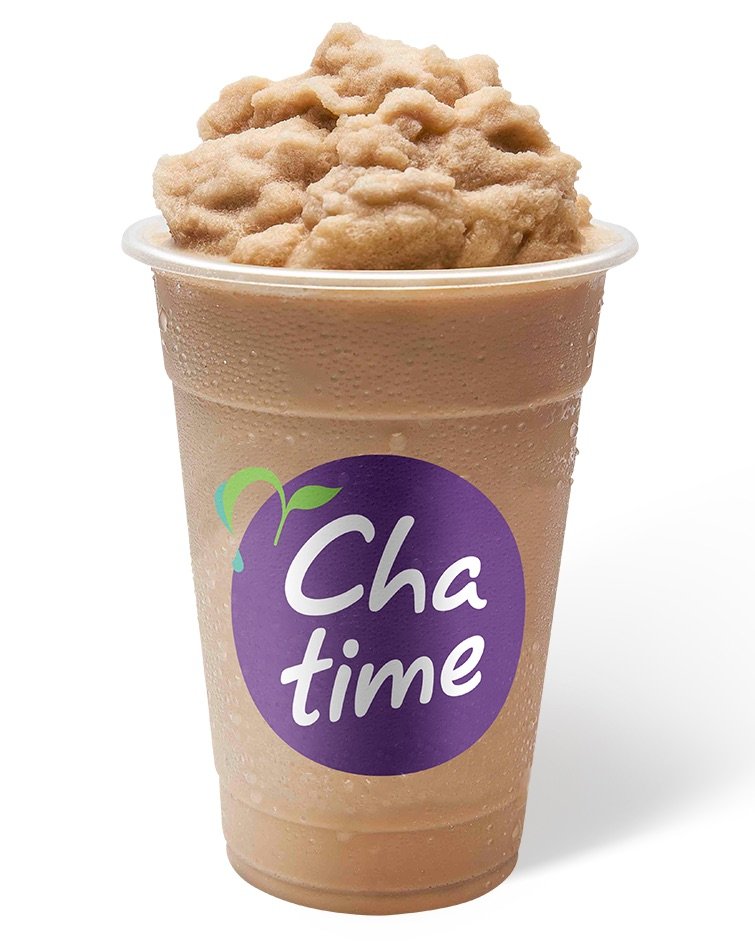 No.8: Chatime Coffee
Chatime has not forgotten about coffee lovers.
Try an iced coffee in one of these flavours:
Americano
house blended coffee
latte, cappuccino
mochaccino
vanilla latte
hazelnut latte, or
caramel latte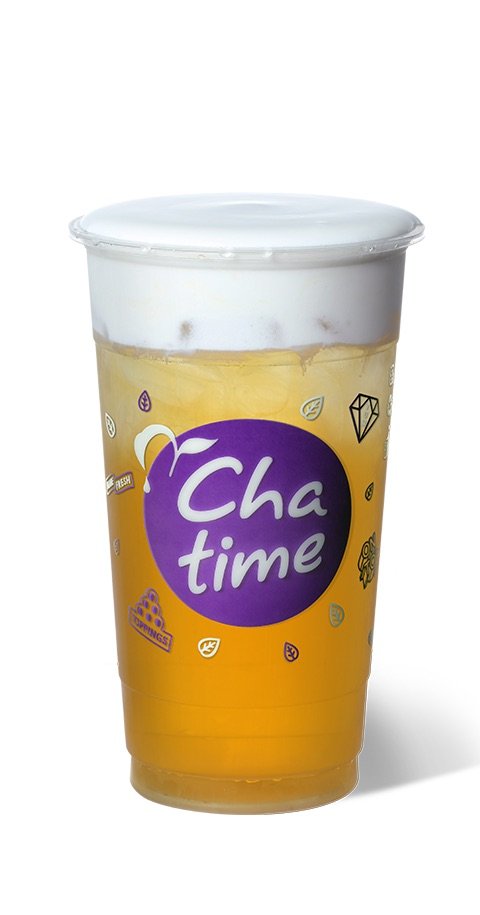 No.9: Chatime Mousse Tea
The Chatime Mousse iced tea is the strangest drink ever invented!
Iced tea, with a frothy mousse on top.
Mousse teas come in:
black tea
green tea
matcha
roasted tea
Tieguanyin tea, and
chocolate flavours.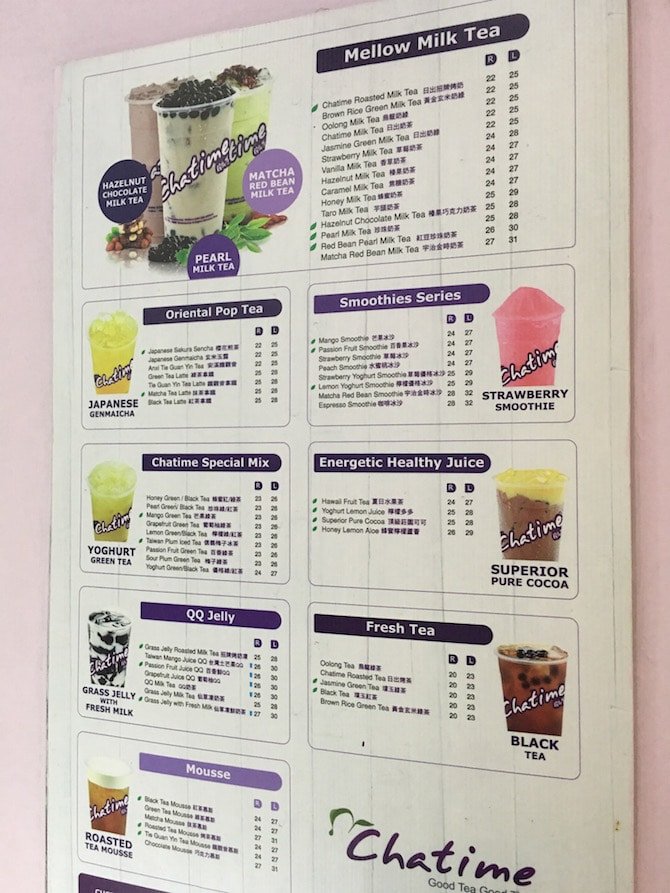 Best Chatime Toppings Menu
You can pick your favourite toppings from the Chatime menu to add to your drinks.
Choose from:
Grass jelly
Pearl topping
Pudding
Aloe Vera Jelly
Red bean (my number one choice!)
Coconut Jelly
Rainbow Jelly
Coffee Jelly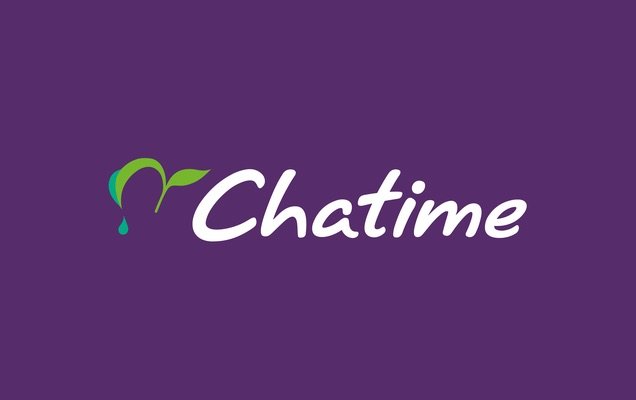 The Best Chatime Drink?
Want to know what drinks are on the Chatime Top 10 Bestseller list?
The Best Seller Chatime Top 10 drinks in 2019 were:
Pearl Milk Tea is the Chatime best seller!
Grass Jelly Roasted Milk Tea
Taro Pudding Milk Tea
Brown Rice Green Milk Tea
Taiwan Mango QQ
Matcha Red Bean Milk Tea
Mango Smoothie
Red Bean Pearl Milk Tea
Matcha Tea Latte
Chocolate Mousse
Chatime Calories?
It's best not to think about that, and just drink!
But we'd suggest a Chatime bubble tea is a once a week treat, or less.
FAQ about Cha Time
Chatime is a combination of the word "Cha," which means tea in mandarin, and the word "Time," so Chatime means "tea time" or "time for tea."
Chatime's mission is to create "time out moments" everyone, young and old, can enjoy with one of our delicious drinks.
Chatime Calories? Our tip – Enjoy your time out without worrying about calories!
Chatime was founded in 2005 in Taiwan and can now be found in over 1000 locations worldwide!
Chatime sources the highest quality tea leaves from their own farms in Taiwan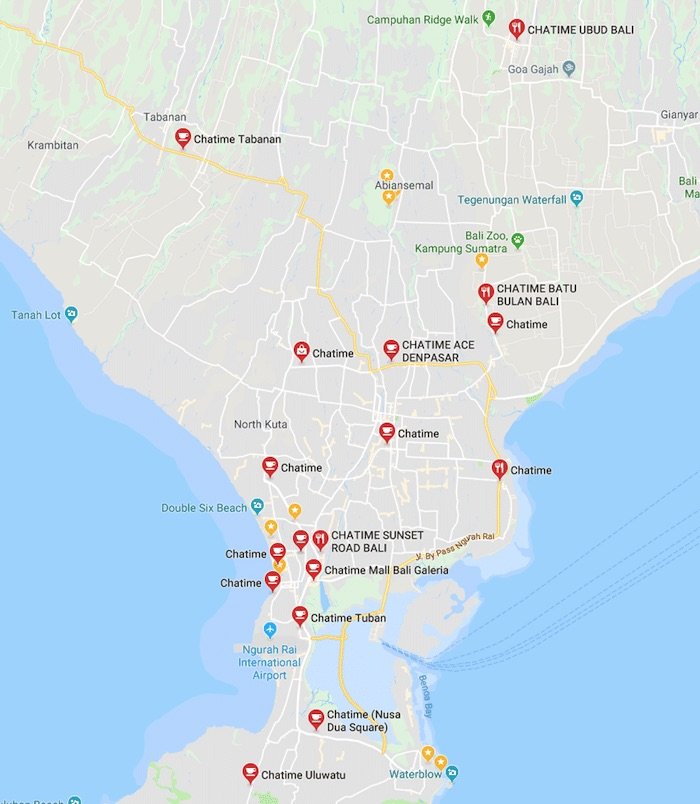 THE INSIDE SCOOP: Chatime Bali
Correct at time of publication on Roam the Gnome. Please check with venue for updates. We apologise in advance if there have been any changes we are unaware of. All prices in AUD dollars, unless otherwise stated
Chatime Locations in Bali
Denpasar City Square
Gatot Subroto Denpasar
Lippo Mall Kuta
Carrefour Sunset Road Bali
Sunset Point Bali
Mal Bali Galeria
Lippo Sunset Siloam Bali
Central Park Kuta
Beach Walk Bali
Discovery Mall Bali
Chatime Opening Hours
Check with store.
Usually 9am to 6pm.
Later in tourist areas.
Chatime Prices
The best place to buy Chatime drinks is in Bali!
Chatime prices in Bali are awesome.
Between RP 20,000 and RP 30,000 for 95% of the drinks.
That's $2 to $3 Australian per drink.
At that price, you can enjoy one every day of your trip!
Seasonal Promo Chatime
Check the website for special Chatime discounts and the promotions on offer when you next visit.
Chatime Membership – Join now
You can become a SpecialTea member too.
Ask instore for your Chatime Membership Card to enjoy discounts and special member offers.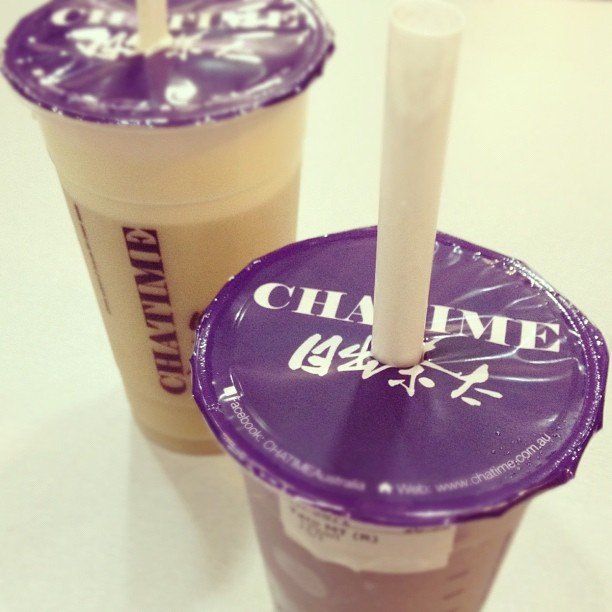 Image credit: Kae Yen Wong via Flickr CC BY 2.0
Where to find Chatime Australia?
Click here for Chatime stores around Australia including these capital cities, and their suburbs.
Chatime Melbourne
Chatime Sydney
Chatime Perth
Chatime Adelaide
Chatime Canberra
Chatime Brisbane
Chatime Sunshine Coast
Chatime Gold Coast
Chatime delivery can be ordered from certain stores through Deliveroo, Foodora, and UberEats.
Hot tip: Download the app and get your first drink half price!
Chatime UK
Click here for Chatime stores in the UK , including
Chatime London (Soho, Picadilly, Canary Wharf and Chinatown)
Chatime USA
Click here for Chatime locations in America
Chatime Paris
Click here for Chatime locations in Paris!
Toadstool Rating for the Chatime Menu.

Looking for more places to eat & drink Bali?
Click the links in blue below for more Bali tips