INSIDE: The Ultimate Guide to the Best Beef Jerky in Australia.
13 year old Ned has a huge stomach for snacking, but he won't just eat ANY kind of snack.
Nope.
Only delicious, gourmet snacks will do.
Top of his favourite snacks for road trips, holidays and rainy days at home?
Beef jerky.
(Closely followed by vanilla bean rice pudding, and organic seaweed chilli snacks)
But premium beef jerky wins by a mile.
Disclosure: This article was sponsored by Jeeerks. However all opinions are our own.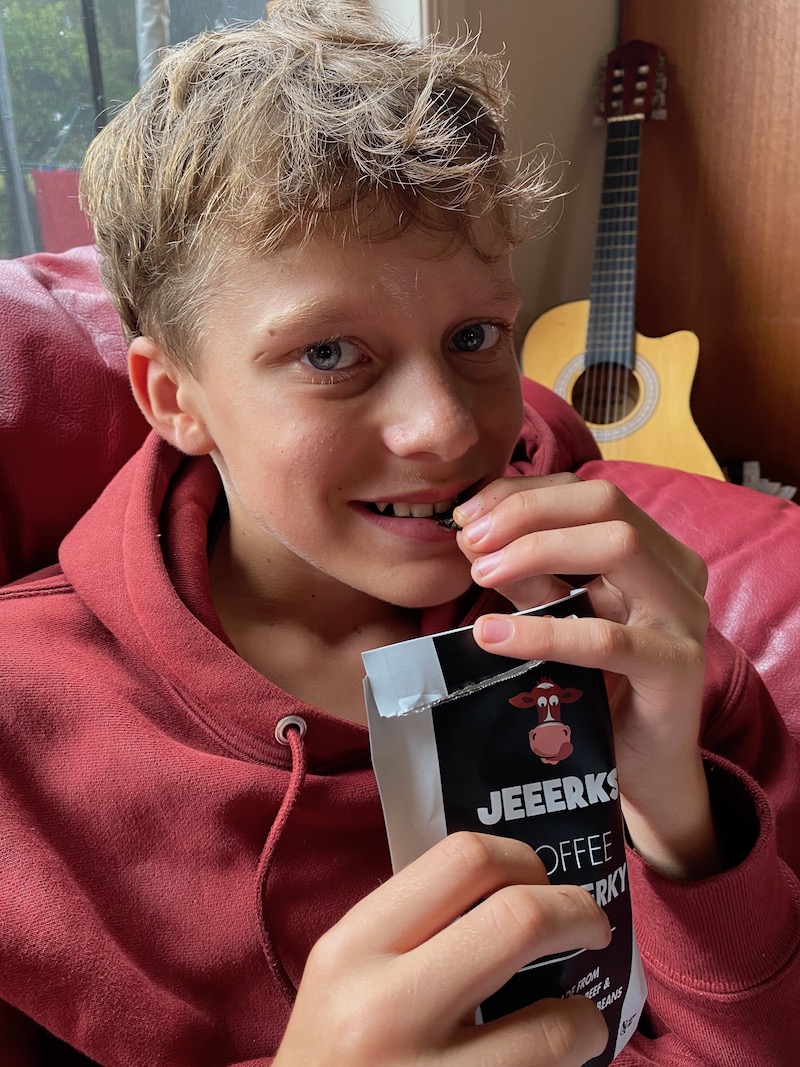 THE INSIDE SCOOP: What is the Best Beef Jerky in Australia?
Correct at time of publication on Roam the Gnome. This article may contain affiliate links. If you make a purchase after clicking on one of these links, we may receive a small commission at NO extra cost to you. We apologise in advance if there have been any changes we are unaware of. All prices in AUD dollars, unless otherwise stated
Ned also adores the taste and smell of coffee and, given half a chance, loves to sneak a sip whenever he can.
So you can imagine his delight when we discovered this:
His tastebuds have never been so happy.
And that's no exaggeration.
That's what makes it THE best beef jerky Australia has to buy!
How is beef jerky made?
He's been swanning about the place, in a coffee jerky daze, demanding I top up his supply quick smart.
This healthy coffee flavoured beef jerky is made in Brisbane from lean cuts of topside beef, using a top secret recipe!
It's not sticky or sugary, making it the perfect snack for kids, but also for mums, dads, a mid-afternoon pep up at your office desk, and for anyone wanting a low-carb, high-protein nibble between meals.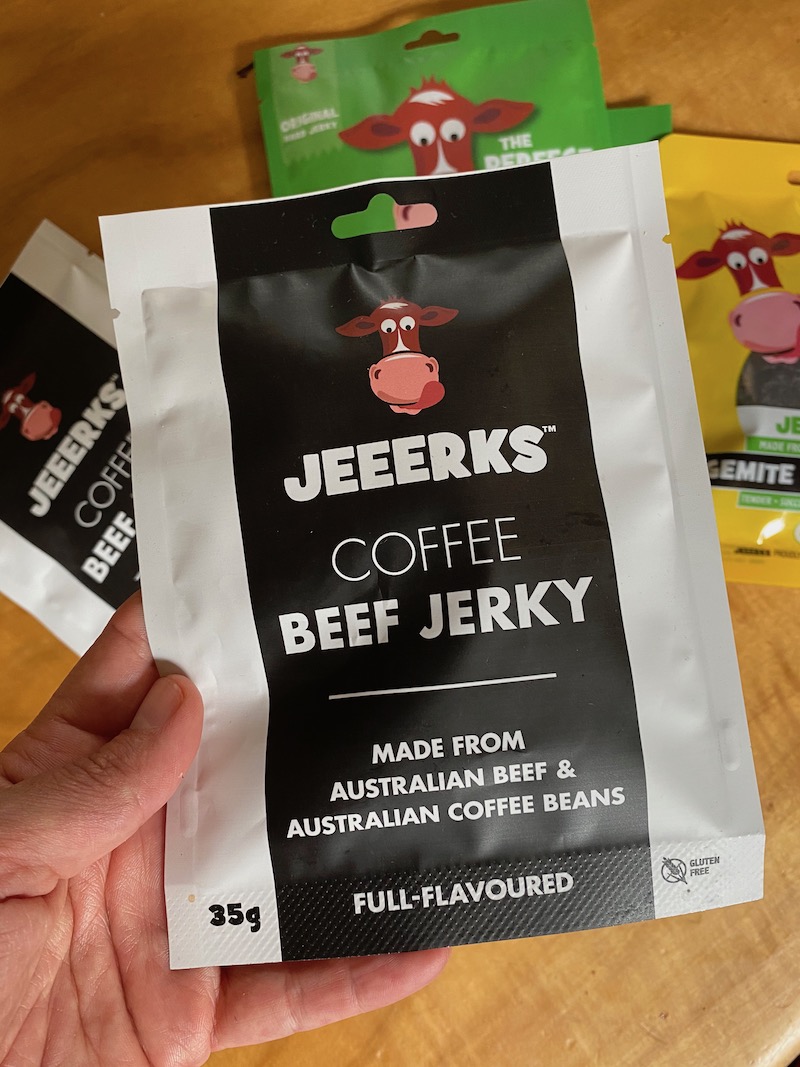 Secrets of the Best Beef Jerky Recipe!
The secret to this mouthwateringly flavoursome Coffee Beef Jerky is the blending of succulent Australian beef, together with Queensland grown and roasted coffee beans, Worcestershire sauce, and soy sauce.
The flavour of this delicious beef jerky is the ultimate "umami" experience – that rare, but much coveted experience where every tastebud in your mouth tingles harmoniously with pure satisfaction and pleasure.
The Japanese word "umami" loosely translates as a "pleasant savoury taste" and is related to the presence of the amino acid L-glutamate in foods.
(Seaweed, Italian parmasen cheese, mushrooms, soy sauce, bone broths and Japanese dashi broth, caramelised slow cooked meats, roasted chicken wings, sun-dried tomatoes, anchovies and salted fish are all said to be high ranking umami foods)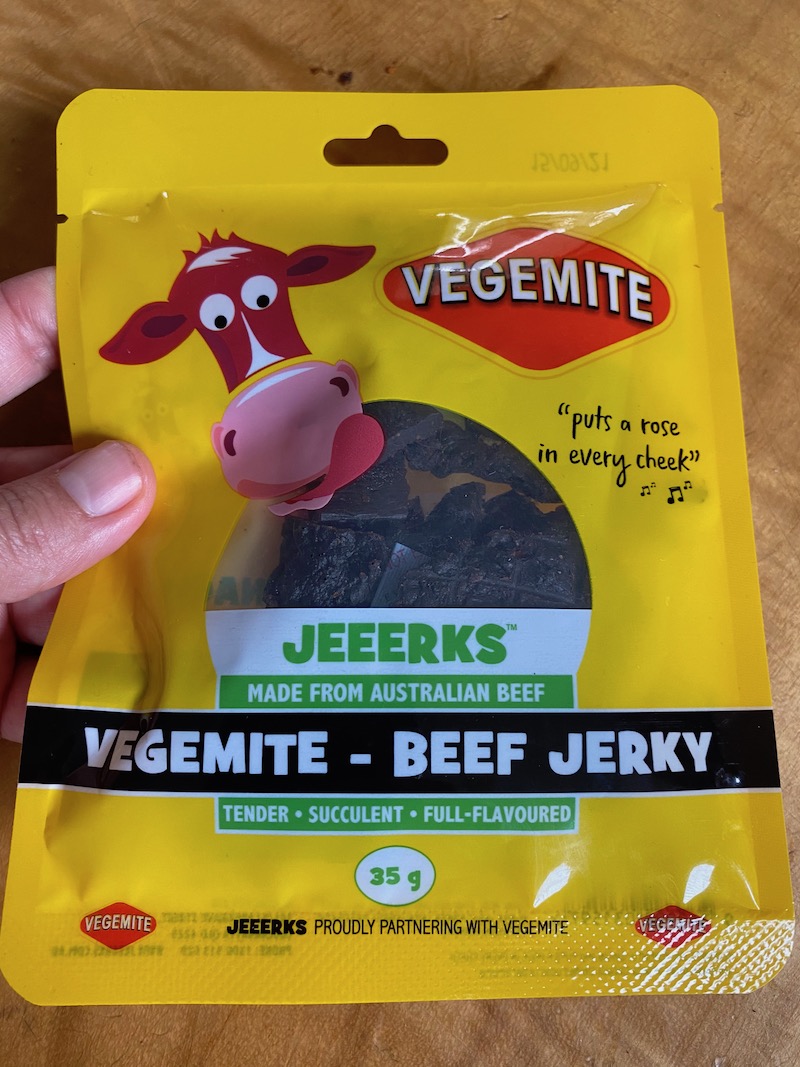 Vegemite Jerky!
So, what is the best beef jerky in Australia?
There's one more contender for the title.
It could just be JEEERKS VEGEMITE JERKY!
Vegemite is Australia's answer to the best umami food for dedicated foodies!
JEEERKS™ partnered with the much loved Vegemite™ brand to make Australia's first and only Vegemite flavoured beef jerky.
Full of iron and zinc, it not only tastes amazing, but is good for you too.
Ned loved both the Coffee flavoured jerky AND the Vegemite beef jerky, and despite both his brother and I challenging him to pick his favourite, he simply couldn't.
He loved (and loves) them both.
Both of these Australian beef jerky flavours are winners.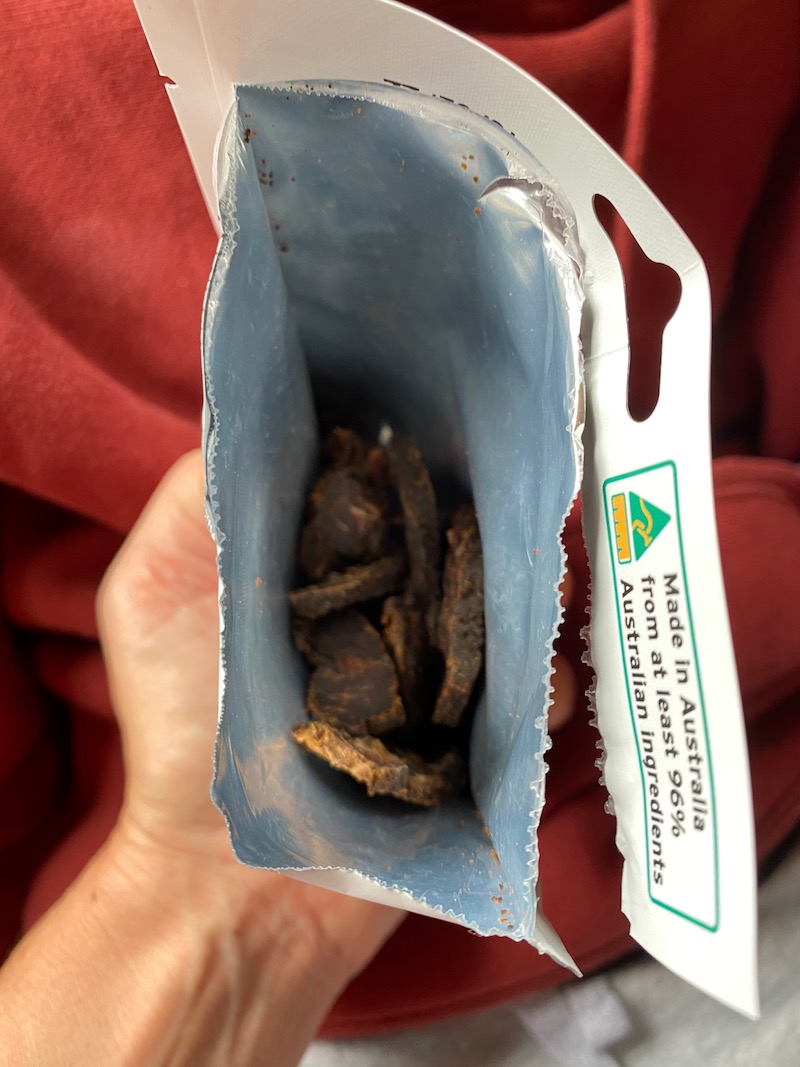 Where to buy Jerky in Australia
The best place to buy quality coffee jerky is direct from the company
Individual packs start from $5.49 AUD, making it some of the most affordable beef jerky around.
Our hot tip is to purchase the beef jerky sample pack.
This way, you can taste the coffee jerky, the vegemite jerky, and their three other biltong flavours too: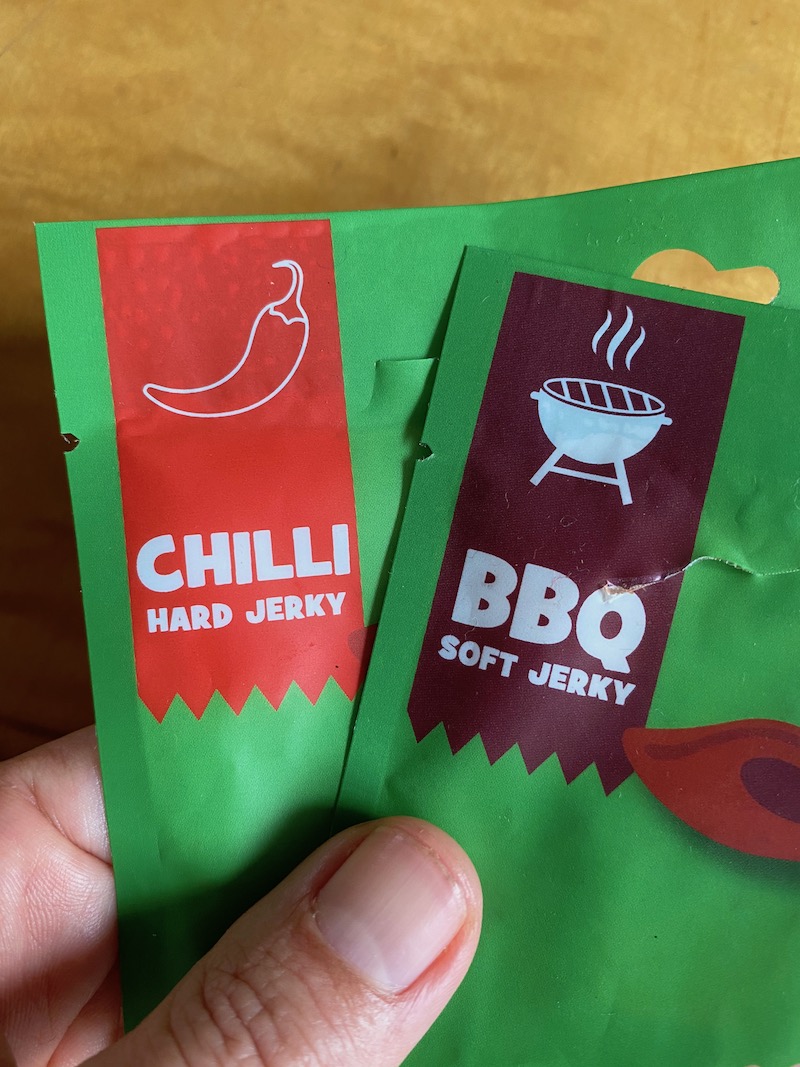 Soft Jerky and Hard Jerky varieties
Shop online for these three products in both soft jerky, and hard jerky varieties.
This variety of both soft and hard jerky is what makes JEEERKS one of the best Australian beef jerky brands.
Choose your favourite preference!
When you order beef jerky online, there is FREE shipping for orders over $100.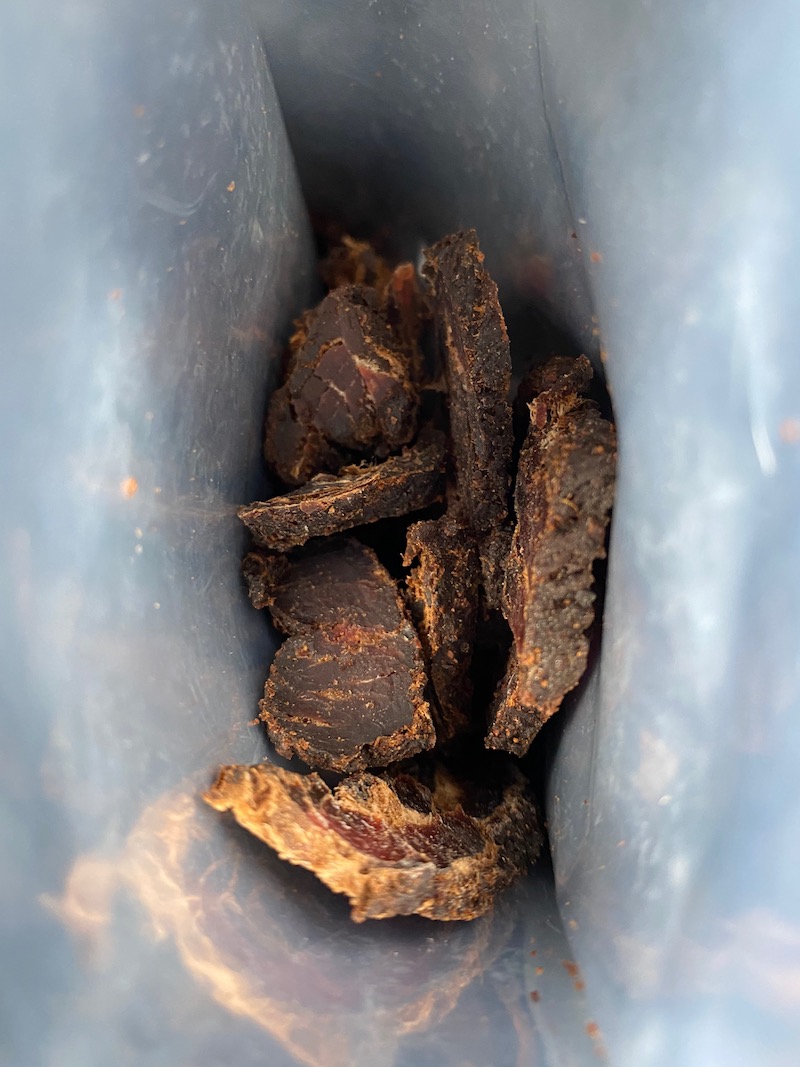 Best Recipes with Beef Jerky
Fun Fact: Did you know you can cook with beef jerky?
Cooking with beef jerky is another way to eat up all the goodness.
Check out all these good beef jerky recipes
They include:
Beef jerky toasties
Beef jerky potato bake
Beef jerky fried rice
Beef jerky soup
Beef jerky pizza
JEEERK'S Beef Jerky is not just for snacking.
Try it ALL the ways, including dipping it in a CHOCOLATE FOUNTAIN
Seriously.
So good.
FAQ: Can beef jerky go bad?
Click here to find all the answers to frequently asked questions about beef jerky, including When is National Beef Jerky day?
Yes!
There is one.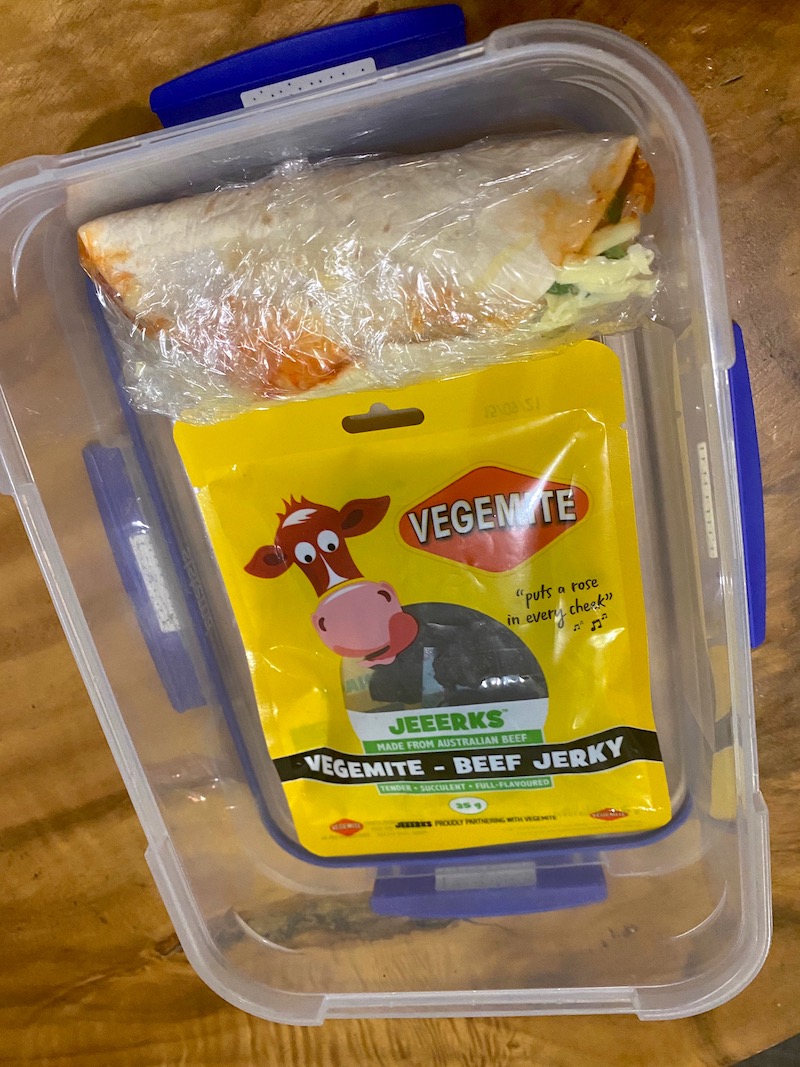 Looking for more fun food adventures?
Click the blue links below for more food recipes and tips