INSIDE: Roam the Gnome's Guide to the best beach cooler with wheels to take on picnics and beach adventures.
When it comes to finding a beach cooler with wheels that are sturdy enough to be pulled over soft sand, it's not easy.
In fact, we've only found TWO beach coolers with wheels that we would recommend.
The first one is perfect for a small family, or a small group heading out to the beach for a day of swimming and sandcastle making. It's the perfect size to carry a few bottles of soda, along with lunch and the best healthy snacks.
The second one is larger, more robust, and can cater for:
a family reunion
a backyard gathering for a birthday celebration, or baby shower
a big group of people coming together for a beach party, or impromptu beach volleyball contest.
Just about any event where need a cooler so friends can chill out with a glass of wine or beer.
Choose your fancy.
Take a more detailed look at the pros and cons of both rolling coolers with big wheels below.
Disclosure: This article contains affiliate links. If you make a purchase after clicking on one of these links, we may receive a small commission at NO extra cost to you. Main image: Oscar Nord via Unsplash CC0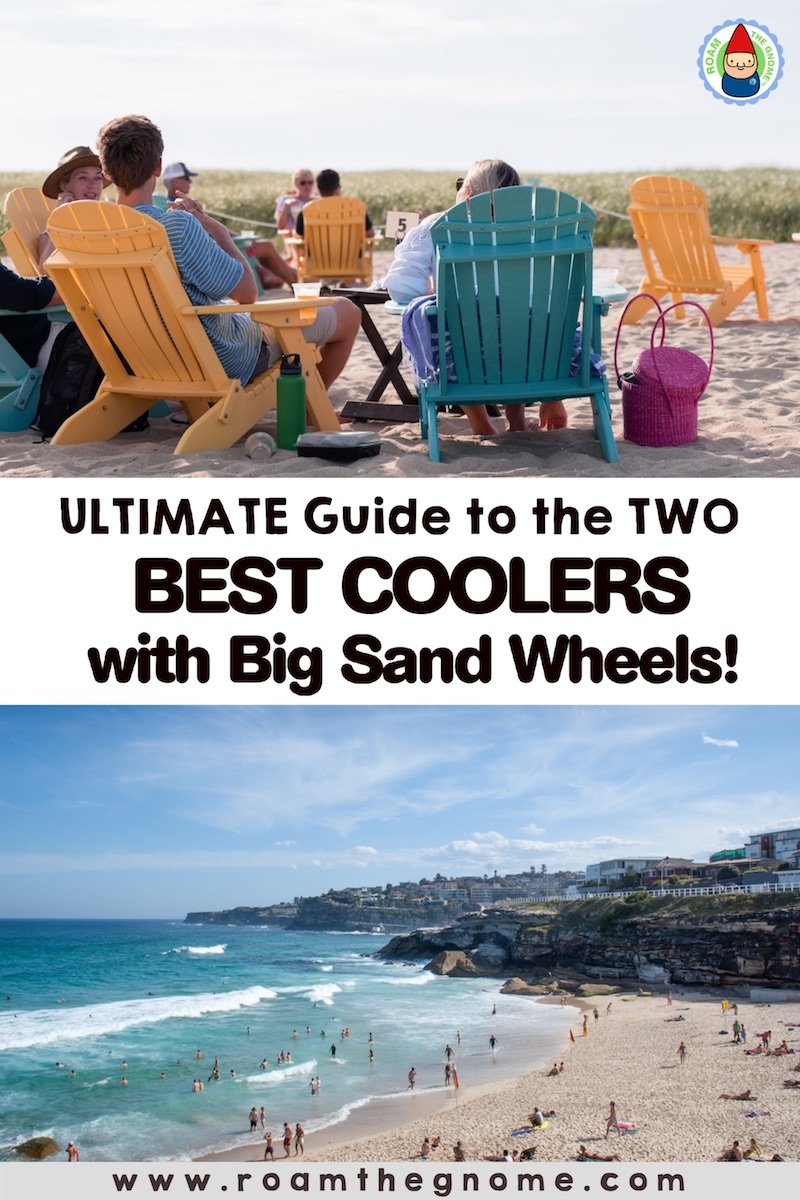 THE BEST BEACH COOLER WITH WHEELS FOR SAND
Take a look at the two beach cooler options.
NO.1: Best Beach Cooler with Sand Wheels
The best beach cooler with wheels is a hard sided cooler.
While soft sided coolers are great because they are less weighty, a hard side cooler offers more protection from:
the sand
the elements
children's feet kicking sand, and
unexpected windstorms.
The best beach cooler on the market is the rolling beach cooler with sand wheels.
The All Terrain Coolers with inflatable tires are perfect for the beach, and they are top rated beach coolers because of their removable wheels.
The 2XCooler (two-by-cooler) has 4 cup holders, a handle, a drain plug, comes fully assembled, and is now one of the top rated beach coolers.
Pros:
Use this ice cube roller on all uneven ground when hiking, camping, or enjoying the beach
Goes everywhere and anywhere
Family sized cooler with plenty of room inside to keep all your healthy beach snacks cool
Light and easy to move around with a durable tow handle
Use the top as a table or bench to prepare food
48 liter capacity
Cons:
It's not the prettiest of coolers
Verdict:
It's the BEST roller cooler for beach.
Some would say it's a game changer – the ULTIMATE beach cooler in fact.
There's no comparison.
BUY NOW ON AMAZON: All Terrain Wheeled Cooler with Sand Wheels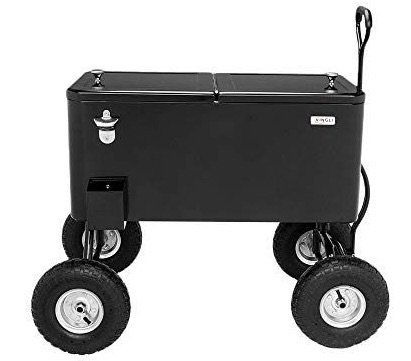 No.2: Vingli
Wagon Rolling Cooler Ice Chest
The Vingli 80 quart cooler ice chest sits on a rolling wagon with giant 10 inch wheels.
This cooler on sand wheels can carry 96 cans, or 20 gallons of food and drinks combined.
The bonus of this heavy duty beach wagon is that it can cool, but also keep food warm for up to eight hours without needing to plug it in, making it perfect for camping and carrying all your make ahead meals to site!
Pros:
you can lock two of the wheels to help direct it
cooler comes with wheels that are inflatable
you can either push or pull it, depending on your needs
drain plug means it's easy to drain and clean. There's also a pipe you can use to help remove excess water.
there's a BOTTLE OPENER on the side! an unexpected bonus.
it's an awesome stylish rolling cooler on wheels!
access on two sides, with easy grip handles
2 day ice retention
this is a cooler with 4 wheels (there's not many freestanding coolers on wheels)
Cons:
It's big, so getting into the car is tricky unless you have a van or 4 wheel drive.
Verdict:
This rolling cooler is the ideal cooler to take on a day trip to the beach with a BIG group of friends to play beach cricket, or listen to tunes on a national holiday.
It's also one of the BEST cooler with wheels for camping.
BUY NOW ON AMAZON: Vingli Rolling Cooler Wagon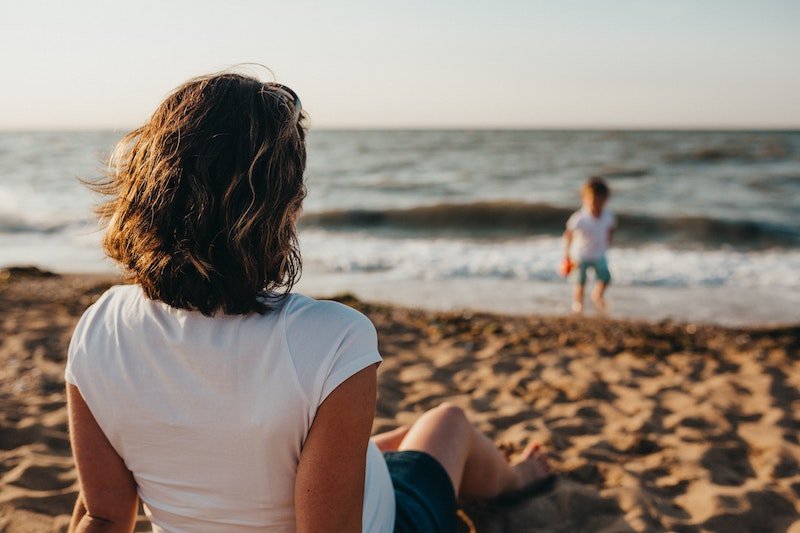 Main image: Xavier Mouton Photographie via Unsplash CC0
Toadstool Rating: Beach Cooler with Big Wheels
You can't go wrong with either of these two beach coolers on wheels for sand.


Main image: Matthew Brodeur via Unsplash CC0
Want more of Roam the Gnome's Best Travel Tips?
Correct at time of publication on Roam the Gnome. Please check with venue for updates. We apologise in advance if there have been any changes we are unaware of. All prices in US dollars, unless otherwise stated
Click the blue links for all the travel tips.