INSIDE: The Ultimate Amazon Super Sparrow Water Bottle review 2021
This past year, when travel has been off the cards and health the number one priority, drinking water has never been more important.
I started Bikram yoga in the January of 2020, just as rumors were swirling of some coming apocalypse.
I returned to yoga simply because I was burnt out.
Burnt out from travel.
Burnt out from years of work.
Burnt out from solo parenting.
Bikram was a way to force myself to take 90 minutes once a week and put myself back on my daily to-do list.
Quickly, I learned how essential water is to your system.
A HOT sweaty yoga room that makes your skin leak until your towel is drenched like you've thrown it into the ocean, is a good sign that you need to replenish with LOTS of water.
And drinking out of a plastic bottle is not a good look.
So I went looking for a stylish stainless steel flask on Amazon and thankfully, found these Supersparrow bottles.
Disclosure: This article contains affiliate links. If you make a purchase after clicking on one of these links, we may receive a small commission at NO extra cost to you.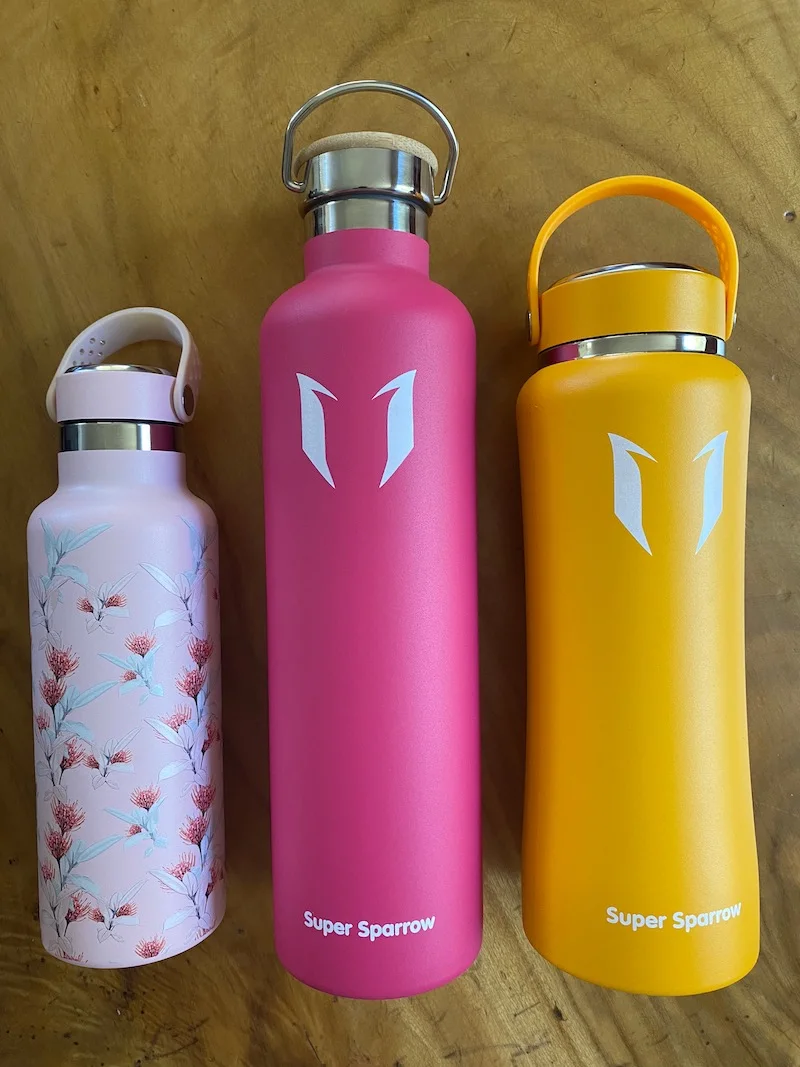 THE INSIDE SCOOP: Amazon Super Sparrow Water Bottle Review
Correct at time of publication on Roam the Gnome. We apologise in advance if there have been any changes we are unaware of. All prices in US dollars, unless otherwise stated
A Super Sparrow Water Bottle fit all my criteria.
These water bottles feel like a tank.
Solid. Unbreakable. Health giving.
In comparison to others on the market, this one wins hands down.
They are almost indestructible and you can tell that from first hold.
Most of all, being double wall vacuum insulated, my room temperature water turned ice cold inside the hot room!
(It's their signature LockTemp technology based upon the vacuum device inside the lid that does it)
This bottle also stopped the water tasting like I'd left my water bottle in a hot car in the middle of the day.
The water was almost icy in comparison!
And stayed that way all day long.
(Rule of thumb is cold drinks stay cold for up to 24 hours!)
No other bottle has ever transformed my water like that.
Bonus – the bottle doesn't get sweaty with condensation either.
Hot tip: You can use this Supersparrow flask to carry your hot cup of tea or coffee, and it will keep it warm for up to 12 hours too.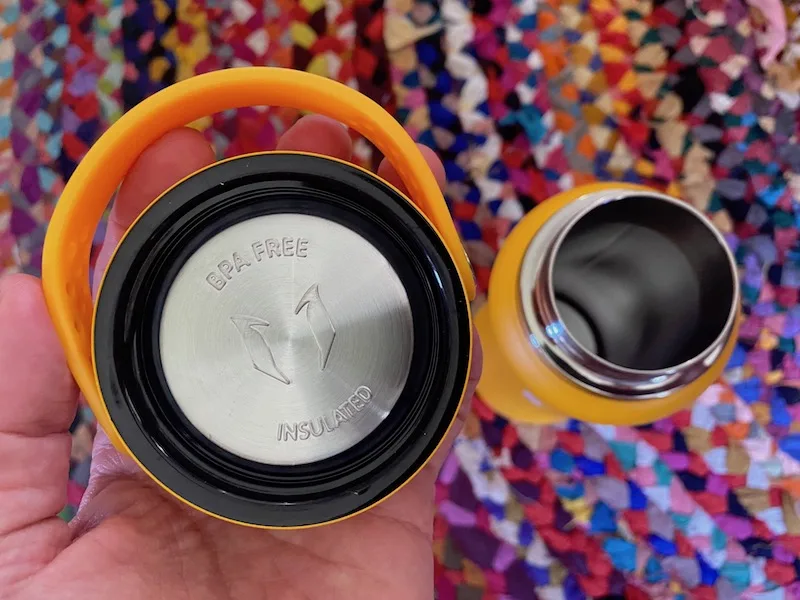 Introducing SuperSparrow Bottles
Wondering where are Super Sparrow water bottles made?
As with most things, these solid construction water bottles are manufactured in China.
Sparrow bottles are made from 18/8 food grade stainless steel and powder coated with your choice of color.
The Super Sparrow flask is not lightweight.
The large 1 litre bottle weighs in at 485 grams before you add water.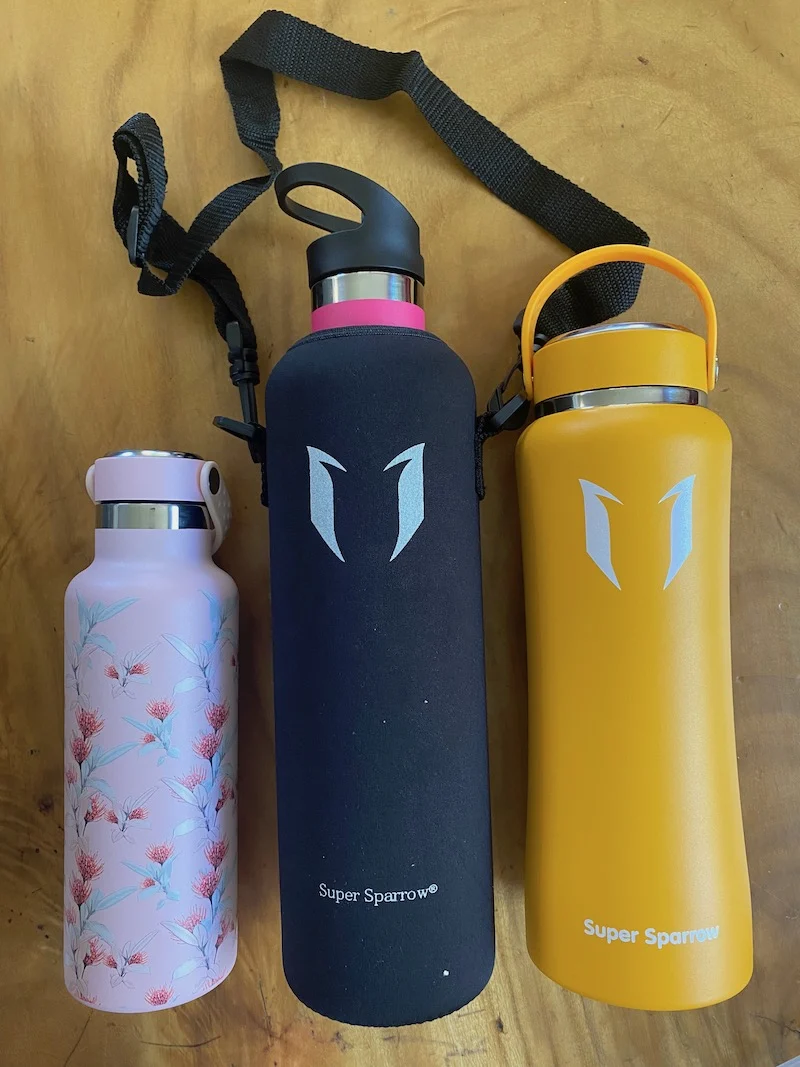 Sizes of a Super Sparrow Bottle
Their Super Sparrow Stainless Steel Water Bottle comes in a number of sizes.
The Super Sparrow Water Bottle 1 litre size is my pick.
I have one in pink and yellow.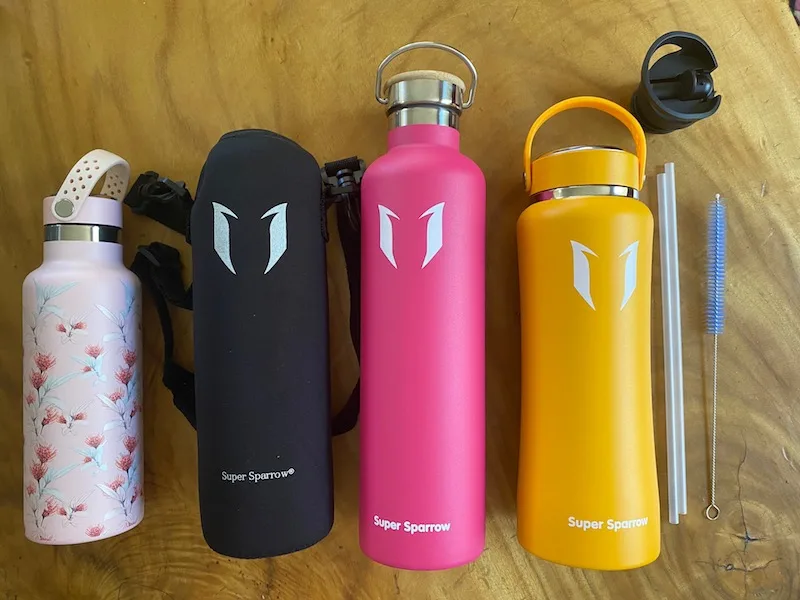 Super Sparrow Water Bottle 1000ml Standard mouth bottle
The Super Sparrow Water bottle 32 oz size in rose pink has the standard mouth.
This leak proof stainless steel water bottle by Super Sparrow comes with two interchangable lids:
a sports cap (pictured in black) made from BPA free material and is toxin free – no worries about plastic or toxic chemicals leeching into your drink!
a bamboo topped loop cap, complete with a handle, so you can attach it to your backpack or bag
This sports bottle is lovely and tall, and feels like the most elegant of choices in the 1-litre stainless steel bottle range.
Super Sparrow colored bottles
But the thing that appeals to me most about these eco friendly water bottles is the color range!
I LOVE bold color, but I'm not so keen on busy patterns.
So this plain colored, reusable water bottle is ideal.
And a Super Sparrow insulated water bottle comes in ALL the colors, perfect for using as Christmas gifts and birthdays.
These reusable water bottles come in 19 colors to be exact.
Apple green
Black
Cherry Blossoms
Cobalt
Emerald
Dark Green
Frost
Jade
Grey/Gray
Lavendar
Lemon
Lilac Purple
Mango
Mint
Red
Rose
Sage
Sea Blue
Stainless Steel (uncoated)
These cold drinks bottles come with two straws, a cleaning brush and a carry bag.
They are taller and narrower than the wide mouth Super Sparrow bottle.
They stand at 312 mm (31 cm) and weigh 485 grams.
Buy now on Amazon:
32oz stainless steel flask thermos (1 litre)
Super Sparrow Water Bottle 750ml & 500 ml sizes
25oz stainless steel water bottle (750ml)
17oz stainless steel water bottle (500 ml)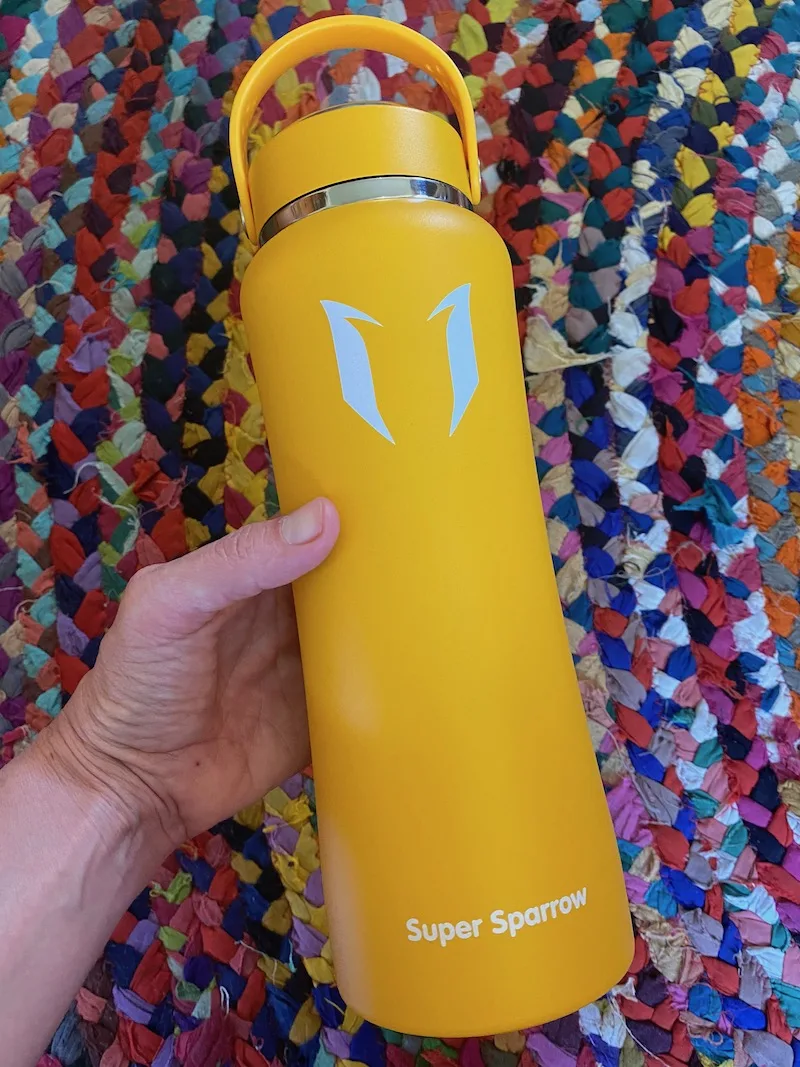 Super Sparrow Water Bottle 1000ml wide mouth
The yellow bottle is a Super Sparrow wide mouth flask.
I like both, but for cleaning purposes I prefer the wide mouth.
And I LOVE the sturdy carry handle.
This feature alone has been life changing!
I also love the slightly curved shape of the bottle, as it rises.
It fits perfectly in my grasp.
Although if I'm not careful when I drink from the wide mouth water bottle, it's very easy to continue pouring the water down my face before I upend it properly again.
I've had a few giggles at my reflection when I've drowned myself and have the wet clothes to prove it!
You can take one of these Super Sparrow bottles:
camping
hiking
kayaking
rock climbing
on road trips
day trips to the city
riding bikes
Super Sparrow kids bottles
You can also buy these bottles in:
500ml – 17 oz
620ml – 21 oz
Perfect for the kids, or one for the handbag or on your daily walk.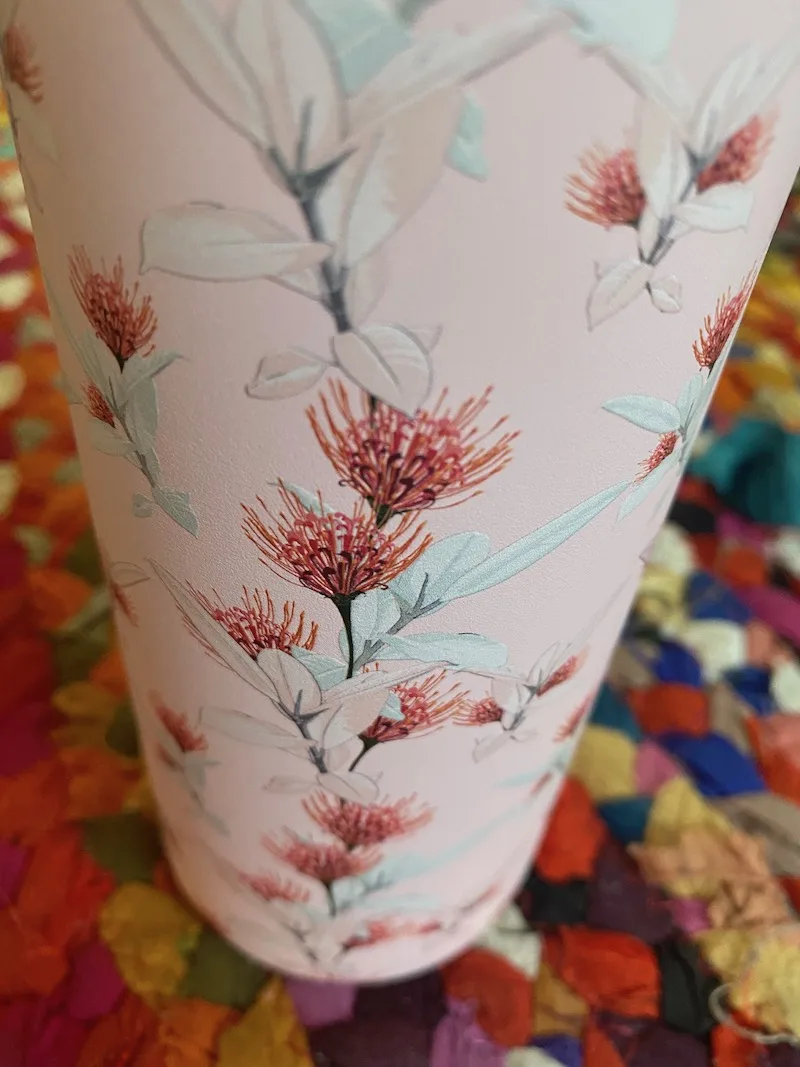 Super Sparrow Ultra-Light Series
The newest addition to the Super Sparrow range of bottles is the 750 ml bottle with gorgeous new flower designs.
These ultra light stainless steel water bottles come in two sizes:
Both BPA and BPS free, these drink bottles don't taint the taste of your water and the vacuum seal means they never leak.
You can buy it in one of 7 plain colors, or an animal or flower print water bottle featuring one or more of these motifs:
violets
oleanders
hibiscus flowers
crane in a field of flowers
protea flowers (as pictured)
floral
pineapple – black background
pineapple – yellow background
pitaya
pomegranate
Use this water bottle for water, but also tea, juice and whatever else you choose.
The Super Sparrow Company
I like a company that puts their money behind their product.
Their Super Sparrow bottles come with a 12 month guarantee.
Have any problems, and they'll replace them without question.
You can't knock that.
Super Sparrow Water Bottle Amazon Seller
Looking to buy your own Super Sparrow sports water bottle?
Check out their Amazon Store directly.
**Super Sparrow also sell plastic bottles.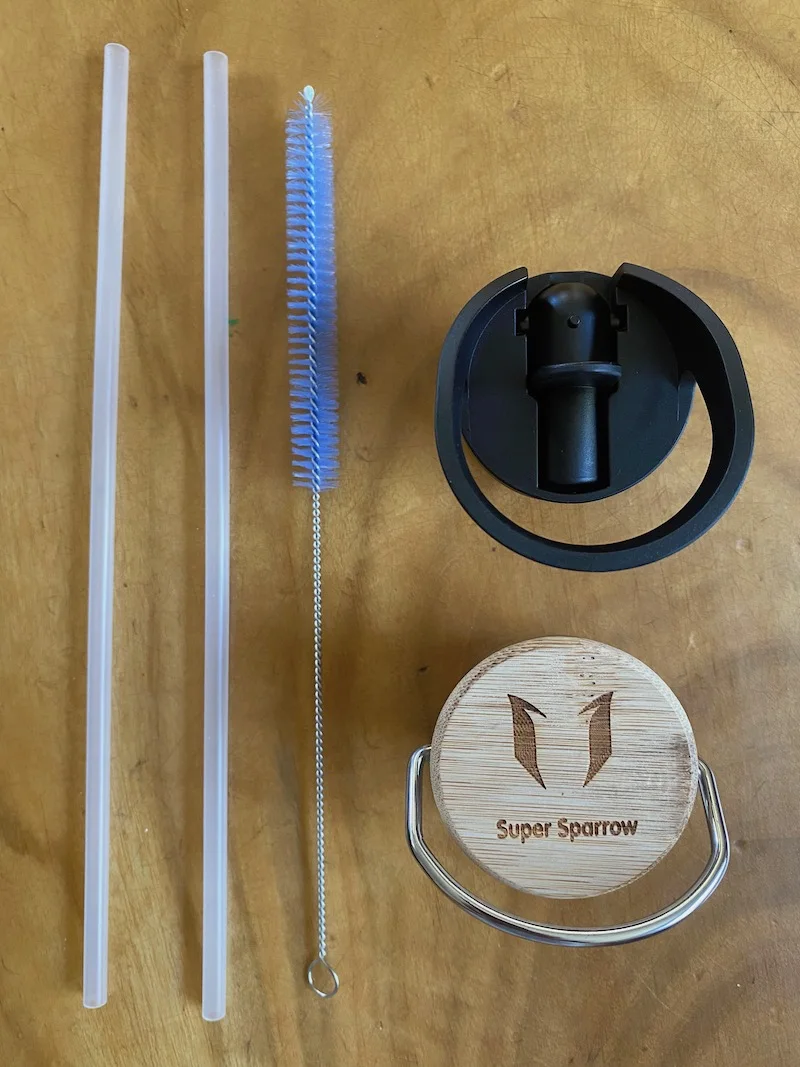 THE SUPER SPARROW REVIEW FAQ'S
Q1: Where to buy Super Sparrow Water Bottle Replacement Parts
Find Super Sparrow Original spare parts for sale too.
The standard mouth water bottle bag fits the 350ml, the 500ml, the 620ml, 750ml and the 1-litre bottles.
The Super Sparrow water bottle straw can be bought in a pair in conjunction with a replacement sports cap.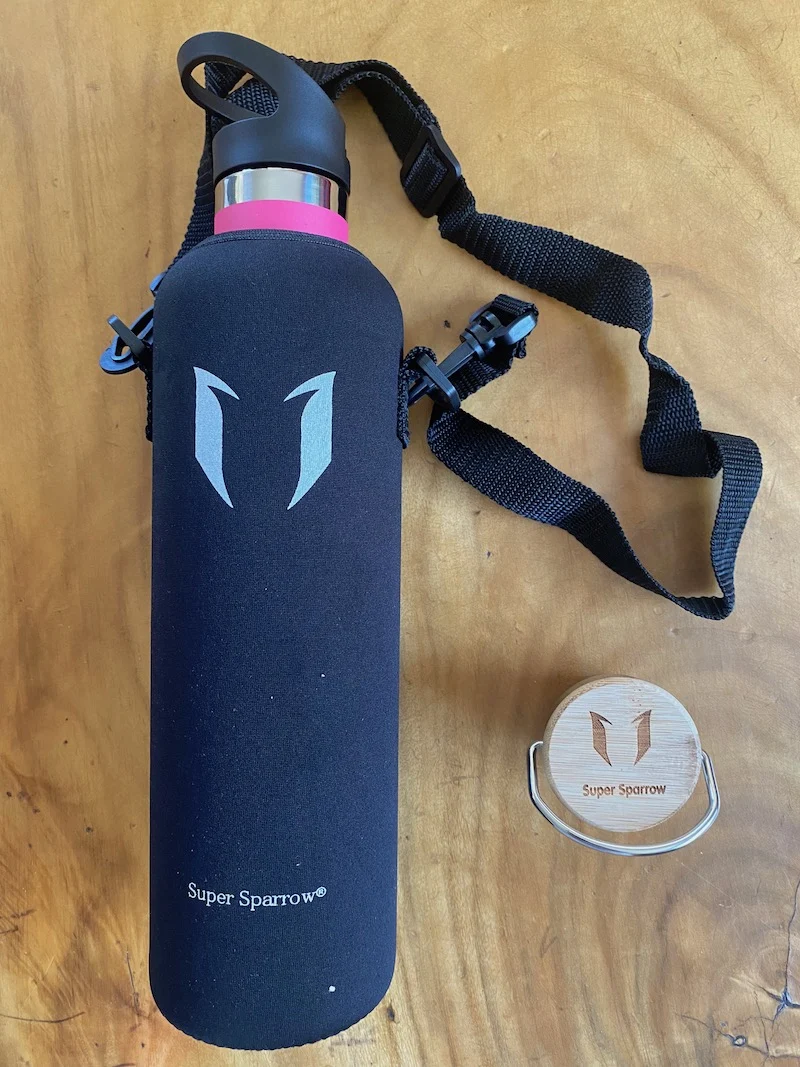 Q2: Are Super Sparrow water bottles dishwasher safe?
Although the Super Sparrow bottles powder coat is dishwasher safe, these bottles are best washed by hand.
Simply use hot water and your water bottle brush to keep things clean and dandy.
Then let them air dry with the lid off.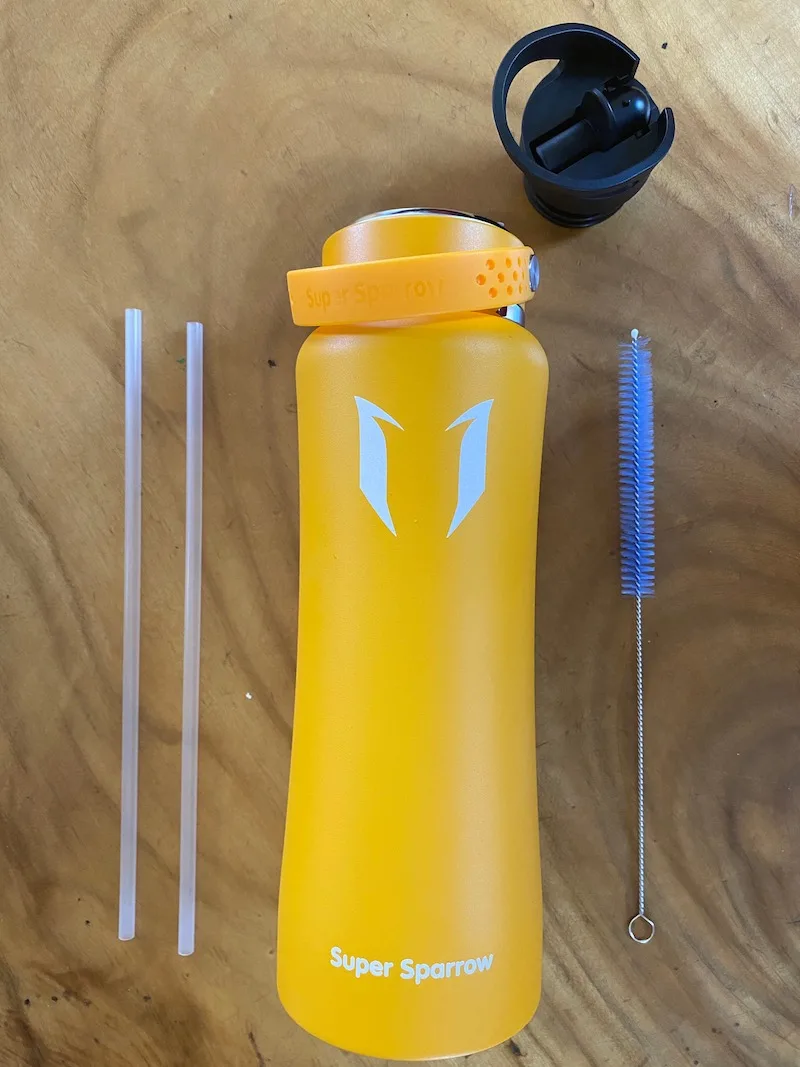 Q3: Super Sparrow Discount Code?
Subscribe to their website and get 10% off your purchase, plus exclusive offers and new product updates.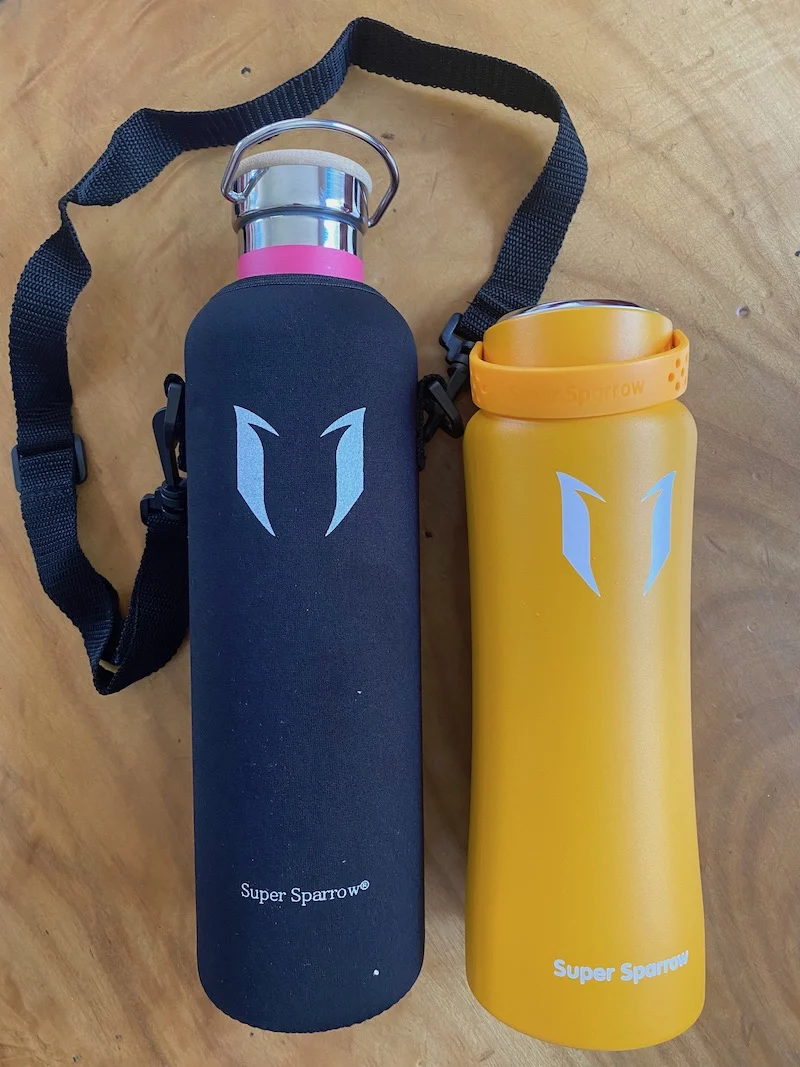 Q4: Super Sparrow vs Hydro Flask
The Super Sparrow is equally as good as the more well known Hydro Flask but at a much more affordable price.
If you prefer to pay extra for a well known brand name, do so.
But Super Sparrow is our stainless waterbottle of choice, because of their hefty weight and strength.
Its the ideal water bottle for intensive exercise – especially yoga, gym AND trampoline bouncing!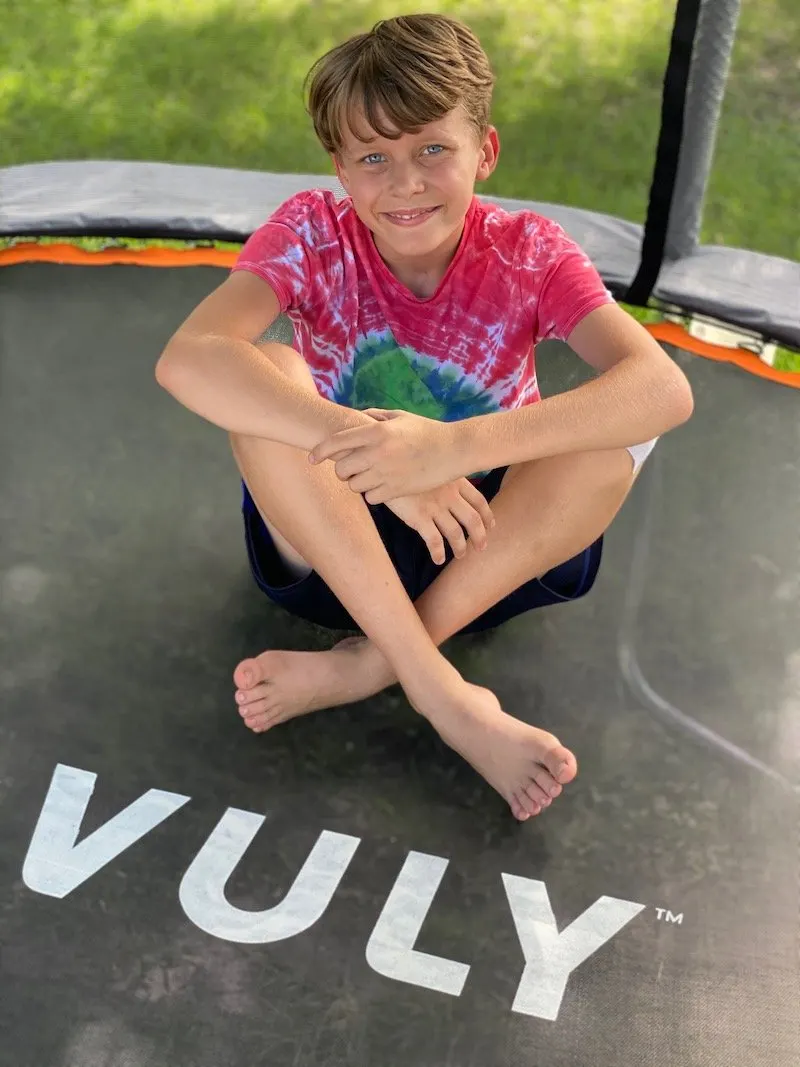 Looking for more shopping adventures?
Click the blue links below for more shopping and souvenir ideas