INSIDE: Roam the Gnome's Guide to the Best Healthy Road Trip Food & Snacks.
Take a look at our complete list of healthy road trip snacks for kids and family.
These are the best road trip snacks that won't break the bank, but will save you LOTS of money on the road.
This is how we travel with kids on a budget, because other than flights and accommodation, food is the next most expensive part of travel.
Take a look at the best road trip foods to pack below.
Disclosure: This article contains affiliate links. If you make a purchase after clicking on one of these links, we may receive a small commission at NO extra cost to you.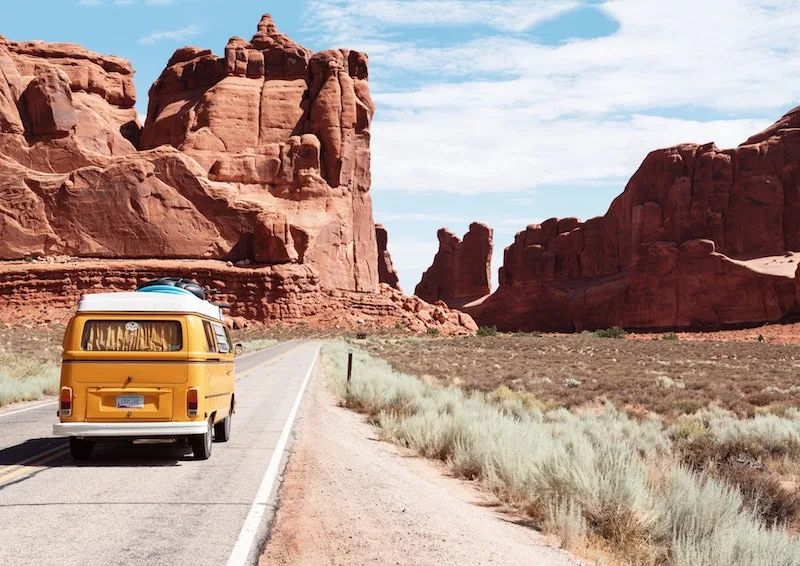 Image credit: Dino Reichmuth via Unsplash
THE BEST COOLER BAGS FOR ROAD TRIPS
The first most important thing you need for a road trip is a cooler bag for your healthy snack ideas, or they will be rotten or soggy before you've set off.
It's our number one tip.
Take our advice, so you don't have to throw away your delicious snacks & nibbles.
Now fill it with all these road trip snack ideas.
RELATED: Best Coolers on the Market for Road Trips & Overnight Camping Adventures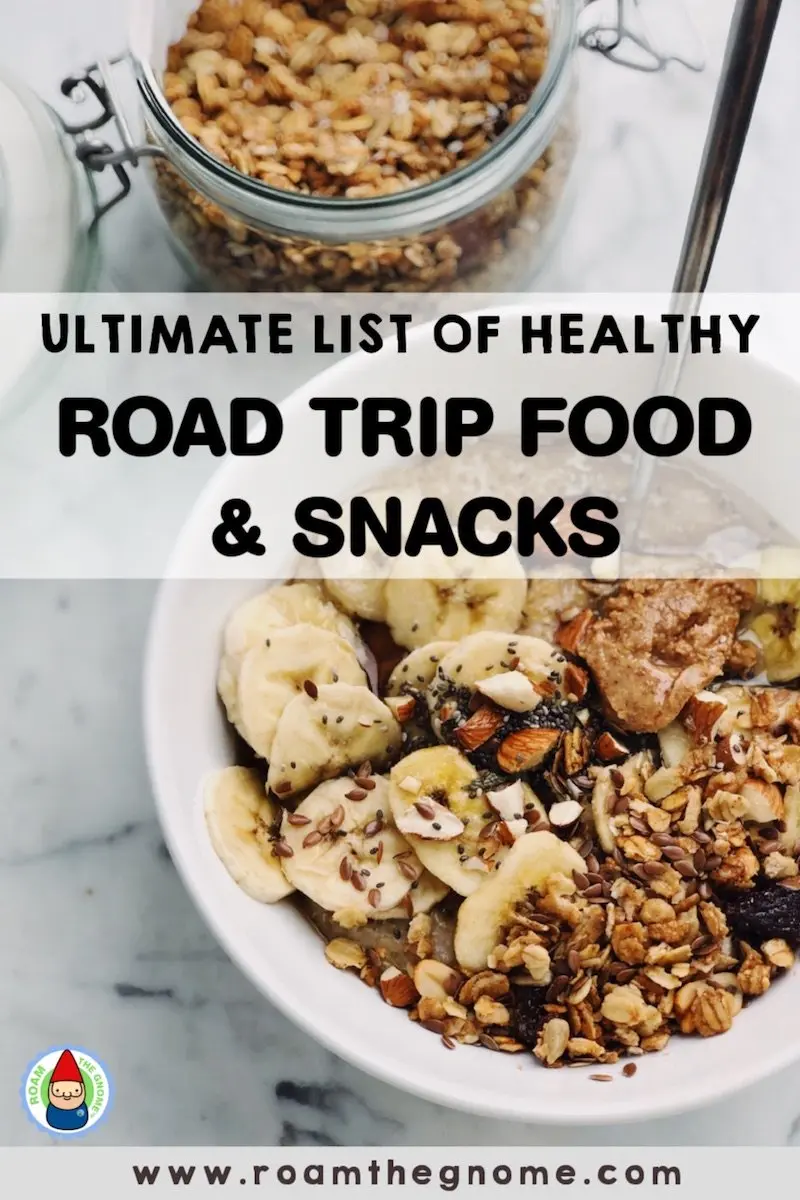 Round up of the best healthy road trip food and snacks
Correct at time of publication on Roam the Gnome. Please check with venue for updates. We apologise in advance if there have been any changes we are unaware of. All prices in US dollars, unless otherwise stated
Here it is.
Our list of the best car snacks for road trips for a family vacation so you can keep up with your healthy eating habits, and DON'T need to rely on questionable junk food with no taste from the gas station.
"Road Trip Food List"
Coming soon – PDF printable Healthy Road Trip Food List.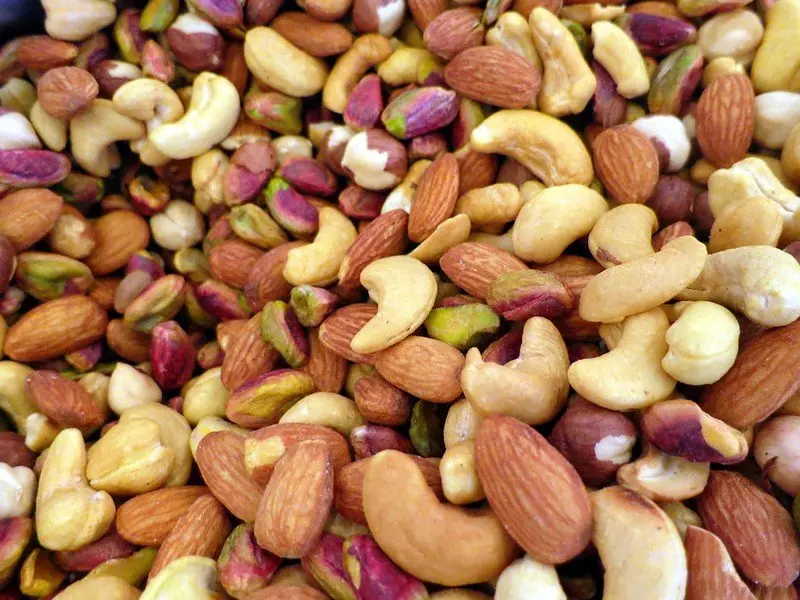 Image credit: Ruth Hartnup via Flickr CC BY-2.0
BEST HEALTHY ROAD TRIP SNACKS NON REFRIGERATED
No.1: Dried fruits and nuts
These are the easiest snacks for traveling in the car.
Pack them in a zip lock bag, or a small sealable container.
fruit and nut mixes, trail mix
nut mixes – almonds, pistachio, cashew, brazil nuts, hazelnuts
dried pumpkin seeds
dried chickpeas
dried fava beans
dried fruits – raisins, sultanas, cranberries, dried blueberries, dried mango, dried bananas, dried apple rings
yoghurt covered sultanas
dried fruit rolls (whole foods section)
fruit leathers
Bhuja snacks
RELATED: The Ultimate "Road Trip Food List" (update coming soon)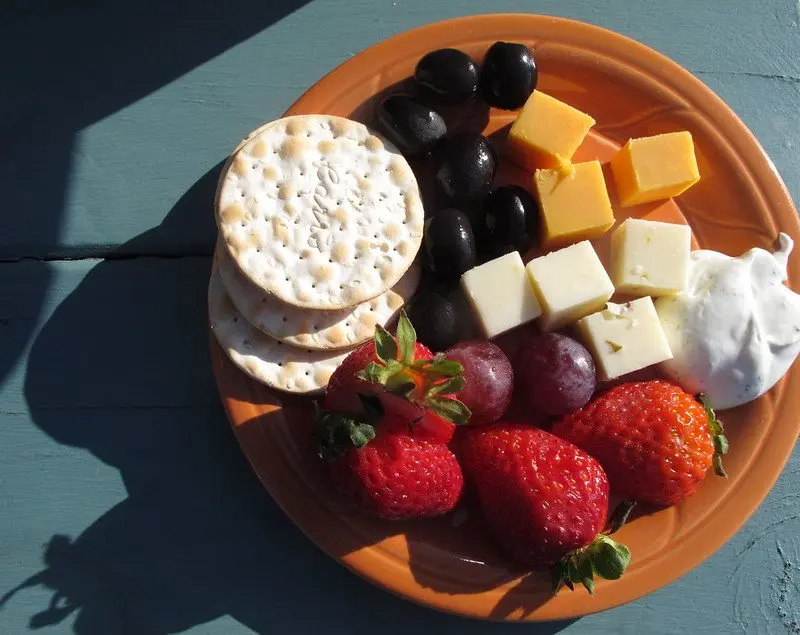 Image credit: Torbakhopper via Flickr CC BY-2.0
No.2: Dry Crackers and Biscuits
Road trips foods can also include:
Gold Fish snacks
Jatz crackers
Water crackers (and cubes of cheese and dip- see below)
Breadsticks
CrackerJacks
Soya crackers
Pretzels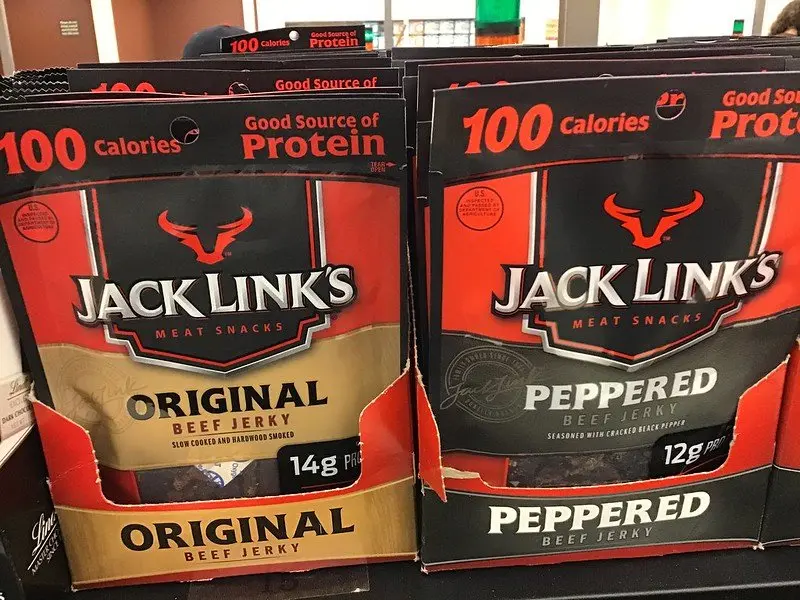 Image credit: Mike Mozart via Flickr CC BY-2.0
No.3: Best Non Perishable Road Trip Food
When you don't have a cooler and need non perishable healthy snacks that don't need to be kept in the fridge, try these healthy road trip snacks from the pantry:
Rice cakes or corn crackers, saltine crackers, multigrain crackers, or sao crackers, topped with peanut butter, apple sauce, or tahini or mashed avocado or tinned fish
Beef jerky (try the COFFEE jerky, and the vegemite jerky!)
Sweet potato crisps
Veggie straws or baked veggie chips
Cashew nut butter or sunflower seed butter- with slices of apple or carrot veggie sticks
Mini flavored cans, tins or pouches of tuna (or salmon)
Packaged "bliss balls" – date and cashew nut balls
Homemade energy balls with seeds, nut butter and honey
Crunchy chickpeas
Roasted pumpkin seeds
Sunflower seeds or pepitas
Roasted almonds or spiced cashews
Dried edamame beans
Calbee harvest snaps
Carman's nut bars and Carman's muesli bars
Dried apple snacks, dried banana, dried peaches, dried mango slices
Homemade granola mix, granola bars
Dried fruit and nuts mix, trail mix
Healthy breakfast bars
Single serve of ready to eat porridge cups or chia pudding from the pantry
Chickpea puffs
Soya crisps
MORE ideas for non perishable snacks for travel
Here's more somewhat healthy non refrigerated snacks for travel.
Popcorn
Potato chips
Grain waves snacks
Small pots of dried cereal (cheerios, nutrigrain)
Gluten free rice biscuits
Sultana slice biscuits
Date slice
Real fruit roll ups (not the junk food version)
Cup of noodles (healthy brands, without MSG seasoning) – BYO hot water, or ask for a cup of hot water at a fast food restaurant or fuel station
Cup of soup in a packet (add hot water)
Ready to eat soups from the pantry (if you have access to a microwave enroute)
These non refrigerated road trip food choices will keep you going, when there's no other options.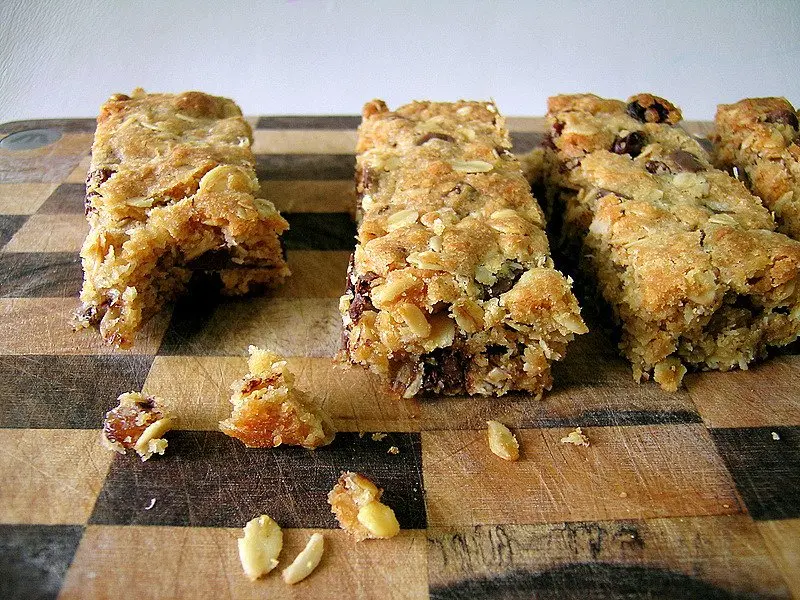 Image credit: Jamieanne via Flickr CC BY-ND 2.0
No.4: Food to take on a Road Trip from the Bakery or Grocery Store
More healthy snacks for car rides.
Croissants with jam or lemon butter
Cinnamon scrolls
Danish pastries
Homemade granola bars
KIND bars (nuts and spices variety pack)
Oat cakes, oat bars
Protein bars
Museli bars (Mother Earth, Carmen and Brookfarm brands are our favorite in Australia)
Rice cookies
Ready made crepes from the supermarket
Store bought pikelets
Store bought muffins
Store bought banana bread slices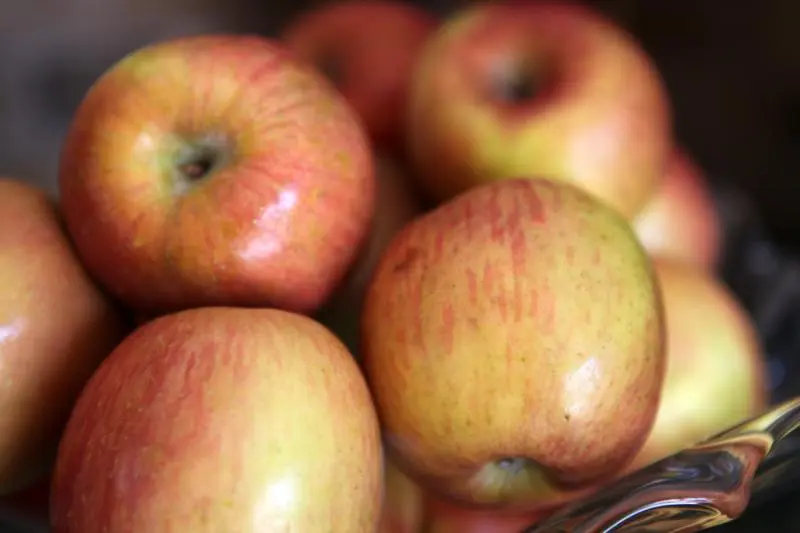 Image credit: Michael Dorausch via Flickr CC BY-SA 2.0
BEST ROAD TRIP SNACKS FOR KIDS & FAMILY
No.5: Fruit and Vegetables
Fresh fruits are the BEST healthy snacks for kids ever, and if you can keep them cool so they are crispy when you cut them up and not all soggy, all the better.
Hot tip: do carry a paring knife and small chopping board
Squeezable fruit and vegetable pouches
Apples (quarter it, or make apple star slices)
Carrot sticks
Cucumber sticks
Bananas
Grapes
Celery sticks
Strawberries
Blueberries
Chopped brocolli
Red Bell pepper strips (capsicum)
Broccolli and cauliflower florets (with dip)
Avocado
Snow peas
Snap peas
Edamame soy beans (salted)
Hot tip: Take cashew nut butter with you, and dip apple wedges in it for a protein boost.
RELATED: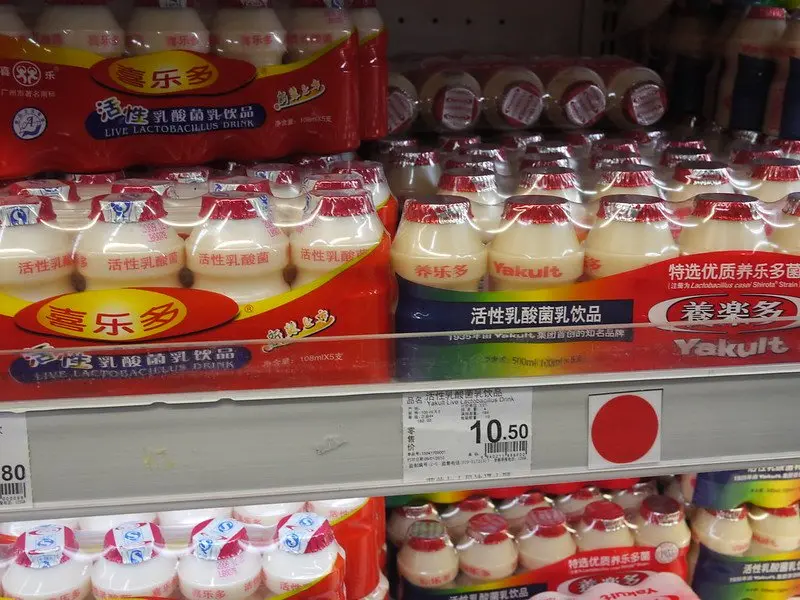 Image credit: BFishadow via Flickr CC BY-2.0
No.6: Dairy products & Fridge Goods
We can't live without our refrigerated dairy foods when road tripping!
Mini Babybel cheeses, or Laughing Cow cheese portions
Spreadable cream cheese for crackers and rice crackers
Small pots of yoghurt, yogurt pouches
Squeezable custard pouches
String cheese
Mozzarella string cheese
Hard boiled eggs
Yakult probiotics
Salami sticks
Chia seed pudding
Rice pudding
Kabana and cubes of cheese (with jatz crackers)
Dips – basil pesto dip, tzatziki, hommus, beetroot dip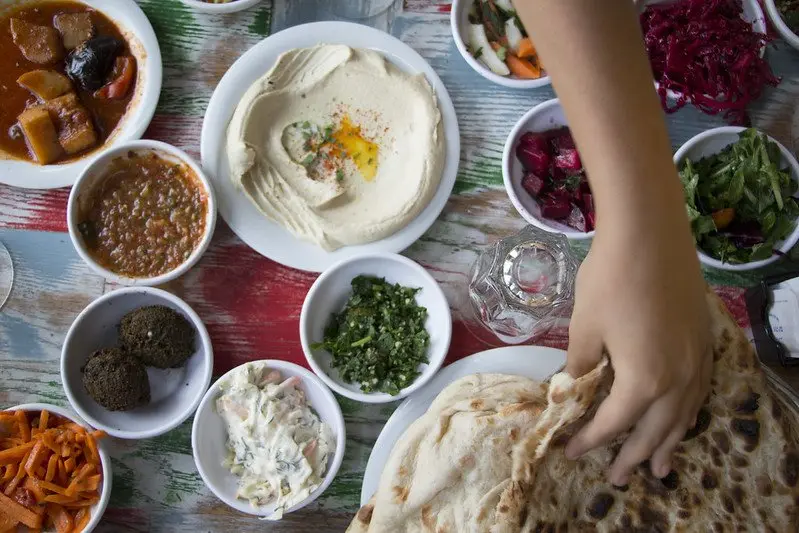 Image credit: Pierre Janineh via Flickr CC BY-ND 2.0
READY MADE FOODS FOR ROAD TRIPS
No.7: Quick Road Trip meals to take
These are the best homemade road trip food snacks to take when you want to keep eating healthy.
These make ahead meals for road trip fun will definitely save you money and wasted time.
Small pots of hommus or beetroot dip, with cut up pieces of pita bread, or turkish bread for dipping
Round of brie cheese, and seaweed crackers (BYO plastic knife)
Homemade banana bread or banana cake
Homemade banana muffins (or banana raspberry, or blueberry muffins)
Rice porridge
Overnight oats with stewed apple, banana, nut butter, trail nut mix
Zucchini slice
Pasta bake
Homemade egg and bacon pies (delicious hot or cold)
Banana slices, strawberry and blueberries with cream (great sweet treat for kids who don't eat sugar)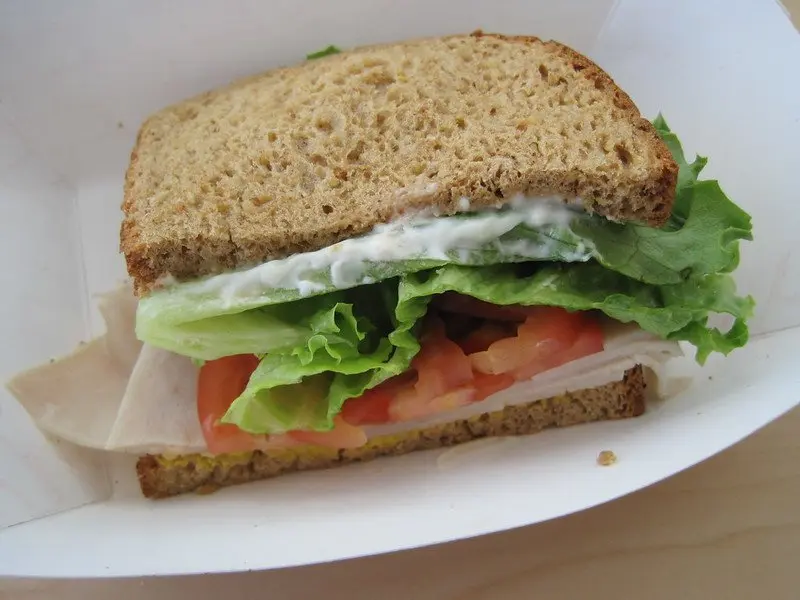 Image credit: JWalsh via Flickr CC BY-2.0
No.8: Best Road Trip Sandwiches
Make small crust-free sandwiches on whole grain bread, cut into triangles.
Or add your sandwich filling to your favorite bread:
plain white burger roll
a baguette
a sub
wraps or tortillas
rye breads
ciabatta
brioche
pita
naan
lavash
chapiti
english muffin
pumperknickel
crispbread
If you get bored, put your sandwich fillings into a croissant or a bagel.
Hot tip: If you are going on a road trip for longer than a few days, take a small sandwich press with you. THIS may just be the most important non-essential thing you take!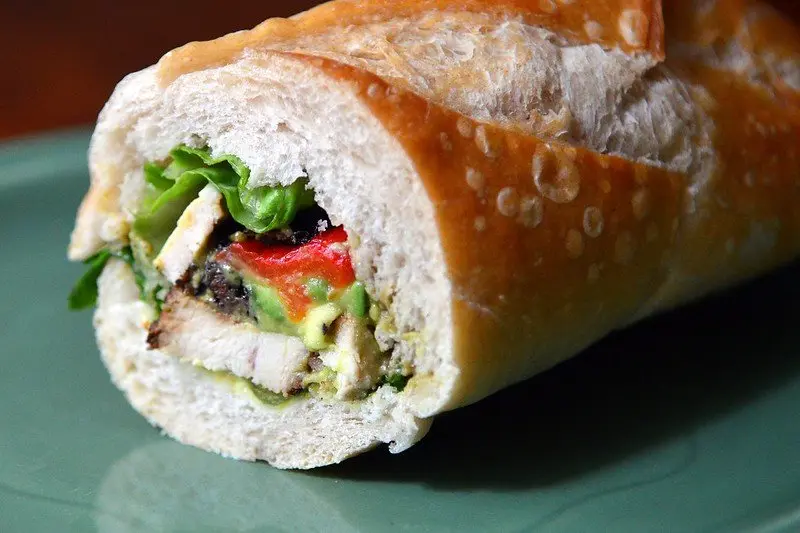 Image credit: Robmadeo via Flickr CC BY-2.0
Try these good road trip sandwich ideas for road trips:
ham and cheese
ham, cheese, and avocado (or ham, cheese and tomato)
egg salad
Coronation egg mayo sandwiches (curried egg with mango chutney)
cheese and pickle sandwich
turkey club sandwich (turkey breast, dijon mustard, cheese, bacon, tomato, lettuce)
BLT
mozzarella and salami/pepperoni
tuna noçoise sandwich (tuna, mayo, tomatoes, kalamata olives, anchovies, basil leaves)
lox and cream (salmon and cream cheese) sandwich
camembert and cranberry sauce
Our tip is to take a small jar of mango chutney, green pesto, or caramelised onion with you.
Add this to all sandwiches for a smash hit!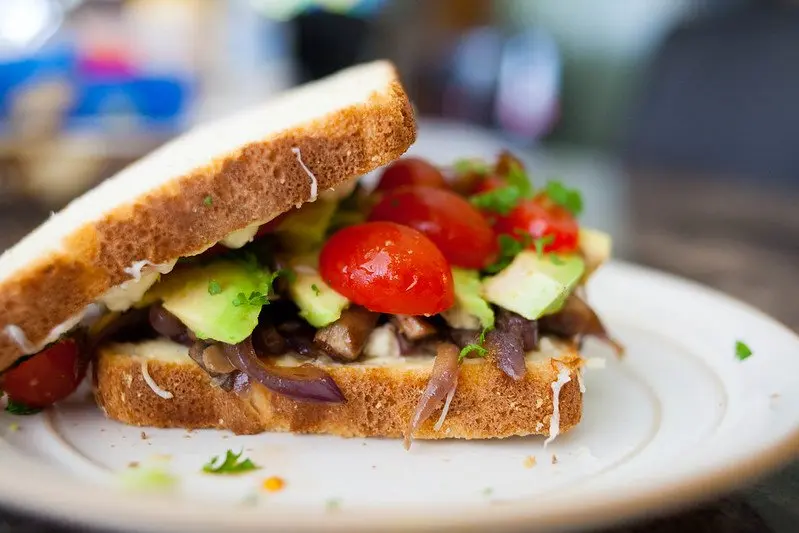 Image credit: Sodanie Chea via Flickr CC BY-2.0
No.9: Best Vegetarian sandwiches for road trips
Don't use sliced bread from the supermarket for these sandwiches. Try ciabatta, panini, tortilla wraps or subs.
roasted eggplant lettuce, basil, aioli mayonnaise and cheese (add sliced tomato at the last minute if you like)
avocado, with egg and mayonnaise
brie cheese with caramelised onion (best in a sandwich toaster so it comes out gooey!)
mozzarella, tomato, lettuce, basil leaves, and mayo (can swap out swiss cheese for the mozzarella)
peanut butter and jelly
grated carrot, sliced cucumber, and roasted garlic hummus (with or without cheese)
corn and mayonnaise (a popular staple in Japan!)
tricolor salad sandwich with cucumber, red onion, avocado, tomato, beetroot, and hummus or tahini
pesto, beetroot, red pepper, grated carrot, green salad leaves
cucumber and herbed cream cheese
grated carrot and raisin sandwich
banana and nut butter sandwiches (cashew butter, almond butter or peanut butter – try it in a wrap too)
nutella and sliced banana (try it in a wrap. Or warm it up for extra deliciousness!)
If you are doing a road trip in Australia, don't forget the good old vegemite and cheese sandwich!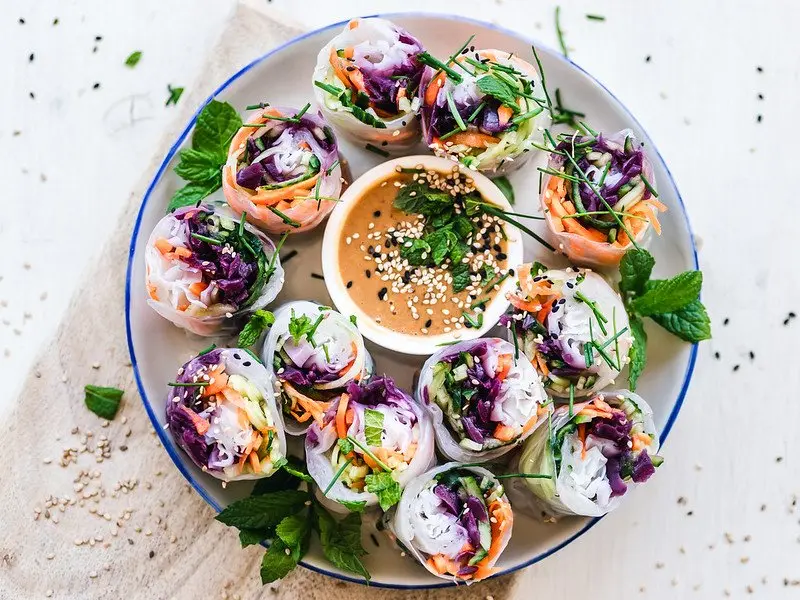 Image credit: Ella Olssen via Flickr CC BY-2.0
No.10: Best Healthy Make Ahead meals for road trips
Looking for meals that travel well?
Try:
spaghetti bolognese (use spiral or elbow pasta)
pizza slices
pre-made sushi rolls
vegetarian rice paper rolls with sweet mango or peanut dipping sauce
Asian slaw salads
Pesto pasta salads
German potato salads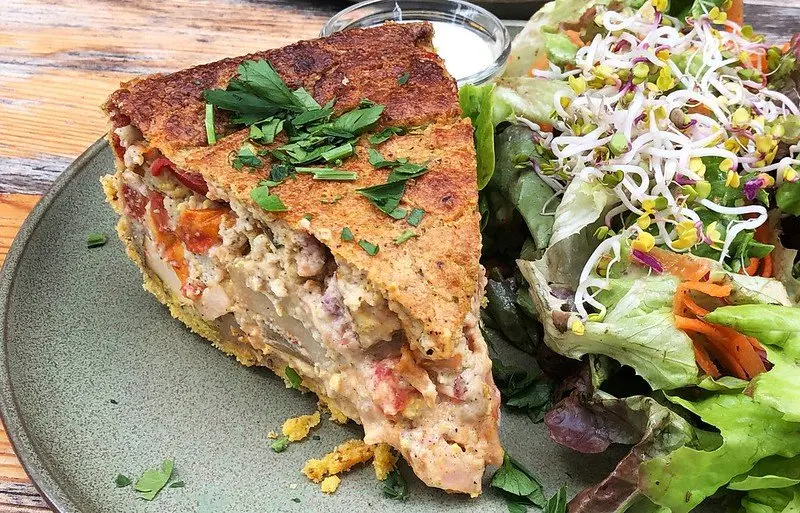 BEST GOURMET ROAD TRIP FOOD
No.11: Gourmet camping food ideas
If you love your gourmet goodies, add these to your road trip picnic basket.
leak and swiss chard frittata
potato and bacon layered quiche, with sprout salad
canapes – prawn spring rolls, lamb and feta burgers with minty yoghurt, teriyaki beef lettuce cups, peanut chicken satay sticks, furikake devilled eggs
mini savory tarts or quiches with onion, brie or goats cheese, and caramelised onion
vol-au-vents filled with chicken and mushroom, crab and asparagus, goat cheese, dill and cranberry sauce, or spinach ricotta and feta filling
zucchini and bacon slice
ham and parmesan cheese muffins
stacked salads in a jar (german potato salad, pasta salad, rainbow salad with vinegarette dressing, or crunchy green salad with mint and cucumber dressing for starters)
tabbouleh, stuffed vine leaves
classic tuna salad, or cold crispy chicken caesar salad
ciabatta or focaccia bread sandwiches with gourmet fillings (brie cheese, cranberry, camembert,
fresh fruit platter
glazed chicken legs
pesto and parmesan spiral pasta salad
iced tea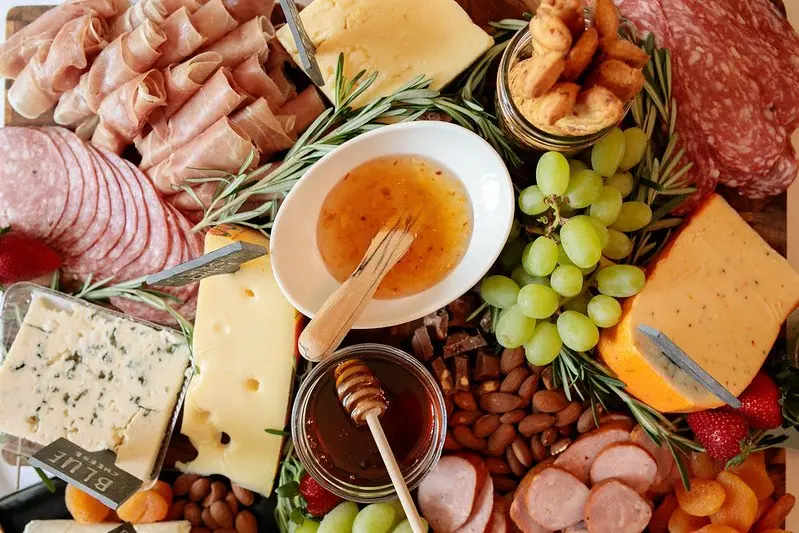 Image credit: Mon Petit Chou Photography via Flickr CC BY-2.0
No.12: Easy Charcuterie Board (Savory)
Here's your charcuterie shopping list
Cooked and dry cured deli meats such as hungarian salami, doube smoked ham, sausages, pate, kabana, smoked turkey, spanish jamon
antipasti
Cheese – all the cheese (blue, camembert, brie, cheddar, etc)
Olives & stuffed olives, stuffed bell peppers, capers, roasted or sundried tomatoes
Pickles
Olives
vine leaves
nuts (cashews,
Dried Fruit (apricots, prunes, dried mango, apple, banana)
cheese straws or gourmet crackers
sliced baguette bread
cranberry sauce, honey, or jam
fruit – grapes, figs, blueberries, strawberries, raspberries, apricots, plums, citrus, melon, sliced apple
yoghurt covered sultanas
hummus or guacomole dip
salad dressing, hot sauces, seasoned oils, olive oil, and dips (in small containers)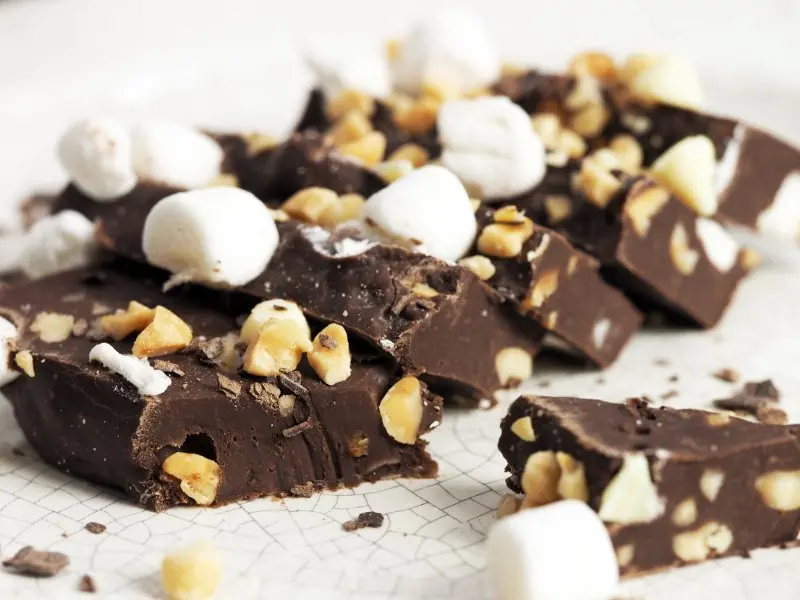 No.13: Easy Chocolate Charcuterie Board (Sweet)
Here's a sweet treat to beat all others.
Build a board full of delicious chocolate nibbles for all to share.
Add your choice of these delicious morsels to the share platter:
chocolate chips
maltesers
chocolate covered pretzels
Hershey's kisses
chocolate covered peanuts
chocolate covered macadamias
Darryl Lea chocolate marshmallow rocky road (everyone's favorite)
slices of chocolate nut roll
brownie bites
salted caramel sauce
Nutella (with a spoon for drizzling)
Chocolate pocky sticks
chocolate wafers
chocolate Corinthian wafers
squares of white, milk and dark chocolate
strawberries, raspberries, blueberries
yoghurt covered sultanas
cacao nibs
chocolate buckinis from Loving Earth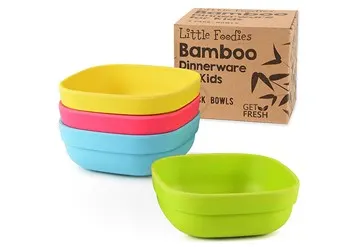 GOOD THINGS TO TAKE ON A ROAD TRIP
Road Trip Travel Kit
When you want to enjoy cross country road trip food, you need a few utensils and tools.
Remember to pack these things to make it easier to eat and manage your healthy car snacks:
napkins
water bottle for each person
zip lock bags for leftovers
travel cutlery set (this one has stainless steel flatwear including knife, fork, spoon, smoothie straw & cleaning brush, juice straw and chopsticks)
stackable bamboo plates in 4 different rainbow colors so you don't lose them, and kids can have their own color
bamboo snack bowls in rainbow colors too
bamboo cups
small wooden chopping board
glad wrap, or beeswax wraps
two-handled bowl for washing up (store your travel essentials in it during your road trip)
Best Kids Travel Tray
We love this handy road trip tray for the car that clips onto the back of the car seat.
It has drink and snack holders so things don't tip over, and side walls so things don't roll off.
Plus it folds down and packs away easily.
You can use it on the plane too!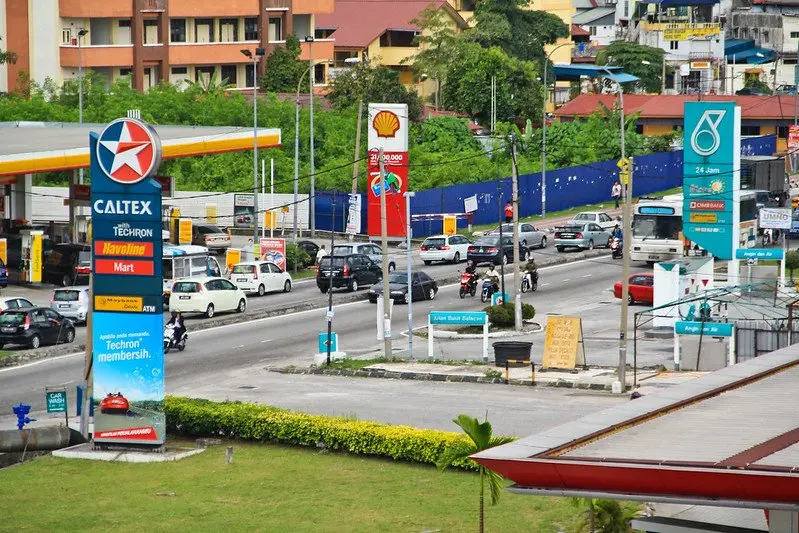 Image credit: Sham Hardy via Flickr CC BY-SA 2.0
How to buy Healthy Road Trip Snacks at Gas Station?
Run out of food, or didn't pack enough?
These are the best healthy foods to buy at a gas station:
air-popped popcorn
dry roasted nuts
string cheese
milk drinks (malted milk, plain milk, milk smoothies will fill you up till you can get to a supermarket)
bananas, apples
protein bars
hard boiled eggs
whole grain crackers
sandwiches
Take a look at the gas station chill cabinet for more ideas.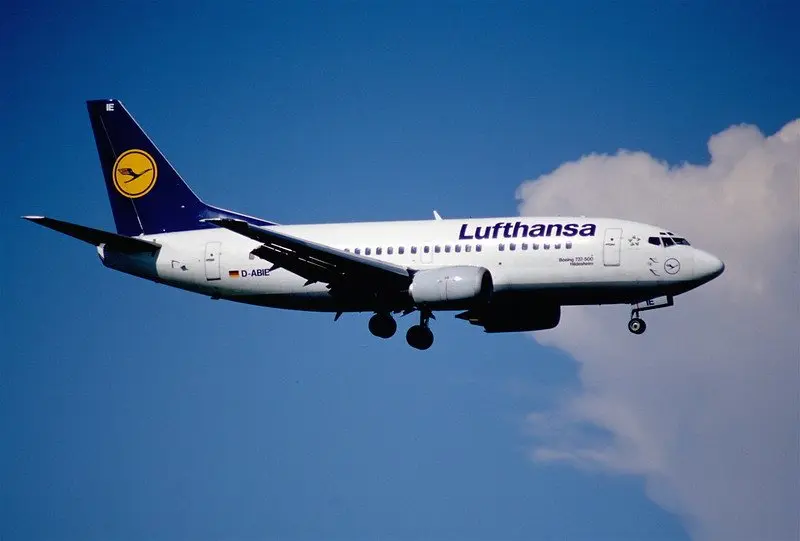 Image credit: Aero Icarus via Flickr CC BY-SA 2.0
HEALTHY SNACKS FOR AIRPLANE TRAVEL
You can also reuse this good road trip food snacks list for flying.
Hot tip about your healthy airplane snacks: Remember you will need to throw all fresh foods, fruits and vegetables BEFORE you enter a new country, so take only what you will eat to stop food waste.
What to eat to stop ear pain when flying
If you want to know how to avoid ear pain during flight for your kids, the best way is to chew something. Here's a few ideas.
naturally colored jelly beans for airplane take off and landing. Try these organic Jelly Belly ones.
ditto fruit gummies
ditto chewing gum (for kids over 6)
ditto sugar free lolly pops
Want more ideas for travel? See Roam the Gnome travel tips.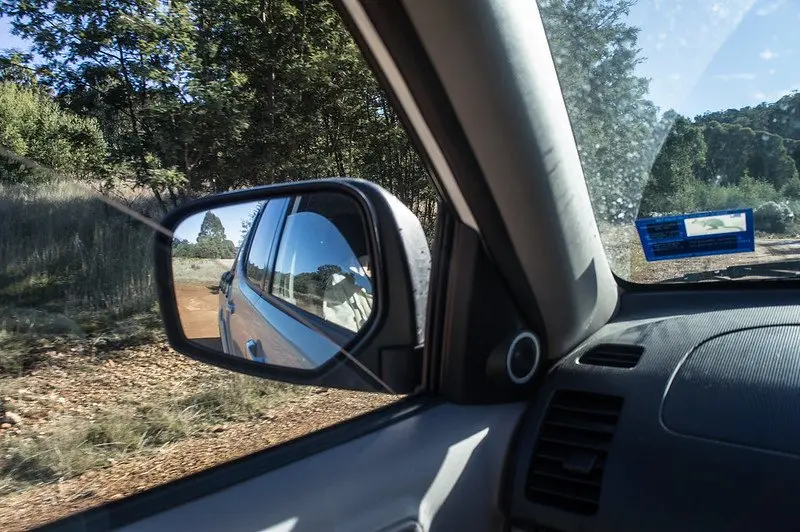 Image credit: JWalsh via Flickr CC BY-2.0
Looking for MORE Fun Food Ideas?