INSIDE: Everything you need to know about the best things to do in Ocean Park Hong Kong with kids in tow!
Toddlers and young kids are the ideal guest at Ocean Park Hong Kong.
Full of vitality and exuberance, kids are not afraid to squeal with delight when seeing all the Ocean Park animals up close and personal.
Ocean Park also has interactive shows AND fun transport to get around the park.
And if you are after kid-friendly rides at Ocean Park Hong Kong toddlers have plenty!
Take a look to see what you'll find at Ocean Park for kids below.

Disclosure: This article contains affiliate links. If you make a purchase after clicking on one of these links, we may receive a small commission at NO extra cost to you. Main image credit: Whyyan via Flickr CC BY-2.0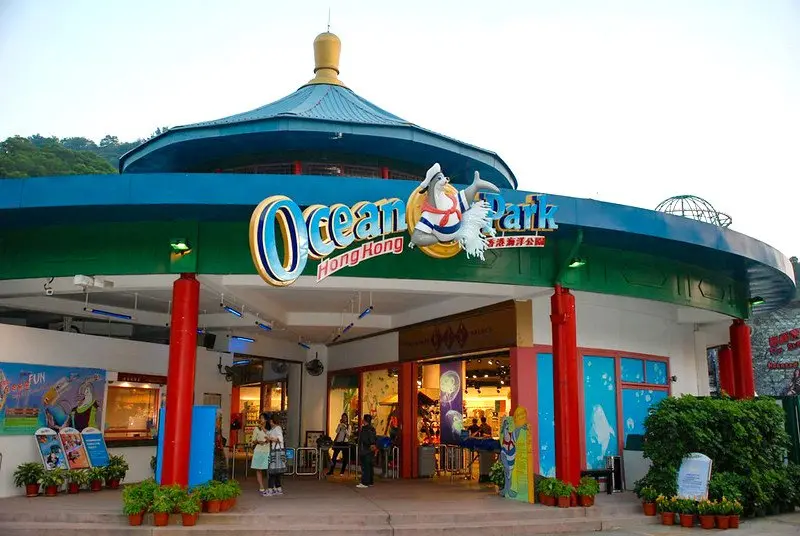 Image credit: Xiquinhosilva via Flickr CC BY-2.0
WHAT TO DO IN OCEAN PARK HONG KONG
This is one of the two main Hong Kong theme parks. (The other being Hong Kong Disneyland).
These are the best Ocean park attractions for families.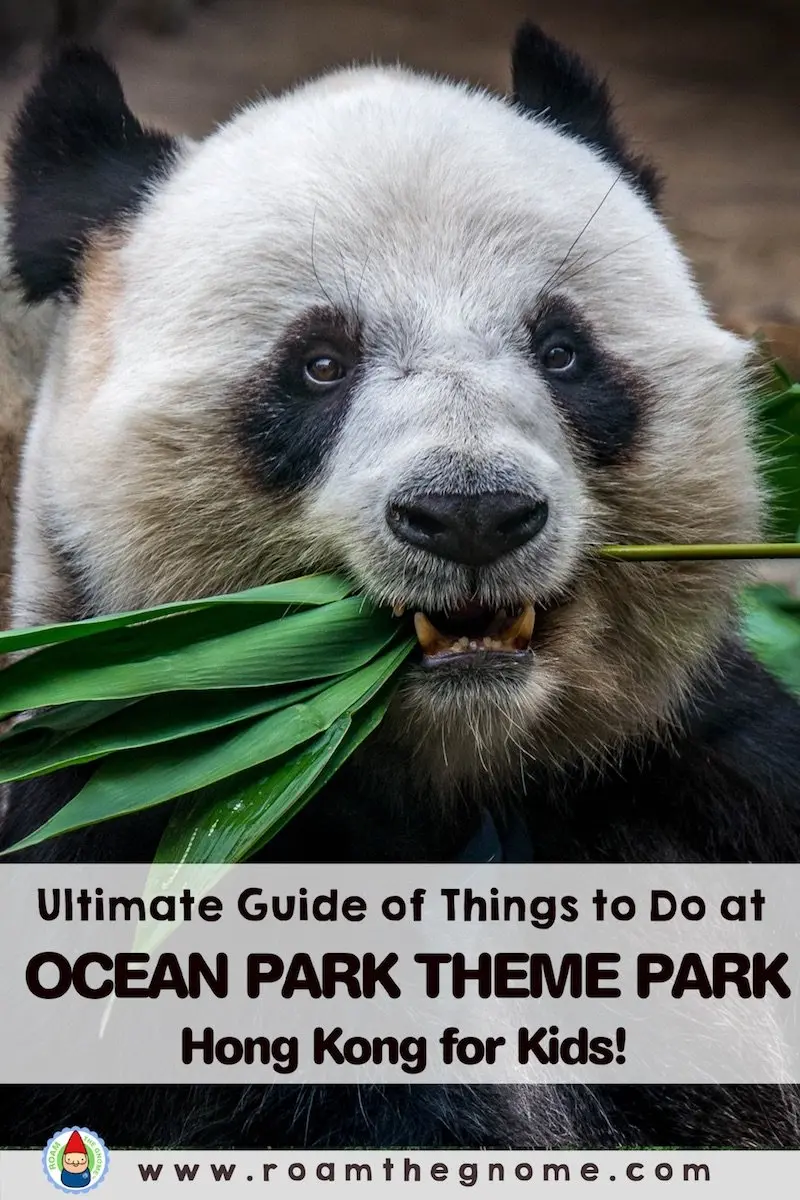 No.1: Visit Ocean Park Hong Kong Animals
First stop should be the giant pandas.
Take the opportunity at Ocean Park in Hong Kong to:
meet Australian animals including koalas and wallabies
journey deep underwater to see sharks, sawfish, rays and the zebra shark with leopard-like spots
spot the world's smallest monkey
see the world's smallest toucan in the rainforest from aboard a raft, and
visit the world's largest aquarium dome.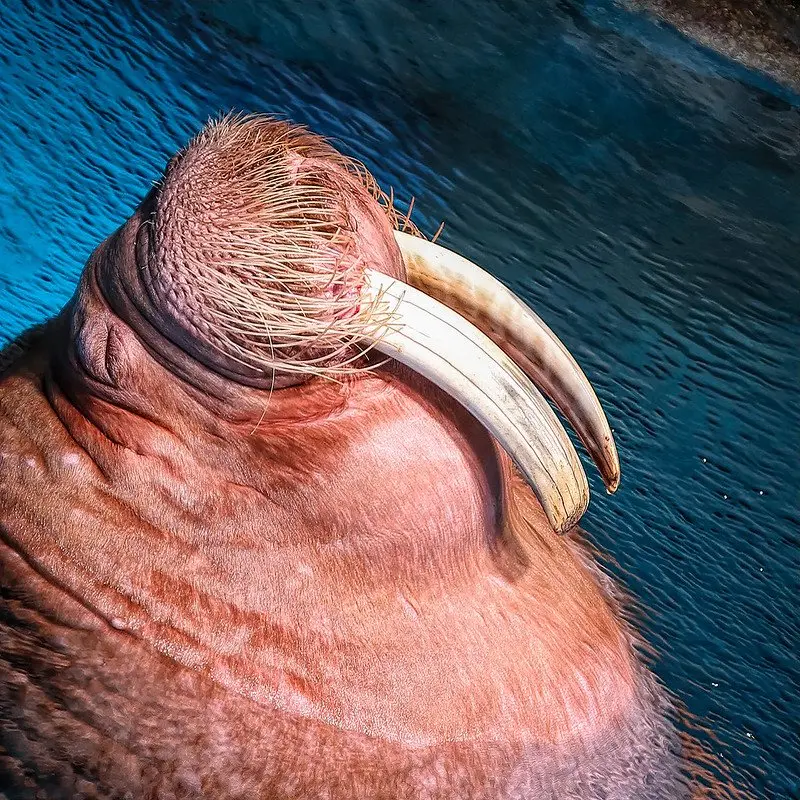 Image credit: Rick Massey via Flickr CC BY-2.0
Animals at Ocean Park Hong Kong
Explore the North and South poles at the Polar Adventure and meet walruses, arctic foxes, and penguins
There's also red pandas, alligators, jellyfish, giant salamanders, plus a GRAND aquarium filled with goldfish!
Did you know you can also enjoy up close personal encounters with some of the animals at Ocean Park, including dolphins, penguins, seals, walrus, and sea lions?
You can!
Take a look here for details of these tours.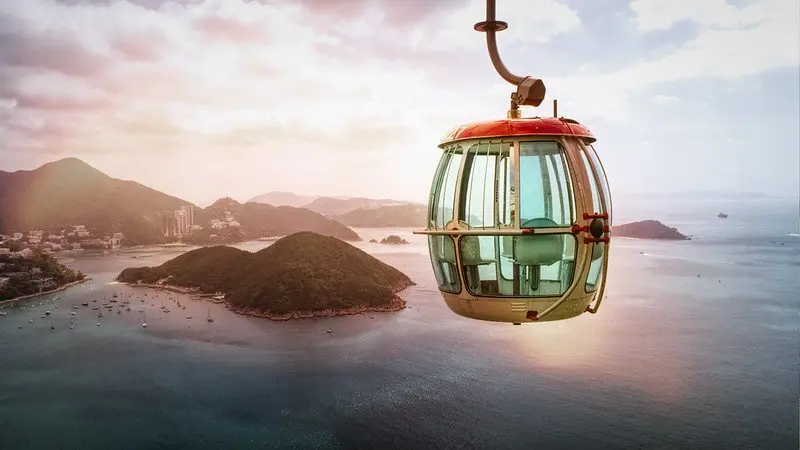 Image credit: Rick Massey via Flickr CC BY-2.0
No.2: Take the Ocean Park Cable Car
Ride the world famous Cable Car from the Waterfront and the Summit and you'll see spectacular views of the sea and the surrounding Hong Kong landscape.
It's also a great way to check out what you'll head to first!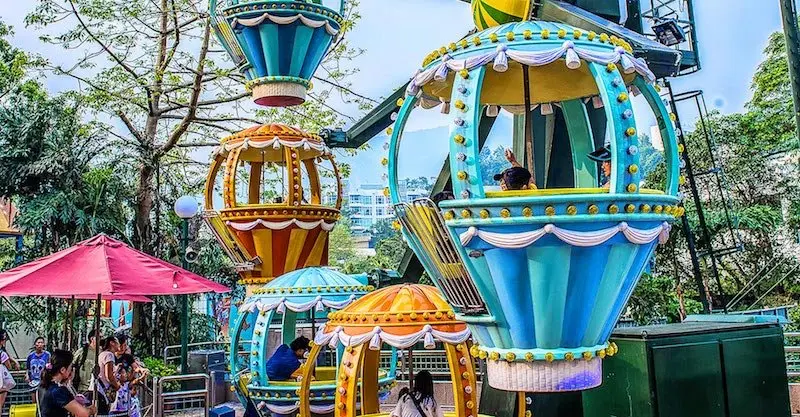 Image credit: Ocean Park Hong Kong via Flickr CC BY-SA 2.0
No.3: Whiskers Harbour for Toddlers
Whiskers Harbour is the centre of the best toddler attraction at Hong Kong Ocean Park theme park.
Start elsewhere with animal shows, and save this destination for when the kids need a run.
Say hello to the Talking Tree when you are there too.
PS: The park is located on the southern side of Hong Kong Island.
Expect hills!
The Waterfront (lower park) and The Summit areas are connected by the Cable Car and Ocean Express funicular train.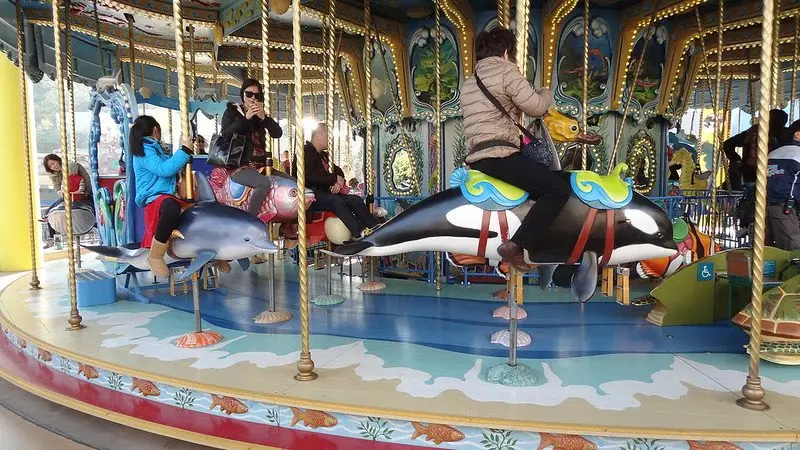 Image credit: Martin Lewison via Flickr CC BY-SA 2.0
No.4: Best Ocean Park rides for toddlers
These are the best rides for toddlers at Ocean Park Hong Kong.
"Balloons Up Up and Away" Elegant Balloon Carousel Ride that goes up and down (for ages 1 +)
"Bouncer House" Jumping Castle
"Castle of Redd" giant playground with a maze of tunnels and lookouts
"Jungle of Giants" playground featuring "Whiskers & Friends"
Merry-go-round
Sea Life Carousel
"Toto the Loco" train ride
Expedition trail into the heart of the rainforest
Ocean Park Hong Kong Cable Car
Ocean Express via the Ocean Express Station (a 4 minute-ride that replicates a fantastical underwater journey in a submarine. Creatures of the deep make surprising appearances along the way, turning this 1.3 kilometre trip into an adventure.
Hot tip: Catch the Ocean Express up, and the Cable Car down, or vice versa.
Rides for kids
Kids 5+ years may also like:
The Rapids
Rev Booster
Raging River
Bumper blaster bumper cars
Crazy Galleon rocking pirate ship
Ocean Park Tower observation deck
Flying Swings
Super brave people can try the roller coaster, or the thrill rides.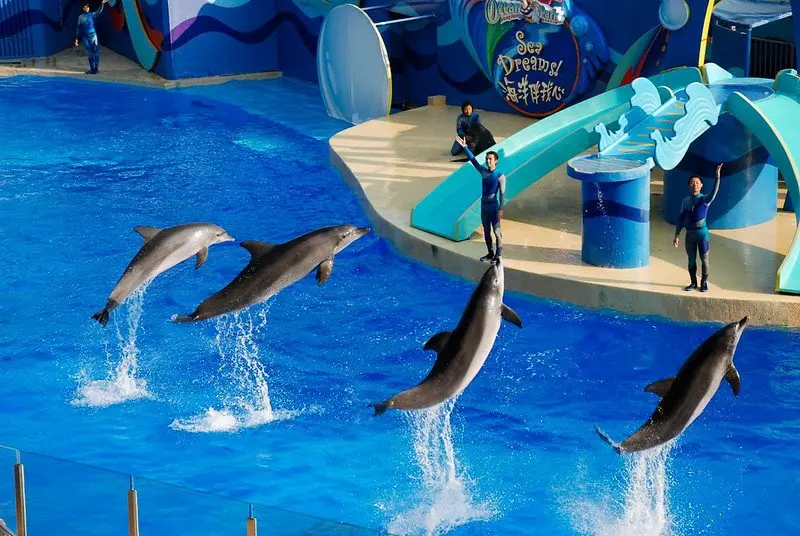 Image credit: Xiquinhosilva via Flickr CC BY-2.0
No.4: Watch Ocean Park Shows
Click here for the Ocean Park show schedule.
Whiskers Theatre
Whiskers Theatre is the spot to watch explorations of the marine world at Ocean Park amusement park.
Soul of the Ocean
Don't miss this one-of-a-kind immersive spectacle created by Montreal-based, award-winning multimedia studio, Moment Factory, similar to Cirque de Soleil.
It's a story brought to life with acrobatics, lasers, lights and more.
Visions of Hong Kong at Aqua City
Watch this dazzling multimedia fountain and lights show at night before you leave, featuring the world's first 360-degree water screen.
Also created by Moment Factory
Amazing Bird Theatre
Emperors of the Sky is a bird show about conservation featuring 70 odd species of birds, hosted at the Amazing Bird Theatre.
You'll see extraordinary birds of prey up close while learning how to protect these birds and their habitats.
Keep an eye out for the brightly coloured Macaw!
Ocean Theatre
At Ocean Theatre, you'll meet ocean animals in person during this fun and interactive show.
It's a real laugh-a-minute adventure!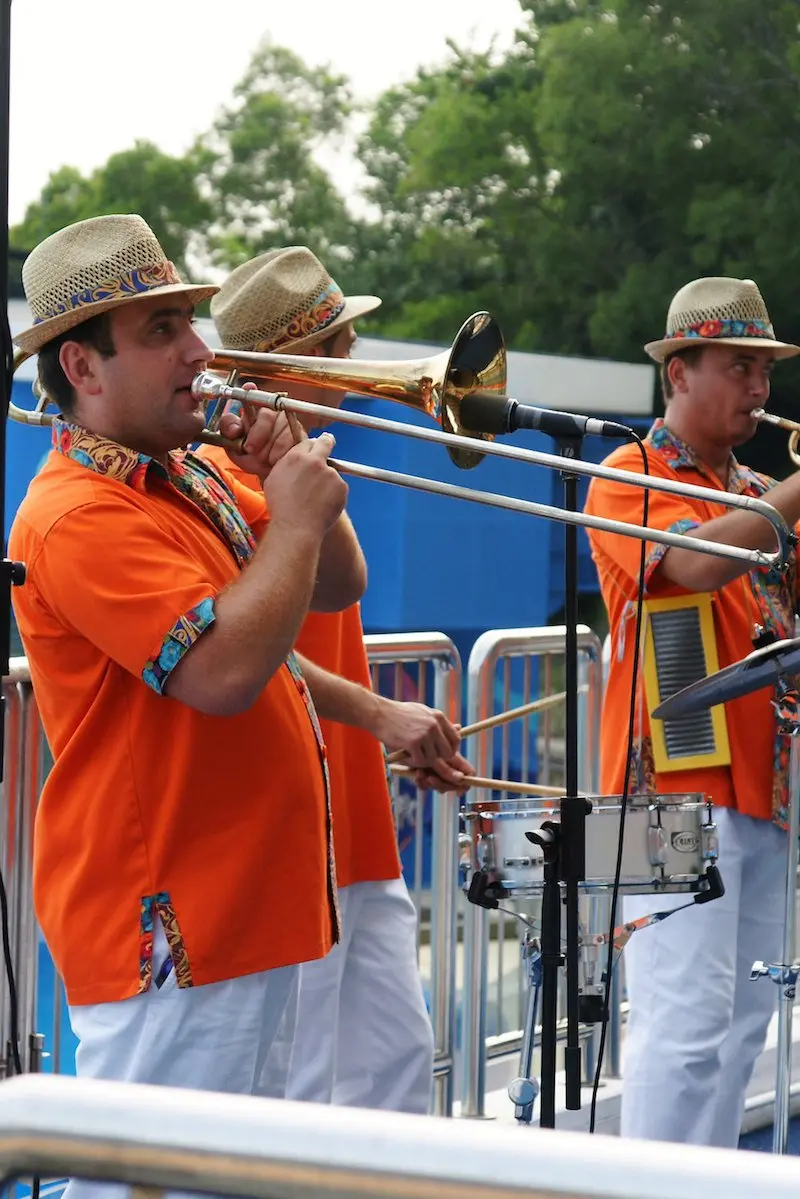 Image credit: Данила via Flickr CC BY-2.0
Roving entertainment
Keep an eye out for roving entertainment and pop-up shows too.
Old Hong Kong Ocean Park
We also suggest popping into Old Hong Kong.
It's the place to find the must try Hong Kong food options.
Plus, it's incredible to see what Hong Kong was like in the 1950's to 70's.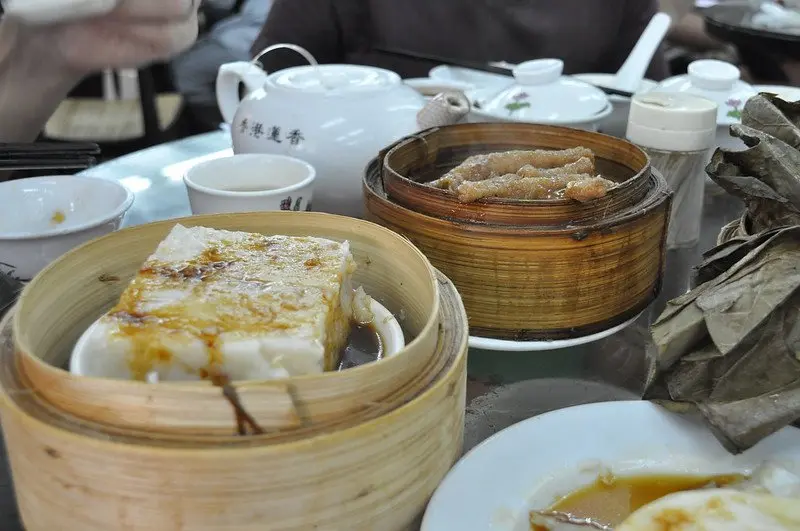 Image credit: Lim Ashley via Flickr CC BY-2.0
No.5: Eat at Ocean Park Hong Kong restaurants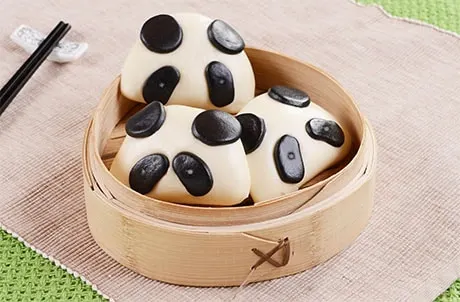 Do not miss Panda dumplings at the Panda cafe!
For a unique experience, visit Tuxedos Restaurant where you can enjoy your meal while watching 70 penguins frolic on ice.
Neptune's Restaurant offers Hong Kong's first aquarium dining experience!
There's also a bakery and a number of cafes on site, including Happy Snack, Mei Lam Kee, Kam Cha and Chan's Noodle.
Head to Old Hong Kong to find all the original Hong Kong street food, including:
Egg Puffs
Steamed Rice Roll
Fried Noodle with Soya Sauce
Pan-fried Dumplings
Minced Beef Ball
Beef Balls or Pork Balls
Spicy Fish Ball
Steamed Fish Dumpling
Trappist Daily Yoghurt
Hong Kong Style Milk Tea (Hot/Cold)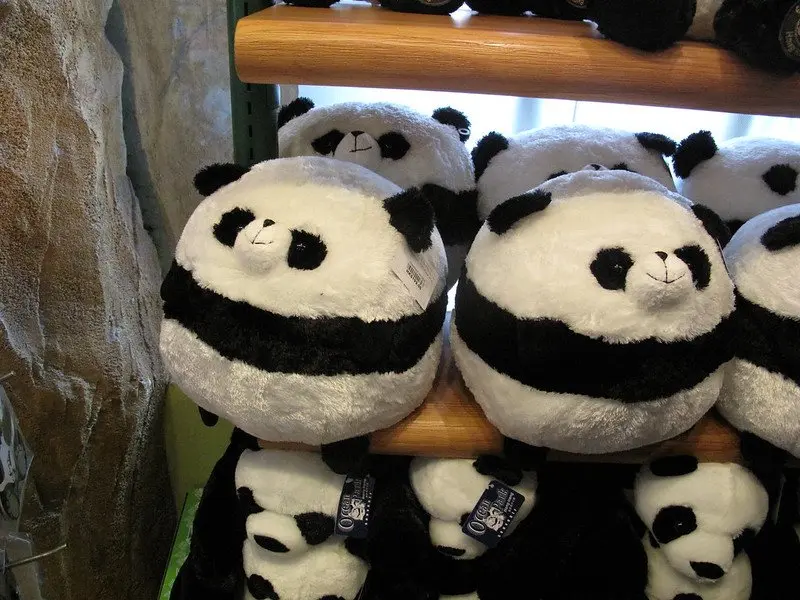 Image credit: Mrs Roboto via Flickr CC BY-2.0
No.6: Ocean Park Hong Kong souvenirs
Pick up a giant stuffed panda, or two.
Or any kind of animal plush too.
There are HUNDREDS to choose from.
You'll also find lots of:
velour backpacks for kids in the shape of animals
panda and octopus toy keyrings
postcards
Ocean Park cups, coffee mugs, and travel mugs
Ocean Park caps and headwear
Ocean Park tshirts
decorations
home decor and housewares
keychains, magnets & pins
photography
stationary
toys
In fact, all the regular souvenirs themed for Ocean Park.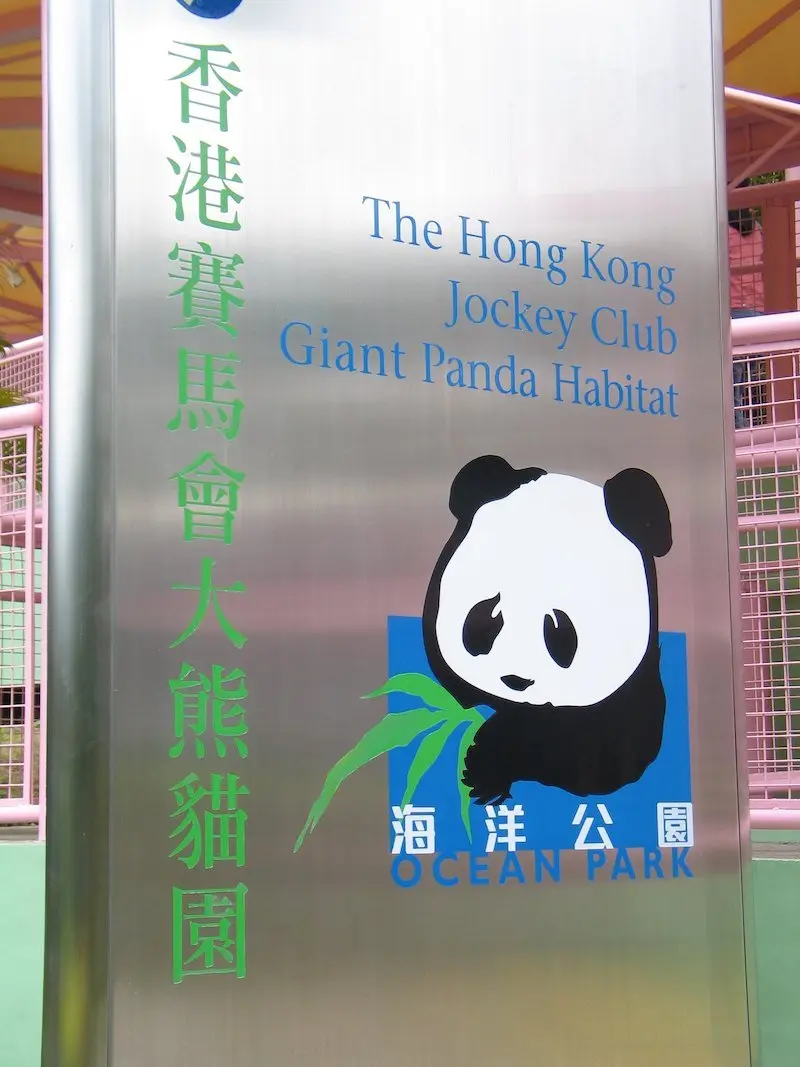 Image credit: David Quiroriano via Flickr CC BY-2.0
No.7: Ocean Park Conservation Foundation Hong Kong
Panda Breeding Program at Ocean Park
Watch a video and learn about the Panda Breeding program at Ocean Park
No Straws
Ocean Park has stopped automatically giving out straws (now only on request) as part of their mission to help keep plastic debris out of our landfills and seas.
Good move, OP!
Funding of Conservation Projects
Ocean Park Hong Kong is committed to promoting and supporting animal conservation in Hong Kong and throughout Asia.
Part of the proceeds from admission tickets and some retail items will go towards the Ocean Park Conservation Foundation Hong Kong to support wildlife conservation projects.
Image credit: Shankar S via Flickr CC BY-2.0
No.8: Tips this Hong Kong water park
Free Wifi
Ocean Park has FREE WIFI!
Download the Ocean Park App
Get the Ocean Park APP here.
Here's why!
Do the Virtual Guided Tour
The Virtual Guided Tour is an on location video and audio that lets you explore animal exhibits for a more fun and in-depth visit!
Available in the Grand Aquarium, Amazing Asian Animals, Shark Mystique and Hong Kong Jockey Club Sichuan Treasures, Marine Mammal Breeding and Research Centre and Chinese Sturgeon Aquarium – Yangtze Exploration
Fastrack Pass
Pick your three favourite attractions among 9 specified attractions and the app will help reserve the visit time for you to avoid long queues!
Grand Aquarium
Ferris Wheel
Raging River
Shark Mystique
South Pole Spectacular
The Dragon
The Rapids
Mine Train &
Abyss
Ocean Park Hong Kong discount tickets
Download the app to get access to the Ocean Park Hong Kong ticket promo eCoupon.
This gives you amazing discounts and privileges throughout the park!
Hooray for DISCOUNTS.
We love anything that helps our family travel budget!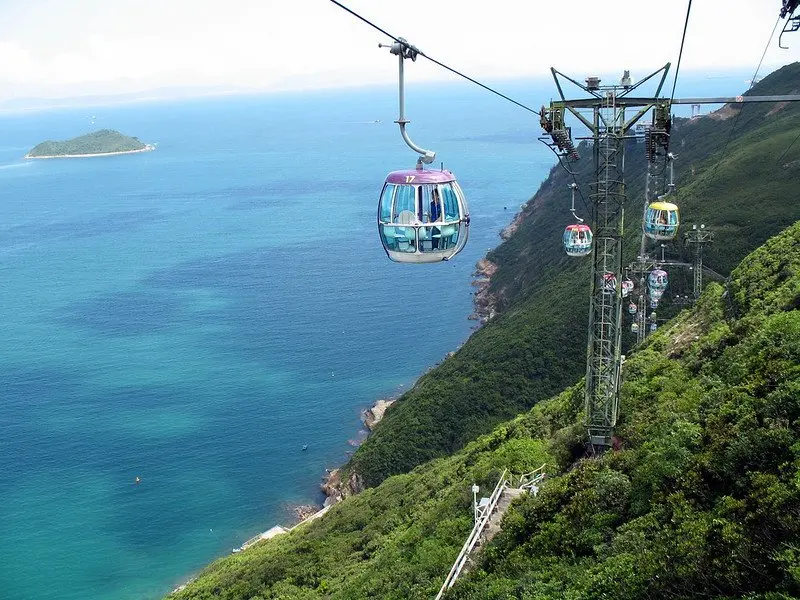 Image credit: Denise Chan via Flickr CC BY-SA 2.0
THE INSIDE SCOOP: Ocean Park HK
Correct at time of publication on Roam the Gnome. Please check with venue for updates. We apologise in advance if there have been any changes we are unaware of. All prices in HK dollars, unless otherwise stated
Ocean Park Hong Kong Address: Wong Chuk Hang, Hong Kong Island
Telephone: (852) 3923 2323
Ocean Park Hong Kong website: Click here
Email: [email protected]
Opening Hours:
10am to 6pm. (8pm on weekends)
Ocean Park Hong Kong tickets
The Ocean Park Hong Kong entrance fee for a single day in 2020 is:
$HK 498 for adults (approx $70 AUD)
$HK249 for children aged 3 -11 (approx $35 AUD).
Children under 3 are FREE!
Buy tickets to Ocean Park with transfers here
Admission fee includes most of the facilities except skill games and coin-operated games.
Hot tip: Before you buy tickets to Ocean Park Hong Kong, check out the current offers here.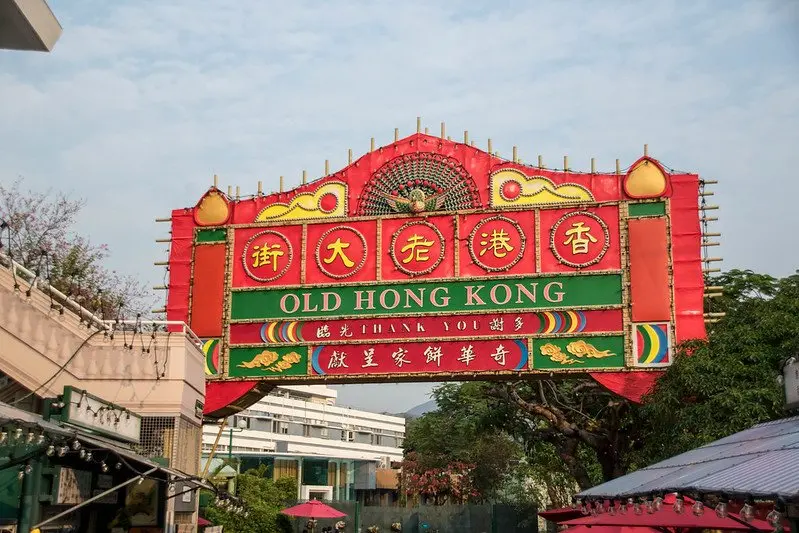 Image credit: Josh Grenier via Flickr CC BY-2.0
How to get to Ocean Park Hong Kong
Click here to get directions from your location.
By MTR train:
From Admiralty on the South Island line to Ocean Park station
Journey takes 20 minutes including a 10 minute (800 meter) walk from the station to the entrance
By Bus:
The Citybus Route 629 runs daily from Admiralty MTR Station or Central (Star Ferry).
The bus fares are HK$10.6 for adults and HK$5.3 for children (aged 4-11).
Express Route 629A operates fromOcean Park to Causeway Bay (near Times Square) and Central (omit Admiralty). The journey takes approximately 25 minutes.
How to get from Hong Kong airport to Ocean Park:
Take the Airport express from the Hong Kong international airport to Central
Then take the Line 260 bus to the Hong Kong country club, and walk 4 minutes (250 meters) to the entrance.
The 260 bus in Hong Kong leaves every 10 minutes
Parking:
Parking is available at the Main Entrance.
Opening hours are from 9:00 am to 30 minutes after the park is closed.
Where is Ocean Park Hong Kong located?
Ocean park is situated in Wong Chuk Hang and Nam Long Shan, in the Southern District of Hong Kon.
This is on the opposite side of the Hong Kong Island to Victoria Harbour.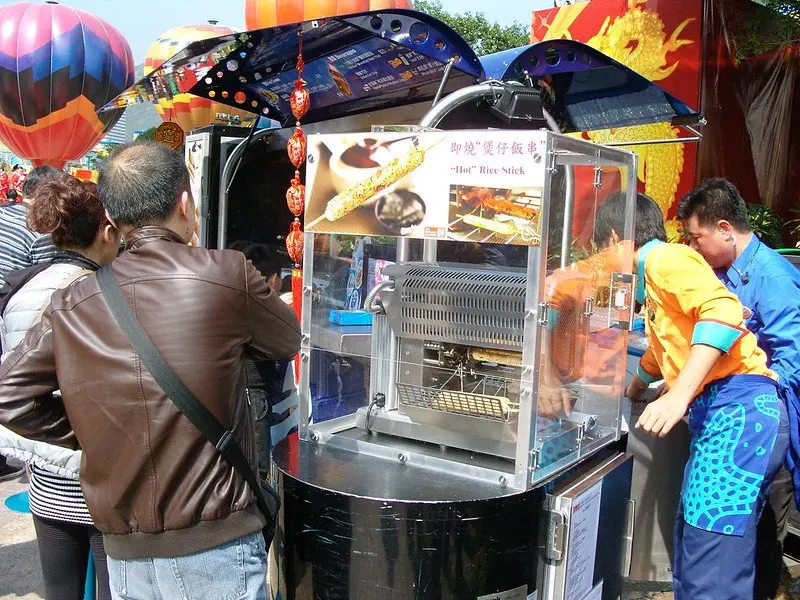 Image credit: Shankar S via Flickr CC BY-2.0
FAQ: Guest Facilities at this Hong Kong Adventure Park
Ocean Park Facilities include:
Anti Lost Child Wristband
Grab one for free at Guest Relations.
The dual functioned wristband enables you to write down contact details on it and helps us reunite you with your child in case he/she is lost in the Park.
(Or you could try one of these toddler wrist strap ideas to stop your little one wandering off and getting lost in a theme park.)
This wristband also records your child's height to provide a hassle-free ride experience for your child.
Baby Care Room
Located throughout the park.
They are equipped with baby changers, bottle warmers and feeding seats.
Lockers, strollers and wheelchairs are available for rent.
The Rental Fee for a single stroller is HK$100 per day, plus a HK$100 refundable security deposit.
Lockers are HK$10 per hour, maximum four hours
Which is better Hong Kong Disneyland or Ocean Park?
Disneyland is a no brainer for us.
But OPHK is a must do attraction in Hong Kong for kids who LOVE animals.
That's the difference.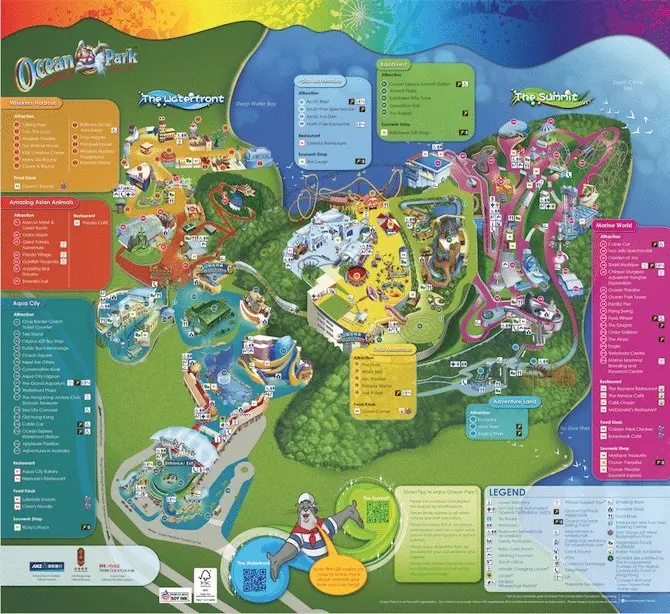 Ocean Park Hong Kong Map
Visiting Ocean Park?
Download a map of the park here.
Toadstool Rating: Ocean Park Hong Kong review
There are plenty of things to do in Ocean Park Hong Kong for kids, and toddlers especially.
Yes, it's a tourist park designed for both local and foreign visitors, but it's lots of fun for families.
Don't miss it!


Looking for More Things to Do in Hong Kong with Kids?
Click the blue links below for more Hong Kong attractions on Hong Kong Island, Kowloon, The New Territories and Lantau Island