INSIDE: Everything you need to know about the best things to do in Temple Street night market for everyone in the family!
When we travel, our normal nightly routine of dinner, bath, book, bed goes OUT THE WINDOW.
There's no way we are missing out on even a drop of fun, and night markets can be super dooper fun for kids.
Temple Street Night Market has something for everyone.
Including delicious Hong Kong street food you must try.
Take a look.
Disclosure: This article contains affiliate links. If you make a purchase after clicking on one of these links, we may receive a small commission at NO extra cost to you. Main image: Sarah Stierch CC BY 4.0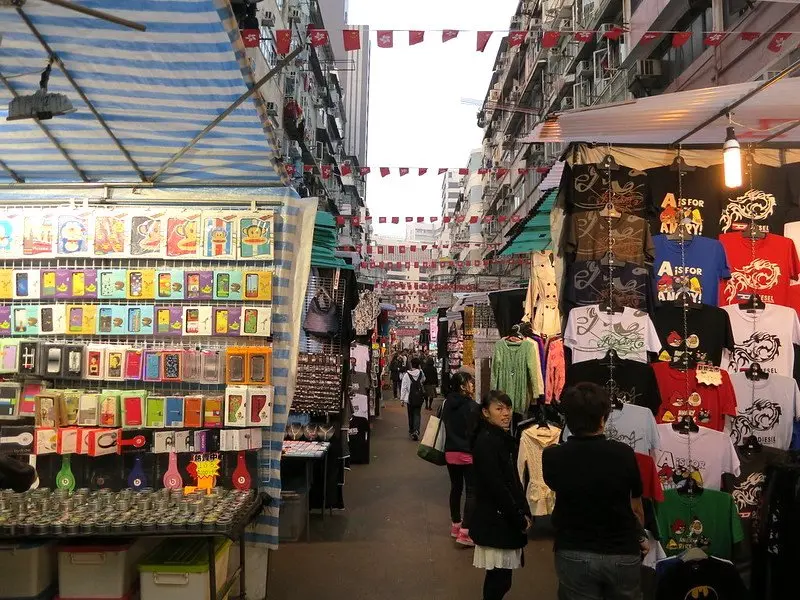 Image credit: Oleg via Flickr CC BY-2.0
Best Things to do in Temple Street Night Market Hong Kong
The Temple Street Night Market has been popular for decades.
Temple Street market is a local institution AND the last remaining night market in Hong Kong.
Tin Hau temple is in the middle of the main street, and is surrounded by market stalls AND incredible food options (claypot rice, seafood, noodles) via street stalls and restaurants.
You can't miss it.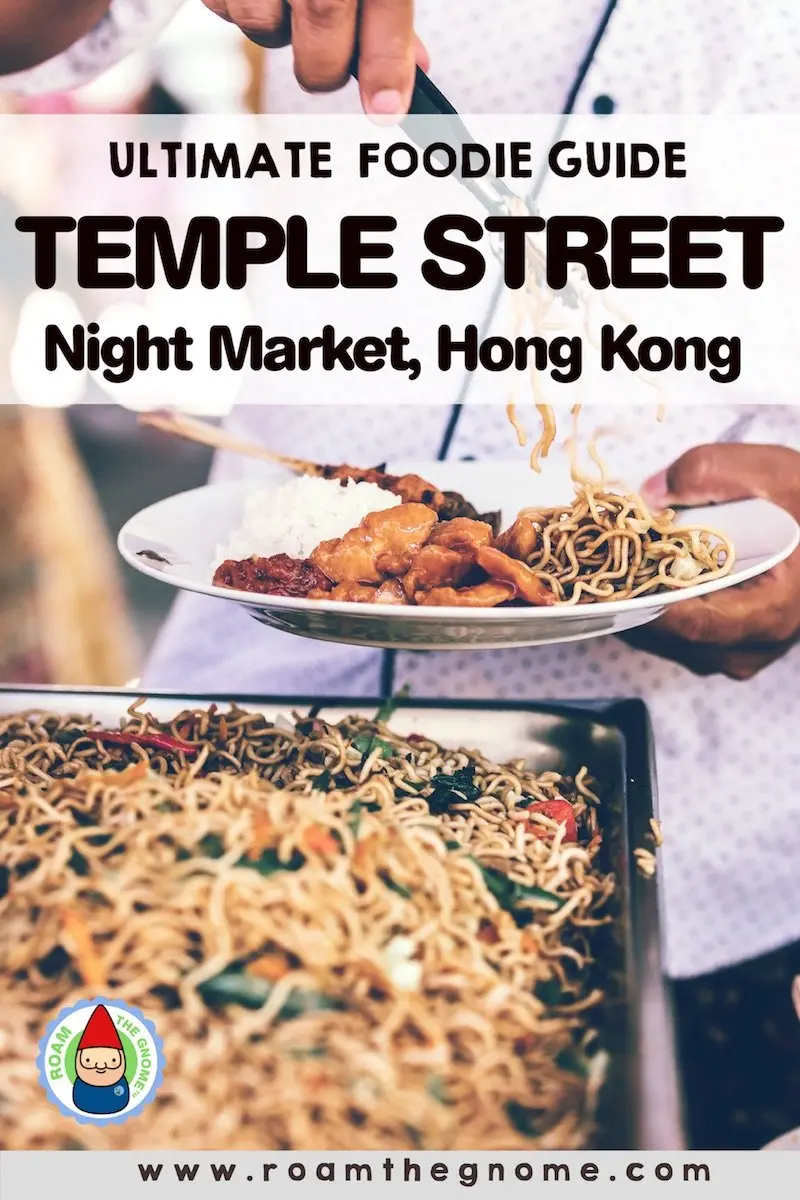 Best Things to do at Temple Street Night Markets
Enter via the giant red pagoda, and get set to enjoy the Chinese festivity of a Hong Kong market, complete with:
tonnes of fortune tellers (set up in a row of tents along Market street)
singers
curios stalls
street food stalls and food courts
tea houses
laidback eateries and family-run diners
Cantonese opera shows (your best chance of an impromptu performance is outside the Tin Hau Temple, between 8:30pm until 11:00)
local entertainment, including the possibility of a Lion Dance!
Designated a no-car zone between 2pm and midnight, the street is labelled a "Part-time Pedestrian Area" and yellow barriers are put in place to police that.
Temple Street Night Market is open nightly, 7 days a week.
---
Book Now: Kowloon Street Food Tour with Get Your Guide (5 stars)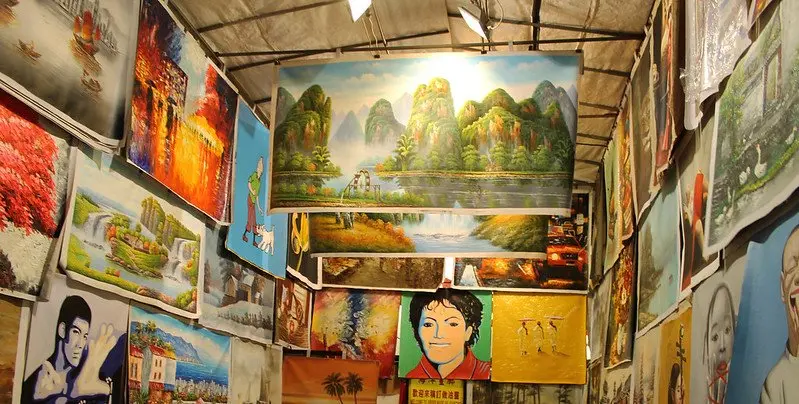 Image credit: Sarah Stierch via Flickr CC BY-2.0
What to buy at Temple Street Night Market
No matter what you are looking for, you'll find it here.
fun fashion
nail decals, hair and beauty goods
women's and children'sclothes,
mensware, hats and caps, sportsware
trinkets
technology and electronics
fancy mobile phone cases
music
teaware
watches
household items
jade jewellery
luggage tags
luggage bags
traditional Chinese arts and crafts
antiques
mobile phone accessories
Luxury handbags (fake copies) and leather goods
You can definitely find a treasure or two without blowing the budget.
---
READ MORE: Best 16 Things to do in Hong Kong with kids!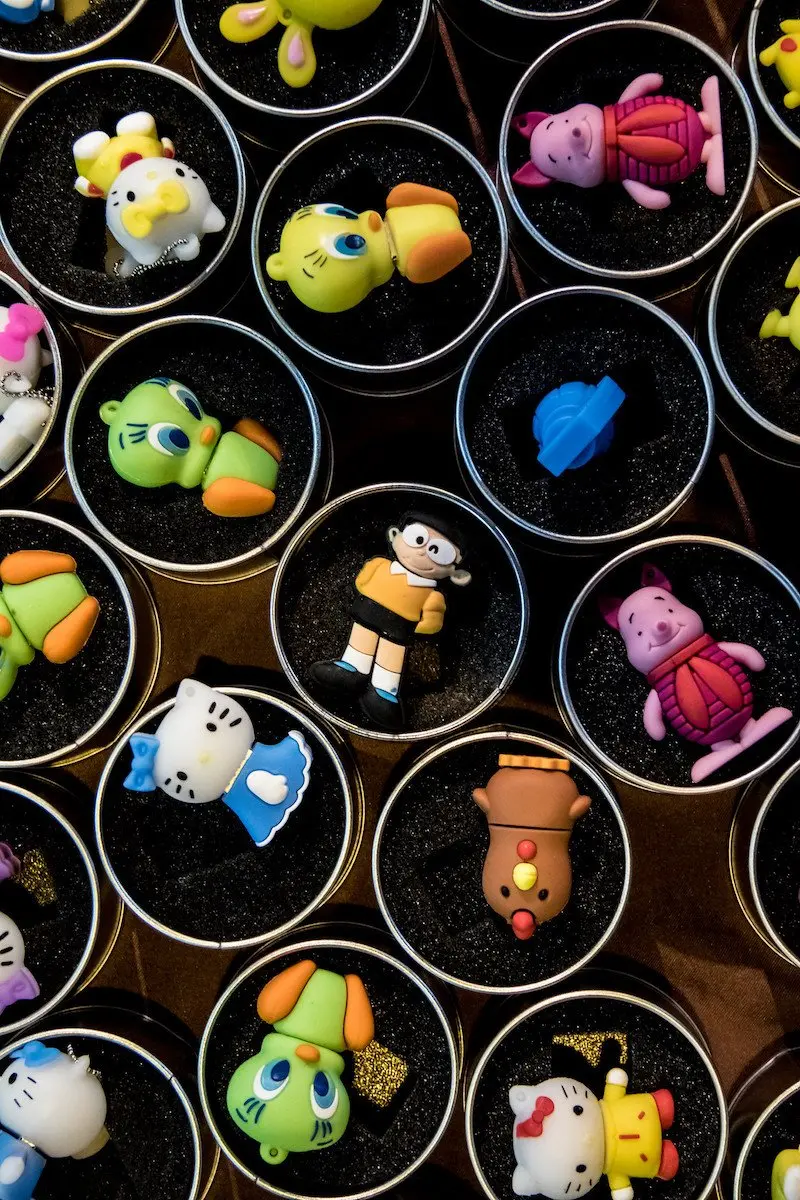 Image credit: Andrew Moore via Flickr CC BY-SA 2.0
What to buy from Temple Street Night Markets for kids
Kids will LOVE the color, chaos and cute things for sale.
There's:
keyrings and hanging trinkets shaped like pandas, lucky cats, and miniature dolls
toys in all shapes and sizes, mostly Chinese junk, but bright and appealing to kids
fun technology, like these cute USB sticks
video games
Hello Kitty and Disney backpacks, plush toys, t-shirts, handbags, purses, dolls
cute new socks
Get ready for the haggle – it's the done thing.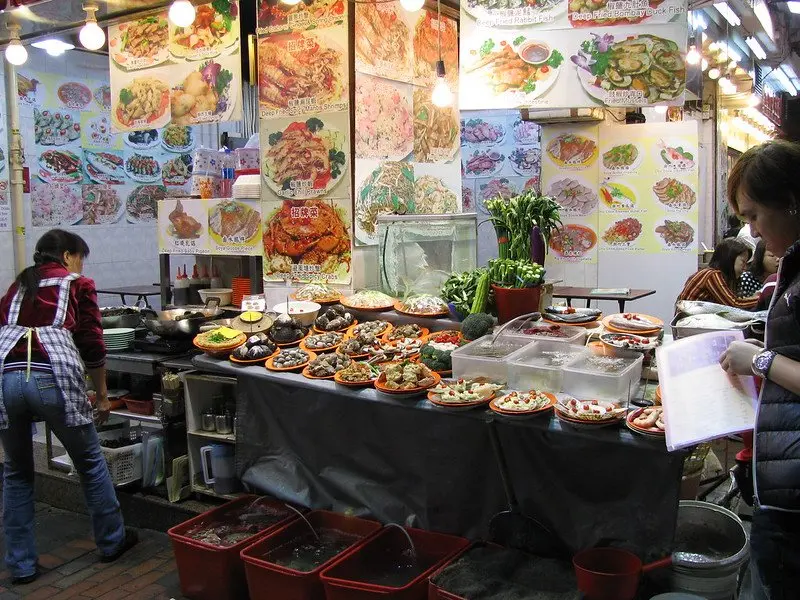 Image credit: Shankar S via Flickr CC BY-2.0
Temple Street Night Market street food eateries
Foodies should make a beeline to Temple Street night market to explore all the different food options available for tasting. The Temple Street night market food prices are very reasonable, as it's primarily a local's market, rather than a tourist one.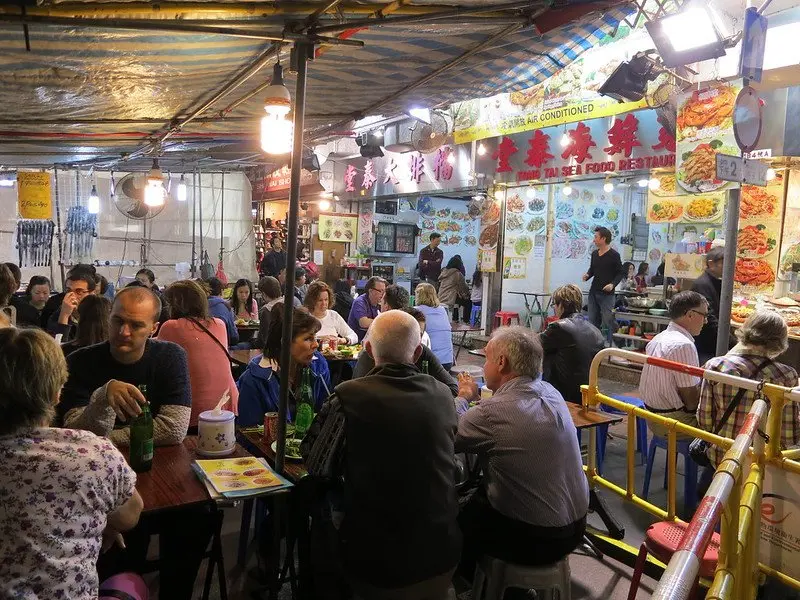 Image credit: Oleg via Flickr CC BY-2.0
Temple Street Night Market food stalls
Pull up a seat at any one of the food stalls to try some Hong Kong cuisine and delicacies including:
garlic chilli prawns
chilli and garlic scallops
steamed fish
sweet and sour pork
deep fried oyster
deep fried squid
soya goose piece
deep fried spicy chilli crabs
deep fried spicy mantis shrimps
fried crabs with ginger and spring onion
Yeung chow fried rice
fried rice noodles
hot bowls of noodles
won ton
sliced fish cake, and
fishmeat balls
roast pigeon
Don't miss trying Claypot HotPot Rice.
This is a rice dish filled with a bunch of tasty ingredients including:
Chinese sausage
minced pork cakes
salted egg
salted fish
chicken
mushrooms
preserved meats
It's topped off with thick sweet soy sauce on top!
---
RELATED: The Best 14 Fun Foods to Try in Hong Kong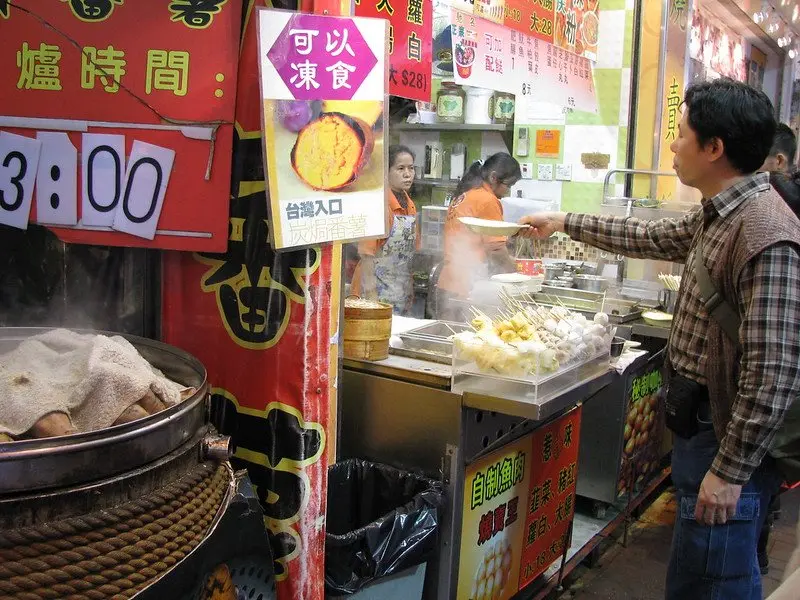 Image credit: Shankar S via Flickr CC BY-2.0
Hong Kong 'dai pai dong' (food cart)
Check out the dai pai dong food carts in Hong Kong Temple street market for these cheap feasts:
egg puffs
curry fish balls on skewers
egg tarts
crispy chicken
dumplings
steamed crab
cheung fun (chewy rice noodles)
siu mai (a street version of a steamed dim sum classic), and
fried octopus tentacles.
---
Book now: Kowloon Private Night Market Tour with 6-8 food tastings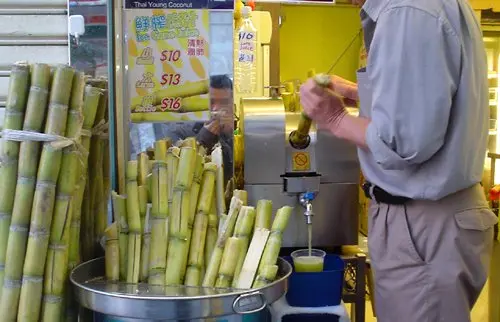 Image credit: Aaron Tango Tang via Flickr CC BY-2.0
Popular Hong Kong drinks
You can also pick up drinks on the go to try, including:
fresh green coconut juice
fresh sugar cane juice
fresh mango with coconut juice
fresh papaya with coconut juice
fresh pineapple with coconut juice
bubble tea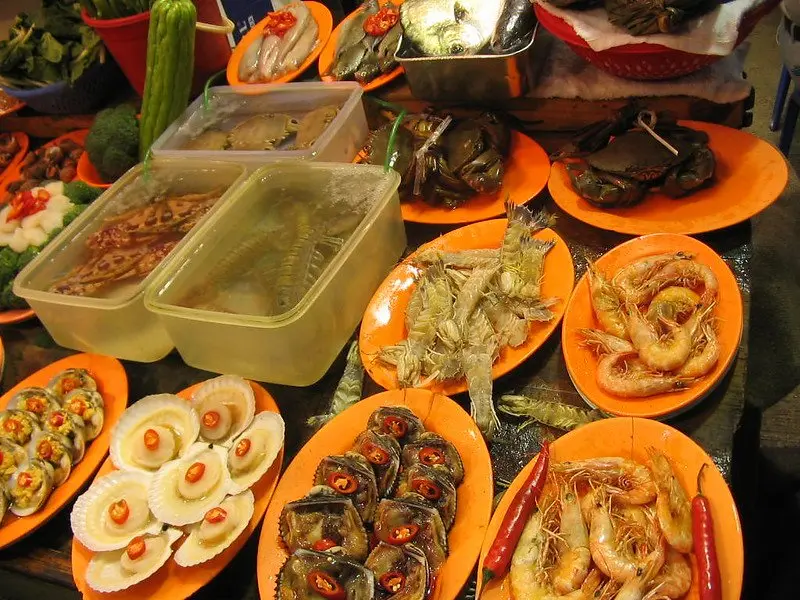 Image credit: Tracy Hunter via Flickr CC BY-2.0
About Temple Street Market Grocery Stalls
There's also plenty of food stalls at Temple street night market where locals buy their fresh food.
Look out for the seafood stalls at this Hong Kong night market, filled with:
scallops
prawns
whole fish
oysters
crabs and
crayfish
And the local butchers stalls too, even though the sight may make you gag!
Spy the sausages, pigs, giant squid, blocks of tempeh, and other Hong Kong delicacies ready to be cooked by locals at home for dinner.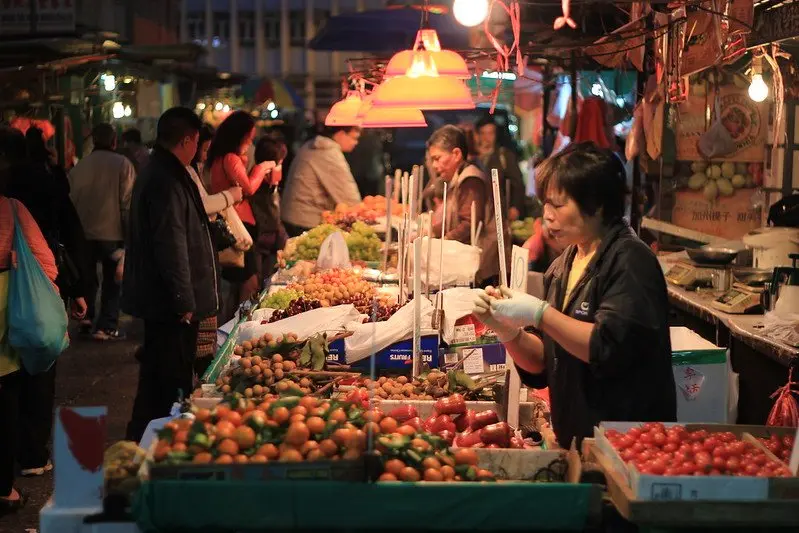 Image credit: Oleg via Flickr CC BY-2.0
Fruit stalls at Temple Street Market
Pick up some cherries, grapes, and local Hong Kong fruits such as Chinese pear, common fig, persimmons, Chinese plum and pomegranate for tomorrow's mid morning snack break.
You can also buy giant cups of:
strawberries
cut up slices of dragonfruit
pawpaw
cherries
star fruit
mango, and
lychees.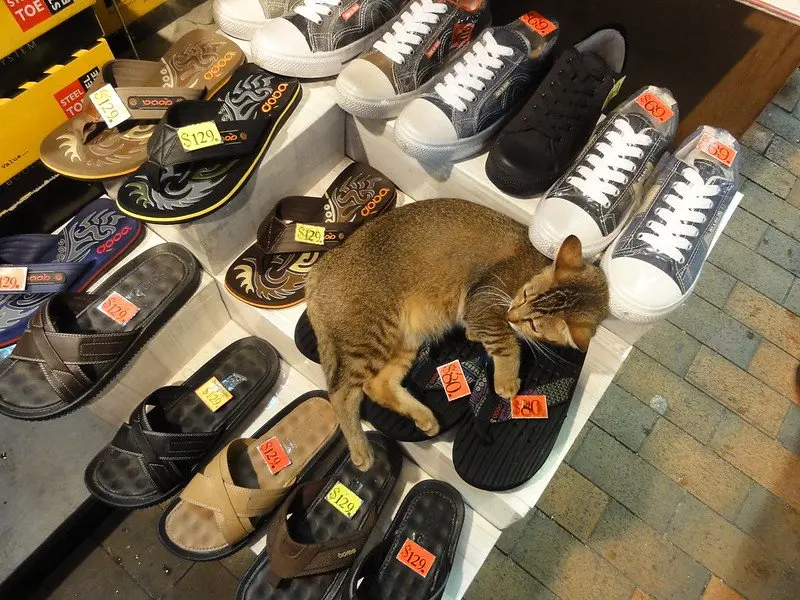 Image credit: Kent Wang via Flickr CC BY-SA 2.0
THE INSIDE SCOOP: Places to see in Temple street Night market
Correct at time of publication on Roam the Gnome. Please check with venue for updates. We apologise in advance if there have been any changes we are unaware of. All prices in US dollars, unless otherwise stated
Temple Street night market address: Temple Street, Yau Ma Tei, Kowloon
Telephone: N/A
Website: Click here
Email: [email protected]
Temple Street Night Market Hours:
Open nightly, 7 days a week
From 4pm to 10pm ish
Hot tip: Visit once it's dark. This is when the night market comes to life!
Temple street market entry fees:
How to get to Temple Street Night Market MTR
By MTR rail:
MTR Yau Ma Tei Station, Exit C, turn onto Temple Street at Man Ming Lane; or,
MTR Jordan Station, Exit A. Turn right onto Jordan Road and then take another right onto Temple Street.
Parking: We recommend taking public transport in Hong Kong.
Map of Temple Street Night Market in Hong Kong
Toadstool Rating: Temple Street markets in Hong Kong with kids
Night markets can be a little taxing on the ticker!
There's nothing worse than losing sight of your child in a shopping market during the day but at night, it's catch-your-breath kind of stuff.
My advice is to put the toddler in the ergo to keep them close by.
This leaves one free hand to keep hold of the other child, before he darts away to look at some trinket that has captured his attention.
Trailing one child in one direction is all I can manage, so the Ergo earned its keep on nightly jaunts like this.


Looking for More Things to Do in Hong Kong with Kids?
Click the blue links below for more Hong Kong attractions on Hong Kong Island, Kowloon, The New Territories and Lantau Island