INSIDE: Roam the Gnome's Guide to Stanley Markets Hong Kong.
Stanley Market in Hong Kong is one of the must-go places for tourists who want to shop when they visit Hong Kong.
You will see a few Hong Kong locals and expats on the shopping treasure hunt too.
Getting there is half the fun, and our expat friends tell us the bus ride alone makes the trip worthwhile.
Take a look at all the fun things to do in Stanley below.
Disclosure: This article contains affiliate links. If you make a purchase after clicking on one of these links, we may receive a small commission at NO extra cost to you. Main image credit: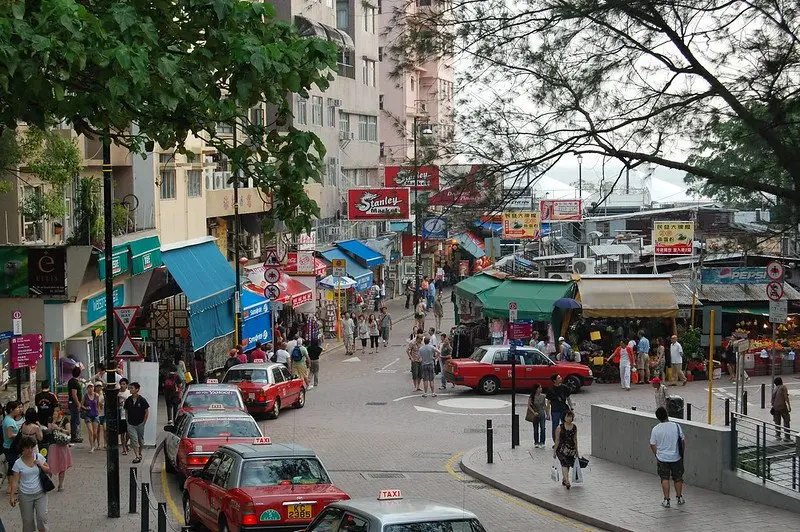 Image credit: Edwin.11 via Flickr CC BY-2.0
How to go to Stanley Market in Hong Kong?
You can go along the windy roads to Stanley by taxi, bus, or mini bus.
Or travel in style by jumping on one of the last remaining red-sail junk fishing boats, the Aqua Luna, for a weekend sail to your destination.
Or perhaps bus it one way, sail the other, for the best of both worlds!

BOOK NOW: Cruise from Tsim Sha Tsui or Central to Stanley Markets (& More) on a Chinese junk boat!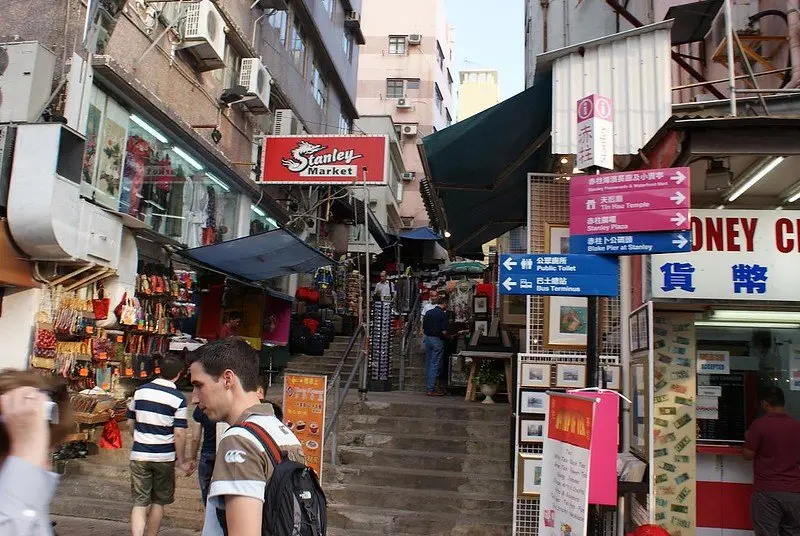 Image credit: David Bailey via Flickr CC BY-SA 2.0
What to buy in Stanley Market in Hong Kong
While Stanley Market Hong Kong is touristy, these markets are filled with cute souvenirs and things that make awesome gifts.
It's a great place for the kids to spend their pocket money, as there are plenty of affordable options too.
Pick up touristy souvenirs and gifts from Hong Kong including:
ornaments
Chinese birdcages made from bamboo
oriental knick-knacks
cute Marvel and DC Superhero luggage tags
cute clothes for kids
Chinese linen – embroidered table cloths, tea towels, wine bottle gift bags
fashion accessories
silk dresses and beach style dresses
jewellery and accessories
sunglasses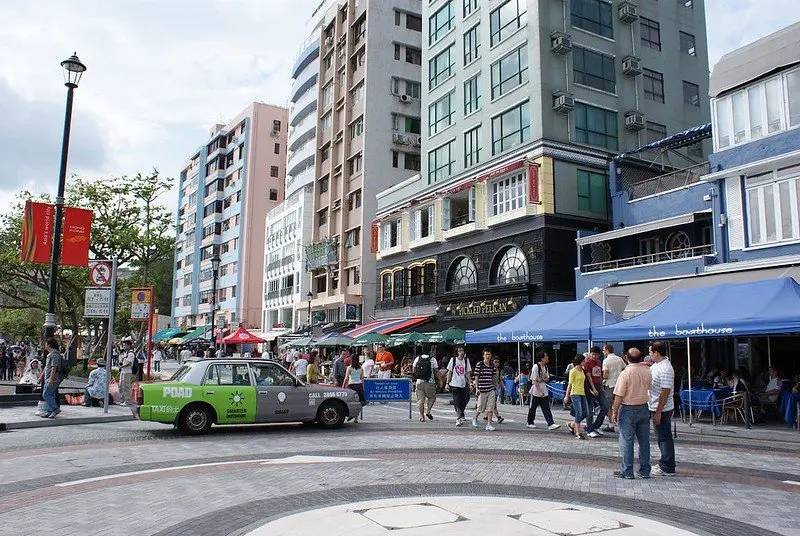 Image credit: David Bailey via Flickr CC BY-SA 2.0
Shopping at Stanley Market Hong Kong Island
Adults will find new mobile phone covers made in China, embroidered linen bags and homewares, tonnes of stationery items including calculators, and hundreds of cheap touristy t-shirts just for the picking.
Replica brand-name clothing (large sizes are available) makes an appearance, along with a few home design elements thrown in.
You can also buy Chinese calligraphy posters with your name drawn on it.
Stanley Market street market is similar to the Ladies market in stock, but in much nicer surroundings and more relaxed.
While in Stanley, you can also visit the Chinese Tin Hau Temple and experience the grandeur of colonial Murray House.
---
RELATED: All you need to know about the Flower Street Market in Hong Kong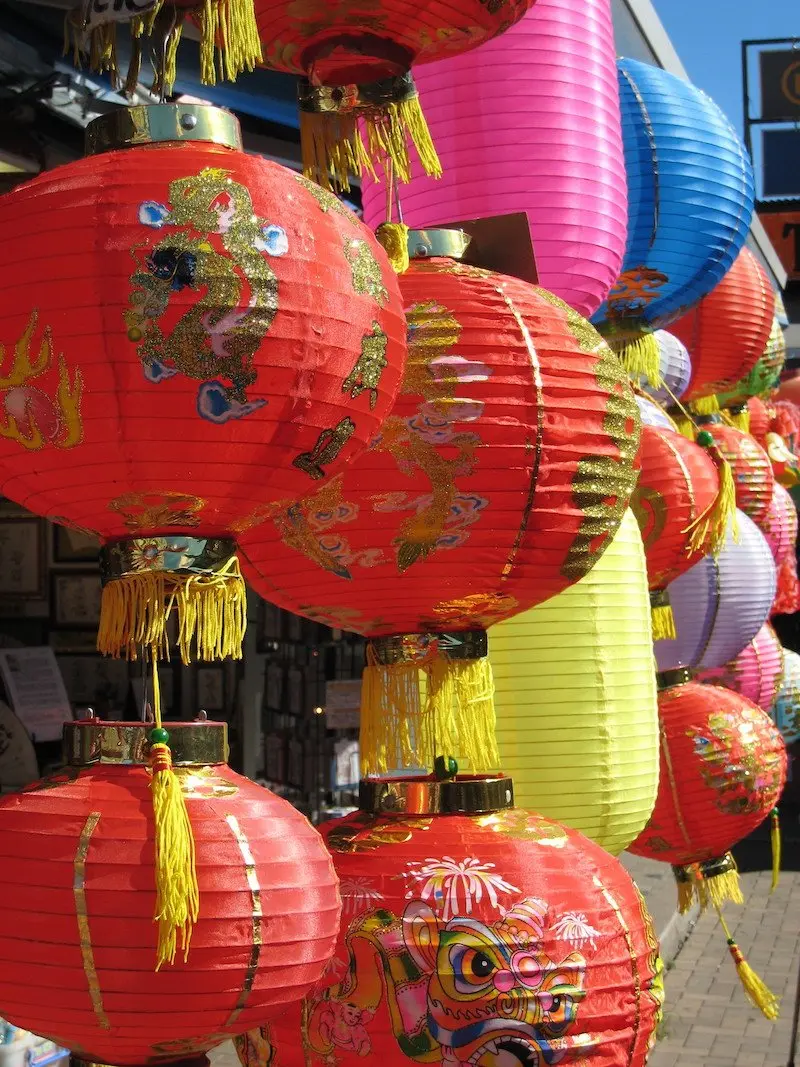 Image credit: Mark Pegrum via Flickr CC BY-2.0
Old Street Stanley Market
Be sure to check out Old Street Stanley for retro Chinese goods and replicas, including Chinese hats and lanterns.
This is the spot to collect all your Feng Shui charms and souvenirs for good luck.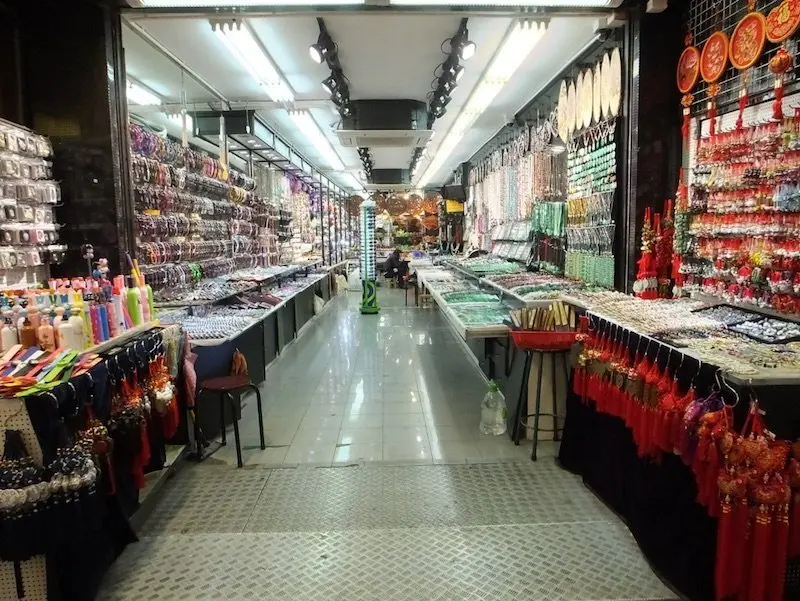 Image credit: Maureen Lunn via Flickr CC BY-2.0
Hong Kong Souvenirs for Kids
The kids might like their own wrist watch.
There are plenty to choose from, starting from just $3!
Kids can also buy:
cheerful and cheap Chinese toys galore
knickknacks
novelty keyrings
Chinese fans
Feng shui good luck charms
torches (perfect for the travelling kid), and
lots of different kids backpacks and bags.
---
RELATED: Ultimate Guide to Toy Street Hong Kong Market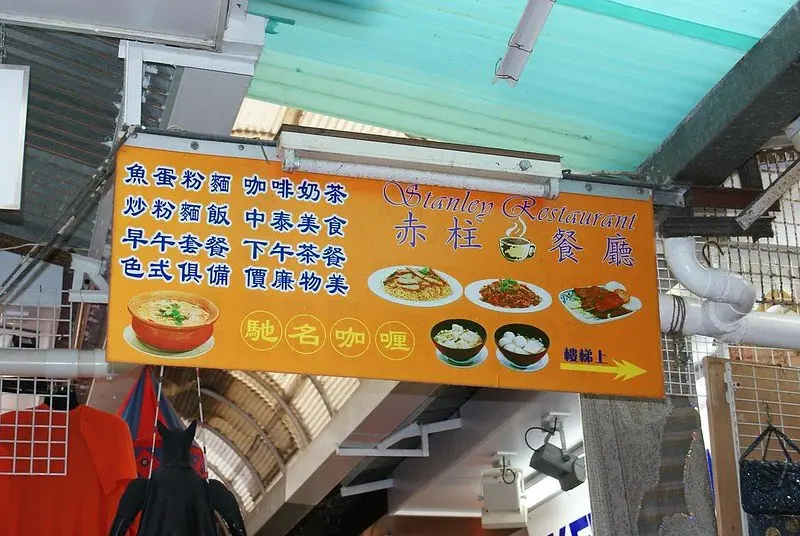 Image credit: David Bailey via Flickr CC BY-SA 2.0
What to eat at Stanley Markets
If food is more your thing, you'll love the waterfront cafes too.
There's plenty to choose from, including Pizza Express for the kids, and lots of Hong Kong cuisine.
Stanley Market Hong Kong restaurants include:
Thai
Western food
Waffles
a Beerhall
Spanish
Italian
Local restaurants definitely cater for the tourist trade, so expect to pay more.
---
RELATED: Big List of Must Try Foods in Hong Kong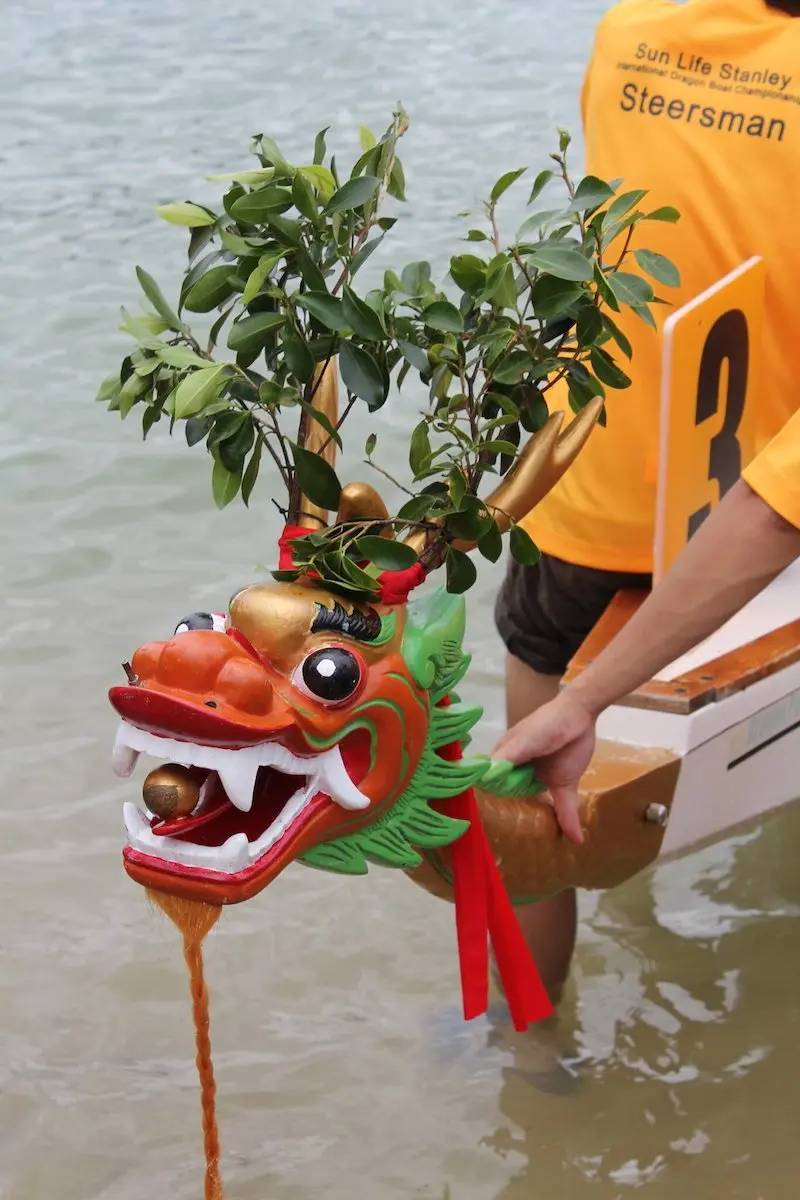 Image credit: Beth Marshall via Flickr CC BY-2.0
The Stanley Dragon Boat race
This wonderful event happens in Stanley once a year.
The well known and well-loved Stanley Beach Dragon Boat Race
If you happen to be in Hong Kong the week this is on, you're in luck.
Held at Stanley Main Beach, it's a middle of the year event.
Keep an eye on upcoming dates.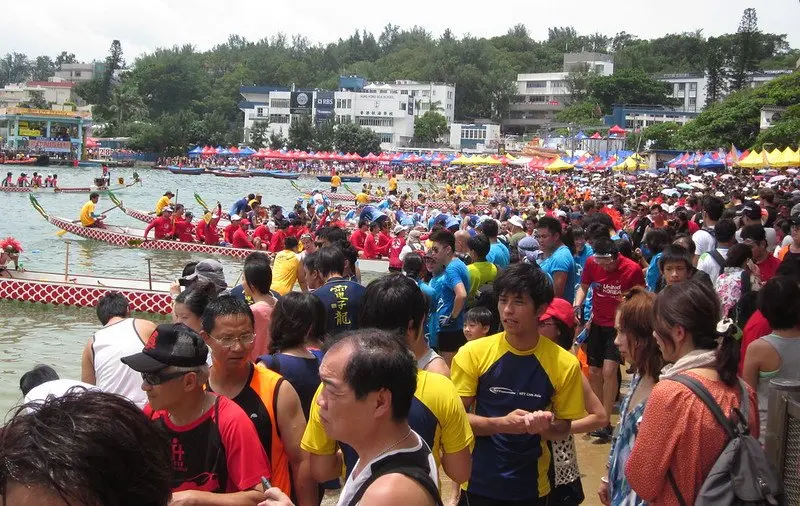 Image credit: Ken Marshall via Flickr CC BY-2.0
Imagine your kids faces as they watch hundreds, and hundreds, of people descend on the water for the annual Dragonboat challenge.
I don't think you'll be able to move them from their vantage point till it's all over.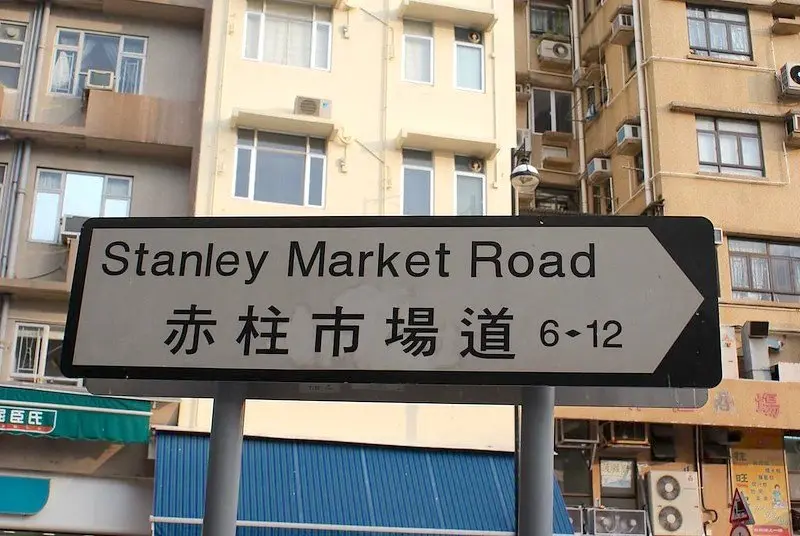 Image credit: David Bailey via Flickr CC BY-SA 2.0
THE INSIDE SCOOP: Hong Kong Stanley Market
Correct at time of publication on Roam the Gnome. Please check with venue for updates. We apologise in advance if there have been any changes we are unaware of. All prices in HK dollars, unless otherwise stated
Address: The Stanley waterfront market is located at Stanley New Street, and Stanley Market road, Stanley, Hong Kong Island
Telephone: +852 9328 7408
Website: Click here
Stanley Market Hong Kong opening hours: 10am to 6pm, daily (except Chinese New Year)
Entry Fees: FREE!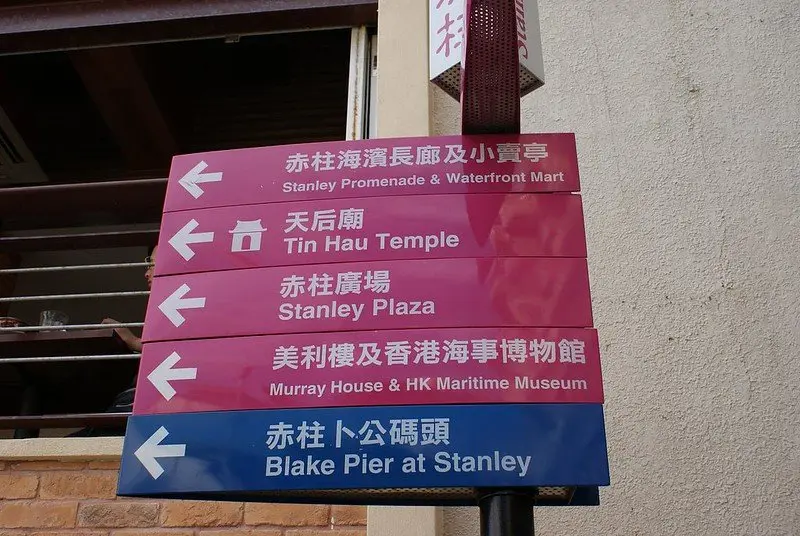 Image credit: David Bailey via Flickr CC BY-SA 2.0
How to get to Stanley Market
By Taxi: The easiest way to get to Stanley market is by iconic Red Taxi. They bring passengers directly to the entrance of the market.
By MTR rail and minibus: Travel to MTR Causeway Bay Station, Exit F1. Walk to Jardine's Bazaar and then take minibus 40.
By Green Minibus: From Causebay Bay, take the AMS Green Minibus #40 direct to Stanley markets. The roads are windy, so beware. Take a sick bag for the kids, just in case.
By bus:
Travel via air-conditioned bus and you'll arrive at Stanley Markets bright and sparkly.
The Bus 6, 6A, 6X, 66 and 260 from Central's Exchange Square bus terminal will take you direct.
Exchange terminal near MTR Hong Kong Station, Exit D.
OR Bus 973 from Canton Road in Tsim Sha Tsui outside Silvercord Centre.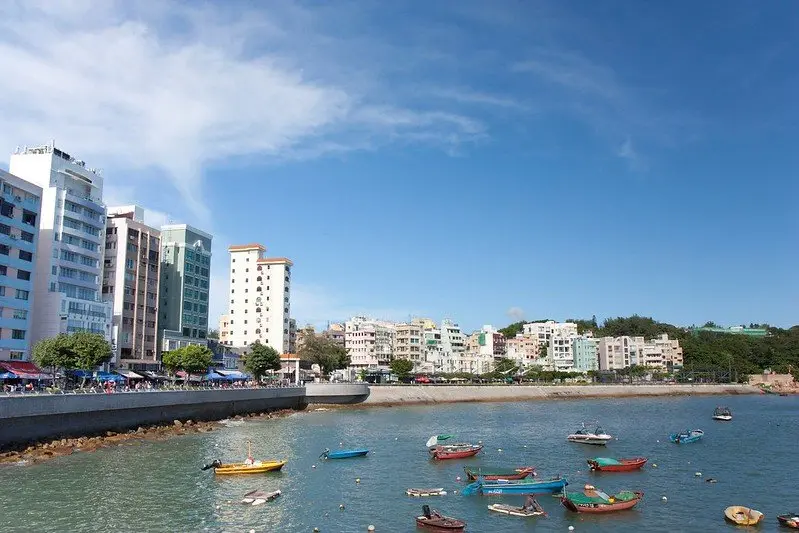 Image credit: Simplicitys via Flickr CC BY-ND 2.0
By Aqua Luna: Travel by this magnificent boat, but only on weekends!
Every Saturday and Sunday, you can sail Hong Kong Harbour on the Junk Boat Aqua Luna on a 90 minute cruise of Hong Kong Island, disembarking at Stanley.
Every Saturday and Sunday, Aqua Luna takes you on a 90 minute cruise of Hong Kong Island to show you the delights of Stanley.
One way tickets are:
HK$250 adult
HK$170 child
Return tickets are:
HK$380 adult
HK$240 child
Cruises include one complimentary drink on board on each leg.
Stanley Hong Kong Map
Toadstool Rating: HK Stanley Market Road
A great day out near the water.


Looking for More Markets in Hong Kong?
Click the blue links below for more Hong Kong attractions on Hong Kong Island, Kowloon, The New Territories and Lantau Island