INSIDE: How to get to the Longest Escalator in the World and what to do there.
Did you know that Hong Kong escalator street, the Central Mid-Levels Escalator and Walkway, is the longest escalator in the world?
It's also the world's longest covered walkway.
Take a look below!
Disclosure: This article contains affiliate links. If you make a purchase after clicking on one of these links, we may receive a small commission at NO extra cost to you.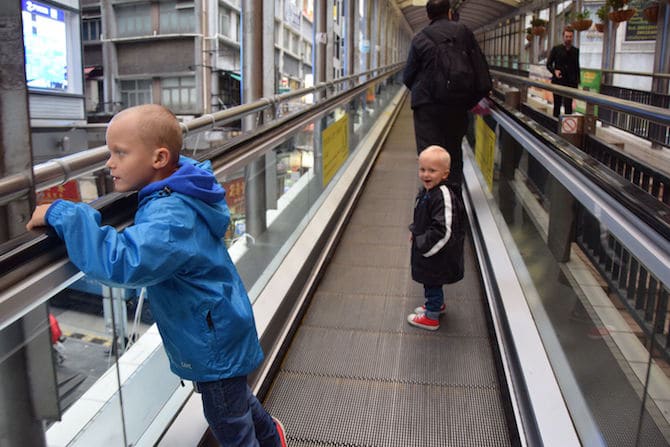 Introducing the Longest Escalator in the World!
Constructed in 1993, it links the Central and Western districts to help commuters move around but it's become a bit of a tourist hotspot too.
You can take moving walkways and moving stairs for a length of 800 metres from Central, through Soho and right up to the Mid-levels.
800 metres or 2,600 feet!
That's the entire length of escalator street from beginning end.
It's why the Hong Kong escalator street is listed in the Guinness World Records Book as the "Longest outdoor covered escalator system in the world".
Central Mid Level escalator rises in elevation by 135 metres over the journey, making it the tallest escalator in the world too.
Hong Kong Mid levels escalator street also provides for over 85,000 pedestrian trips A DAY!
A new survey will be conducted this year to determine the increase.
We bet it'll be over 100,000 daily pedestrian trips by now.
---
Book Now: Hong Kong Heritage Tour of Local Architecture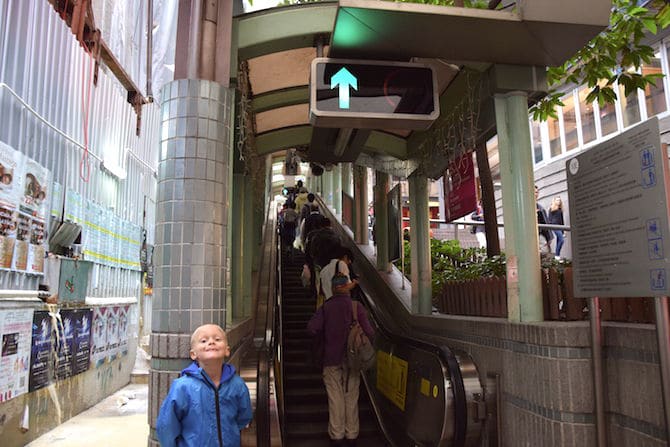 Hong Kong Escalator Street Adventures!
The escalator runs through the whole length of Cochrane Street, between Queen's Road Central and Hollywood Road. Then it continues on running the length of Shelley Street.
The beginning of the system is above 100 Queen's Road Central, where it crosses Cochrane Street.

Ask a local or in one of the shops along Queen's Road to find the starting point.
Surprisingly, the spot to join the first escalator ride is a little hidden!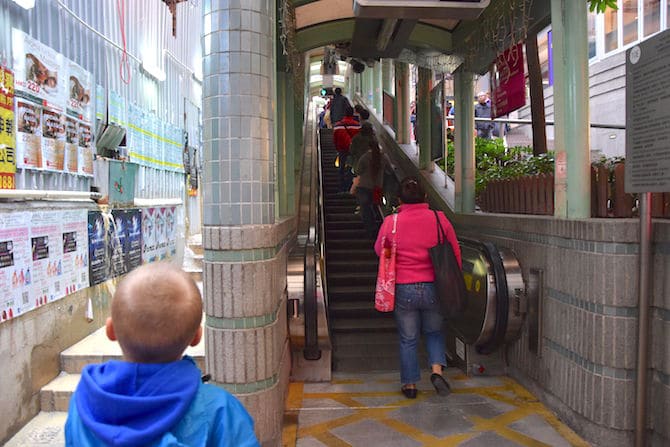 Longest Escalator Systems (but not longest individual escalator)
We were a little surprised to see the Hong Kong escalator street was a series of escalators, rather than ONE LONG ONE.
The kids hadn't made that assumption, so they were thrilled with the idea of hopping on one escalator or moving travelator after another, after another, after another.
Fun Fact: The longest continuous escalator in the world is one of three built in the deep underground stations of the Saint Petersburg Metro. These escalators are 138 metres long (453 ft) long and 69 meters (226 ft) high!
Riding the world's longest moving escalator is truly a fun adventure for the kids!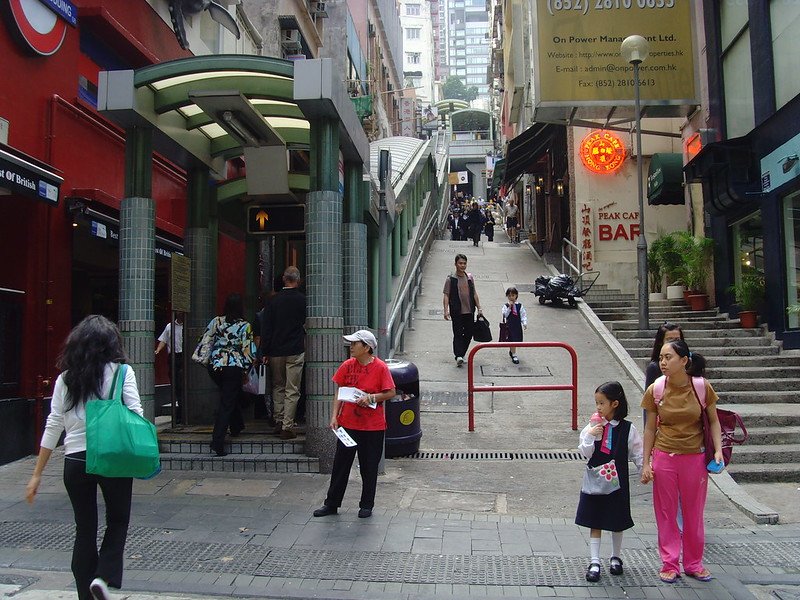 Image credit: Klaus Nahr via Flickr CC BY-SA 2.0
Changing Directions of the Mid Level Escalator Hong Kong
The longest escalator in Hong Kong runs downhill from 6:00 a.m. to 10:00 a.m, and uphill from 10:30am to midnight daily.
The direction reverses depending on rush hour traffic and which way they need to transit.
My boys thought that was the funniest thing ever!
Escalators that swap direction?
Hilarious!
---
Book Now: Evening Cruise on a Chinese Junk Boat on Victoria Harbour, with wine! (BESTSELLER)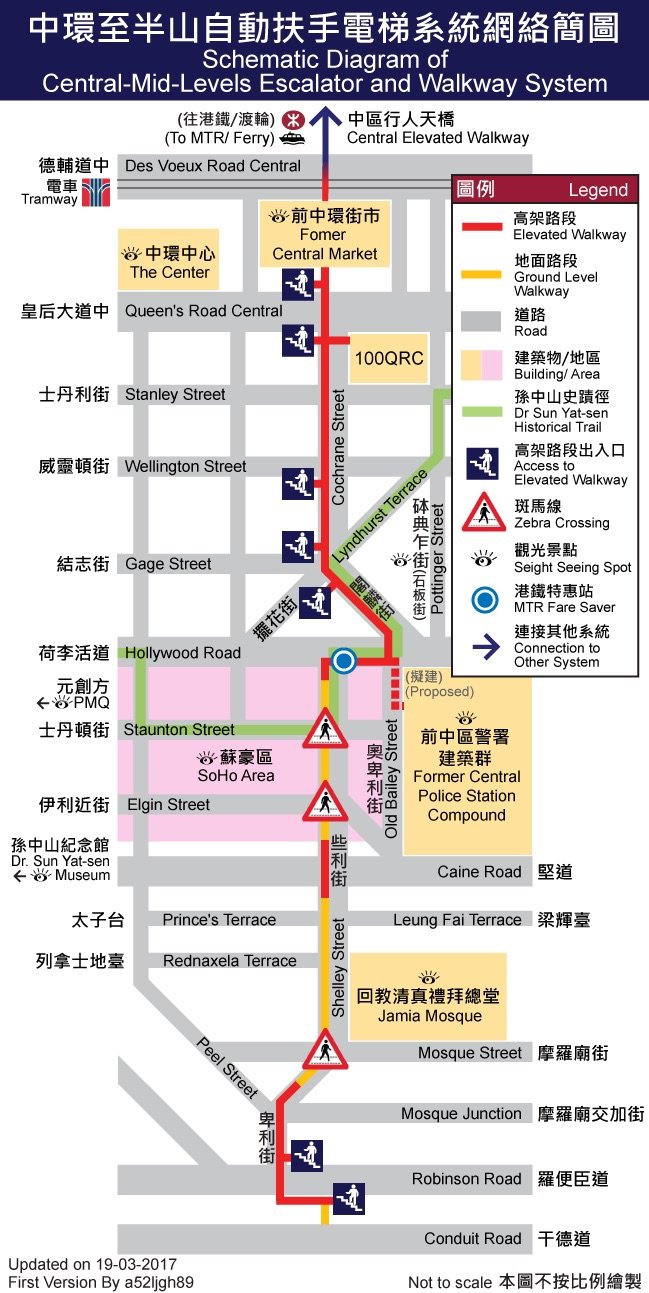 Image source: Wikipedia
Central Mid Levels Escalator Map of Route
The map above is a guideline of where the escalator starts, and finishes.
It also lists the 14 cross roads it passes along the journey.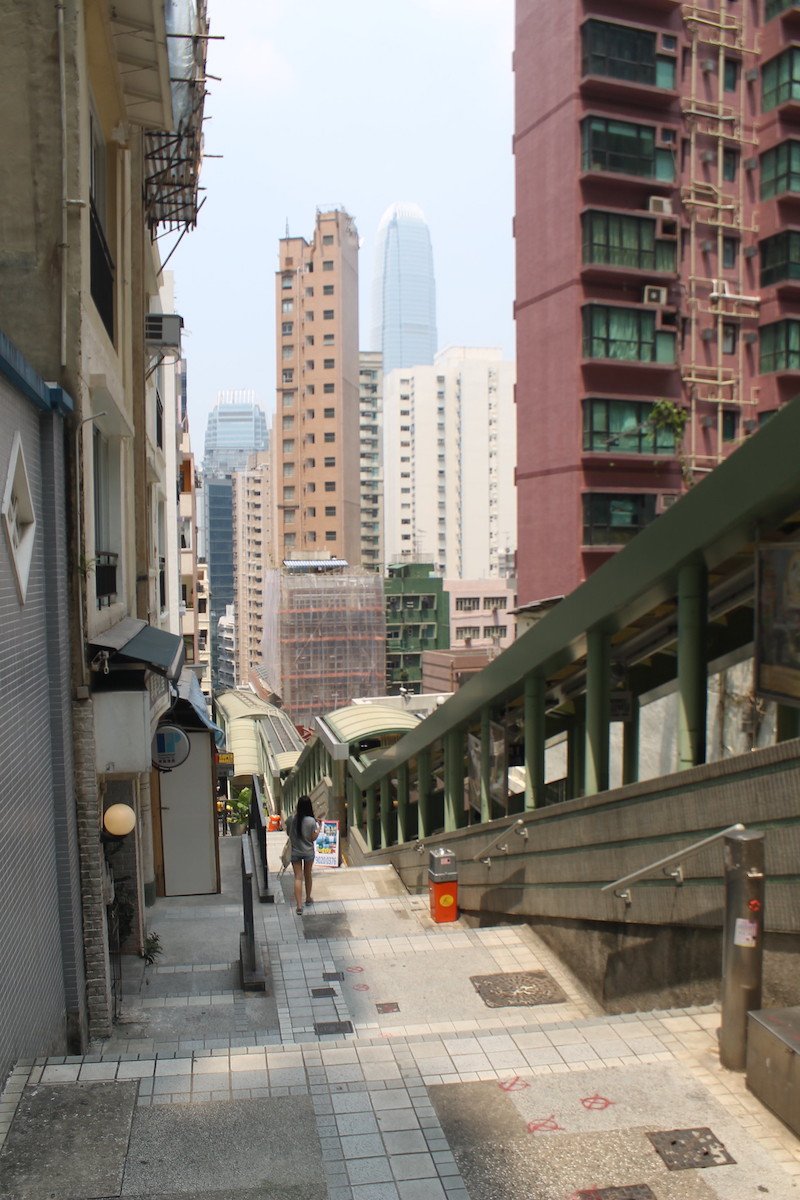 Image credit: Ironypoisoning via Flickr CC BY-SA 2.0
How long does it take to travel on the World's Longest Escalator system?
Travelling the length of the Hong Kong escalator street takes 20 minutes if you stand still on each moving section.
The journey on the longest outdoor moving staircase is faster if you walk or run at the same time.
Why not make it into a bit of a race to see how long it takes your family?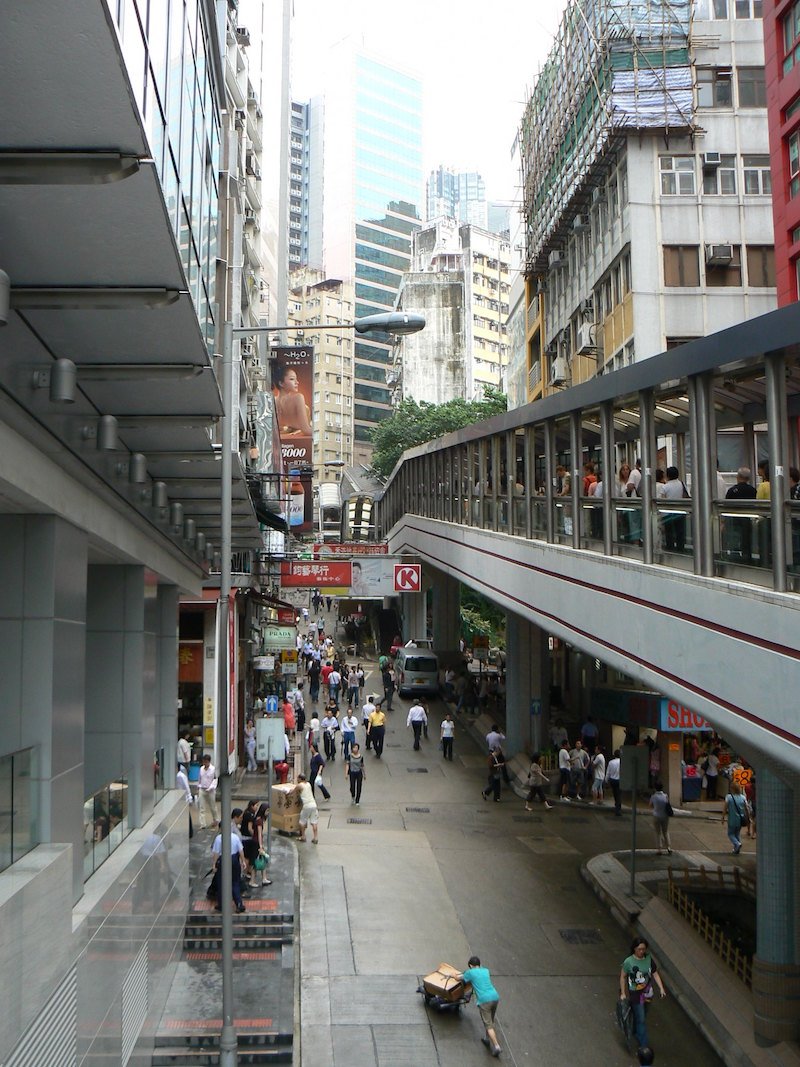 Image credit: Will Clayton via Flickr CC BY- 2.0
What to eat in Central Mid Levels Hong Kong
There's plenty of restaurants and shops lining the route in the city, just in case the kids need a drink or snack stop half way.
There is an entrance and exit from the escalator system on each road it passes.
These exits are often on both sides of the road.
Stop by the Tai Cheong bakery on 35 Lyndhurst Terrace, Central, Hong Kong.
This is the home of the famous egg tarts!
---
RELATED: The BIG List of the Must Try Food in Hong Kong.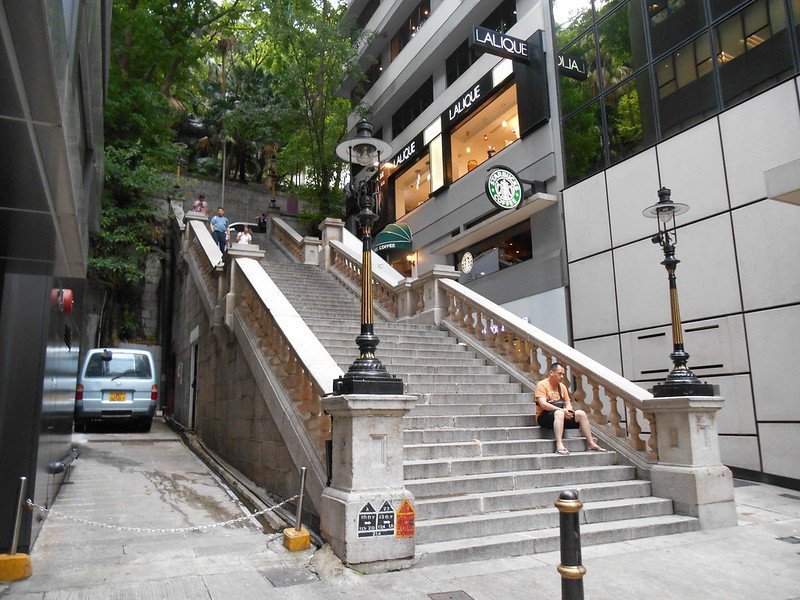 Image credit: Mike via Flickr CC BY-SA 2.0
Things to do in Central Hong Kong
Visiting the Hong Kong central mid level escalator is an excellent way to explore the busy streets of Central to see:
Hong Kong's oldest market district
Duddell Street steps and Hong Kong's last working gas lamps (spectacular storied granite staircase)
World famous antiques and art district
Museums and Art Galleries including the Tang Contemporary Art Hong Kong, and Art Futures Gallery
historic buildings, and
the quaint Mid-levels district.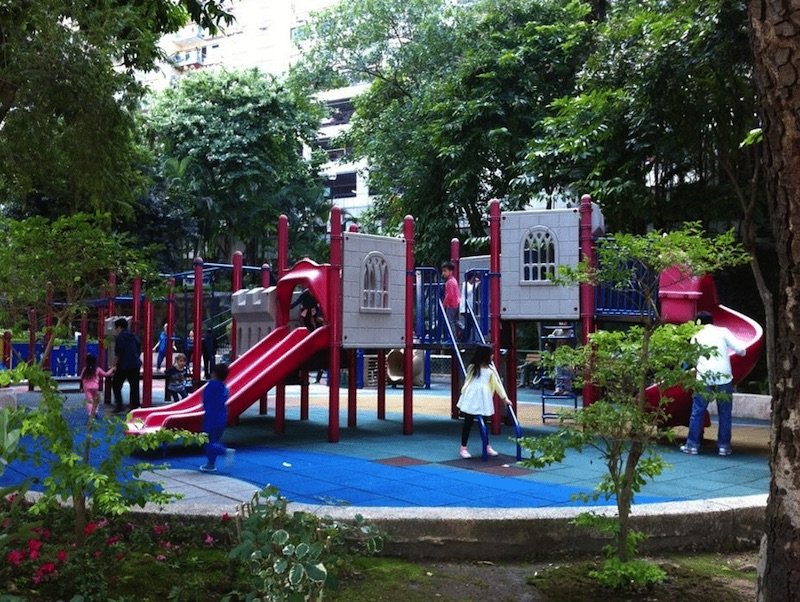 Hong Kong Playground near Central Mid Levels
If you are looking for somewhere for the kids to run off a bit of steam after this adventure, try the Caine Road playground.
Travel back down the escalator to Caine Road and walk about 500 metres to your left.
Visit this fenced playground in all it's gloriousness!
You can also visit the Conduit Road Service Reservoir playground, with swings, toddler bouncers, and a play fort, and basketball/soccer field.
Hot tip: If your kids love watching people working on building sites, keep your eyes peeled for the construction of bamboo scaffolding!
You've never seen anything quite like it.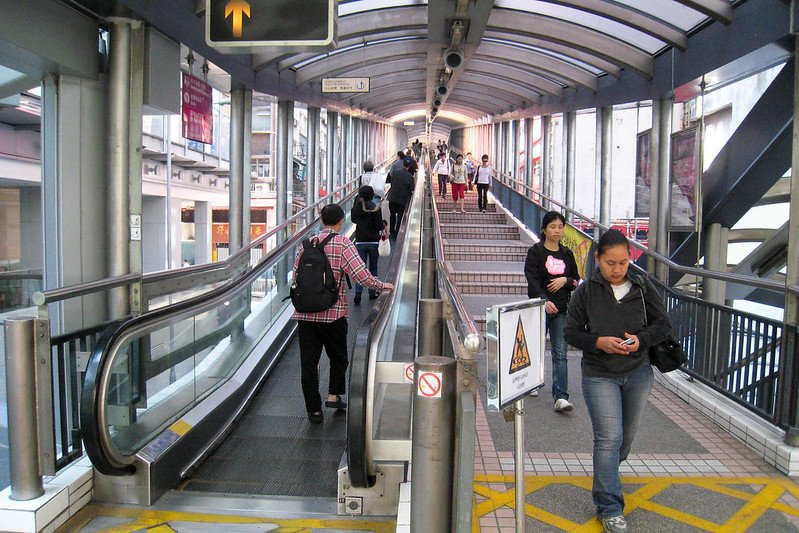 Image credit: Doug Letterman via Flickr CC BY- 2.0
THE INSIDE SCOOP: Central Mid Levels Escalator in Hong Kong
Correct at time of publication on Roam the Gnome. Please check with venue for updates. We apologise in advance if there have been any changes we are unaware of. All prices in HK dollars, unless otherwise stated
Address: Jubilee St, Central, Hong Kong
Telephone: +852 2166 7682
Opening Hours: 6am to midnight
Entry Fees: FREE!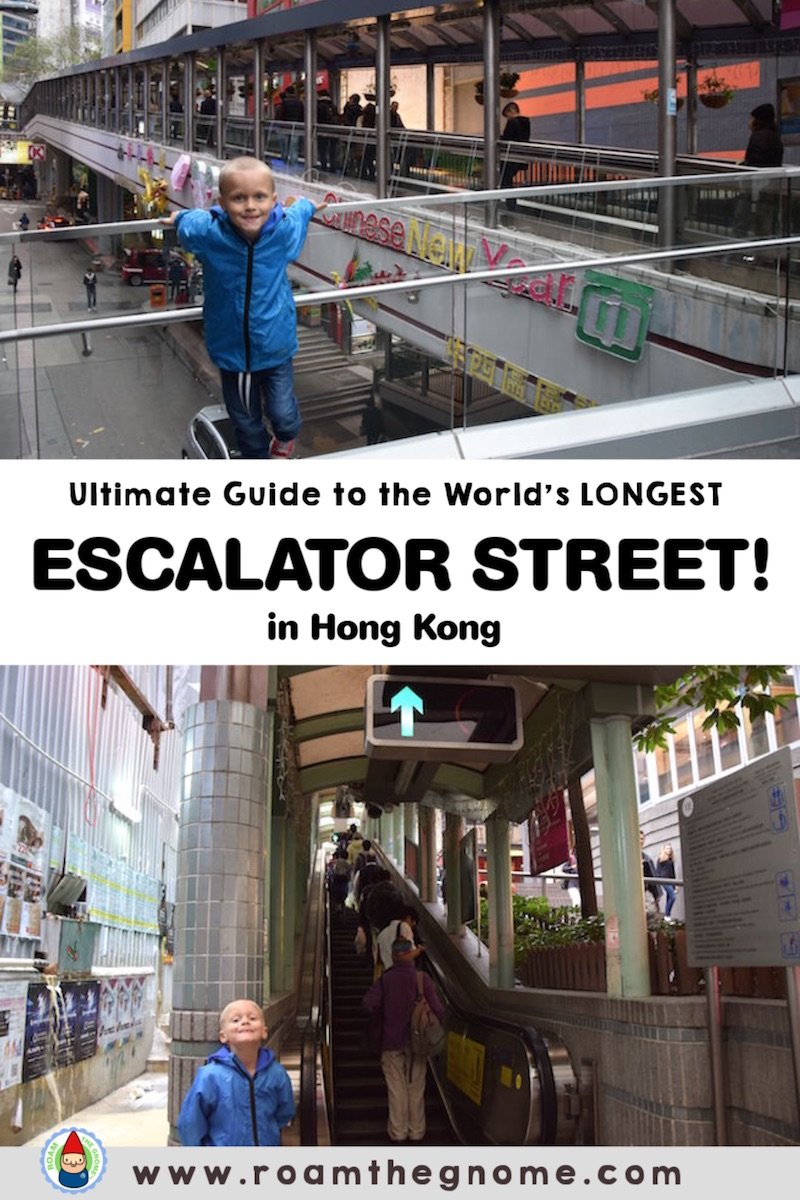 How to get to Central Mid Levels Escalator
By MTR: The closest MTR stations are:
MTR Central Station, or
MTR Hong Kong station
Click here for the walking route from Central station. It's 450 meters, and takes two minutes.
Parking: Limited in the area. We recommend public transport
Mid Levels Escalator Map
Toadstool Rating: Longest Escalator in Hong Kong
Definitely worth a look, as are the streets around Central. It's a little like stepping back in time.


Looking for More Things to Do in Hong Kong with Kids?
Click the blue links below for more Hong Kong attractions on Hong Kong Island, Kowloon, The New Territories and Lantau Island