INSIDE: Everything you need to know about the IKEA Hotel & Restaurant in Almhult Sweden.
Want to know more about dining options at the IKEA Hotel & Restaurant before you book a stay?
You've come to the right place.
Check out the lunch and dinner menus, and take a sneak peek inside too.
Plus, all you need to know about the FREE Breakfast Buffet on offer for overnight guests staying at the Ikea Hotel.
Take a look below for details.
Disclosure: This article contains affiliate links. If you make a purchase after clicking on one of these links, we may receive a small commission at NO extra cost to you.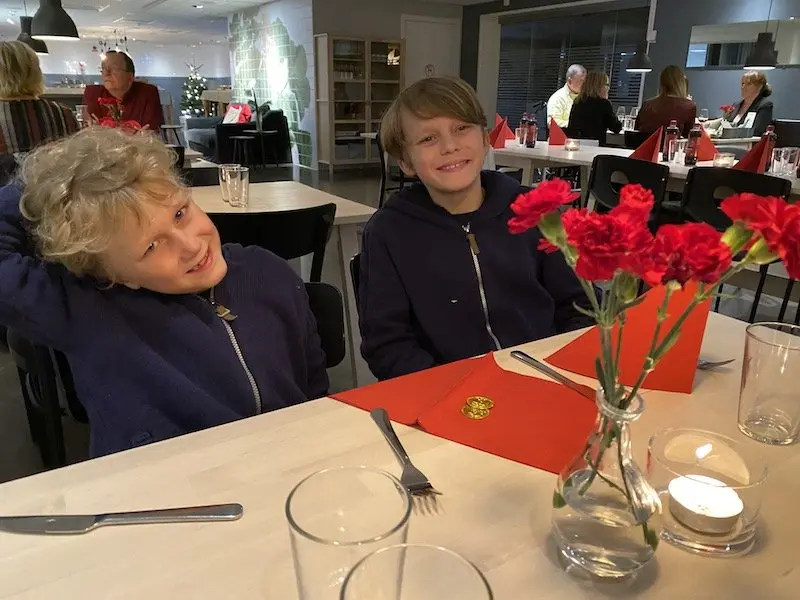 EVERYTHING YOU NEED TO KNOW ABOUT IKEA HOTEL & RESTAURANT
IKEA fans will be surprised to know that there's NO guarantee of Ikea Meatballs on the Ikea Hotel menu.
You may find IKEA meatballs with potato puree, cream sauce, pickled cucumber and lingon on the menu.
Or, you may not.
The menu changes from season to season.
But the IKEA menu does feature all the best seasonal foods, organic where possible, and modern Scandinavian influences.
You won't be disappointed.
(If eating Swedish Meatballs from Ikea is on your ' Best Things to do in Sweden ' bucketlist, visit the IKEA Museum restaurant, or the IKEA Almhult restaurant. Meatballs are ALWAYS on the menu at these places.)
Hot tip: Stop in the IKEA Museum Shop to find unique Ikea souvenirs & gifts too!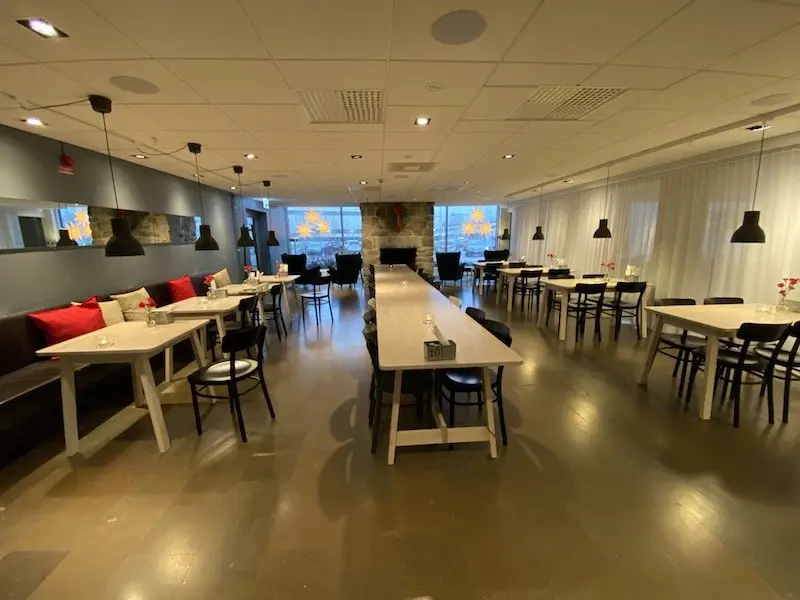 About IKEA Hotell restaurant
The restaurant is situated to the right of the entrance to the IKEA hotel.
It's open plan, with a stone fireplace the centrepiece.
The tables and chairs, the tableware, AND the decorations are all from IKEA too, of course.
And the curtains separating the dining areas are IKEA style too.
This restaurant is favoured by conference visitors, business travellers, and visitors to Almhult.
But, tellingly, locals love it for both the customer service and menu options too.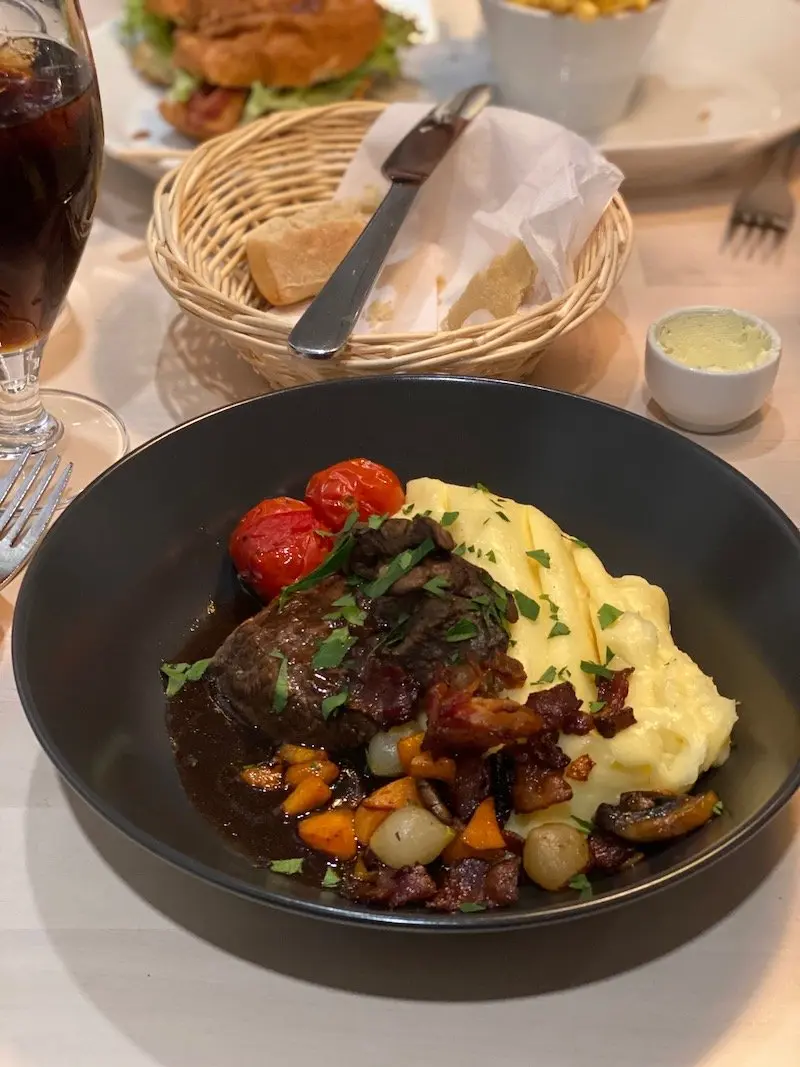 Delicious Älmhult IKEA dinners
The meals are generous, and flavoursome.
The IKEA Hotel dinner menu has a couple of 'snack' options, plus starters, mains and desserts.
Is Ikea food good?
This Ikea restaurant menu includes mouthwatering options like:
Deep fried artichoke with a parsley root puree, red endive with orange and hazelnut butter.
Game stew with mushrooms, pumpkin puree, roasted pumpkin and dried lingon.
Chicken ballotine with taste of sage, potato cake, apple gravy and romanesco.
Cod with Parsley root puree, red wine reduction, pesto and prociutto chips.
Mains start from SEK 170 (Swedish Krona)
(That's approx $19 US, 15 British pounds, $27 AUD)
Starters range in price from SEK 75 to SEK 95
Check out the current menu here (it changes regularly)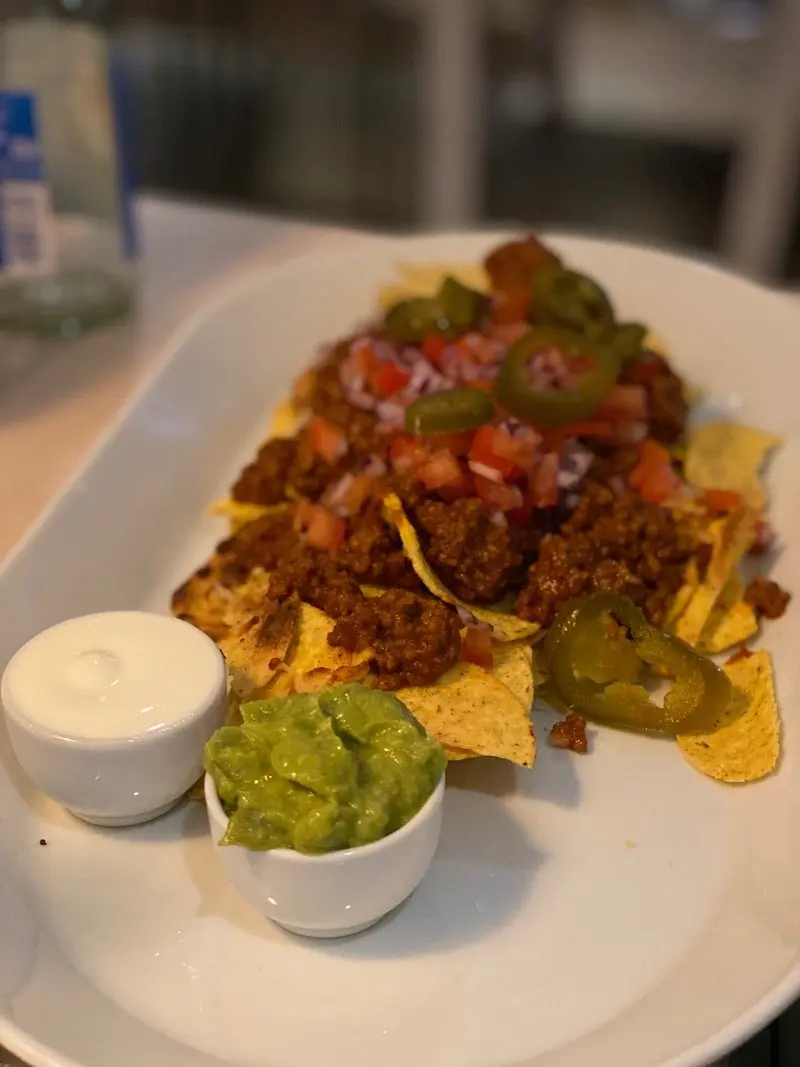 IKEA Hotel Kids Menu
There's an IKEA kids menu too.
Ned enjoyed the beef nachos.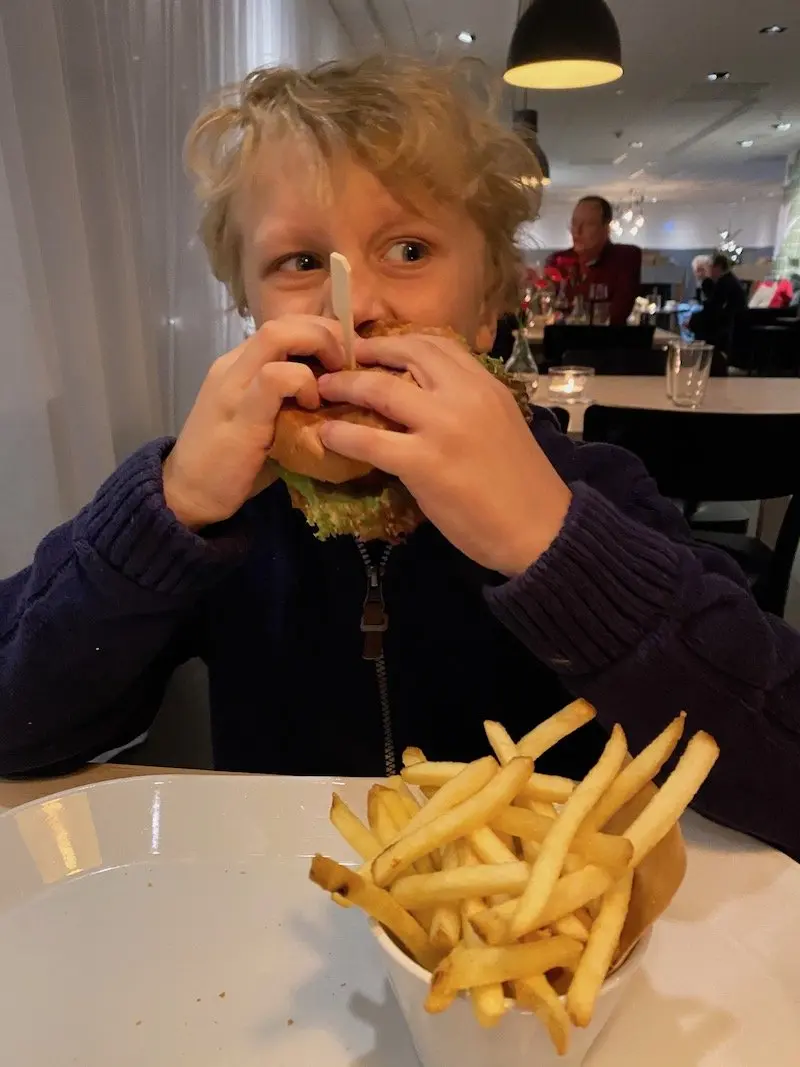 Ikea Hotel burgers
Jack smashed the IKEA Hotell's Portabello burger with chips.
Prices start from 50 SEK.
(That's 4.50 pounds, $6 US, $8 AUD – very reasonable indeed).
Ikea Hotel dessert menu
Try Apple terrin – a soft hazelnut cake with apple sorbet and crème brûlée foam.
Or Rosehip mousse, a soft almond cake, rosehip jelly, almond crumble served with vanilla ice cream.
Or to die for Chocolate truffles in three flavours:
Lingon and dark chocolate
Sea salt and milk chocolate orange
White chocolate and hazelnuts
Both boys devoured ice cream with strawberries for afters.
Almhult Ikea Restaurant Hours
Dinner is served Monday to Sunday 16:00-22:00
Book a table on 0476-641200 or [email protected]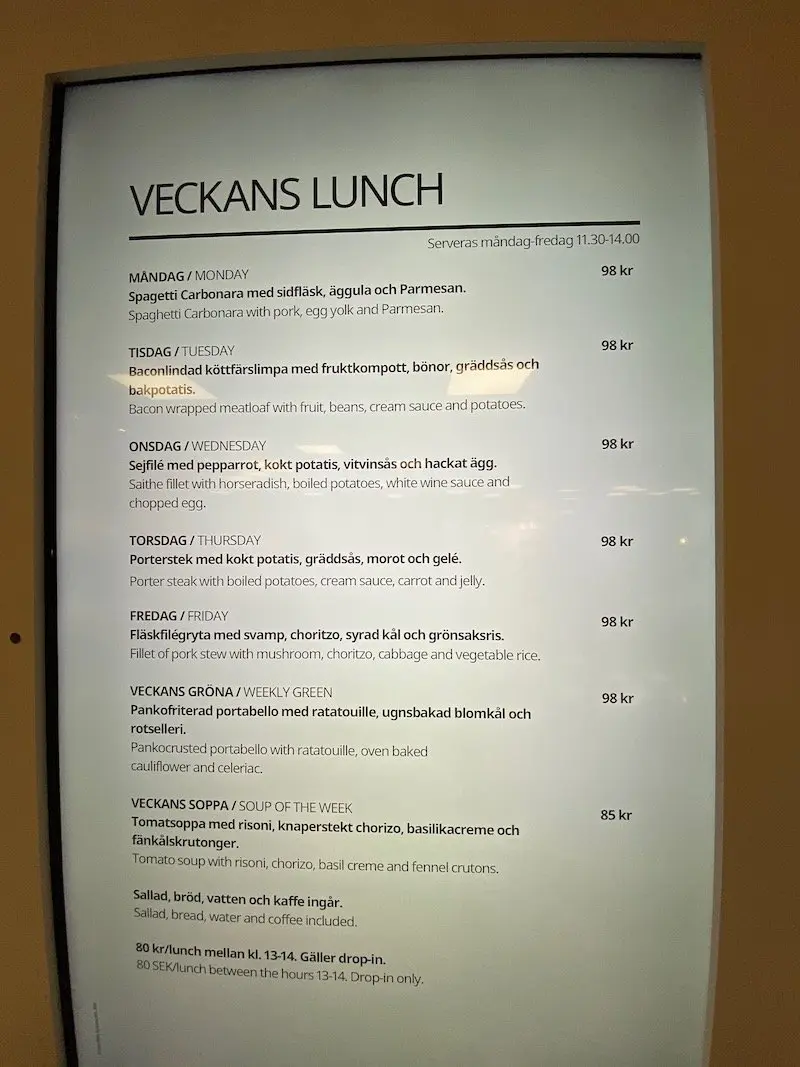 IKEA Hotell Lunch menu
The IKEA Lunch menu in Almhult is little different.
The daily menu at IKEA features:
ONE "lunch of the day" option
a weekly vegetable dish (eat your greens), and
a weekly salad or soup option depending on the season.
Choose your fave.
Hot tip: Salad, bread, water and coffee is included with your meal.
Ikea restaurant hours for Lunch
Lunch is served 11.30am to 2pm in the hotel restaurant.
Prices start at 85 KR to 98 KR.
On a budget?
Visit between 1 and 2pm, and pay only 80KR. (Again, that's $13 AUD, 7 pounds, or $9.25 US)
Can you get IKEA food to go?
Yes, you can order the lunch to take out.
Please note: IKEA Hotel is a cashless hotel. All meals must be paid on card.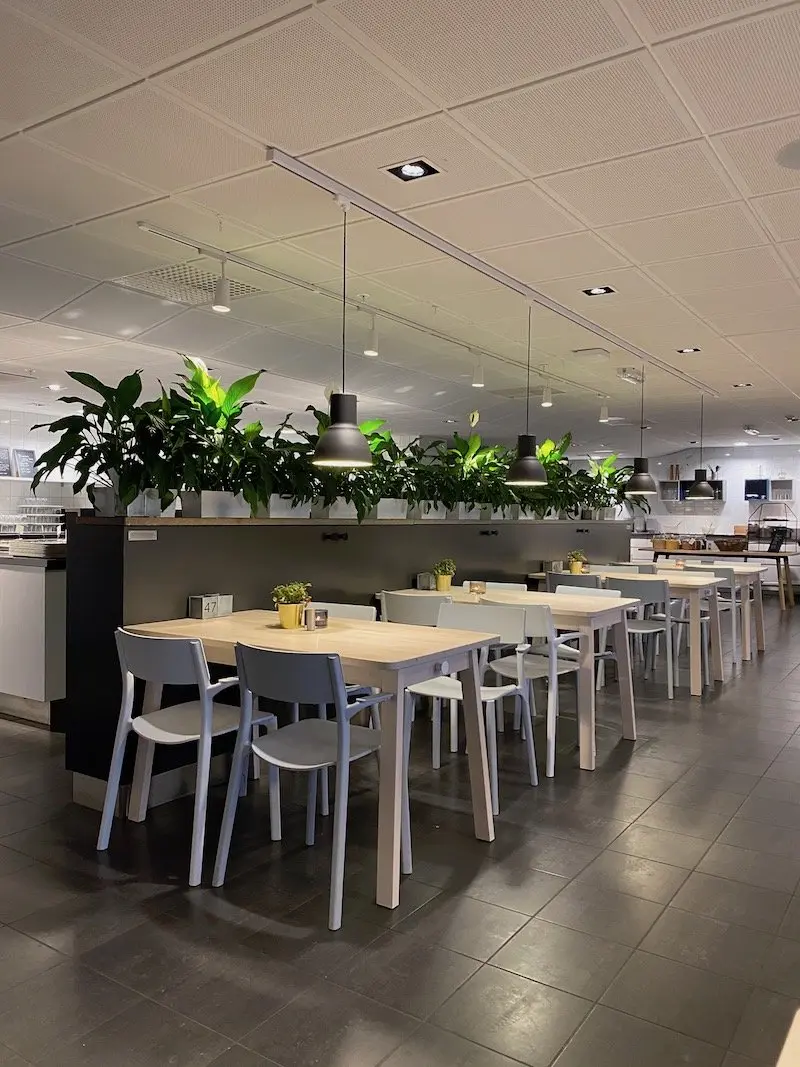 Guide to the IKEA Hotel Breakfast
If you are lucky enough to stay in this unique hotel in Sweden, you're likely to find your package includes FREE BREAKFAST.
That's always a bonus in our books.
But eating breakfast in the IKEA hotel is a novelty.
It takes the fun of staying at the IKEA hotel to the next level.
There's the same quirky styling as seen in the IKEA showroom, but it's REAL LIFE!
You can touch things, and the food is genuine and edible.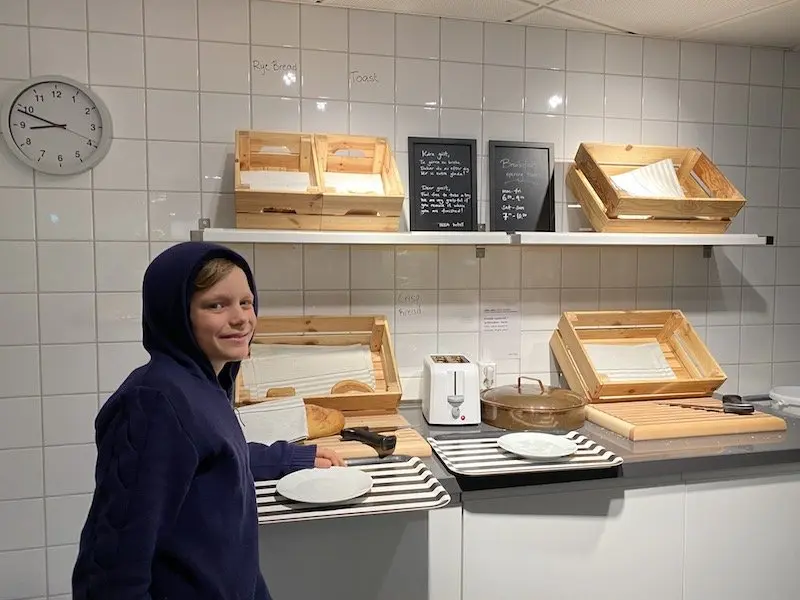 Ikea Breakfast Room
Expect all the IKEA homewares and tablewares, including:
IKEA trays
IKEA baskets
IKEA cutlery sets and IKEA cutlery holders
IKEA breadboards and IKEA chopping boards
IKEA photo frames (with menus or notes chalked on them)
IKEA cups, bowls and dishes.
IKEA glass storage jars
IKEA vases and IKEA water jugs
If you're a fan, you'll recognise all the favourites.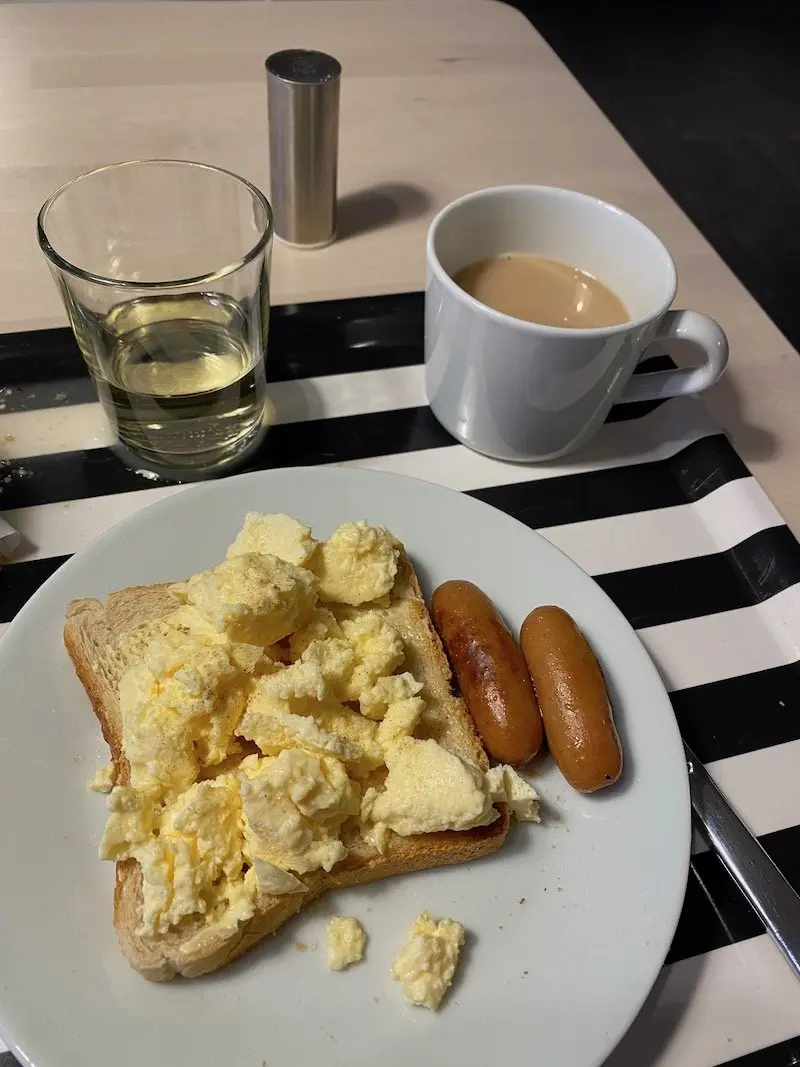 What's on the Ikea Restaurant Breakfast Menu
Take a look at what you can eat!
Make yourself a hearty breakfast of bacon, eggs and sausages.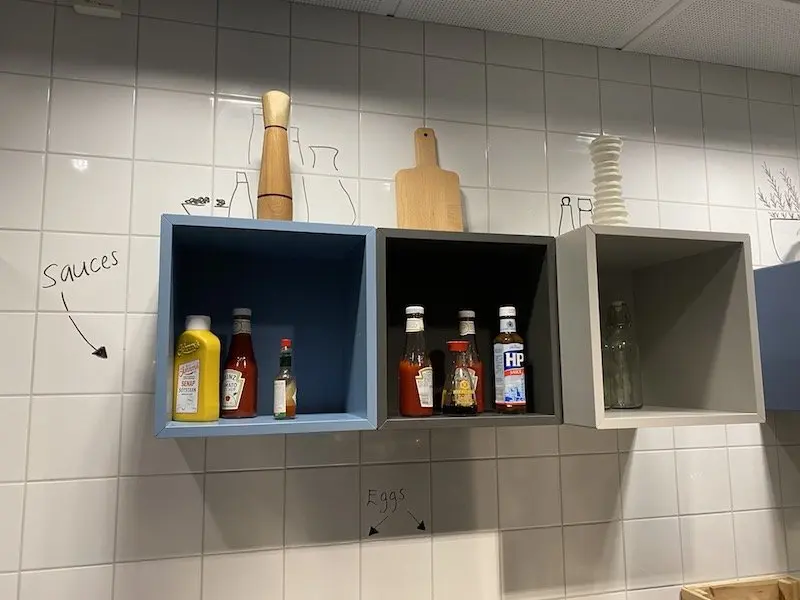 No.1: Eggs & Bacon & more…
Plus, there's ALL the sauces
ketchup
tabasco
HP sauce
Swedish mustard…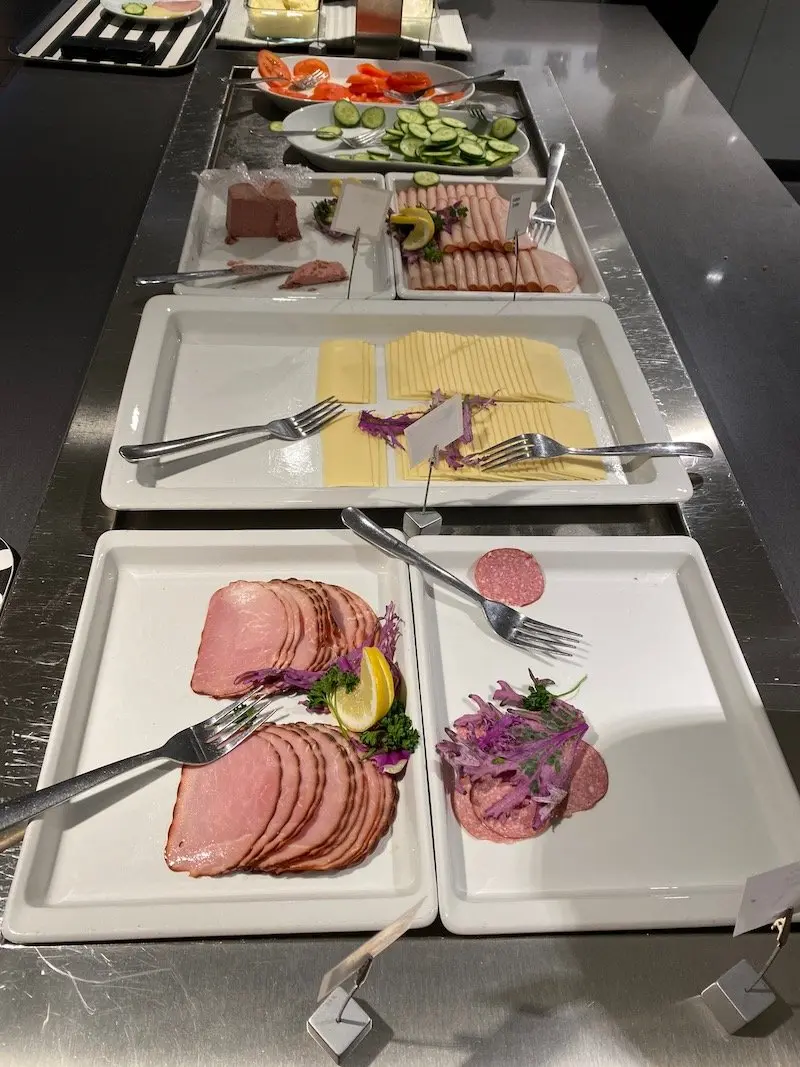 No.2: Cold meats and cheese
There's a range of cold meats including ham, salami and pate
Plus cheese slices, and tomato and cucumber slices for those who like to eat European style.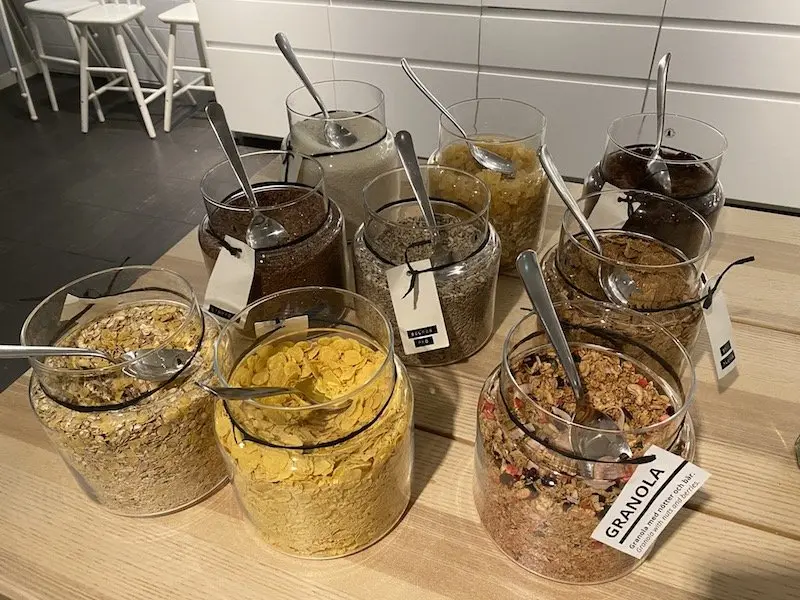 No.3: Cereal
There's a whole bunch of cereals, and cereal toppings to choose from.
Including gluten free options.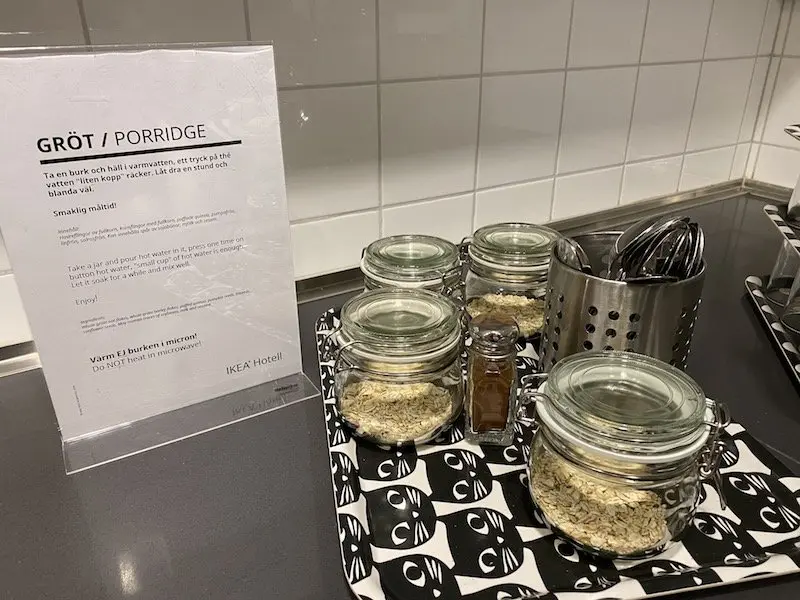 No.4: IKEA Porridge Gröt
If you adore starting the day with warming porridge, you'll love the Porridge in a Jar option.
Simply add hot water, and let it soak for a few minutes.
Add some cinnamon, a dash of sugar, and a few nuts and dried fruits, before gobbling it all up.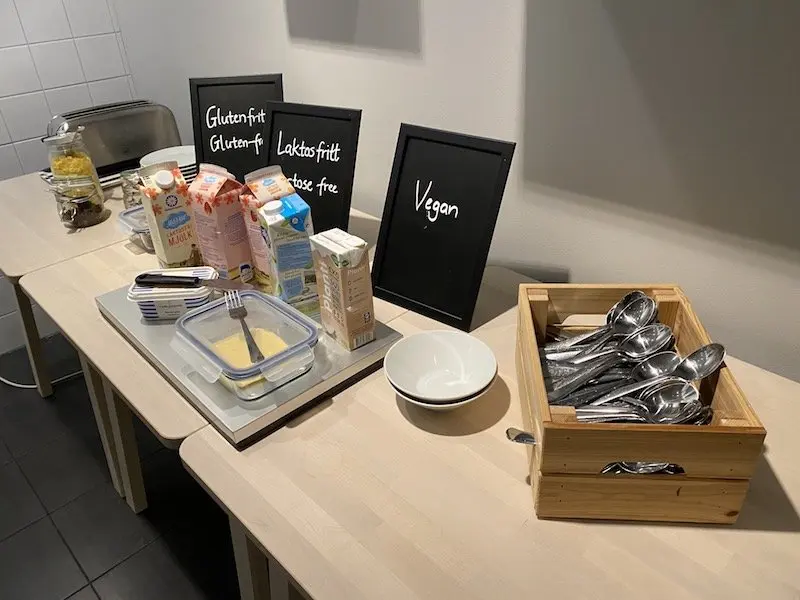 No.5: Milks
There's all kinds of milk for guests including:
cows milk
soy milk
lactose free milk, and
vegan options.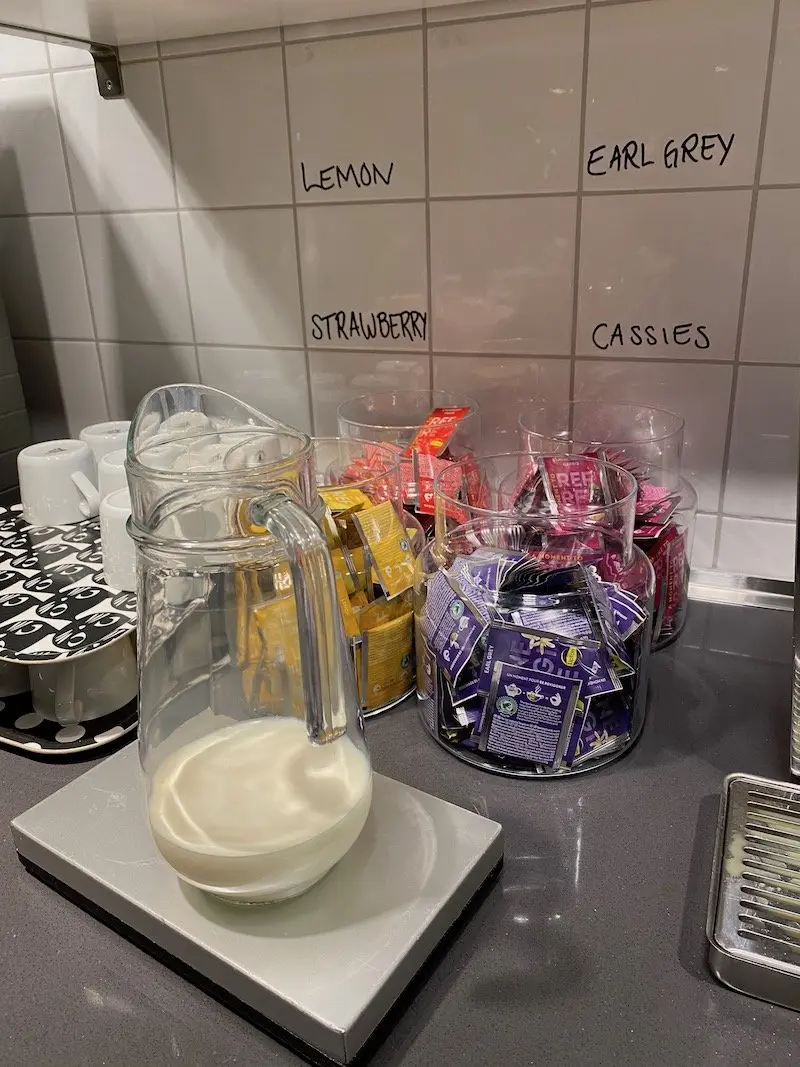 No.6: Tea and Coffee
Tea lovers are spoilt for choice too.
Try the strawberry tea – it's delicious.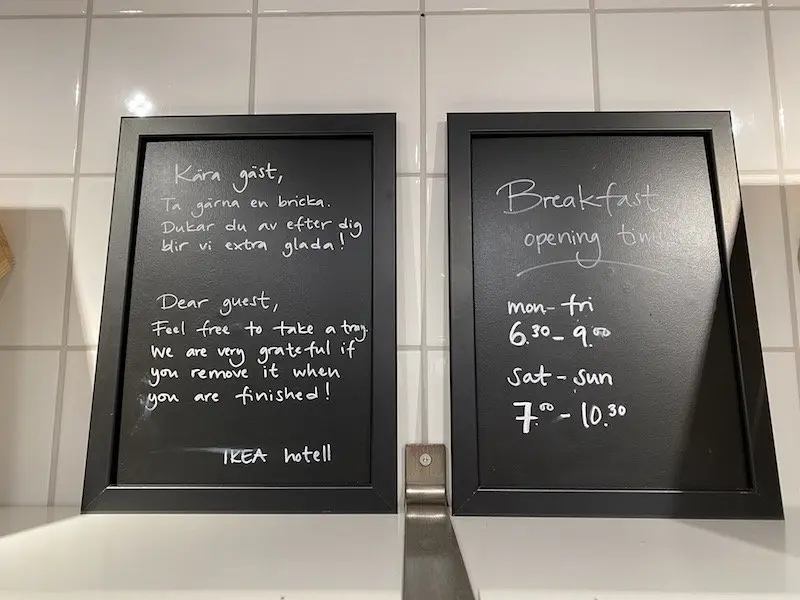 Ikea Hotel Breakfast Opening Hours
The IKEA hotel is open for breakfast:
Monday to Friday from 6.30am to 9am
Saturday and Sunday from 7am to 10.30am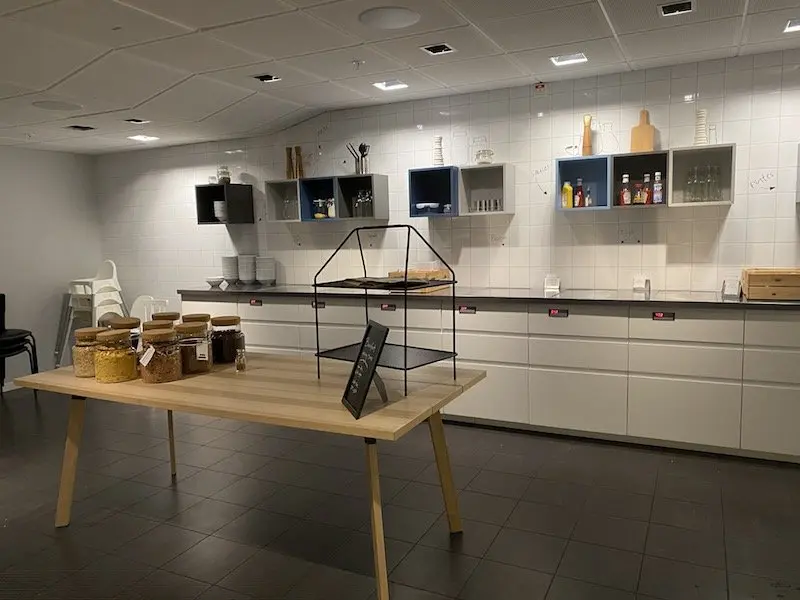 THE INSIDE SCOOP: Swedish Ikea Restaurants
Correct at time of publication on Roam the Gnome. Please check with venue for updates. We apologise in advance if there have been any changes we are unaware of. All prices in AUD dollars, unless otherwise stated
Ikea Hotel Älmhult Address: IKEA gatan 1, Box 700, SE 343 81 Almhult SWE
Ikea hotel website: Click here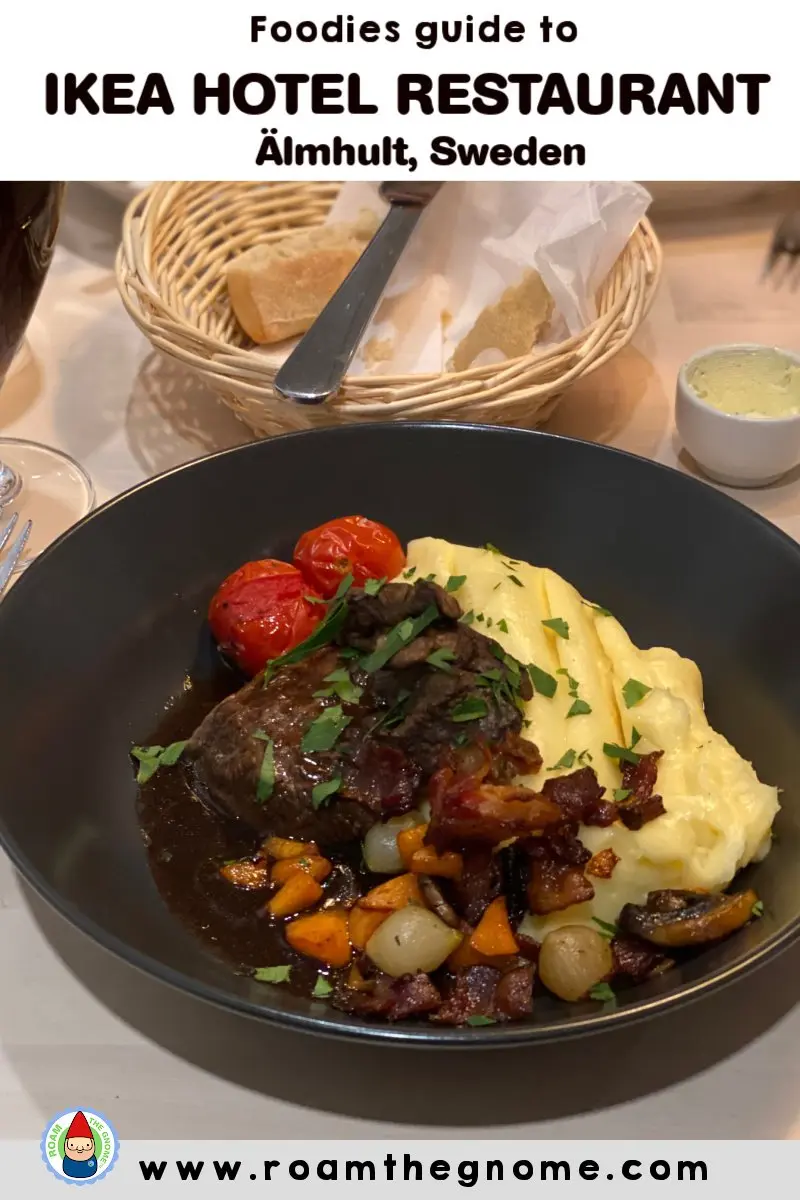 How to get to the Ikea Hotel in Almhult
How to get from Copenhagen to Almhult
Älmhult in Sweden is easily reached by train or car from Copenhagen and Copenhagen Airport.
The journey is approximately two hours.
By Train:
Catch the Øresundtåg train. All trains stop at Copenhagen Airport (Kastrup), Malmö and Lund. (The train continues to Växjö and/or Kalmar.)
Tickets can be purchased at Copenhagen train station from the ticket counter, vending machines or online here or via Swedish railways. Tickets cost approximately SEK250 /€50 one-way. Our trip was included in our Eurail tickets.
Once you arrive at the Almhult train station, walk up the stairs, then cross the airbridge in the direction AWAY from the town.
If you arrive after dark, it feels a little lonely and desolate, but don't despair.
The hotel is not far at all.
Click here for all the details on the IKEA hotel & how to find it
IKEA Restaurant Map
Toadstool Rating: Ikea Restaurant Menu

Looking for MORE Things to do in Småland with kids?
Smaland is in the south of Sweden, an area that lies between Stockholm in the North, and Malmo in the South.
It's where the name of the IKEA kids play area came from!
Småland is a gorgeous part of Sweden and very family friendly.