INSIDE: The Ultimate guide to visiting Ikea Almhult, home of the original Ikea store in Sweden.
If you are visiting Sweden, and planning a visit to the IKEA Hotel or the IKEA museum, don't miss the IKEA Almhult showroom.
It's one of the biggest IKEA stores in Sweden, in the original hometown of this iconic Swedish furniture store.
And it has an outdoor playground for kids!
Take a look below for details.
Disclosure: This article contains affiliate links. If you make a purchase after clicking on one of these links, we may receive a small commission at NO extra cost to you.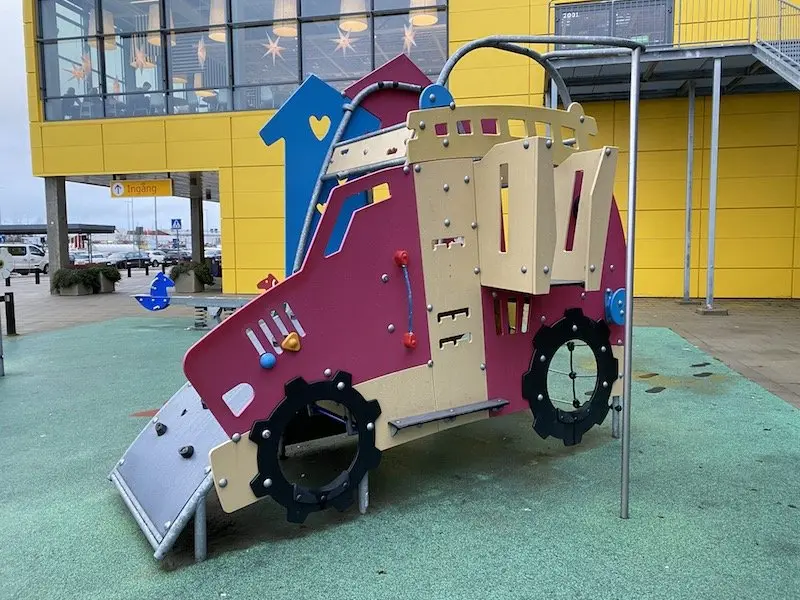 Guide to Ikea Almhult Sweden
The first you'll see upon arriving at IKEA in Almhult is the OUTDOOR PLAYGROUND!
We've NEVER seen an outdoor play area at IKEA before, so the boys were thrilled.
I was too.
It's a great way to burn off some of that energy before shopping!
Let's go in, and look at the best things to do in IKEA Almhult shop.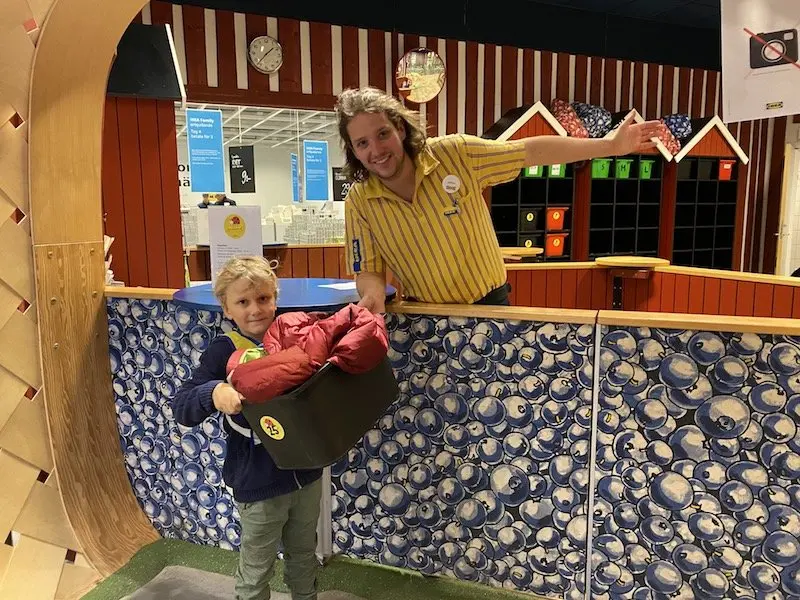 BEST THINGS TO DO AT IKEA SWEDEN
No.1: Book the kids into IKEA Småland
While all IKEA Smaland play areas are similar, they are all a little unique in what they have inside.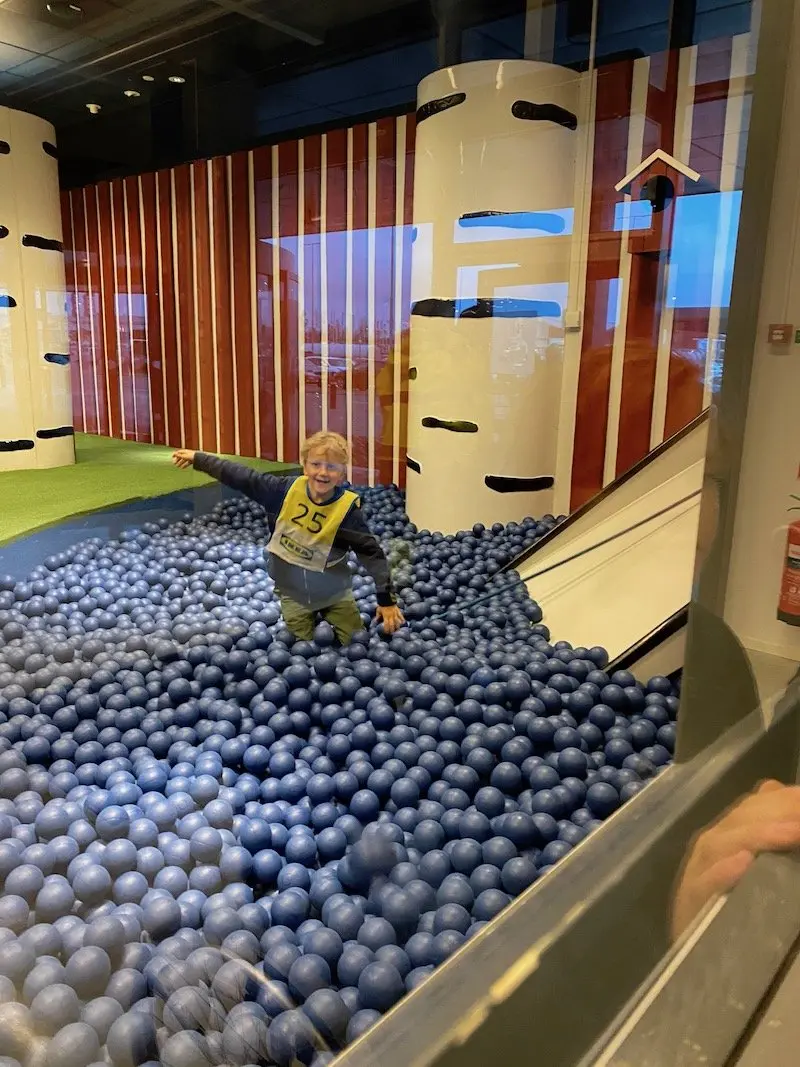 IKEA Ball Pit
There's ALWAYS a ball pit though!
This one was filled with Blueberry-blue balls!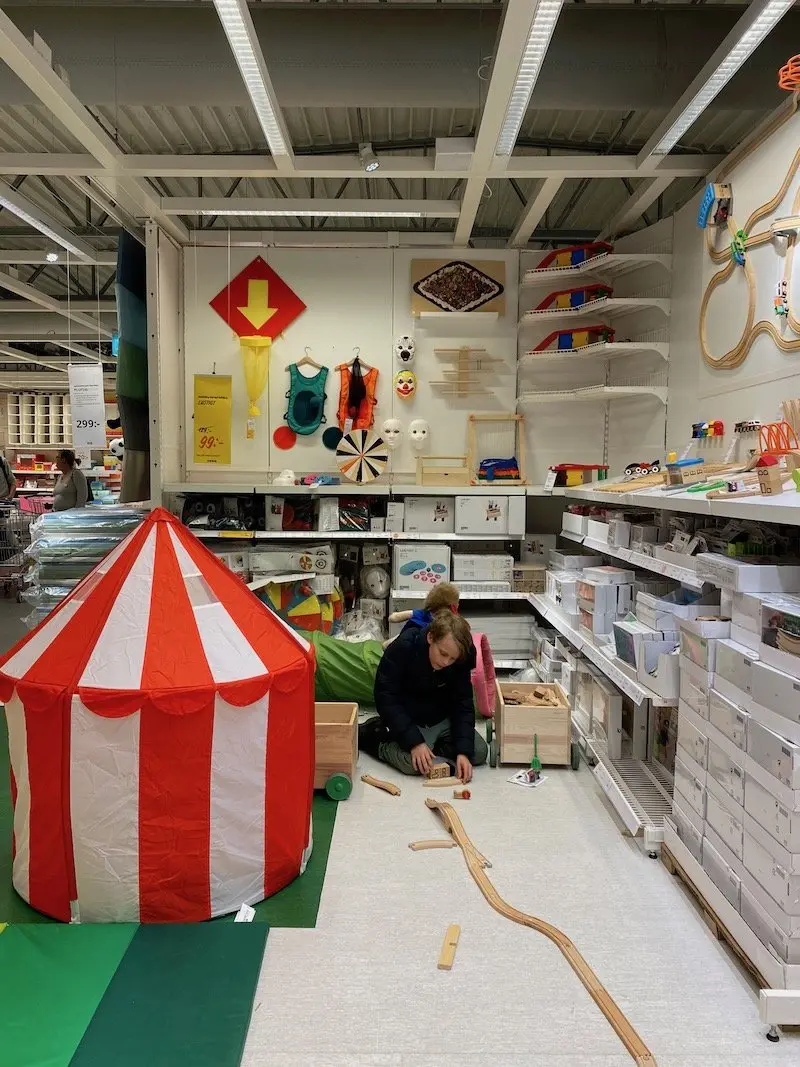 No.2: Play with the IKEA toys
Yes, there's plenty of toys and games to try.
Even 12 year olds are not too old for a bit of play time when travelling.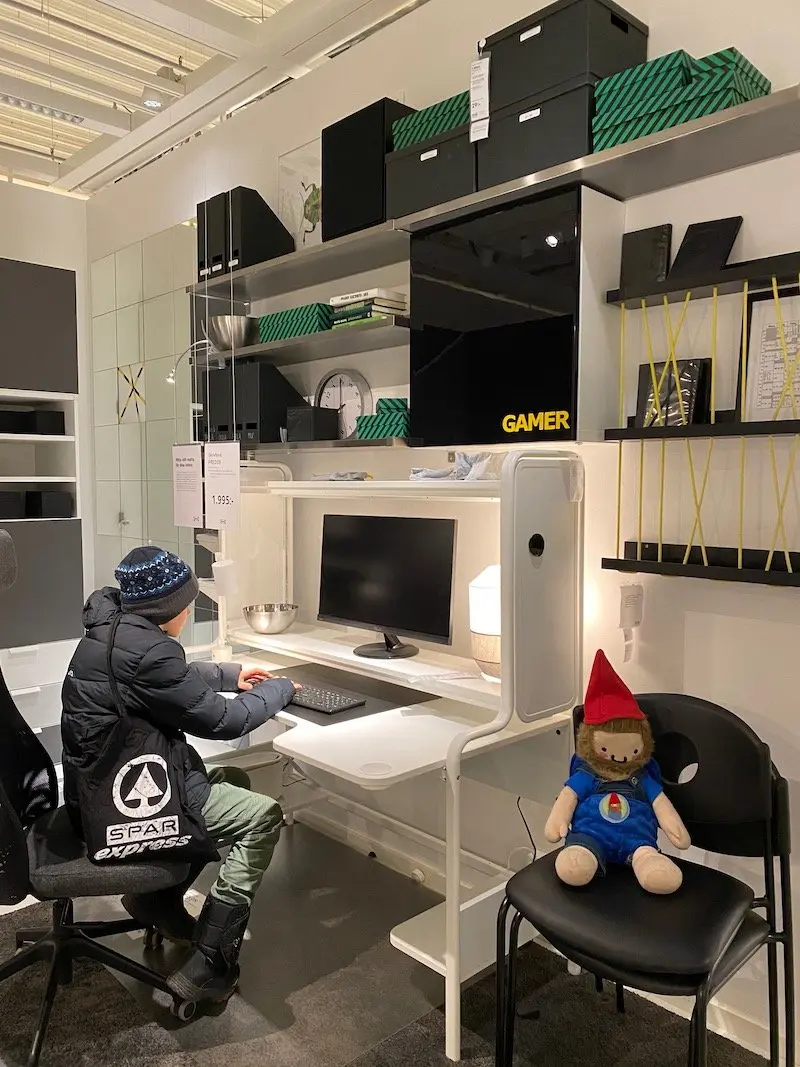 No.3: Scope IKEA design ideas
One of the fun differences when checking out IKEA shops around the world is seeing the different displays.
Ned loved this gamer set up.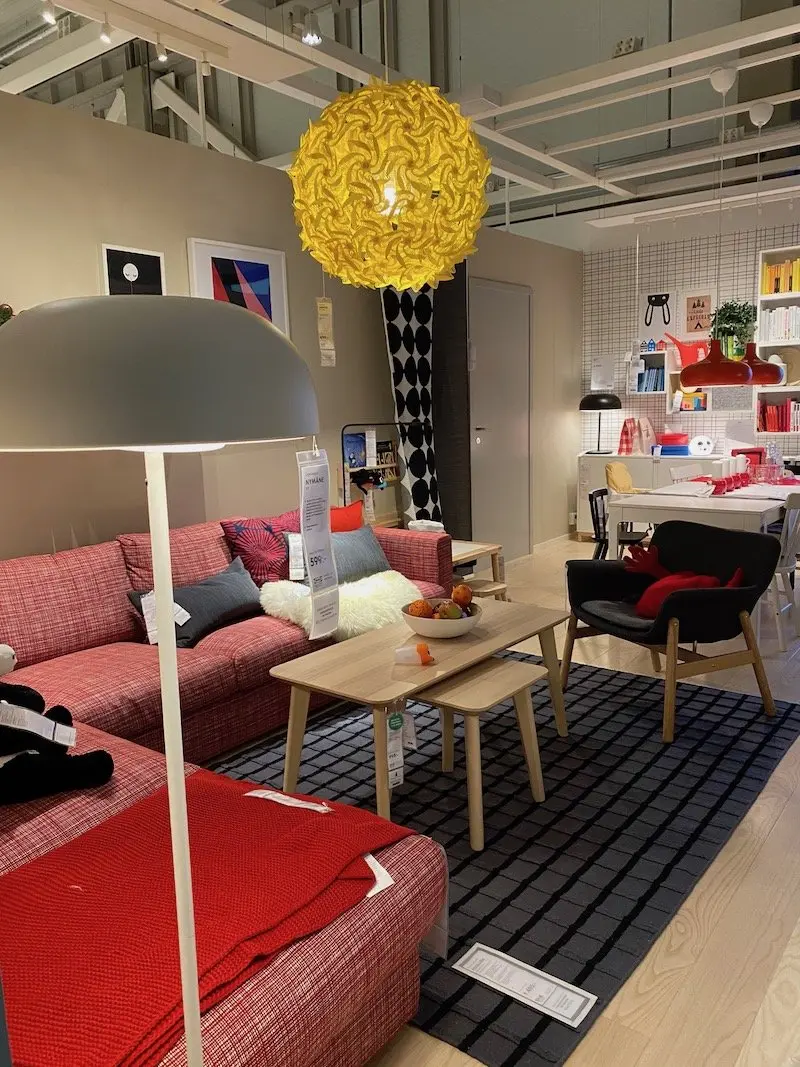 IKEA Cosy Corner
I adore checking out their arrangements that would suit a tiny house.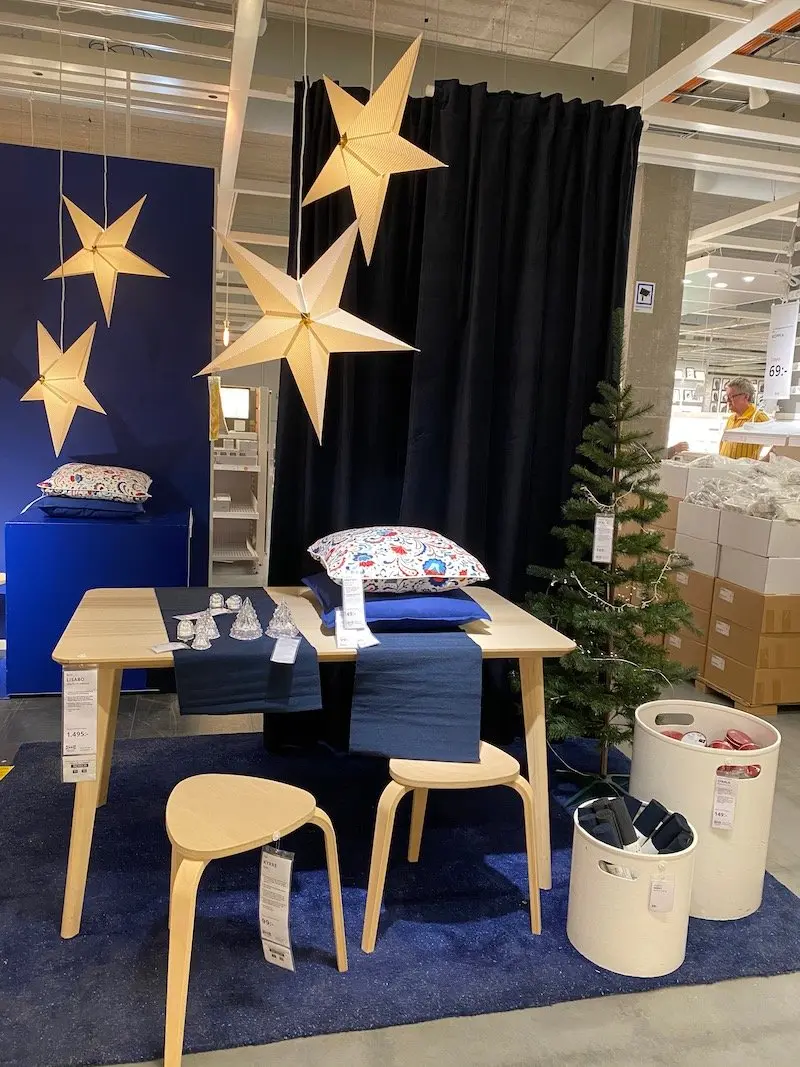 No.4: Buy the Ikea Christmas Star
Simple IKEA Christmas displays capture my heart.
I bought these three IKEA paper stars to recreate this simple Swedish Christmas set up this year.
They are only available at Christmas time, so don't miss out.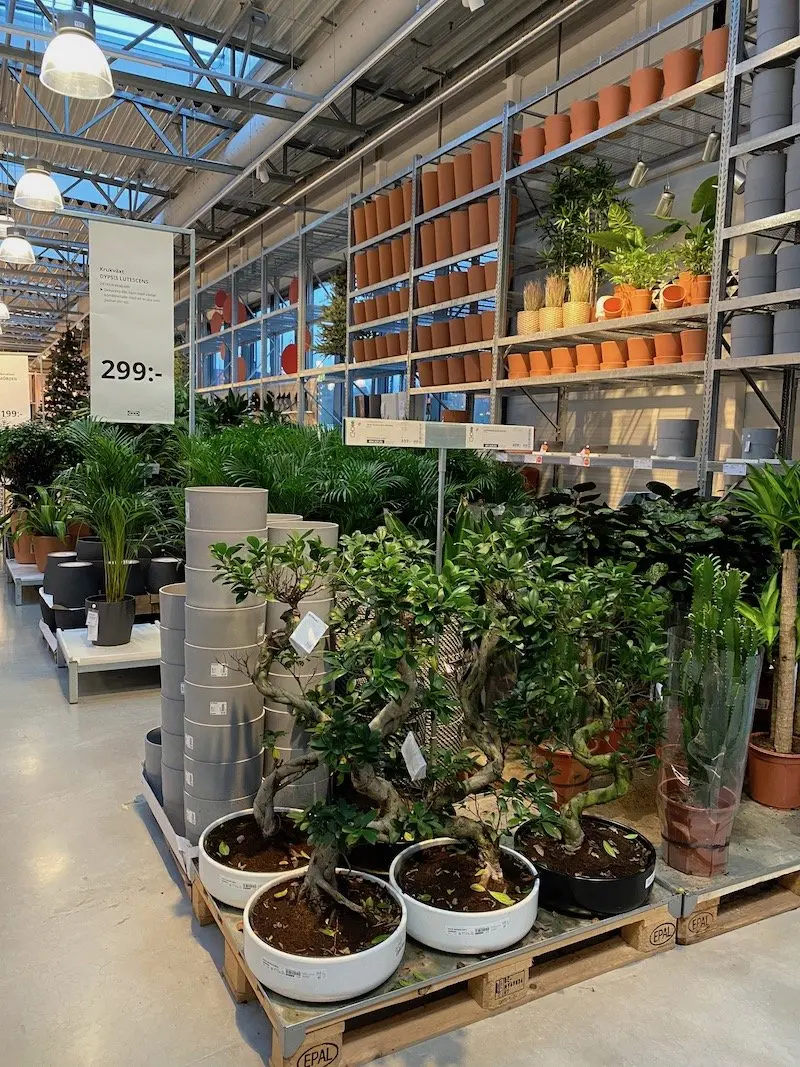 No.5: Check out the IKEA Garden pots
It's always interesting to see what indoor plants and greenery are popular in other countries.
Both artificial and living.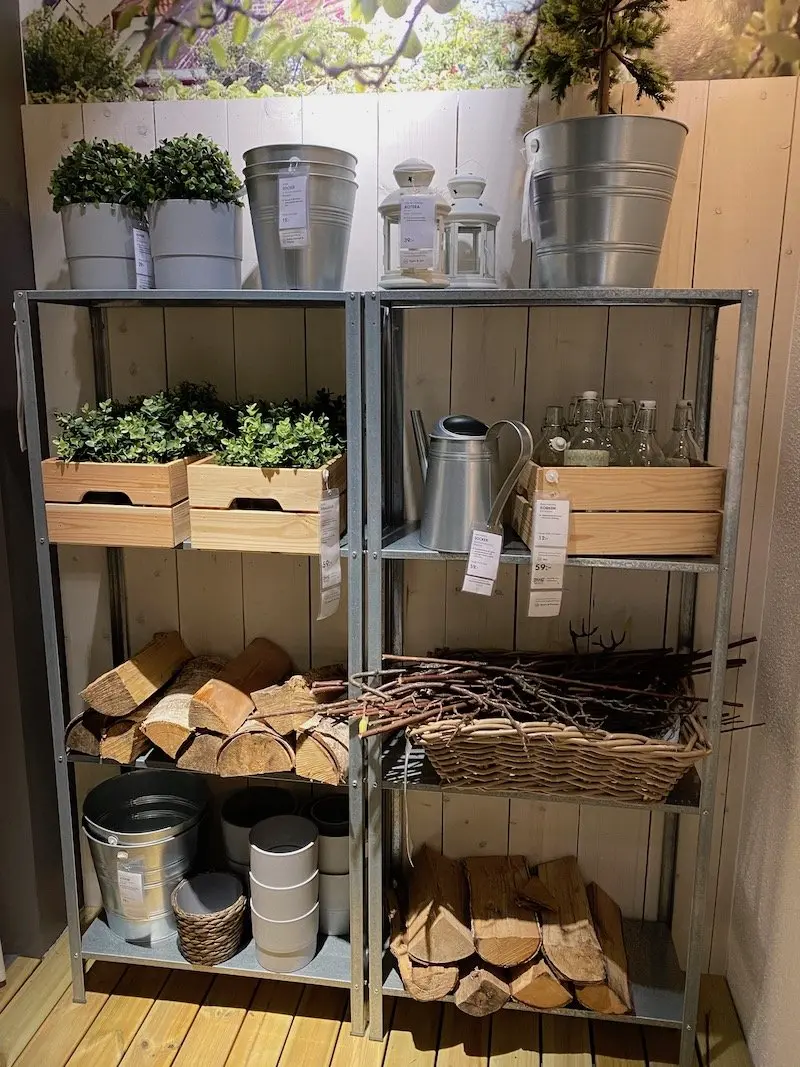 No.6: Enjoy the Swedish IKEA aesthetic
The Swedish aesthetic is on show – natural colours and timber make for a calm space.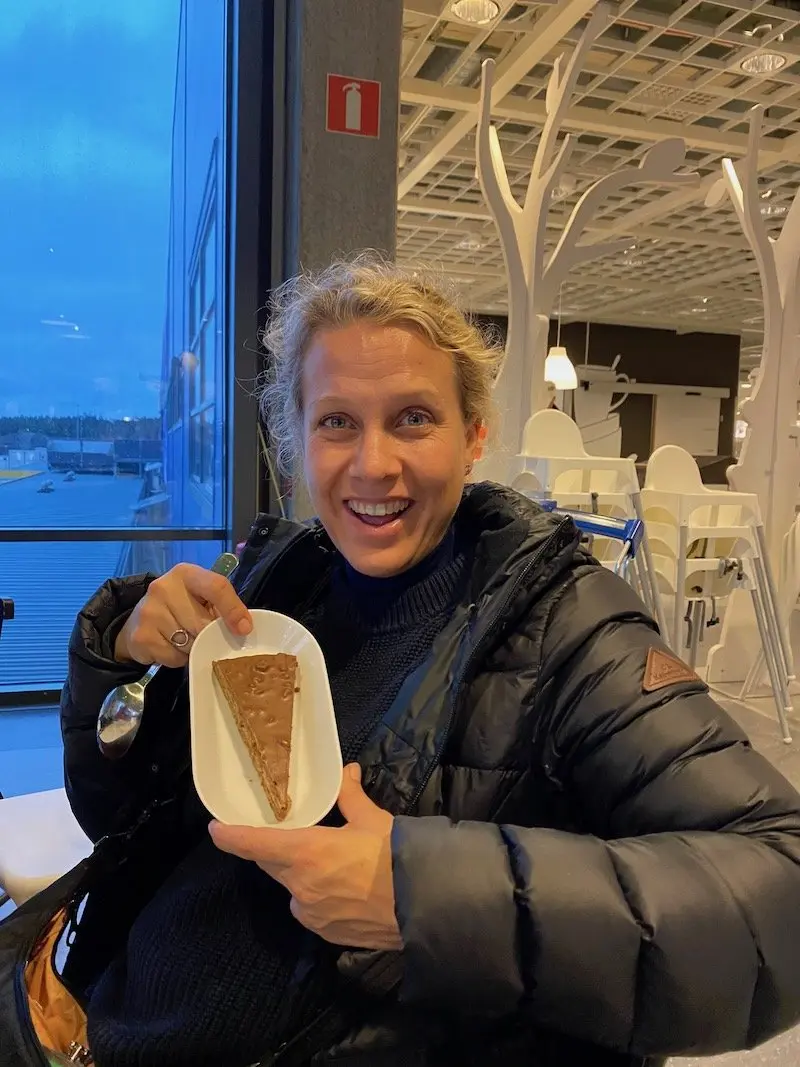 No.7: Eat at the Ikea Restaurant
There's a kids menu with kid-sized portions of the main dishes, plus creamed macaroni, or pancakes with jam and cream too.
Kids meals are 29 Sek ($3.50 US, 2.55 pounds). Vegan pasta bolognese costs 25 sek (2.20 pounds, $2.90 US)
But really.
We're coming for the DAIM CAKE.
Opening hours for the Almhult IKEA Restaurang & Cafe are:
Monday to Friday – 9.30am to 6.30pm
Saturday to Sunday – 9.30am to 5.30pm
Breakfast is served in the restaurant from 09:30 to 11:00 every day of the week.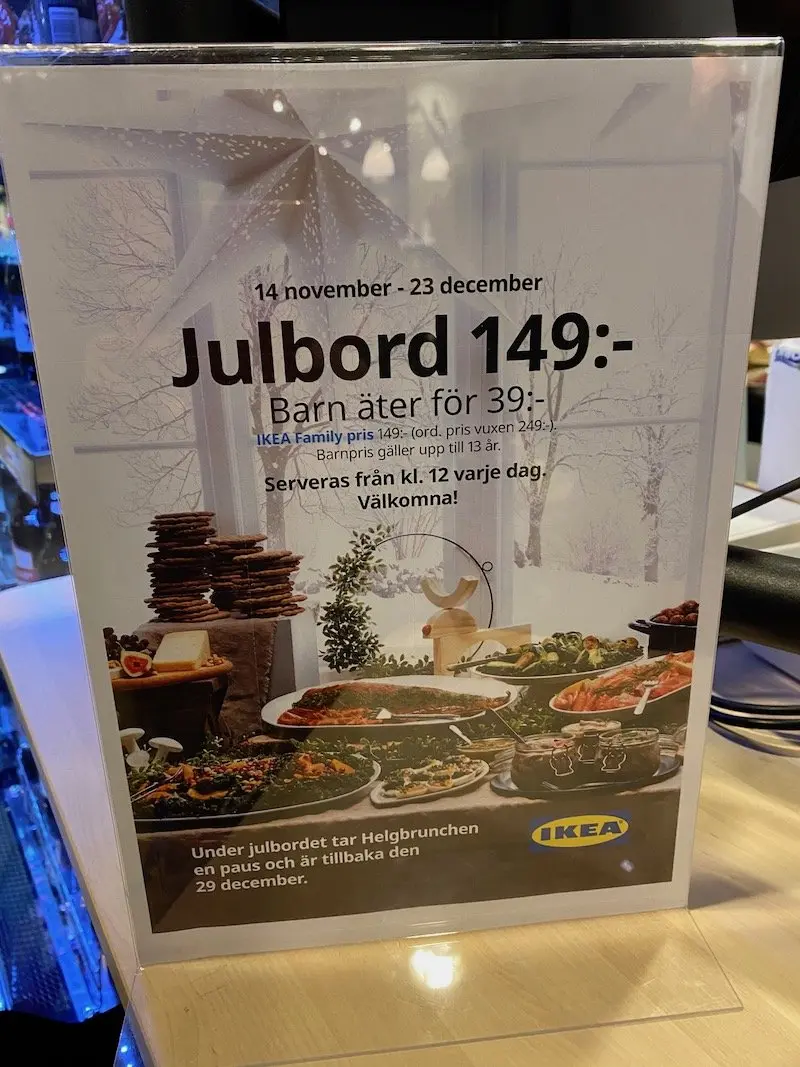 No.8: IKEA Christmas Dinner (Swedish Julbord Christmas Table)
Visiting Sweden at Christmas time?
Book a spot on the Christmas Table for the IKEA Christmas buffet!
These traditional Swedish Christmas dinners are available from around the middle of November to Christmas Eve (or nearabouts).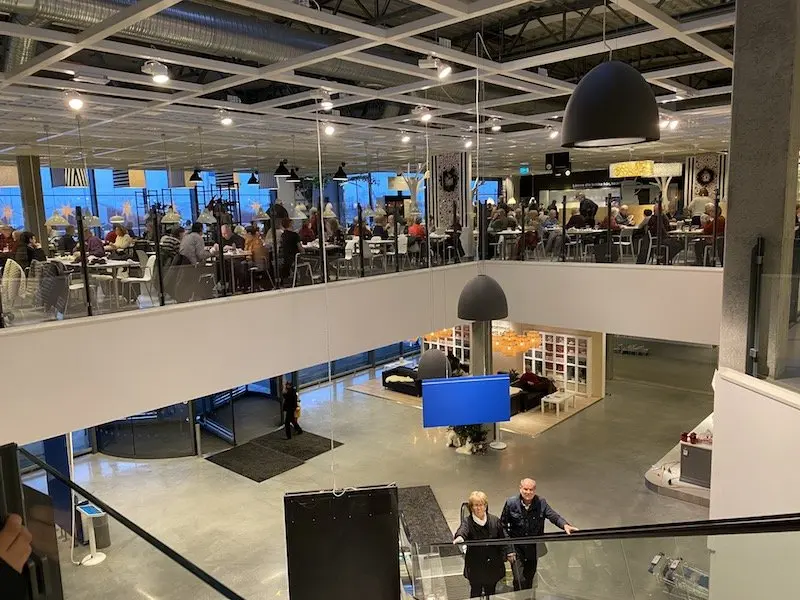 Traditional Swedish Christmas Food
The IKEA Christmas meal has tonnes of options.
Choose delicious Swedish food from the buffet.
IKEA Cold Cut Buffet
Wort bread & thin rye crispbread (knäckebröd)
baked liver pate
organic butter and cheese
cured salmon with dill and mustard sauce (salmon is cured in a sugar, salt and dill concoction, rather than smoked)
eggs with seafood cream
provencal herring
crayfish salad
marinated or mustard covered herring
lingonberry lax
hot smoked salmon mousse
tomato salad
tomato salsa
classic beetroot salad
celery, walnut and apple salad
kale salad with beetroot
IKEA Hot buffet
meatballs
boiled potato
chicken popcorn
Prinskorv smoked sausages (pork) – these are the most popular sausages on a Swedish Christmas buffet
Jansson's Temptation (traditional Swedish casserole made with potatoes, onions, breadcrumbs, cream, butter, and anchovy fillets)
tempura battered brussel sprouts
marinated glazed ribs
kale gratin (creamed kale)
root vegetable gratin
brown cabbage (brunkål) and red cabbage (rødkål)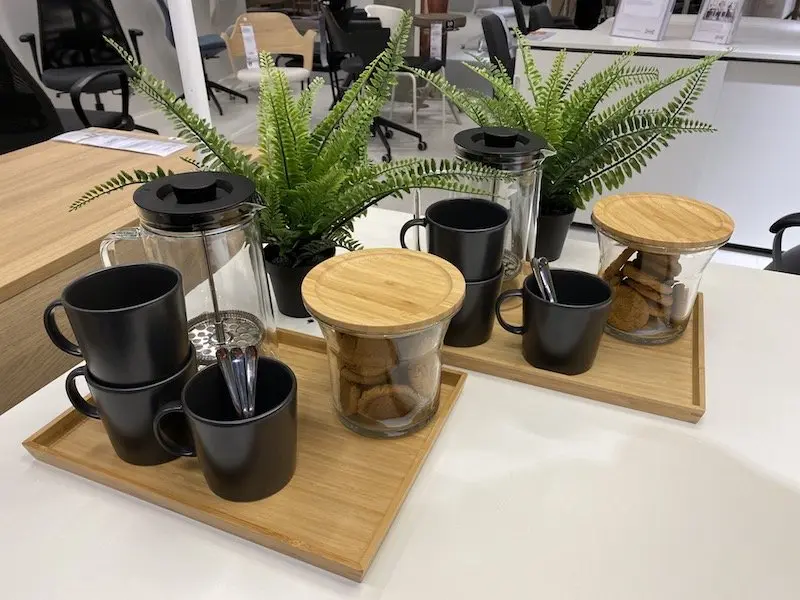 IKEA Christmas buffet dessert
Lingon glögg (non-alcoholic mulled wine)
Cheesecake
Gingerbread
Ris à la Malta ride pudding (the most popular Swedish Christmas rice pudding)
Strawberry jam, whipped cream
IKEA Christmas buffet prices are:
249 sek for adults
39 sek for kids (2-13 years)
Hot tip: The IKEA Family Price is 149 sek for adults.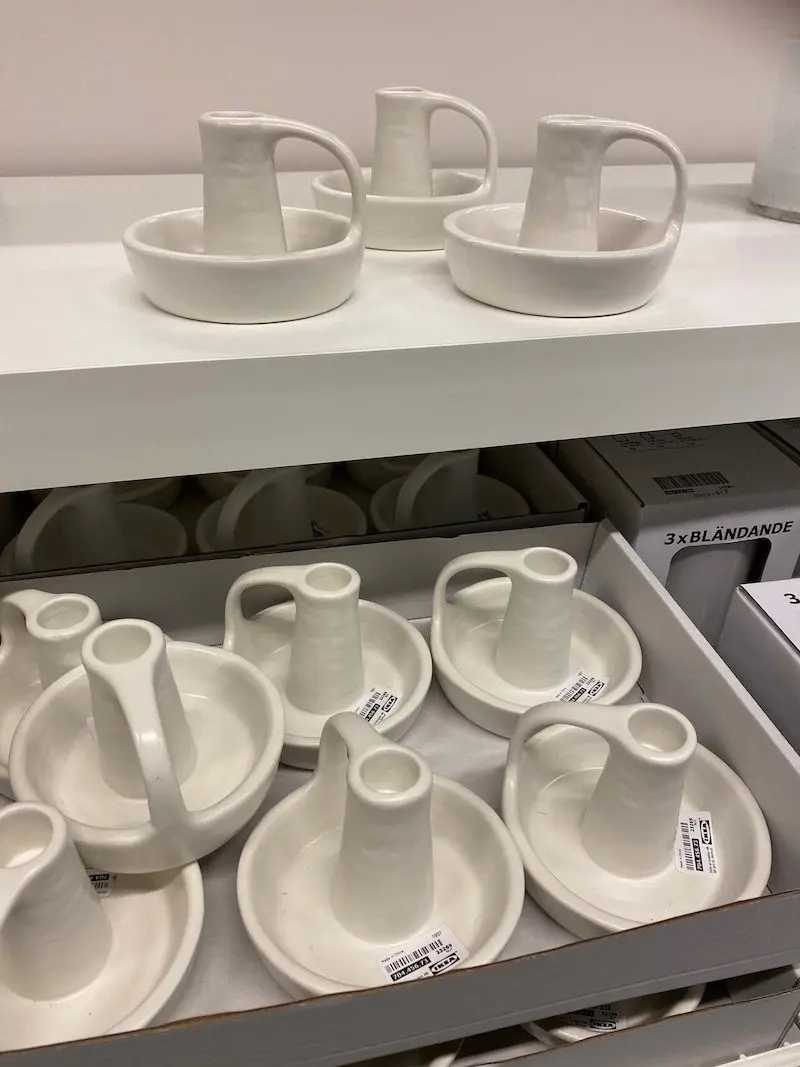 No.9: Shop for IKEA Christmas products
Look for the gorgeous classic candle holders made from stoneware with a polished glaze.
These are 49 sek each. ($5.70 US, 4.30 pounds)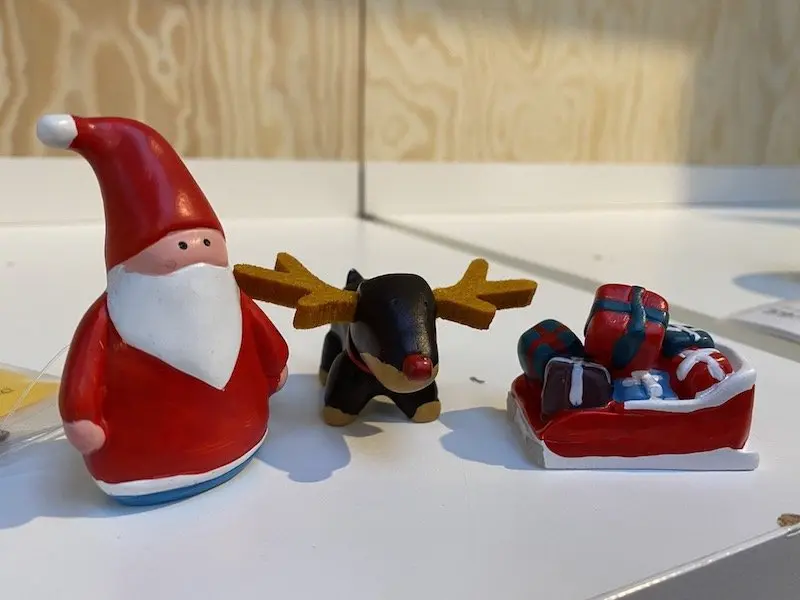 IKEA Christmas decorations
Pick up Ikea Christmas decorations including:
Christmas trees
Christmas wreaths
Ikea gnomes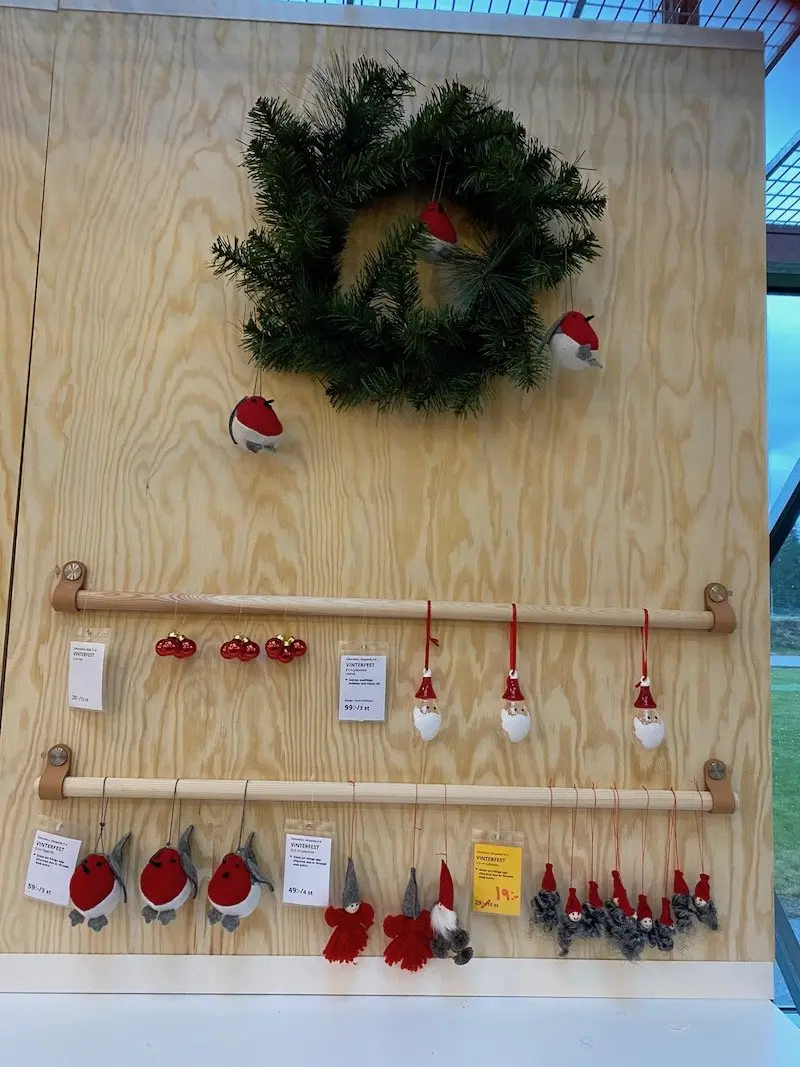 MORE Ikea Christmas ornaments
Ikea red robins
Ikea gnomes
Ikea baubles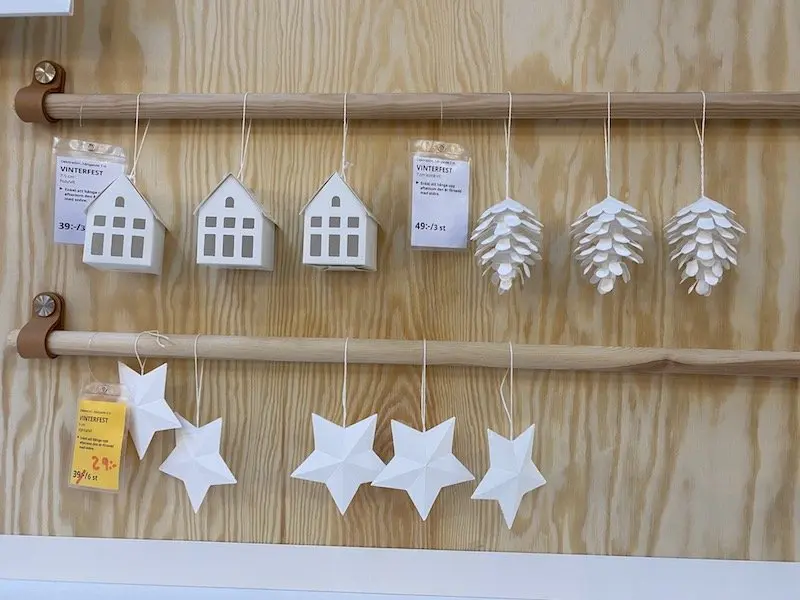 Best Swedish Christmas Aesthetic
There's also adorable Vinterfest Christmas houses, pine cones and stars to hang.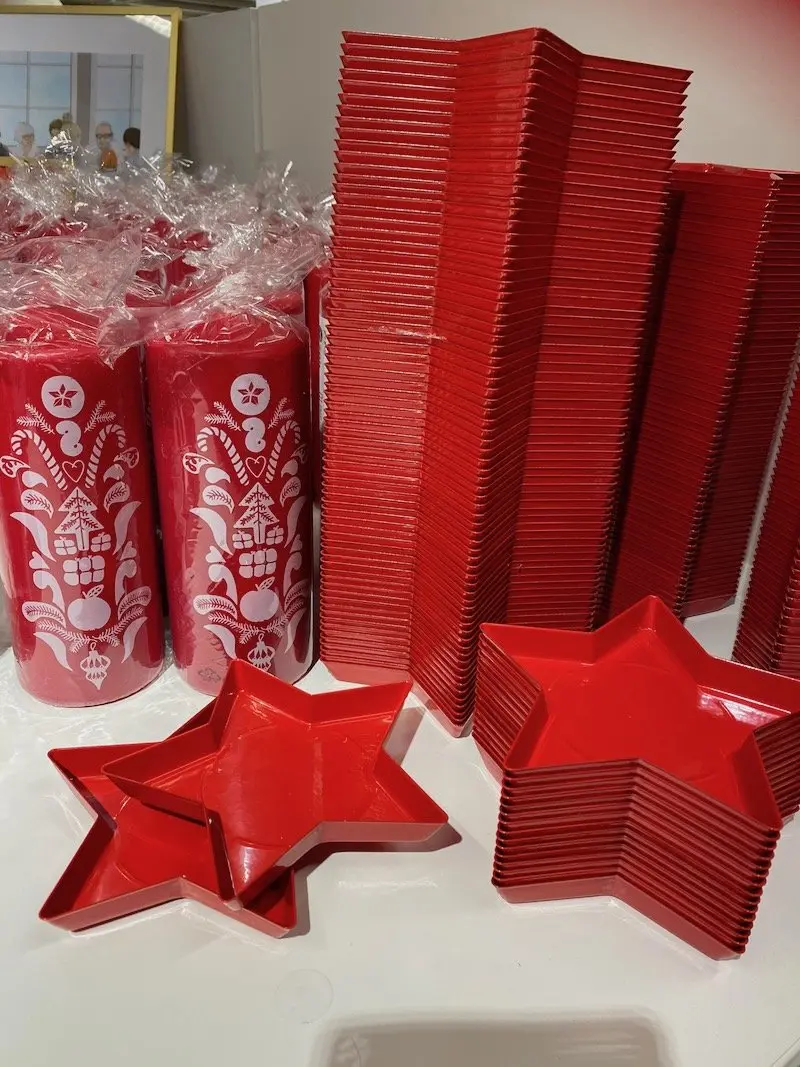 Vinterfest IKEA Candle
And Vinterfest Christmas candles with an accompanying red star plate to catch the drips!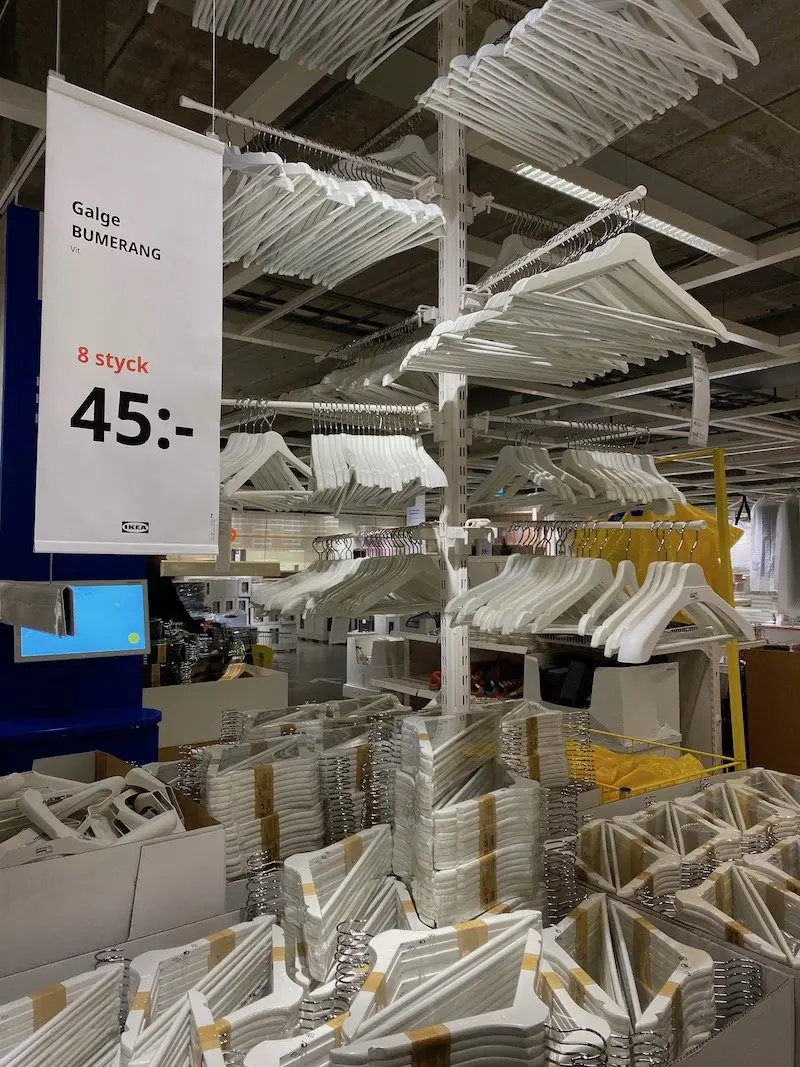 No.10: Read ALL the Swedish words!
The interesting thing when visiting IKEA in Sweden is the lack of English signs.
It's somewhat refreshing!
As Australians, we had a giggle at this – the coathanger is called a Bumerang.
(And these IKEA coat hangers are kind of boomerang shaped!)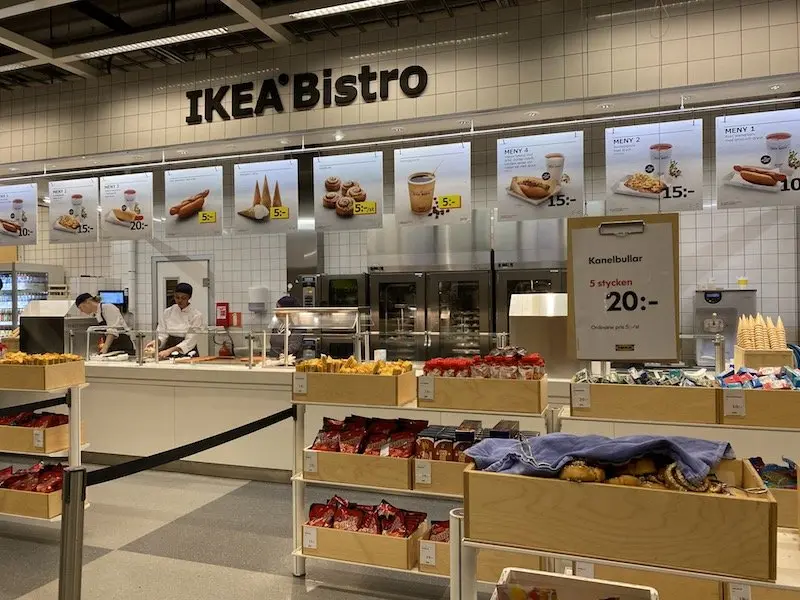 No.11: Ikea Bistro
Did you know that the boiled hot dog first arrived at IKEA when there was only enough room for a kiosk to serve a quick snack?
This budget friendly food is still one of the best sellers in the IKEA bistro at 5 sek each.
You can also purchase:
Pizza – 10 sek
Grilled hot dog in bread – 10 sek
Egg and bacon in bread – 15 sek
Egg and bacon in hot dog bread – 20 sek
Or order one of these special deals:
Menu 1: Hot dog in bread with medium drink – 10 sek
Menu 2: Pizza and medium drink – 15 sek
Menu 3: Veggie hotdog in break with pickles and mustard, and medium drink – 15 sek
Fika is the Swedish term for "Making time for friends"
It's often a coming together to share a cup of tea, or a coffee, with a snack.
At Ikea, the cinnamon bun, for 5 sek, is the most popular option.
There's also other desserts:
Soft serve icecream in a waffle cone – 5 sek
Soft ice cream and strawberry in waffle – 10 sek
Ikea drinks
Coffee and tea is available for 5 sek
Or you can order espresso, cuppuccino or cafe latte for 10 sek
A cold drink in a mug is 5 sek
Choose from:
lemonade
cola
lingonberry juice
elderberry or raspberry cordial
Almhult IKEA Bistro opening hours
Monday – Friday 10.00 – 19.00
Saturday – Sunday 10.00 – 18.00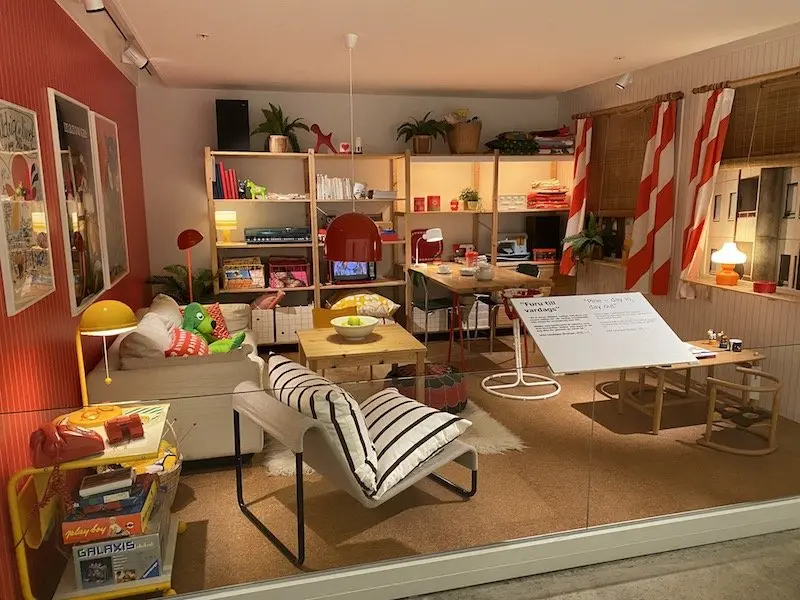 MORE THINGS TO DO IN ALMHULT SWEDEN
No.1: IKEA Museum
The IKEA museum is the number one thing to do in Almhult for IKEA fans.
And there's lots to see and do.
Read our guide: The Top 9 Things to Do at the IKEA MUSEUM SWEDEN
Hot tip: Check out the IKEA Museum Shop before you leave. It's the only place in the world to buy some of their exclusive IKEA souvenirs and gifts.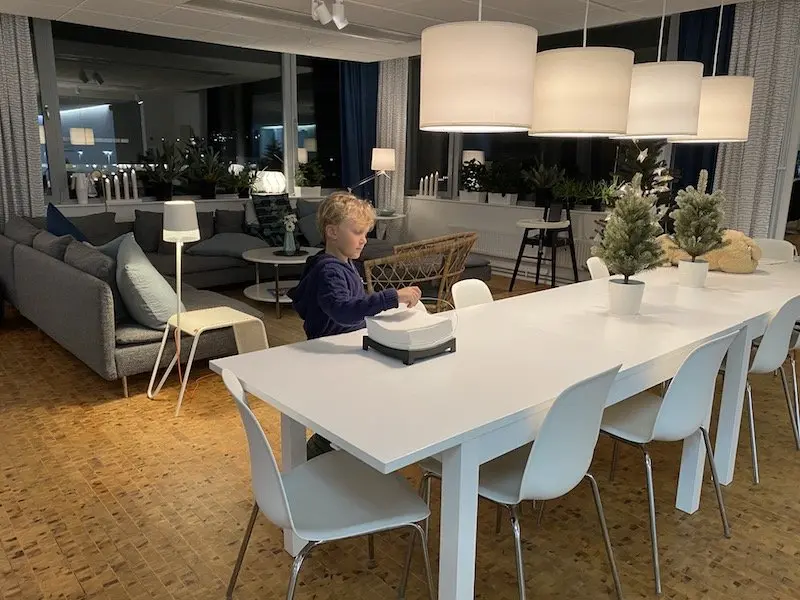 No.2: IKEA Hotel
Fancy a stay in the only IKEA hotel in the world?
Book in now.
Yes, there's IKEA furniture, but NO, you don't have to build it yourself.
Thank goodness!
Read our guide to the Ikea Hotel here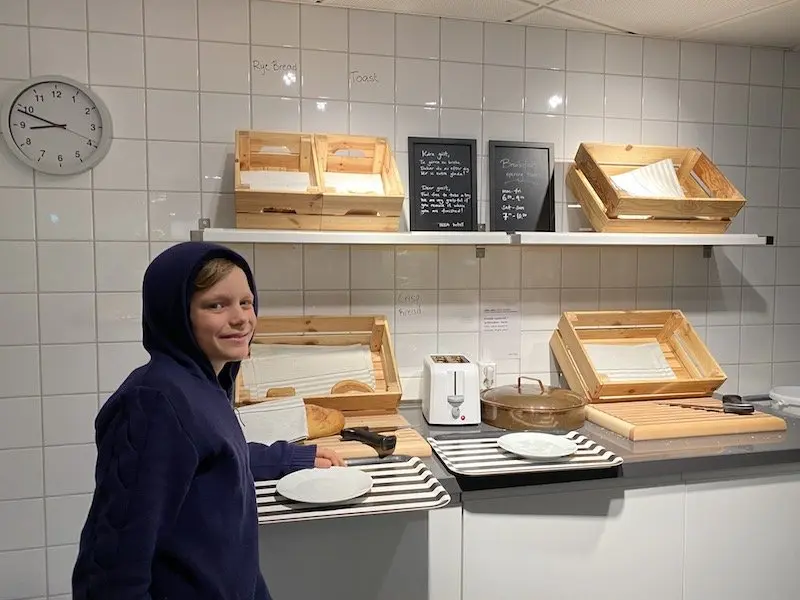 No.3: IKEA Hotel Restaurant for Lunch and Dinner
It's NOT your average IKEA restaurant menu.
This menu is way more upmarket, inspired by local Scandinavian flavours and featuring local organic produce.
Take a sneak peek inside in our Foodie's guide to the IKEA hotel restaurant .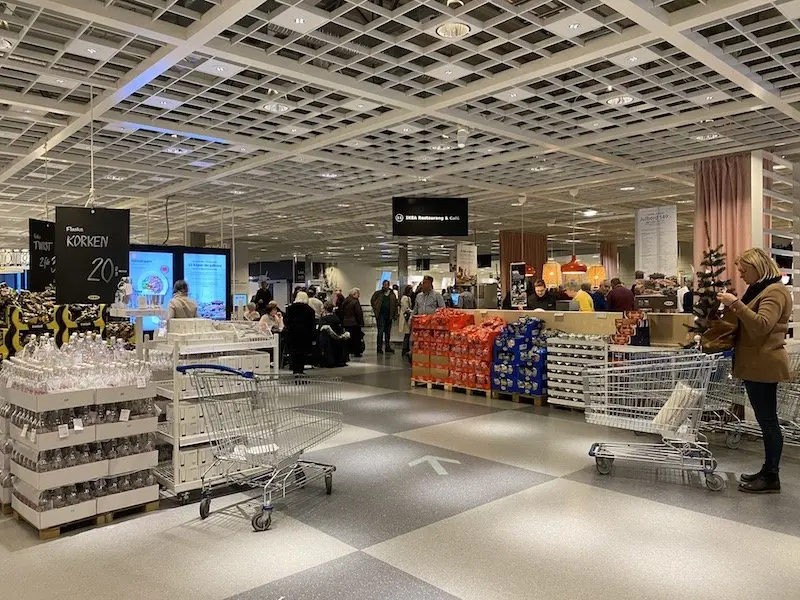 THE INSIDE SCOOP: Ikea Älmhult
Correct at time of publication on Roam the Gnome. Please check with venue for updates. We apologise in advance if there have been any changes we are unaware of. All prices in AUD dollars, unless otherwise stated
IKEA Almhult address: IKEA Älmhult Handelsvägen 4 343 33 Älmhult
Website: Click here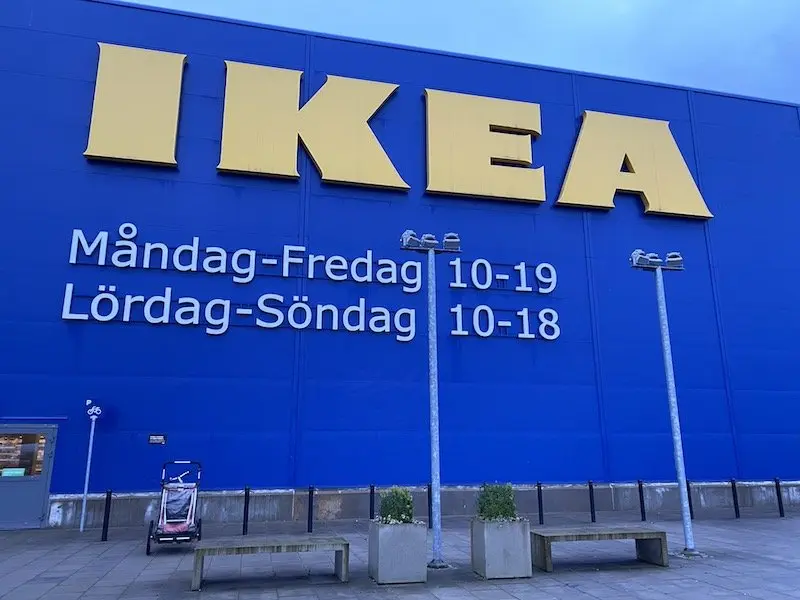 Ikea Almhult Opening Hours
This IKEA Department Store is open:
Monday – Friday: 10:00 – 19:00
Saturday – Sunday: 10:00 – 18:00
Closed:
Midsummer Eve & Midsummer Day
Christmas Eve & Christmas Day
New Year's Eve & New Year's Day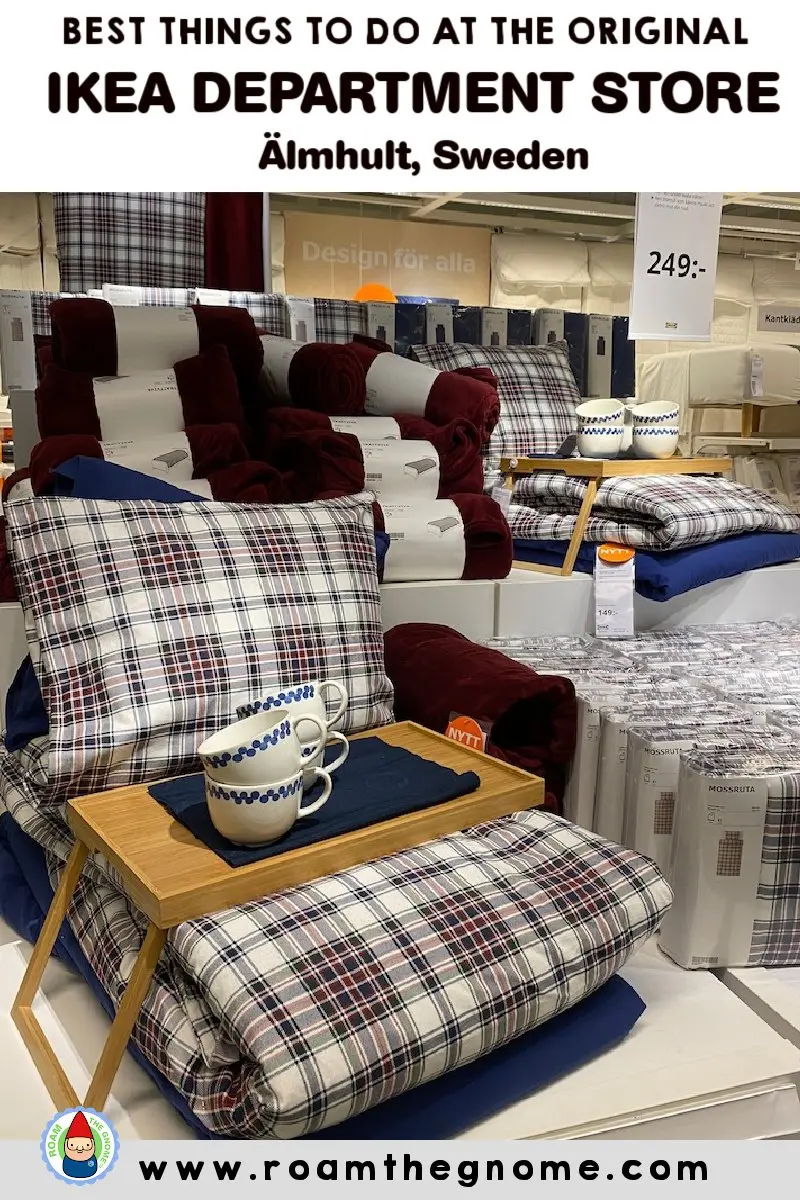 How to get to IKEA Almhult
How to get from Copenhagen to Almhult
Älmhult in Sweden is easily reached by train or car from Copenhagen and Copenhagen Airport.
The journey is approximately two hours
By Train:
Catch the Øresundtåg train. All trains stop at Copenhagen Airport (Kastrup), Malmö and Lund. (The train continues to Växjö and/or Kalmar.)
Tickets can be purchased at Copenhagen train station from the ticket counter, vending machines or online here or via Swedish railways. Tickets cost approximately SEK250 /€50 one-way.
(Our trip was included in our Eurail tickets.)
From the train station, you can walk in around 10-15 minutes. It's flat, and easy.
Or catch the free bus. (Details below)
By Bus:
Catch the free bus – Line 30, a collaboration between Länstrafiken Kronoberg, Älmhult municipality and IKEA.
Line 30 runs from the bus terminal, south of the station building.
Ikea Almhult Map
Toadstool Rating: Almhult Sweden IKEA

Looking for MORE Things to do in Småland with kids?
Smaland is NOT JUST the name of the IKEA playground for kids.
It's actually a region in the south of Sweden, an area that lies between Stockholm in the North, and Malmo in the South.
The play area is named for it.
Småland is a gorgeous part of Sweden and very family friendly.