INSIDE: The Ultimate guide to visiting the IKEA Museum Shop Almhult.
Do you adore IKEA products?
Are you the one in your group of friends who can't stop raving about IKEA's range of goods?
Do you visit IKEA multiple times a year, just because you can?
(Or to eat meatballs. Because that's another reason to visit!)
If so, you must put the IKEA MUSEUM in Sweden on your bucket list.
They have a shop too, selling all kinds of exclusive gifts & IKEA souvenirs.
Take a look below for a sneak peek!
Disclosure: This article contains affiliate links. If you make a purchase after clicking on one of these links, we may receive a small commission at NO extra cost to you.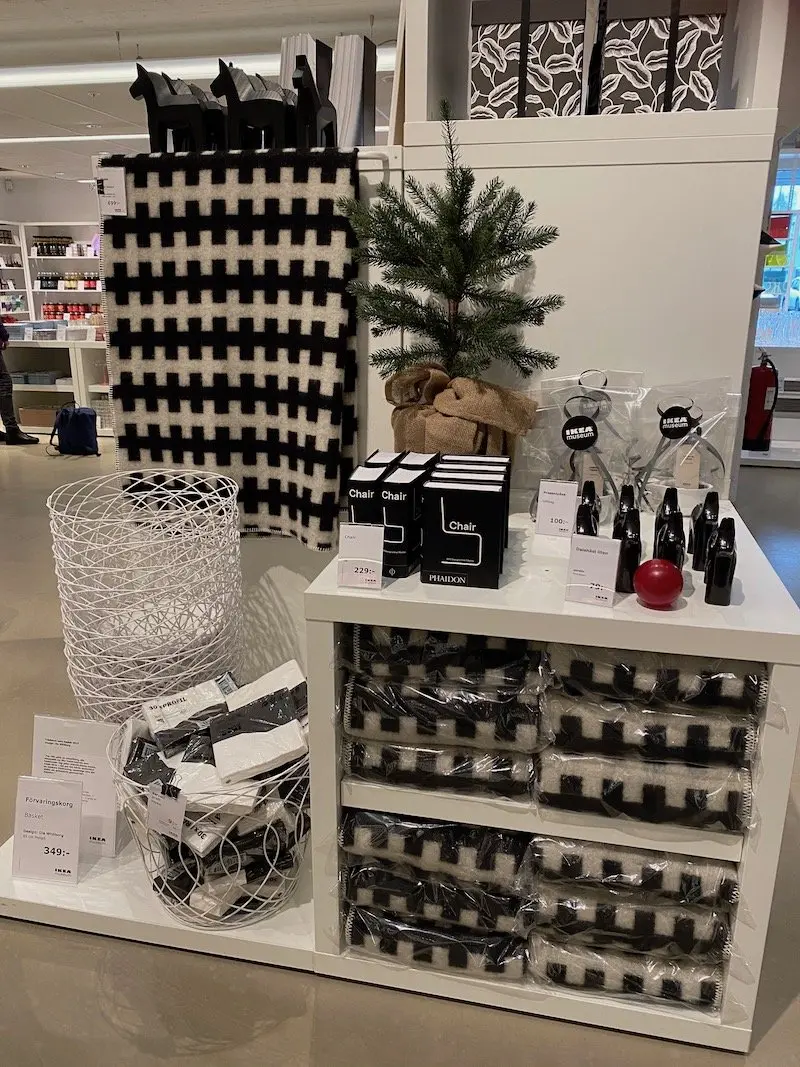 Complete Guide to the IKEA Museum Shop Sweden
The IKEA Museum Sweden is an ode to the Swedish furniture giant, a place to reflect upon the astronomical growth of this much loved furniture store and see all the changes and developments since the 1950's when the first store opened.
Fun Fact: Did you know the ORIGINAL Ikea Store was in this very building?
It's true.
Upstairs, you can check out the history of IKEA .
There's a chance to look back through the IKEA Museum Catalogue and see displays of vintage IKEA furniture, learn the story of founder Ingvar Kamprad, and take a look at key introductions to the IKEA business, including the infamous Allen Key, famous IKEA furniture, and more.
But for shoppers, the most important part of visiting the museum is to stop by the IKEA museum store downstairs.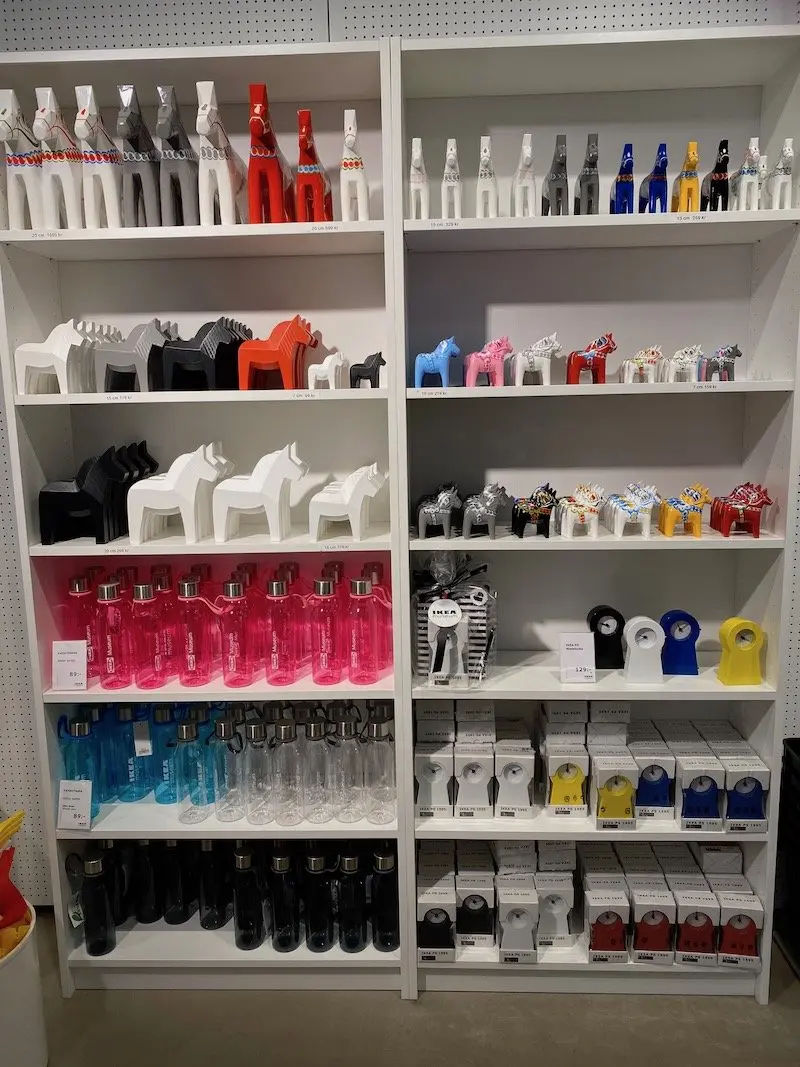 Best Things to buy at IKEA Museum Store Almhult
There are ALL kinds of things to buy at this IKEA gift shop.
Take a look.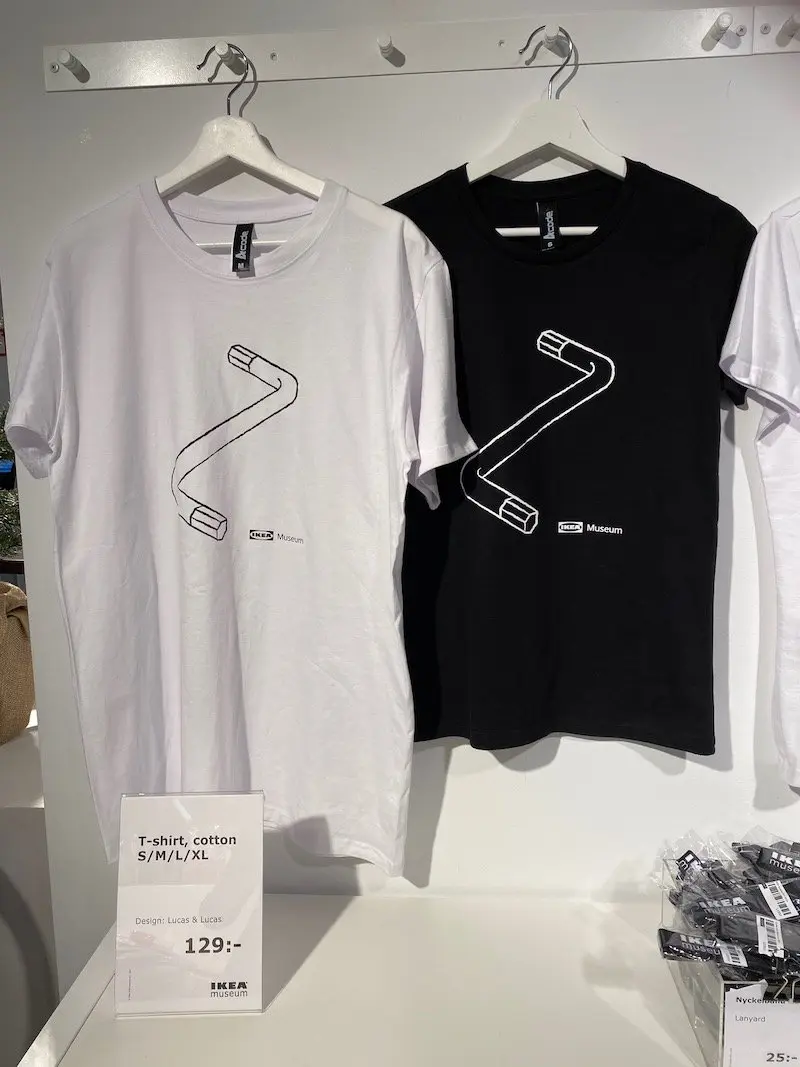 No.1: IKEA Allen Key t shirts
THIS is the ultimate t-shirt for IKEA fans.
The Allen Key tee.
Hands up who wants one!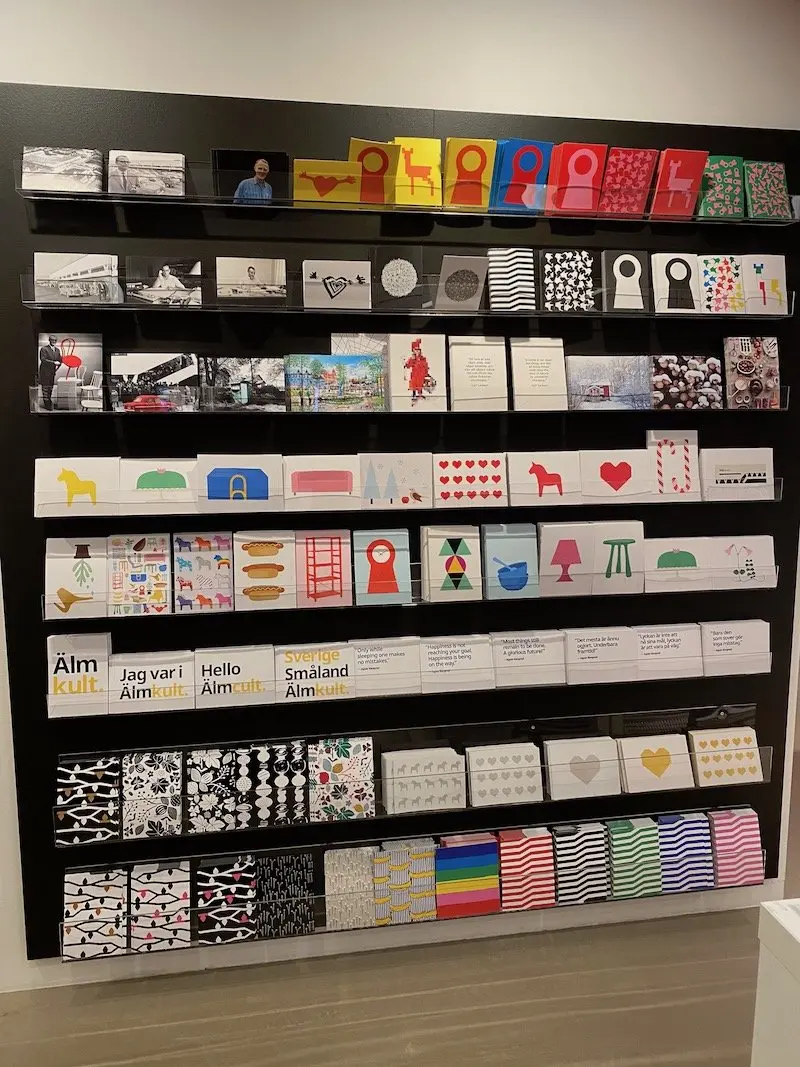 No.2: Ikea birthday cards & gift cards
At the IKEA paper shop, here's a whole wall of IKEA cards for birthdays, thank you cards, celebration cards, celebratory cards, postcards, and blank cards too.
AND Ikea Magnets!
A whole bunch of different designs. What fun souvenirs of Sweden.
That's a super cute souvenir for IKEA lovers.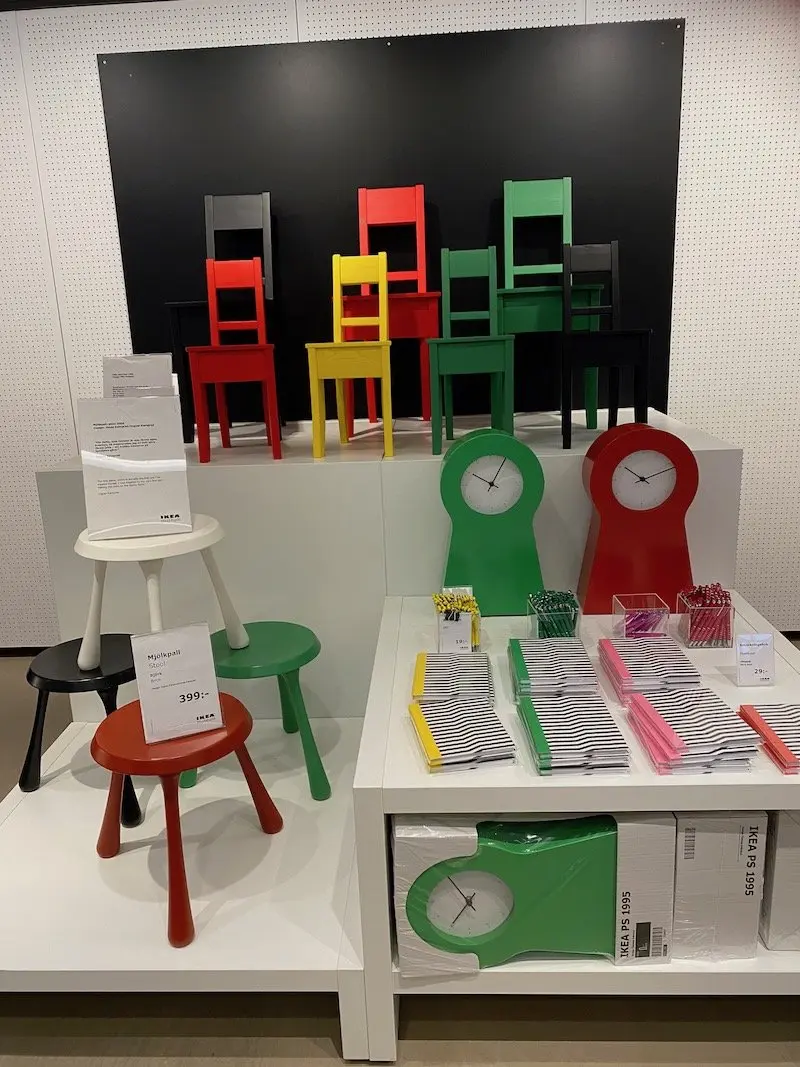 No.3: Ikea Clocks
Pick up an Ikea clock – this design is distinctly IKEA.
Or stock up on the funky Ikea notepads with matching pens.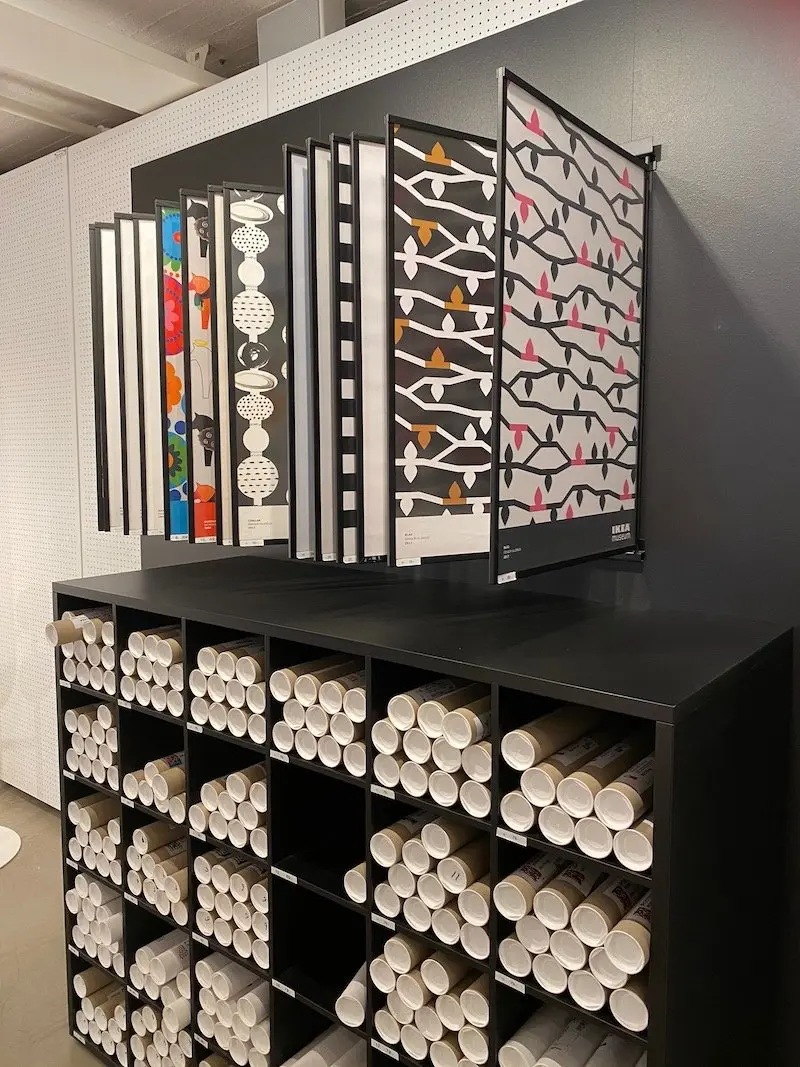 No.4: Ikea Posters
All the best IKEA designs on posters you can frame on the wall.
Another top IKEA gift for a design aficionado.
No.5: Ikea Books (Ikea Coffee Table books)
Take a look at the range of IKEA design books you can purchase.
Find all the Swedish classics and famous IKEA furniture styles in here.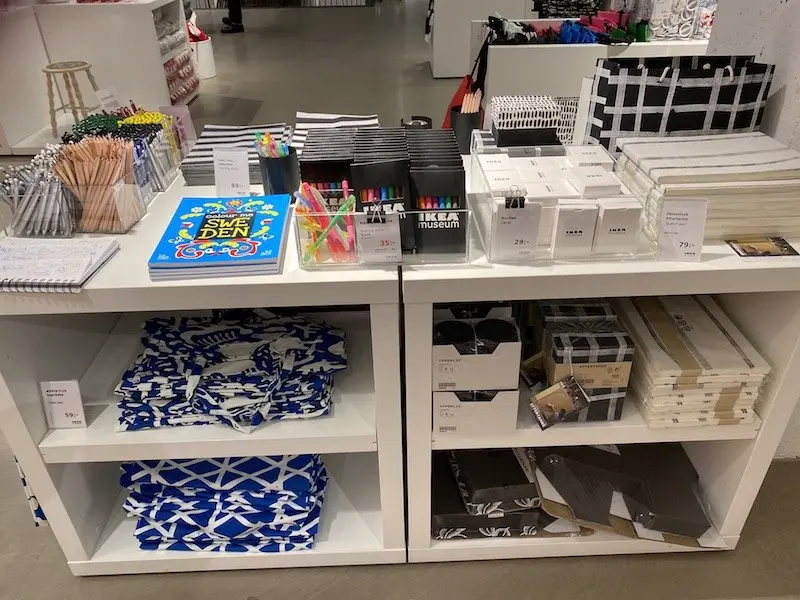 No. 6: Ikea Stationery
There's IKEA colouring pencils, pens, notepads, and folders.
Plus, IKEA tote bags and gift bags too.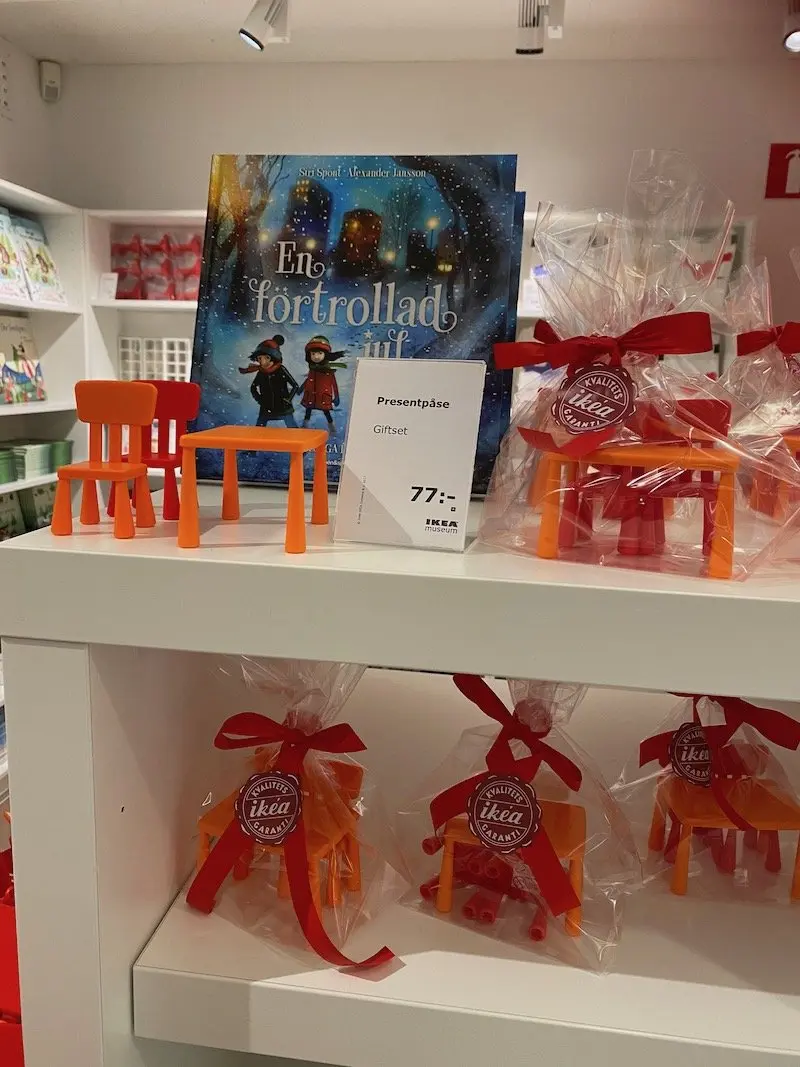 No.7: Ikea Gift sets
Around the store, you'll find a number of ready made IKEA giftsets.
This one is a three piece miniature of Ikea children's furniture – perfect for play and the doll house.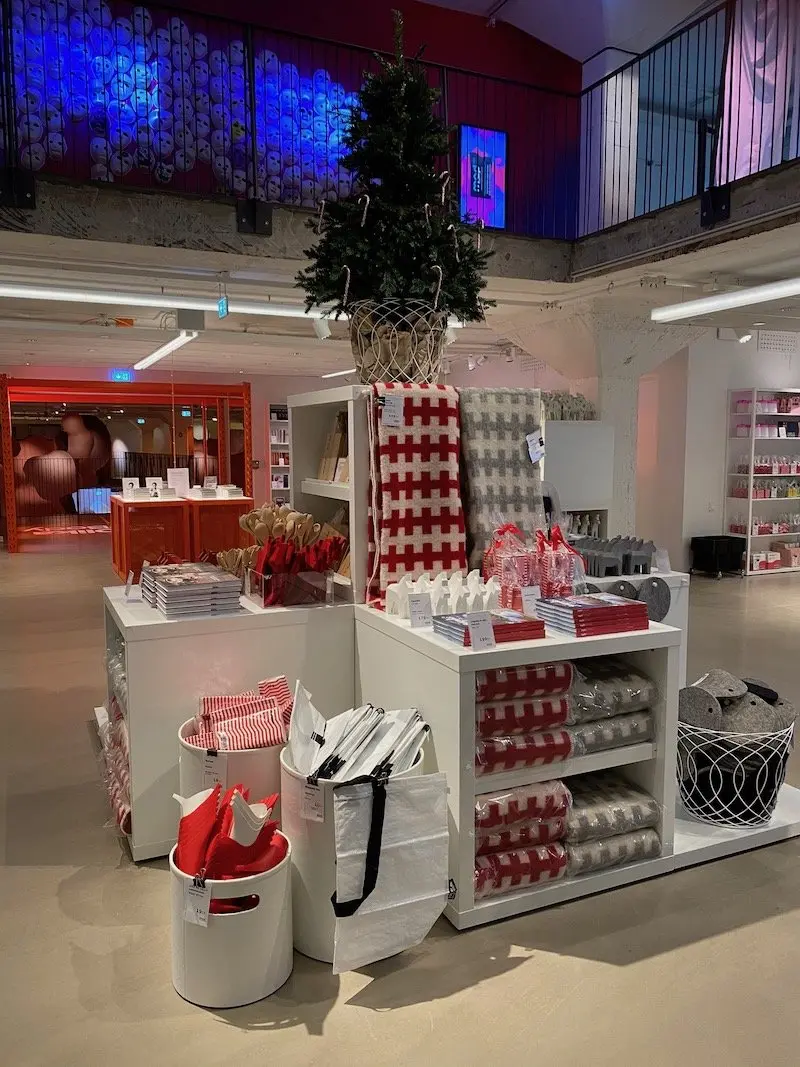 No.8: Iconic IKEA homewares
Stylish shoppers will adore the range of IKEA home furnishings including unique Swedish rugs, felt chair pads, shopping bags, and laundry bags.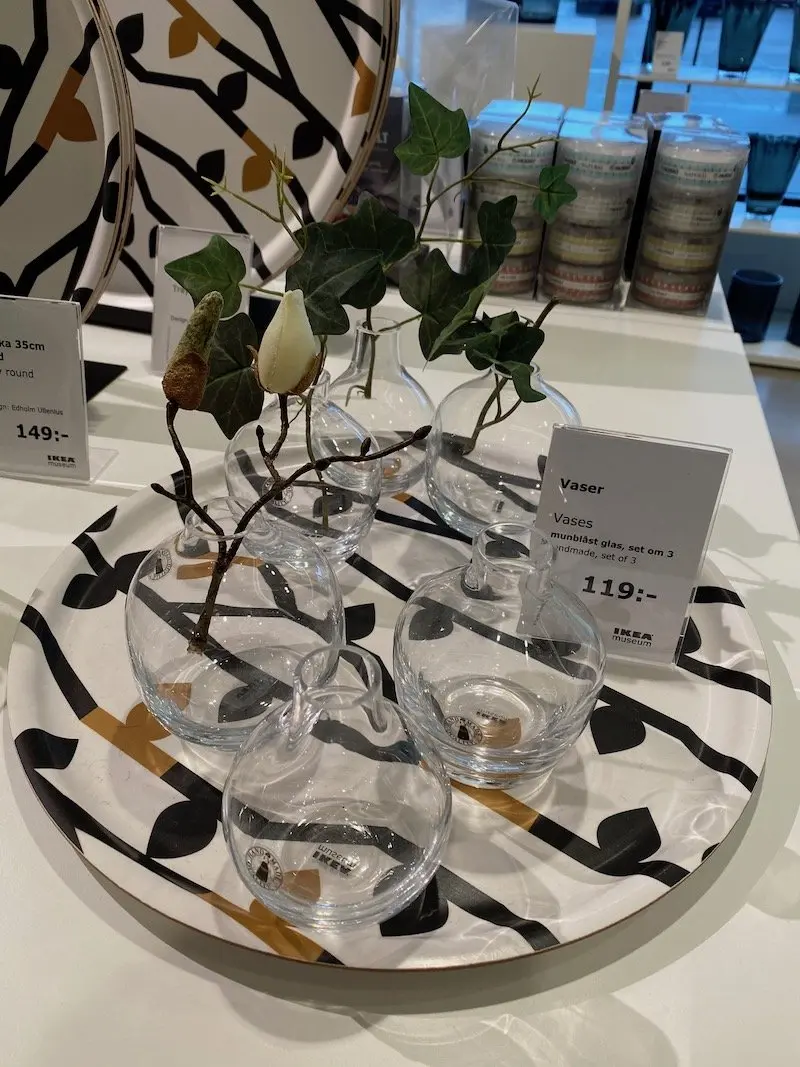 IKEA vases
This set of three glass vases are a must buy too.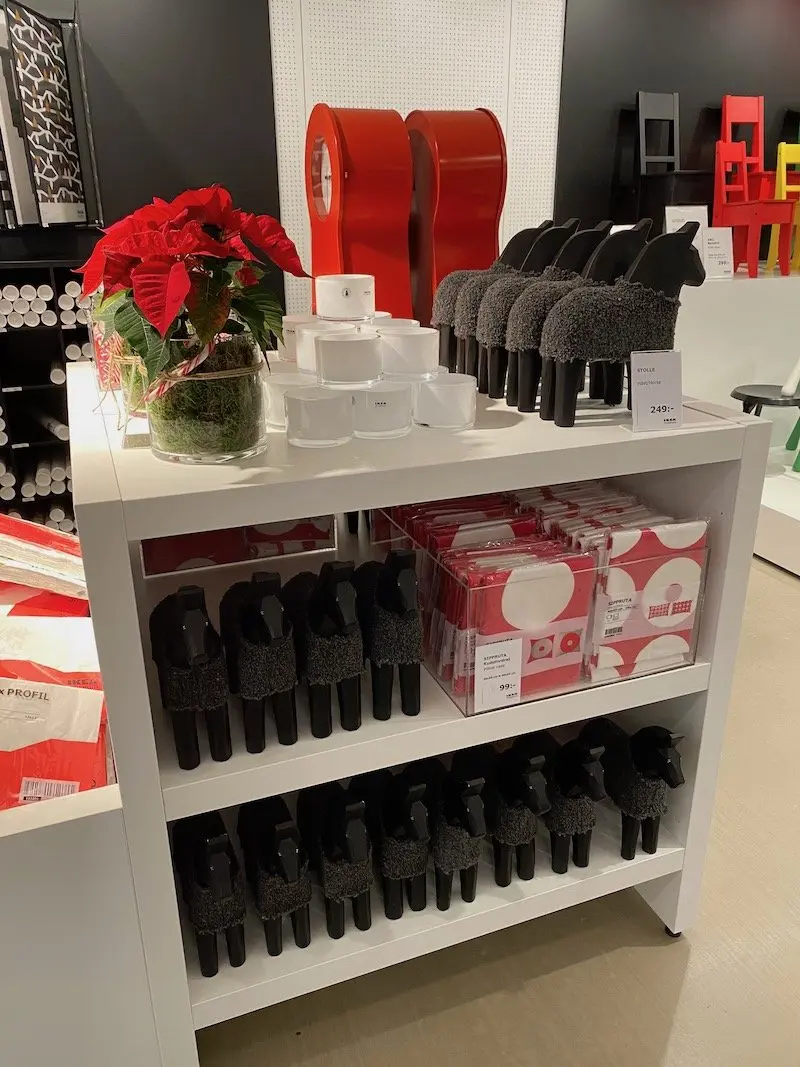 No.9: IKEA Swedish Dala horses
You'll also spy different versions of the famous IKEA horse, the Swedish DALA horses.
(These painted wooden horse statues are originally from the Swedish province of Dalarna, circa 17th century, but have become synonymous with IKEA too. They were often made with leftover timber scraps.)
The IKEA wooden horse STOLLE has been in production since 2000 – and is now sold only in the shop at IKEA Museum.
You can't buy it anywhere else!
A STOLLE ornamental horse costs SEK 249 ($29 USD or 22 pounds)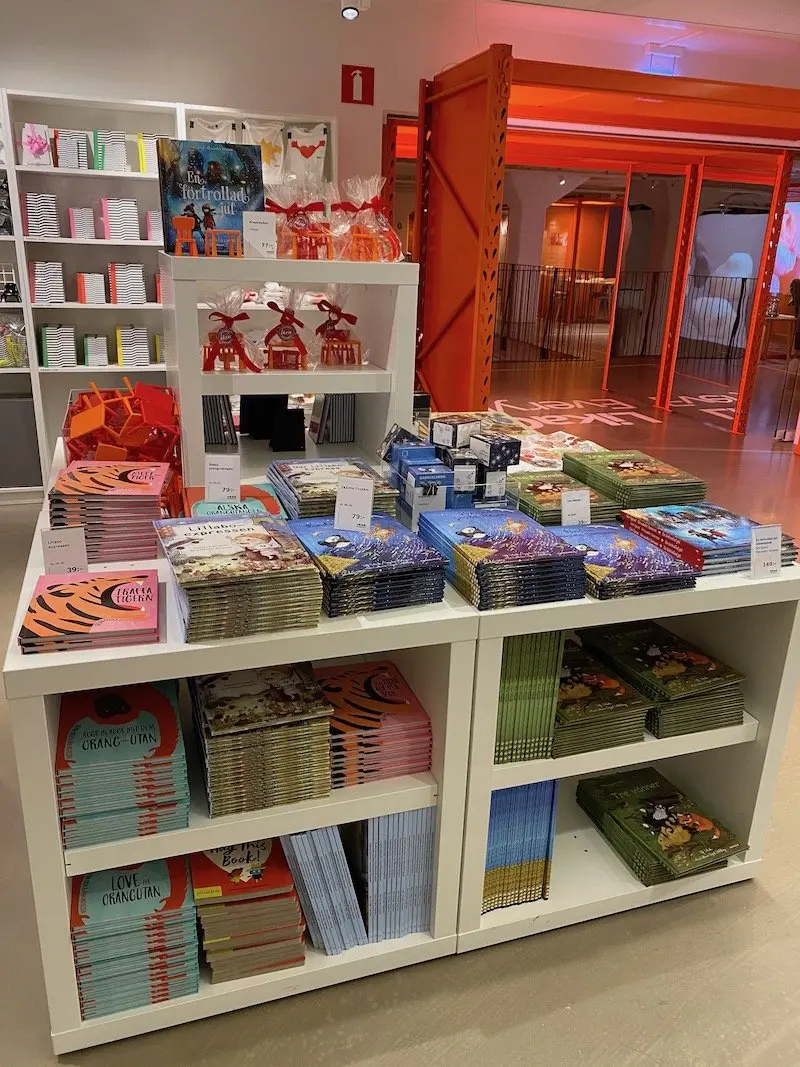 No.10: IKEA Children's Books & Toys
Check out the range of IKEA books for kids.
These ones are available in Swedish, and translated to English too.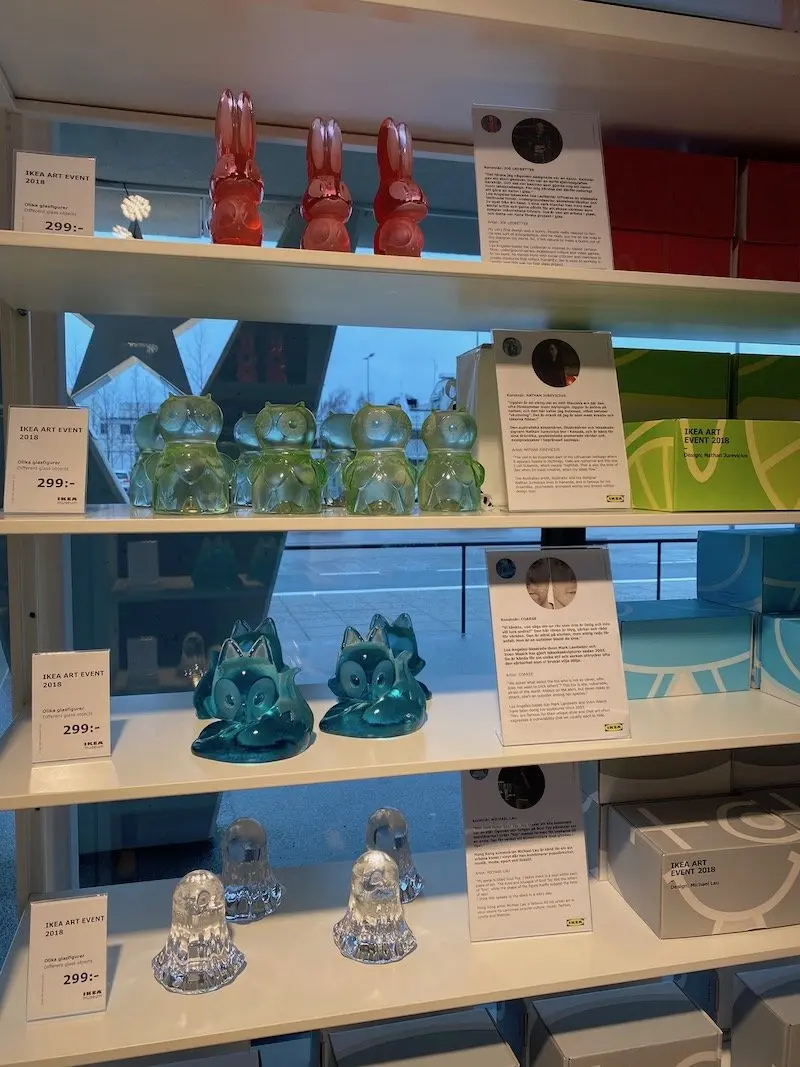 IKEA GIFTS
No.1: IKEA ornaments
One of the surprise gifts in the IKEA shop was these IKEA art event ornaments, made from glass.
Choose from a rabbit, a fox, or an owl.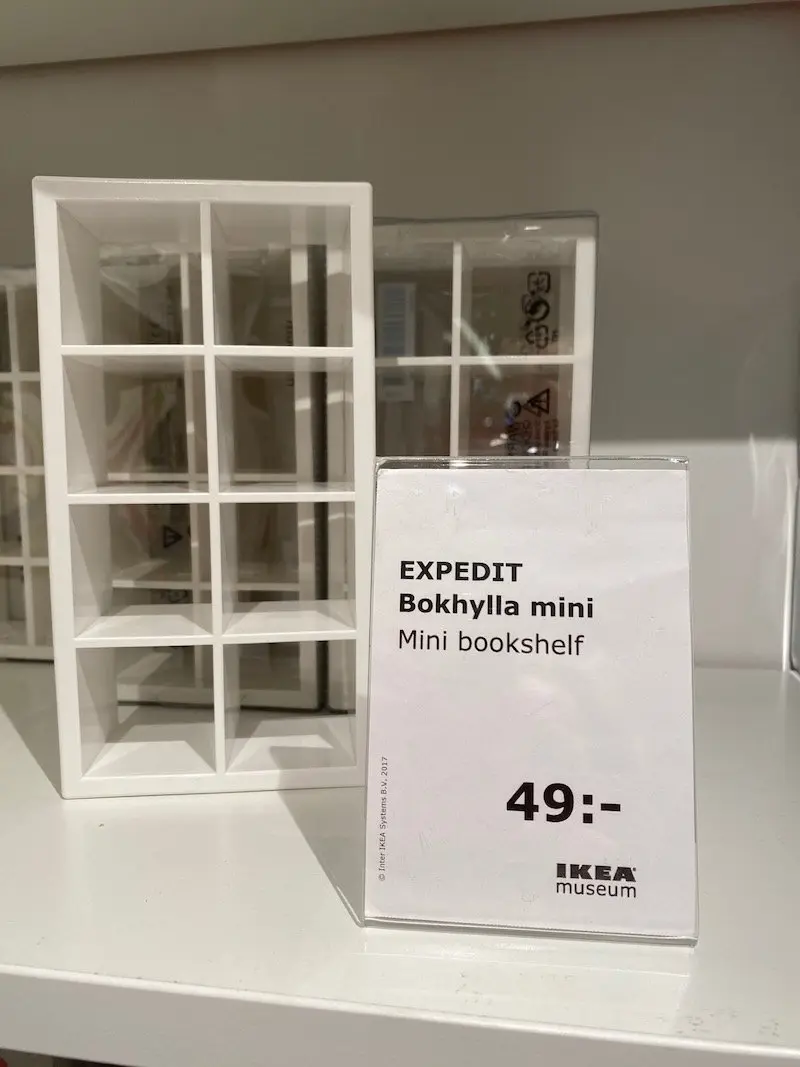 No.2: IKEA miniatures
The cutest IKEA souvenirs are these cute IKEA miniature replicas.
How adorable is this Expedit shelf!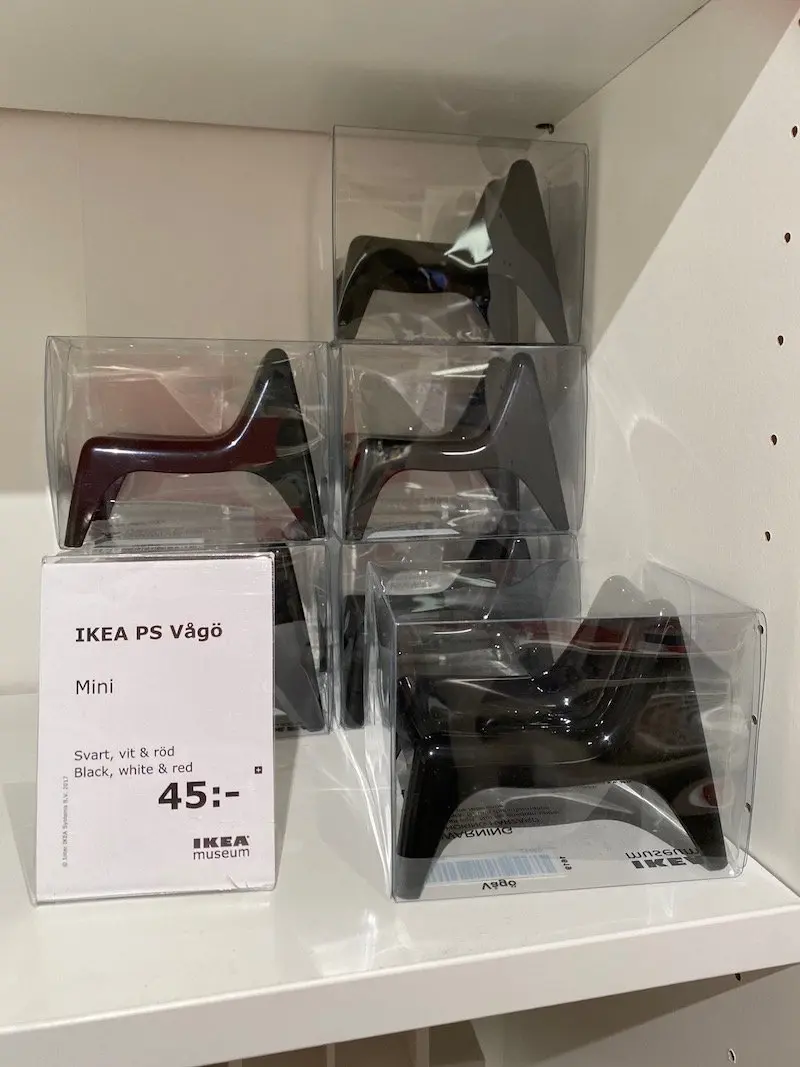 IKEA Vago chairs
Then there's the iconic IKEA PS Vågö seats.
Who knows what you can do with it, other than pop it on a shelf as a cute ornament, but I couldn't resist!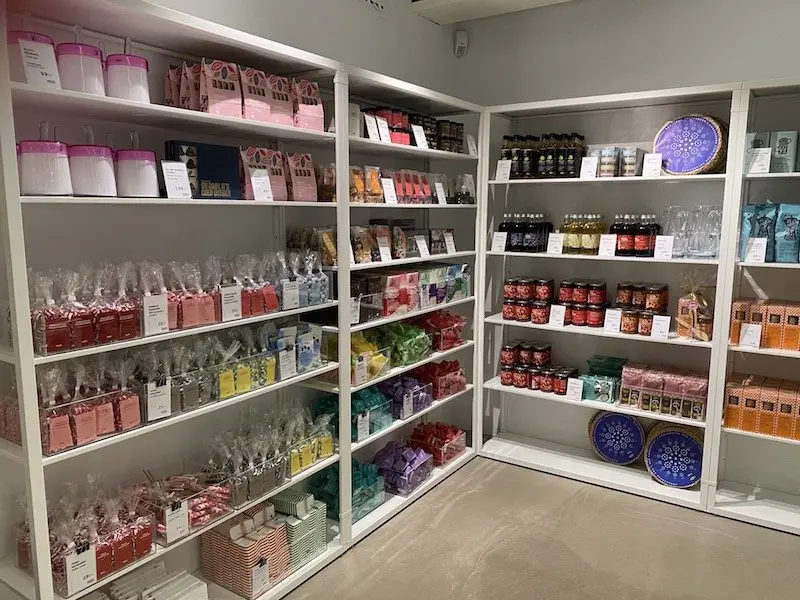 IKEA FOOD (TRADITIONAL SWEDISH FOOD)
The IKEA Museum shop has a pantry of sweets and treats that make the perfect souvenir for foodie friends and family.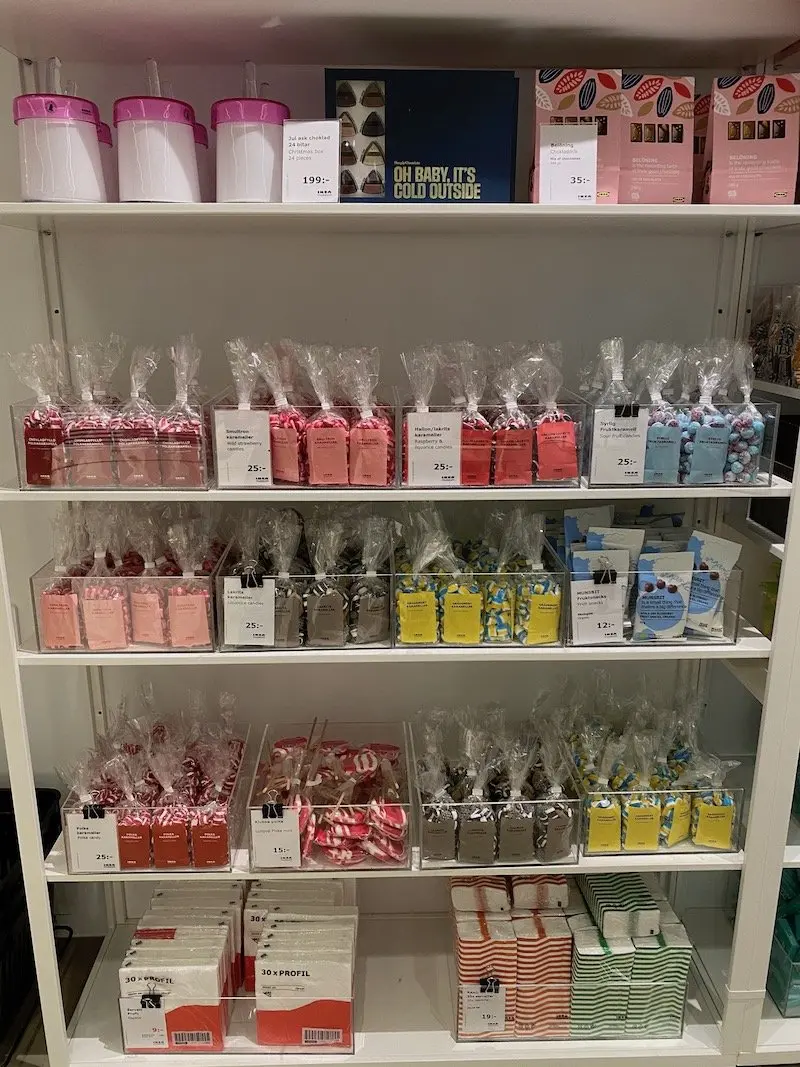 No.1: IKEA Christmas chocolates
Ikea chocolates are the ideal lightweight gift for chocoholics.
The box of 24 chocolates sells for 199 SEK and is beautifully packaged.
There's also a 240 gram bag of IKEA chocolate for 35 sek.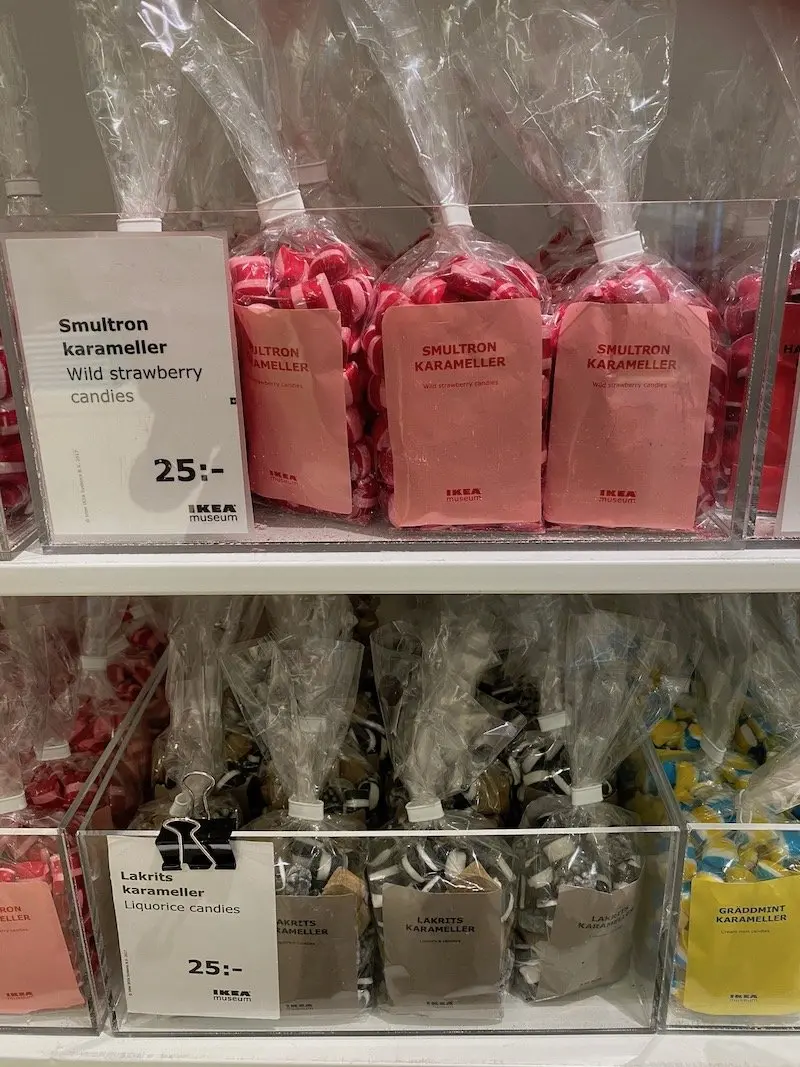 No.2: IKEA candies
IKEA Licorice candies are a Swedish favourite, so you can't go wrong.
But they also come in these flavours:
Wild Strawberry candies
Raspberry and licorice candies
Sour fruit candies
Polka candy (red and white striped)
Chocolate filled Polka candy
Fruit snacks (apple and blueberry)
Polka mint lollipops on a stick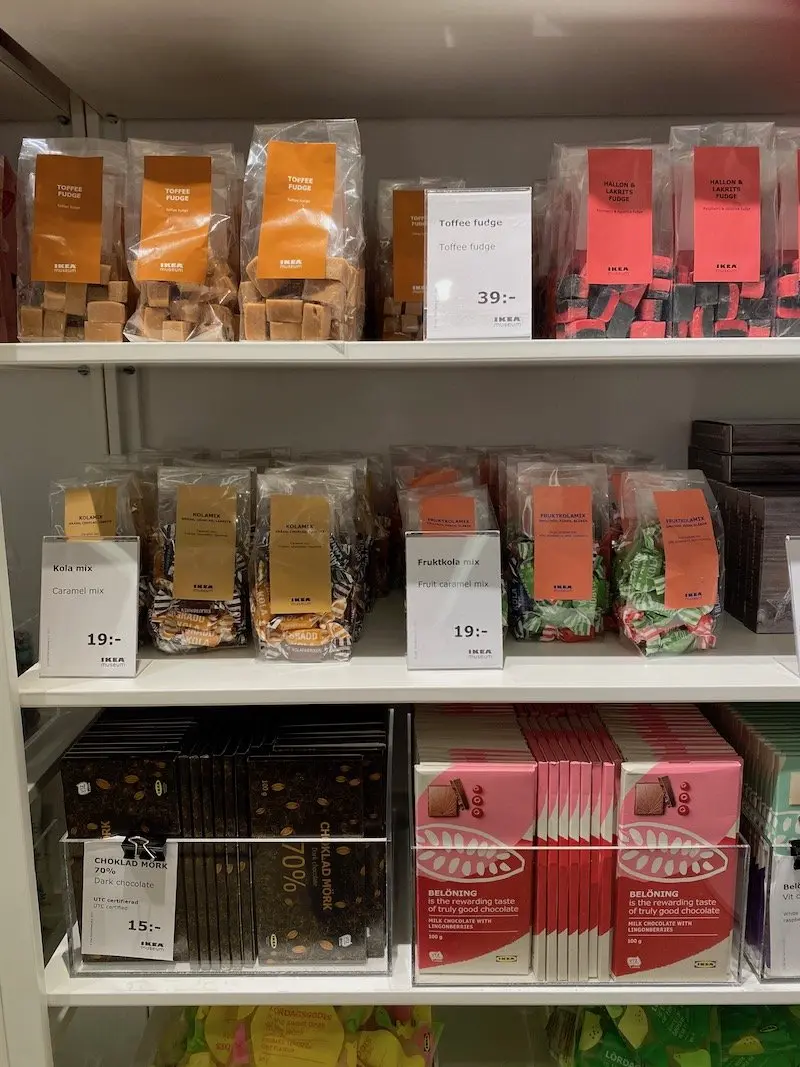 No.3: IKEA fudge
There's toffee fudge, and licorice with mallow fudge.
And IKEA chocolate bars too.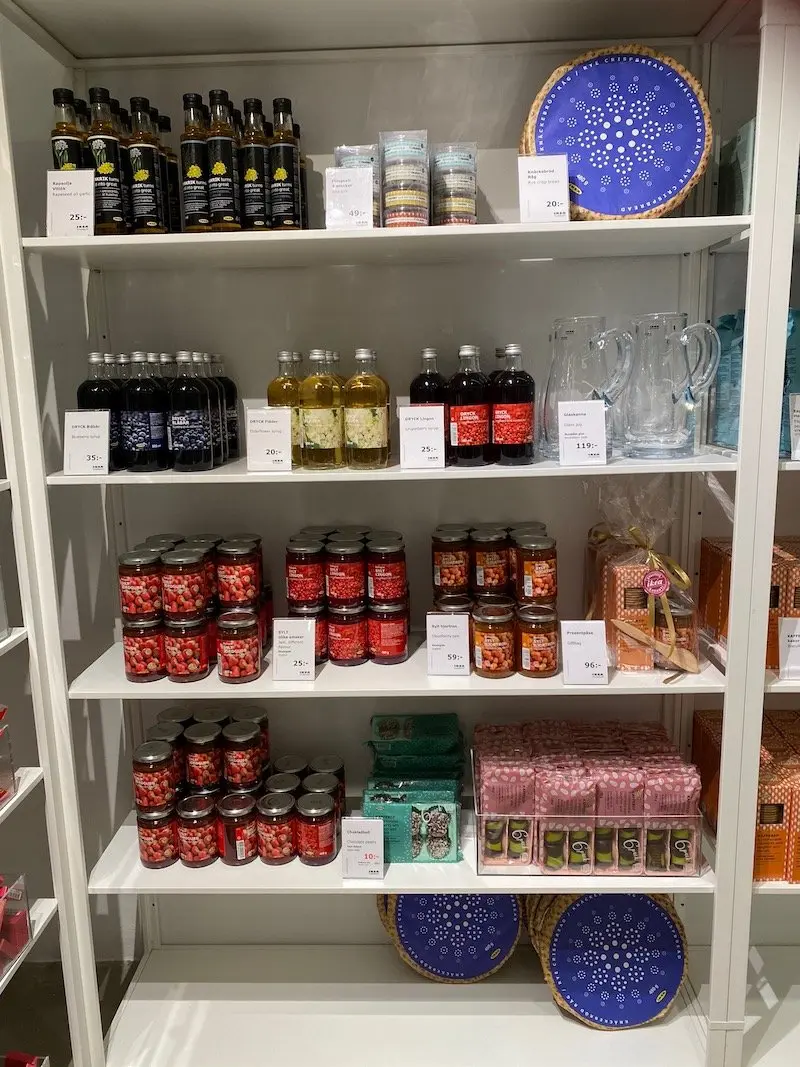 No.4: IKEA food market
Pick up Elderflower cordial, Blueberry cordial, and Lingonberry cordial.
Lingonberry jam is a staple and much loved. You can't go wrong.
There's IKEA cakes and IKEA crispbread too.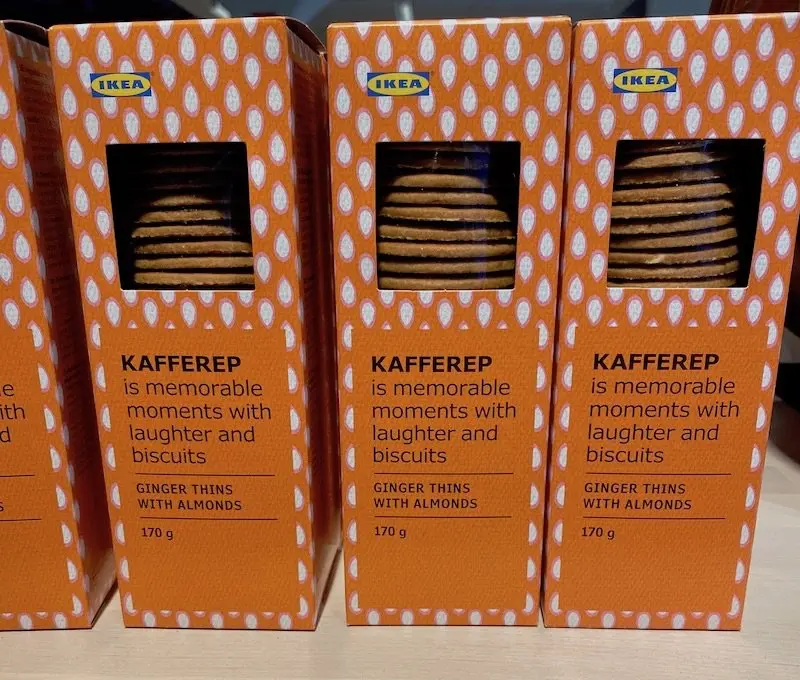 No.5: IKEA gingerbread cookies
Do not leave without a stash of these in your carry bag.
IKEA ginger biscuits are delicious, and worthy of your attention.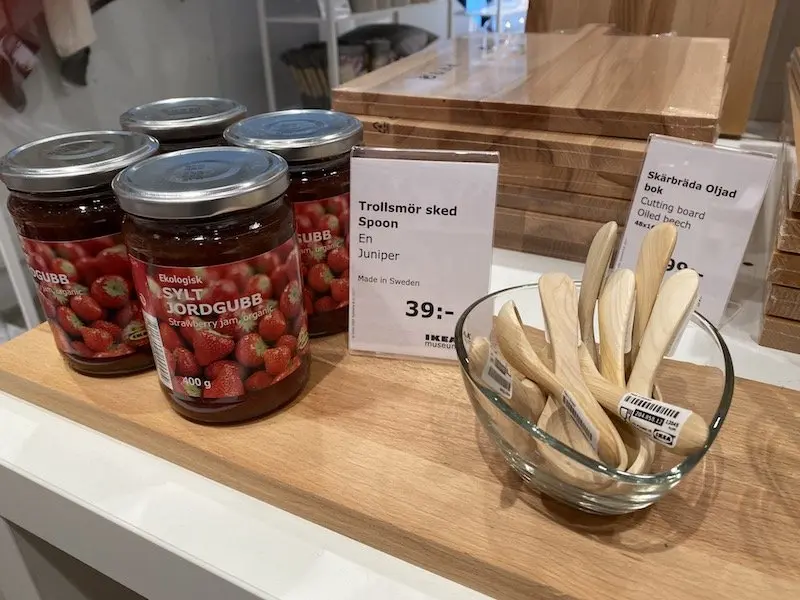 No.6: IKEA Jams
IKEA Strawberry jam is perfect for breakfast toast.
Pick up an IKEA chopping board, and a jam spoon to go with it, for the perfect gift.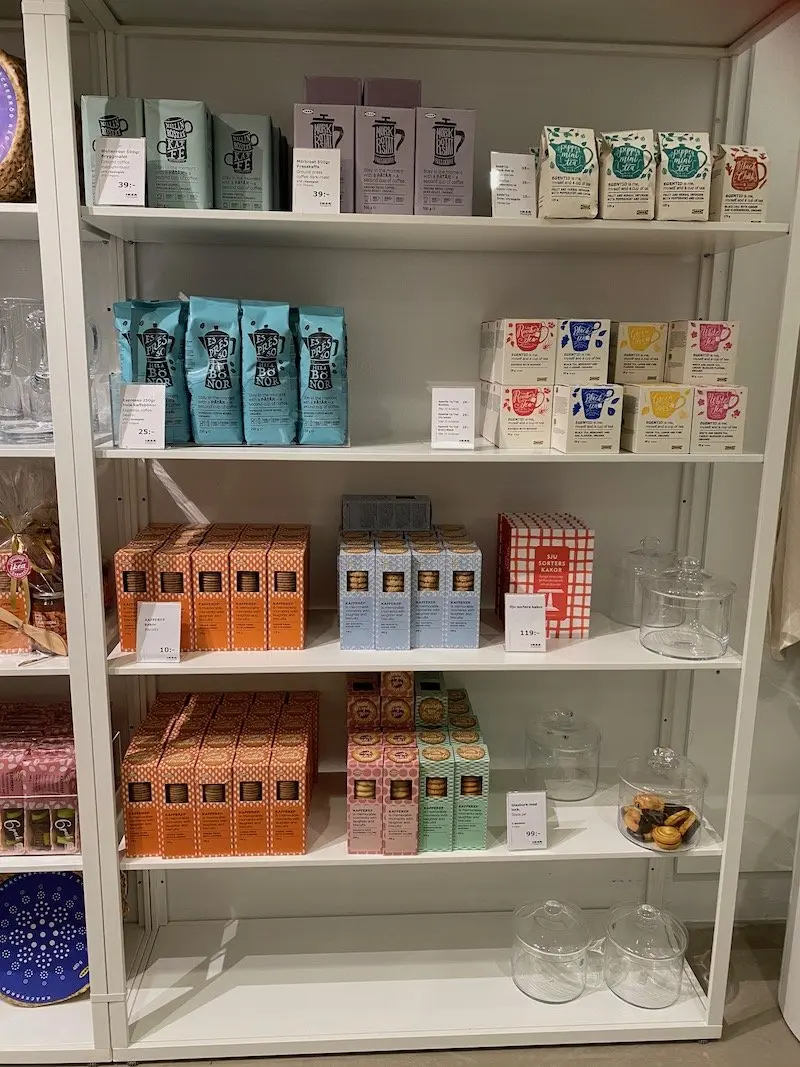 No.7: IKEA Tea
The ideal present for anyone who loves tea and biscuits, along with a book.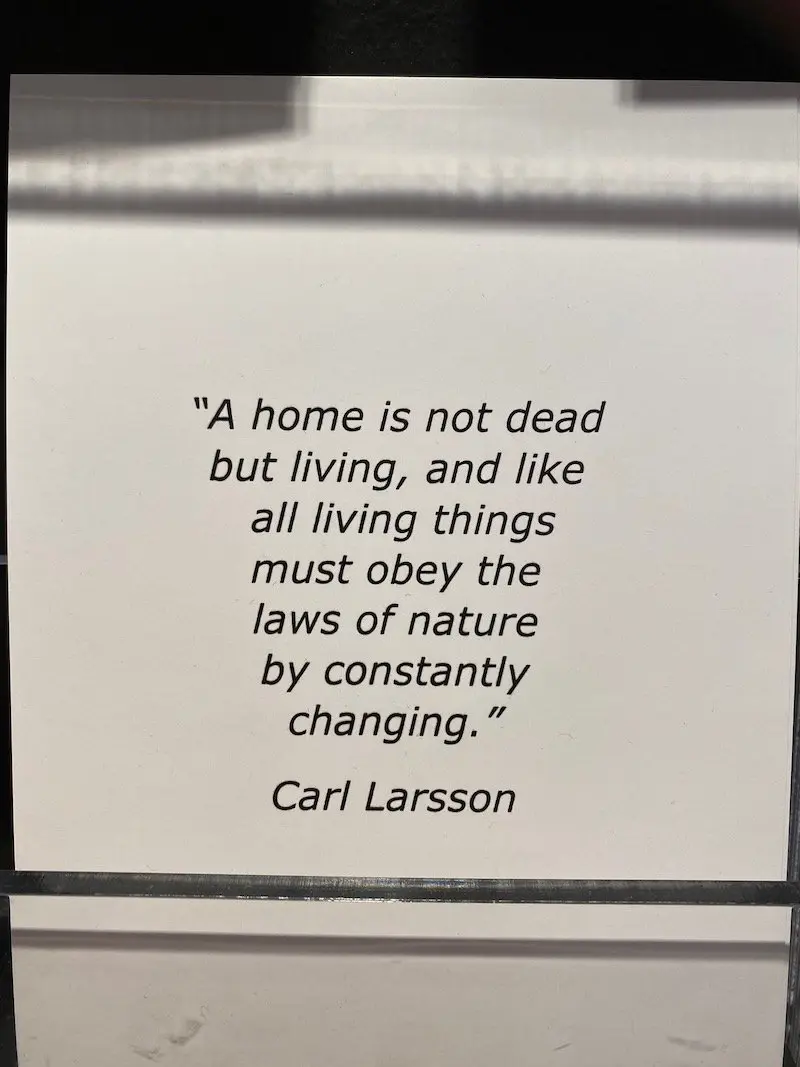 IKEA Quotes by Carl Larsson
If you need any encouragement to shop at IKEA, this quote is it.
Decorating on a budget with IKEA goods is the answer. (That's the goal of IKEA democratic design too)
Hot tip: Visit the IKEA Almhult Showroom in Almhult too – there's more IKEA shopping fun to be had at the first IKEA store!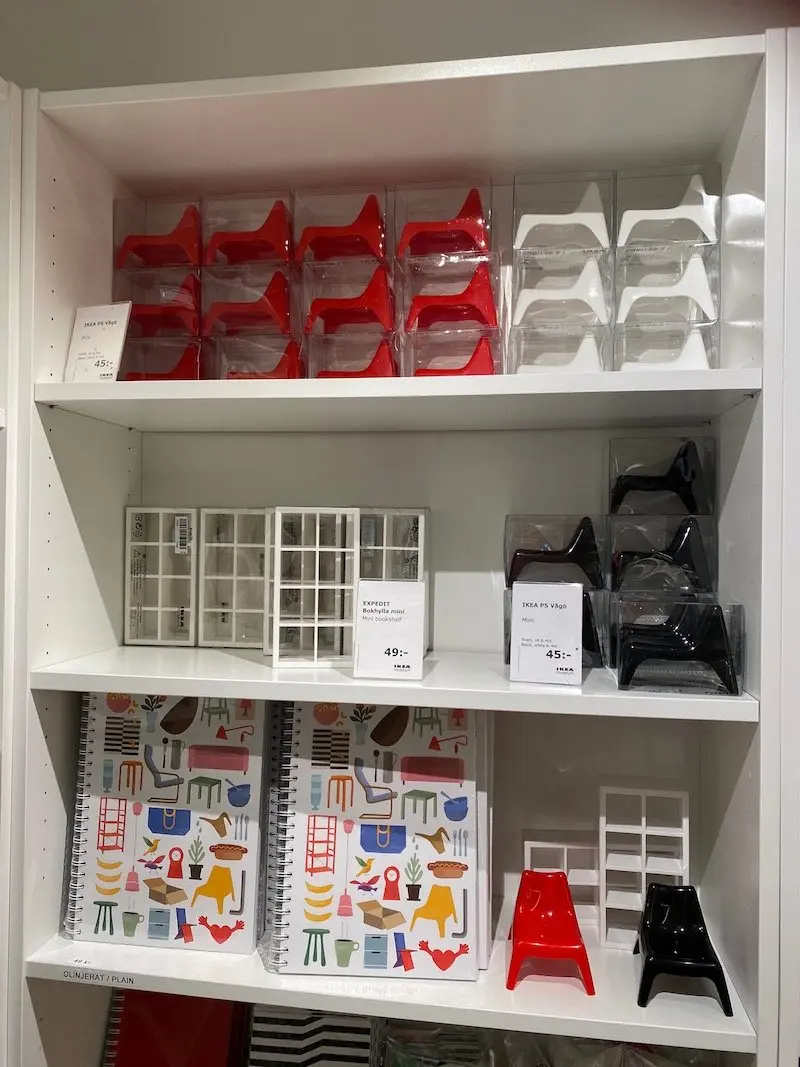 THE INSIDE SCOOP: IKEA Museum Shop Älmhult
Correct at time of publication on Roam the Gnome. Please check with venue for updates. We apologise in advance if there have been any changes we are unaware of. All prices in AUD dollars, unless otherwise stated
Ikea Museum address: Ikeagatan 5, 343 36 Älmhult, Sweden
Ikea museum website: Click here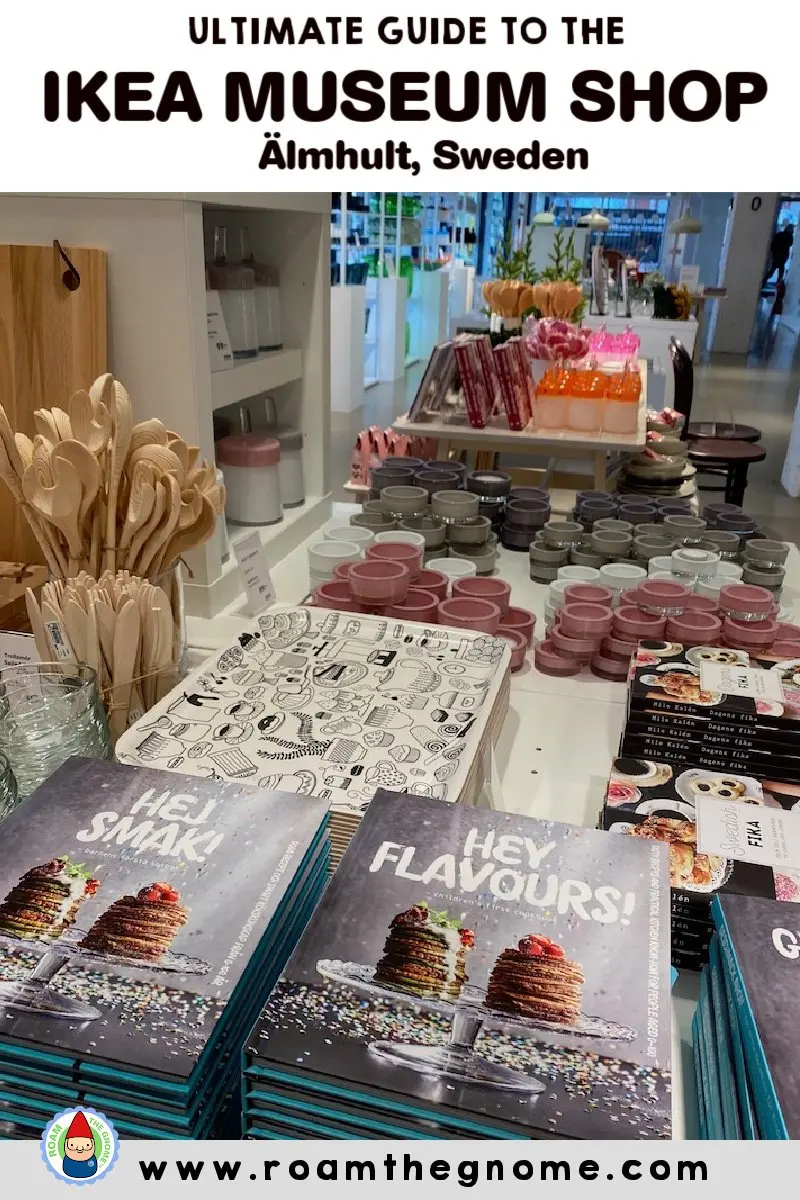 How to get to the Ikea Museum in Almhult
How to get from Copenhagen to Almhult
Älmhult in Sweden is easily reached by train or car from Copenhagen and Copenhagen Airport.
The journey is approximately two hours.
By Train:
Catch the Øresundtåg train. All trains stop at Copenhagen Airport (Kastrup), Malmö and Lund. (The train continues to Växjö and/or Kalmar.)
Tickets can be purchased at Copenhagen train station from the ticket counter, vending machines or online here or via Swedish railways. Tickets cost approximately SEK250 /€50 one-way. Our trip was included in our Eurail tickets.
Once you arrive at the Almhult train station, walk up the stairs, then cross the airbridge in the direction AWAY from the town.
Follow the pathway at the bottom of the stairs towards the carpark. (You'll see a sign pointing you in the right direction).
The IKEA museum is on your right at the end of the path.
(The IKEA hotel is across the carpark. Read our review here. Check out the IKEA hotel restaurant menus here.)
IKEA Museum Map
Toadstool Rating: Ikea Museum Shop Review

Looking for MORE Things to do in Småland with kids?
Smaland is the name of the region of Sweden where the original IKEA is located.
It's in the south of Sweden, an area that lies between Stockholm in the North, and Malmo in the South.