INSIDE: Roam the Gnome's Insider's Guide to the Hawaii Children's Discovery Center in Oahu.
Fifteen minutes west of Waikiki (towards the airport) is a place of childhood dreams.
Just a little further north along the Ala Moana Blvd, beyond the Ala Moana shopping centre, and the Ward Complex, hides this colourful building.
Honestly, you'd never know it was there if you weren't looking.
Yet inside lie treasures beyond your wildest imagination.
Your children will LOVE this place. I guarantee it.
If you're looking for fun things to do with kids in Hawaii, the Hawaii Children's Discovery Center must be top of your list.
Come take a sneak peek with us!
Disclosure: This article contains affiliate links. If you make a purchase after clicking on one of these links, we may receive a small commission at NO extra cost to you.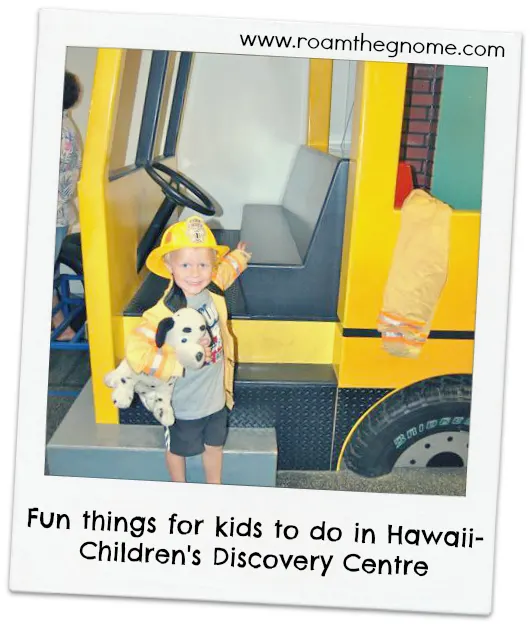 Guide to Hawaii Children's Discovery Center Oahu
Inside the Hawaii Children's Discovery Center, there are THREE (yes, three!) levels of fun.
1st Floor: Fantastic You
2nd Floor: Your Town
3rd Floor: Hawaiian Rainbows
It is THE place to be on a rainy day.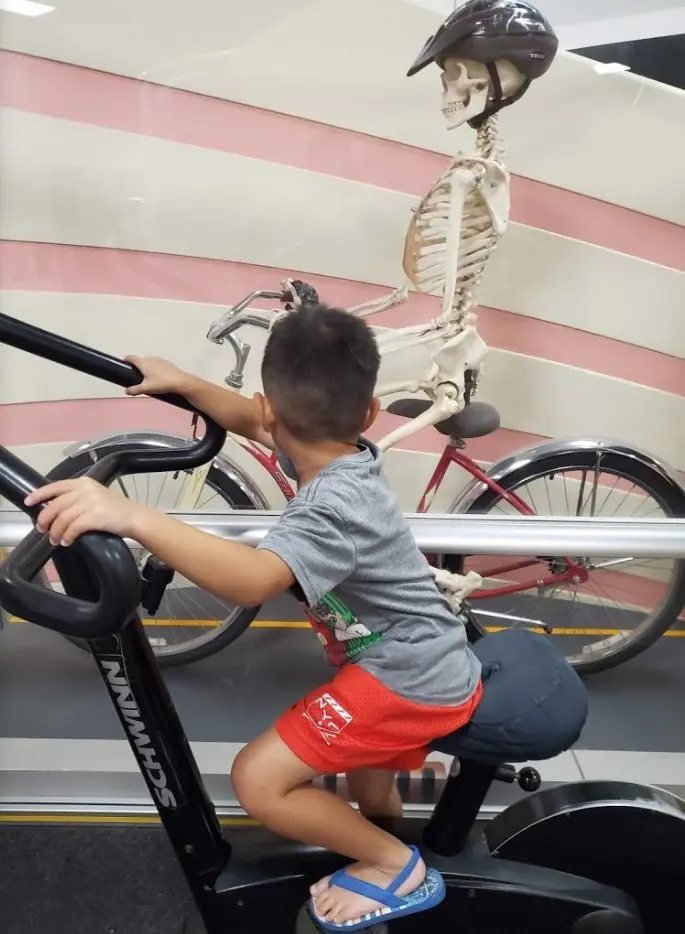 Image credit: John Banagan
1st FLOOR: Fantastic You! at Discovery Center Hawaii
The FIRST FLOOR is all about good health, in an exhibit called "Fantastic You".
Kids can explore the human body in this INTERACTIVE zone.
There's:
puzzles
games
buttons to press
levers to push
giant teeth to be brushed
a make-believe doctor's surgery, and
a dentist too.
It's the best spot to learn about how your own body works.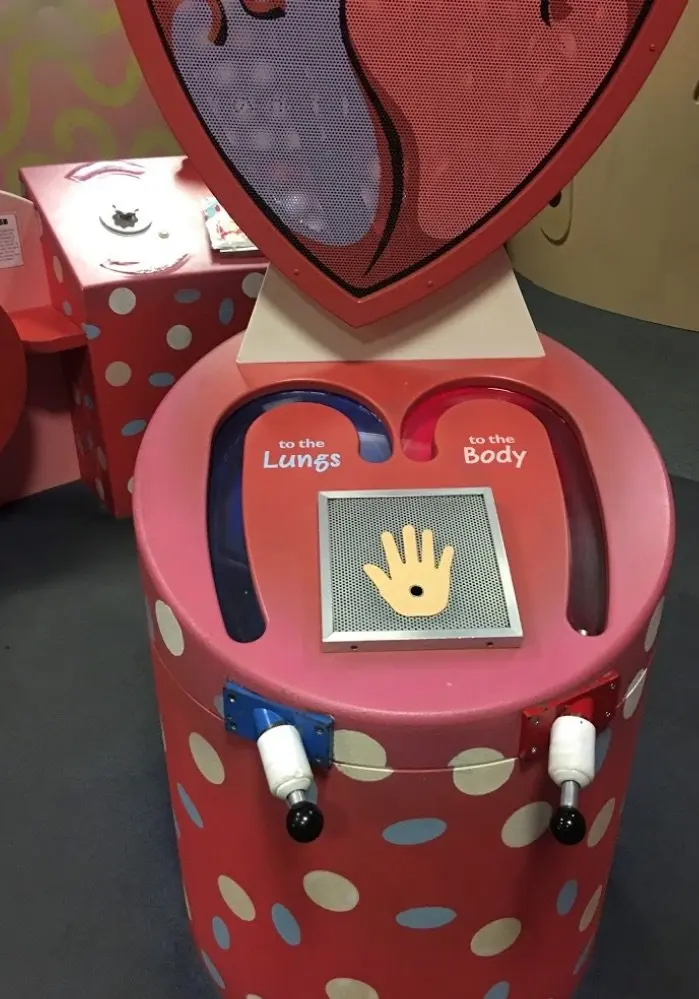 Image credit: Paul DeMello
And that's not all.
But Ned was much too excited about the potential of trucks and cars further on to bother much with this area at all.
Our tip: Don't spend too much time here at first.
You can always come back.
Bigger adventures await!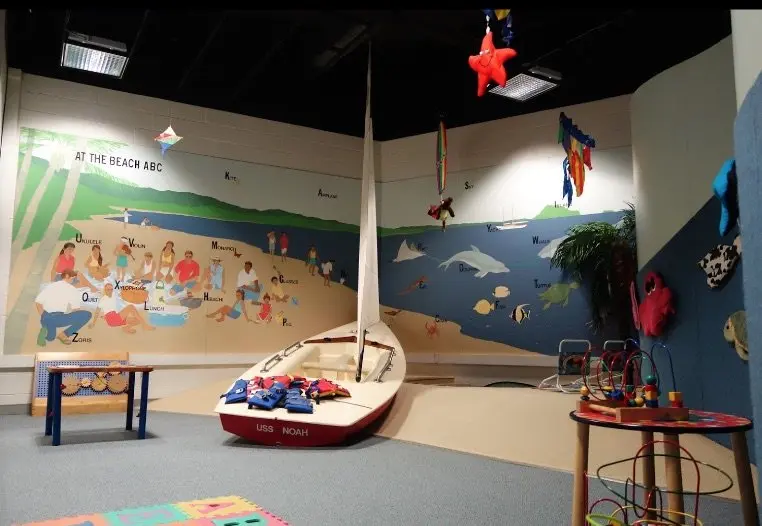 Image credit: M Daisuke
Children's Discovery Center Hawaii for toddlers
There's a dedicated tot spot for kids under 5 here too.
It's beach themed, with lots of puzzles, and games specially for little ones.
It's an oasis in the chaos.
2ND FLOOR: Your Town at Hawaii Discovery Center
The second floor exhibit, "Your Town" is a mini city that gives kids the chance to be a grown-up for the day, having a go and trying out all the different roles and places that adults visit during daily life.
The kids can run the post office:
writing letters
weighing packages, and
selling stamps.
They can be a lawyer and attend the Court of Law (complete with hammer and lectern).
There's a police station too.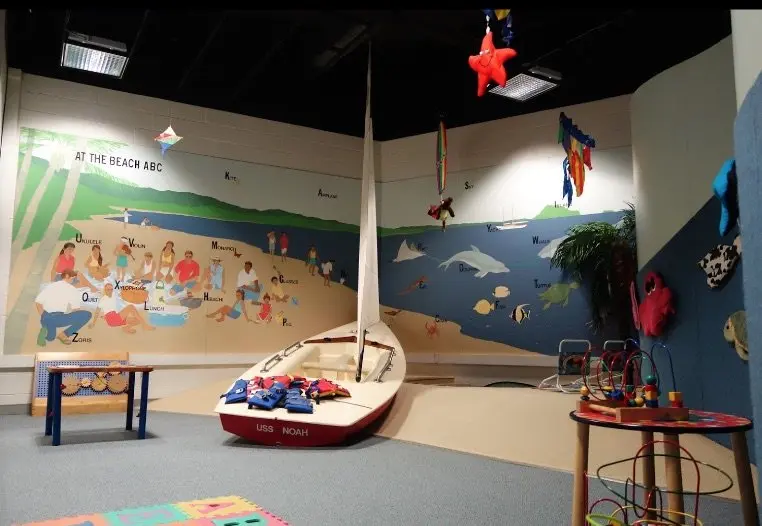 Plus, a whole bunch of hands-on toys for toddlers in Oahu:
trains to push
miniature cars to drive on a car-shaped bonnet road
blocks to build with
a farmyard set-up complete with animal costumes, and
a farmhouse too.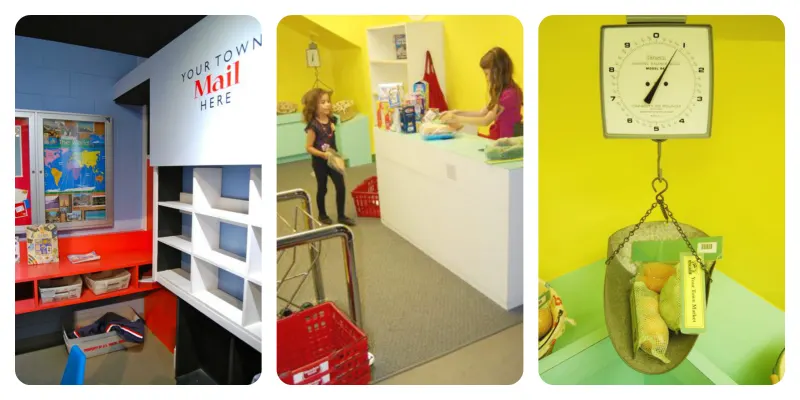 Hands on fun at Discovery Zone Hawaii
No.1: The Corner Shop
Just around the corner is the "Corner Shop".
Parked outside, a lone car stands waiting for you to collect the shopping and drive it home.
Push trolley carts are ready for customers to use to collect their goods and make their way to the checkout.
There are:
frozen foods
fruits and veggies
dairy products kept in the fridge
even a deli, with cling wrapped packed 'sausages' and 'meats'.
Kids can even weigh their own vegetables!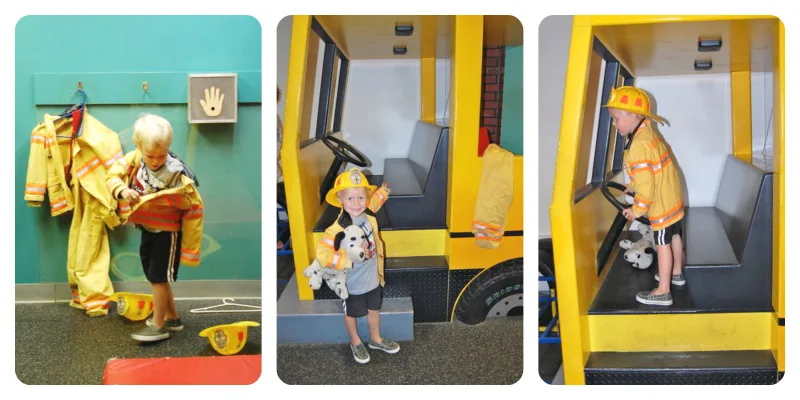 No.2: The Fire Station
Next to the store is the "Fire Station".
Kids can dress up in firemen's outfits, complete with jacket, pants and helmet, and climb aboard the fire truck to drive it to the rescue.
Ned found the Fireman's mascot dog, and he was happy to jump on board for the ride too.
After a big day's work, tired firemen can pop upstairs above the store for a little nap!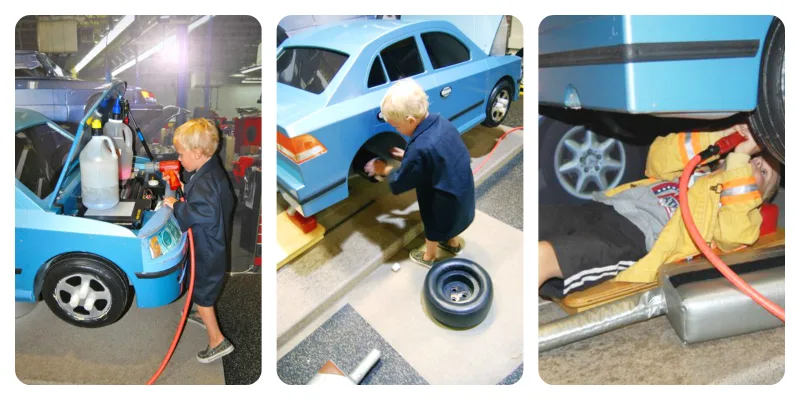 No.3: Mechanic Station
Beside the Fire Station is the local mechanic.
Kids can take on the role of the apprentice in this car repair workshop.
They can:
replace the oil
change the spark plugs
add window washer fluid too.
Ned learned how to change tyres by following 'Work Orders' located at the back of the mechanic shop. He also learned how to replace the muffler.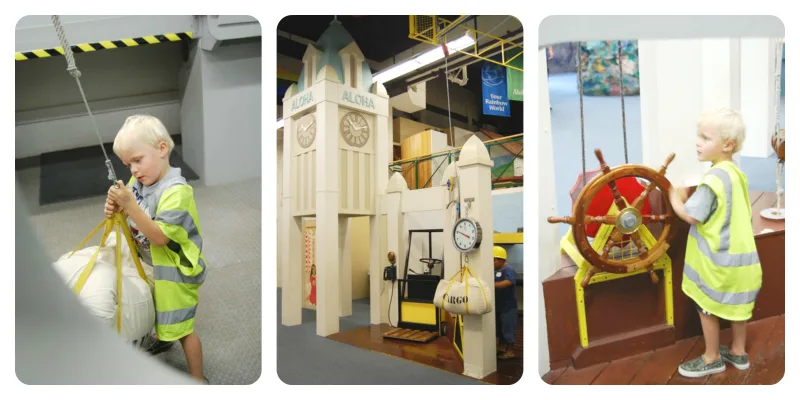 No.4: The Dockyards
When we visited in 2012, the Dockyards were booming with busy, industrious workers keen to finish their shifts.
They had to lift the cargo by forklift to the scales, then use the pulleys to load the cargo onto the ship.
Once loaded, the captain had to steer the ship ocean-bound, and crew had to man the flags, and watch for obstacles.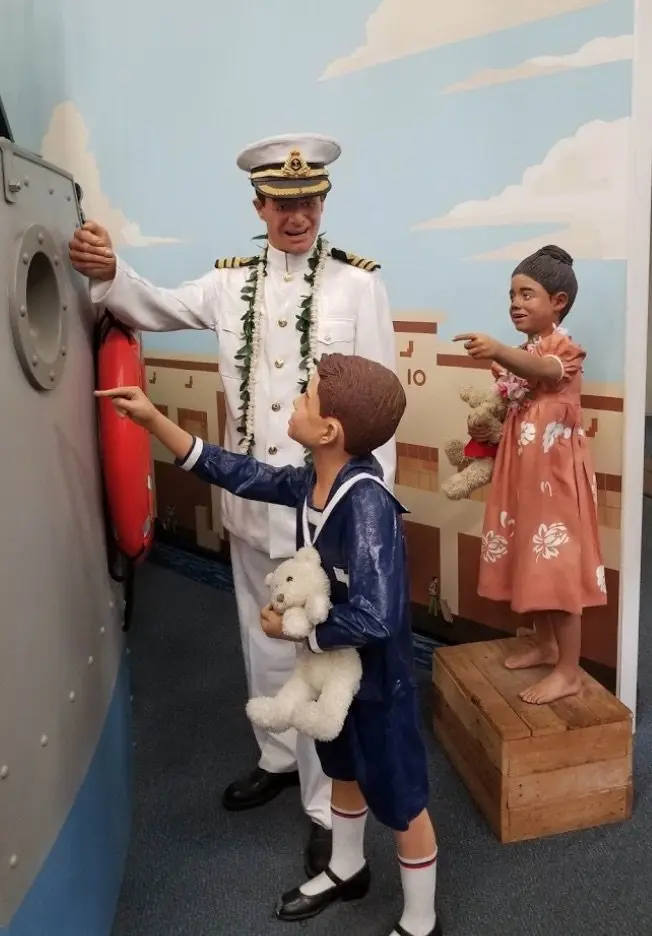 Image credit: Stacey Adams
It was tough work!
When the work at the docks is done, there is an airplane to fly too.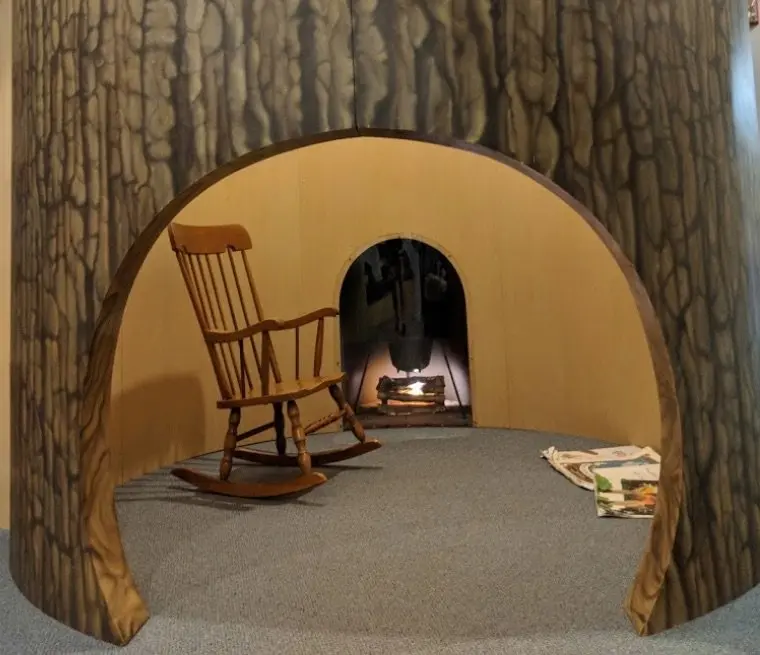 Image credit: Jeremy Leugers
No.5: The Castle and Turret Reading Zone
The Hawaii Childrens discovery center is fun for all kids.
Along the way, we found a castle and turret, leading into the most delightful storybook nook with a story chair BIG ENOUGH to fit a friendly giant, and a warm and toasty "fire" too.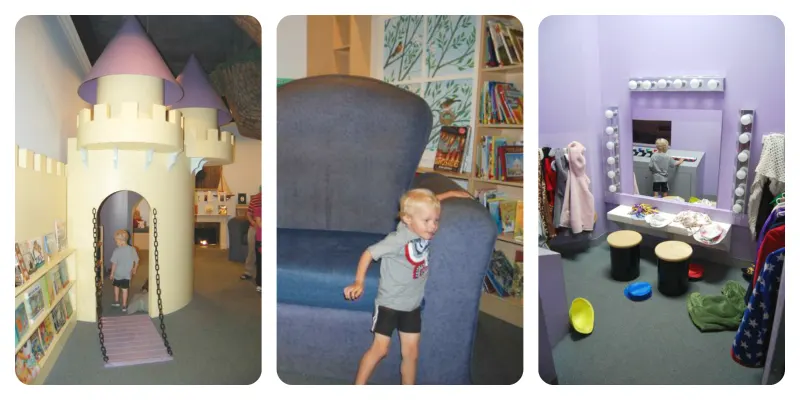 No.6: The Theatre & Stage
Kids can star in their own theatre production, on a 'stage' purpose-built for impromptu performances and most importantly, chairs for mama's and papa's so they could watch their budding actors up in lights.
The dressing rooms were filled with dress up costumes too.
Kids can also be the star of the screen, instead of the stage.
They can read the news, or predict the weather and be viewed by the people watching from the other room!
When all this fun is done, it's time to head on up to the third floor of the Children's Discovery Center Hawaii.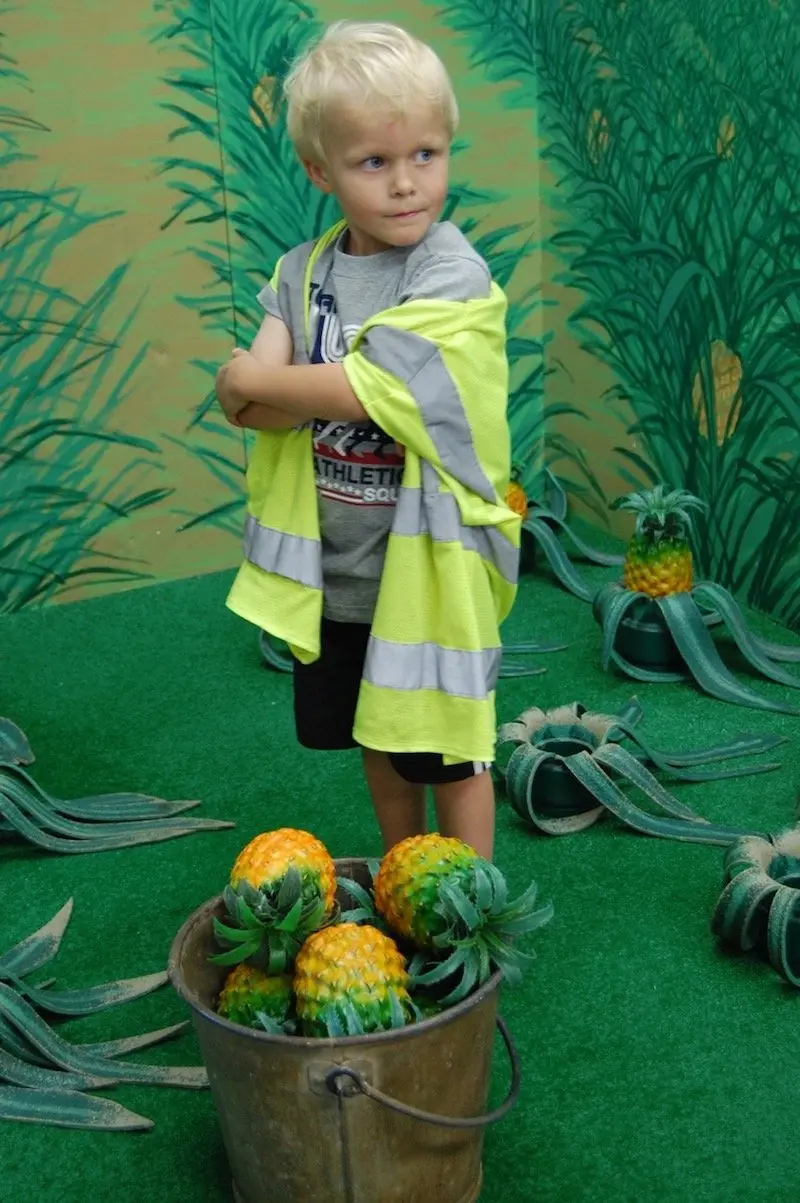 3RD FLOOR: Hawaiian Rainbows at Hawaii Discovery Center
This exhibition is the spot for kids to learn all about Hawaii, and Oahu.
Kids can learn all about farming in modern Hawaii, with hands-on imaginative play areas and dress ups to help them get into the role play.
There's a pineapple plantation too, just like the one they might have visited at the Dole Plantation in Hawaii.
Kids can collect pineapples from the fields.
BUY NOW ON AMAZON: Hawaiian Costume for Boys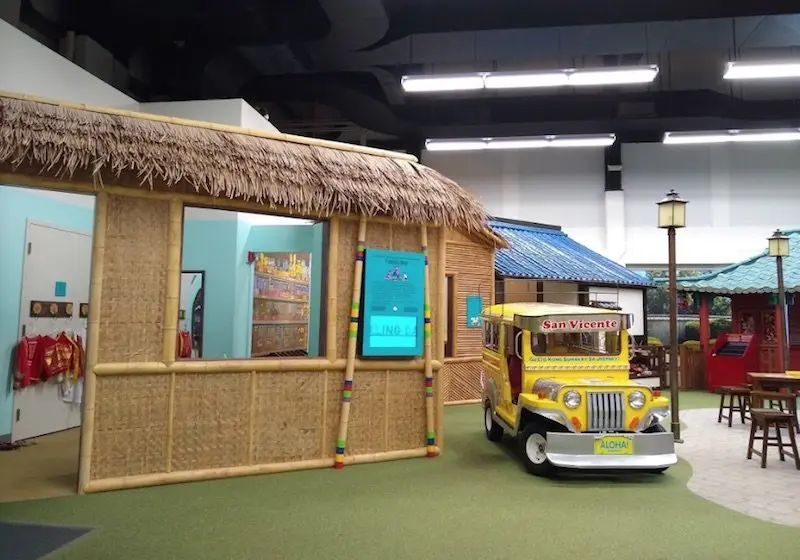 Image credit: Chi Wing Chen
Your Rainbow World
There's also new lands and different cultures from around the world to explore, with dress up costumes, props, toys and imaginative sets for play including this bus jeep to drive!
BUY NOW ON AMAZON: Hawaiian costumes for kids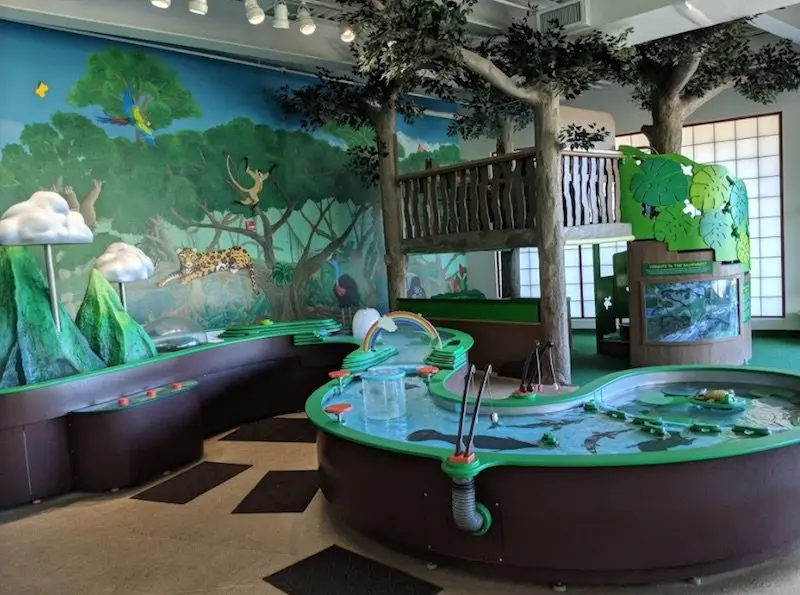 Image credit: Jermome Leugers
Rainforest Adventures
The Children's Discovery Center added a new exhibit called Rainforest Adventures.
This area is designed to teach children about the importance of rainforests around the world, while learning about natural resources and taking care of the earth.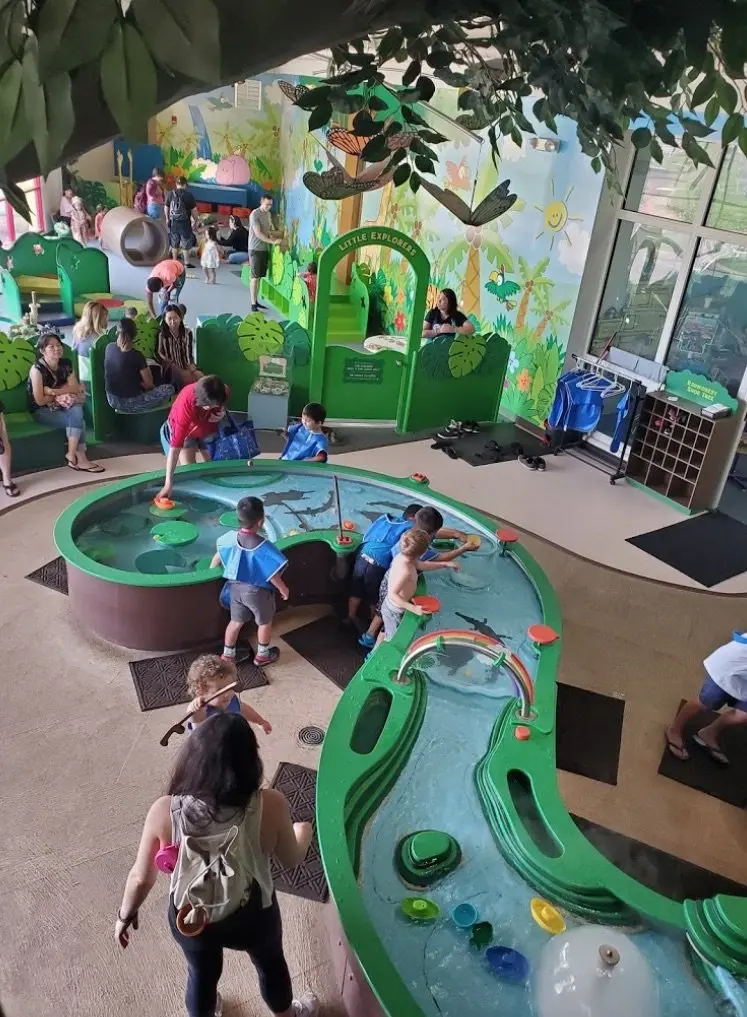 Image credit: Candice Tenholder
Little Explorers Play Area in Hawaii
It has another Little Explorers play area for toddlers in Oahu too.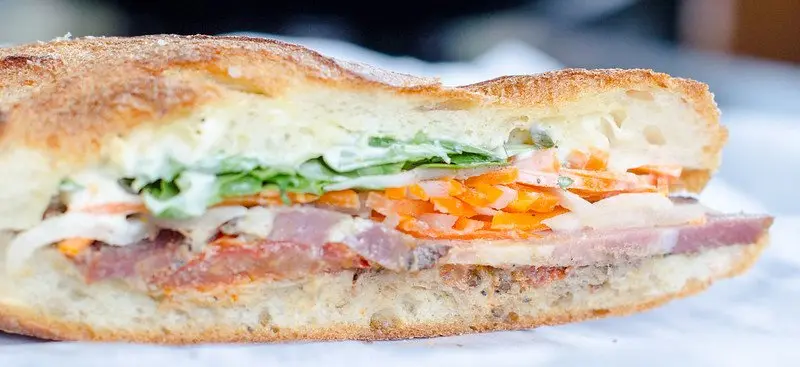 Image credit: Dale Cruse via Flickr CC BY-2.0
Hawaii Children's Discovery Center Cafe
Enjoy a coffee or a light snack at the cafe on site.
Tuesday-Friday 10am-1pm
Saturday-Sunday 11am-2:30pm
Cash Only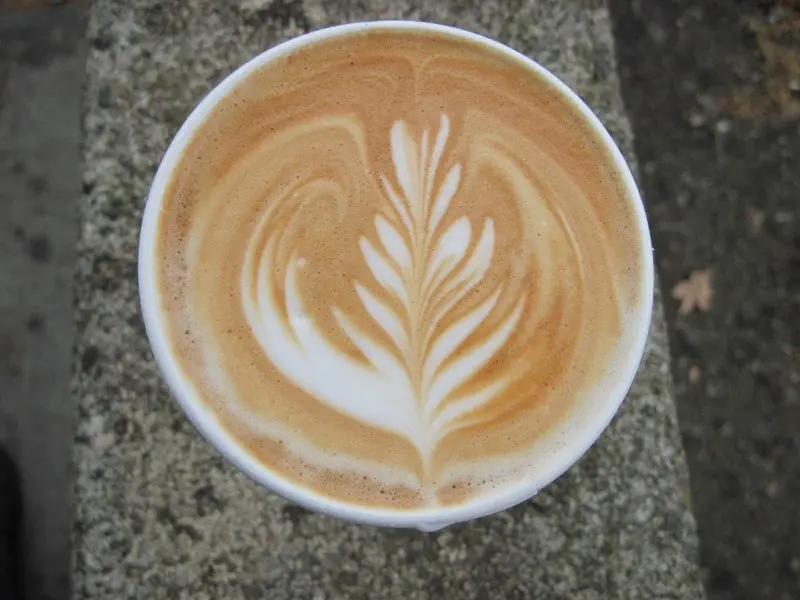 Image credit: Spaetz via Flickr CC BY-2.0
Best Value Hawaii Attractions
If you are heading to Hawaii anytime soon, bookmark this page and be sure to head on out to the Children's Discovery Museum.
Entry is $12 USD per person, and is probably the best value $24 (for both of us) I've ever spent.
Be sure to take your own snacks or lunch, or pop into the Children's Discovery Center cafe.
There's plenty of opportunity for mama to kick back and relax too.
This is definitely one of the best value Hawaii attractions.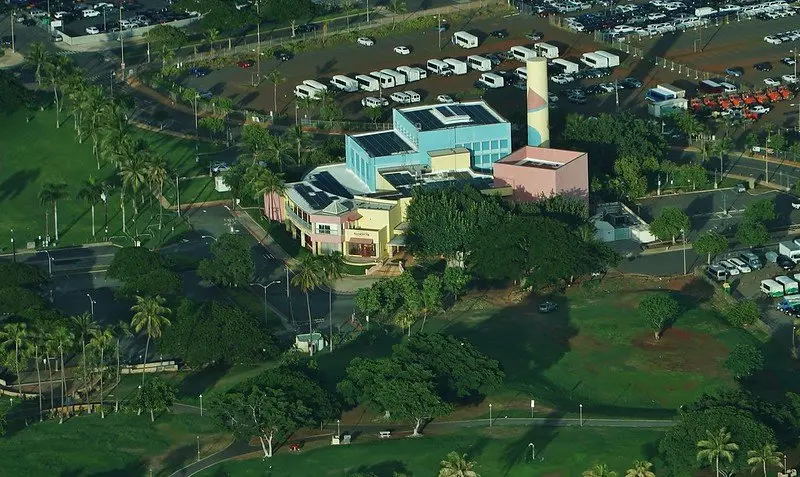 Image credit: Eric Tessmer via Flickr CC BY-2.0
THE INSIDE SCOOP: Children's Discovery Center Hawaii.
Correct at time of publication on Roam the Gnome. Please check with venue for updates. We apologise in advance if there have been any changes we are unaware of. All prices in US dollars, unless otherwise stated
Address: 111 Ohe Street, Honolulu.
The Hawaii Children's Discovery Center is located across from the Kakaako Waterfront Park in downtown Honolulu on the island of Oahu.
They also run educational programs for schools.
Website: Click here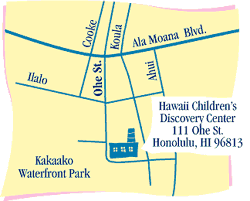 Opening hours at the Childrens Discovery Center Hawaii
The Hawaii Children's Discovery center hours are:
Tuesday to Friday, 9 a.m. – 1 p.m.
Saturday and Sunday, 10 a.m. – 3 p.m.
Closed Mondays.
Admission to the Childrens Discovery Centre in Hawaii
The Discovery Center admission in 2019 is:
General Admission – $12.00
Kama'aina & Military (w/ I.D) – $10.00
Senior Citizens (62+ w/ I.D.) – $7.00
Children under 1 – FREE
HCDC Members – FREE
Discount Entry to the Discovery Center Hawaii
Admission to the Hawaii Children's Discovery Center in the Kakaako waterfront park in Honolulu is FREE with the Go Oahu Card.
Go Oahu pass is a multi-attraction pass that offers admission to over 25 of the best Hawaii attractions, activities and tours for families and friends, at one low price.
We haven't have any luck finding a Hawaii Children's Discovery Center coupon as yet.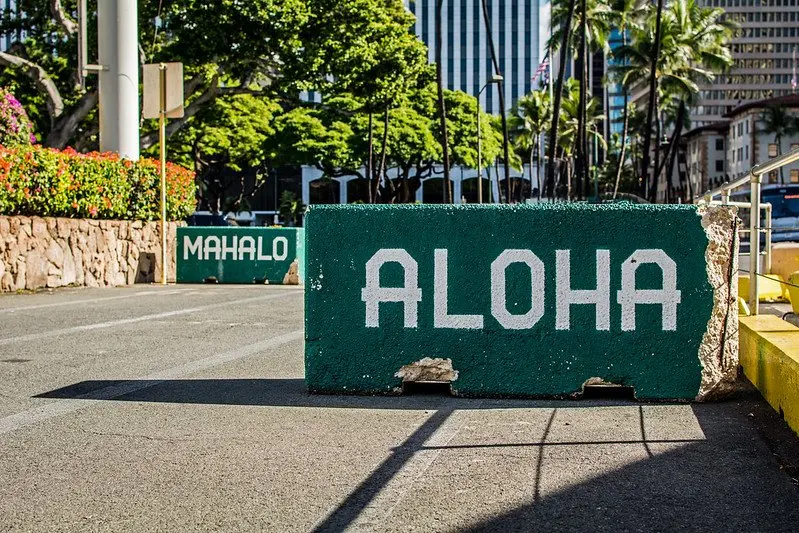 Image credit: Erik Cooper via Flickr CC BY-2.0
How to get to Hawaii Children's Discovery Center
From Waikiki and Ala Moana Shopping Center by Bus:
take #19 Airport, #20 Airport, #55 Kaneohe, #56/#57 Kailua busses to Ala Moana Boulevard and get off in front of Cutter Mazda Volkswagon on Koula Street.
Cross Ala Moana toward Pflueger Acura and follow Ohe Street toward the ocean until you come to a blue and pink concrete building with a smoke stack, which is across from the Kakaako Waterfront Park.
From Downtown by Bus:
take #19 Waikiki, #20 Waikiki, #55 Honolulu, #56 Honolulu, and #57 Honolulu to Ala Moana Boulevard and get off at Coral Street.
Walk toward Diamond Head in the direction of Pflueger Acura, and make a right onto Ohe Street.
Walk toward the ocean until you come to a blue and pink concrete building with a smoke stack, which is across from the Kakaako Waterfront Park.
Free Parking:
Parking is free and located in the Kakaako Waterfront Park parking lot.
Both the main Kakaako parking lot and the smaller lot next to the Center will be available for your use.
Map of Hawaii Children's Discovery Center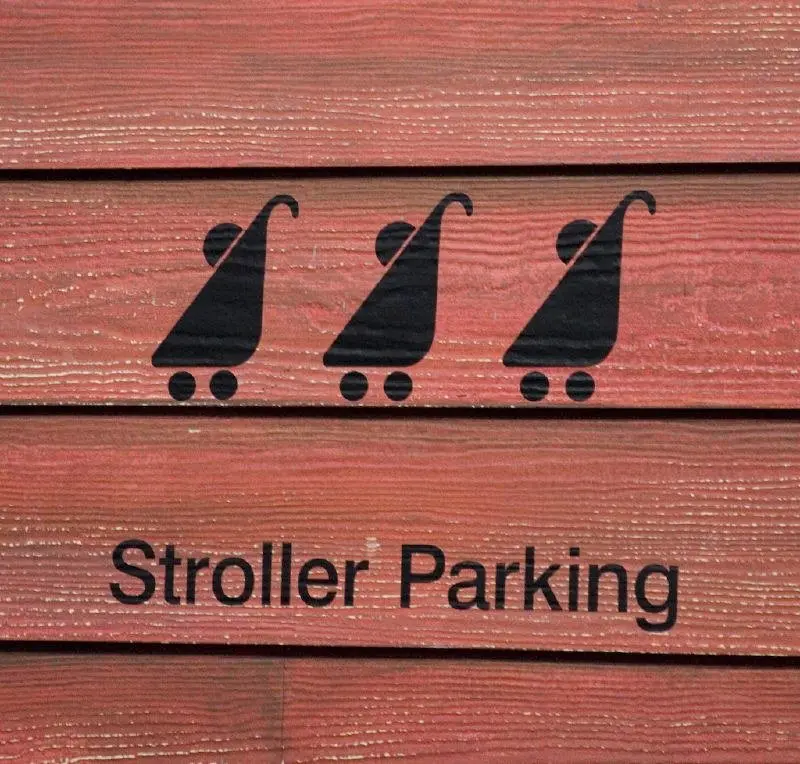 Image credit: Jessica Paterson via Flickr CC BY-2.0
Facilities at the Discovery Center Hawaii for Kids
Stroller Information:
For safety reasons related to accessible exit and entry, Children's Discovery Center cannot allow strollers in the historic building.
Stroller parking is available in the lobby.
Diaper/Nappy Changing: There's changing tables in the restrooms to change your child's diapers.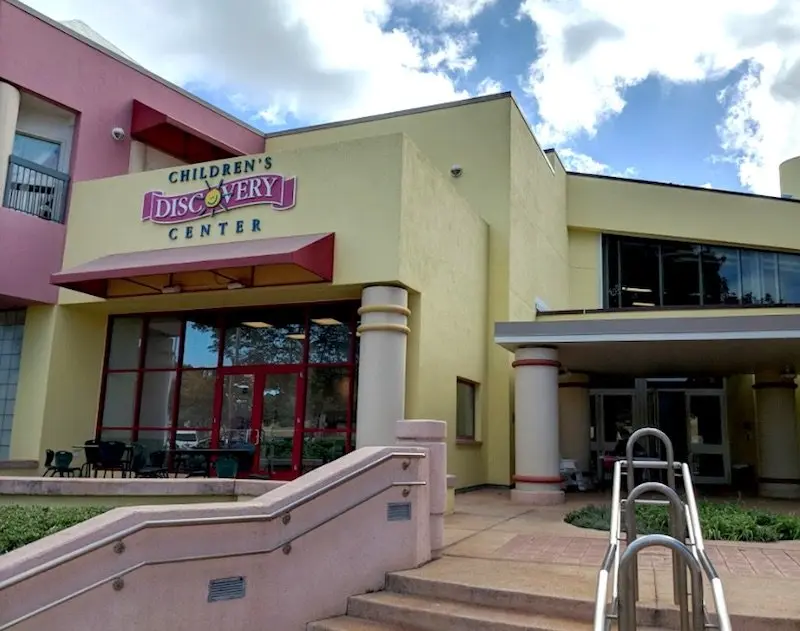 Image credit: Unknown
Childrens Discovery Center Hawaii Gift Shop
Before you go, pop into the gift shop and buy a game, toy, or Hawaii souvenir.
Purchasing these Hawaiian gifts and souvenirs is a direct way to help the center fund their mission.
Anyone can visit the shop.
You don't need a ticket to enter.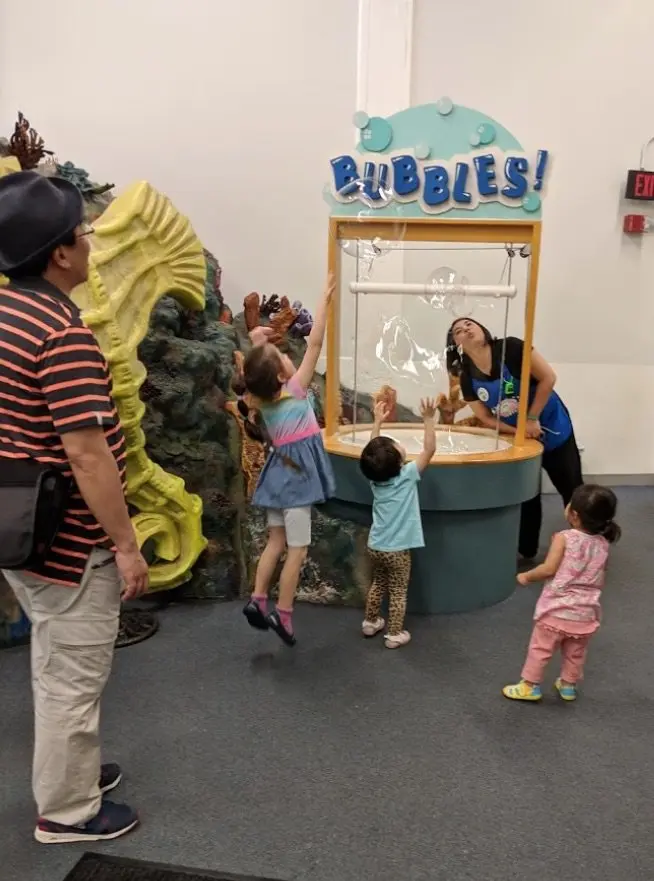 Image credit: Katherine Aumer
Toadstool Rating – Hawaii Children's Discovery Centre reviews
The Hawaii Discovery Center for kids tops the list of the best things to do in Oahu with kids.
Don't miss it!
It's one of our fave things to do in this part of America.

Best Hawaii Tours for Kids
Click the links in blue below for our favourite Hawaii attractions and tours for kids all year round.
Looking for MORE Oahu Activities for Kids?
Check these fun places for kids in HAWAII near Hawaiian Children's Discovery center:
Hawaii nature center
Bishop Museum
Waikiki Aquarium
Honolulu Zoo