INSIDE: Insiders Guide to the Mary Poppins Festival in Maryborough.
Did you know that the world-famous story "Mary Poppins" was written by an Australian, author PL Travers?
And that her birthplace – the delightful country town of Maryborough in Queensland – hosts an annual "Mary Poppins" festival in her honour?
If you didn't then, you do now, and there's no excuse not to make the journey to our Number One favourite festival event in Australia. (Closely followed by Woodford Folk Festival!)
Take a sneak peek below!
Disclosure: This article contains affiliate links. If you make a purchase after clicking on one of these links, we may receive a small commission at NO extra cost to you.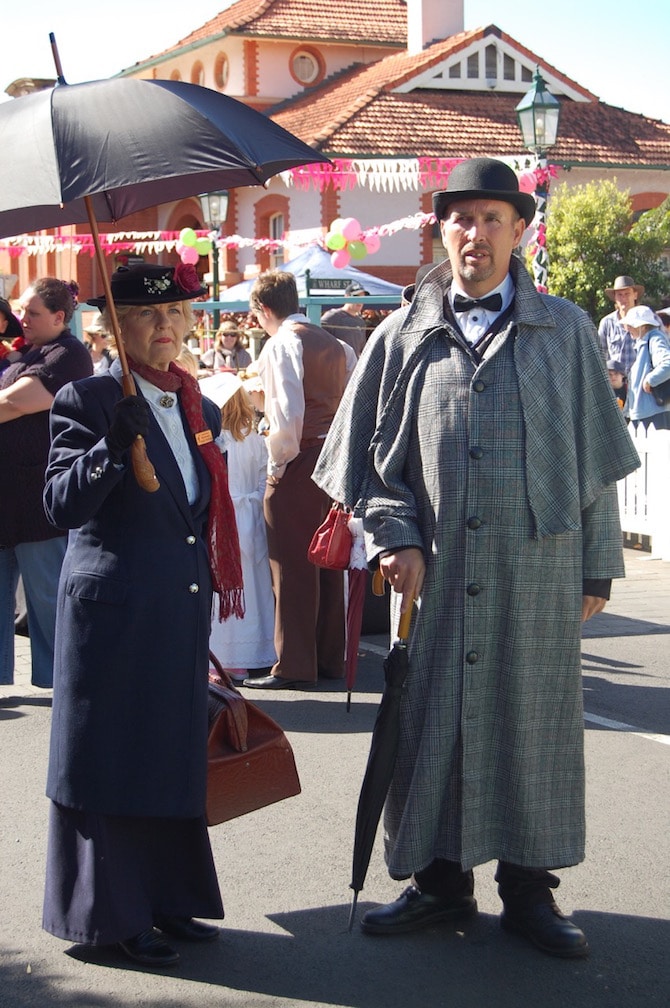 Ultimate Guide to the Mary Poppins Festival Maryborough QLD
The Mary Poppins author, P.L Travers' hometown of Maryborough hosts the Mary Poppins Festival.
Just like Mary Poppins, the Mary Poppins Festival is practically perfect in every way.
Heres the top 10 things to do at the Mary Poppins festival with kids.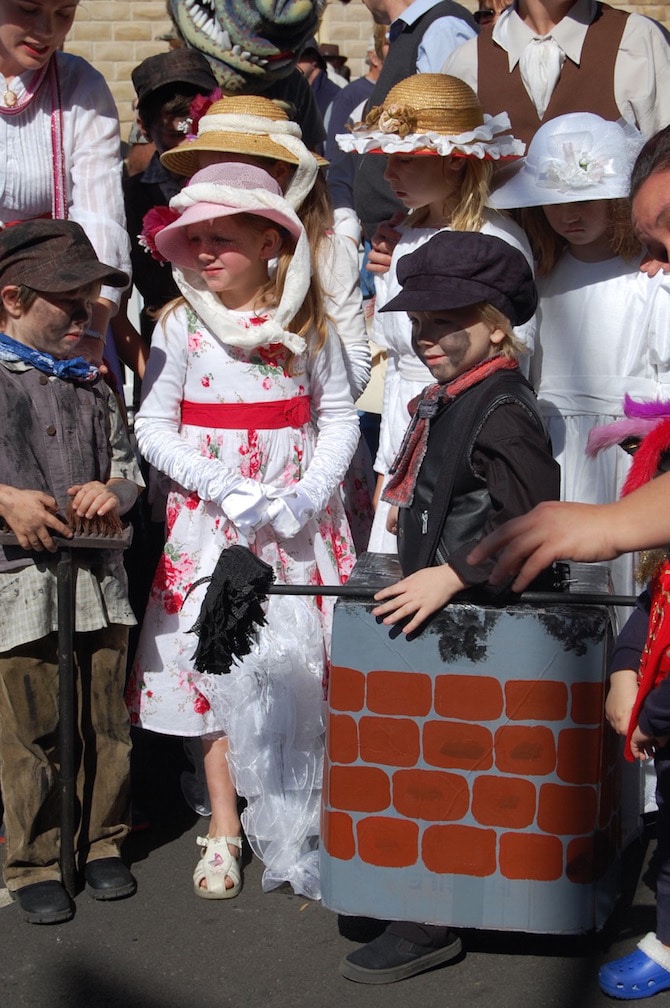 No.1. Make a weekend of it
Save the date and make a big weekend of it.
"Winds in the east, there's a mist coming in, like something is brewing, about to begin."
Mr. Dawes Sr.
The main festival happens from 10am to 4pm on one Saturday in July.
But Friday night is the time to join in a Mary Poppin' street party with:
live music
entertainment
games
amusement rides, and
fireworks to boot.
Hot tip: Don't miss Mary's Morning Tea at 10am Saturday on the Proud Mary's Stage.
Be reintroduced to all the different characters from the novel during this performance, with morning tea provided too.
No.2: Mary Poppins Festival Grand Parade
At 12pm, mark your spot and watch the Grand Parade.
This procession is filled with adorable costumed characters and themed props.
Join in if you feel the inclination with your own Mary Poppin's inspired outfit, bottomless bag, and umbrella combo.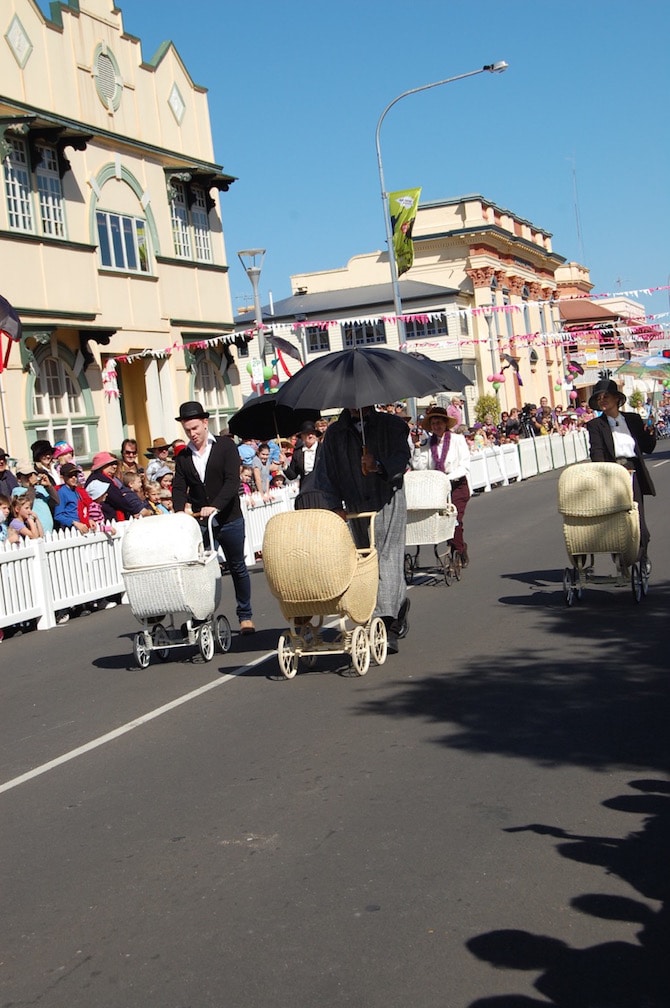 No.3: Laugh your lungs out at the Competitive Games
The Great Nanny Races Pram Push
The Great Nanny pram push is THE highlight of the Mary Poppins Festival games.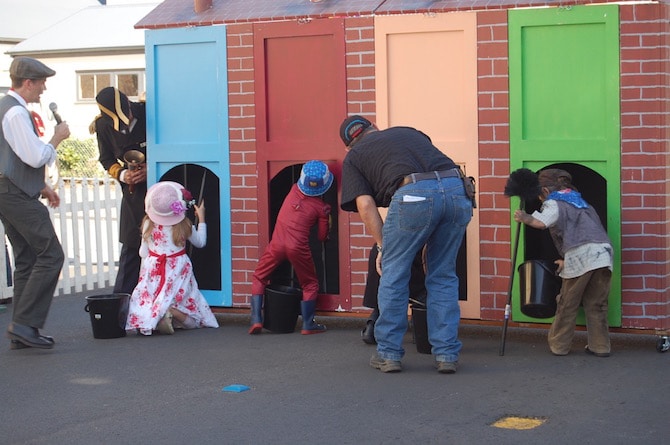 Chimney Sweep Challenge
But the Chimney Sweep Challenge is right up there!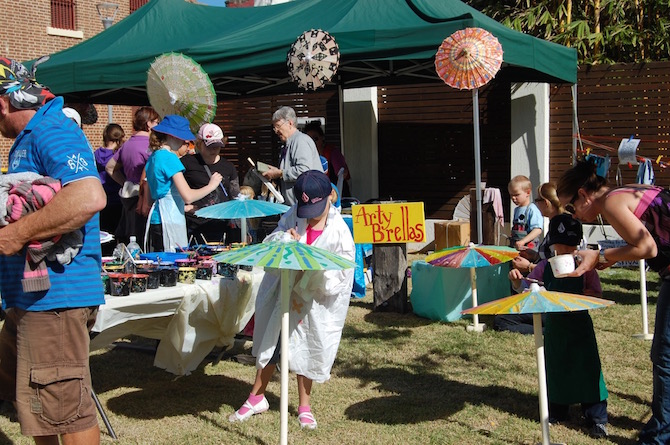 No.4: Join in a Mary Poppins themed art or craft activity
Join in activities such as umbrella painting and kite making.
Do take a walk through the Heritage Art and Craft Extravaganza to see the Quilt show and Forgotten Crafts too.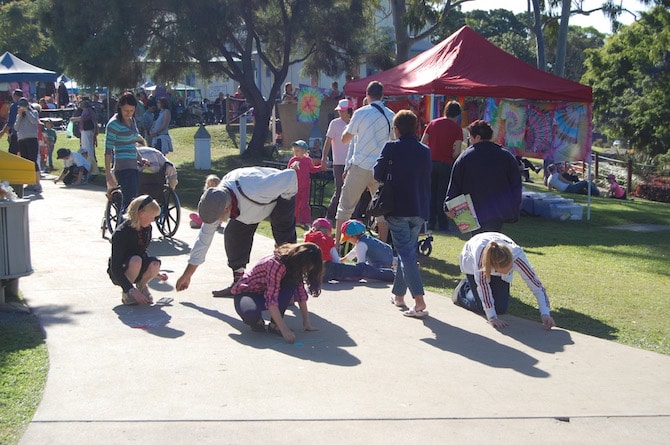 No.5: Become a chalk artist
Just like Dick Van Dyke's Cockney chimney-sweep Bert, there's a rainbow of chalk for everyone to join in the pavement art.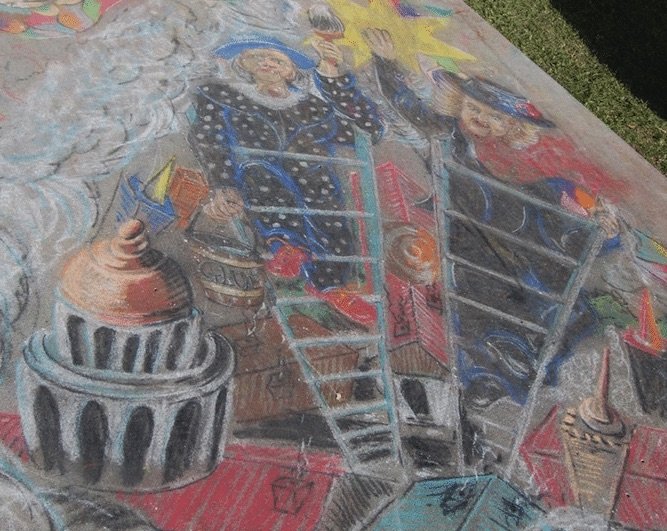 Some of the chalk art is spectacular!
Add your flair.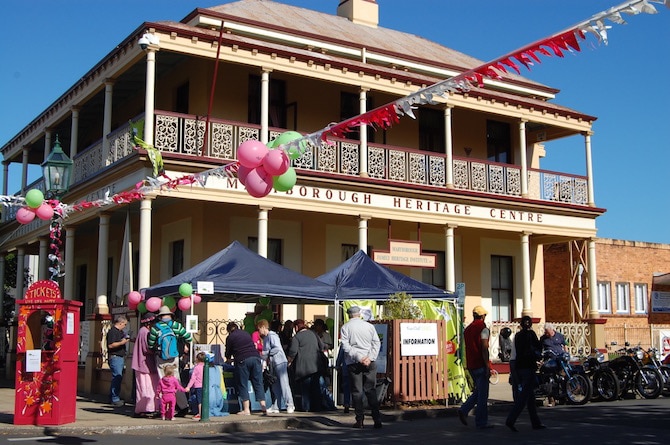 No.6: Immerse yourself in history and culture
Wander around Maryborough's town to see all the historical buildings and signage:
the Bonds store
Customs House and Residence
the Bank
City Hall
the Military and Colonial Museum
the green expanse of Queens Park, and
the house where PJ (Pamela) Travers spent the first few years of life.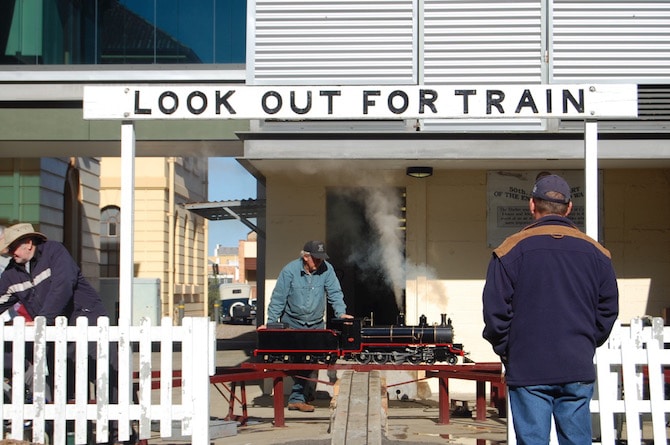 No.7: Ride the miniature MESLA train
Jump on board Whistle Stop's replica steam train, the Mary Ann, on the riverside track.
Or return to simpler days with a horse and carriage ride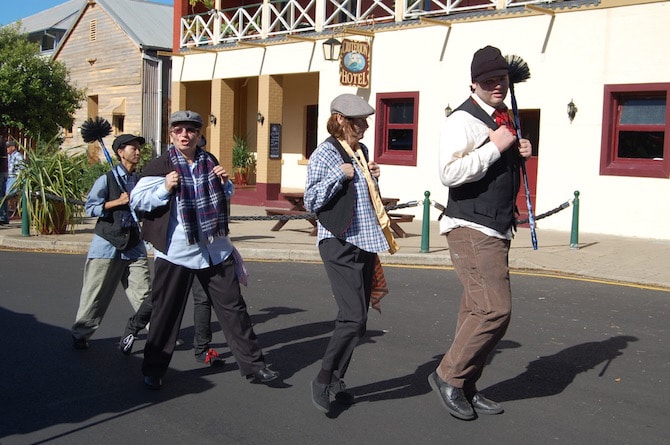 No.8: Follow the entertainment
Hear the City Big Band in action, spy a Larrikin puppet show, and pick up a hula-hoop at a circus arts workshop.
Be ready to duck your head when Admiral Boom fires his cannon!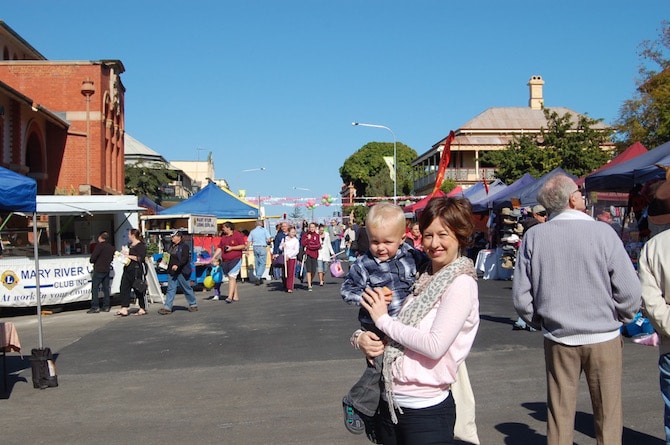 No.9: Listen to the yarns, the tall tales, and the storytelling
Book to join a story trail, take a seat on Mary's River Cruise singalong, or stop by the Storybook Nook with the kids.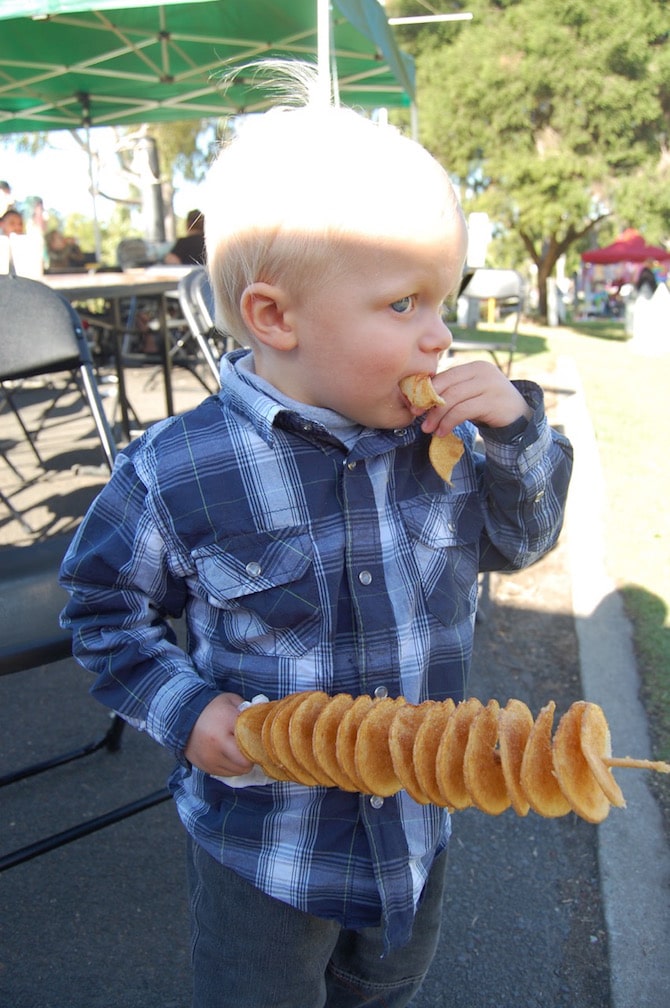 No.10: What to eat at Mary Poppins Festival
Eat lunch from one of the mouth-wateringly good food trucks.
Look out for these twirly potatoes on a stick.
Yum!
Or step back in time, and buy a bag of penny sweets at the Lolly Shop.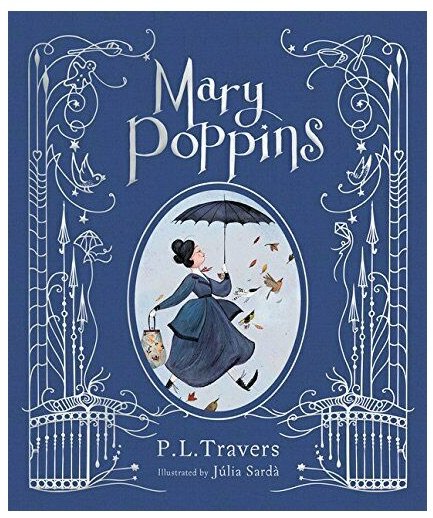 Shopping for Souvenirs at the Mary Poppins festival
You can also shop for Mary Poppins themed goods and souvenirs at the markets, and gift stores in town.
Look out for:
Hot tip: Check out this Mary Poppins FUNKO Pop Toy!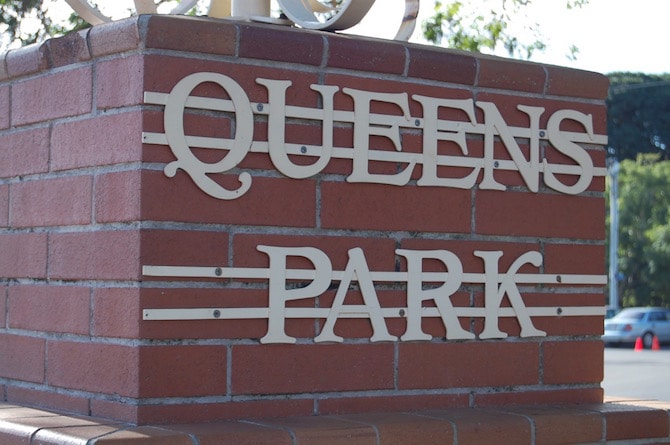 Let's go fly a kite! Mary Poppins in the Park
Interesting titbits about the Mary Poppins author's connection to Maryborough (Story credits)
Origin of Mr Banks
In the Mary Poppins novels, the father of the children is a bank manager not-so-inspiringly named "Mr Banks".
JL Travers' father was a bank manager in Maryborough.
Queens Park reference
The building where she lived (for the first couple of years of her life) is just a short stroll from Maryborough's majestic Queens Park.
It is very likely she was a regular visitor to the park with her mother.
Heritage features
Heritage listed Queens Park is one of Australia's earlier botanic gardens, and with its heritage listed features it shares many similarities with the park of the novels near the Bank's home, which the children and Mary Poppins frequented.
Queens Park Zoo
The first book includes a party at the zoo among the animals, and in the years before and after Travers youth Queens Park also hosted a zoo and aviary.
It was also a common social practice for people to dress in their finery and promenade through the park along the river.
Admiral Boom & his Cannons
There is also Admiral Boom, the former naval officer who lives next door and fires his cannon to mark the time.
In Maryborough, it was once practice to fire a cannon every day at 1pm to mark the hour, and let the workers in the cane fields know it was time for lunch.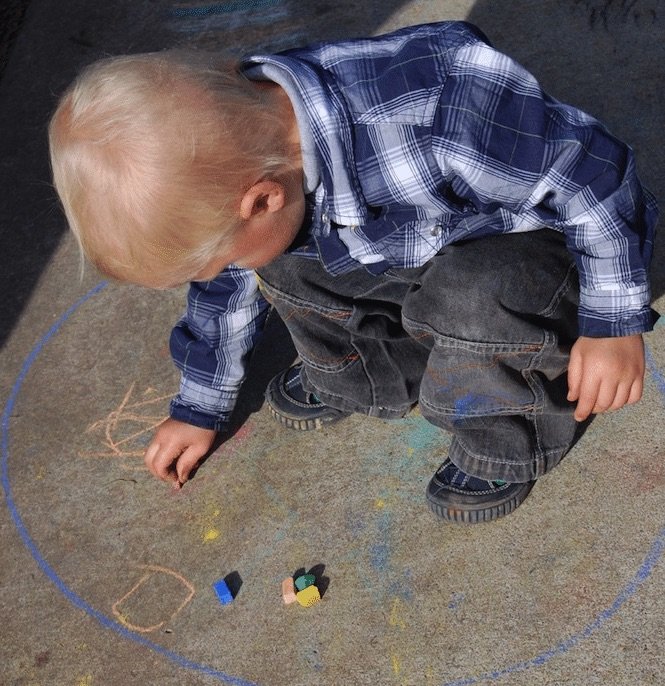 THE INSIDE SCOOP: Mary Poppins Maryborough Festival
Correct at time of publication on Roam the Gnome. Please check with venue for updates. We apologise in advance if there have been any changes we are unaware of. All prices in AUD dollars, unless otherwise stated
(Maryborough is 250kms from Brisbane, 3.5 hours drive time)
Address: The location of the Mary Poppins Festival and associated events is in the Maryborough township main streets.
Telephone: 07 4196 9600
Email: [email protected]
Book events: Want to book events held during the festival? Book on the website, by phone on 1800 214 789, or in person at the Brolga Theatre Box Office at 5 Walker Street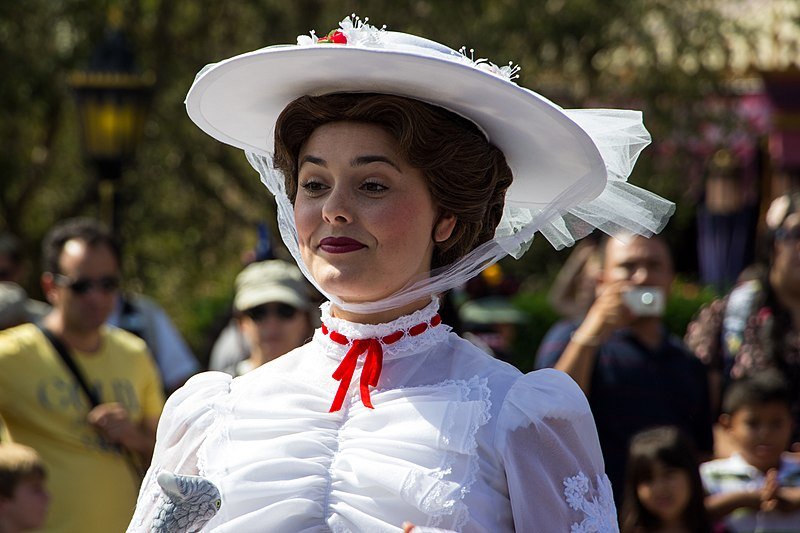 Image credit: Harshlight via Flickr CC-BY 2.0
Mary Poppins Festival Dates:
The Mary Poppins Festival is 8 days of events and fun, running from Saturday through to the following Sunday
Day 1: Saturday
Steamfesta and Timeless Mary's Tea and Tiffin Party
Mary Poppins Street Party in the Portside Precinct (Scavenger Hunt, Raffle, Street Performer, Sensory Corner, Arts & Crafts along with Food, Bar, Beverages, Rides & Mini Markets)
Day 2: Sunday
"Let's Go Fly a Kite" – kids can decorate their very own Mary Poppins inspired kite, and fly it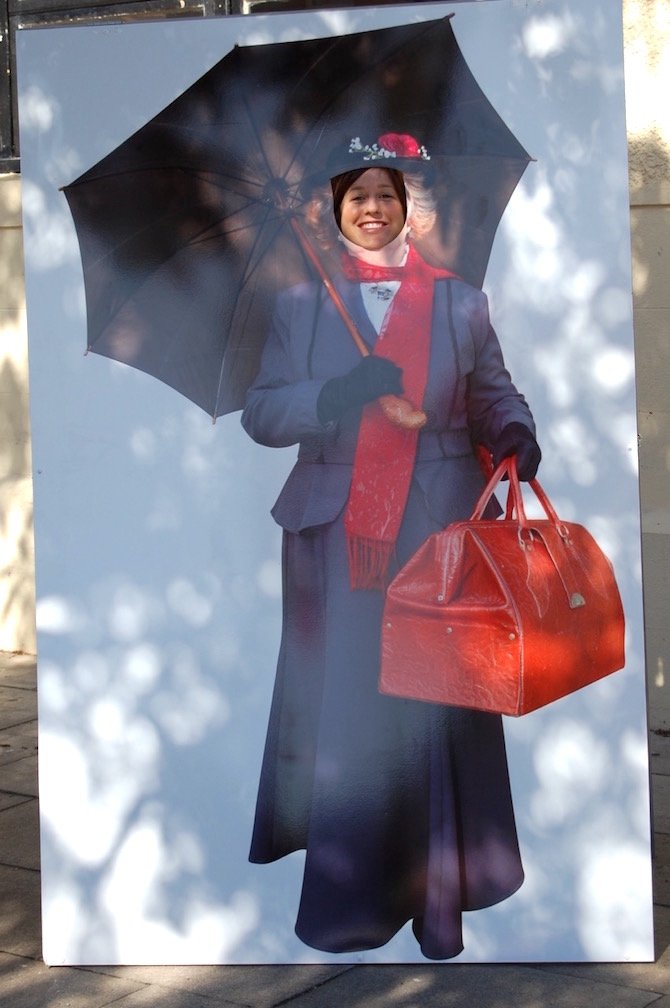 Day 3 to 7: Monday to Friday
Various events including:
Day 8: Mary Poppins Festival in the Park
The Mary Poppins Festival in the Park is the main event on the final Saturday. It's usually held in the middle of the June & July QLD school holidays.
You'll find all the things listed above, and more.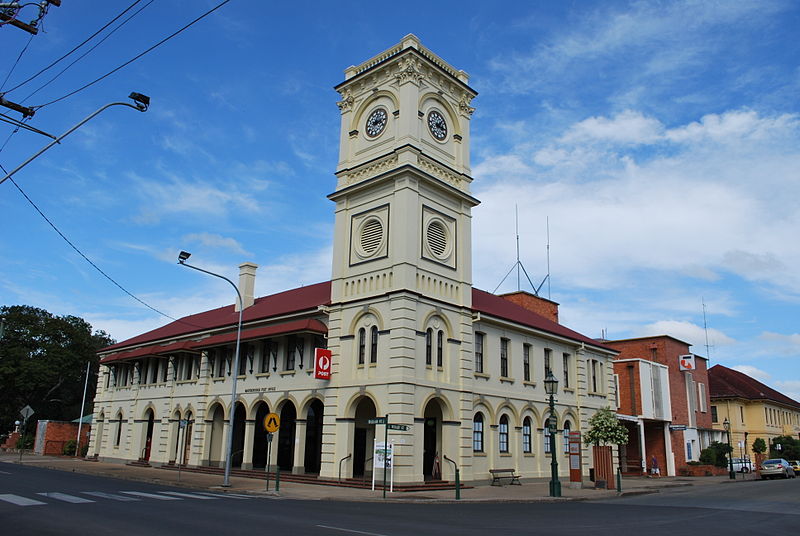 Image credit: Mattinbgn via Wikipedia CC-BY-SA 3.0
Where to stay in Maryborough
Check out your Maryborough accommodation options here.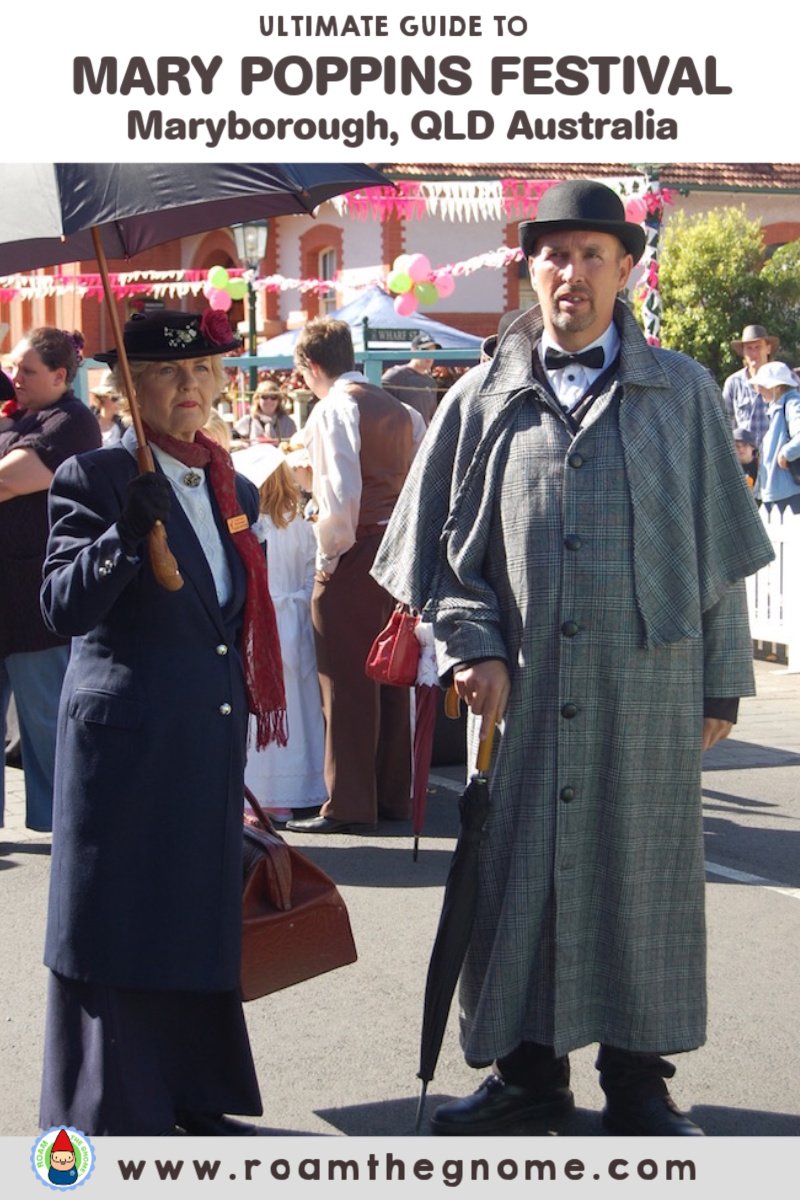 How to get to Maryborough QLD?
By train:
Queensland Rail operates regular services from Brisbane, Rockhampton and Cairns into Maryborough West train stations.
Transfers into Maryborough CBD can be included via the Trainlink bus service, which connects with every train.
By Coach:
Greyhound and Premier operate several northbound (from Brisbane) and southbound (from Cairns) services each day to Maryborough.
Local operators, Suntours and Airport Shuttle Hervey Bay operate daily services between Maryborough and the Brisbane airport.
By Air:
Virgin Australia operates direct flights between Sydney and Hervey Bay along with Qantaslink who operate direct flights between Brisbane and Hervey Bay.
There are a number of airport shuttle services that provide transfers between the Hervey Bay airport and Maryborough.
By Car:
The Fraser Coast is within a comfortable driving distance from Brisbane, Sunshine Coast, South Burnett and Darling Downs regions.
Maryborough is just 3 hours drive north of Brisbane (255km) along the Bruce Highway (A1).
Map of Mary Poppins Festival in Maryborough
Toadstool Rating: Just a spoonful of sugar festival!

Looking for MORE SUPER DOOPER FUN places to visit in Brisbane and surrounds
Click the blue links below for more Brisbane & Sunshine Coast fun