INSIDE: Ultimate Guide to the famous Bird Market Hong Kong style.
Visiting a market in Hong Kong is one of the must-do things for families.
There's plenty of markets to choose from – you can find markets selling electronics, flowers, Hong Kong street food, colorful toys, home decor, jewelry, cute USB sticks, clothing, travel goods and more.
But if you have kids who LOVE wildlife and zoos, then there are TWO markets you must not miss:
the Yuen Po Bird Gardens on Yuen Po street, and
the Goldfish Market on Tung Choi Street in Mong Kok, Kowloon, selling all manner of animals including lizards, turtles, and of course, goldfish
Take a look below to see what you'll find at the Hong Kong bird market.
Disclosure: This article contains affiliate links. If you make a purchase after clicking on one of these links, we may receive a small commission at NO extra cost to you.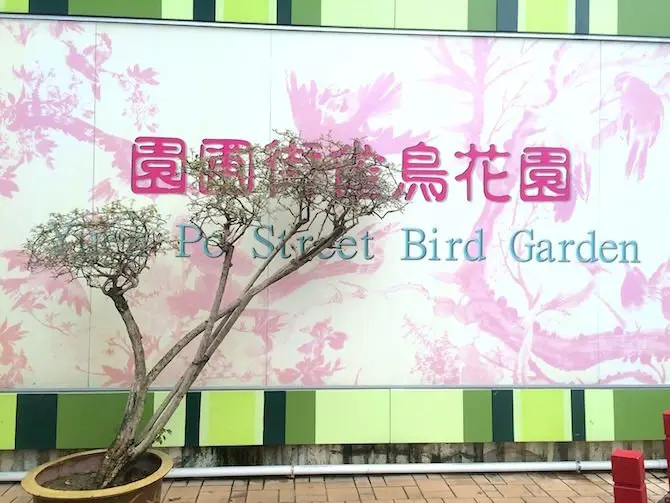 Yuen Po Bird Market Hong Kong
The Yuen Po Bird Garden (or as locals call it, the Bird Garden) is a small market designed in the style of a traditional Chinese garden, filled with bird cages and ornate trees.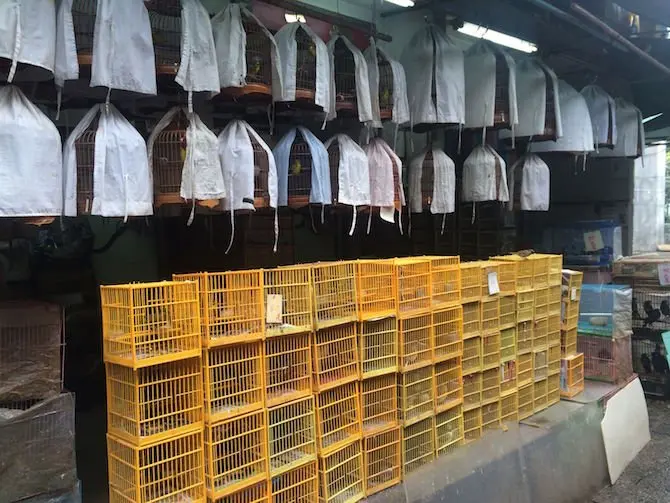 Bird Supplies at Yuen Po Street Bird Garden
Market aisles are lined with hundreds of bright orange cages.
Plus, scores of Chinese style bird cages, ornately designed from handmade timber, bamboo bird cages, and bird-keeping paraphernalia.
Our tip is to visit later in the day, after lunch or early afternoon, when the gardens come alive with the general chatter of the shop keepers who have now warmed up for the day!
This is also the time to hear the calls of the songbirds.
They too, need warming up!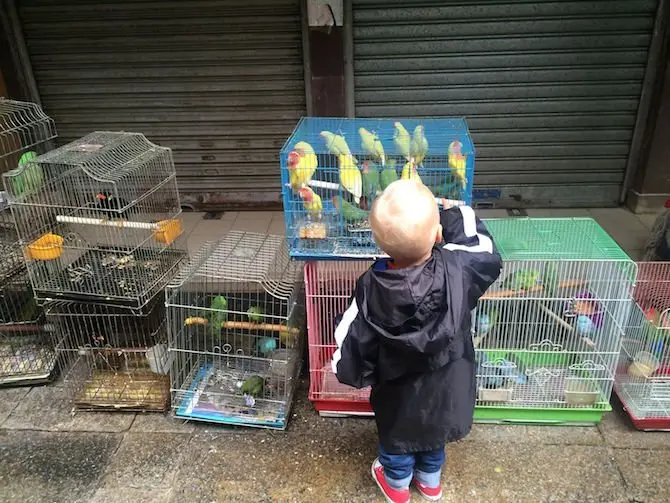 Birds for sale at the Hong Kong Bird Market
There's also scores of birds patiently waiting to be purchased by Hong Kong locals.
Species include:
orange-beaked songbirds
Chinese thrushes
parrots and
cockatiels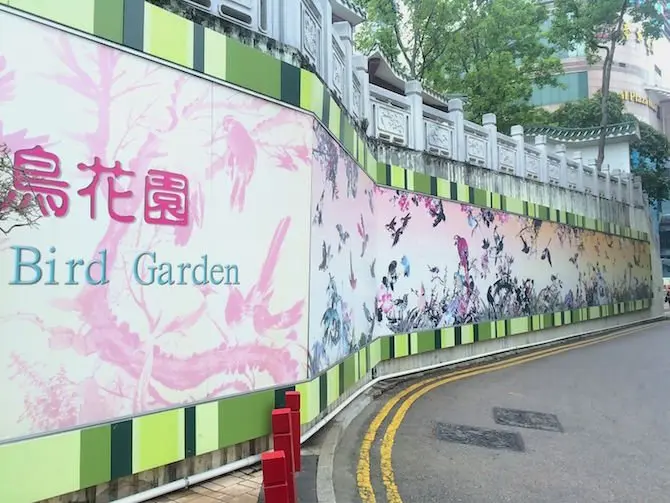 Health and safety
I did have a moment where I questioned my sensibility about taking the kids to a place with lots of birds, remembering the Bird flu outbreak from 2008.
But I figured as long as we washed our hands when entering and leaving, and didn't stay too long, we'd be ok as it wasn't flu season, and we hadn't heard any reports of an outbreak.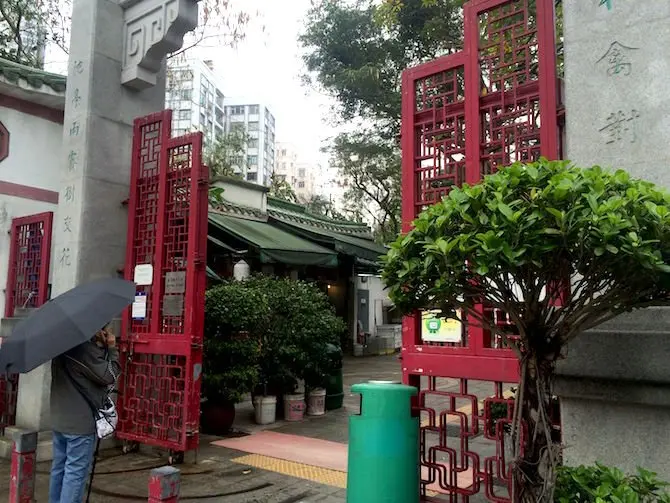 The Hong Kong Bird Street Meeting Place
As much as this is a market, it is also the daily meeting place for those interested in the hobby of bird keeping.
It's a chatterbox spot for (mostly) older men who delight in the age-old practice of feeding and caring for their birds hoping for a sweet melody in exchange.
As a woman traveller, with two young boys and a Gnome in tow, I'm not sure these men knew what to do with me!
So they just ignored us, and left us to potter among the Hong Kong birds as we liked.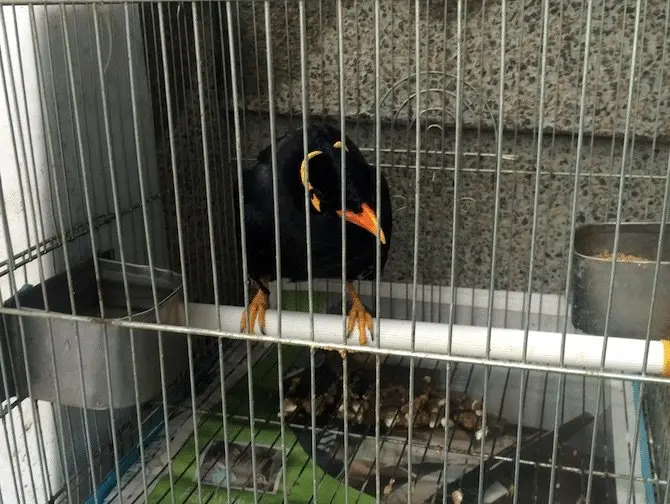 The caged bird DOES sing at Yuen Po Bird street
The boys loved listening to the singing birds, including this Common Hill Myna bird, and had many questions about why the birds were caged.
(Ned didn't like that the birds were caged and not free to fly around.)
We spoke about how these birds were here for a moment, just while they waited for a new home and owner to sing to.
Ned was happy enough with that, though he hoped the new owners would hurry up.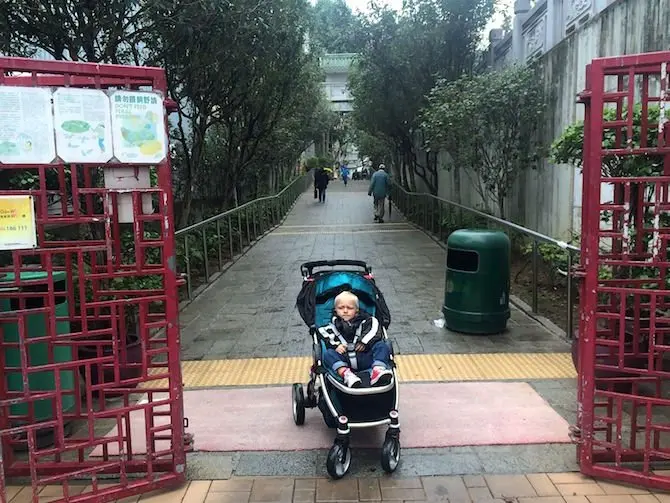 Bird Market Hong Kong history
A little bit of insight from the Bird Market website:
The Bird Garden is open every day from 7am in the morning.
If you visit early in the morning you will see retired people "walking their birds" and sitting around and chatting.
Unlike bird fanciers in other countries the keepers of birds in Hong Kong rarely, if ever, take their songbirds out of their cages.
The cages are set up in convenient locations so that the birds can get the fresh air and sunshine while their owners pass the time reading newspapers or chatting.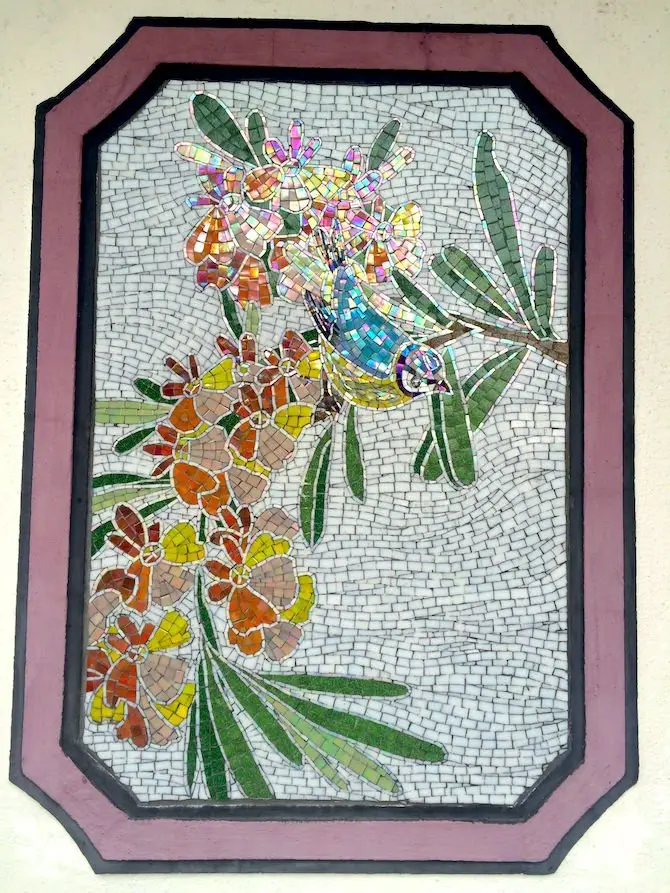 Fun Facts about SongBirds
Common Hill Myna birds (of which there were lots at the Bird Market Hong Kong) can produce an extraordinarily wide range of loud calls:
whistles
wails
screeches
gurgles
melodious sounds and,
others that mimic human talking.
Each bird has a repertoire of three to 13 such call types.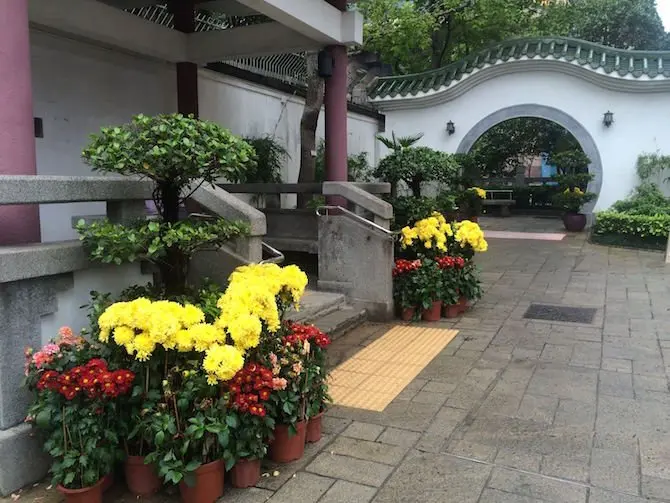 THE INSIDE SCOOP: Bird Street Hong Kong
Correct at time of publication on Roam the Gnome. Please check with venue for updates. We apologise in advance if there have been any changes we are unaware of. All prices in US dollars, unless otherwise stated
Address: The Bird Market Kowloon can be found at Yuen Po street, Mong Kok, Kowloon
Website: Click here
Email: [email protected]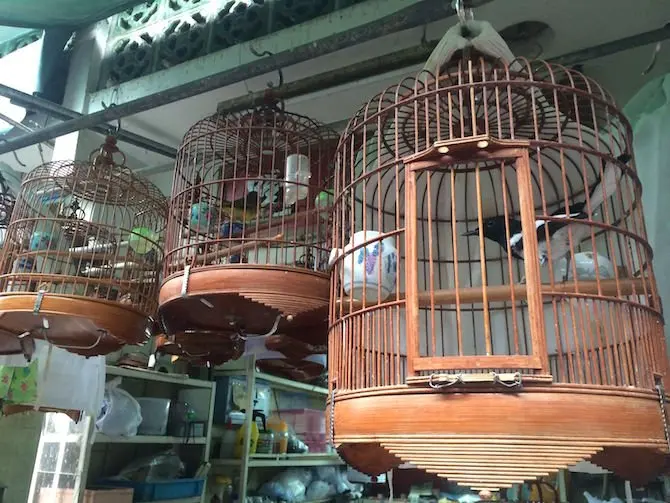 Hong Kong Bird Market Opening Hours:
The Yuen Po gardens are officially open from 7am to 8pm, but most stalls are shut by 6pm.
Stall holders start their cleaning process sometime around 5pm, so don't leave it too late.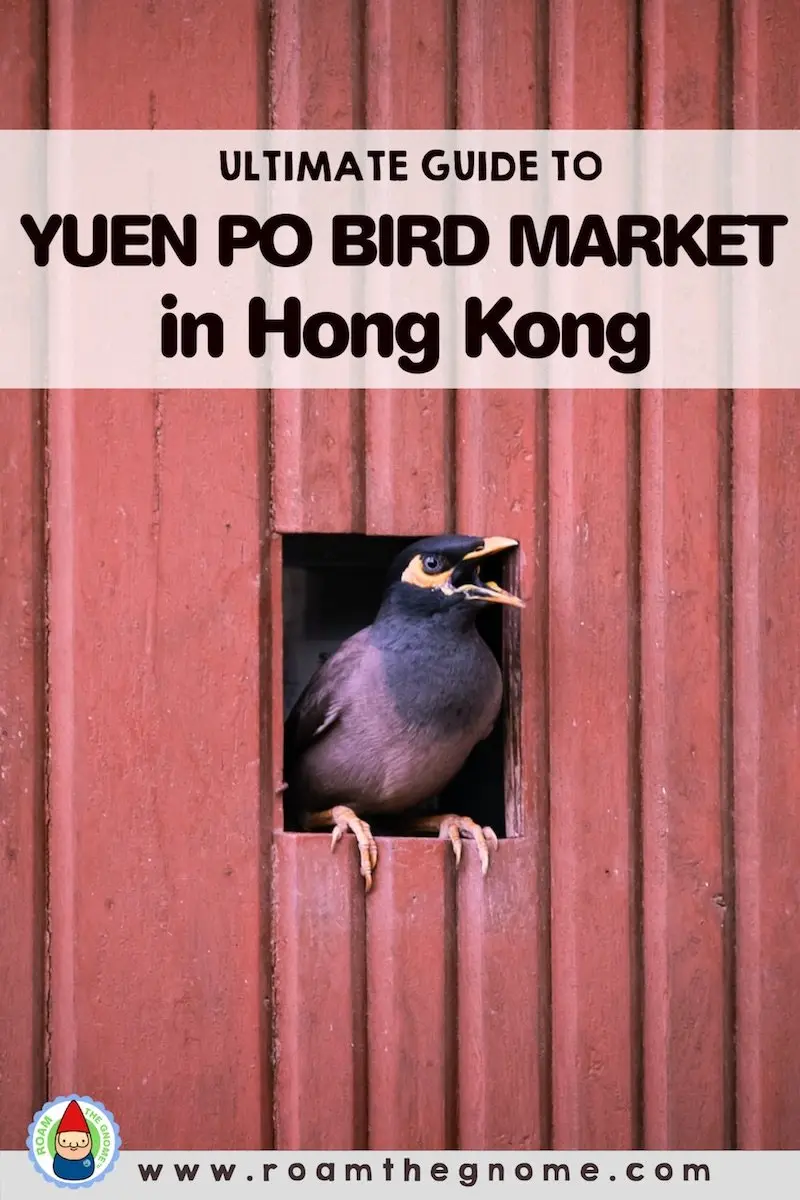 Entry Fees:
Hong Kong Bird Gardens are free to enter
Combine a short visit (30 mins maximum) with a walk along the Flower Market Road, and back to the Goldfish market (No.1 of Ned's favourite places to visit in Hong Kong)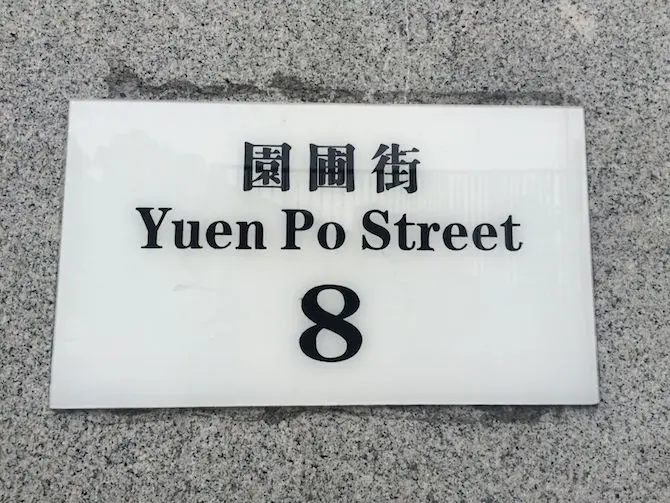 How to get to Bird Market Hong Kong
Take the MTR train to the Prince Edward Station in Mong Kok.
Leave the station via exit A, turn back and enter Playing Field road and walk along it to the end, then turn right into Sai Yee street and left into Flower Market Road.
The entrance to the Yuen Po Bird Market Hong Kong is near the end of the road on the left as the corner turns.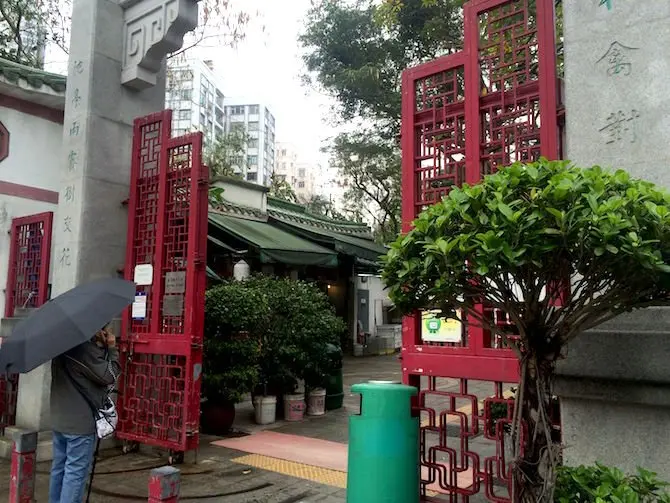 Spot the Chinese red gates and potted trees lining the pathway and head on in.
Or you can leave the station by exit B1 and walk north along Nathan Road, then turn left onto Prince Edward road west. Walk for about 10 minutes until you reach the intersection with Yuen street.
You can also do a tiny detour and walk to Yuen Po bird street market via Flower Market road.
The route to the Bird Garden is well signposted.
Map of Yuen Po Bird Street Garden
Toadstool Rating: Bird Street Markets
A visit to the HK bird market is a chance to open the discussions about different cultures and the way they may do things differently to us, helping to develop tolerance, empathy and understanding in the world.

Looking for More Kids Activities in Hong Kong?
Click the blue links below for more Hong Kong attractions on Hong Kong Island, Kowloon, The New Territories and Lantau Island