Inside: All you need to know about where to stay in Vienna with kids when you are on a budget.
Planning a visit to Vienna with kids?
Need to book budget accommodation close to the city, but don't know where to start?
We recently stayed at the A&O Wien Hauptbahnhof, one of the 34 A&O hostels across Europe.
This hostel in Vienna city center is a top budget hotel in Vienna for families.
Take a look below to see why.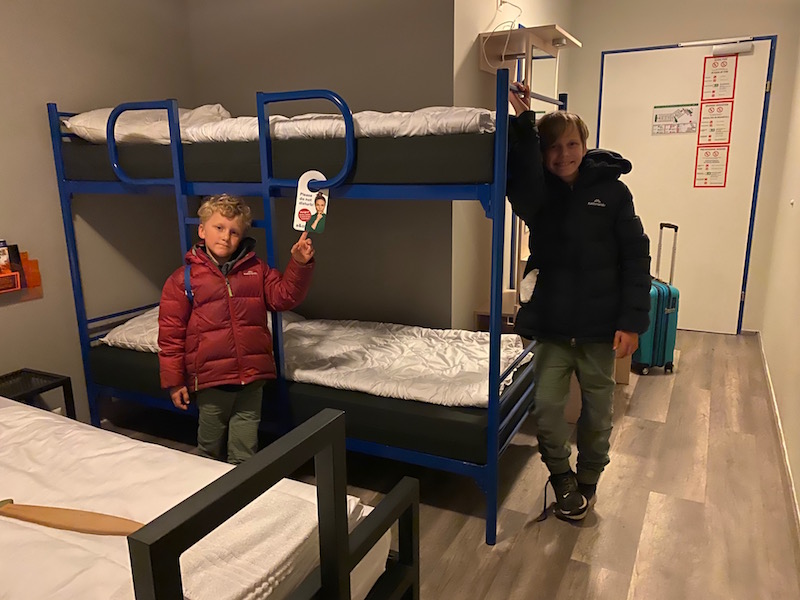 Where to stay in Vienna on a budget with kids
The best thing about the A&O hostel Wien Hauptbanhof is the location.
The A and O hostel in Vienna is two minutes walk from the main Wien Hauptbahnhof (Vienna central station).
This is the destination point for most Eurail trains into Vienna.
Our top priority now is to book all our European hotels and hostels within 5 minutes walk of the main Eurail station.
This one decision saves so much time and money as you don't have to pay local train or subway fees to take you to the accommodation, nor battle the busy train platforms with luggage in tow.
Check in at A&O hostels is at 3pm, but you can drop your luggage and leave it in the luggage locker room at any time of the day, so you can start exploring!
There's also pay-per-use lockers inside the locker room to store all your valuables if you don't want to risk it.
Hot tip: Carry a TSA lock and a travel cable to tie all your suitcases and bags to a metal post in the locker room. We employ this tactic as an deterrent more than anything, as these locker rooms are not 100% secure.
You may also be lucky enough to be given your room early if it's ready.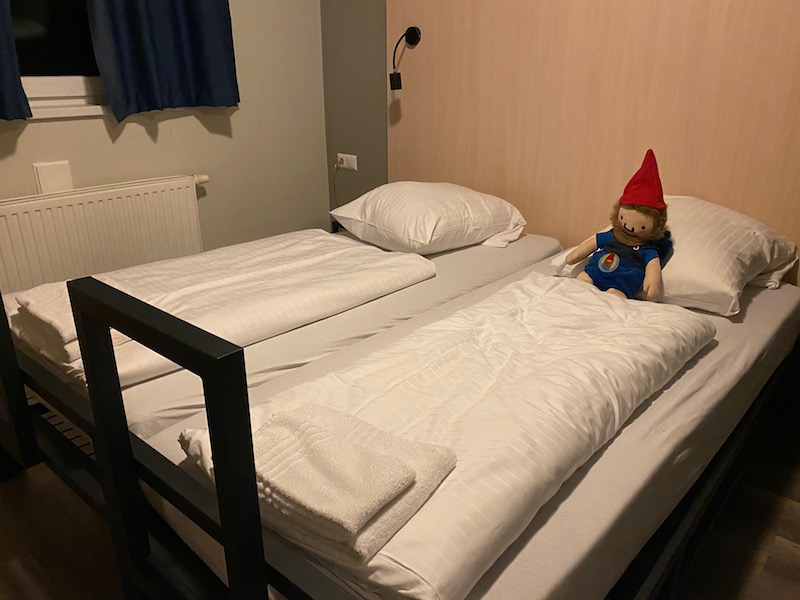 Review of the A&O Hostel Vienna near the Main Station (Hauptbahnhof)
We've stayed in a number of A & O hostels in private family rooms across Europe now, and we can't fault them for budget accommodation.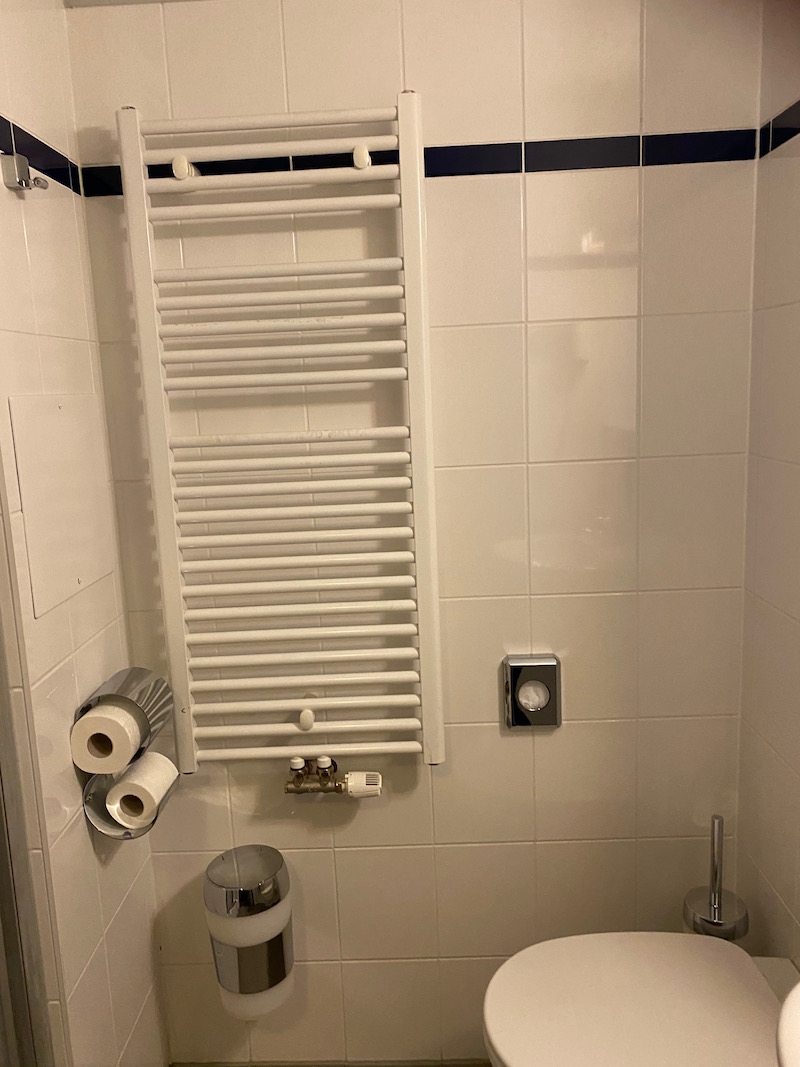 Heated rooms
At this Vienna hostel, the rooms are clean, spacious and heated, which is important in the colder months when you need to defrost after a day of exploring the sights.
(Those bar heaters in the bathroom work wonderfully for drying a pair of undies in an emergency too.)
And hooray, there's no carpet in the rooms, so you don't have to worry about what grotty surprises you might find underfoot.
(Carpet in hotels is my number one pet hate).
Our family room at A&O hostel was made up of two single beds (pushed together to make a double) and a set of bunks.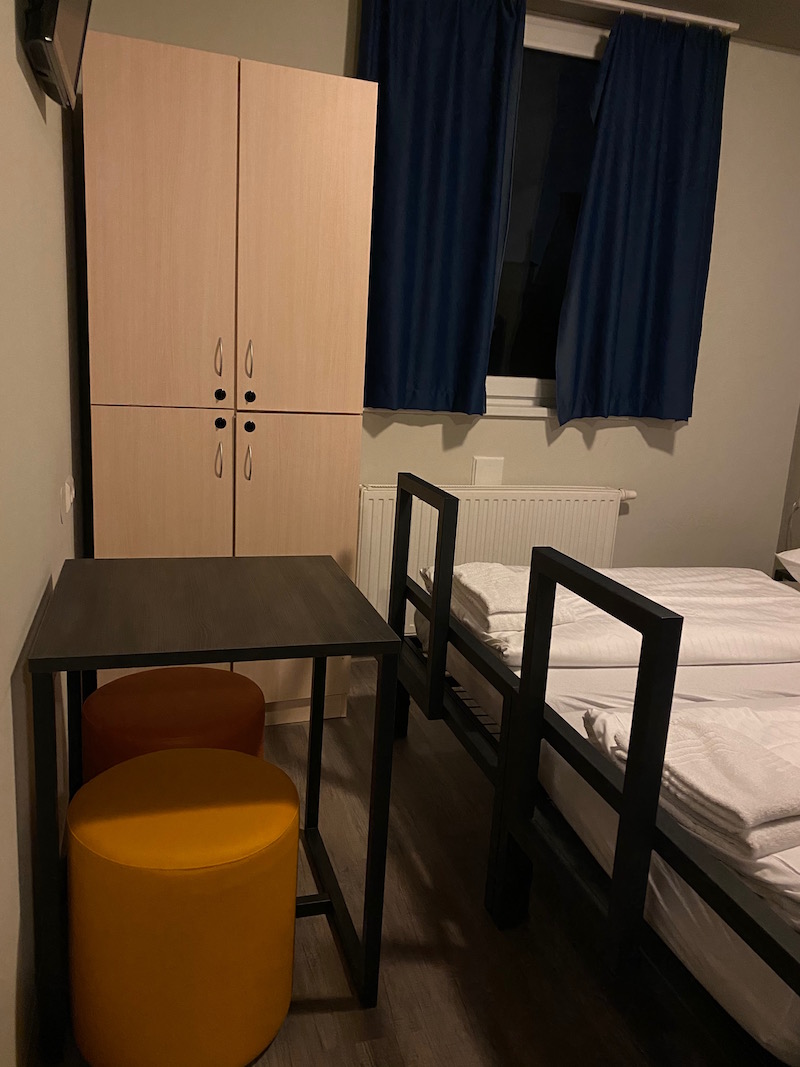 Clothing storage
There's a coat rack to hang all your coats, scarves, and hats.
Bonus points for side tables next to electricity plugs to charge all your devices without having to resort to putting them on the floor.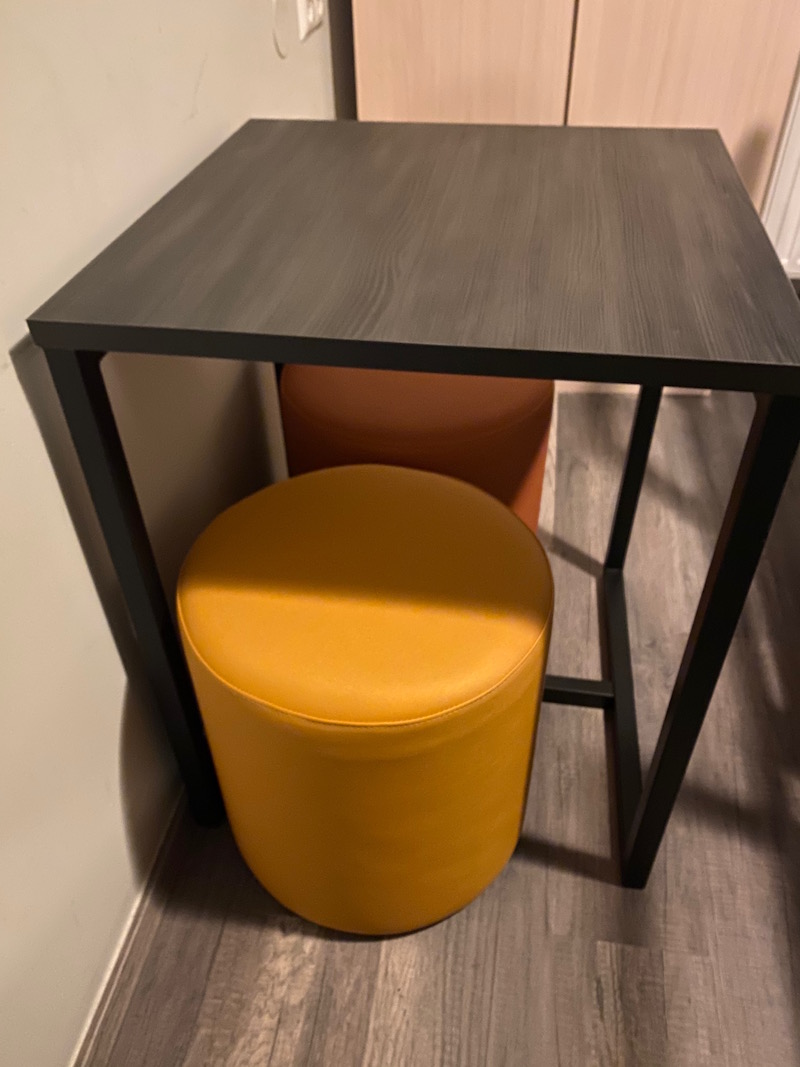 Seating area
Plus a small table and pouff chairs.
If you stay in a private family room, doonas, towels and pillows are included in the price. The pillows are lacklustre, so BYO travel pillow if a limp pillow doesn't appeal.
There's no bells or whistles here, no teabags or kettle or packet of cookies to snack on, but with the money you save on accommodation, you can buy your own snacks, or pick up a hot chocolate at the front desk for €2.50 in a china cup.
PS: Need a rest day? Organise a late checkout and stay until 2pm for an extra €10 per room.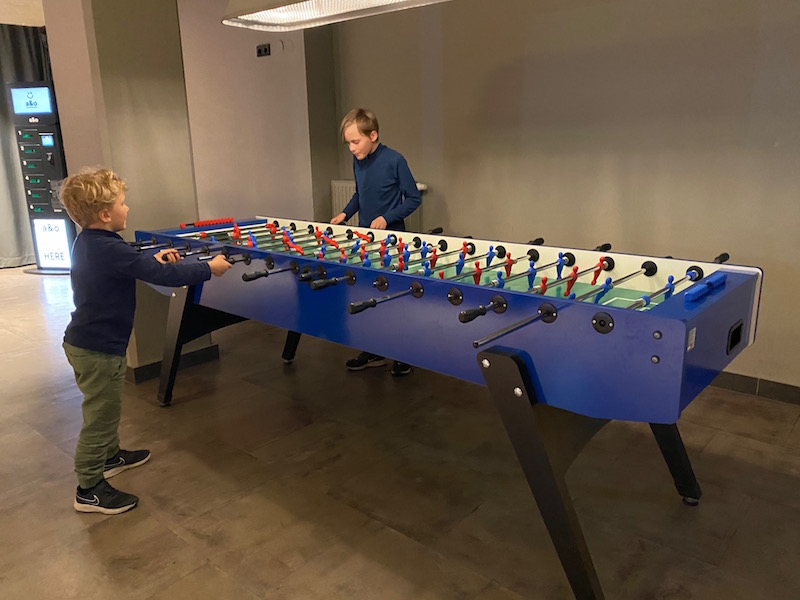 Facilities at the A and O Hostel Vienna
Table Soccer
There's a giant sized table soccer game in the foyer.
Pay a €10 euro deposit, and you can play for 30 minutes for just €2 (or free, if there's a staff change and they forget to charge you.)
Kids Corner
There's also a kids corner, and although it's rundown and desperately in need of someone to love and care for this corner of the (hostel) world, the kids don't care.
Jack thought the wooden pirate ship was tops!
But it wouldn't hurt for someone to order in some more building blocks and loose parts, and find the tokens for the lifesize tic-tac-toe game too.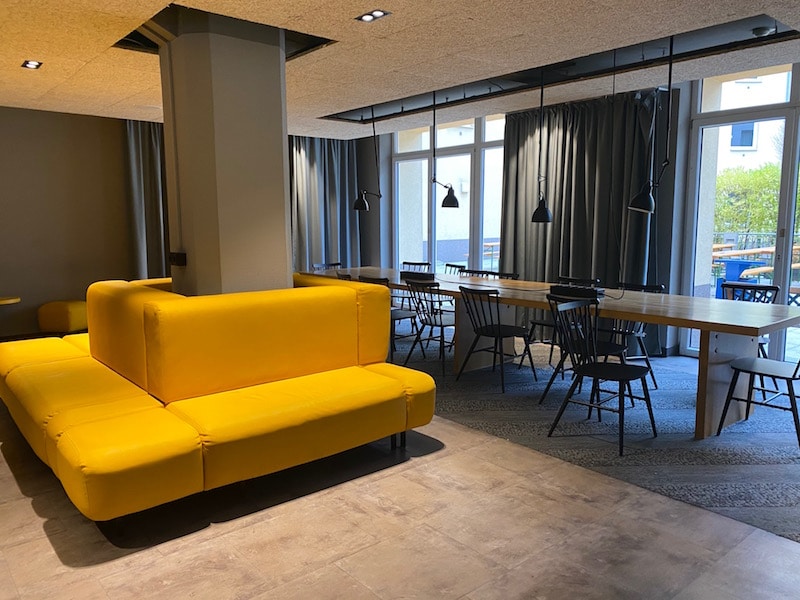 24 hour reception
And this is why we love hostels and hotels over AirBNB, especially when your itinerary is made up on the spot, and plans can change at any moment.
Parking on site
Yes, there is.
For a fee.
Laundry Facilities
You can use the onsite washer and dryer for €10 (including soap).
The washing machine is small, so if you have a suitcase full of dirty washing, I'd suggest finding a laundromat.
But for a small load, it's a handy thing to have on site.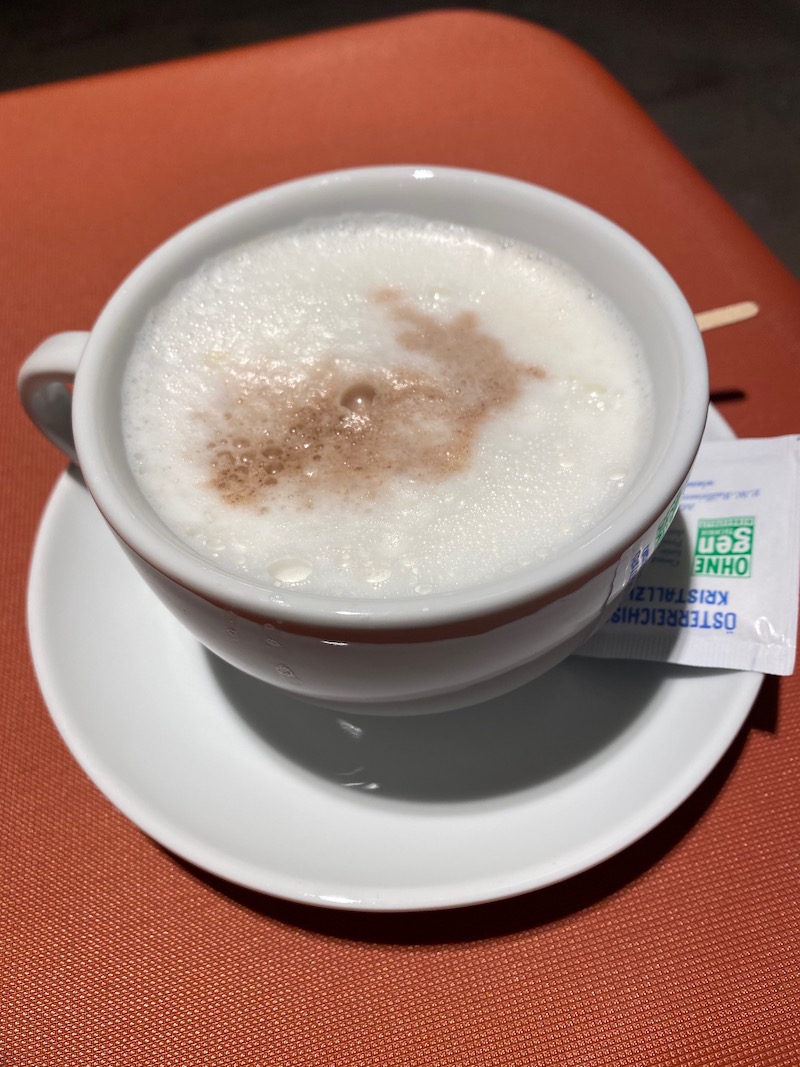 A&O Hostel Breakfast Buffet
We recommend paying for the all-you-can-eat breakfast.
At €7.00 euro per adult, and €3.50 for kids over 6, it's a bargain if you consider how much one cup of tea costs when you walk out the door.
The continental breakfast on offer includes:
bread rolls
a selection of cold meats and swiss cheese
salad greens
fruit
cereals and muesli
yoghurt
boiled eggs,
plus three different kinds of bread to toast, and all the normal toast toppings such as jam, honey, AND chocolate spread!
Drink your fill of English breakfast tea, as I did, or choose one of the other 7 teas on offer.
Or grab a cup of coffee, a cappuccino, hot chocolate, apple juice, peach tea, or orange juice from the drinks stand.
Breakfast is open from 6am to 10am, Monday to Friday and 7am to 11am on weekends.
You can also purchase a lunch pack for €6 to take with you on the road.
Free Wifi at A&O Hauptbahnhof Hostel Vienna
Yes!
Free wifi.
You don't even have to sign up and give over your email and all that jazz to log in.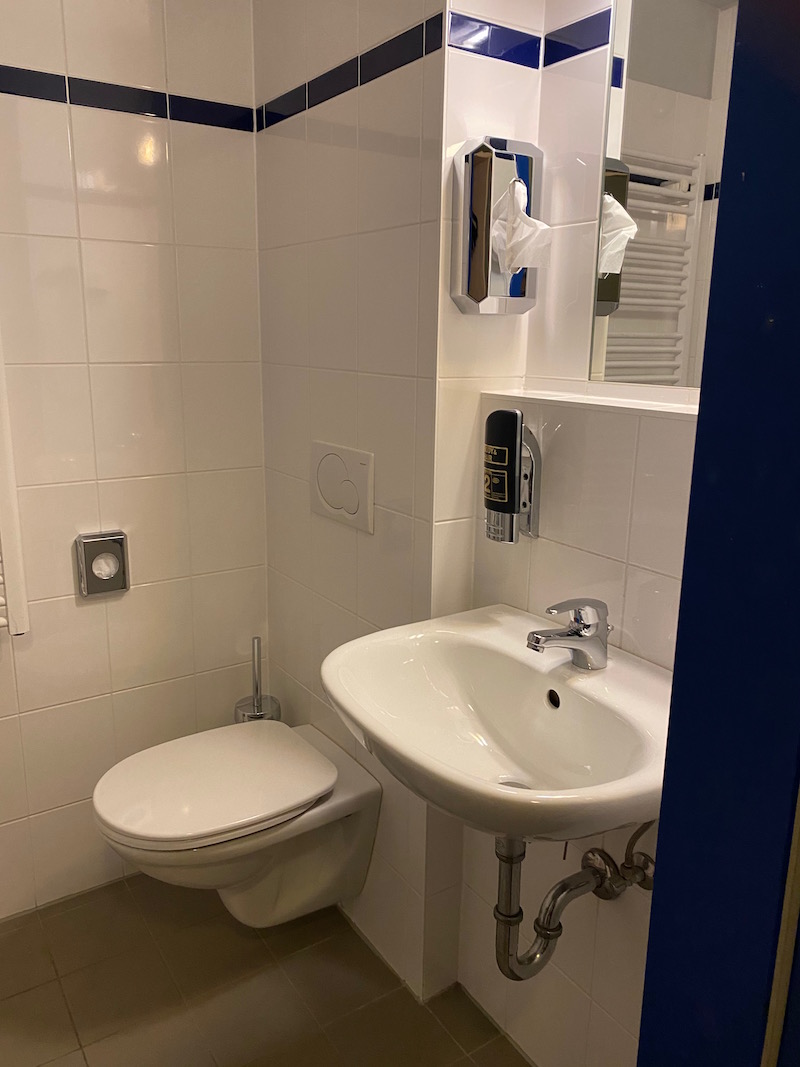 Benefits of the A&O Hostel in Vienna location
Staying at the A&O hostel Wien Hauptbahnhof has other benefits that can help you stay on budget.
There's a Spar supermarket at the exit of the station too which is a bonus if you want access to fresh fruit, yoghurt, deli meats, cheeses, breads and snacks at regular prices.
Plus there's McDonalds (cheapest place for a takeaway hot chocolate or coffee), Subway, Starbucks, and Ströck bakery chain in the station complex too.
To get around, you need tickets for the U underground train system. Head to the Wiener Line office downstairs (on the left as you head to the entrance, just before the ticket machines) to talk to someone in the know about the best value deals for getting around town.
We bought the 48 hour pass for £19.50 euro which was for one adult, and one child, plus 4 x €1.50 single tickets as a starter for Jack.
Validate the 48 hour pass with a time stamp at the blue box at the entrance gate.
It's easy to buy single child tickets to top up as you need once those have been used up.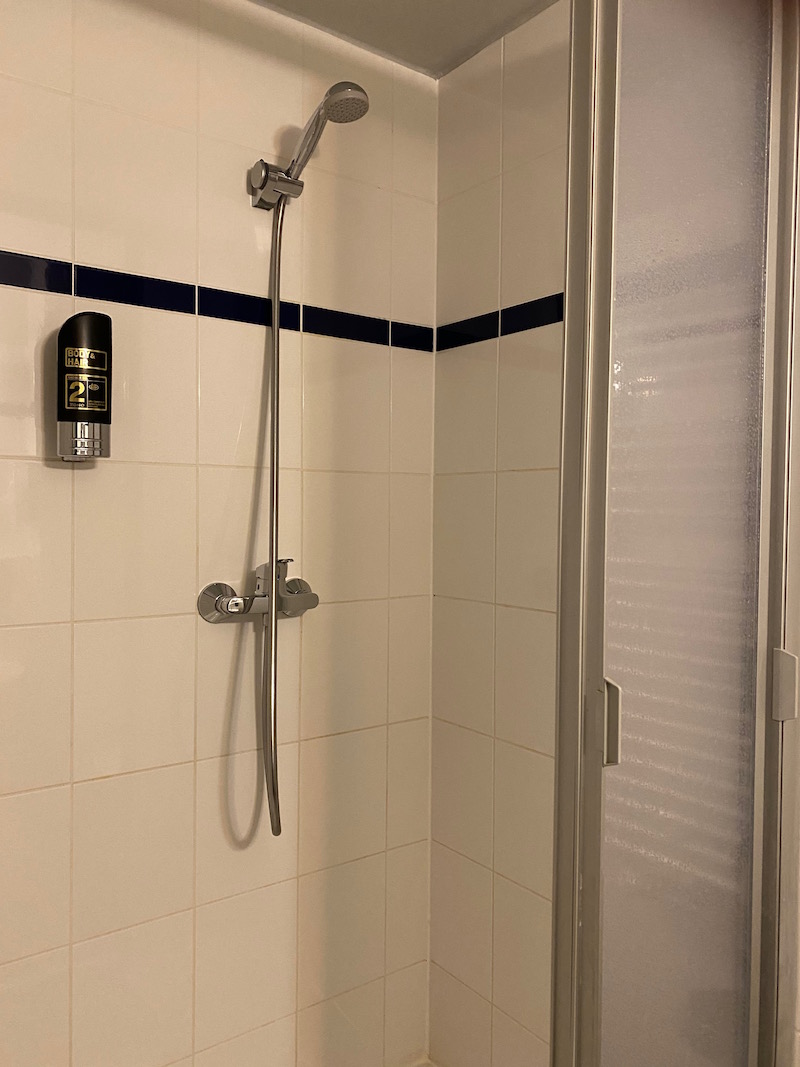 The Inside Scoop: A&O Youth Hostel Vienna
Address: Sonnwendgasse 11, 1100 Wien, Austria
Phone:+43 1 602 0617 3800
Website: Click here
Prices at the A&O Hostel Wien Hauptbahnhof
I paid €121.50 for two nights accommodation.
That's $197.50 AUD.
Or less than $100 a night.
I can't get a hotel in my local town for double that.
How to get to A&O Wien Hauptbahnhof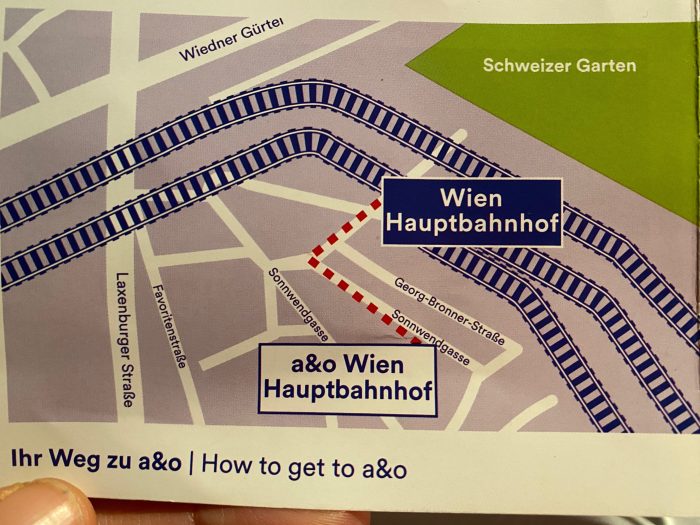 Toadstool Review: Best Hostels Vienna?
How do you know which is the best hostel in Vienna?
Research where the schools book their study trips.
There's tonnes of school kids on high school trips at the A&O hostel in Vienna, and we've spotted a few other young kids and a baby too.
You definitely don't have to worry that your little ones will be a hassle for other travelers, or the noisiest bunch of all.
They won't be.
The walls in the corridors and the rooms could do with a coat of paint to cover all the scuff marks where weary travellers have bumped their suitcases accidentally.
Don't expect a 5-star hotel, and you'll be fine.
Looking for more things to do in Europe with kids?
Check back soon for a whole bunch of new stories!