INSIDE: All you need to know about the London Air Force Museum with Kids.
Here's a fun FREE thing to do for kids and families with an interest in planes and aircraft.
Situated on the historic site of Hendon's London Aerodrome in Colindale, the North London Museum is one of two sites belonging to the U.K's only national museum that tells the story of the Royal Air Force through its people.
The London Air Force Museum houses a world-class collection of aircraft, aviation artefacts and memorabilia.
The site has been recently renovated.
There's now a community space ('Airfield') with parachute shaped beanbag seating, outdoor picnic areas, two new cafes and a themed children's playground!
Take a look below for details.
Disclosure: This article contains affiliate links. If you make a purchase after clicking on one of these links, we may receive a small commission at NO extra cost to you.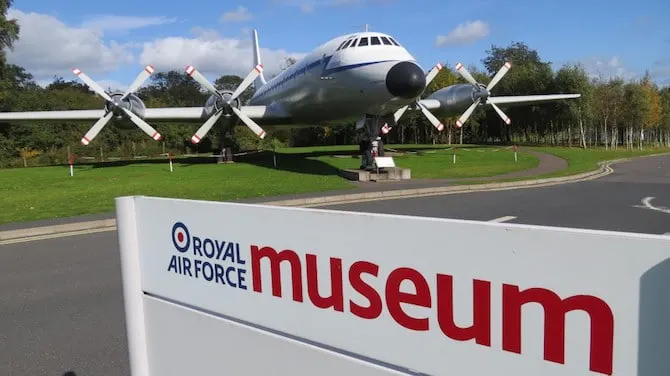 Best Things to do at the Royal Air Force Museum London
Visit the Aeronauts Interactive Gallery for Kids.
There's plenty of hands-on action and lots to see too.
No.1: Get up close to Royal Airforce airplanes and boats
Stand in awe underneath the Eurofighter Typhoon.
Navigate through the mighty Sunderland Flying Boat, and all the different marine craft.
Marvel at the life-sized model of the F-35 Joint Strike Fighter jet – the only place in the world where it is on display.
Get up close and personal with some very early aircraft designs through to the latest modern day jets and military aircraft – there's over 100 historic and groundbreaking aircraft on site.
The oldest aircraft in the collection and the Vickers Vimy, SE5a, and Bristol Monoplane can be found in the Graham White Factory and Watch Office.
---
RELATED: The Big List of Best Things to Do in LONDON with Kids
No.2: Learn about British History
Visit the Milestones of Flight Building and see the Pioneers Terrace and Aviation History Timeline (pictured above)
No.3: Watch a Light and Sound Show
Watch the sound and light show "Our Finest Hour" (located in the Battle of Britain Hall), a stunning audiovisual presentation of the Battle.
It is shown every hour on the hour. (Open 12pm – 6pm daily).
No.4: Ride an Aircraft Simulator at this Aviation Museum
The Museum offers a range of unique hands-on experiences.
Take the pilot's seat and fly in our Hangar 1 Simulator Zone, climb aboard the Typhoon Simulator or enjoy a 4D ride with the Red Arrows both in Hangar 3. Charges apply.
No.5: Sit in a Spit
Climb inside a Spitfire Mk XVI and take the pilot's seat to discover what it was like to fly this iconic aircraft.
11.00am – 4.00pm daily – booking on arrival is recommended. Charges apply.
No.6: Listen to Winston Churchill
Hear Winston Churchill give his 'Battle of Britain' speech to a fearful nation from his 10 Downing Street Office.
No.7: Watch historical footage
Check out the 'Bomb Bay' television underneath our gigantic Vulcan Bomber.
While you are there, see the Buccaneer, Halifax, Lancaster, Vulcan, and Liberator bomber aircraft, and the Dambusters Film Show.
No.8: Visit a new gallery
Three new innovative galleries which explore the first 100 years of the RAF, its roles today and invite visitors to imagine its future contribution and technology.
'RAF Stories: The First 100 Years'
'RAF: First to the Future'
'The RAF in an 'Age of Uncertainty'.
No.9: Learn about a hero
Discover the amazing heroes, heroines and trailblazers who have contributed so much to the development of flight and the RAF.
No.10: Take a look at the current exhibitions
View the permanent and temporary exhibitions and displays, including the stunning new exhibition, First World War in the Air.
NEW Interactive Childrens Playground at London Air Force Museum
The new interactive themed playground at the RAF Museum London is located between Hanger 2 and 6, near Claudes restaurant.
Check out the video above for a sneak peek!
Aeronauts Interactive Gallery at the Royal AirForce Museum London
Aeronauts! is London Air Force Museum's science interactive gallery for all ages is packed with over 50 purpose-built hands-on exhibits demonstrating how aircraft fly.
Find it in Hangar 3.
Could you become a pilot?
Test your reaction times and vision!
Take the controls of a helicopter and have a go at low level hang-gliding.
Please note: Children must be supervised in Aeronauts at all times by a responsible adult.

Where to eat at the London Air Force Museum Cafe
Hangar 1 Cafe
Tea, coffee and pastries served all day.
Open 10-6pm daily.
Claudes restaurant
The Claudes Restaurant serves hot and cold food and drinks for a hearty lunch, or a mid morning snack, in the unique setting of a 1931 heritage building from RAF Hendon.
Open 10 – 5pm daily.
Hot food served between 11.30am and 3pm.
BYO food and drinks.
Enjoy your own picnic outdoors.
The Royal Air Force London Events
Check out their full calendar of free educational events and exhibitions – bringing aircraft to life!

Royal Air Force Museum Shop
For passionate aviation enthusiasts, the RAF museum shop has quality and authentic RAF and aviation products available.
The Royal Air Force Museum gift shop is in Hangar 1.
Choose your London souvenirs here.
There are:
RAF cufflinks
books
model airplanes
DVDs
adult's clothing & children's clothing
RAF games
RAF badges, and
RAF flying suits too!
All proceeds from the sale of products on this website support the charitable work of the Royal Air Force museum.
THE INSIDE SCOOP: Air Force Museum Hendon London
Correct at time of publication on Roam the Gnome. Please check with venue for updates. We apologise in advance if there have been any changes we are unaware of. All prices in British pounds, unless otherwise stated
The Air Force Museum London is all about "tracing the history of aviation and the RAF through real aircraft and interactive exhibits".
Take a virtual tour before you go. Try this one of the Bomber Hall
Address: The RAF Museum in London RAF is located at Royal Air Force Museum Grahame Park Way London, NW9 5LL
Telephone: 020 8205 2266
Website: Click here
Email (guest relations): london@rafmuseum.org
London Airport Museum Opening Hours
10am – 6pm . Last entry 5:30pm. March to October
10am – 5pm. Last entry 4.30pm. November to February
Royal Air Force Museum London Ticket Prices
Entry is FREE!
RAF Museum Hendon parking
You can park onsite. A car parking charge is payable.
Car Park fees are:
0-3 Hours – £3.00 per vehicle
3-6 Hours – £4.00 per vehicle.
Change for parking meters may be obtained from the Museum's Main Entrance.
Machines also accept payment by card.
How to get to the London Air Force Museum
The London Air Force RAF Museum at Hendon is just 30 minutes from central London.
Getting to the National Air Museum UK takes:
By Tube:
30 minutes from Central London by Tube via the Northern Line (Edgware Branch)
Disembark at Colindale Station, then an 8 minute bus ride or a brisk 12 minute walk from Colindale Underground Station
If you are travelling to us from Mill Hill Broadway Station, please take the 303 Bus from Mill Hill Broadway to Colindale, then an 8 minute bus ride or a brisk 12 minute walk from Colindale Underground Station
By Foot:
Alternatively the Museum is a 25 minute walk from Mill Hill Broadway Station.
By Car: 10 minutes from Junction 4 of the M1 by car. SAT NAV Users. Please use postcode NW9 5QW.
London Air Force Museum parking
Free parking on site.
Map of London Airforce Museum
Download a site map here.
Toadstool Rating: London Air Museum Hendon

Looking for MORE London Museums for kids?
Click the links in blue below for more London ideas.