INSIDE: The best tips for traveling with a toddler on a plane to keep your sanity.
Looking for tips to go traveling with a toddler on a plane?
Heading off to travel with kids is awesome, but does require some extra planning, and a little give and take.
A relaxed attitude is a must, and so is the flexibility to go with the flow when you need. You can't over schedule when you are travelling with a toddler or baby.
Plane travel requires a little extra thought and action too, including what to pack when traveling with a toddler on a plane.
Here are our TOP 11 TIPS FOR FLYING WITH TODDLERS OR BABY.
May the force be with you!
Disclosure: This article contains affiliate links. If you make a purchase after clicking on one of these links, we may receive a small commission at NO extra cost to you. Main image: Alan Wilson via Flickr CC BY-SA 2.0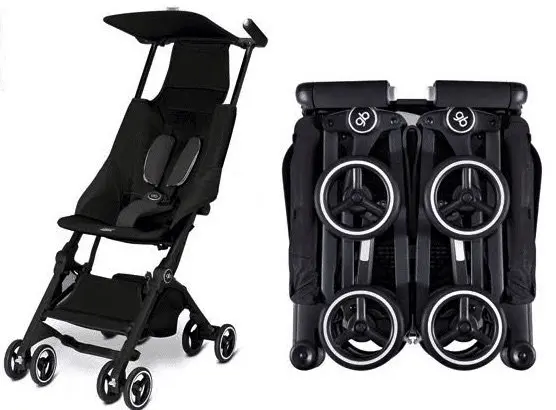 9 Best Tips for Traveling with a Toddler on a Plane
No.1: Take a Pockit Stroller to the Gate
Keep your lightweight Pockit stroller with you as long as possible, all the way to the gate. This quick-fold stroller packs down to almost nothing in two steps.
Being the World's Smallest Folding Stroller, you can take it on board with you to stow in the overhead locker.
This is why we love the Pockit lightweight stroller so much.
It means you have your stroller with you when you disembark, and can put a sleepy or tired toddler straight in instead of having to wrestle your hand luggage AND carry them at the same time.
That's a win.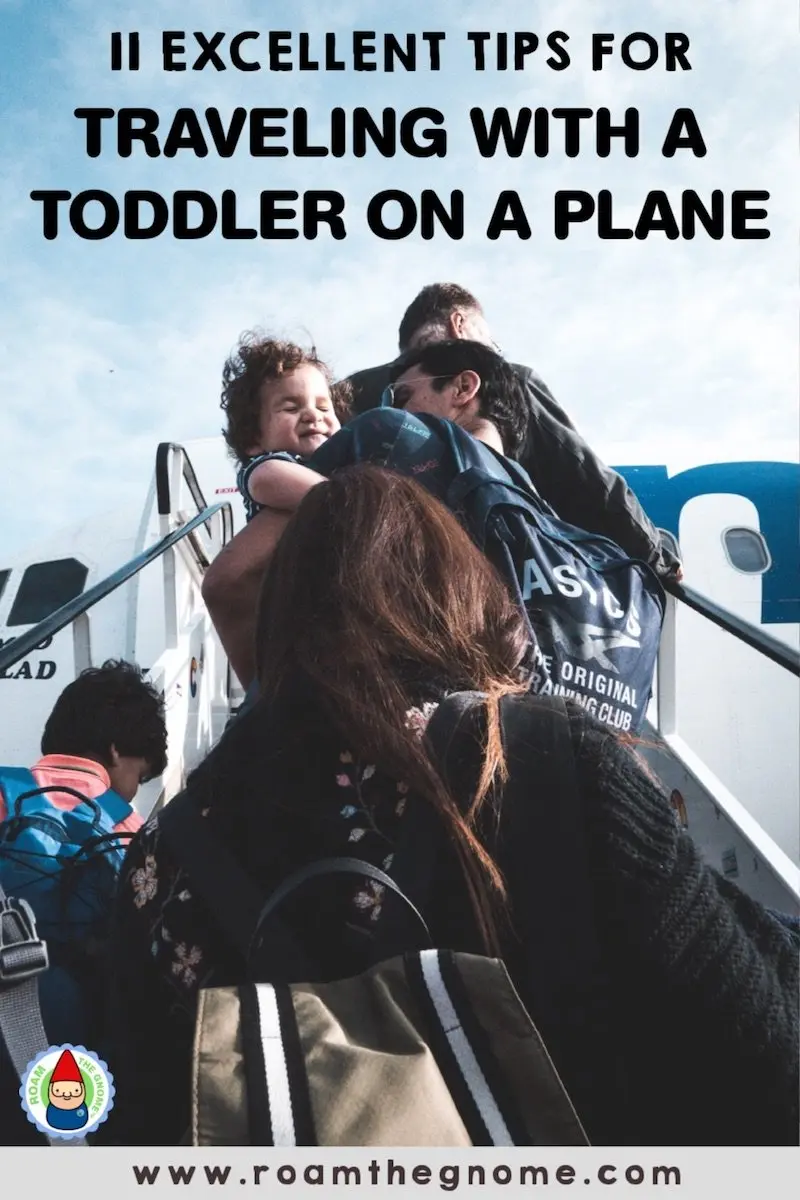 No. 2: Keep breastfeeding
When you are traveling with an infant, and stuck inside the metal tube that is an aeroplane, the easiest solution to help with their ear pain, their irritability from being over-tired and contained, and their cries or tantrums for no good reason is to breastfeed.
Breastfeeding can soothe even the grumpiest of babies and young toddlers, and sometimes put them to sleep.
If you are still breastfeeding, you are in luck.
Breastfeeding can be a panacea.
Prepare to throw out any breastfeeding routines.
This is not the time to hold your ground with bub. Give in and give yourself a break.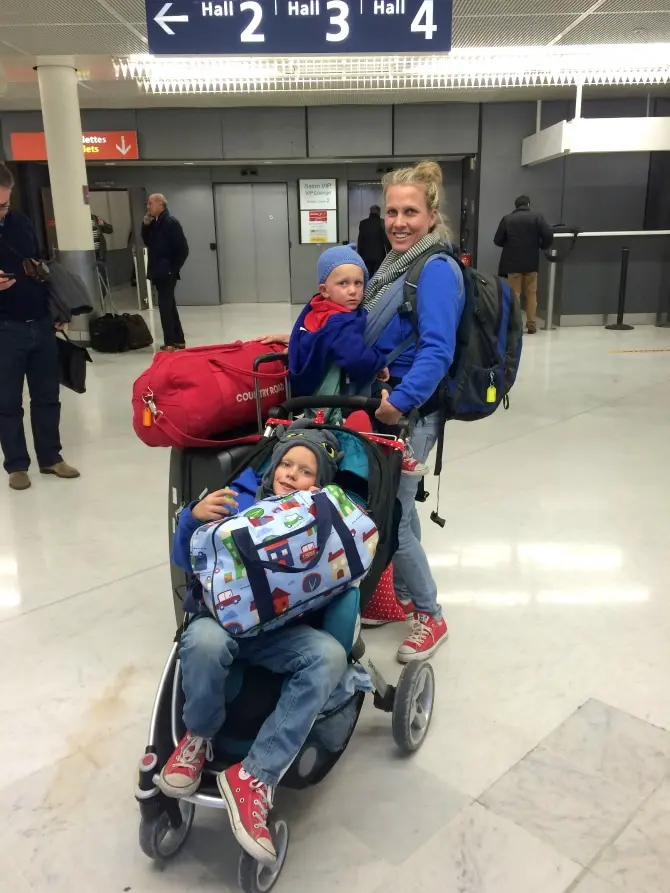 No. 3: Take your Ergo Carrier
There's not much that a firm cuddle inside an Ergo baby carrier strapped to mom or dad can't do to settle an upset baby or toddler when you are traveling with a toddler on a plane.
The good news is that baby-wearing on a plane is possible, and can be a godsend.
Be sure to get up and stretch your legs down the back of the plane, out of the way, as you jiggle the baby to sleep.
Especially if they don't have their own seat.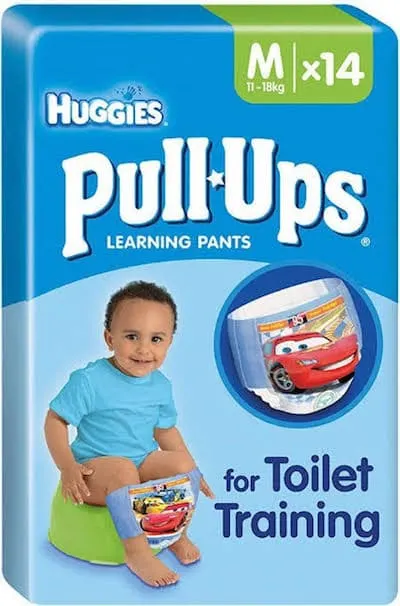 No.4: Take Pull Ups & Spare Diapers/Nappies
This is not a time to be practicing toilet training.
Keep it simple.
Don't worry about breaking the routine or if they'll regress.
You don't see many 20 year olds in nappies!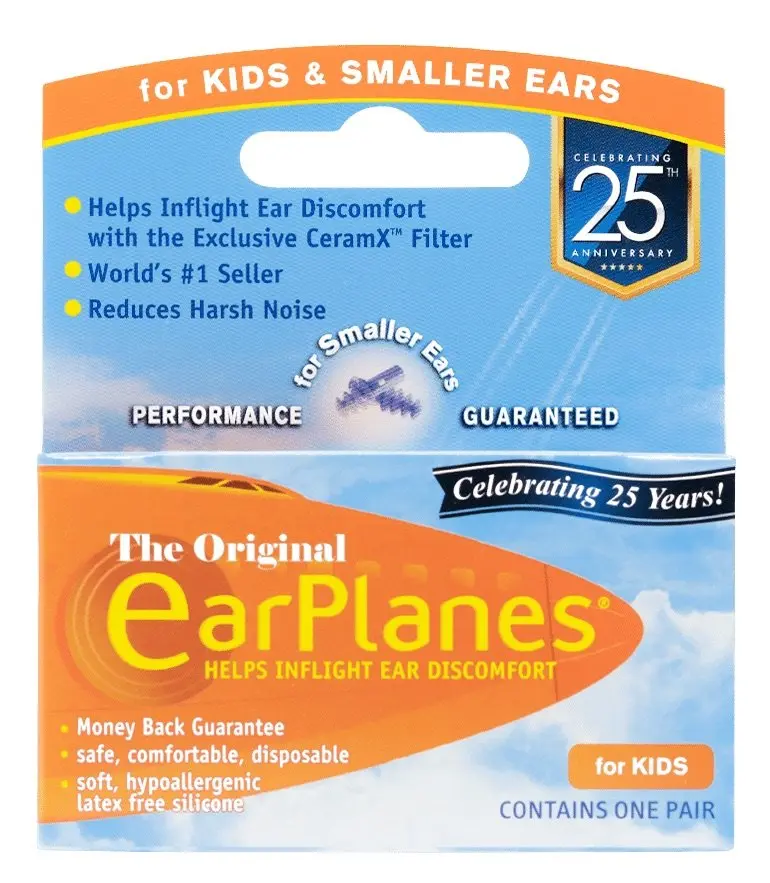 No.5: Ear Planes
Don't leave home without your Ear Planes for the kids.
These tiny ear plugs help to relieve air pressure pain and discomfort.
Pop them in before you take off, and again when the Captain tells the Cabin staff to prepare for landing.
Distract the little one with screen time & their favorite show on the ipad, and if it's really bad, ask the flight attendants for tips.
Earplanes are lifesavers for toddlers and preschoolers.
BUY NOW ON AMAZON: The Original Ear Planes by Cirrus Healthcare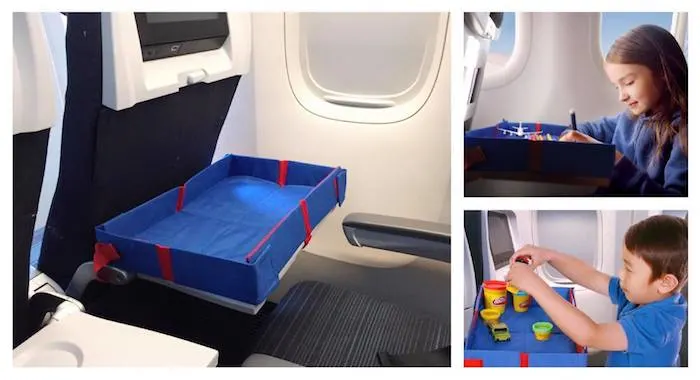 No. 6: Take a Portable Travel Tray for snacks and toys
Save yourself the total embarrassment of a FULL airline dinner tray tipping onto your lap, as you wrangle the toddler who is trying to get comfortable in an stiff airline seat.
A portable travel tray can save the day.
This tray has:
attaches directly to the airline tray with buckles and velcro straps
sidewalls that stop food and toys from sliding off
mesh pockets to hold all the knick knacks, pens, and crayons
a drink cup holder to prevent big spills.
The tray can be used for meals, snacks AND play.
It's one way to guarantee you don't have to scramble with your head down under the seats trying to find the missing toy!
BUY NOW ON AMAZON: Fun N' Fly Foldable Travel Tray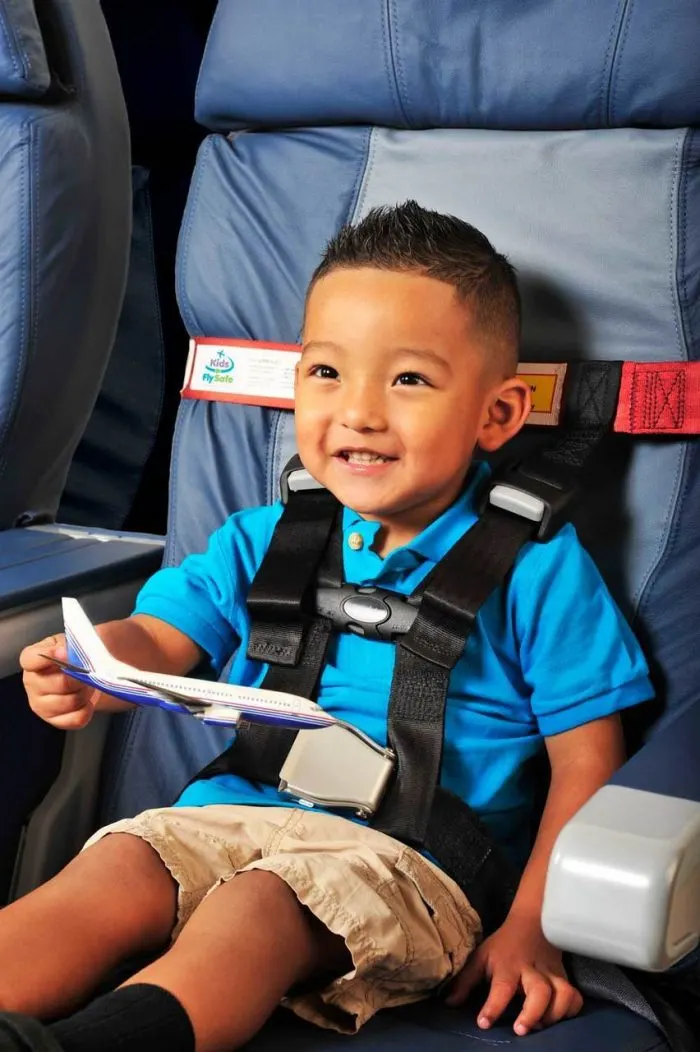 No.7: Take a Portable Travel Harness Airplane Car Seat
If you have wriggly toddlers or young kids under 5 who have trouble sitting still for the duration of the flight, take a portable travel harness.
A portable harness does the same job as a car seat restraint in a moving vehicle, and the body straps work in the same way.
The airplane car seat safety harness is anchored to a thick webbed strap brace that you attach around the top of their plane seat instead of to an anchor point like in a car.
Travel harnesses keep the kids safe in the event of turbulence during international travel with toddler aged kids too.
It stores in a small stuff sack that takes up next to no room.
BUY NOW ON AMAZON: Child Airplane Travel Harness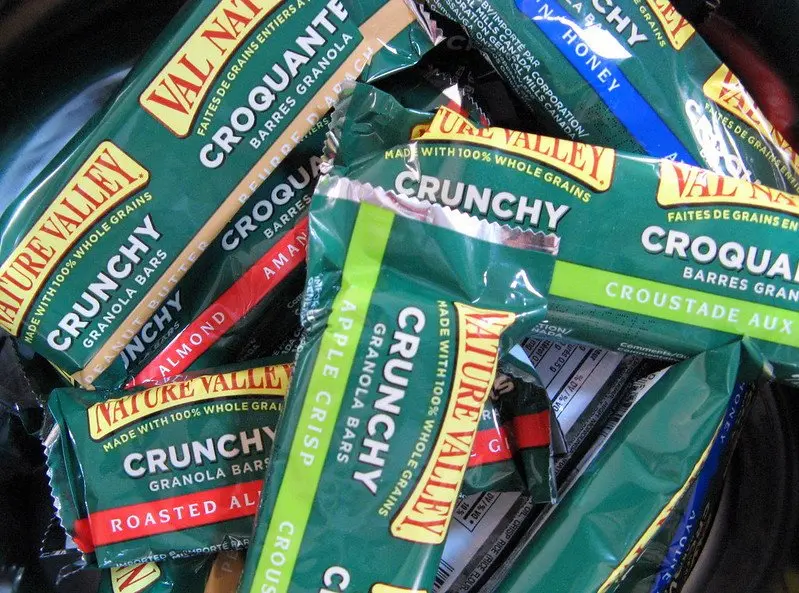 Image credit: Andrea_44 via Flickr CC BY-2.0
No.8: Take ALL the snacks.
When it comes to flying, a full service airline is tops of course because meals are included. But you still need snacks.
ALL THE SNACKS.
We've learned to put all dry snacks in reusable zip lock bags, so we can make them up for the return trip too.
I carry two empty plastic rubbish bags, and we keep all our rubbish with us in one bag during the flight and discard it on the last hostie's rubbish run.
The other bag is for emergencies.
If we are on a low cost carrier, I normally take a round of brie cheese, a plastic knife and a bag of corn chips or seaweed crackers to go with it.
This mini meal staves off all the hunger pains for the boys and I.
READ MORE: The BEST Healthy Snacks for Road Trips (and Plane Trips)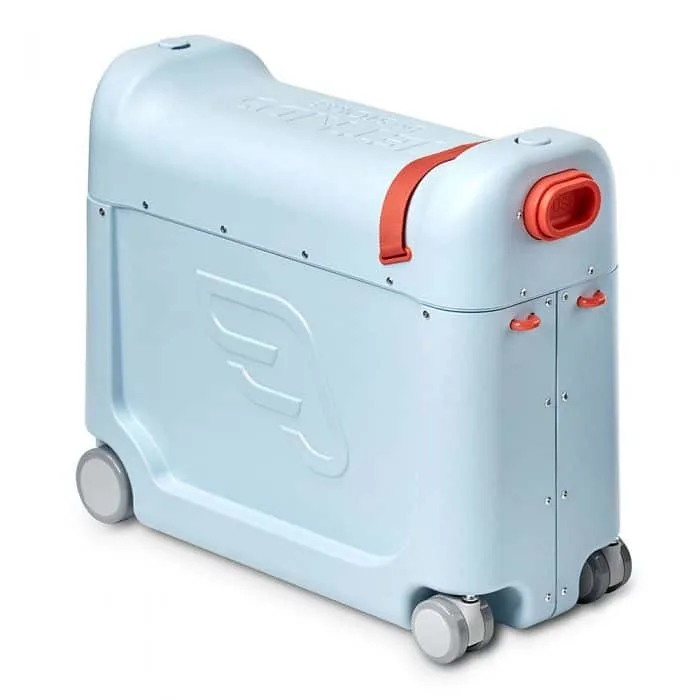 No.9: Bed in a Box or Inflatable Kids Airplane Bed?
There's been LOTS of conjecture about these travel aids for kids, and many airlines have banned them completely.
Do check with your airline before you fly.
JetKids Bedbox
JetKids is the original plane bed in a box.
This sturdy pull-along suitcase is similiar to a Trunki suitcase in that you can use it to give kids a ride through the airport.
Buy the upgrade kit with the RideBox to transform it into a BedBox.
The upgrade kits lets the lid of the box extend upwards until it's level with the airplane seat.
A thin mattress is laid over the top of the platform and seat to create a flat bed for kids to sleep on.
BUY NOW ON AMAZON: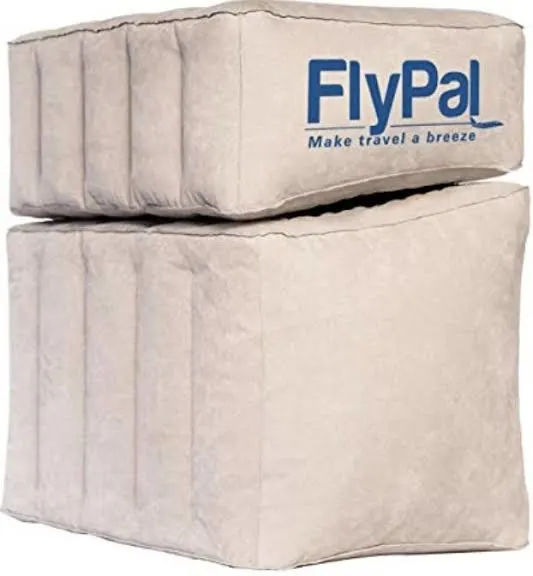 Flypal
Flypal is an inflatable foot rest ottoman that can be raised to three different heights so you can use it as a foot rest, a leg rest or a bed.
Use the small and large pillows one on top of the other to fill the space between the seat and the seat in front.
This makes a flat surface big enough for kids to lie down and sleep.
It's life changing!
BUY NOW ON AMAZON: Flypal inflatable foot rest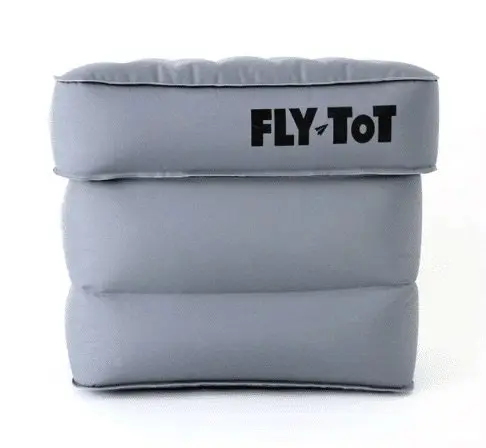 Fly Tot
Fly Tot is the original brand of inflatable airplane cushion that you can use to make an airplane bed for kids.
This one comes with it's own foot pump so you don't need to make yourself light headed in your quest to pump it up!
BUY NOW ON AMAZON: Fly Tot Inflatable Airplane Cushion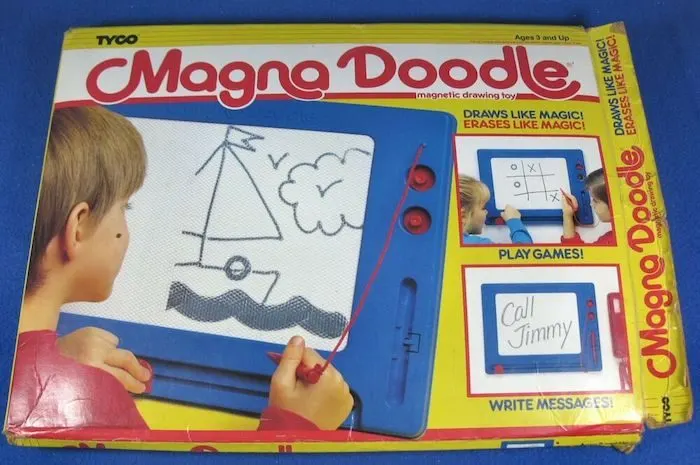 Bonus Tips for Travelling with a toddler on a plane.
No.10: Best Toddler Plane Activities
Don't fly without at least a few tricks up your sleeve to keep toddlers and preschoolers busy.
An iPad loaded with the kids' favorite movies & shows is a must on a low cost airline.
It's not so necessary on a full service airline with individual tv screens and a massive playlist of entertainment options, unless your child is a Peppa Pig addict and won't watch anything else.
Better to load your iPad with all their faves to be safe, not sorry.
But you need variety. Kids can only watch for so long before the need something to DO.
Want to know how to entertain a toddler on a plane? We've gathered a list of the best toddler airplane activities and games.
READ MORE: 17 BEST Toddler Plane Activities to Save your Sanity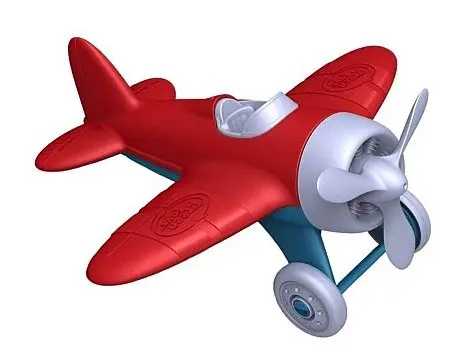 No.11: Best Airplane Toys for Toddlers
You might also need a few toys along for the ride, including these Green Toys airplanes for kids.
Take a look at this big list of toddler toys to play with on a flight or road trip.
READ MORE: The BEST Travel Toys & Games for Toddlers and Preschoolers on Flights and Road Trips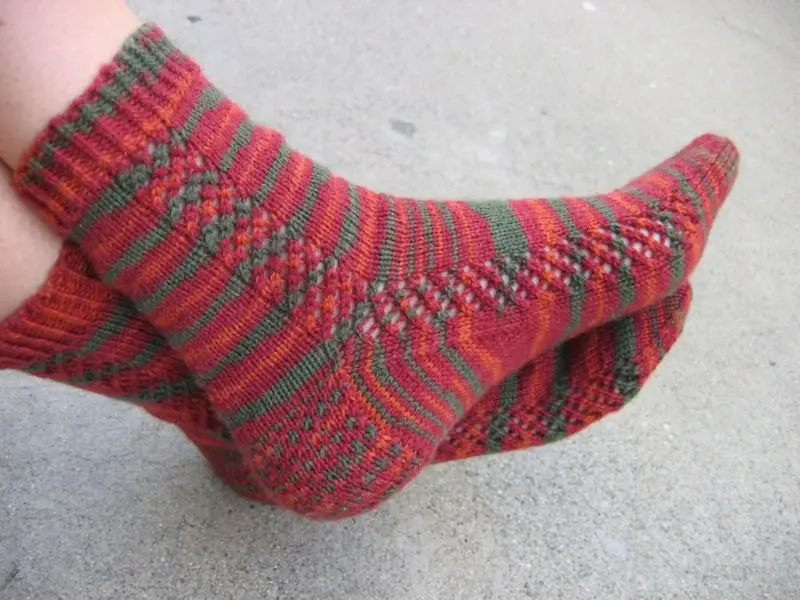 Image credit: Star Athena via Flickr CC BY-2.0
Expert Tips for taking a Toddler on a Plane
Take Socks
Take a pair of clean socks for everyone in the family. NEVER put your bare feet on the floor inside a plane. It's bad etiquette. I pack a pair of thongs or ballet flats to wear to walk to the bathroom.
Take PJ's
Pack their pajamas and change them when it's bedtime to send the right signal that's its time for quiet
Travel with Hand wipes & Hand Sanitiser
I am NOT a clean freak, but there's two places I regularly wipe down.
my car steering wheel, and
the airline tray table.
If I'm travelling with kids, I wipe the arm rests, and the window ledges too.
Image credit: Cory W Watts via Flickr CC BY-SA 2.0
Emergency Kit
Put a spare nappy or pull up, a small pack of tissues, and an emergency pack of wet wipes in your handbag or the front pocket of your carry on backpack.
You never know when you might need it.
Pens
Take two pens and keep them close.
You never know when that nugget of gold will pop into your head, or when you'll be expected to fill out a form.
Make friends with the Flight Attendants
Seriously, the people I want to be friends with are the flight attendants.
They are the ones with the power to help you find an extra seat, extra snacks, hot water to make up a bottle of formula, and sneaky chocolate bars when you are at your wit's end.
Be extra kind and friendly, but authentic.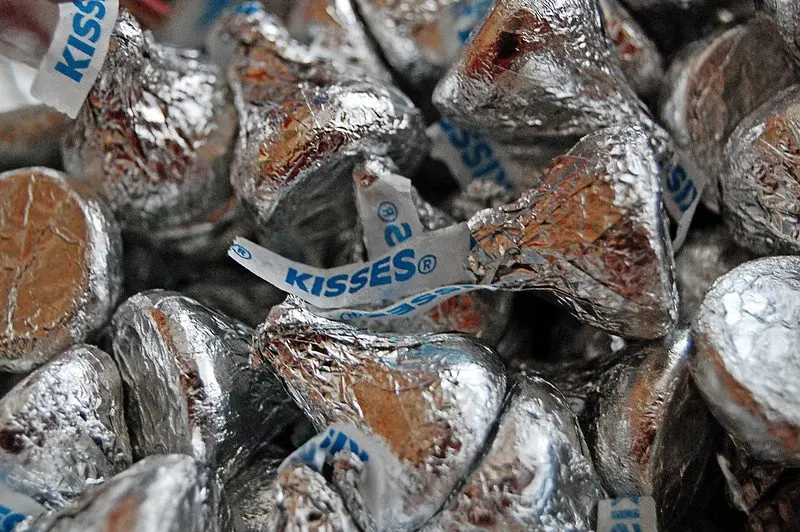 Image credit: Jamie via Flickr CC BY-2.0
Do I need flight goody bags?
You don't need to bother creating Flight Goodie bags for your fellow passengers (also called kindness bags or plane gift bags) filled with:
Werthers candy
Ferrero Rocher balls
Hershey Kisses
mints
ear plugs
headache tablet
lavender oil, etc etc.
You and your baby are entitled to be on the flight.
Most people are decent and have been a parent themselves so they understand and have empathy for a parent of a crying bub. Ask for help if you need it.
Trust that most fellow travellers are kind and good.
It's true!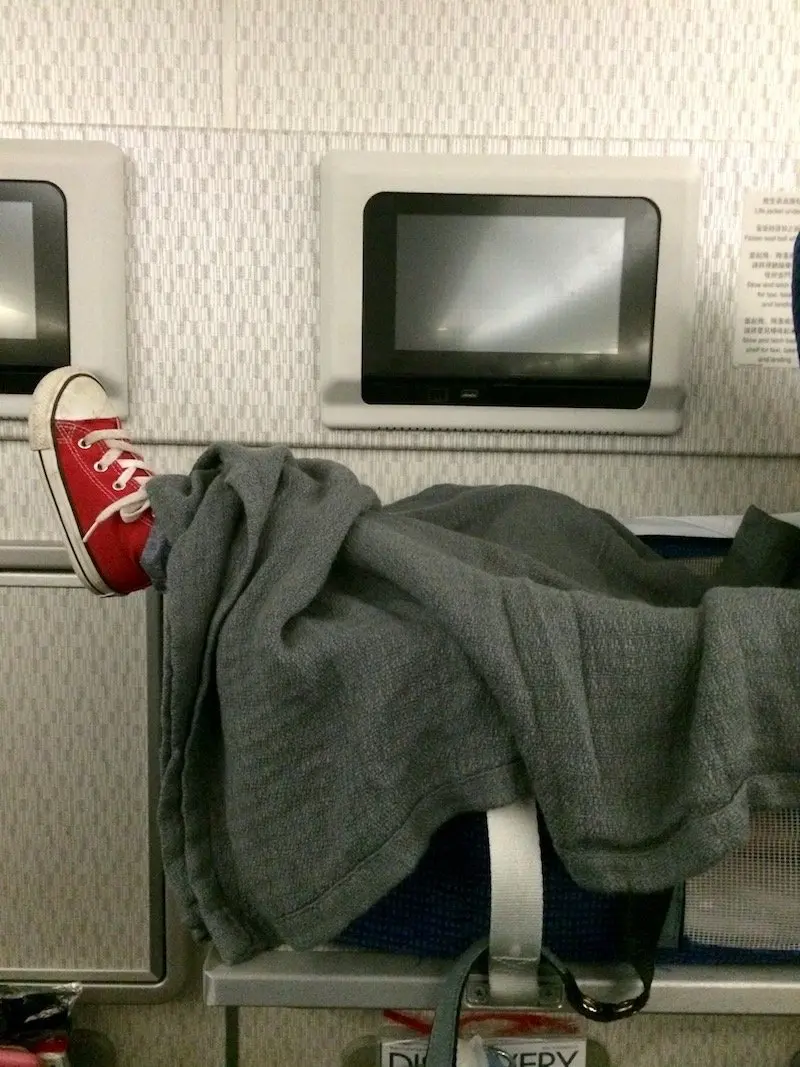 BONUS Tip: Flying with an Infant? Take a Baby Airplane Seat
Flying with babies is easier than travelling with a toddler on a plane.
These are our best flying with a baby tips.
Take:
an Ergo baby carrier (a lifesaver when you need to rock the baby or toddler to sleep at the back of the plane)
soft food pouches of stewed fruit and vegetable mash.
Burts Bees shoulder drool cloths
a lightweight pashmina or wrap to keep you both warm when the air conditioning revs up
a change of clothes for baby, AND you in your carry on luggage. Explosive yellow poos do happen in the most unfortunate of circumstances.
a Lap Baby gadget. This thick waist strap holds your baby in front of you when you are sitting down. Very clever invention for planes and restaurants.
a big pack of wet wipes – be sure to wipe down the lap tray, arm rests, AND window ledges before baby touches it.
alcohol-free hand sanitiser
Do you know any more tips for traveling with a toddler on a plane?
Email us at he[email protected] and we'll add them to the list.
LOOKING FOR MORE FUN CITIES TO VISIT WITH KIDS?
Correct at time of publication on Roam the Gnome. Please check with venue for updates. We apologise in advance if there have been any changes we are unaware of. All prices in US dollars, unless otherwise stated
Click the links in blue below for more travel tips.